Unseen Images Of Kylie Jenner And Timothee Chalamet
By Jessica O'Neil
2 months ago
Timothee and Kylie watching tennis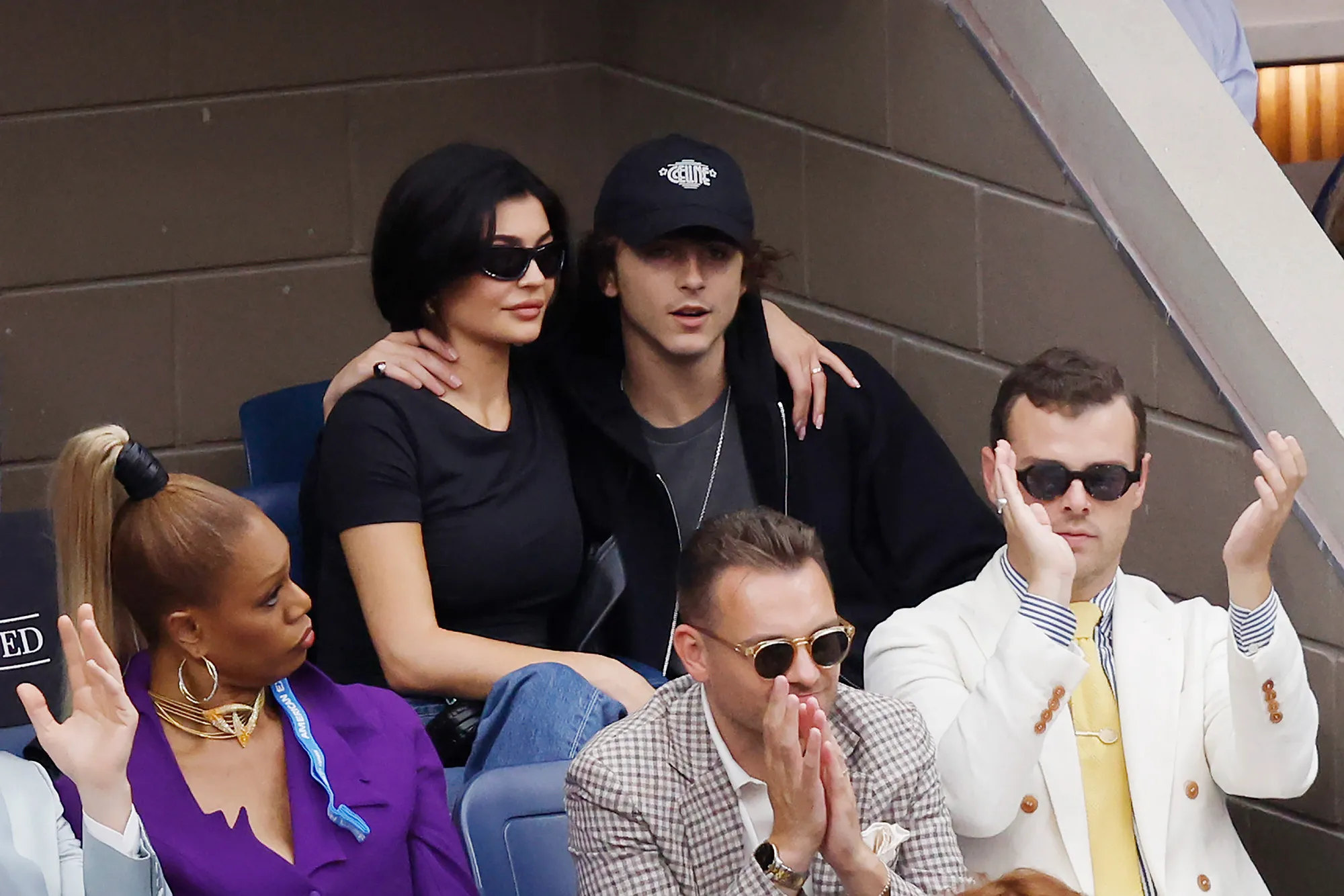 Image Source: Vanity fair
This shot of Timothee getting extra close to Kylie as they watch a tennis game is so adorable and candid. The pair look genuinely happy and comfortable around each other. Kylie is usually only caught looking like a baddie around her rapper boyfriends, but here, she looks beautiful and relaxed.
Timothee and Kylie kissing at a concert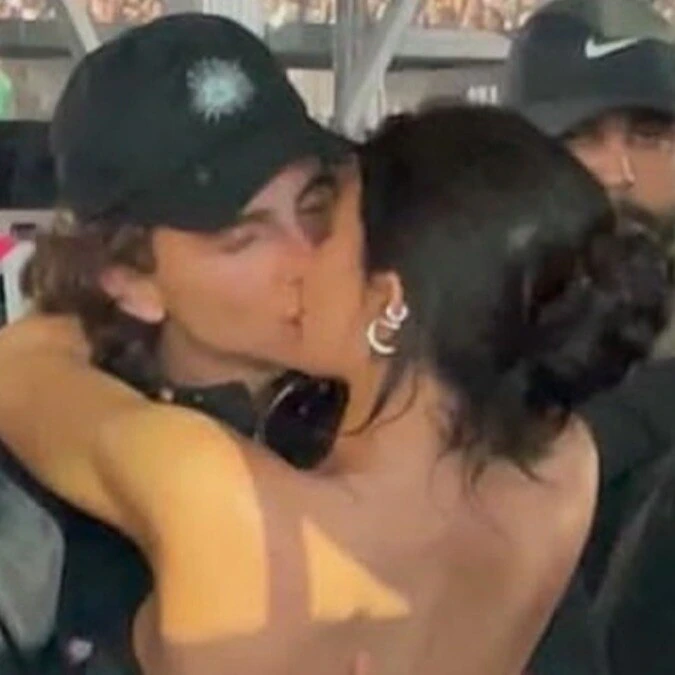 Image Source: India Today
Timothee and Kylie are one of those pairings that is totally weird on paper but makes complete sense once you see them together. The way she wraps her arms around him and kisses him shows that the Kylie Cosmetics founder really, really likes him. It's enough to make anyone blush.
Kylie with a picture of her and Timothee on her phone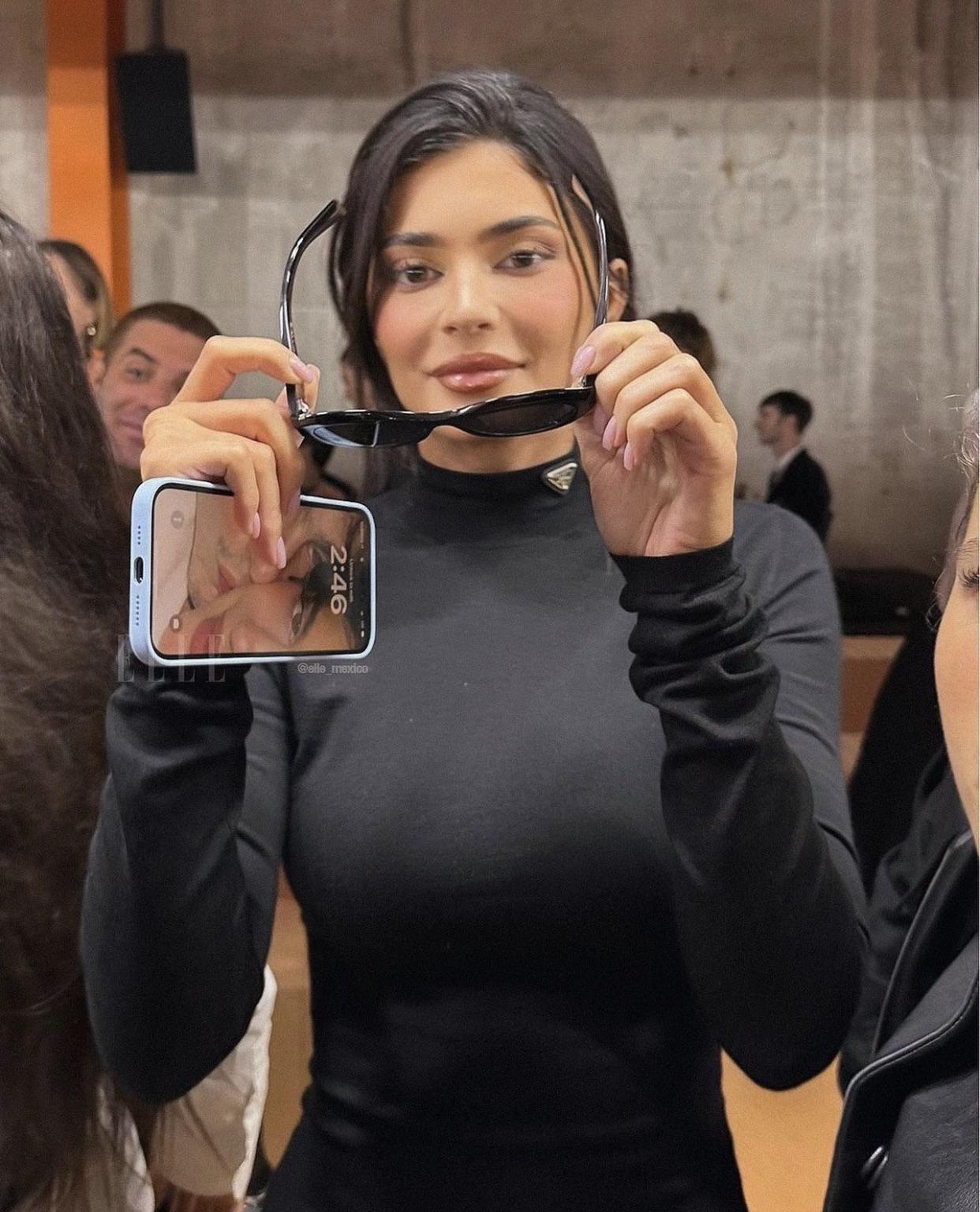 Image Source: Reddit
This is just too cute for words. Kylie was seen in a rare moment of vulnerability here, with her lock screen reflecting a closeup picture of her and Chalamet getting close. She's obviously enamored with him, and those who doubted this pairing are probably eating their words right about now.
Timothee and Kylie in 2023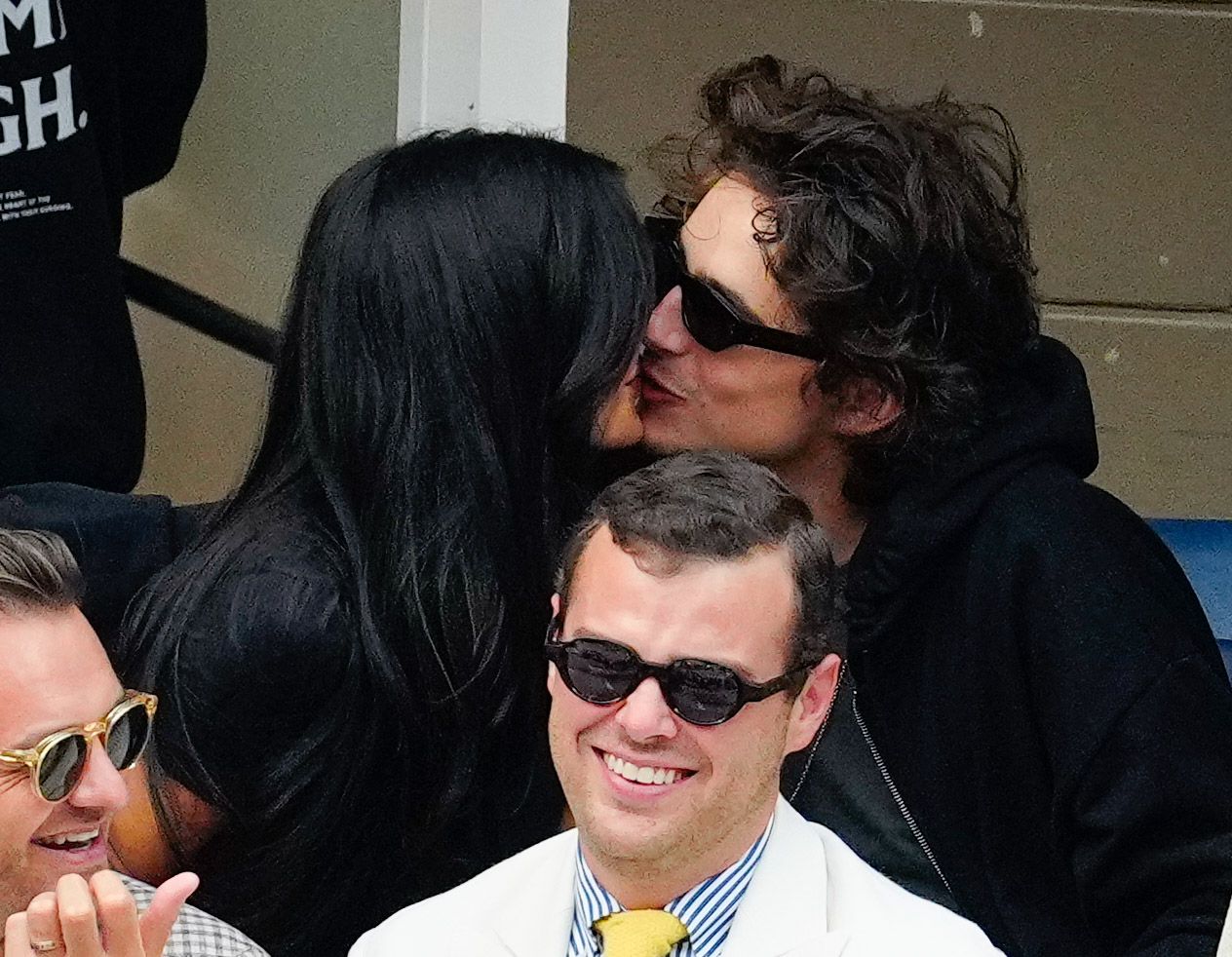 Image Source: Cosmopolitan
Timothee's dreamy curly locks are enough to make anybody swoon. It's even crazier that the most offguard pictures of him always turn out the best. We suppose that's what happens when you're born with perfect eyebrows and bone structure. Has he ever taken a bad pic in his life?
Kylie with Timothee getting close during Beyonce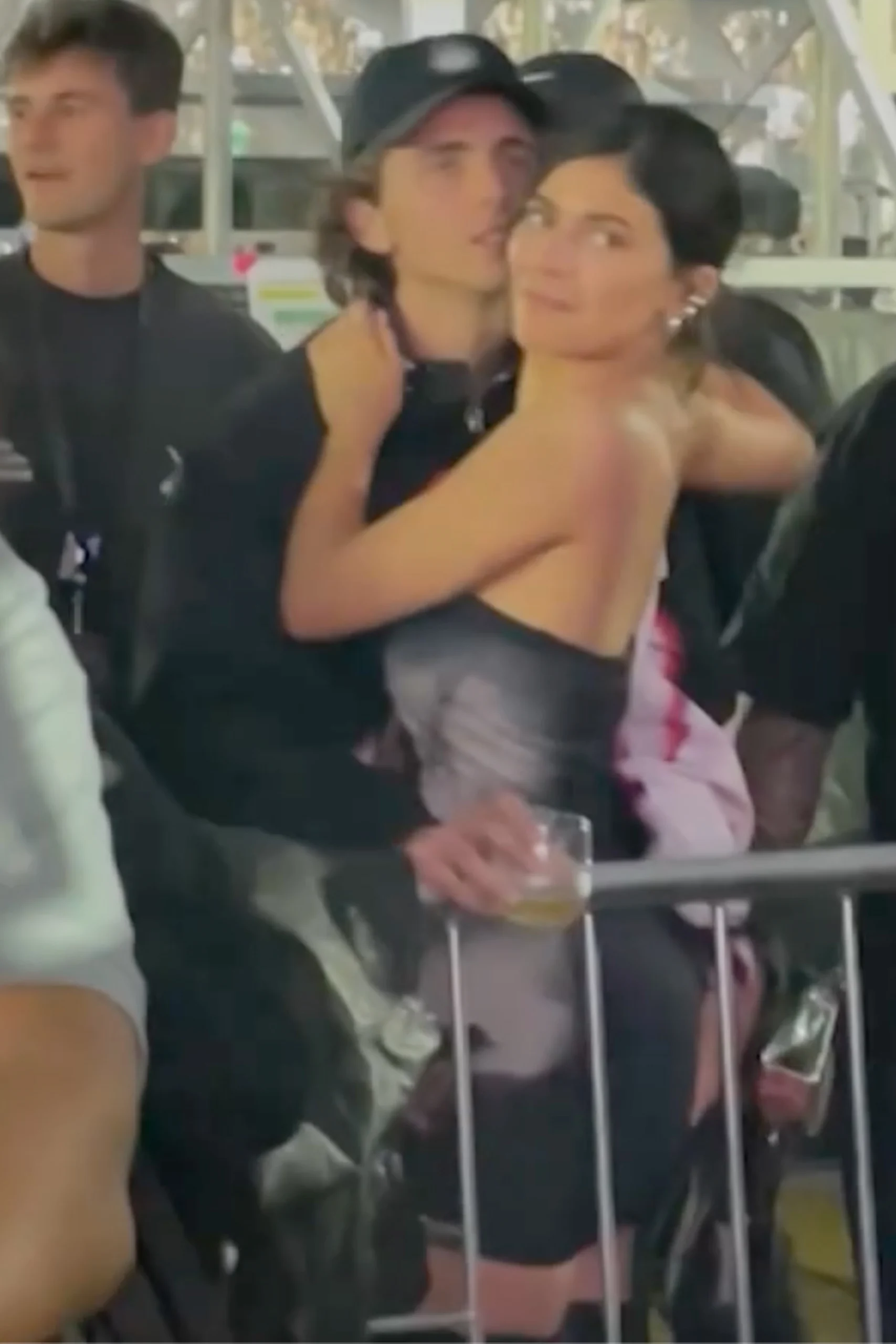 Image Source: The Sun
Kylie has never been afraid of a little PDA, and during a recent Beyonce concert, she and Timothee had their hands all over each other. They were seen cuddling up and kissing, holding hands, swaying, and getting lost in the vibes while Beyonce strutted on the stage and sang some of her most famous tunes. Though we have limited access to their relationship, we can't wait to see Kylie let her hair down and show off her lovey-dovey side.
The Pair Papped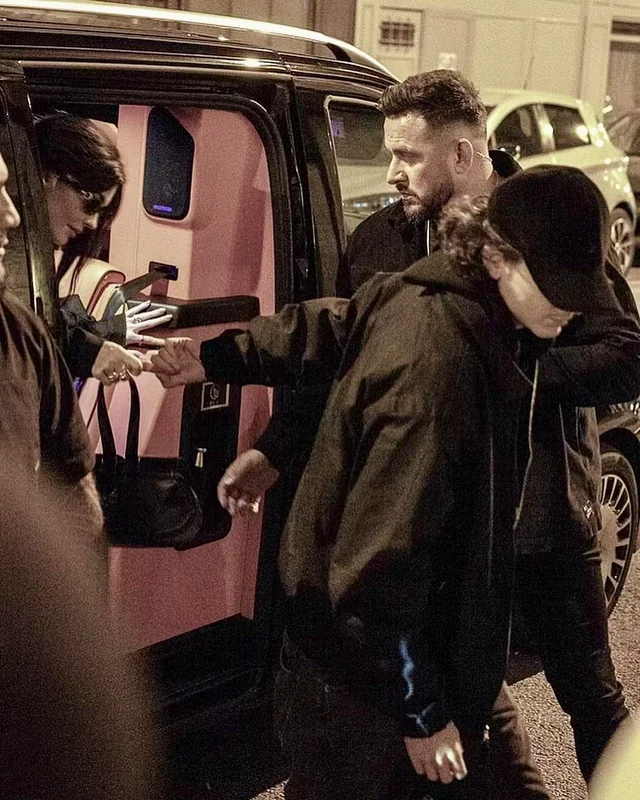 Image Source: Lipstick Alley
Kylie Jenner and Timothee Chalamet were most recently snapped during their visit to Paris, France recently for signer Rosalina's birthday party. Holding Kylie just by her finger, Timothee is snapped wearing head to toe black, whilst Kylie sports a more glamorous look!
Timothee snapping a photo of Kylie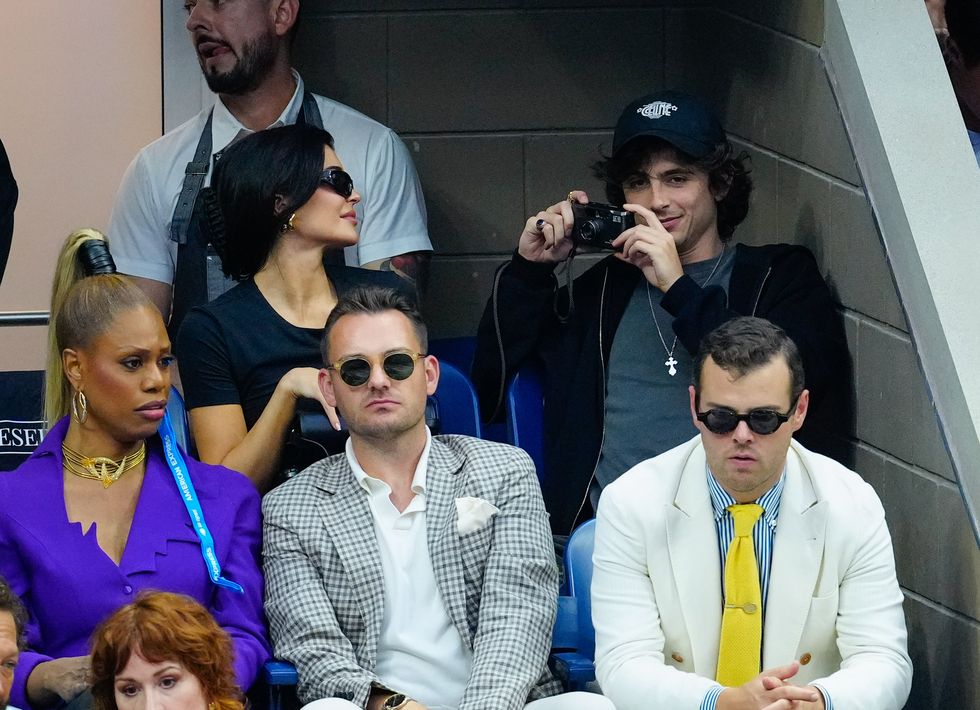 Image Source: Cosmopolitan
Sometimes we forget that Timothee is just a guy who really knows his angles, and if you're dating him, he will most likely know yours. There's nothing like a man that hypes you up and scores you some amazing pics for the 'gram, and Kylie has definitely hit the jackpot with this one. Hopefully we'll get lucky enough to see all the pictures Timothee took of his gorgeous girl during this event.
Kylie with daughter Stormi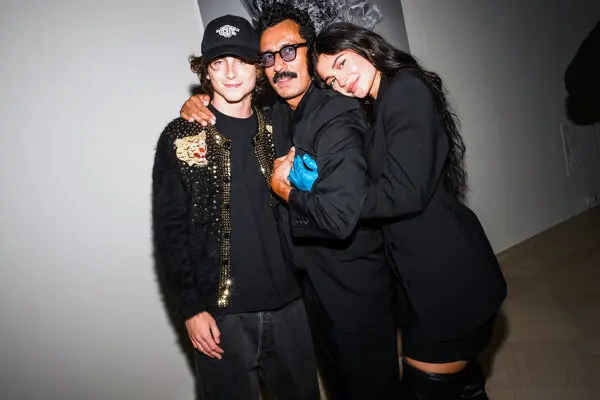 Image Source: The New York Times
Fashion weeks all over the world are an opportunity for our favorite celebs to come out of hiding and show off their best looks, and to even show off who their dating next. Timothee and Kylie were pictured at an event during fashion week, again looking super cozy!
The Pair Before They Came Together... Kylie, Kim and Kendall at a celebration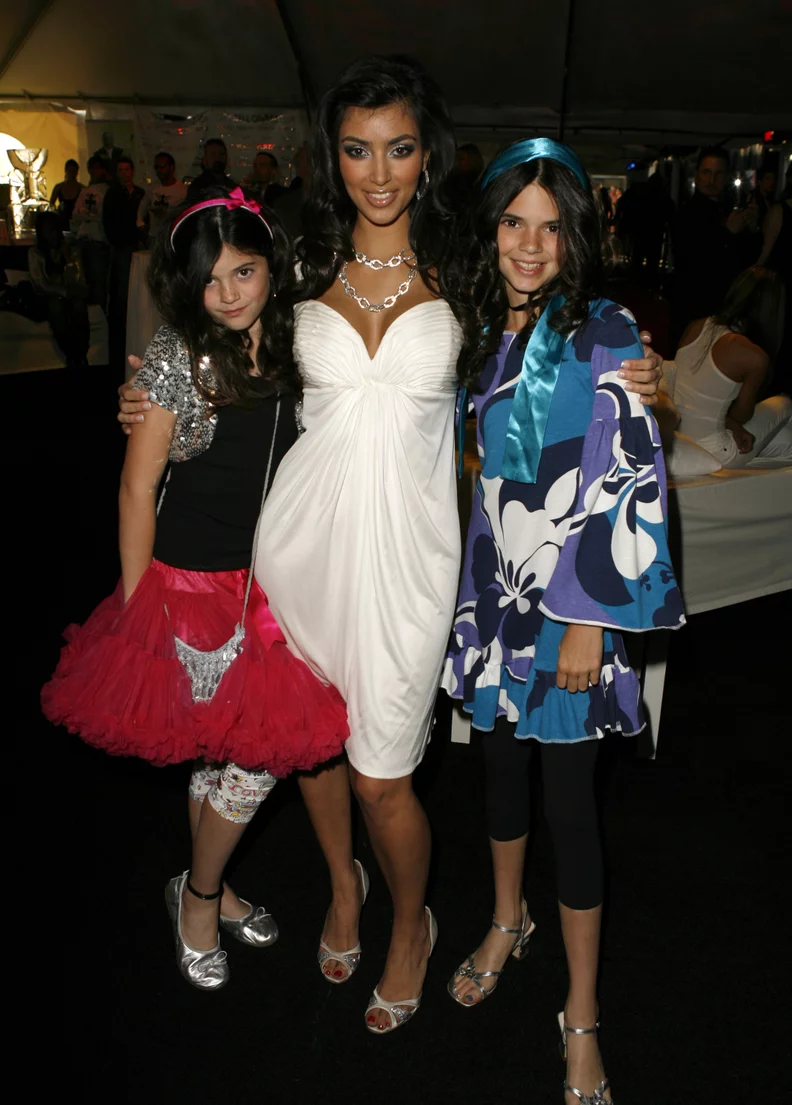 Image Source: Popsugar
The Kar-Jenners have not always been at the forefront of fashion. Back then, their outfits were adorably questionable. Just like us, Kylie went through a faze of girly, poofy skirts and weird bows. It's nice to know that even powerful women were just silly girls at one point.
Kylie walking with Harry Hudson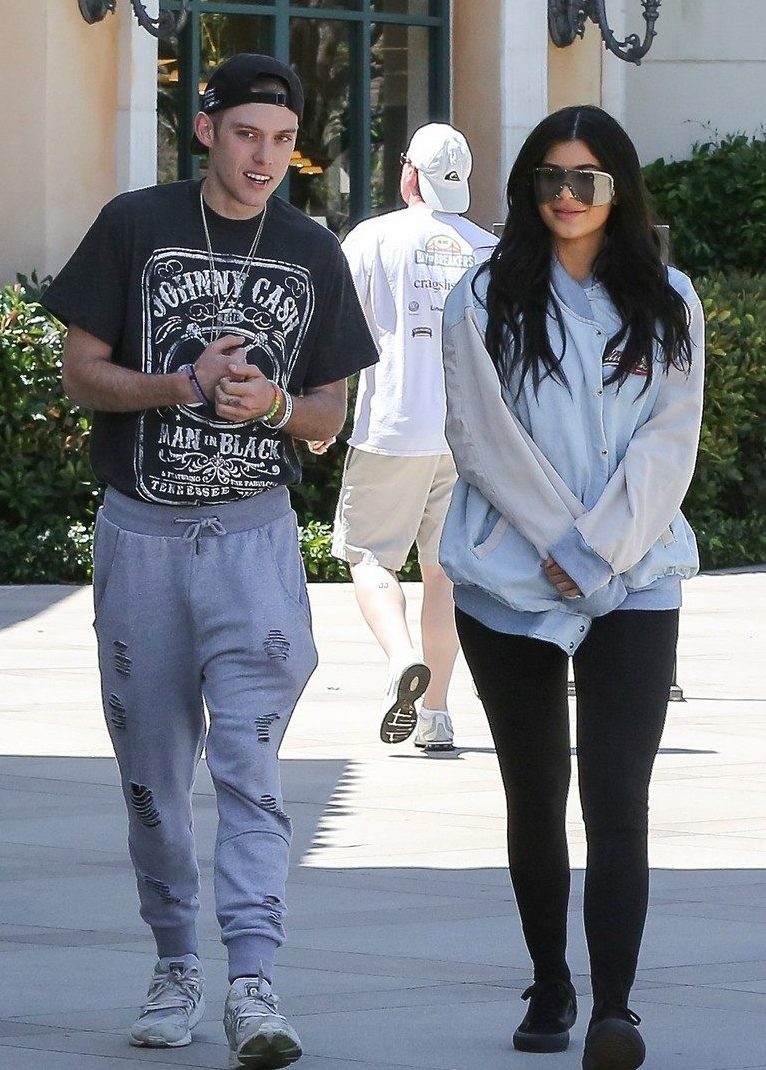 Image Source: Just Jared Jr.
This photo shows Kylie spending the day with Harry Hudson. Not depicted in Jordyn Woods, who was also with them at the time. Kylie looks so young here, and it reminds you just how quickly she became a mega-influencer. Her oversized shades and bomber jacket look is something every girl would've died for at the time.
Kylie with Kendall and Caitlyn on the red carpet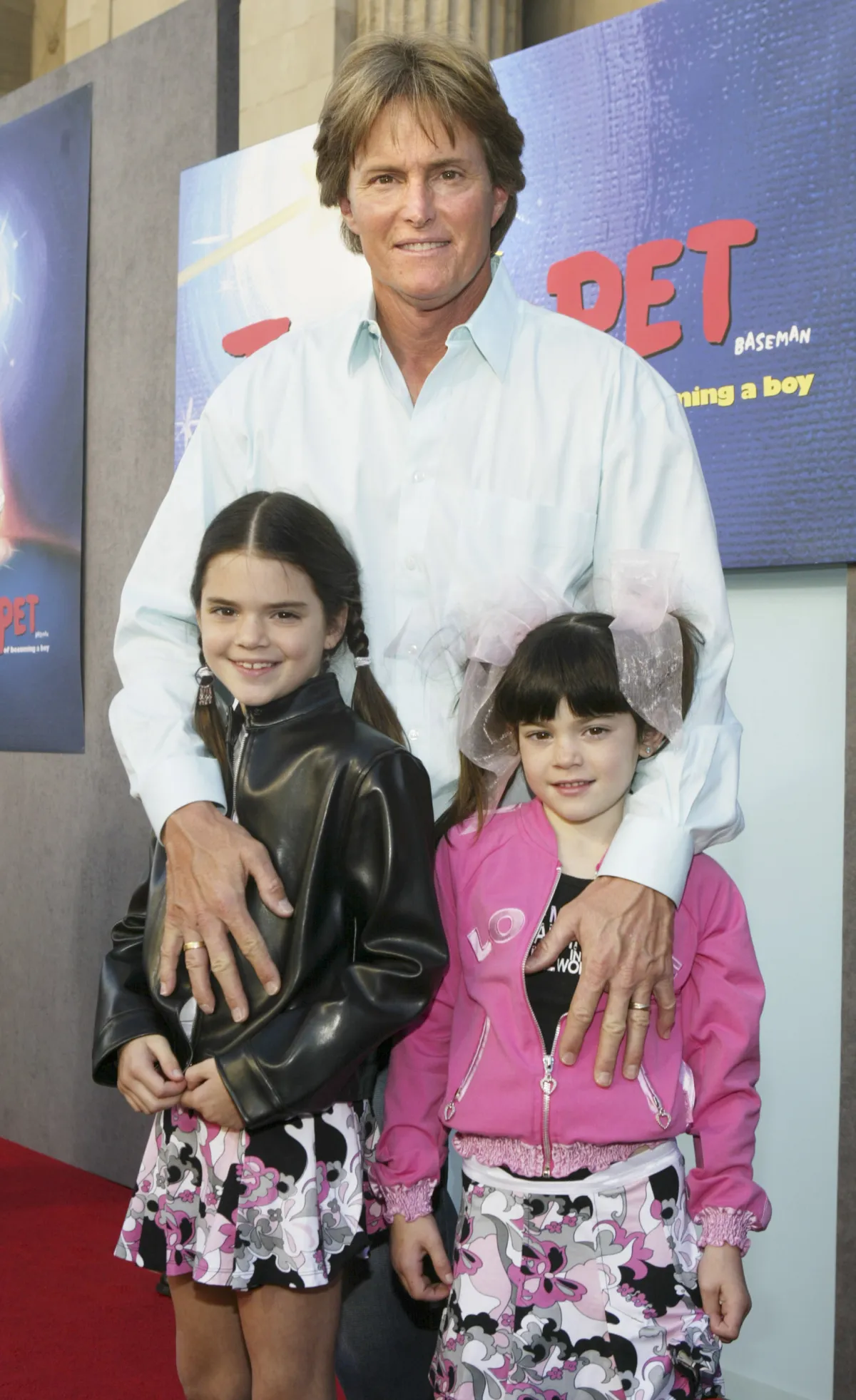 Image Source: Life & Style Magazine
Before Caitlyn transitioned, she opted for simple outfits. As for her kids – they always had something fashionable on. Kylie and Kendall wore matching skirts at this red carpet appearance, with Kylie rocking the cutest bangs ever. We love everything about this photo!
Kylie with Travis and Stormi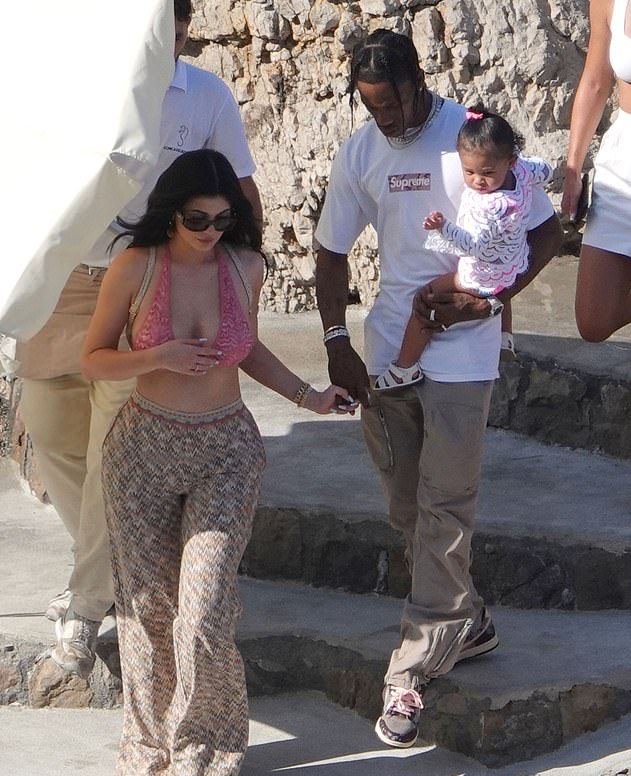 Image Source: Daily Mail
When Kylie and Travis Scott were still together, it was apparent they were a power couple. Though they were never really the type to claim each other as boyfriend/girlfriend, their relationship was still goals to a T. Even though the pair aren't still dating, they continue to co-parent their children incredibly well.
Kylie with Justin Bieber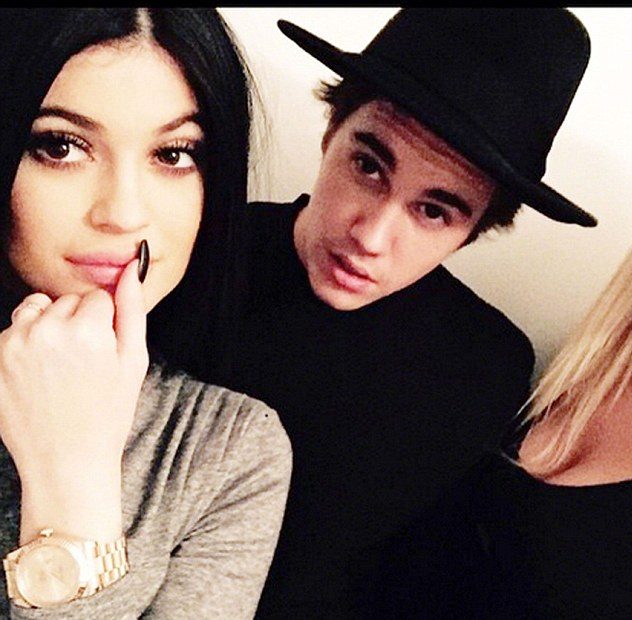 Image Source: Daily Mail
Kylie and Justin have been friends forever, and nothing will come between that friendship. When Kylie was a teenager, her clique was the coolest, and the fact that she and Justin Bieber were fast friends shows just how tuned into Hollywood she was at the time.
Kylie hanging out with Jaden Smith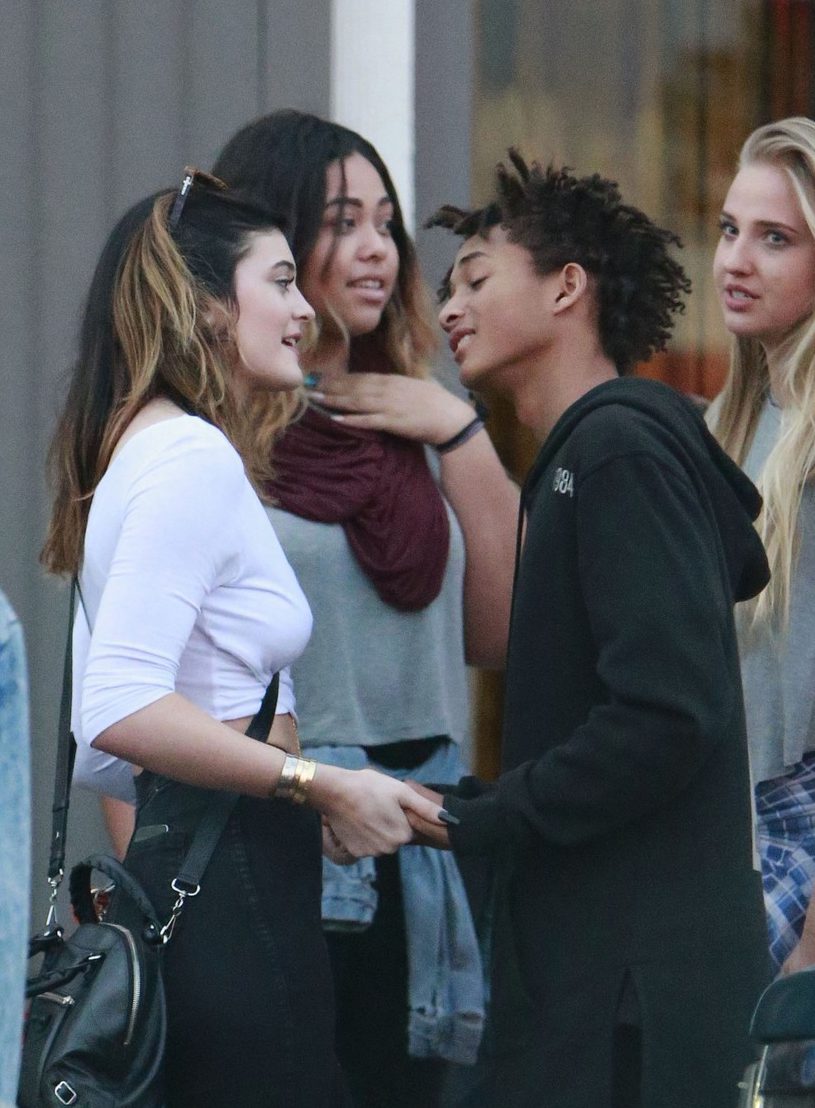 Image Source: Daily Mail
Jaden Smith was Kylie's first love, and the two were always seen together when they were dating. In this picture, Kylie is headed to the movies with Jaden, Jordyn, and other friends. The two looked very much in love, holding hands and smiling at each other with adoration.
Kylie in Aspen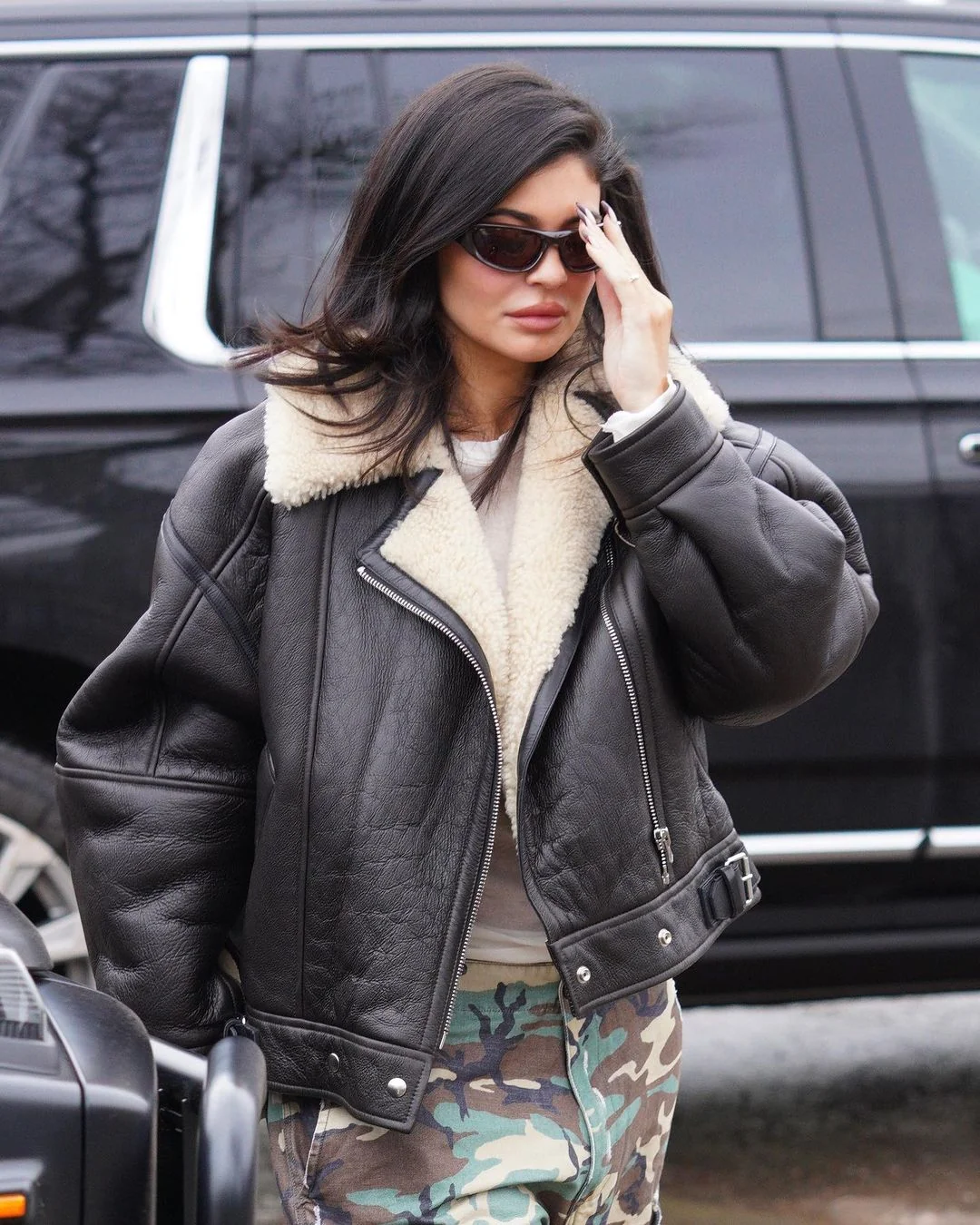 Image Source: Reddit
Nowadays, Kylie's casual fashion drops jaws. Even as she enjoys her time in Aspen outside of her work responsibilities, she still looks incredible in light makeup and an oversized leather jacket. Some say this picture is a rare photo of Kylie because she doesn't often allow paparazzi to snap this side of her face.
Kylie with Stassie and Jordyn Woods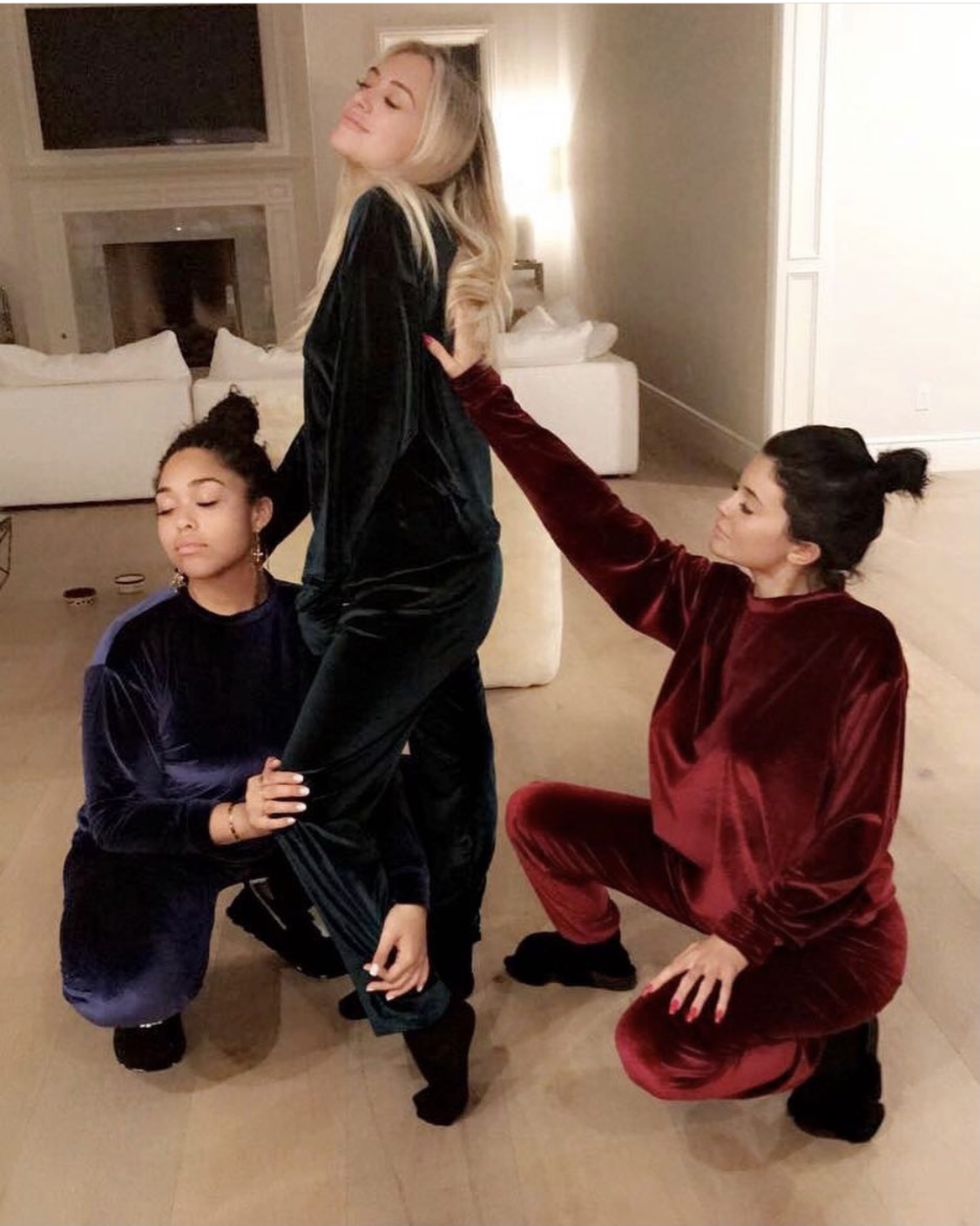 Image Source: CelebSecrets
It wasn't always Kylie and Stassie as the power-besties of the century. It used to be Kylie and Jordyn dominating LA together, with Stassie occasionally at their side. However, Stassie admits she isn't a fan of Jordyn today, and she hasn't always been super close with her.
Kylie on the Yeezy runway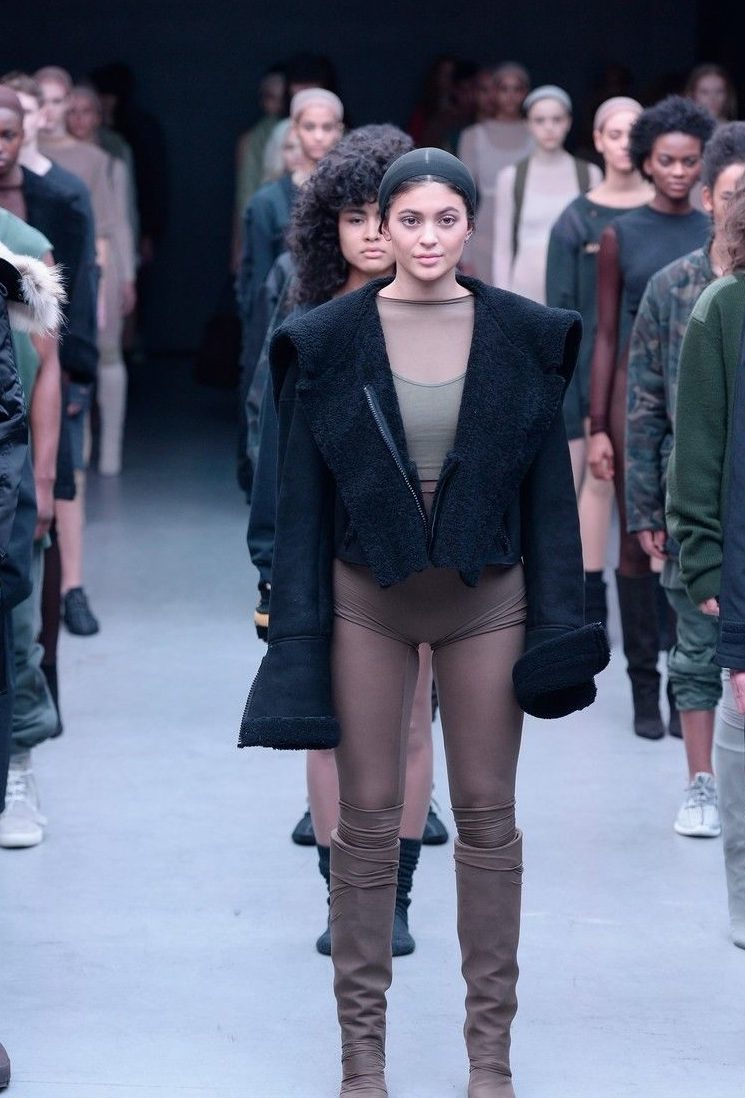 Image Source: Pinterest
Kylie can give Kendall a run for her money when it comes to shots like these. Kanye West's Yeezy fashion shows have always drawn much attention from the fashion community, and he's always made a point to incorporate his loved ones in his vision. Kylie's minimal, almost rugged look both is stunning and unusual at the same time.
Kylie Jenner showing off her blue tresses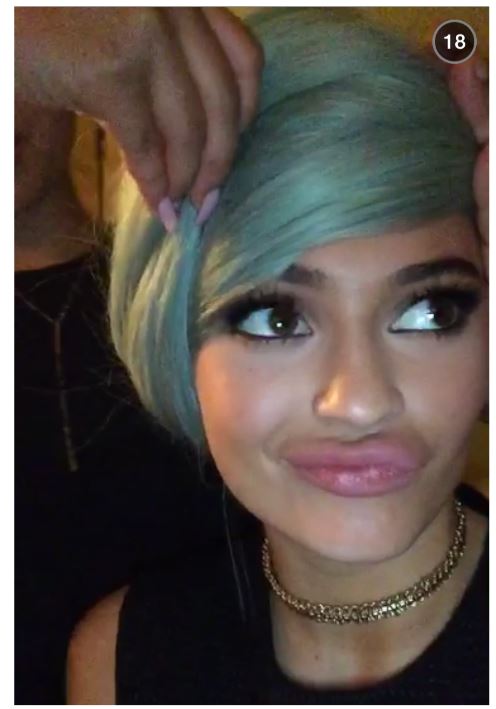 Image Source: Gazette Du Bon Ton
In 2015-2016, Kylie's colored wigs were all the rage. Everyone wanted to experiment with color after she did, and it's because she made it look so cool and effortless. Her Bellami hair extensions were also sold out, and girls everywhere began rocking mermaid-colored manes with flair.
Young Timothee Chalamet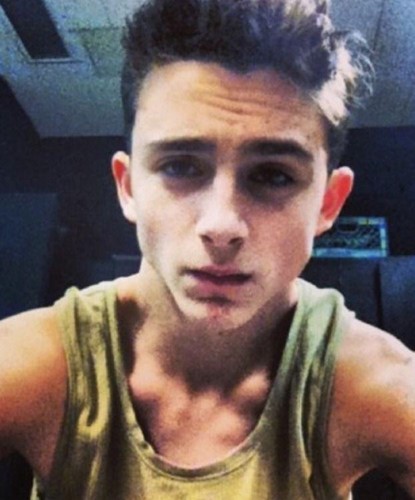 Image Source: Reddit
Timothee Chalamet has always had Hollywood by the heart. Before he was Elio in Call Me by Your Name, he was just an artsy kid who took cringe pictures, much like some of us. We can't get enough of this tank-top-clad Timothee or the slightly raised brow.
Timothee on the basketball court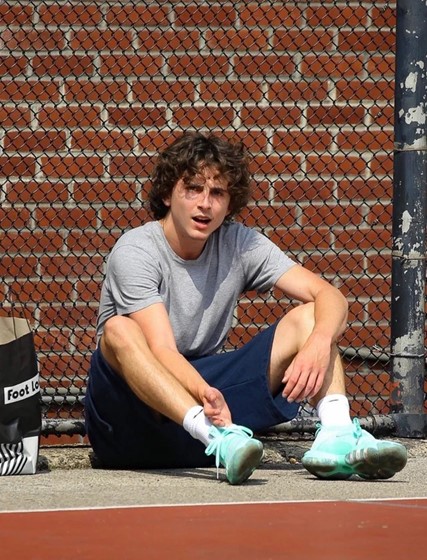 Image Source: Reddit
Timothee doesn't seem like the sporty type, but hey, men are dynamic individuals. Even clad in a simple outfit of basketball shorts and a t-shirt, he looks amazing. In 2023, Timothee is definitely someone of a style icon, but even if he wasn't, we'd till adore him.
Timothee on the red carpet in 2014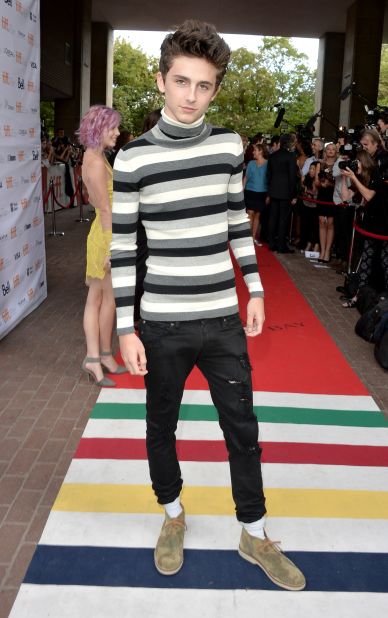 Image Source: CNN
Okay, this is a truly insane outfit, but the man can't be perfect! The shoes are bizarre, the turtleneck is far too tight, and the pants need to be burned. However, there's something so Willy Wonka-esque about this picture, we can definitely see why he was cast as Mr. Wonka himself.
Timothee as a teen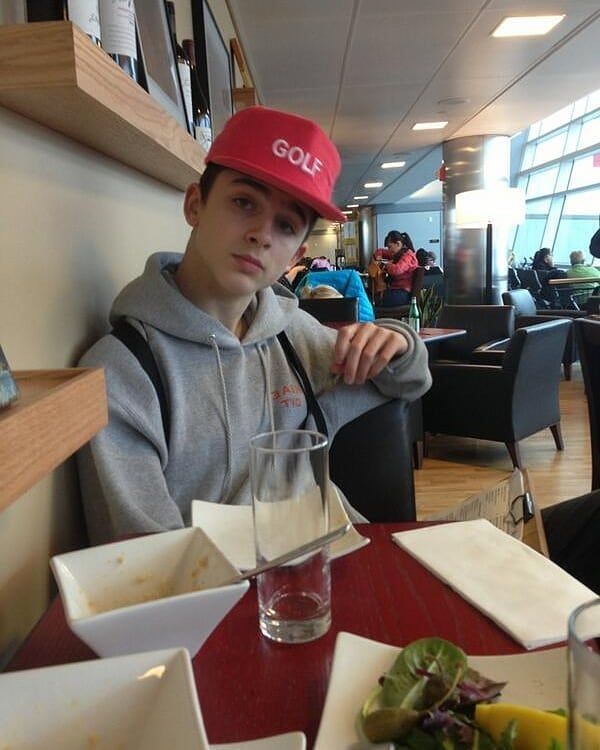 Image Source: Pinterest
It seems Timothee was just your average, Odd Future-loving teen at a performing arts high school. Multiple videos have surfaced of Timothee in school, performing a variety of musical numbers that show off his multitude of talents. We can't help but wonder – if Kylie met him back then, would she go for him?
Teen Timothee throwing up the deuces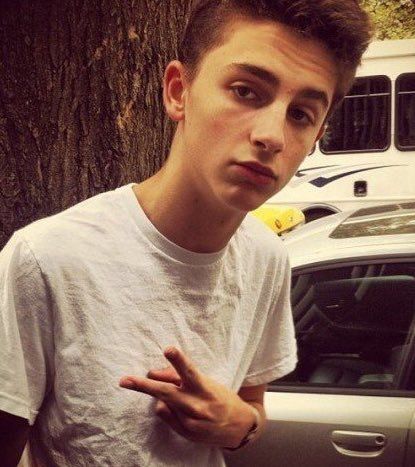 Image Source: Pinterest
Timothee looks so young here! It's always so fun to see A-list celebrities as simple teens. At this point, Timothee wasn't nearly as famous as he is now, but he absolutely had star potential. Though he was initially rejected from LaGuardia High School of Music & Art, he was later accepted based on the sheer talent showcased in his audition.
Timothee and Lily-Rose Depp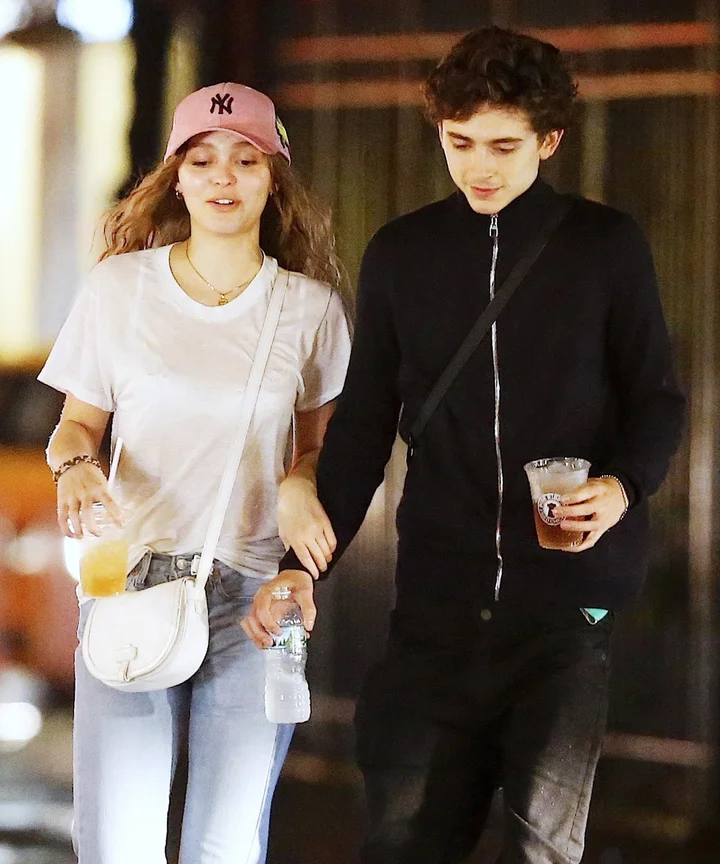 Image Source: Refinery29
These two met on the set of their movie, The King, and were virtually inseparable for a year and a half. The two broke up in 2020, but they were the most amazing couple when they were together. Timothee admitted he really loved Lily-Rose, even though many people assumed the relationship was PR.
Timothee on the set of "Little Women"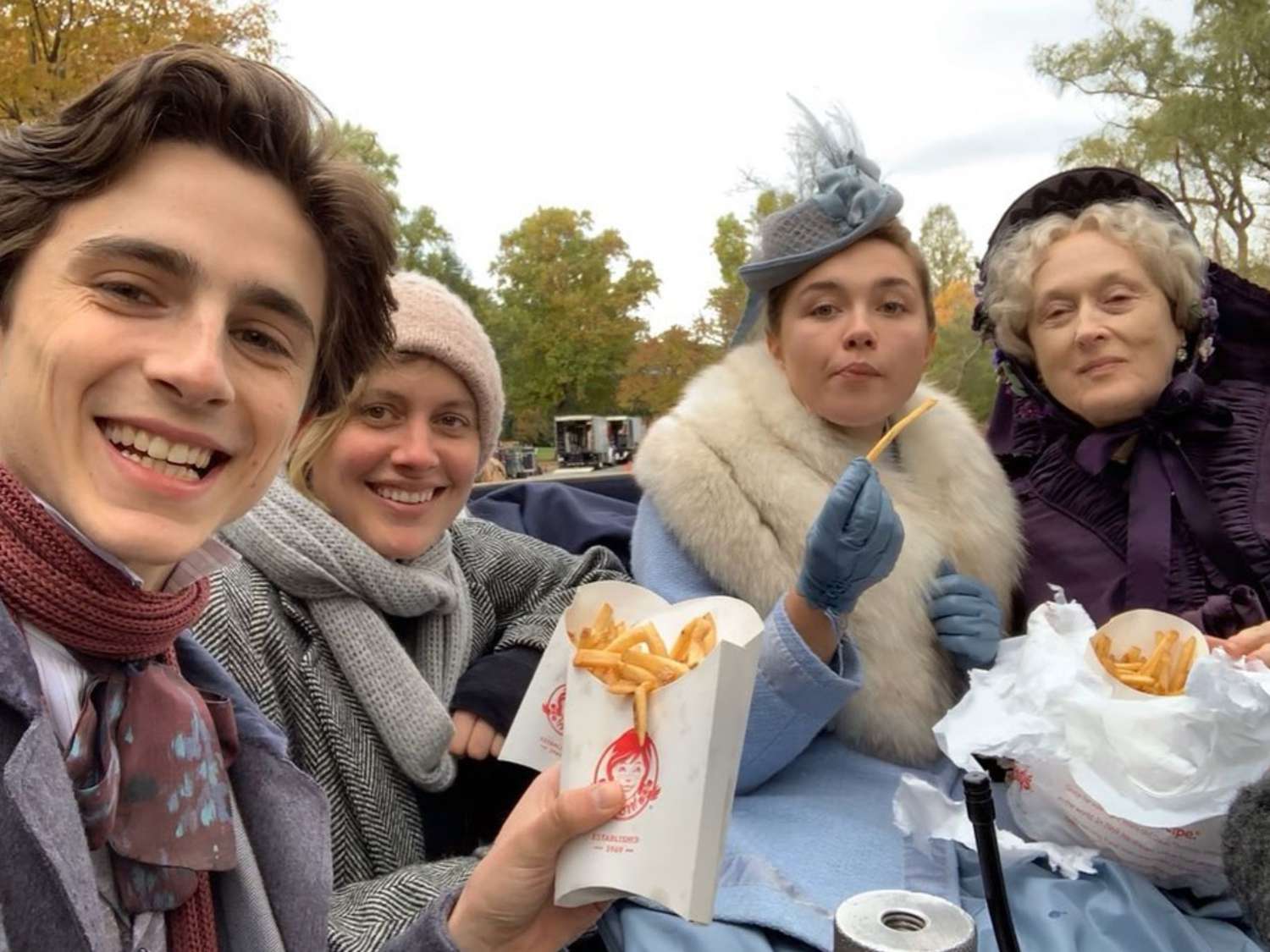 Image Source: People
Little Women is a 2019 movie with an all-star cast consisting of big names like Meryl Streep, Emma Watson, Saoirse Ronan, and Florence Pugh. Chalamet was very involved with styling Laurie, the character he played. Timothee loves fashion, and it's apparent he has a keen eye for it.
Timothee during Haider Ackermann fashion show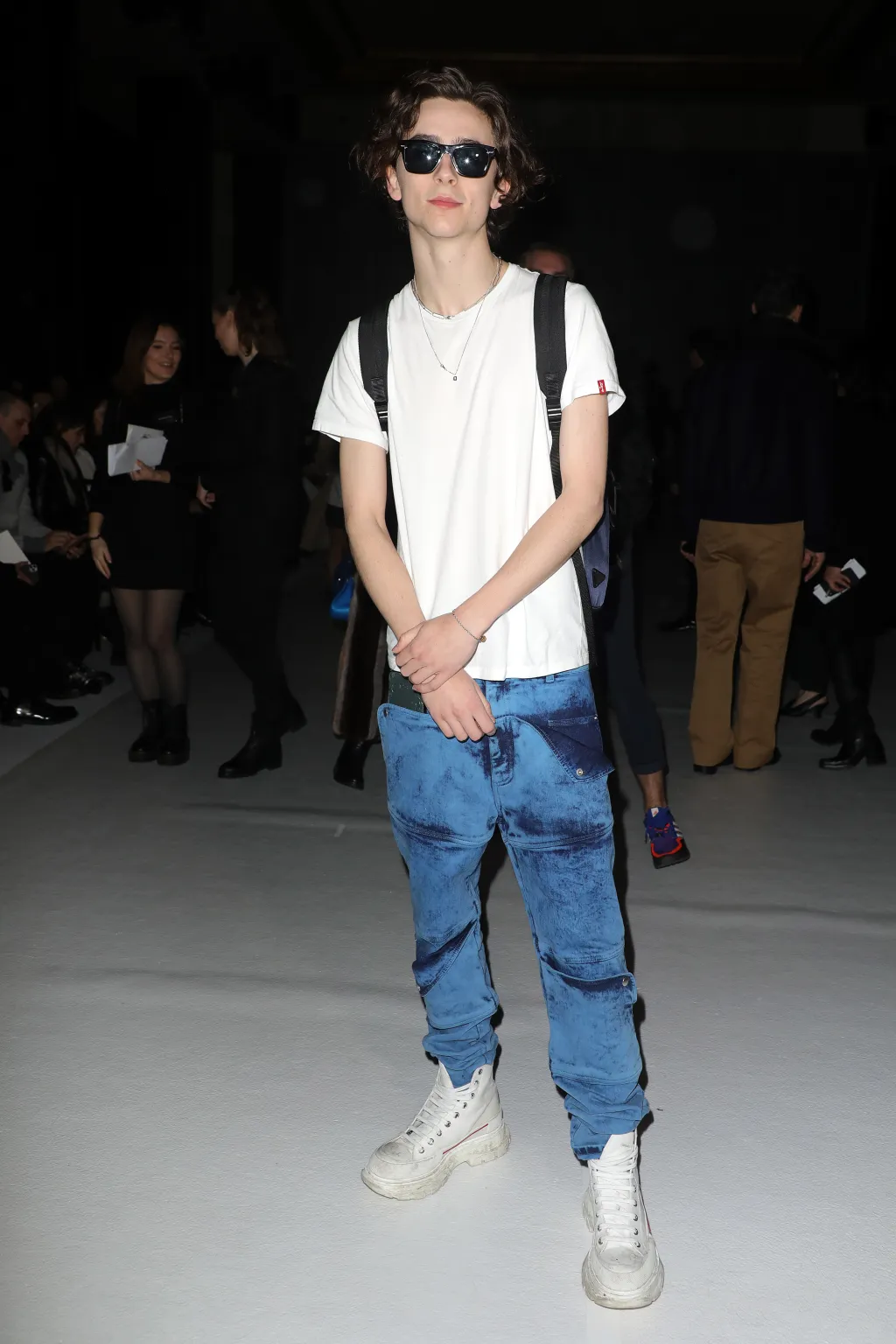 Image Source: icon.ink
It's so hard to tell when Timothee is serving or falling short when it comes to his outfits, and this one is a cross-section between the two categories. He's giving back-to-school realness in this picture, and honestly, we kind of dig it. Maybe he knows what he's doing after all.
Timothee as a kid rapping for a statistics class project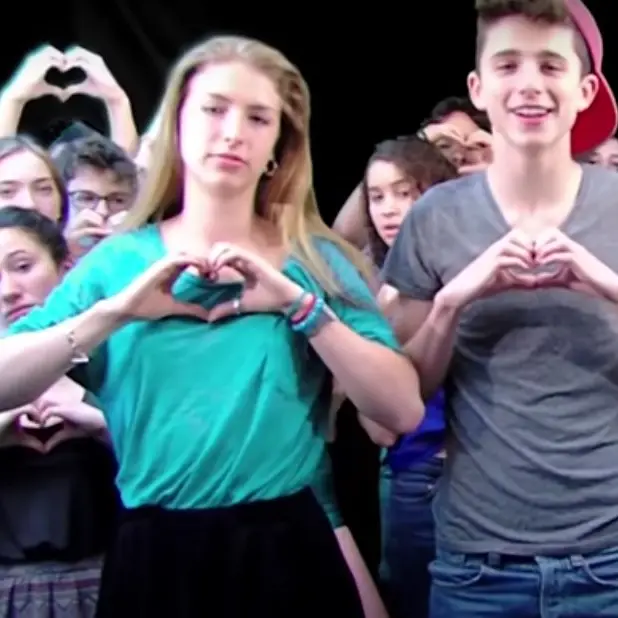 Image Source: Buzzfeed
Lil' Timmy Tim lives on through YouTube and the various TikToks circulating with clips of Chalamet's brief stint as a nerdy teen rapper. Her school performances are super entertaining, and you can see why everyone loves him. He's naturally funny and charismatic, which is all you could want in an actor (and a boyfriend).
Timothee posing with a fan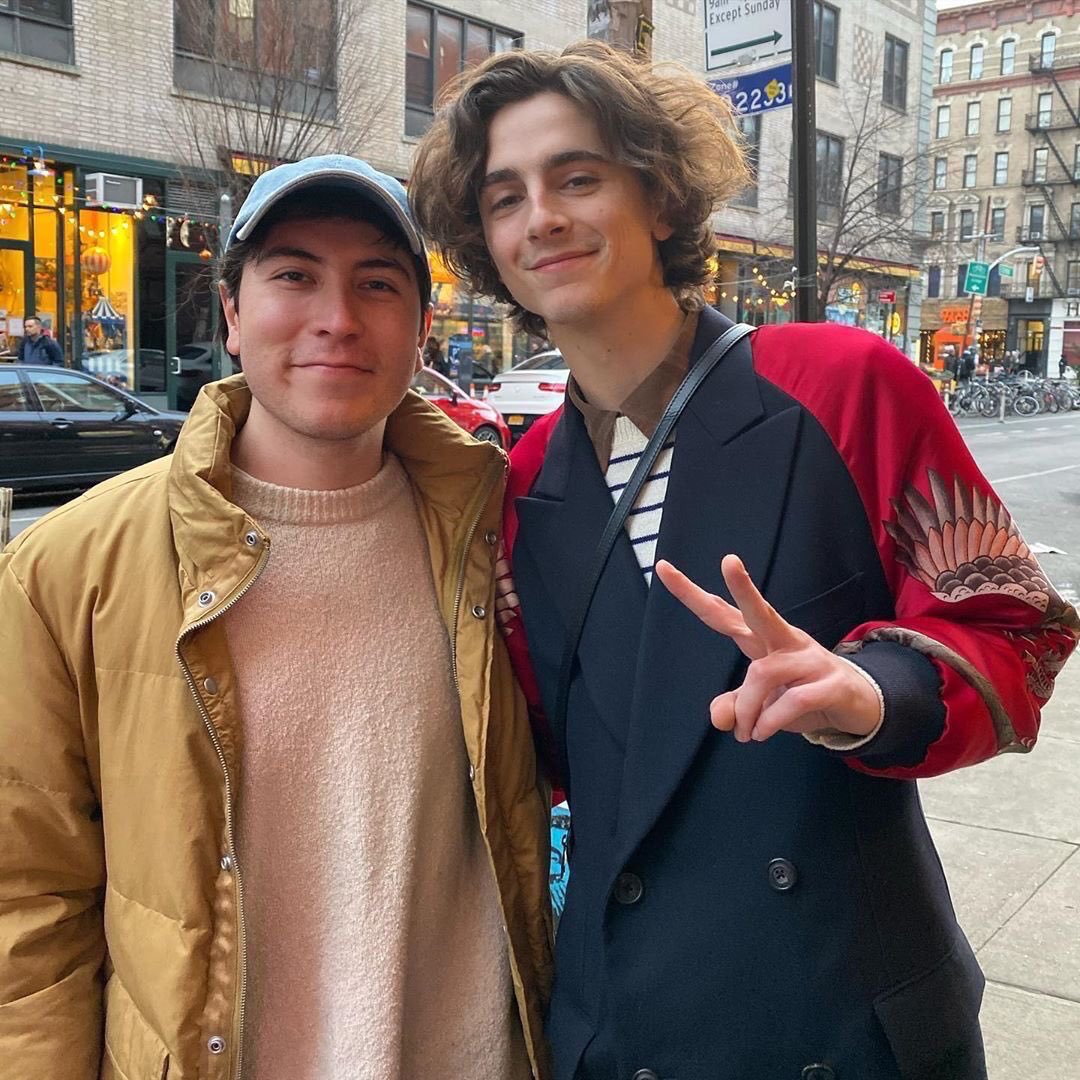 Image Source: X.com
Fans love meeting Timothee, and he's always down to pose with a fan. Chalamet is a pretty humble guy even though he's starred in critically acclaimed films with actors like Robert Pattinson and Meryl Streep and worked with countless genius movie directors.
Timothee with Lourdes Leon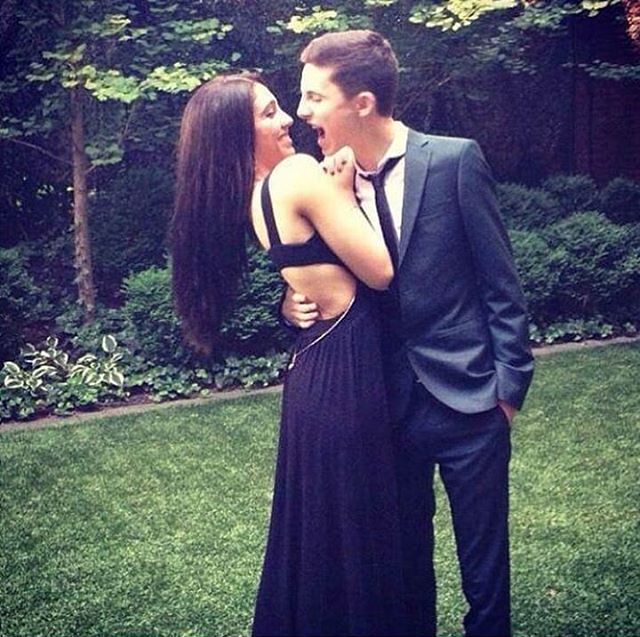 Image Source: Pinterest
When the two attended LaGuardia together, Lola and Timothee dated for a brief period. This man probably has one of the most insane dating track records of all time. First Madonna's daughter, then Johnny Depp's daughter, then THE Kylie Jenner? We want whatever he's got.
Timothee with his mom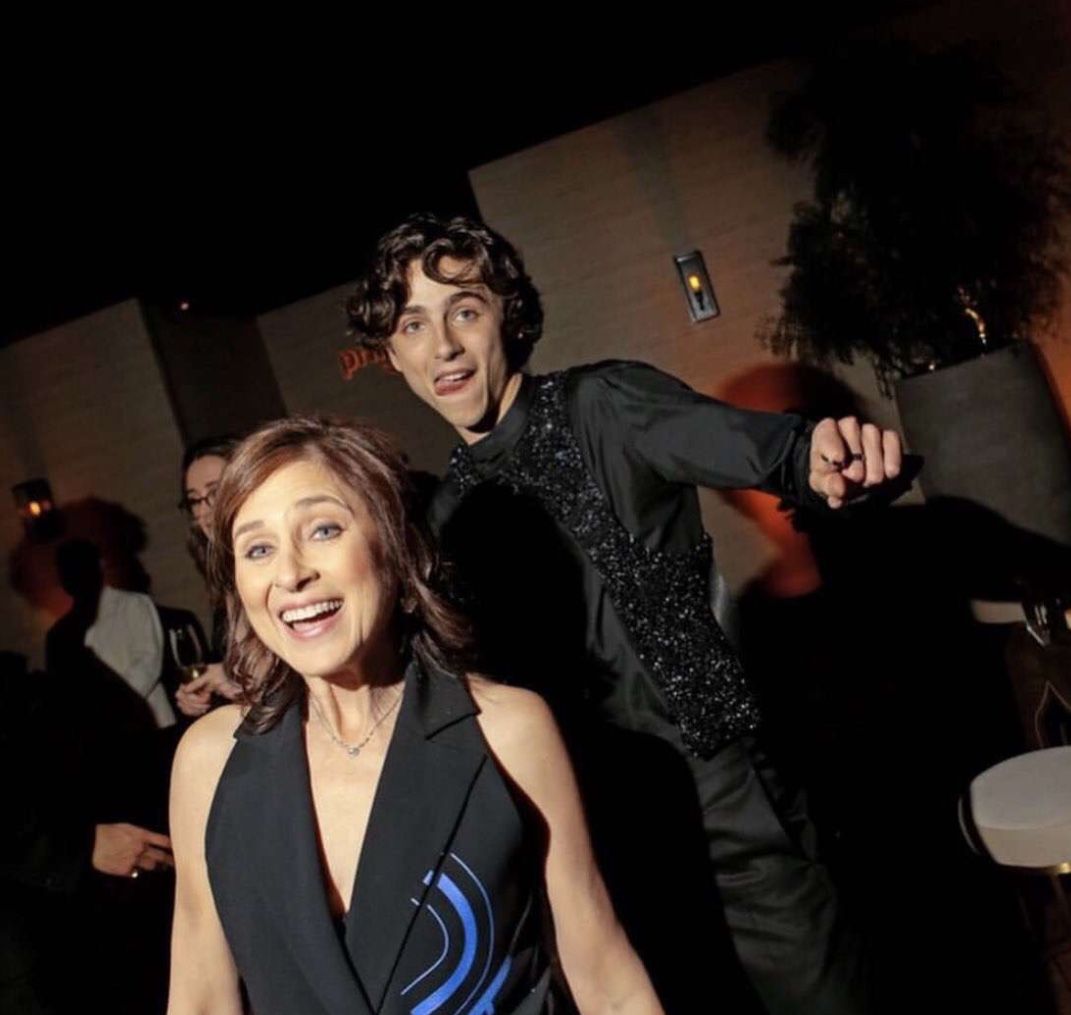 Image Source: Reddit
Timothee has always been vocal about his appreciation of his mom, posting a heartfelt Mother's Day post for her this past year. It's clear his mother has always encouraged him to be exactly who he is. His relationship with his mother is one of the reasons he's so successful today.