The Most Expensive Items That Can Be Found At Graceland
By Tom Pearson
1 month ago
Gold Rolex - $1,800,000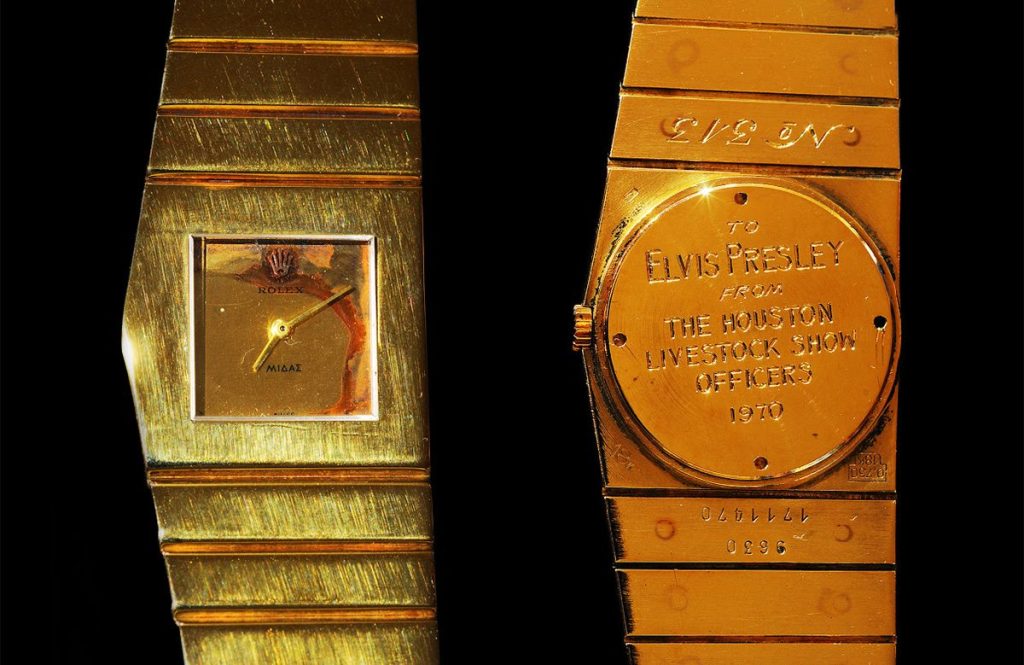 image source: oracle time
Weighing in at a hefty 185 grams this gold Rolex timepiece could only belong to the King. This Rolex King Midas was designed by Gerald Genta. Its elegant and sleek design reflected the fashion choices of Elvis during this period, and although not as flashy as some Rolex watches we see today, those in the know realize how much this is actually worth to a collector.
Gibson Guitar - $1,100,000
image source: Rock And Blues Muse
This Gibson acoustic guitar was a personal favorite of Elvis. He used it from 1956 to 1957 for most his appearances and concerts. Gibson released the SJ-200 (the guitar used by Elvis) as a top of the line flat bottom guitar. With its super large body, and rosewood construction, these guitars are very sought after. The fact it belonged to Elvis justifies that million dollar price tag.
Elvis's Jet - $600,000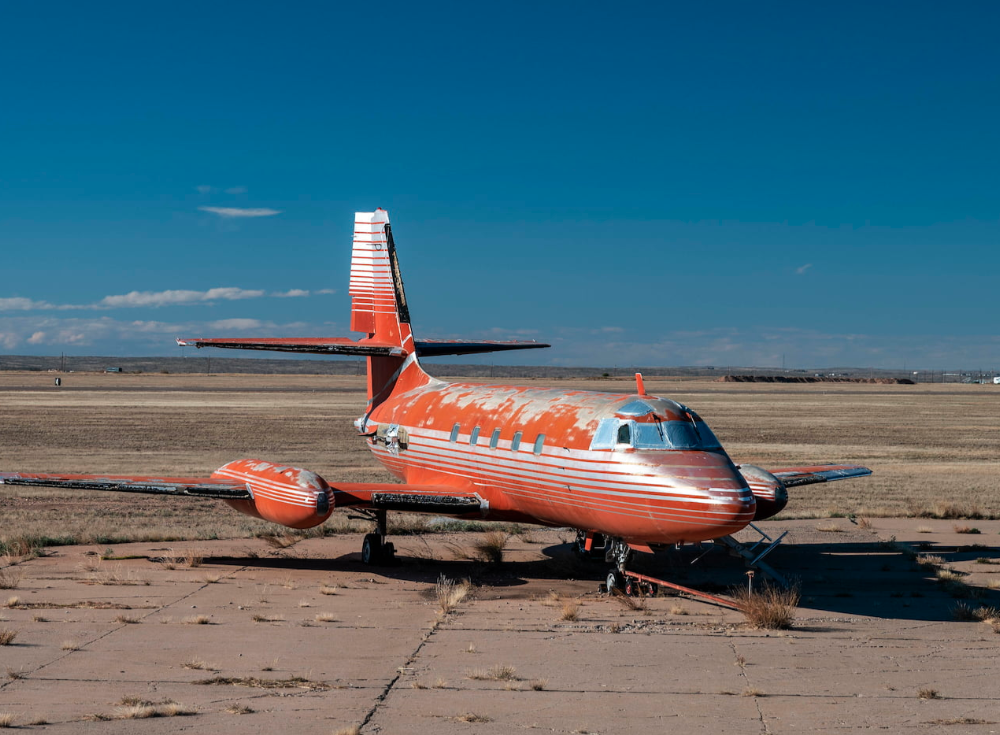 image source: Smithsonian Magazine
Now looking a bit sorry for itself, the private jet Elvis used was crucial for his career, and he took it everywhere. The Lockheed Jetstar has a red velvet interior, trimmed in (of course) gold, gold and more gold. It was bought in 1977 by James Webb, and has since had its engines and other vital flight components removed, making it no longer air worthy.
Peacock Jumpsuit - $300,000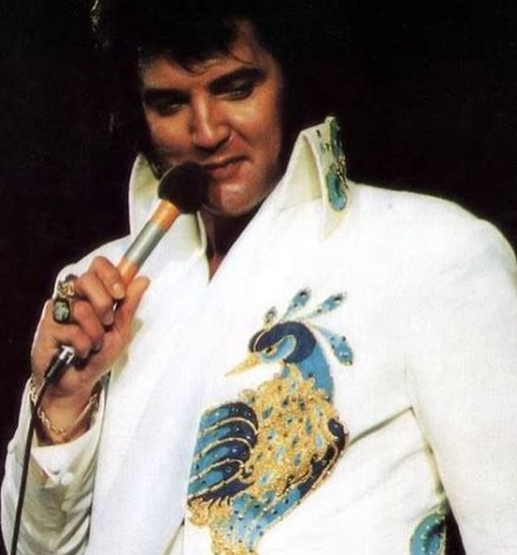 image source: instagram
Elvis used this jumpsuit from 1974 and it was known that this was one of his personal favorites. Embroidered with turquoise feathers, and stunning gold detailing, this is certainly an eye catching statement. The jumpsuit was designed by the personal designer for Elvis, Bill Belew. Belew went on to design many more of the kings classic jumpsuits for many more years.
First Recording - $300,000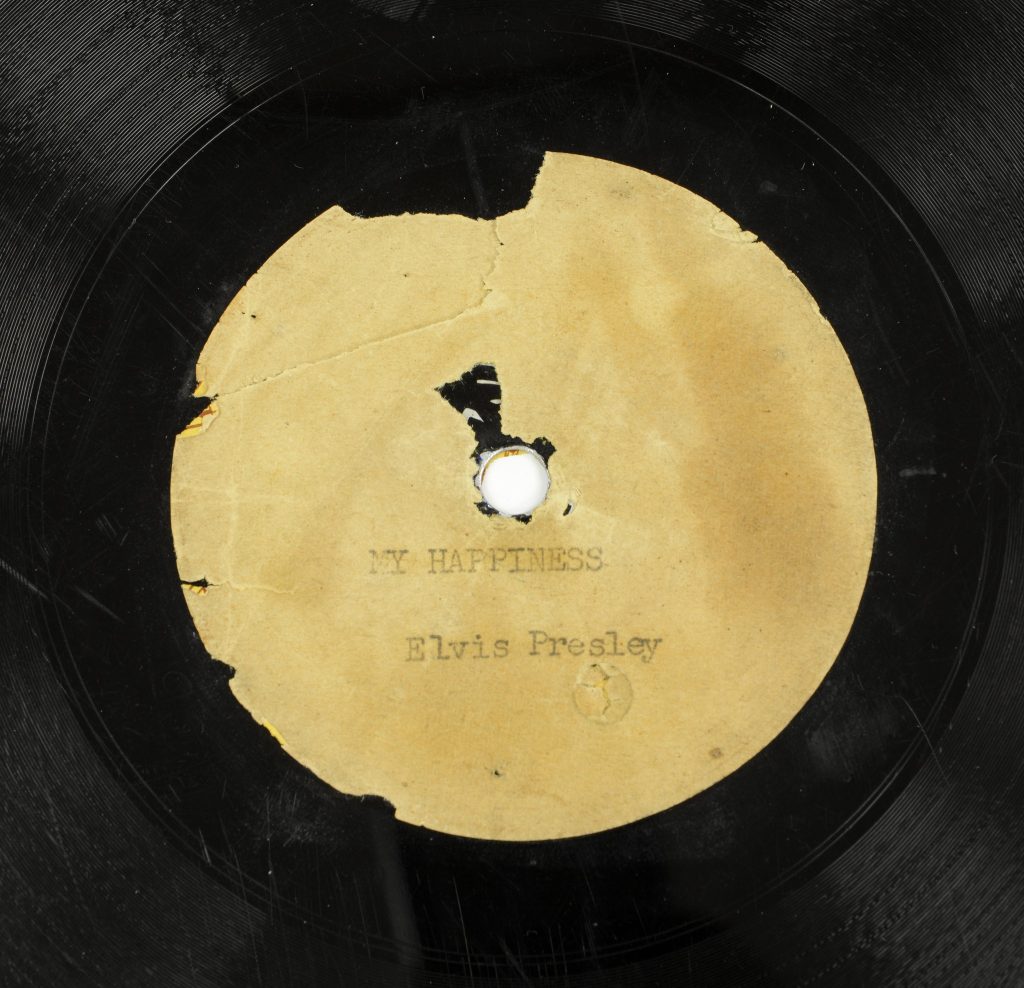 image source: Gulf Live
My Happiness is the first record ever produced for Elvis. It was recorded on July 18th 1953, and is one of the most expensive records ever produced. Although it is now worth around $300,000, Elvis actually only paid $4 to have it recorded and pressed. It was a gift for his mother and was to be the starting point of a long and successful career in the music industry.
1956 Lincoln Continental - $295,000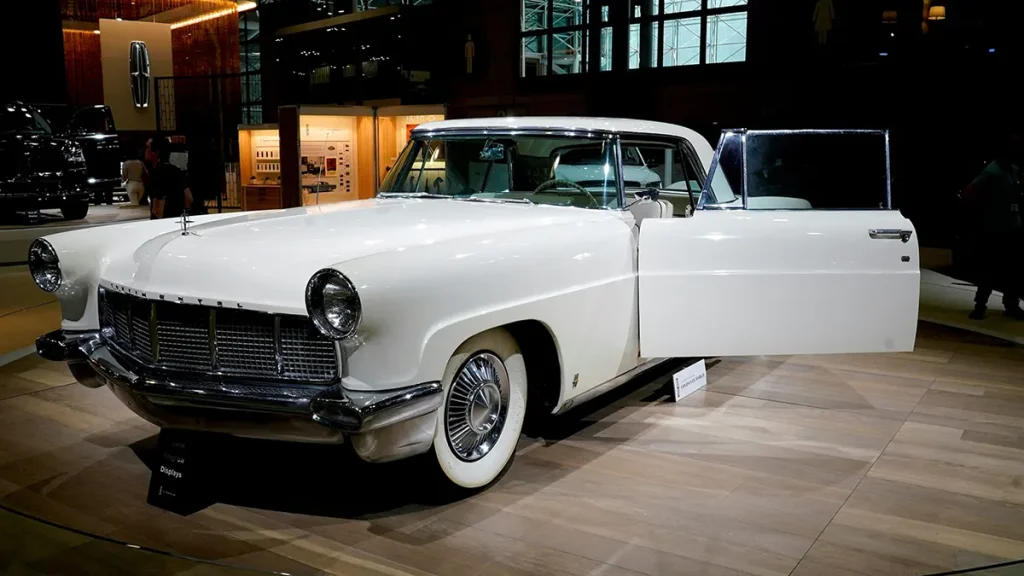 image source: fox news
This two door 1956 Lincoln Continental is undeniably cool. White paint, white wall tires and a white leather interior stinks of money, and the price tag it sold for certainly reflects this. Lincoln customized the Continental to Presley's personal specification, meaning this is the only Continental out there with a gold colored alligator skin roof covering.
Nail Mirror Jumpsuit - $175,000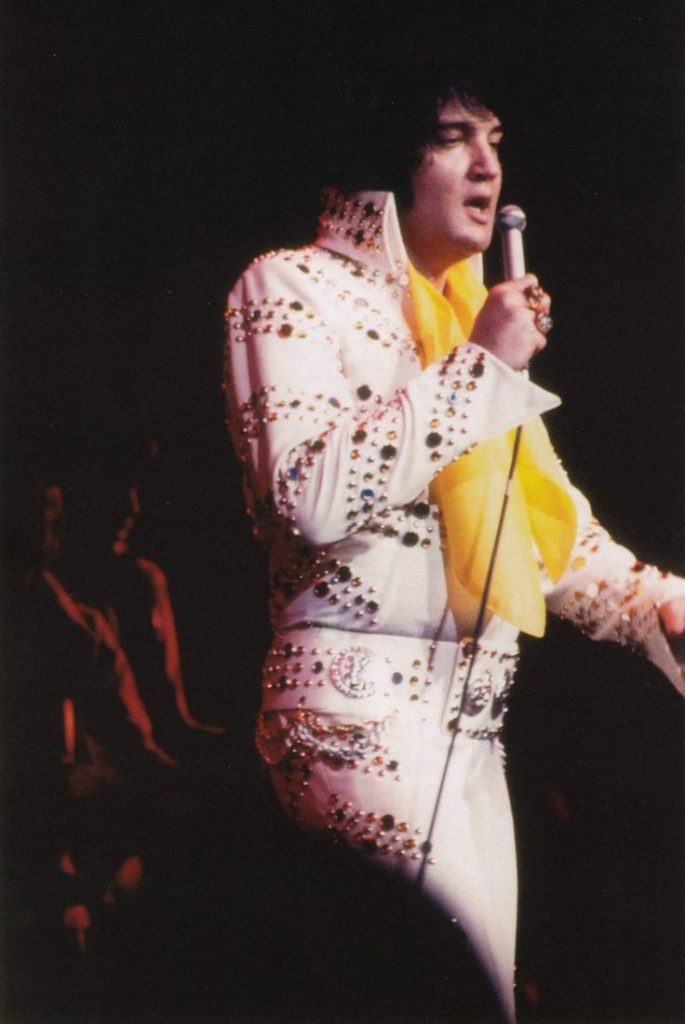 image source: pinterest
This bedazzled jumpsuit was worn toward the end of Elvis's career. Nicknamed the 'Pharaoh' suit, this piece sports over 300 individual jewels and must have weighed a tonne! This jumpsuit was worn by the king at the largest concert he ever performed at, the 1974 Houston Aerodrome concert. Here Elvis performed to over 44,000 audience members who were no doubt left awestruck.
1955 Cadillac Fleetwood Limousine $172,000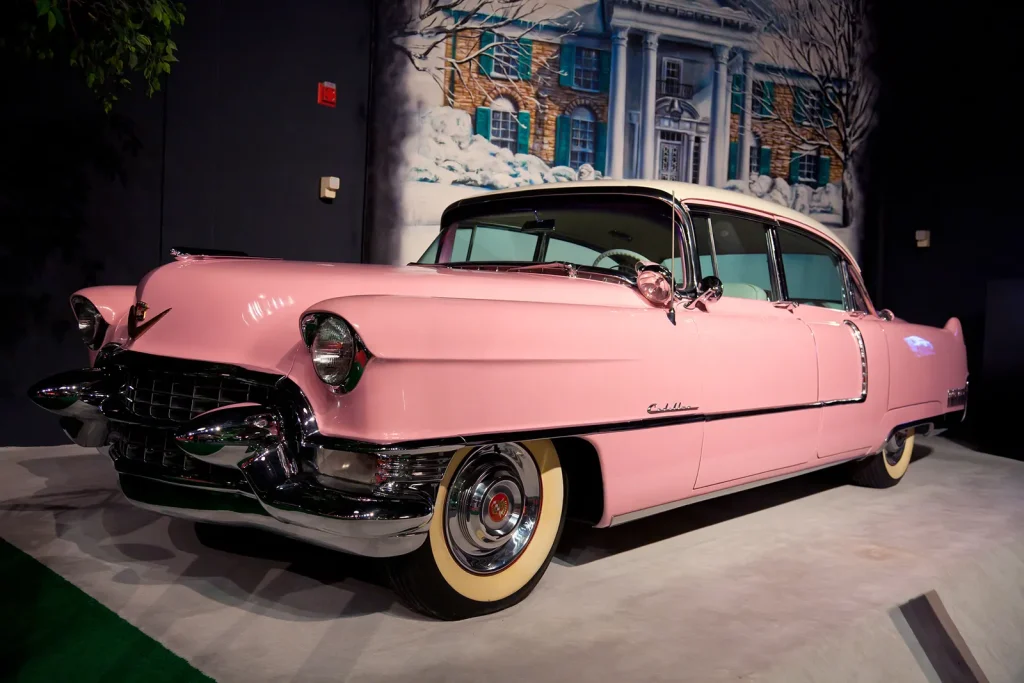 image source: GQ
Another vehicle made specifically to the specification of The King of Rock and Roll is this 1955 Cadillac Fleetwood Limousine. The car set a president for pop culture in the era, being referenced frequently, especially in songs from the 1960's. The car was originally black, but had it painted pink by a neighbor. It was then given to his mother as a gift.
1942 D-18 Acoustic Guitar - $152,312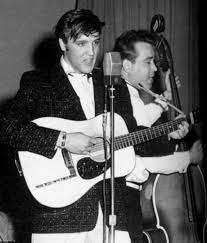 image source: Scotty Moore
Known as the 'Sun Sessions' guitar, Elvis loved his D18 Martin. Throughout the 50's this was the guitar Elvis used on stage and in the recording studio, that's probably why he grew so attached to it! The owner of the guitar keeps it on display, but has never been disclosed. What do you think, is any guitar worth over $150,000 or is this worth even more?
Lord Elgin Watch - $150,000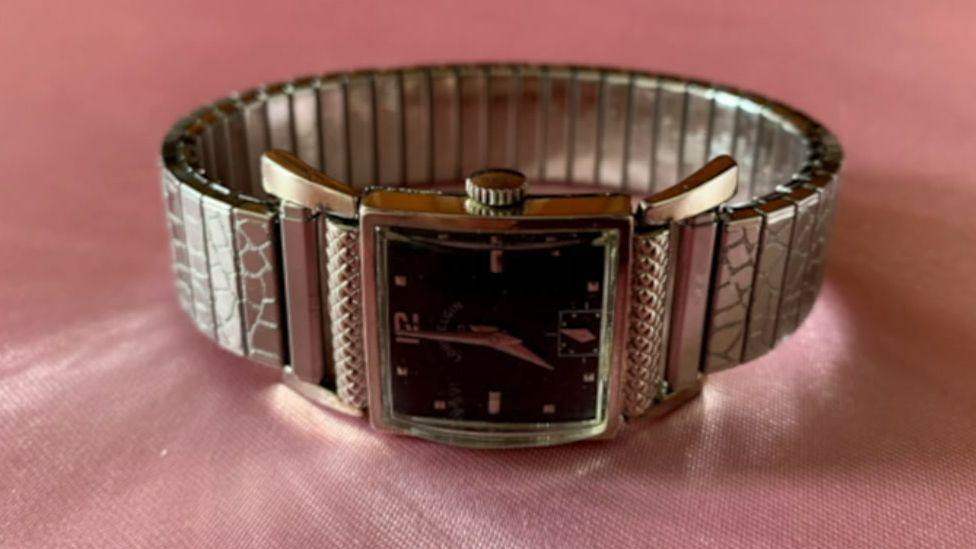 image source: BBC
This Lord Elgin watch is made from 14 Karat Solid Gold, and was the first watch Elvis wore on television. A friend of Elvis, Jimmy Velvet, sai he believed that the watch is one of the greatest pieces that Elvis ever owned. This watch was also worn when Elvis signed his first ever recording contract. Since its first sale it has been revalued at almost $250,000.
1970 Mercedes Benz 600 Saloon - $129,805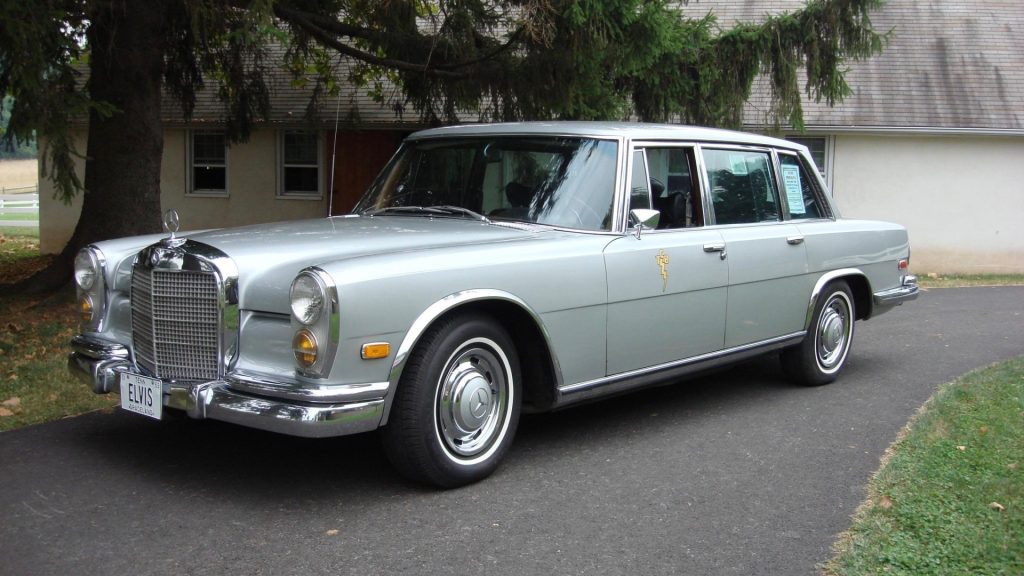 image source: Motor Authority
The Mercedes Benz 600 is synonymous with stature and power. They have been owned by dignitaries, emperors and The King of Rock and Roll. This 600 was the most expensive one ever to be sold at auction, being worth double the price of the next most expensive 600. Like many of his cars, Elvis gave this away. The Mercedes was gifted to the Shelby County Sheriff.
1974 North Beach Leather Suit - $120,000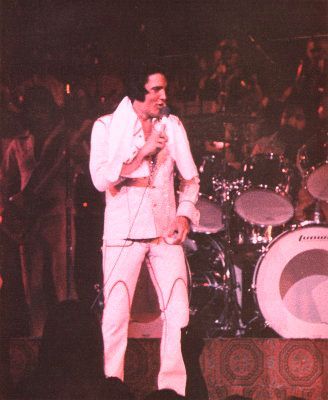 image source: gotta have rock and roll
Elvis was introduced to leather goods by his wife, Priscilla. In the 1970's Priscilla took Elvis to Los Angeles, where he purchased what is known as the North Beach leather suit. The suit was eventually left behind in Las Vegas with the physician of Elvis, Dr. Elias Ghanem. The jacket was handcrafted in Mexico and has a tag in the back which tells us its a size XL.
Lock of Hair - $115,000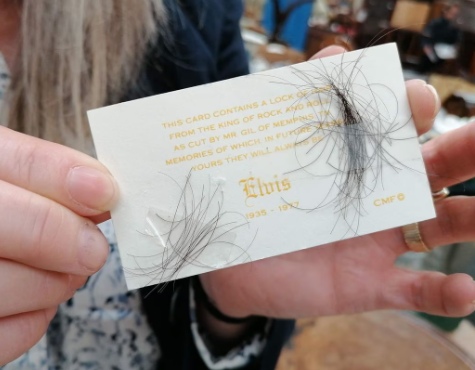 image source: BBC
One of the weirder items you can find at Graceland is a lock of Elvis Presley's hair! When Elvis joined the Army in 1958, he was treated no differently from the rest of the troops, which of course meant he had to have his famous quiff cut. The barber who cut The King's hair decided to keep the off cuts, but they were eventually handed over to the official Elvis fan club.
Jailhouse Rock Movie Poster - $108,000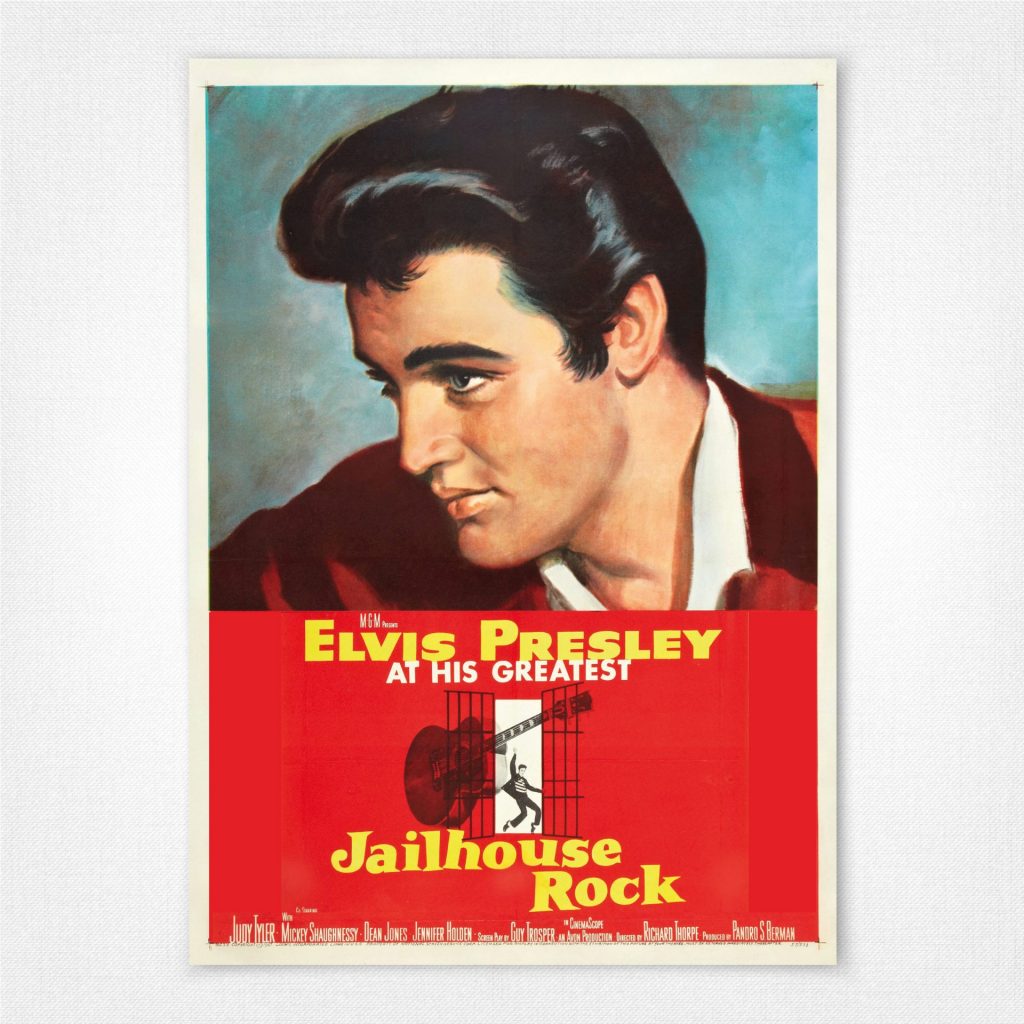 image source: Heritage Posters
Aged 22, Elvis filmed his first Movie, Jailhouse Rock, and recorded the famous song of the same name to accompany it. Elvis originally wanted to be an actor rather than a pop star, and this shows in the 1957 classic movie. The film was released all over Europe and in the United Kingdom in early 1958 and its fair to say the acting talent of Elvis took the world by storm.
Diamond Ring - $107,500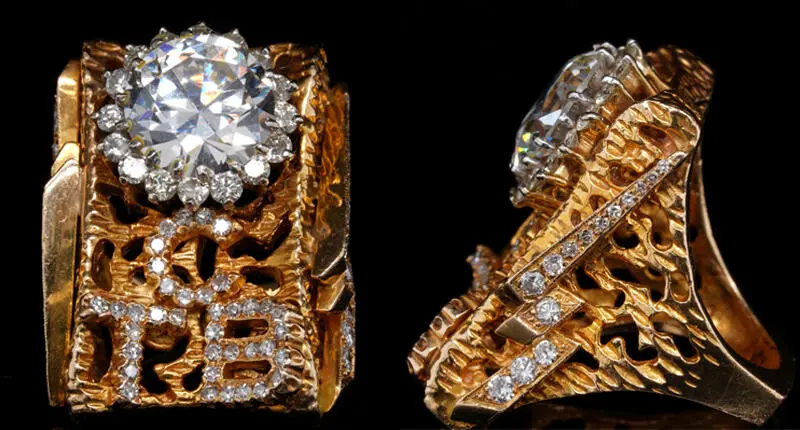 image source: Only Natural Diamonds
A 16 Karat gold ring with an 11.5 Karat diamond in the center is already pretty rock and roll. The TCB stamped on the ring stands for Takin' Care of Business, and i have to admit, that is undeniably swish. At auction, the ring received more than 40 bids and is one of the most expensive rings ever sold at an auction. With the matching necklace, Elvis just oozes cool.
Sweat Stained Suit - $105,000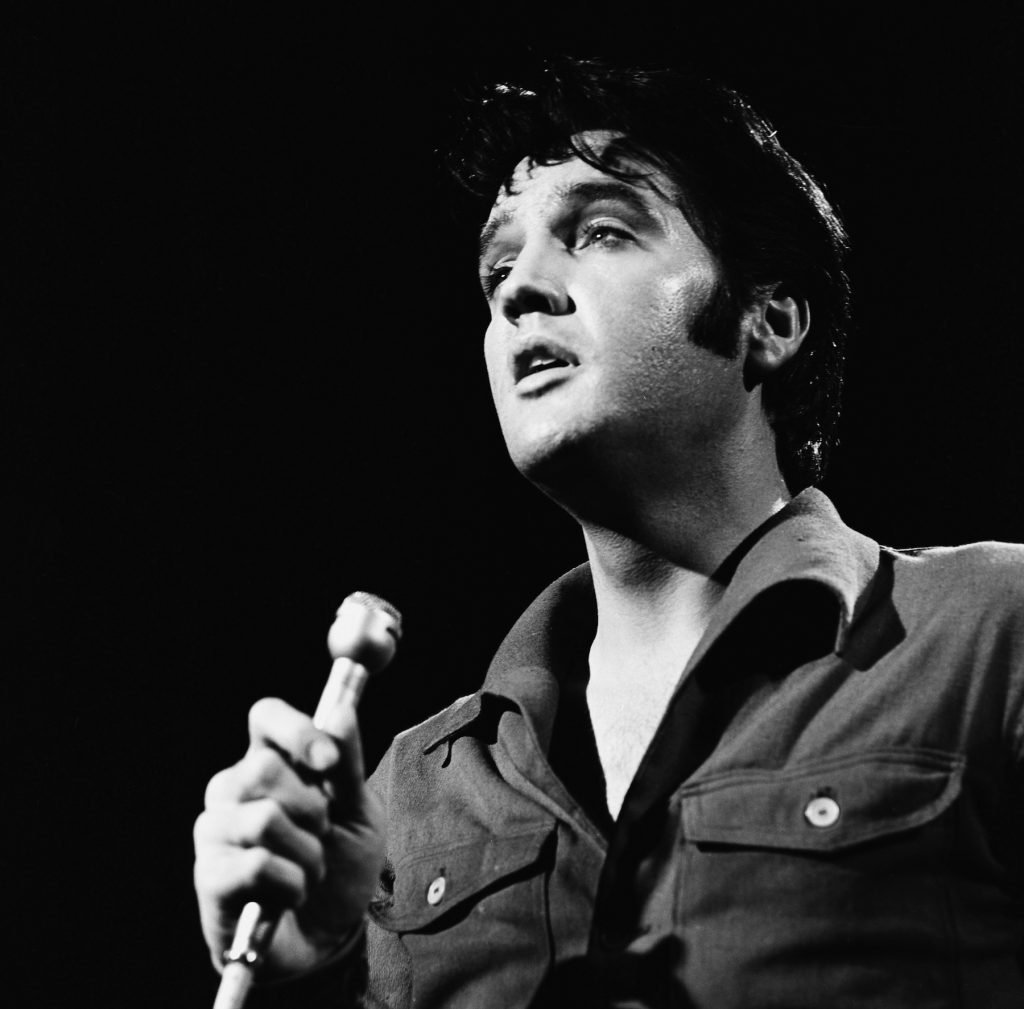 image source: Rolling Stone
Worn whilst performing in Las Vegas, this jumpsuit fetched a pretty penny at auction. The reason for such a high price on what is a relatively plain suit... The sweaty armpit stains! That's right, some 40 year old sweat bumped the price of this suit up and turned it into a real have to have it collectors item. Would you pay this much for a sweaty boiler suit?
Love Me Tender Poster - $75,000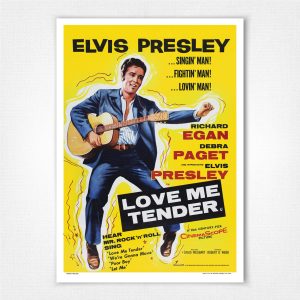 image source: heritage poster
In the movie, Love Me Tender, Elvis sang his first ever non rock and roll ballad. This of course drove fans wild, as Elvis proved he was not just a one trick pony. The acting talent of Elvis was on display in this movie told audiences that he was a double, if not triple threat. The movie released in October of 1956 and was a hit among audiences in the USA and across the pond.
Frankie and Johnny Tuxedo Tailcoat - $75,000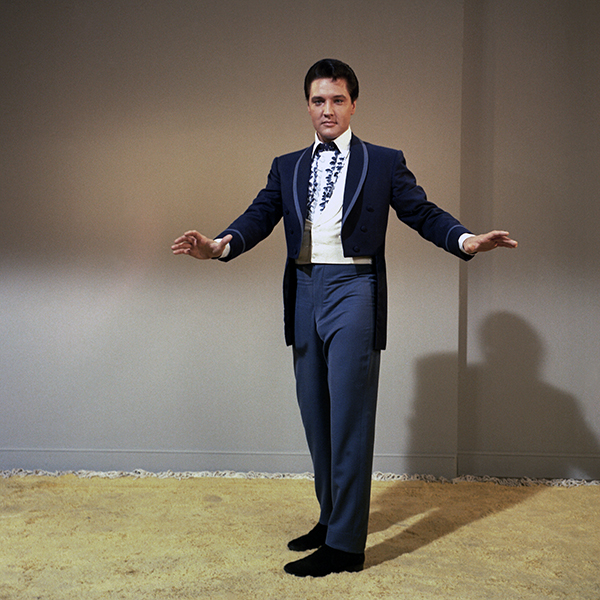 image source: pixbiz
Frankie and Johnny released in 1966 and was yet another smash hit Elvis movie. It is am American Western gambling movie, staring The King as a riverboat gamble. Even though he had put a bit of weight on since the last time he was on our movie screens, 30 year old Elvis still hit the mark and let us thinking what could have been if he pursued acting rather than music...
Blue Hawaii Movie Poster - $59,750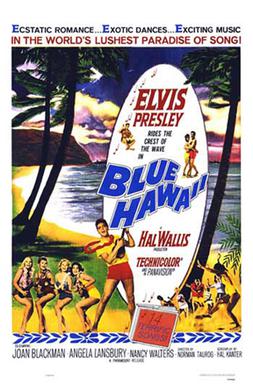 image source: Wiki
Directed by Norman Taurog, Blue Hawaii is a romantic comedy which stars Elvis Presley. In the movie, Elvis drove a red MG MGA 1600 which he later went on to add to his large collection of cars. Rumor has it that Presley got paid in excess of $175,000 to make Blue Hawaii, which in today's money equates to almost 7 million dollars. No wonder he kept buying cars!
TCB Necklace - $35,000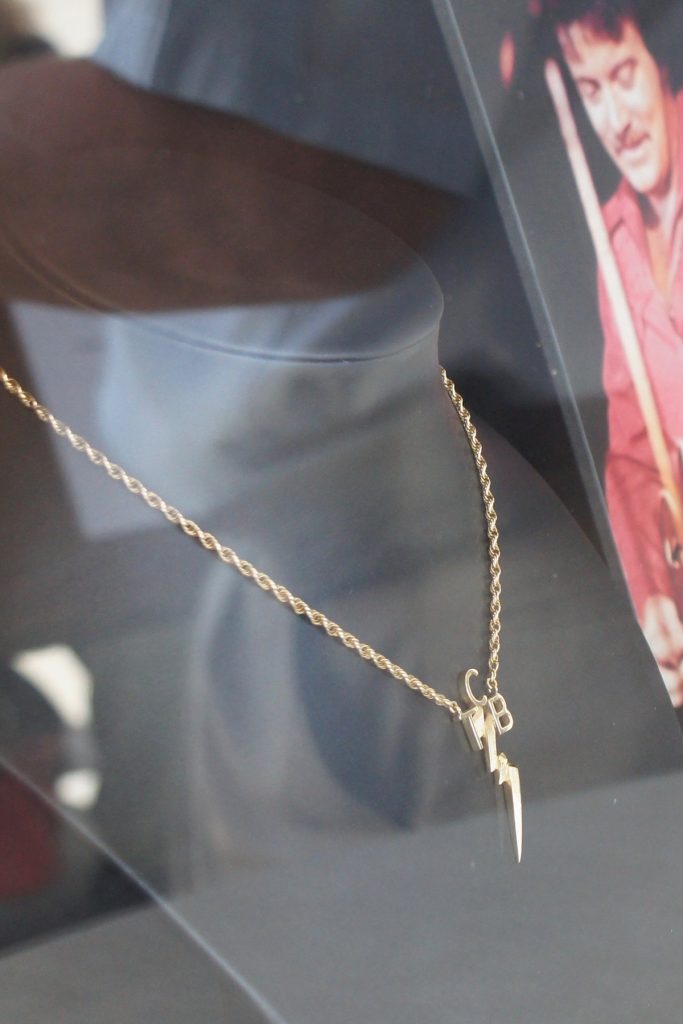 image source: KY3
The Takin Care of Business is iconic, and matches the ring worn by The King of Rock and Roll perfectly. It is made from solid gold and diamonds, and the one worn by Elvis is actually one of twelve that he had commissioned. The rest of the necklaces were given to friends and colleagues who helped Elvis when he was on the road, and will also be worth a few dollars!
Army Uniform - $32,500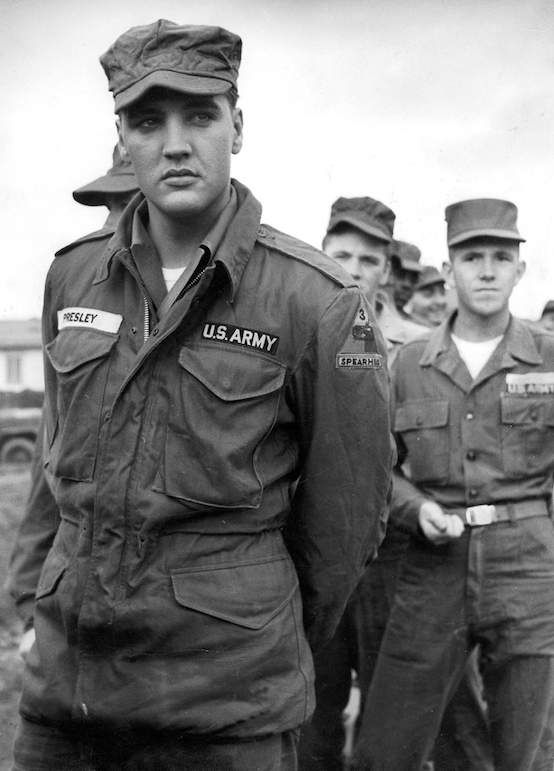 image source: Medium
In 1958 Elvis signed up to the US Army, and fought for 2 years. During his time in active service in the 1st tank battalion, Elvis was said to be the most popular person on the globe. After Elvis left the Army, his fan base altered to older folks, as he was no longer as relatable to the teenagers who he had originally inspired with his rock and roll songs.
1956 Signed Contract - $32,000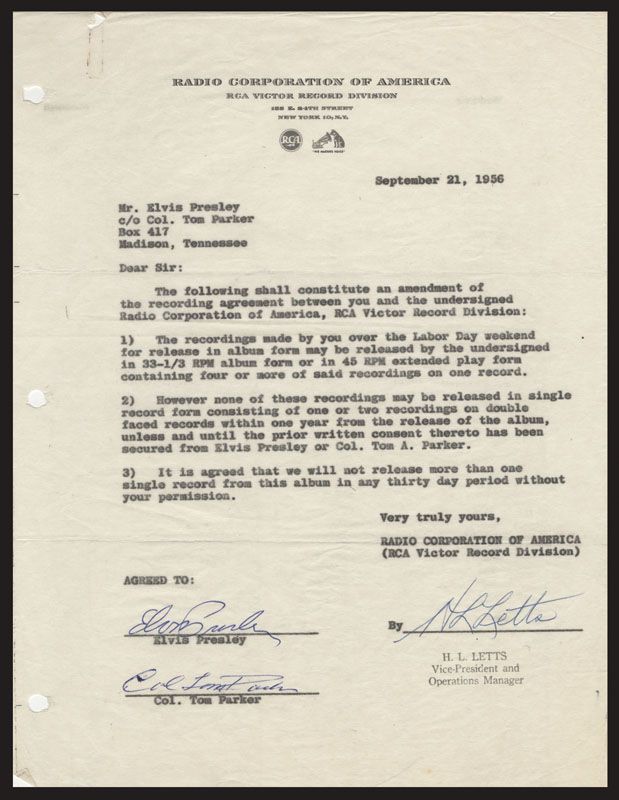 image source: gotta have rock and roll
Colonel Thomas A Parker was signed as the manager for Elvis in the 1950's. This is the contract which fetched big bucks at auction, and is possibly one of the most important contracts in pop culture history. At age 21 Elvis Presley signed a contract with Parker to be his, sole and exclusive Advisor, Personal Representative, and Manager. This management would continue for many years.
Viva Las Vegas Movie Poster - $25,000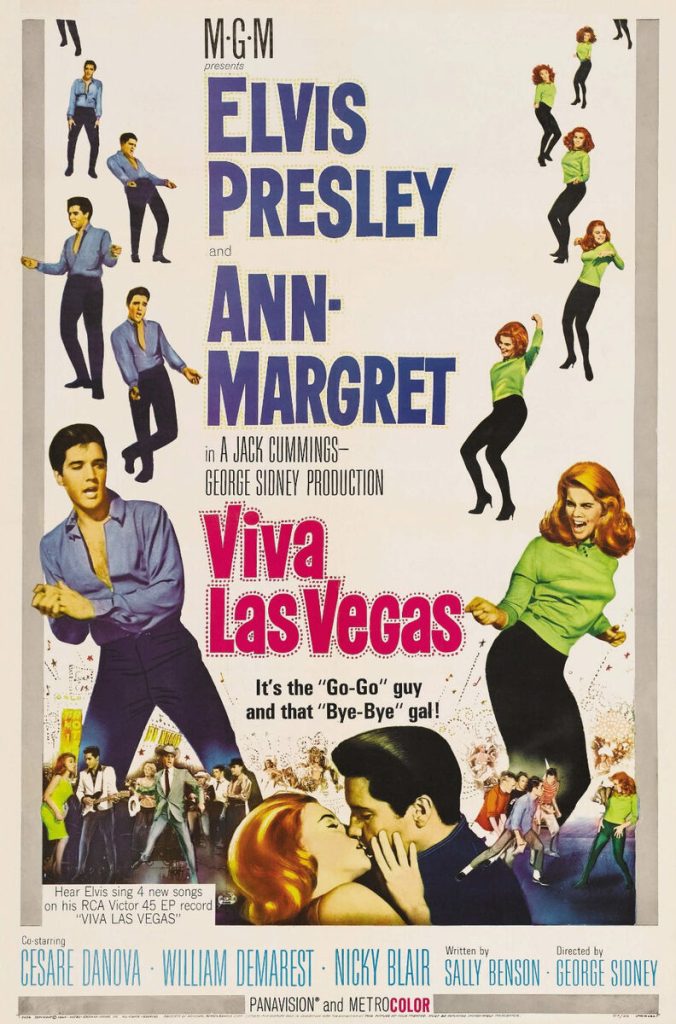 image source: Reddit
The Go Go Guy and the Bye Bye gal are the 2 main characters from the movie, Viva Las Vegas. At age 28, Viva Las Vegas was the fourteenth film Elvis had starred in, and was a box office smash. Along with the iconic movie, the soundtrack and single in particular, Viva Las Vegas, has been used in films and on television for many decades. It's in my playlist even to this day!
Leaves Of Gold Book - $25,000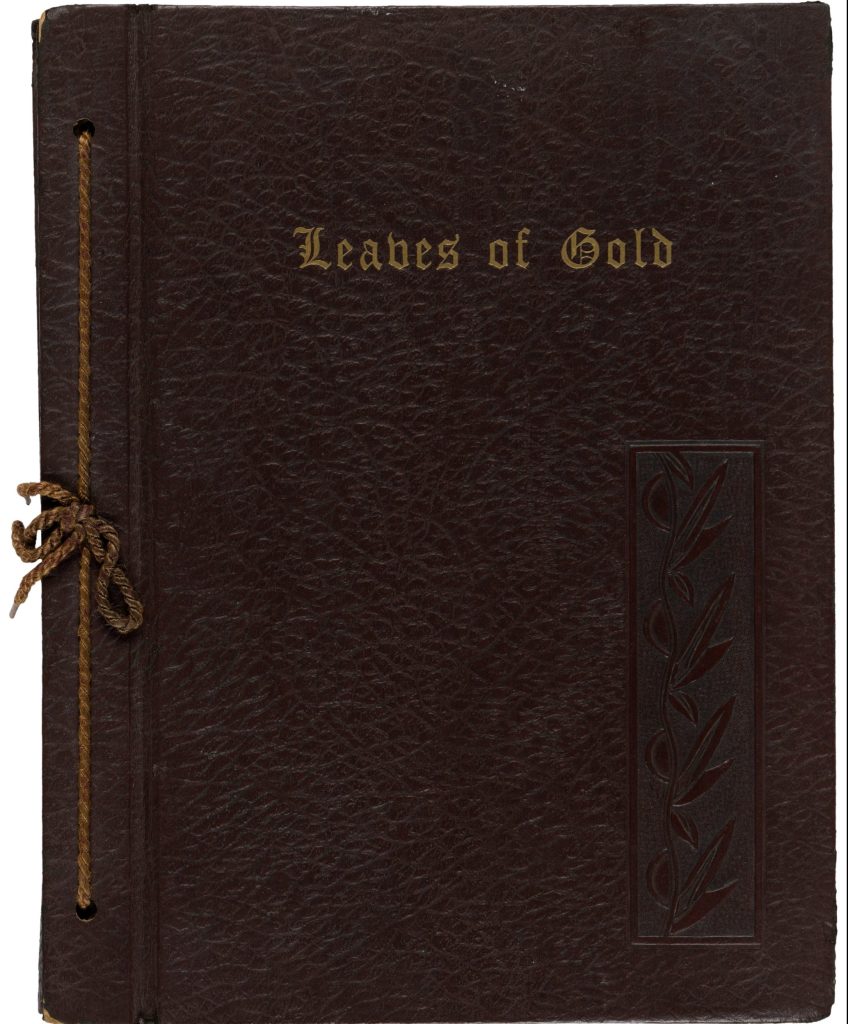 image source: Heritage Auctions
Inscribed to his girlfriend at the time, Sheila Ryan, the copy of Leaves of Gold owned by Elvis is heavily annotated. The book is a spiritual book, and this obviously had a big impact on the life of Elvis at the time of reading. Leaves of Gold is an anthology of memorable phrases, prayers and verses of inspiration, all things that Elvis would treasure throughout his life.
Eagle Belt - $25,000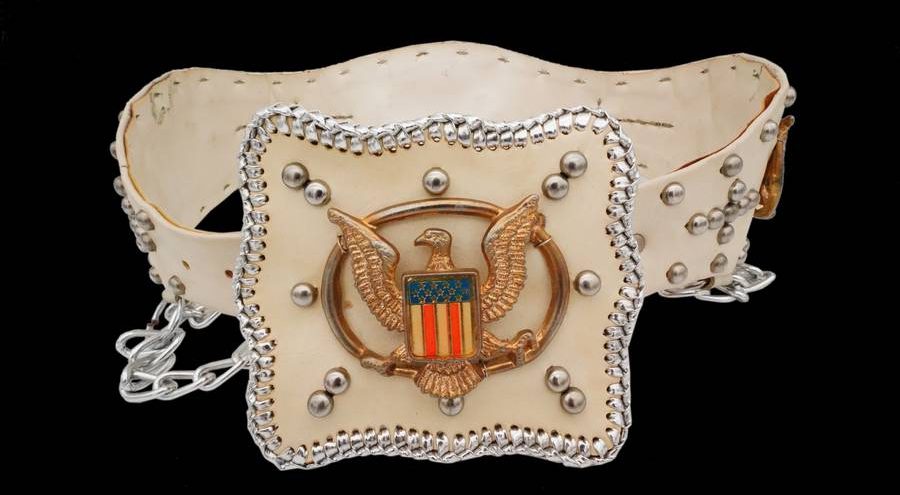 image source: Kruse GWS Auctions
In order to return a favor paid to him by close friend Jack Lord, Elvis actually gave away this very belt buckle, right before he was due to appear on TV! Elvis also gave his cape to friend, Lord, which left the television crews scrambling to find him a replacement before he went on air. Luckily a replacement belt and cape were found, otherwise who knows what we could have seen?
Boots - $25,000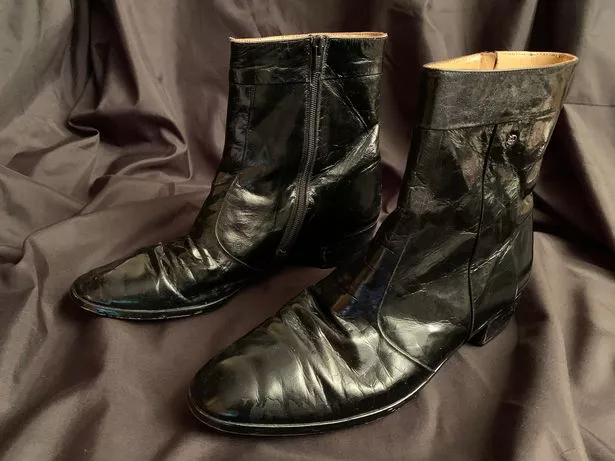 image source: Wales Online
Although its an Elvis Presley classic, he never really did wear Blue Suede Shoes. He did have one pair of Blue Suede Shoes, but he mainly stuck to boots. This silver pair sold for $25,000 and are now owned by a collector in Wales, UK. Along with this pair, many other pairs of boots and shoes are kept at Graceland, as collecting footwear was a bit of a hobby for Elvis.
Racing Helmet - $23,750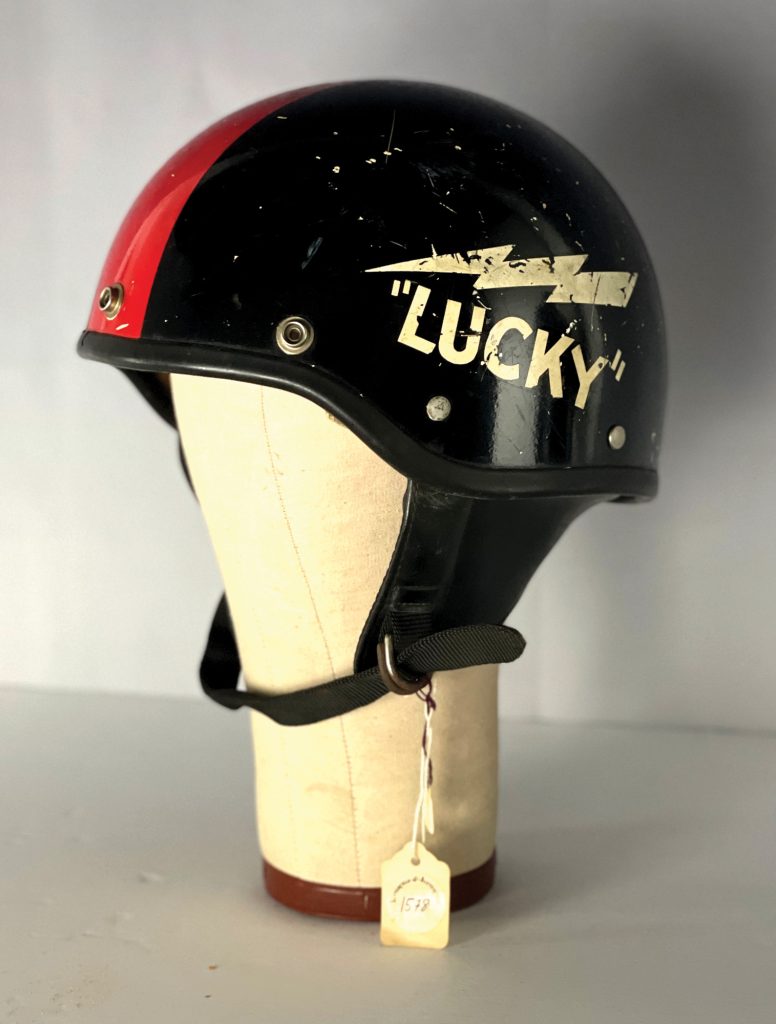 image source: Rockhurst Auctions
The crash helmet worn in Viva Las Vegas is almost as recognizable as the song. Although it probably doesn't offer the best protection, the vision of Elvis wearing this paired with a leather jacket on a vintage motorcycle is extremely cool. Sporting a signature red stripe, lightning bolt similar to that on his necklace and the word 'Lucky' on the side, it was sold for the bargain price of $23,750.
Billiard Table - $22,000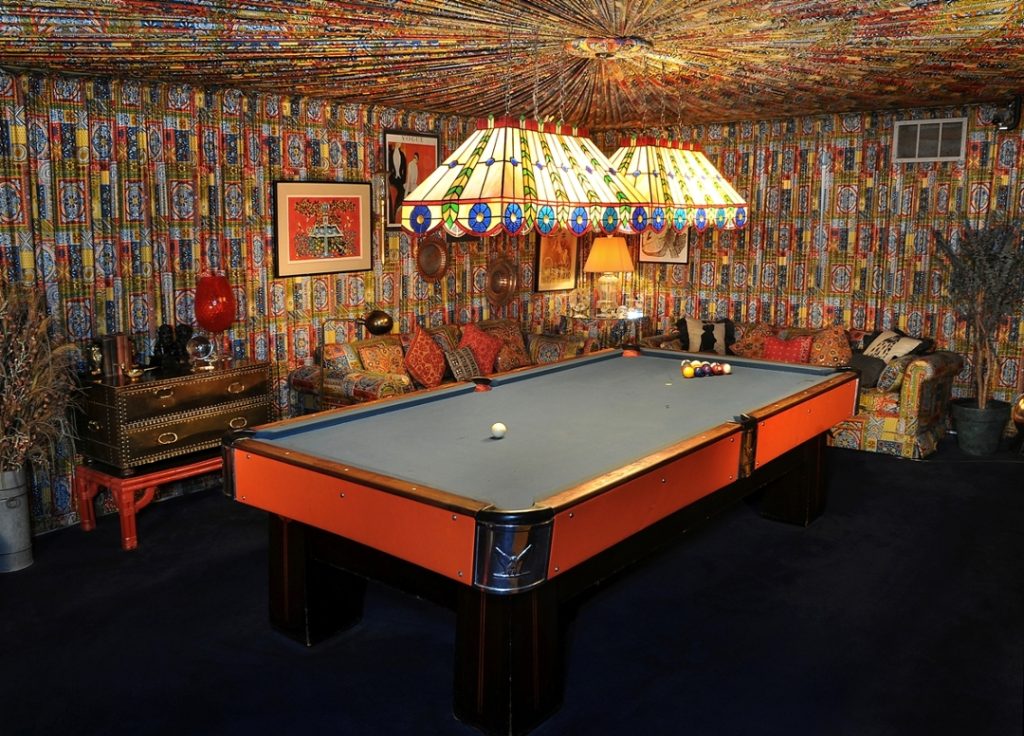 image source: Threads Magazine
At his home in Graceland Elvis loved a game of billiards. His billiard table hasn't moved since his death in 1977 and looks to be in very good shape. The table has been there since the mid 1960's and was bought by Elvis in Germany before he returned home from the Army. It is kept in the games room at Graceland, alongside some period correct but rather funky wallpaper.
Sheet Music - $15,000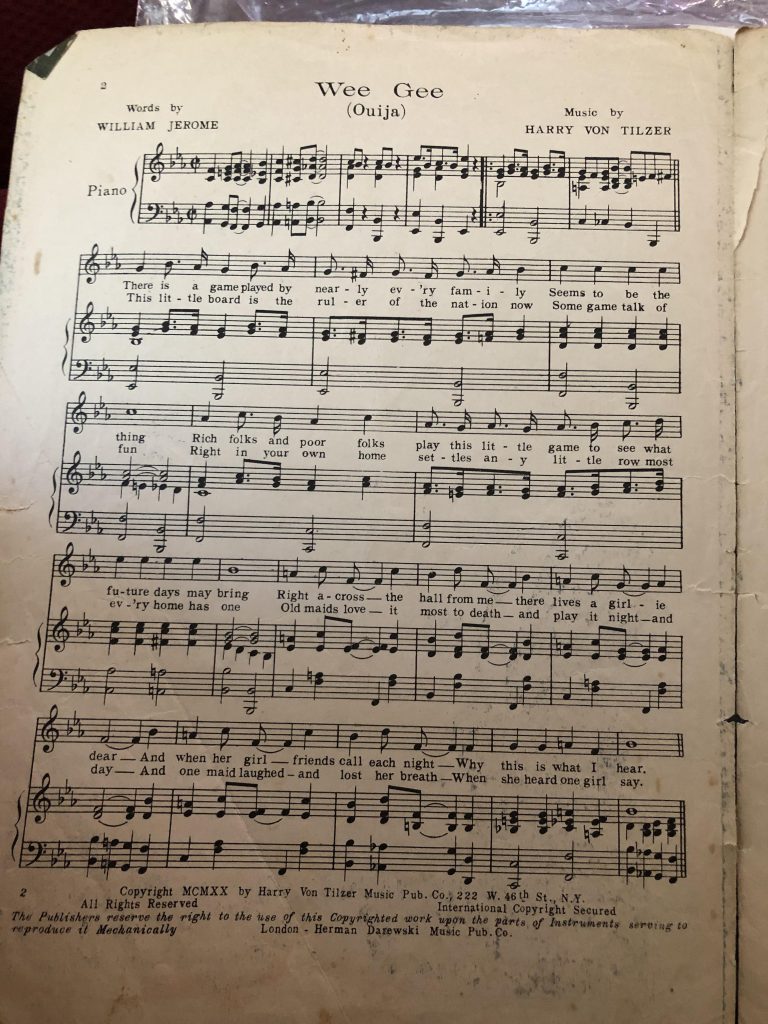 image source: Reddit
Sheet music is still used by musicians to help them keep in time, and to make sure they know what to sing next. Although Elvis was the King of Rock and Roll, he still needed a helping hand from his sheet music. Most of the sheet music Elvis had was from first recording sessions, and would often be scribbled on or contain annotations of things he wanted to change.
Microphone - $14,000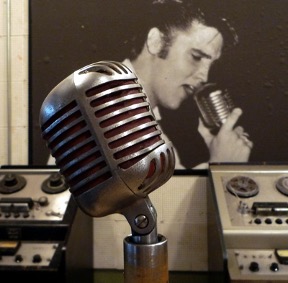 image source: Shure
For just $14,000 you can have the microphone Elvis actually used to sing songs like Suspicious Minds and Hard Headed Woman, which i think (in the grand scheme of things) is actually quite cheap! This microphone style is now iconic, and now the go to microphone used in art work and for tattoos. The microphone used is a Unidyne 1, and is one of the more recognizable microphones that Elvis used.
Electric Razor - $3,000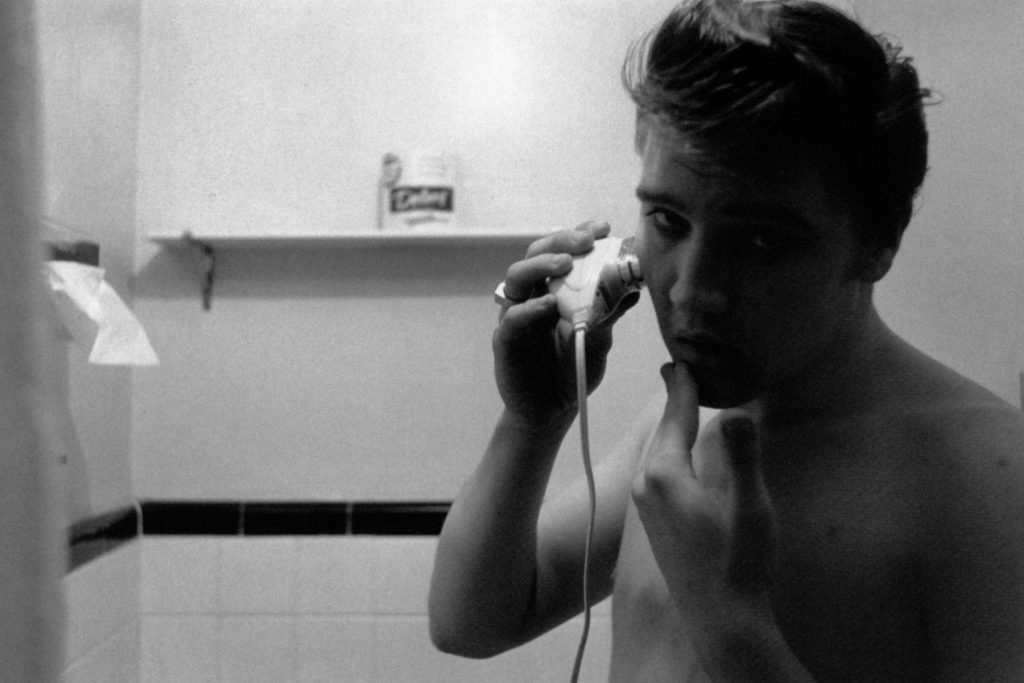 image source: Pinterest
Elvis was known for keeping himself well groomed, and in order to keep on top of that five o'clock shadow, he took his electric razor everywhere. Although $3,000 is a lot for an electric razor, we would have expected this to be worth a lot more. The Razor used by Elvis is a Remington 60 Deluxe. It must be good, as Remington are still in business to this day.
How about these facts about Graceland the public doesn't know? The original owner was a doctor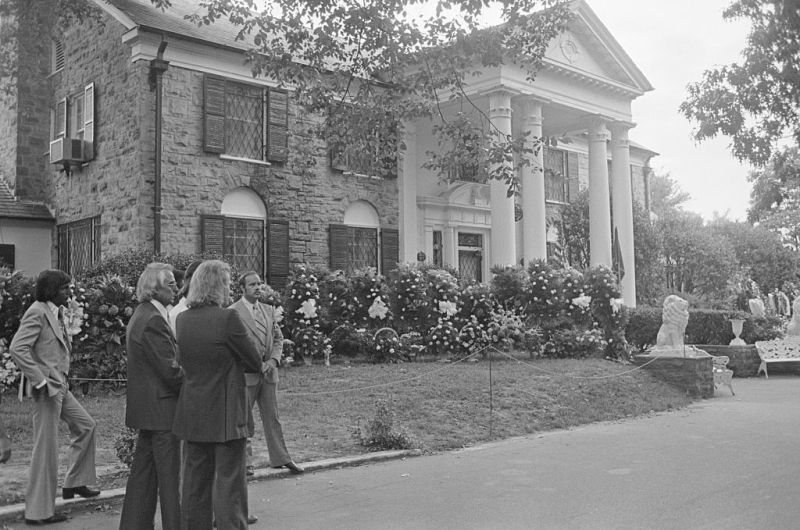 image source: wwd.com
The house actually had a previous owner and a past before Elvis made it famous. It was once a Toof family home built on a 500 acre farm, and the original Toof's granddaughter and her doctor husband then decided to built the now-famous mansion on the land.
Elvis paid under a million dollars for it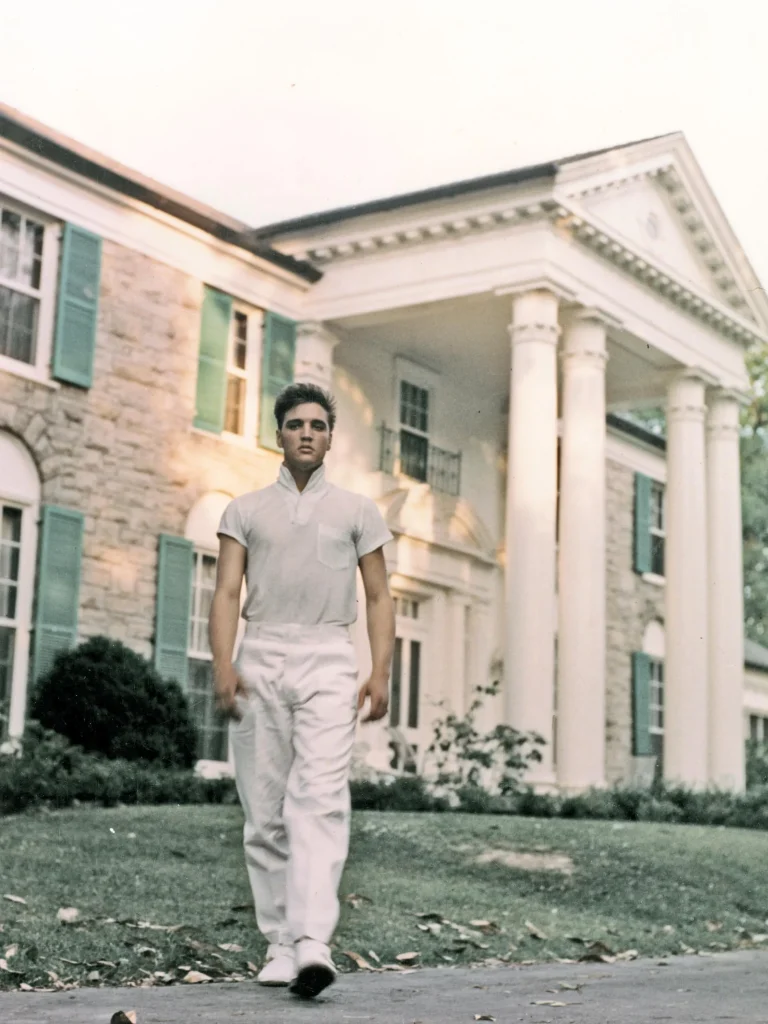 image source: houseandgarden.co.uk
Elvis actually paid $102,500 for the mansion when he originally bought it - which sounds like nothing to a man with money. That is roughly about $924,000 by today's standards, and when you consider the size of the house plus the land it comes with, that's a bargain!
The name 'Graceland' wasn't given by Elvis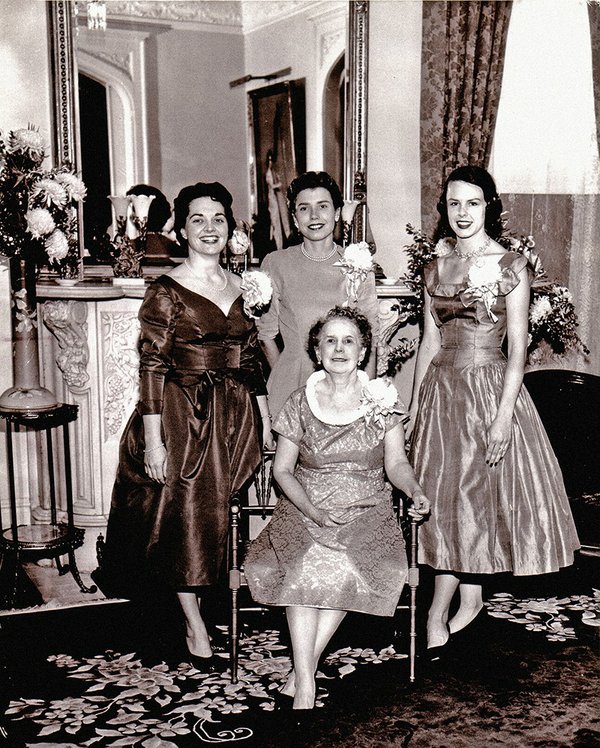 image source: memphismagazine.com
The name of the mansion is just as famous as the place itself, and it feels like something Elvis would have given it. But actually, the name came from the original owners - the Toof family we mentioned - and it was Ruth Brown Moore that gave it the name 'Graceland'.
He spent about $2000 a month on groceries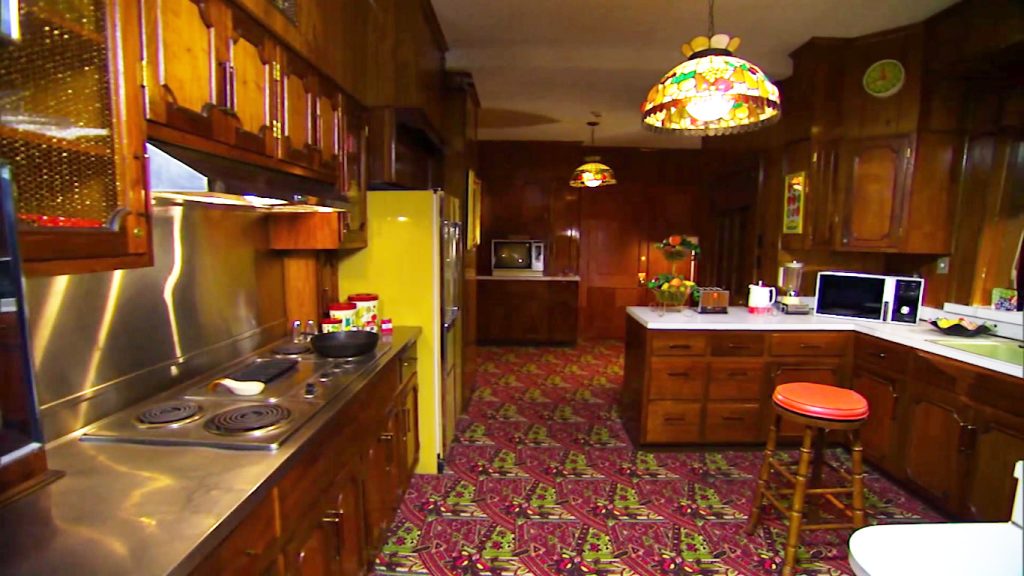 image source: danielscottkitchens.com
We know that Elvis wasn't shy about a hearty meal or two later in his life, so it's no surprise that Graceland was racking up a pretty hefty food bill when he lived there. The weekly bill for groceries alone was around $500, and this include must-haves for the King, like brownies, steak and ice cream.
Bruce Springsteen once broke into Graceland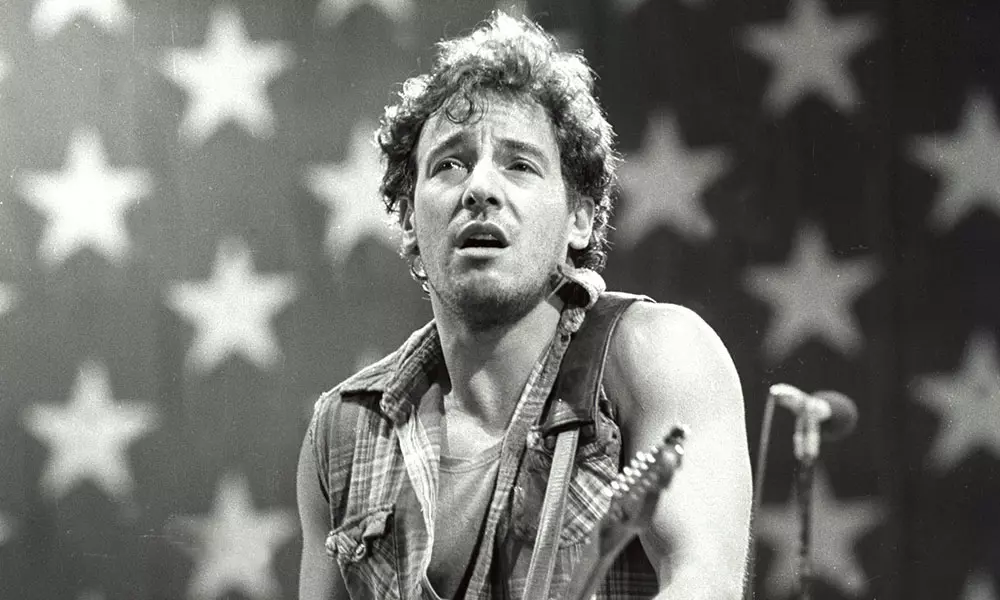 image source: thisdayinmusic.com
American singer Springsteen happened to be in town in 1976 and wanted to pay Elvis a visit (the pair had never met before) and when he saw the lights on at the house, he hopped the wall in the hope of the King himself answering the door. But Elvis wasn't home, and his security team were less than impressed!
There are still areas off limit to the public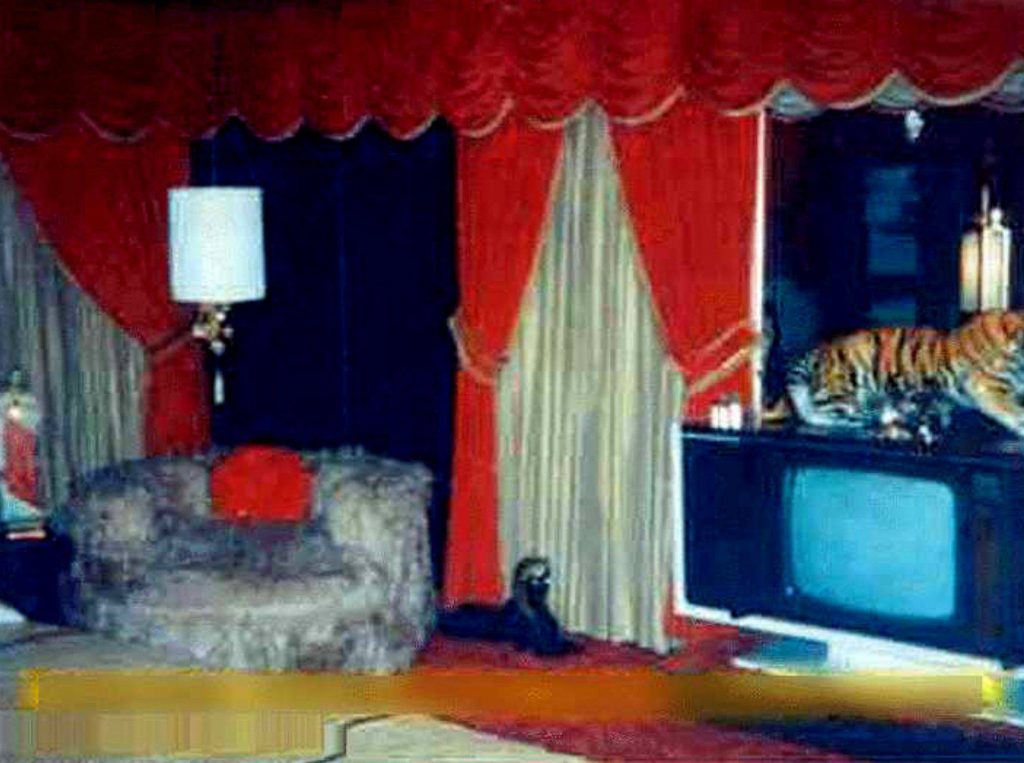 image source: elvispresley.com
There are many places you can visit at Graceland, but there are certain areas that are not only off limits to guests, but look like they're staying that way permanently! There's a secret space only family and employees can visit, which has some of Elvis's personal possessions in it.
Elvis might have wanted to turn it into a zoo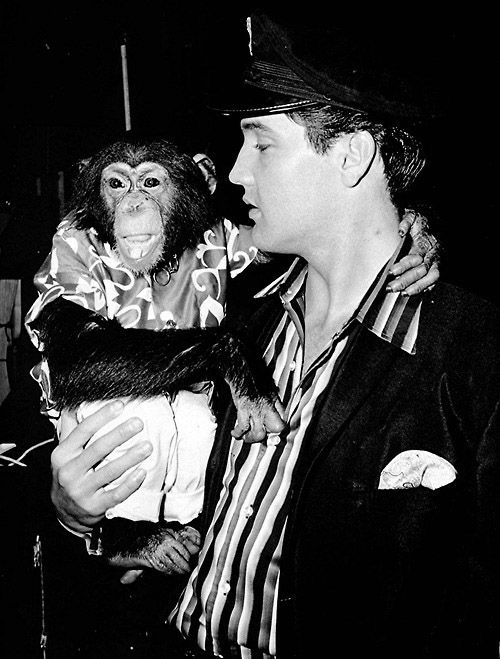 image source: neatorama.com
It's believed that Elvis wanted to turn the house into a zoo, and he even got his first monkey known as Jayhew (a known troublemaker). Elvis was known for being an animal lover who had a lot of pets over the years, but ultimately his dream of having a zoo didn't come true.
Not one, but two planes are on display there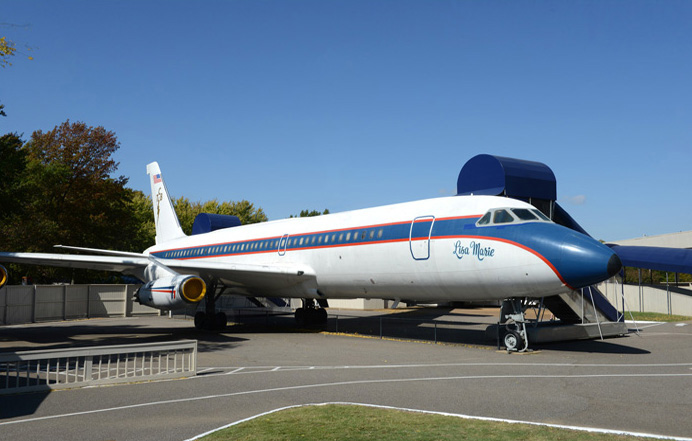 image source: graceland.com
Elvis was also known for his planes, and at Graceland there are two planes on display you need to know about: the first was named after his daughter, Lisa Marie, and the second is his private jet, Flying Graceland. He had dreams of one day owning an aircraft fleet.
The Jungle Room was actually part recording studio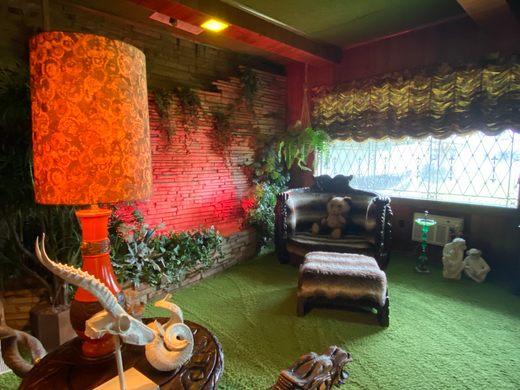 image source: atlasobscura.com
The Jungle Room is one of the most famous rooms at Graceland for tourists, and it seems Elvis was a big fan, too, because he used it partly as a recording studio as well - and it was actually where Elvis made some of his final recordings. It's no surprise he liked to hide away in there with his music!
Elvis watched three TVs at once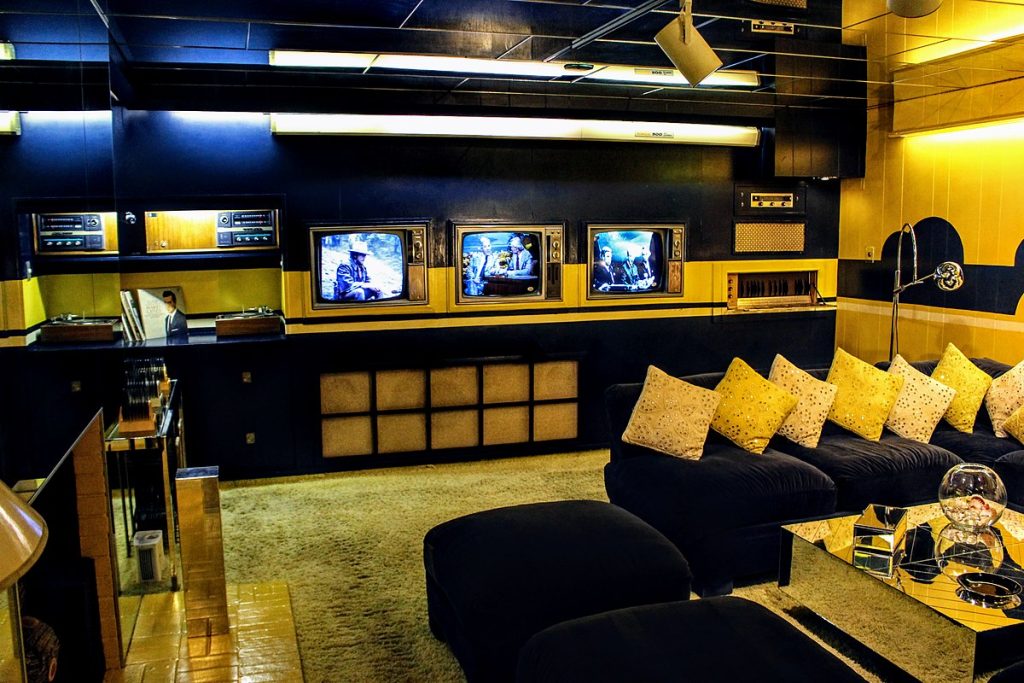 image source: wikimediacommons.com
Elvis could have bought one huge TV but nope - he had to watch three at once. When he was relaxing at Graceland, he apparently liked to be able to watch more than one network at once. He was a particular fan of The Tonight Show, The Match Game and The Untouchables!
There's only one building in the world that has more visitors than Graceland
image source: britannica.com
Can you guess what it is? The only other building that overtakes Graceland in popularity is The White House. Graceland sees around 600,000 visitors every year, and it's clear at this point that the mansion is almost as much of an important landmark as The White House is!
Elvis's aunt lived there for a while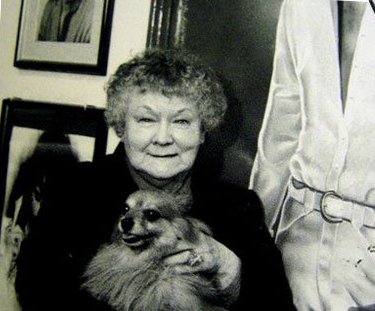 image source: elvisblog.com
After the King's death, his aunt actually moved into Graceland and lived there for a while. While he was still alive, Elvis had asked his aunt to come and live with him after she was left a widow. Naturally, they didn't expect Elvis to die at such a young age, and she continued to live there after his death.
The real reason Elvis's body was moved there? Grave robbers!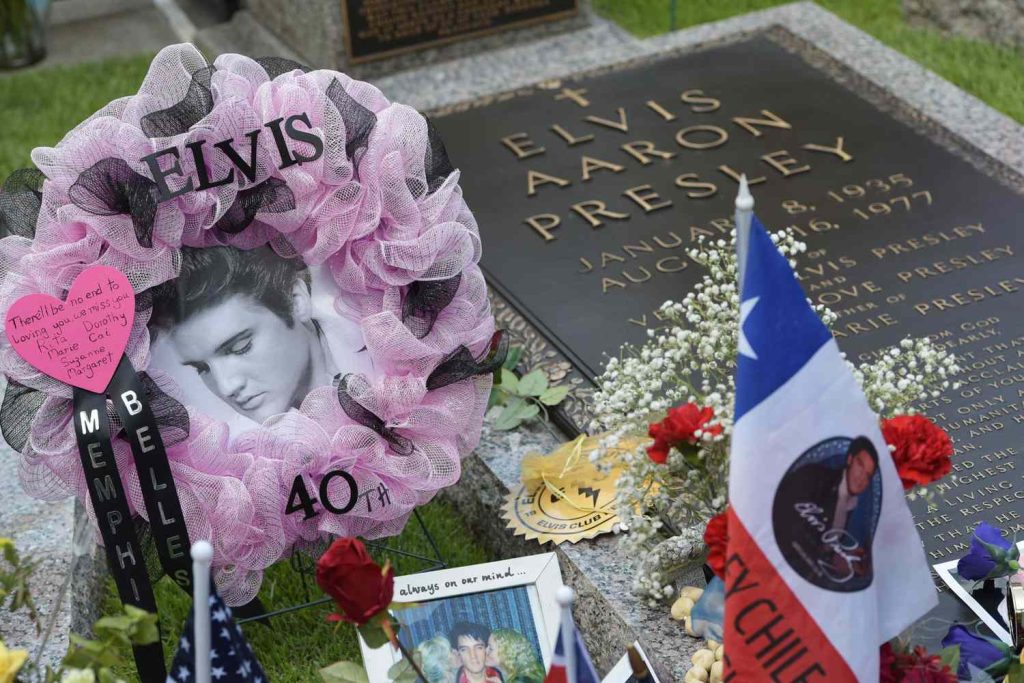 image source: people.com
It makes sense why Elvis's body would be laid to rest at Graceland, but it wasn't always the case. Originally, he was buried in Forest Hill Cemetary - but unfortunately, grave robbers tried to steal his body, prompting the King's remains to be moved safely to Graceland instead!
Some believe his ghosts haunts the house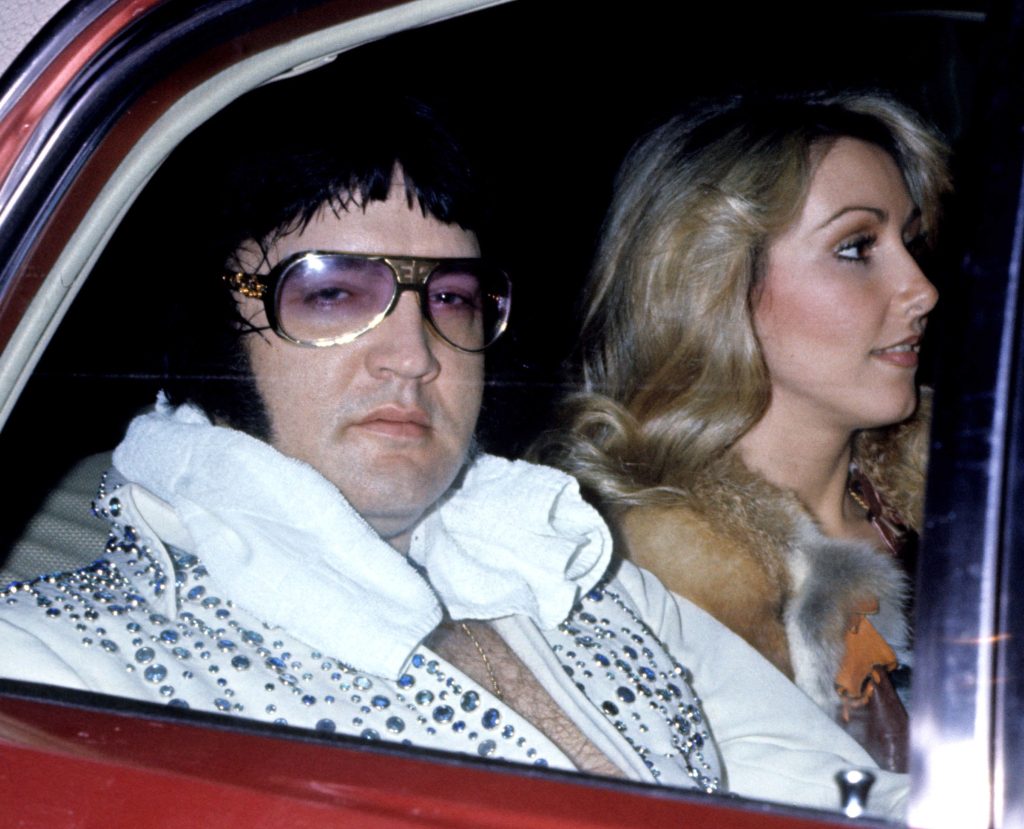 image source: housebeautiful.com
It's not hard to see why some might think this, seeing as Elvis was taken far too soon and has a lot of memories in the huge house. You can imagine his spirit wandering to the Jungle Room to maybe try and record a track or two! Some of the visitors to Graceland claim they've actually seen his ghost.
It was Elvis's parents who found the house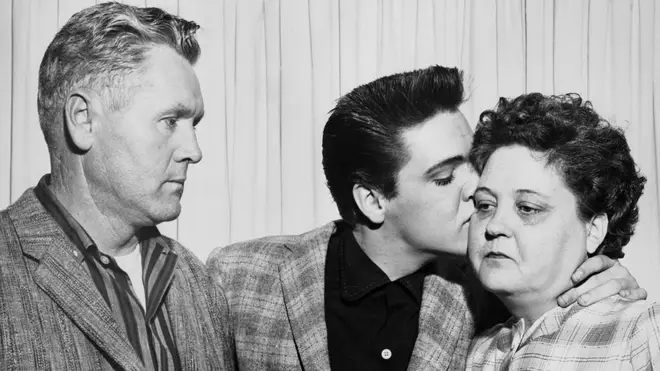 image source: smoothradio.com
You might have thought Elvis found it himself when house-hunting, but he'd actually asked for his parents to look for a home for him when he wanted a little peace and quiet from the fame. It was also his parents who gave over the down-payment! We hope he paid them back...
When Elvis had finished with it, it was almost twice the size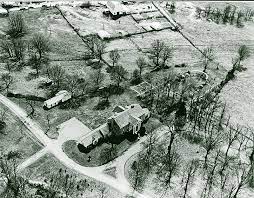 image source: memphismagazine.com
Due to the updates and renovations Elvis did on the house, it ended up being roughly double its original size. In the end, it was around 17,000 square feet when it had only originally been 10,000. He'd spent thousands and thousands of dollars on updating it.
Elvis actually fired guns at his TVs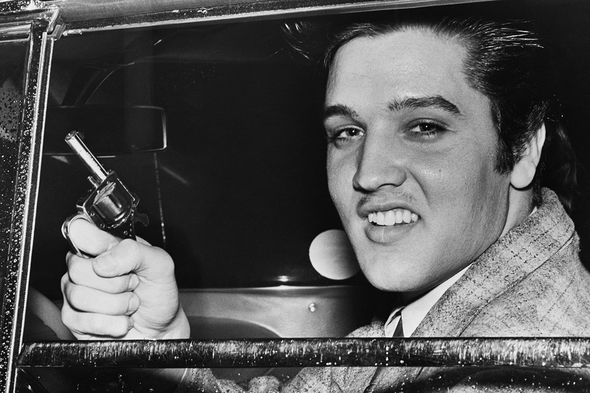 image source: express.co.uk
And seeing as he watched three TVs at once, that's a lot of bullets... The King would apparently choose a gun instead of a TV remote when he was fed up with whatever he was watching. He also liked to shoot them as a "joke", according to visitors... Whether that's funny or not, you decide!
Someone was actually living there when tourist tours began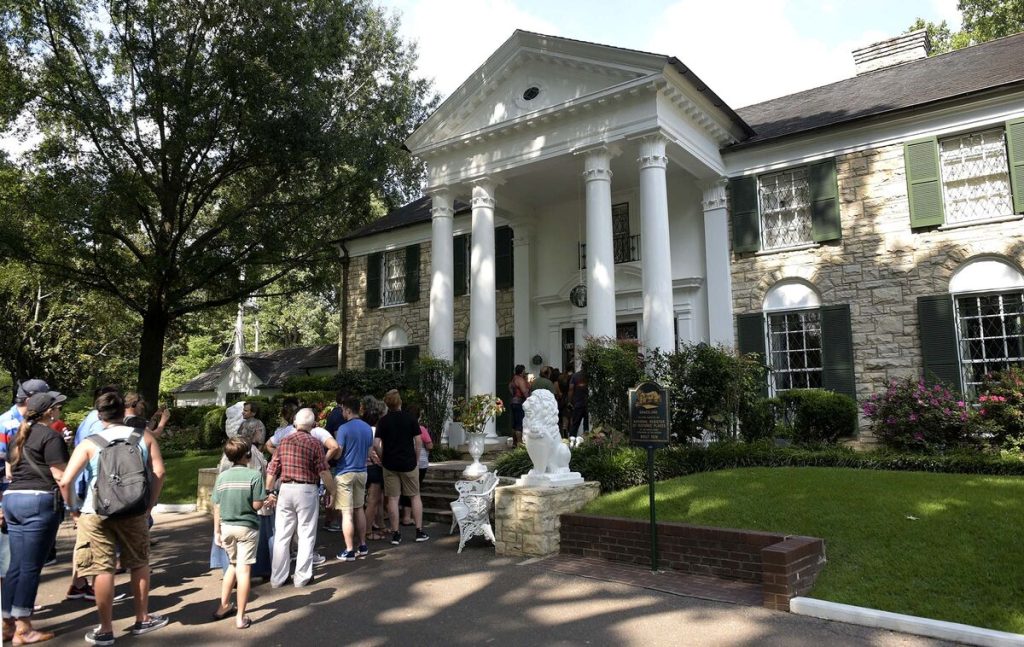 image source: bloomberg.com
You might have thought when Graceland opened to the public, it was an empty house ready for public guest tours. Actually, it was actually the aunt we mentioned who was still living there - and still called it her home - even after it had been opened to the public!
The overlooked memorial at Graceland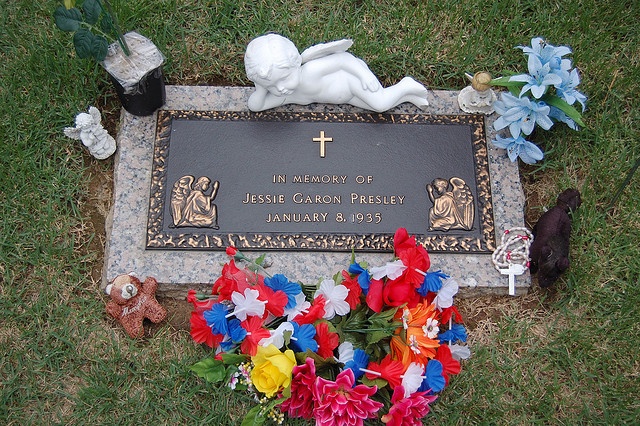 image source: pinterest.com
Most people believe there are four graves/memorials to visit at the mansion, but there actually five: that of Jesse, Elvis's stillborn brother who he never got to meet. Jesse's memorial is often missed by people visiting the other four: the two of his parents, Elvis himself and Minnie Mae, his grandmother.
The hidden call button in the dining room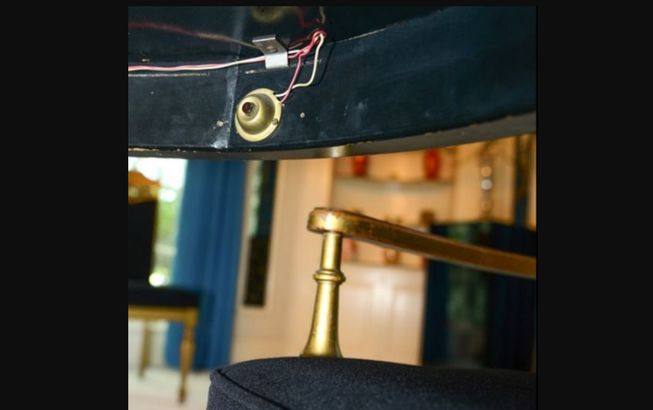 image source: mediafeed.com
No doubt Elvis needed it to summon the $500 a week grocery items! Right in the dining room table at the mansion is a call button that Elvis could press if he wanted kitchen staff to bring him something to eat or drink while he was relaxing at home.