The Greatest Jack O Lantern Designs Of All Time
By Callum Atherton
1 month ago
1. Witch's Cauldron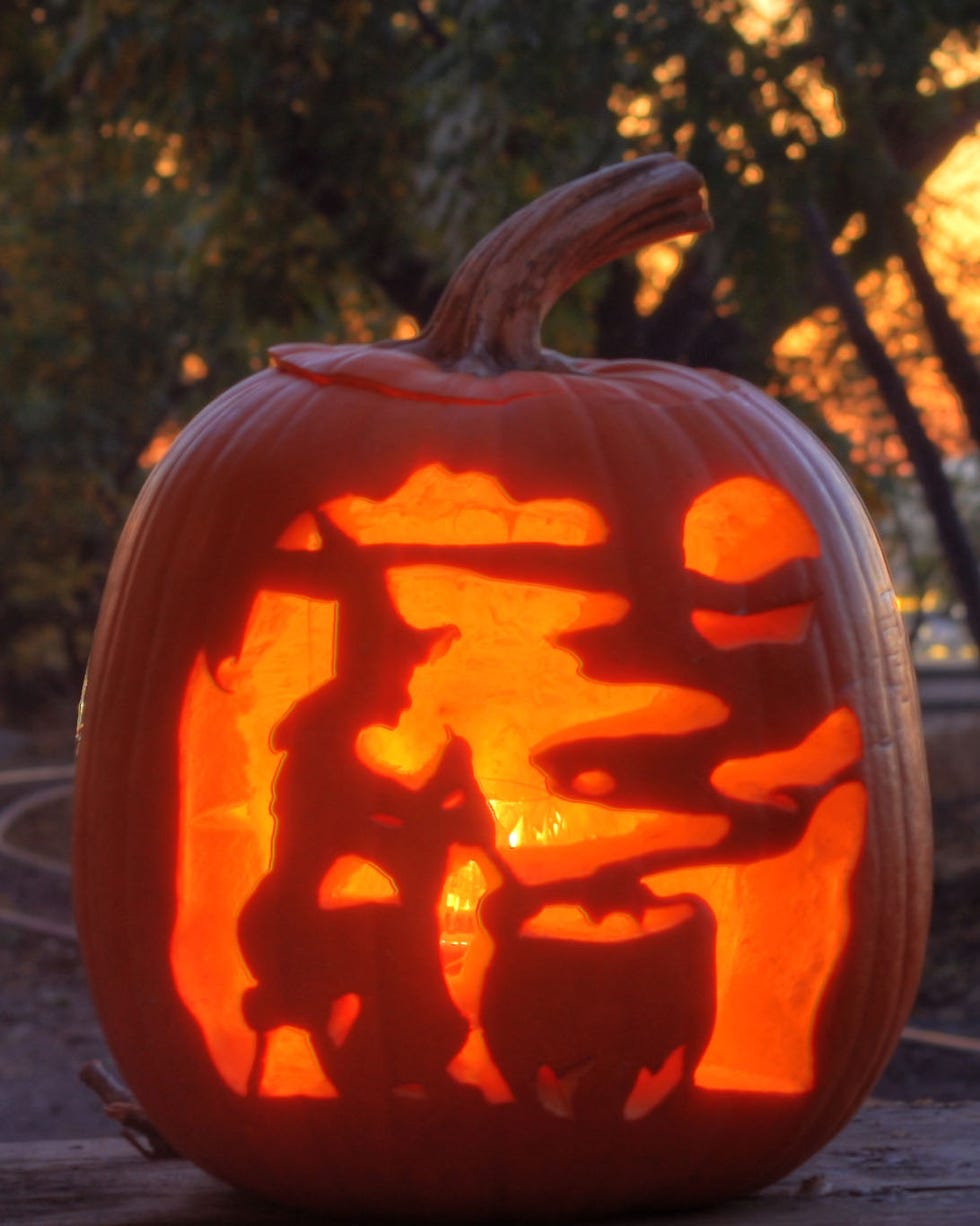 Image Source: Sean Duan
This silhouette of a wicked witching stirring her brew in the cauldron is an eerie design to this Jack O Lantern. The smoke rising from the mystery potion blocking the moon and the clouds is a very picturesque image and definitely is a unique idea for this Halloween.
2. Cheesy Grin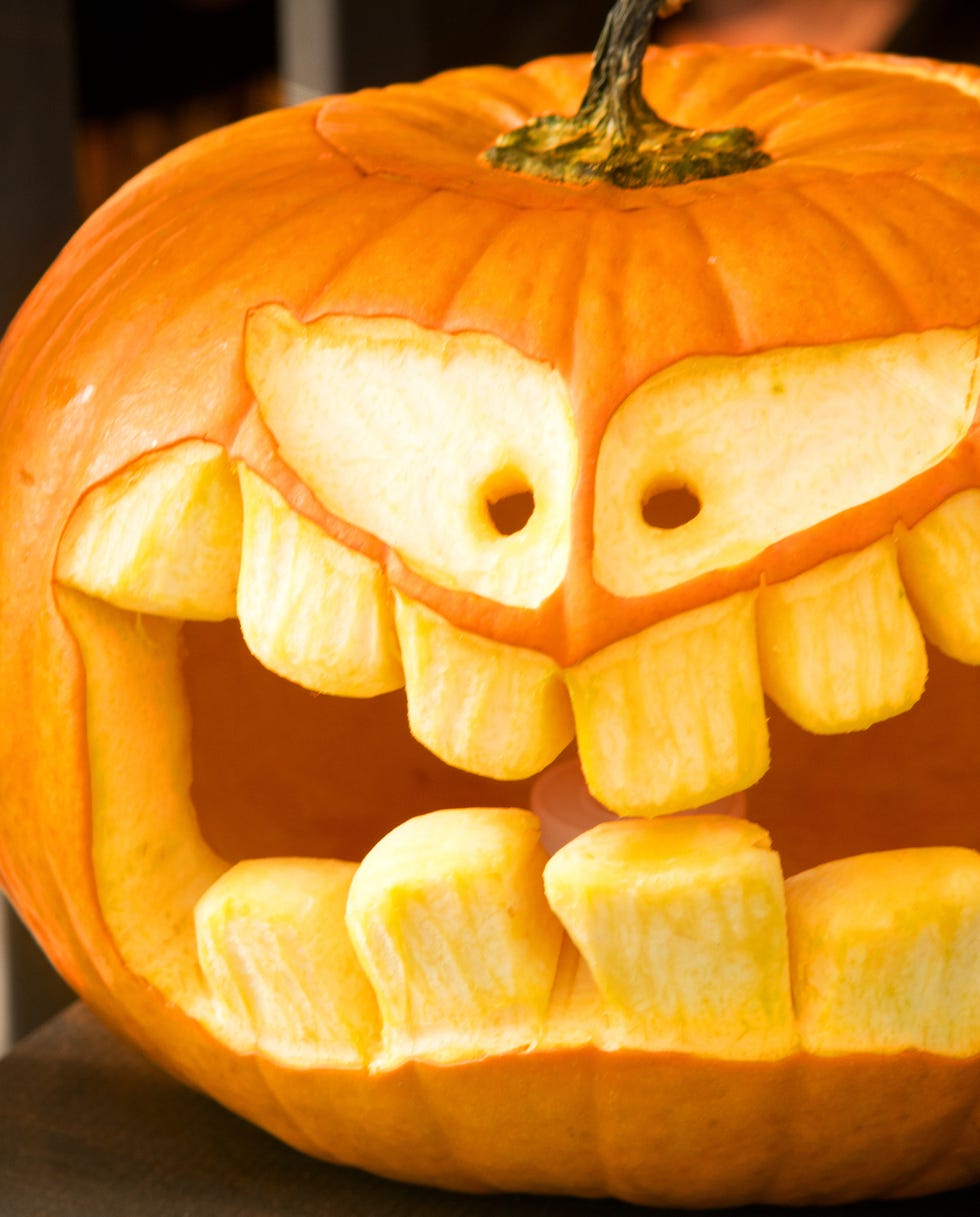 Image Source: Bo Zaunders
I have never seen a pumpkin face that looks so deranged and genuinely terrifying. With small pupils and wide, bright teeth and eyes, this design could be a carvers favorite on the doorstep of most houses this autumn. A face that you will remember for a while!
3. Pumpkin RV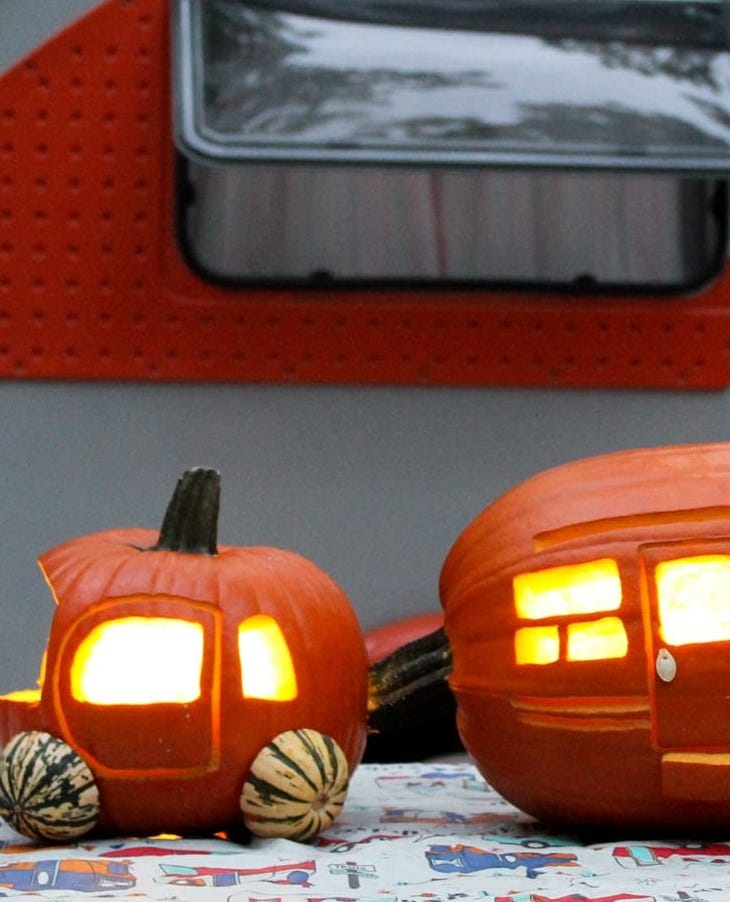 Image Source: Togo RV
This is the first pumpkin powered RV that has ever been created. Cleverly joined by the pumpkins stalk, this quaint, cute car and trailer is a must have for fans of camping, the outdoors or RV drivers. Using small baby pumpkins as the wheels, this design has everything.
4. Undead Pumpkin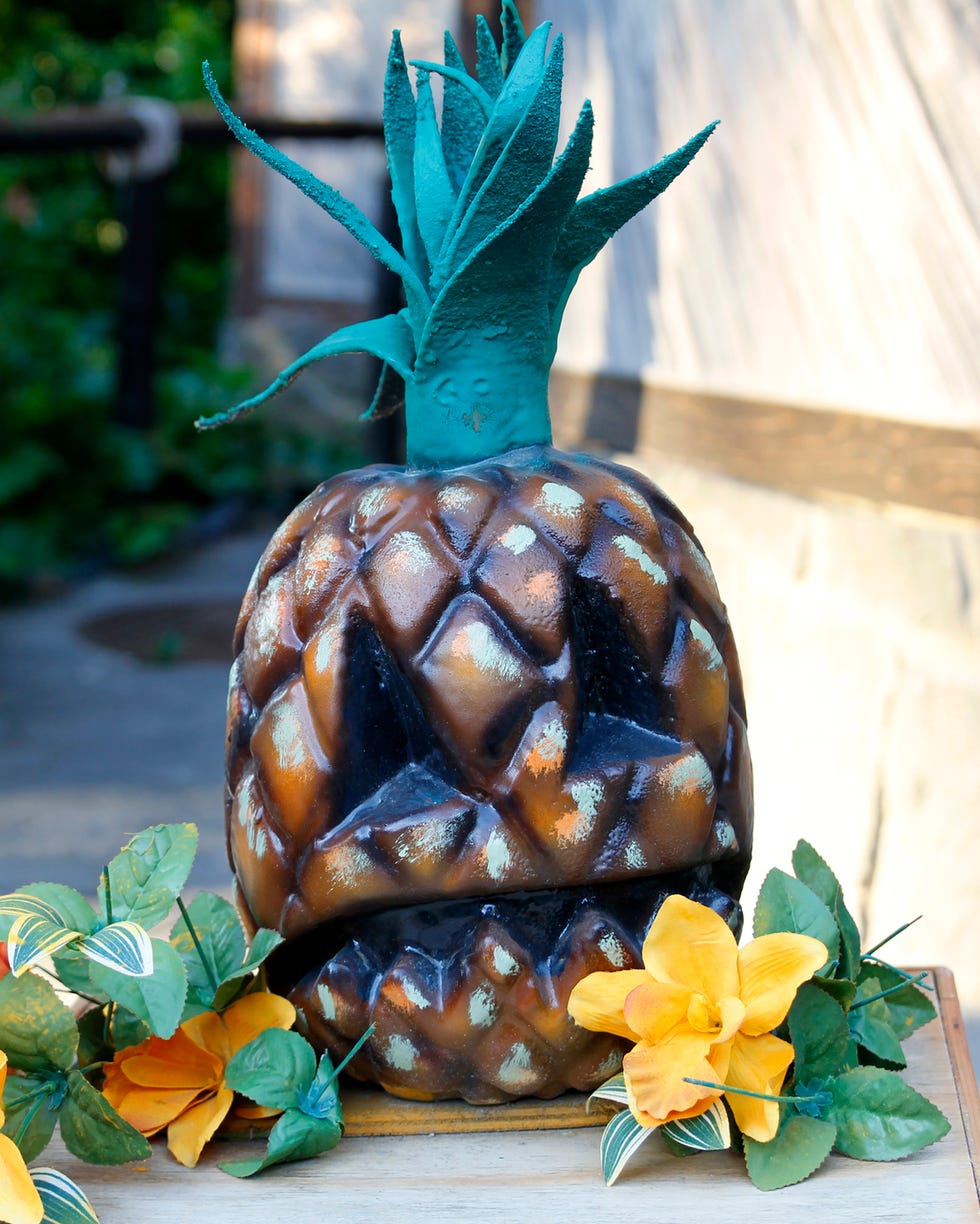 Image Source: Isabel Pavia 
If pumpkins are not your thing, you may want to swap your autumnal vessel for a tropical fruit instead. This chilling pumpkin design is emphasised with the use of paint to extenuate certain features such as eyes, mouth and hair. A interesting variation of a modern classic.
5. Dark Behind The Eyes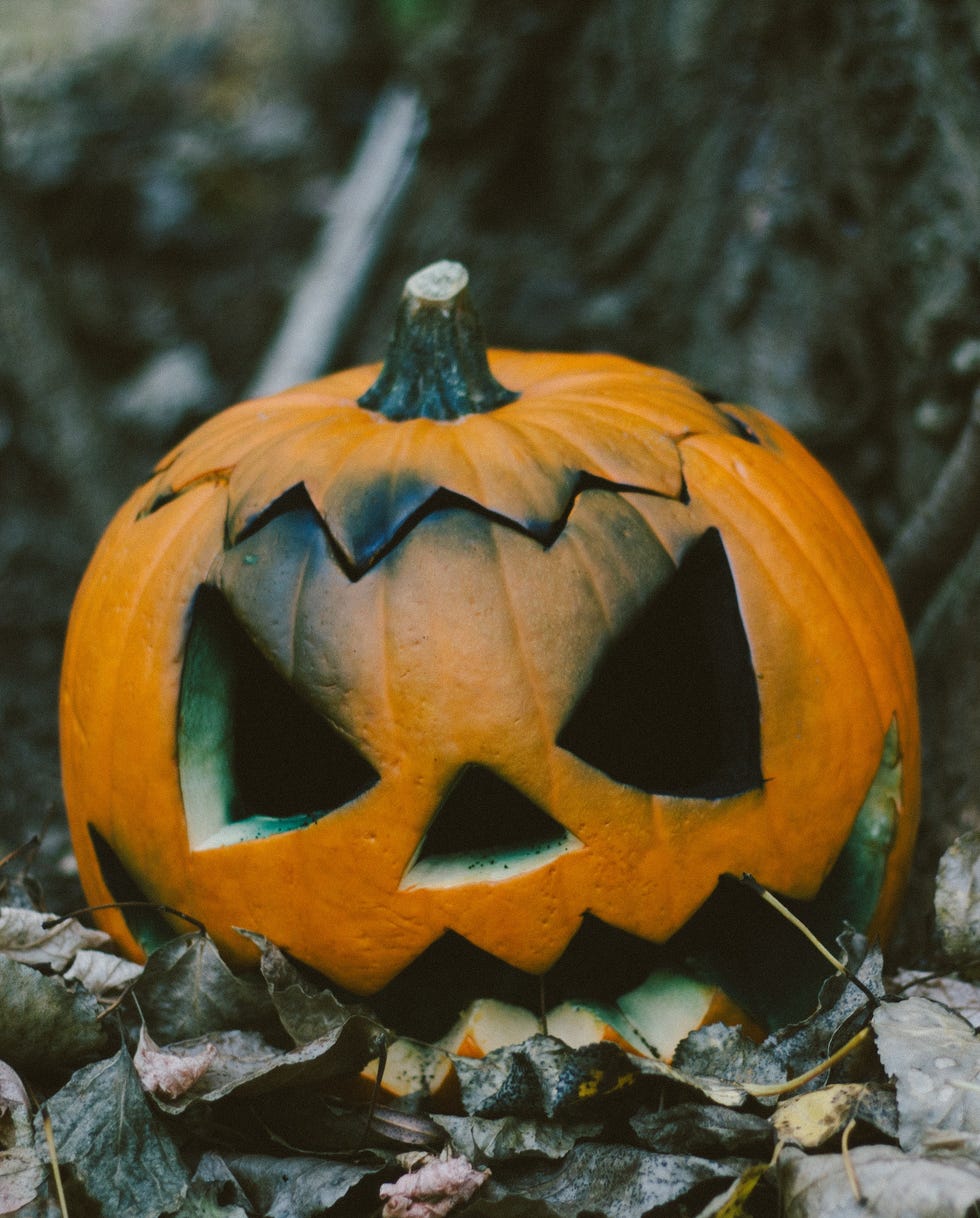 Image Source: Unsplash
To add a deathly and creepy element to your classic pumpkin design is to add paint on the inside of your Jack O Lantern. Allowing the paint to slightly seep out of the orifices of your pumpkin will add an ominous disposition to what would be a very ordinary face.
6. Fence Decorations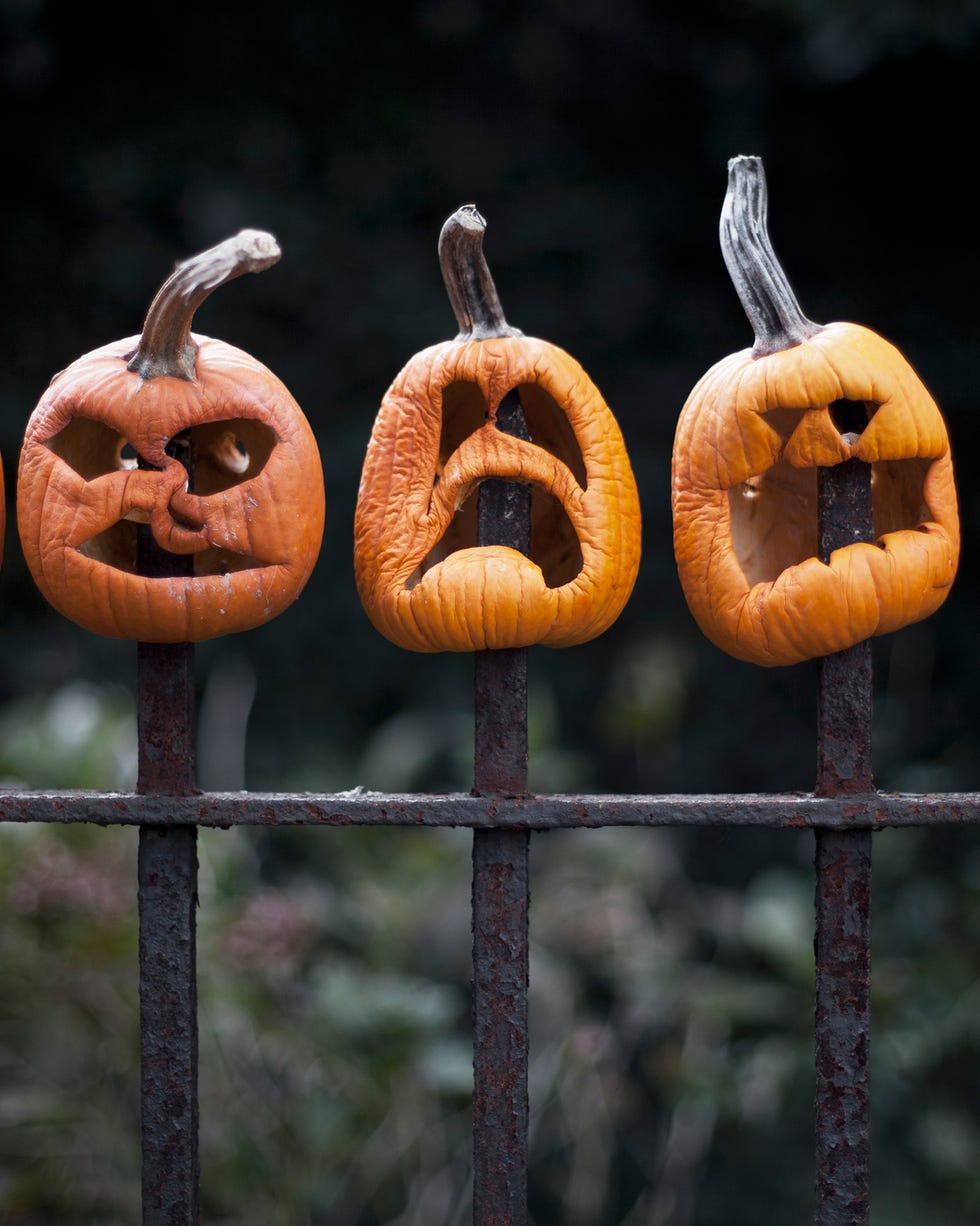 Image Source: Bernie Dechant
Struggling for space to place your Jack O Lanterns? Got a garden fence that could be utilised for a Halloween arrangement? These smaller pumpkins impaled on these metal spikes add a scary and functional theme to your display with resembles to severed heads on a spike.
7. Spooked Guy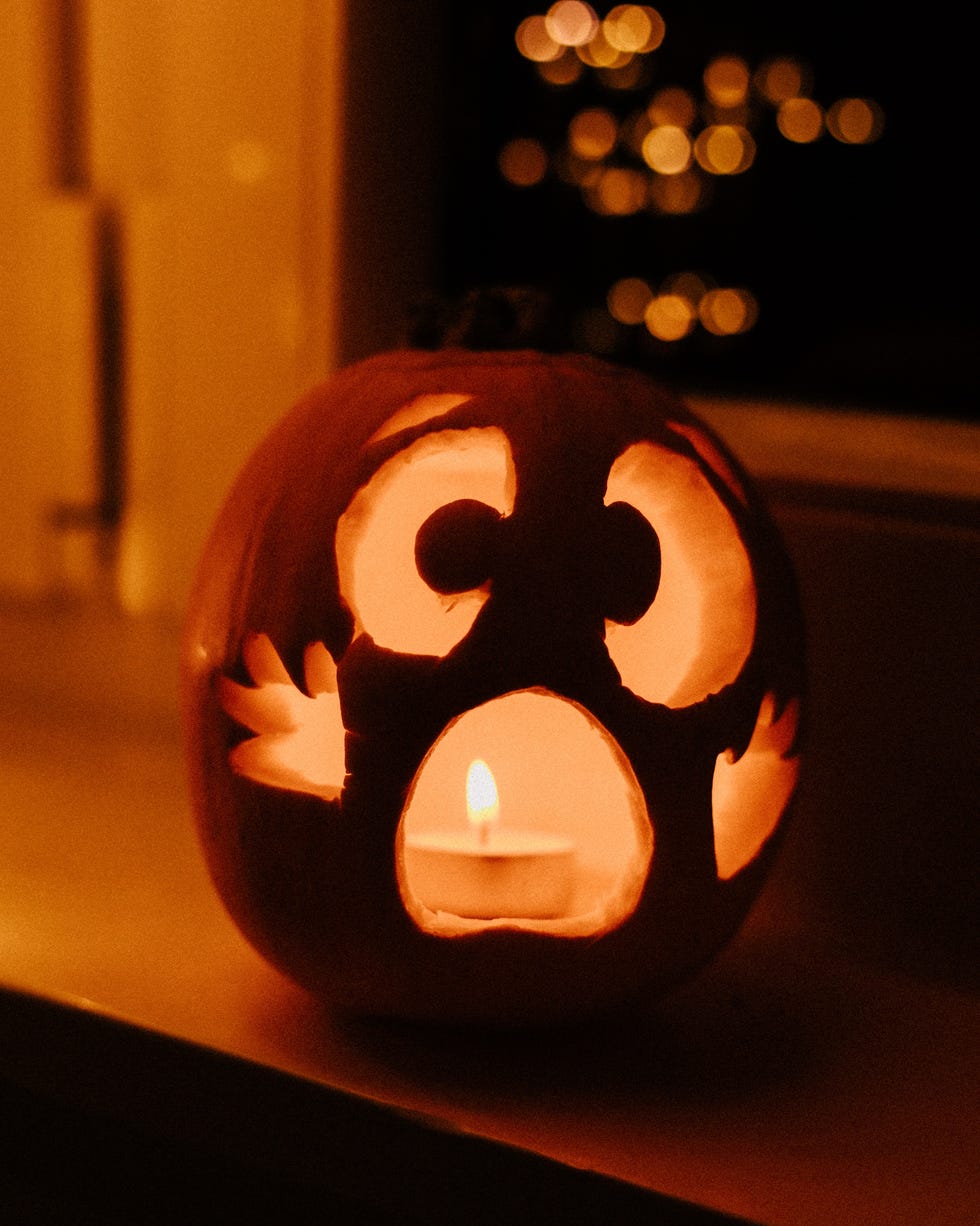 Image Source: Unsplash
One of the cutest pumpkins on this list, this surprised, little ghost is an adorable addition to any Halloween display. Like something from a Disney or Pixar film, this guy will be named by your youngest children and loved every time it is lit in the evening.
8. Cracked Lava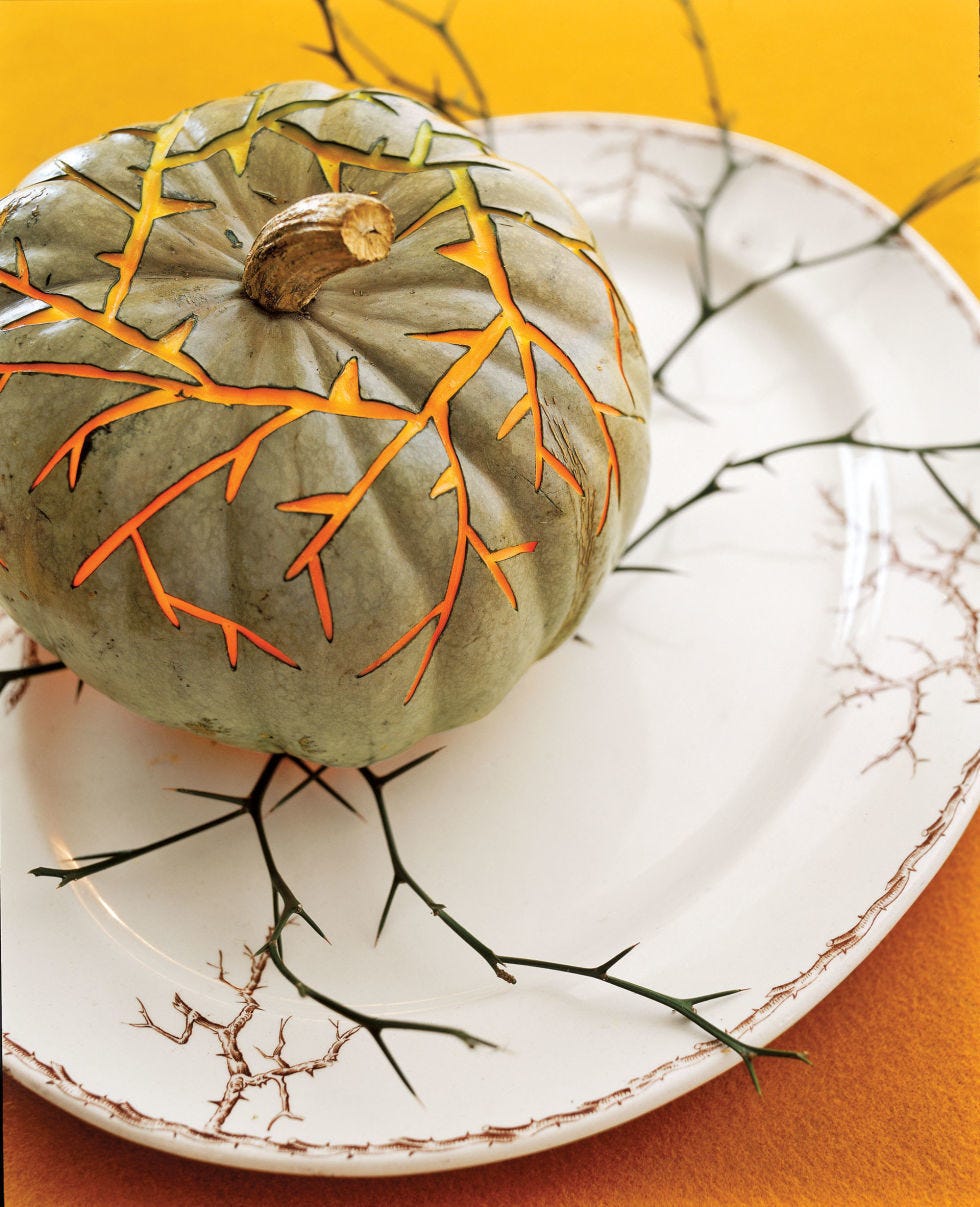 Image Source: Country Living
Using a different type of pumpkin with a stone coloured outside and an orange flesh, this wicked thorn design is aesthetically pleasing to look at. Requiring no candlelight and just carving away the hard outer layer, this design is low effort and maintenance with a high cosmetic value.
9. Carving Pumpkins You Are!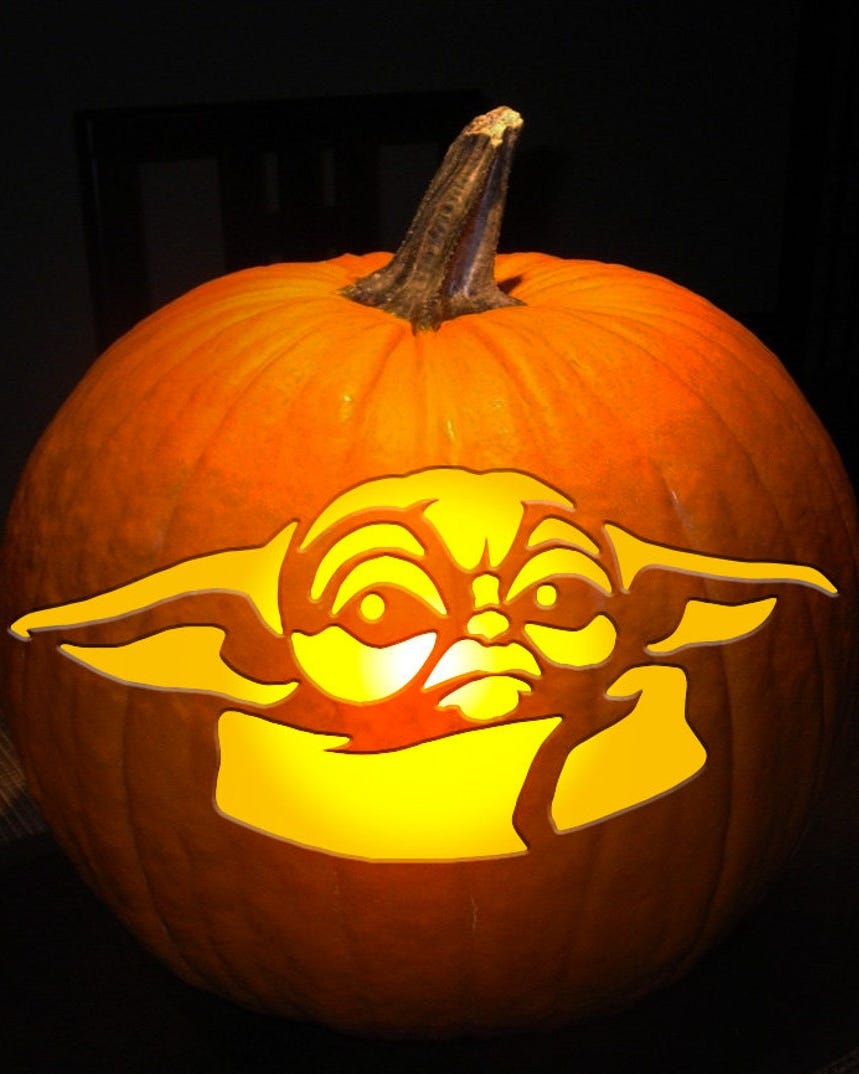 Image Source: Etsy
Children and child-like adults around the world will attempt to carve their favourite characters from films, television programmes and video games. This simplistic yet detailed carving of Yoda is a great example of what could be in the window of many house in your neighbourhood.
10. Castle Carving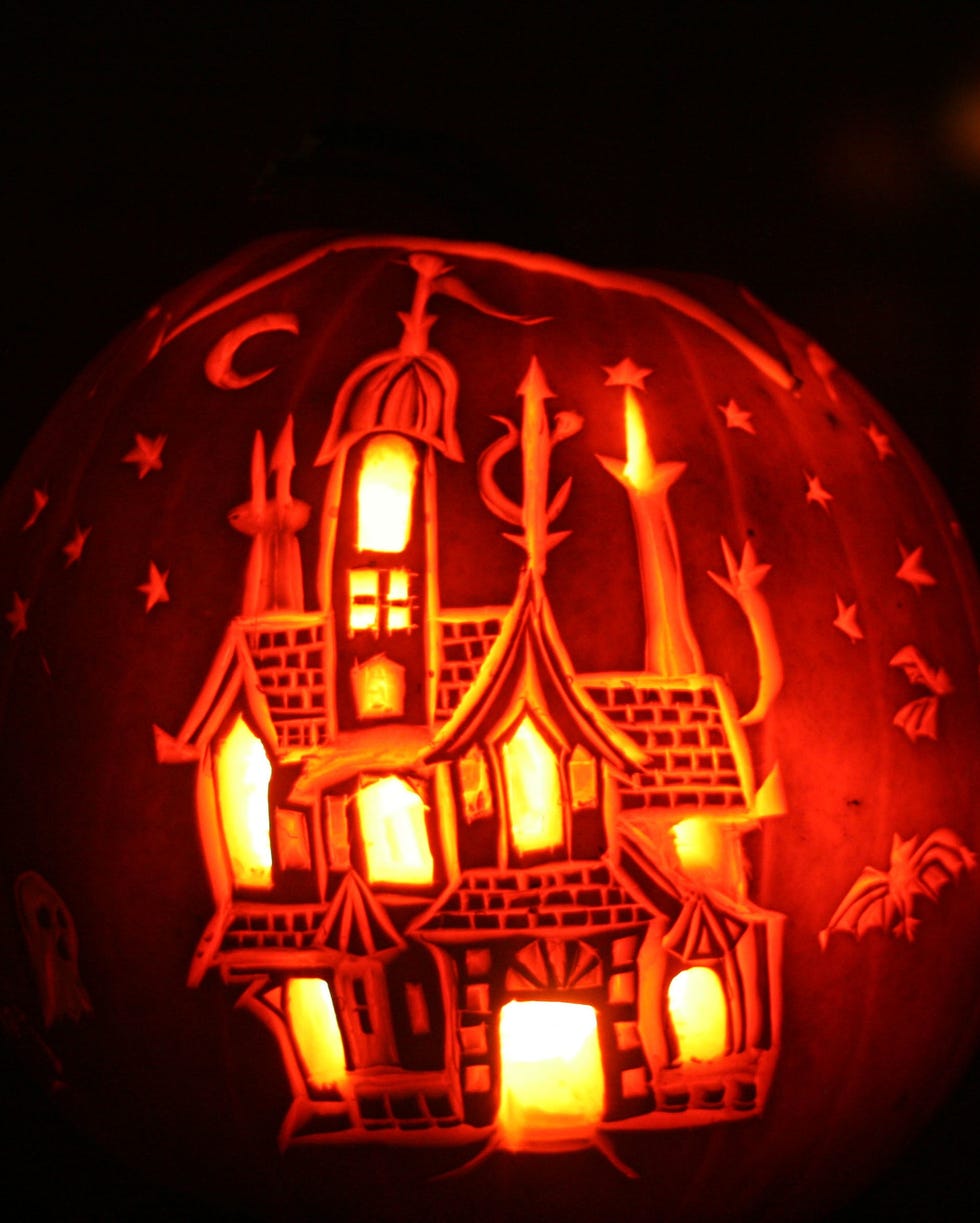 Image Source: Brandon Goldman
Whether it be a beautiful, magical castle or a creepy, scary building, having a Halloween themed structure on your Jack O Lantern can look great within a cluster of other pumpkins using it as a background to your spooky scene. What building would you carve?
11. Halloween Monster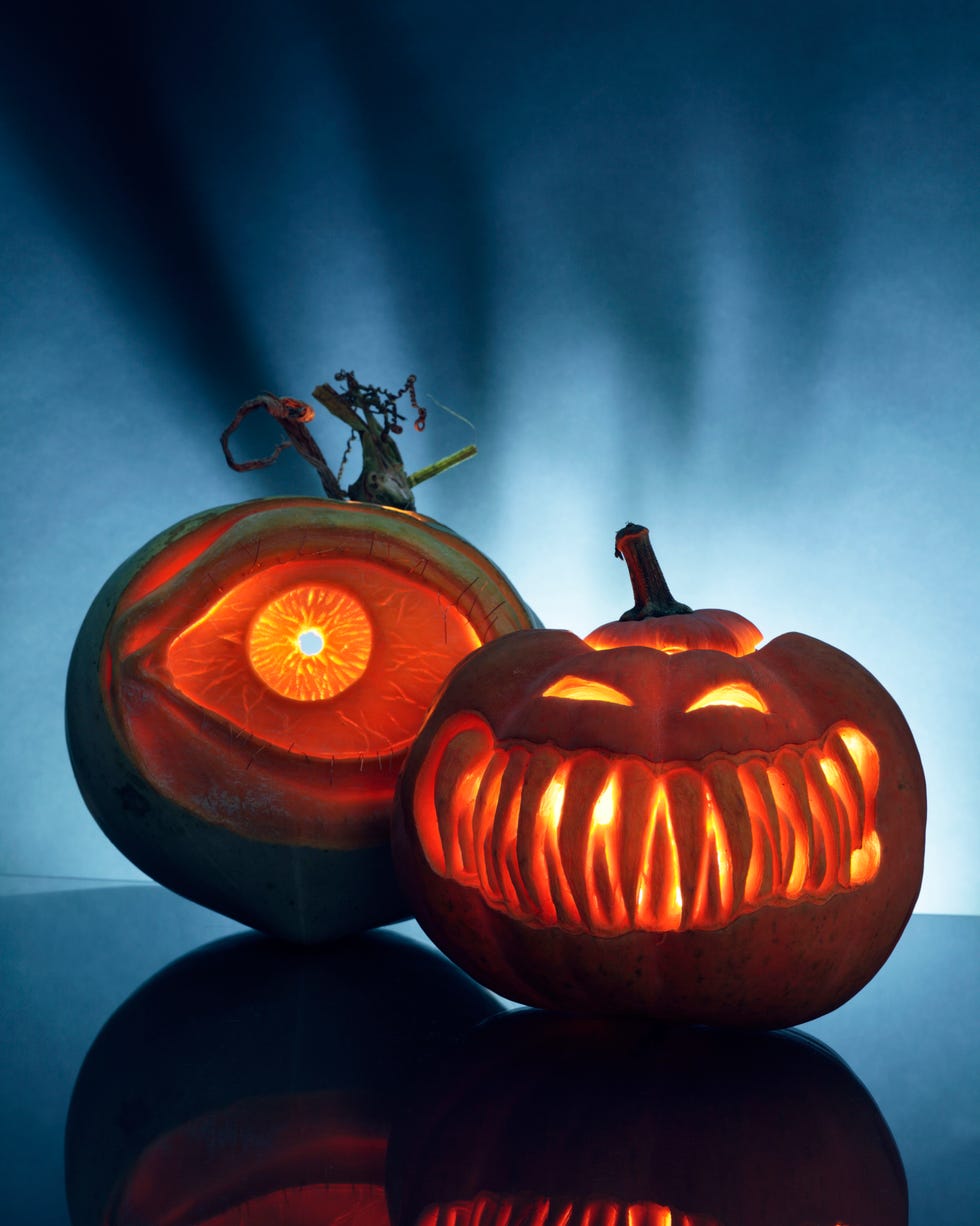 Image Source: Floriana
These are some of the most detailed and creepy Jack O Lantern designs in this collection. With the mixture of shaving and carving, these designs have used the light to add different details into their pumpkins. Two of these monstrous designs would take a lot of planning and preparation.
12. Googly- Eyed Boy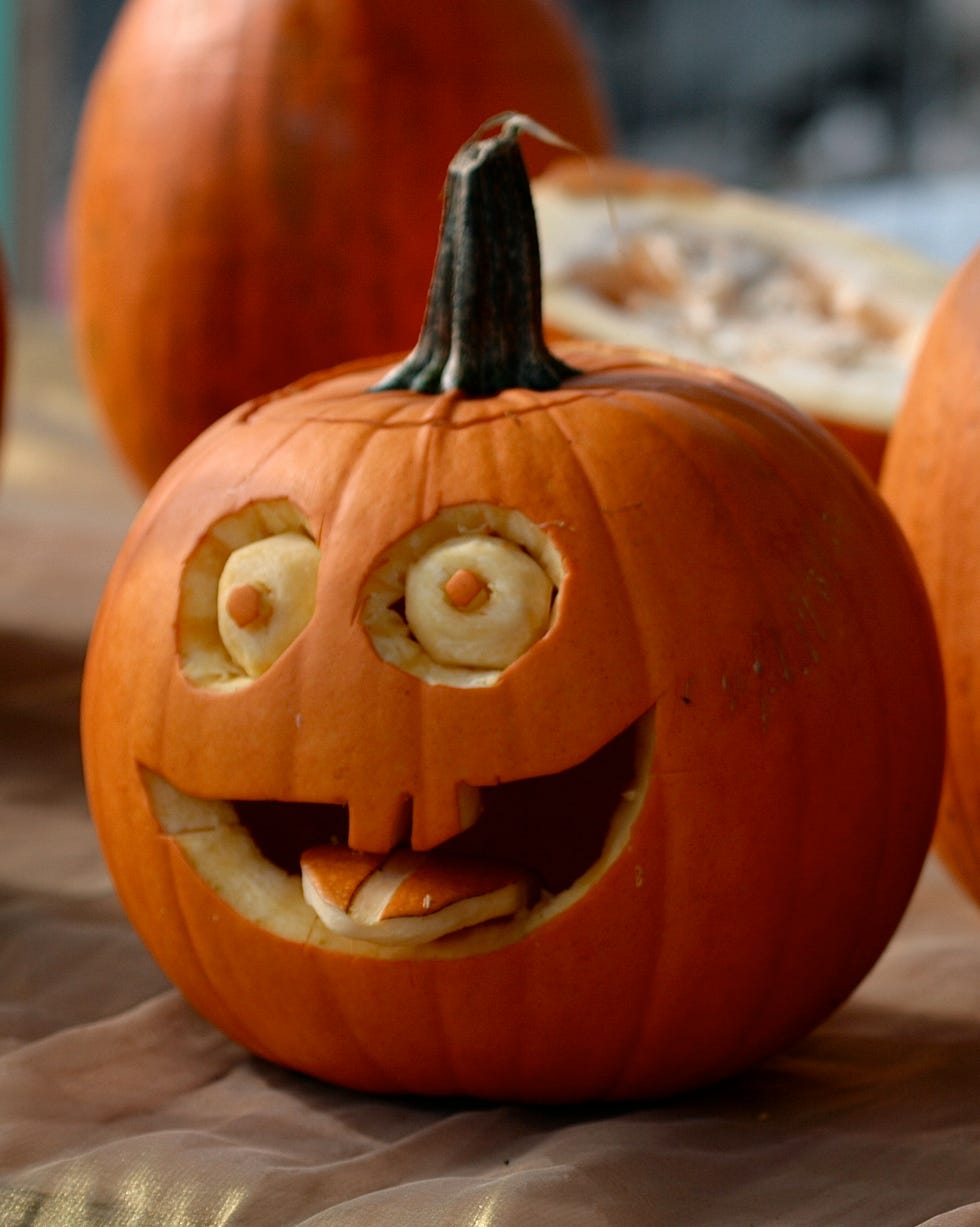 Image Source: PaulGMcCabe
This somewhat cute pumpkin is a great example of how you can use the spare carvings to add character to your Jack O Lantern designs. This guy has a little tongue made from its mouth and the creator has used depth in his eyes to add more visuals to his face.
13. Pumpkin Plant Pot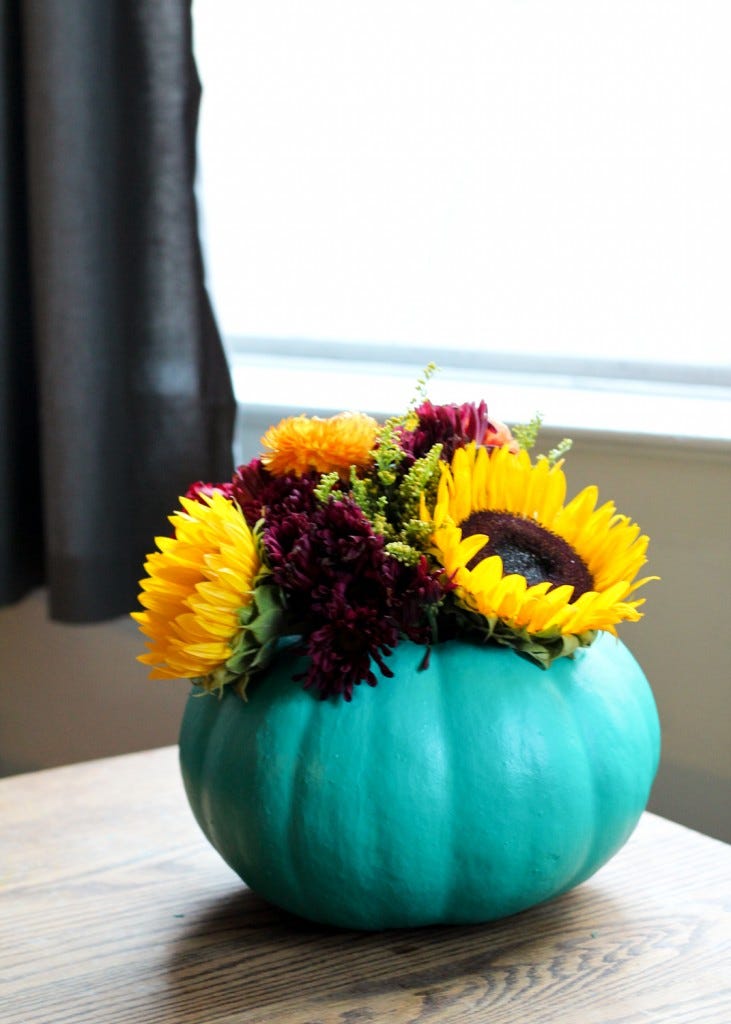 Image Source: House Beautiful
If carving silly faces is not your style and you want something more stylish in your home, get a paint, paintbrush and your favourite flowers and use them to decorate your home with this autumnal sidepiece. They are a great seasonal addition to any home.
14. Big Eats Little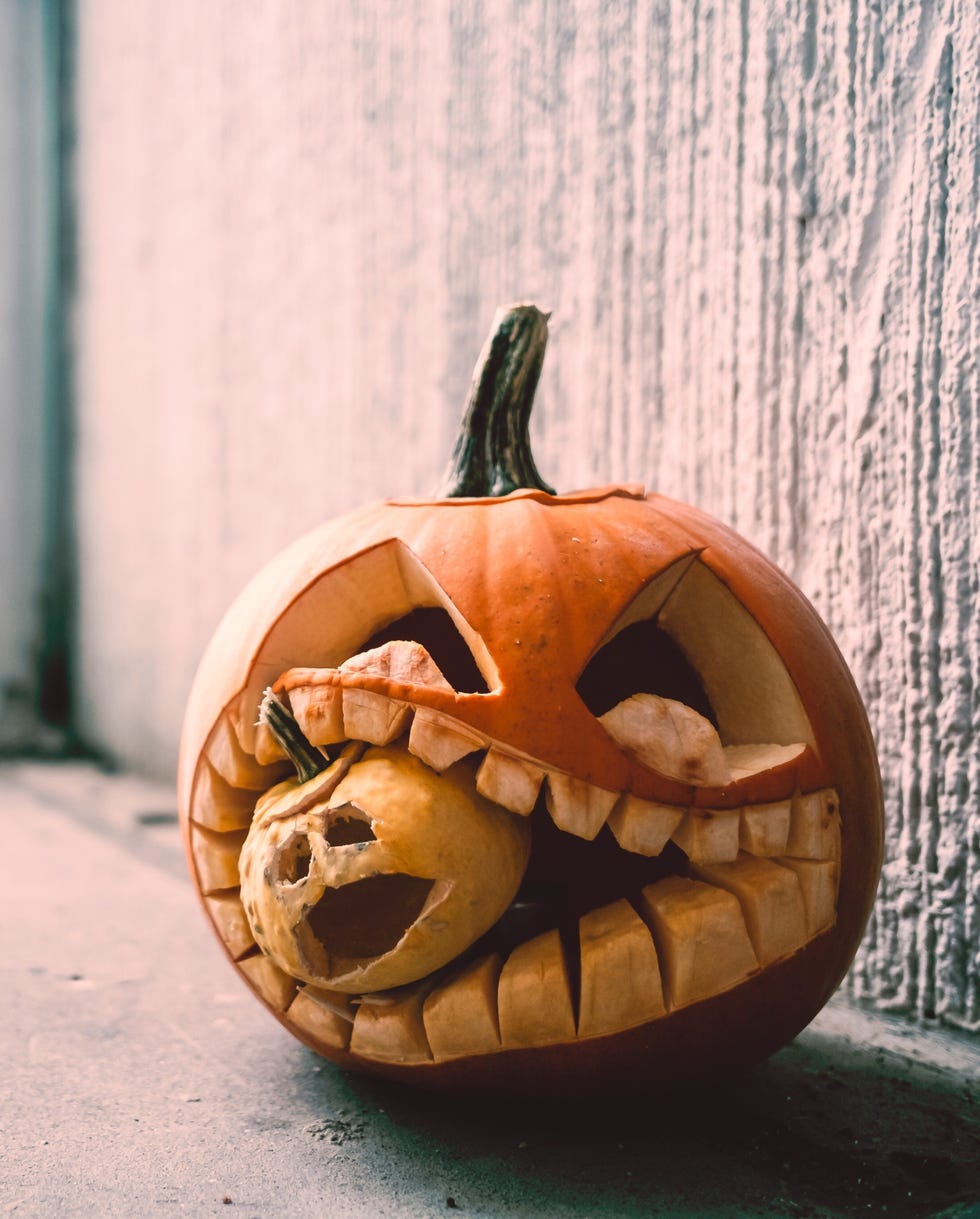 Image Source: TL/ Eyeem
Everyone has seen a container of pumpkins at the store and at the bottom of the container is a small underdeveloped orange ball waiting for a loving designer. Their smaller dimension give them different avenues to take your designs including this creepy, chomping Jack O Lantern.
15. Haunted House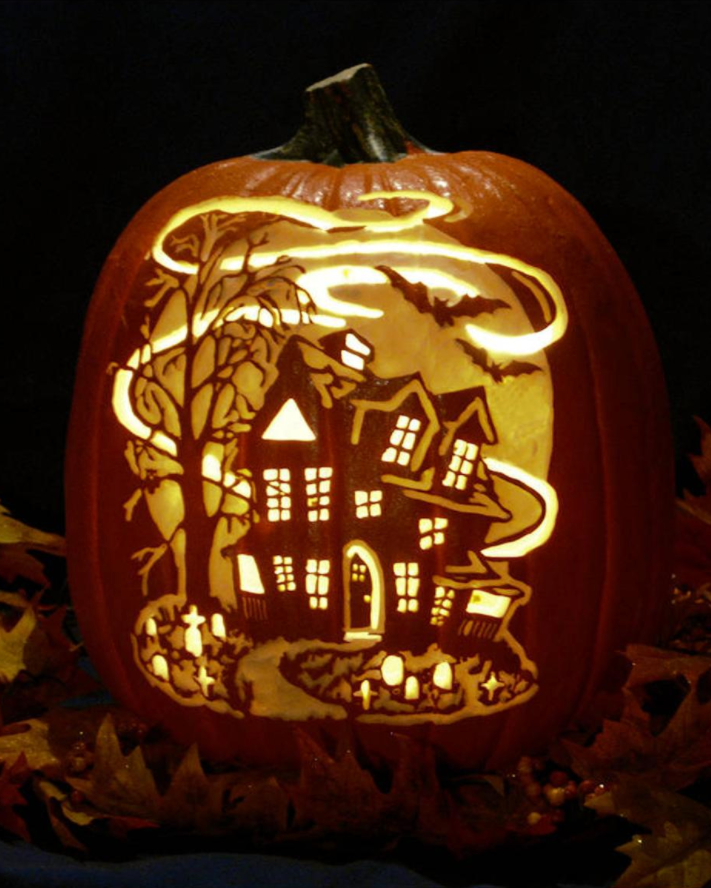 Image Source: Etsy
A haunted house is synonymous with the Halloween season and is a great idea to put on your Jack O Lantern. With the technique of shaving to show the moonlight and the carving to highlight different areas, your eyes focus on a different aspect every time you look at it.
16. The Power of Silhouettes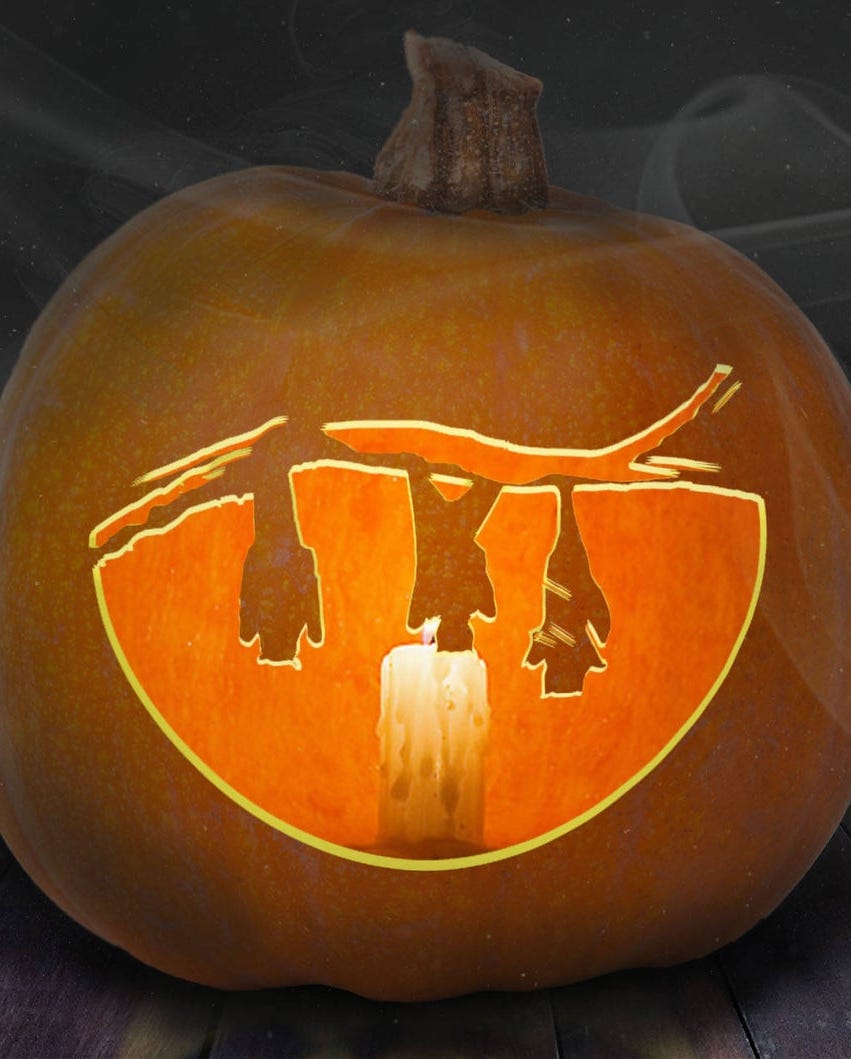 Image Source: Etsy
These charming bats show the power of silhouettes and how they can have a positive impact on your designs. With recognisable incisions, simple designs and a strong light placed inside, your Jack O Lantern can be upgraded to the next level. Simplicity gives the best results.
17. Cheeky Ghost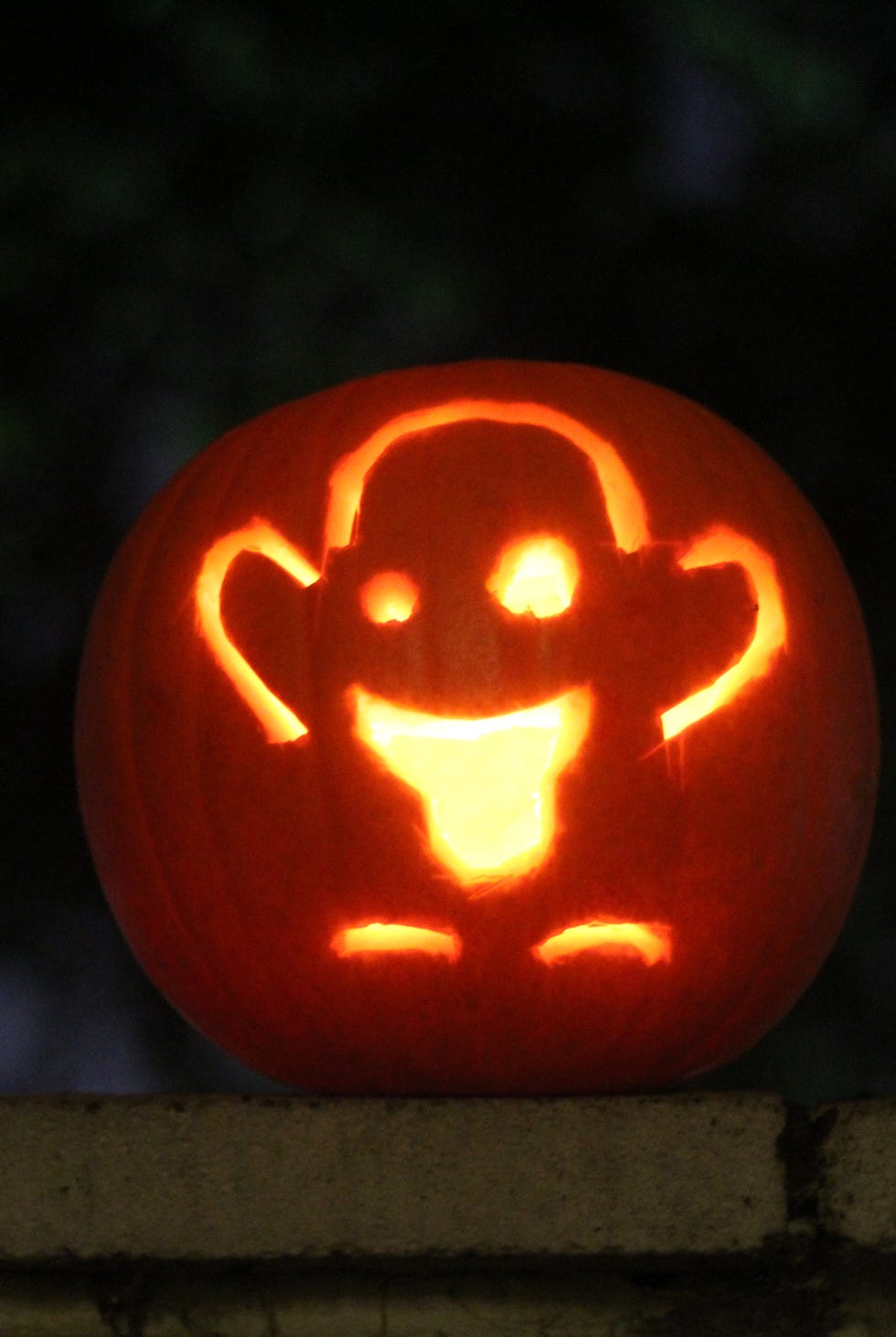 Image Source: Flickr Creative Commons
Following on from the the simplistic approach, this little guy is one that children could have a go at with a hand and create an effective design full of character. Giving children the tools, with supervision, is a great way to build their motor skills, independence and resilience.
18. Many Is Better Than A Few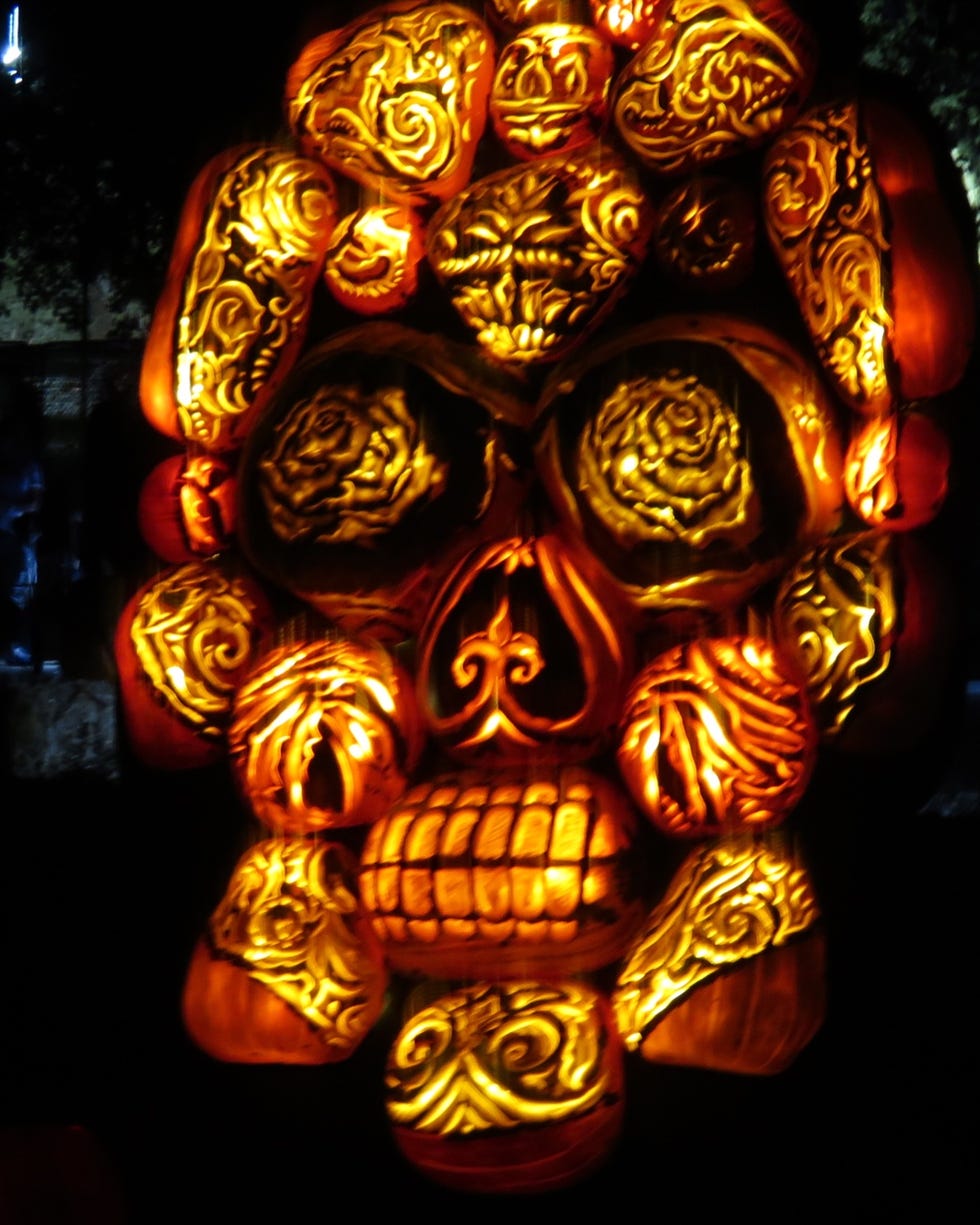 Image Source: Flickr Creative Commons
From the simple to the absolutely outrageous, this collection of pumpkins is a sight to behold creating a face which resembles the skeletons from the Day of the Dead celebrations. This level may not be achievable but combining a group of pumpkins to create something larger may be a good idea!
19. Fluffy Animals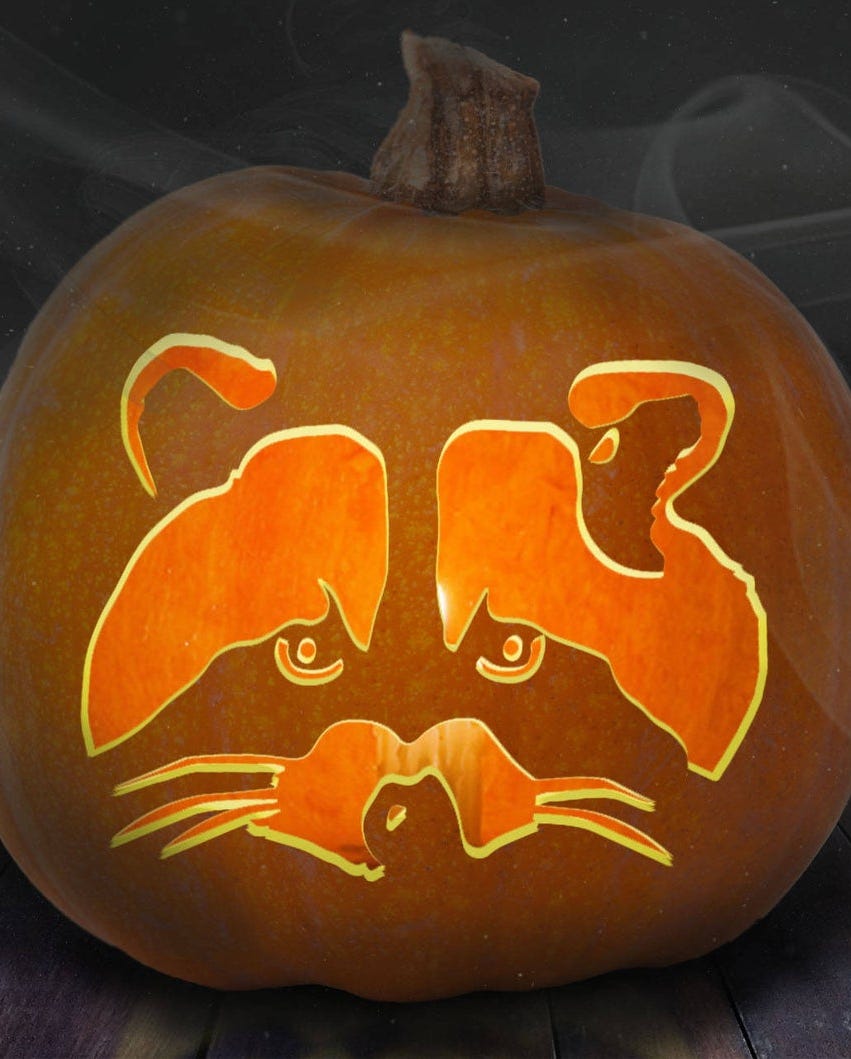 Image Source: Etsy
Selecting an animal is a great idea for a Jack O Lantern when your a struggling for inspiration. A forward facing photo should be copied to get the best effect. If you are struggling to choose from a variety of animals, maybe choose a pet and add their name onto the pumpkin.
20. Haunted Hanging Baskets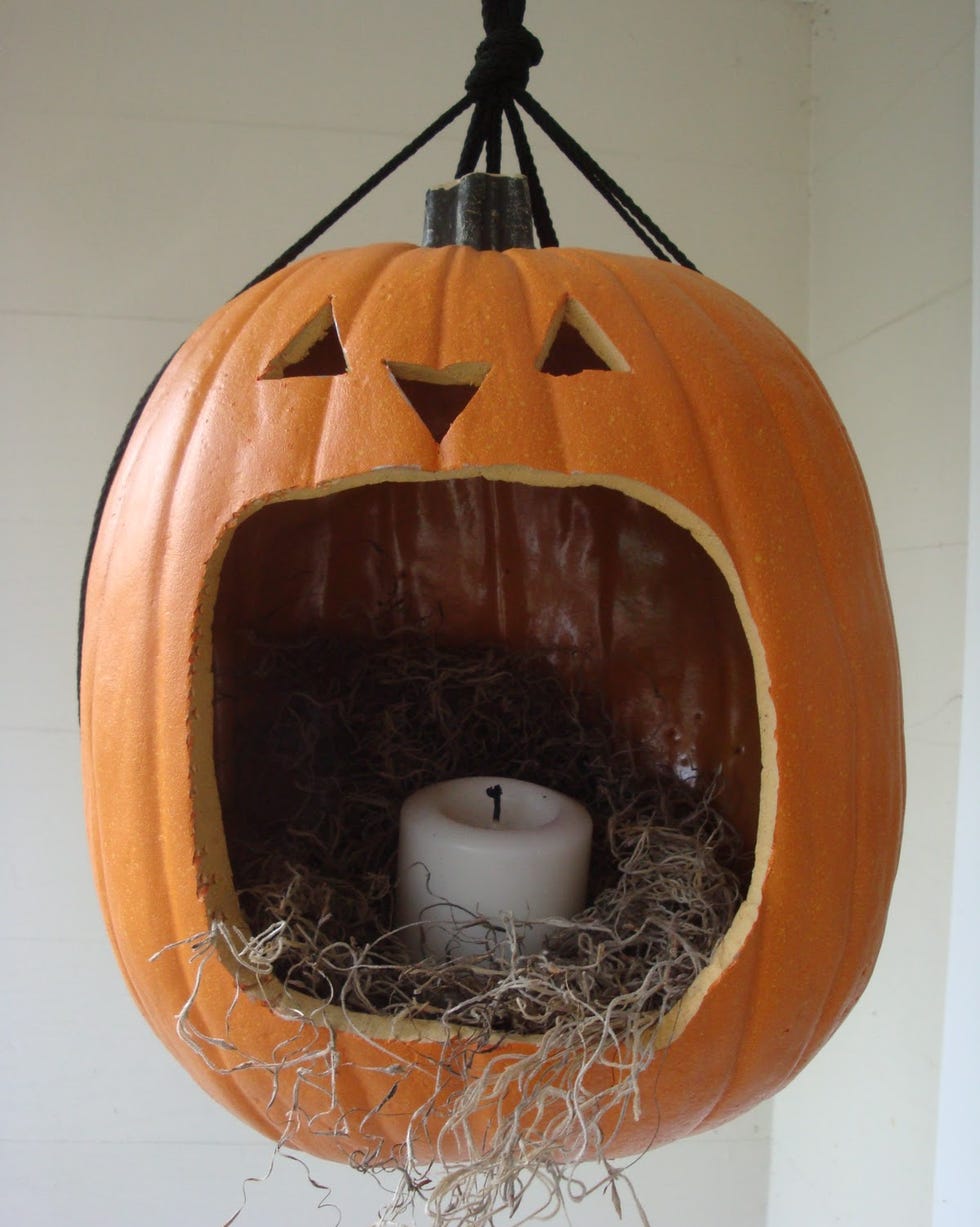 Image Source: The Polohouse
Using pumpkins in alternate ways to decorate your home is a welcome change that should be considered. These hanging baskets are a natural and subtle addition to any home to give a Halloween theme without the use of any lighting. Who knew pumpkins were so versatile?
21. Jack O Lantern Jail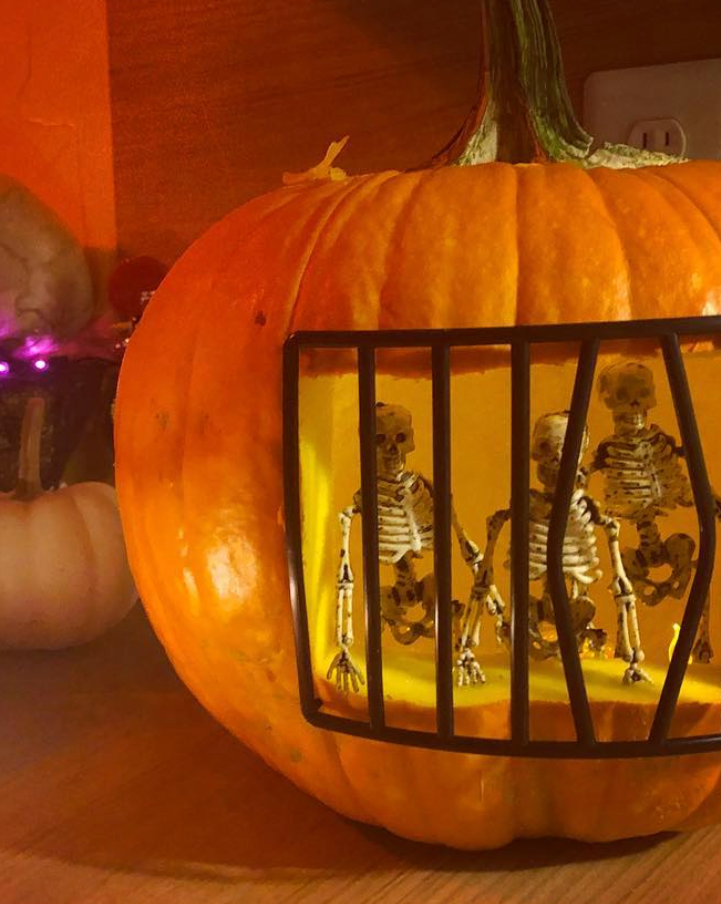 Image Source: Instagram
People are used to putting lights inside their pumpkins, but not many people have put figurines in their pumpkins before. This jail design with a door is a good idea as well as making scenes from your favourite movies, tv programmes or even video games.
22. No Spookiness Over Here!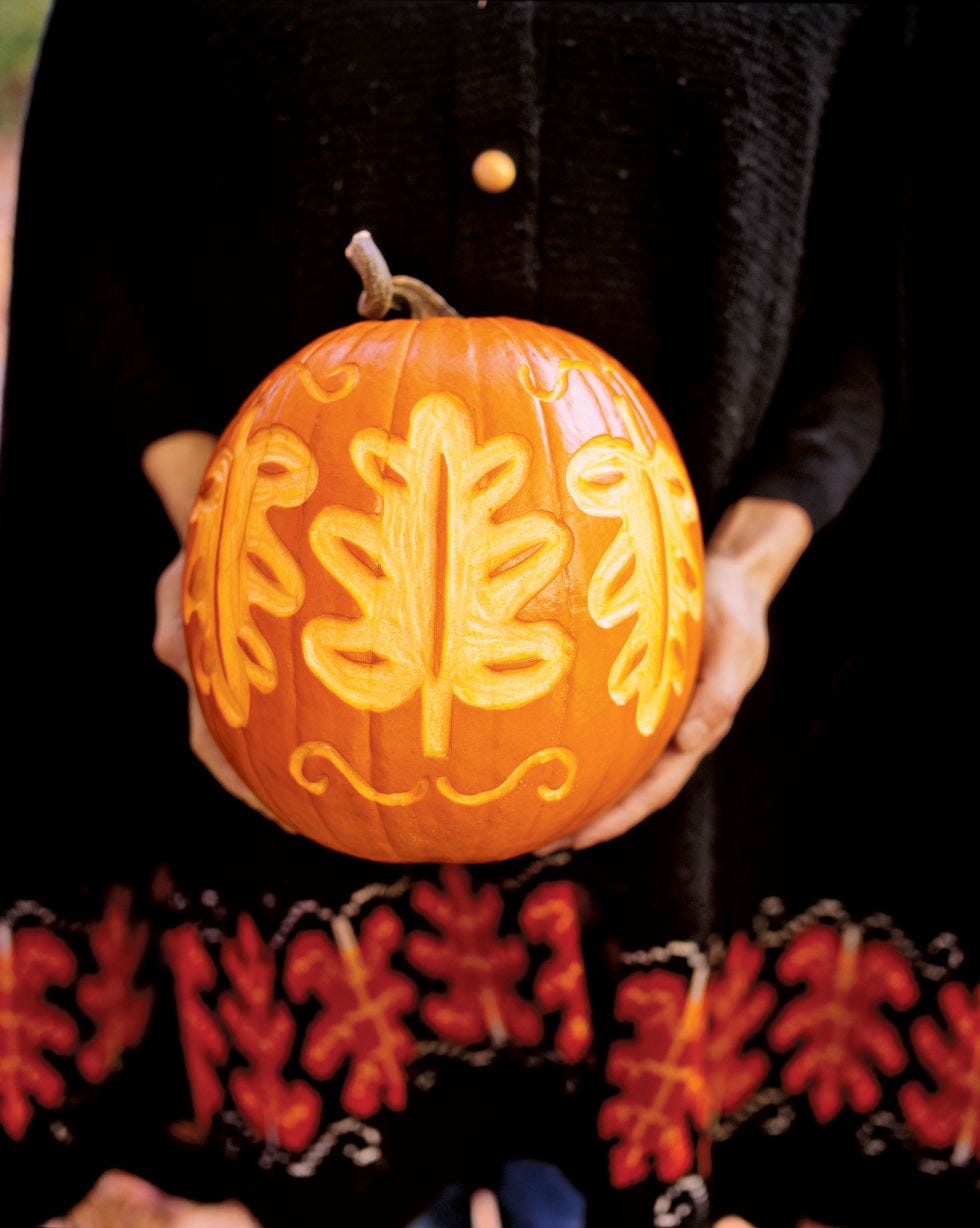 Image Source: Country Living
With the scary movies and garish masks, October can be overloaded with the theme of Halloween. However Autumn is also prominent and can be showcased through your Jack O Lantern design. This autumnal design is one that could be easily replicated with a bit of light carving.
23. Monsters Everywhere!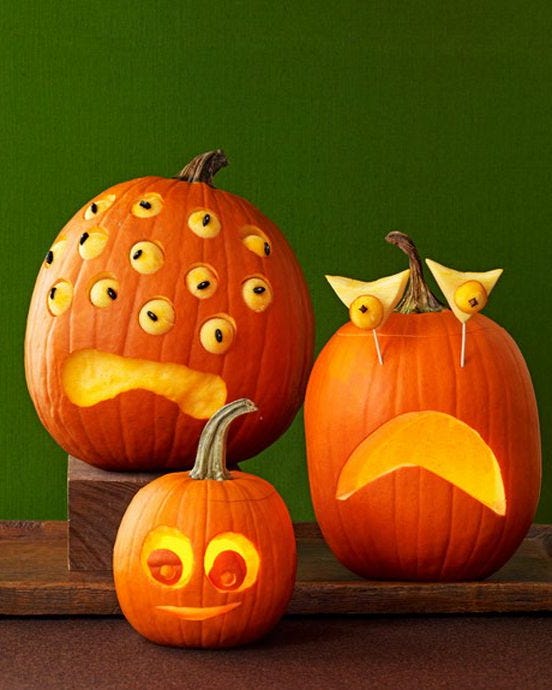 Image Source: Antonis Achilleos
This collection of cool and unique looking monsters show a range of techniques that you could apply to your scary designs. Whether it be the black seeds for eyes or the addition of the cocktail stick to give your features some depth, your pumpkins will look more impressive with these small changes.
24. Wicked Witch's Hat
Image Source: Antonis Achilleos
Everyone has carved a face onto their pumpkins at some point, but have you every added a costume item to your pumpkin? This dry hay for hair and a witches hat gives the pumpkin plenty of character especially with the stump of the pumpkin being used as a nose!
25. Simple, Scary Skull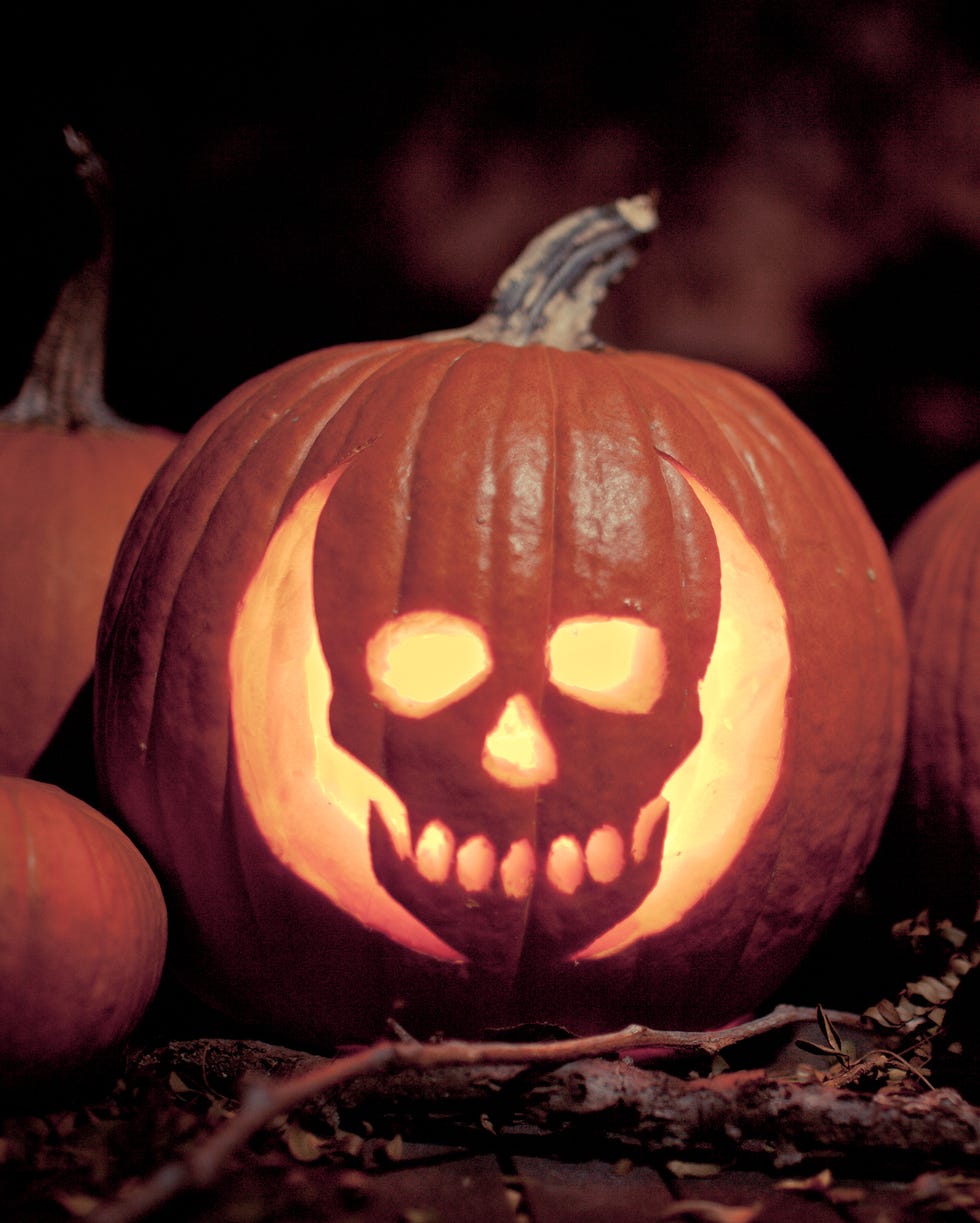 Image Source: Mary Smyth
Skeletons and skulls are constantly associated with Halloween so it is not a surprise to seem them more than once in some form on this list. It is important to plan your carving to fill the entirety of the pumpkin so your design is not small and ineffective.
26.Prrrrfect Pussy Cat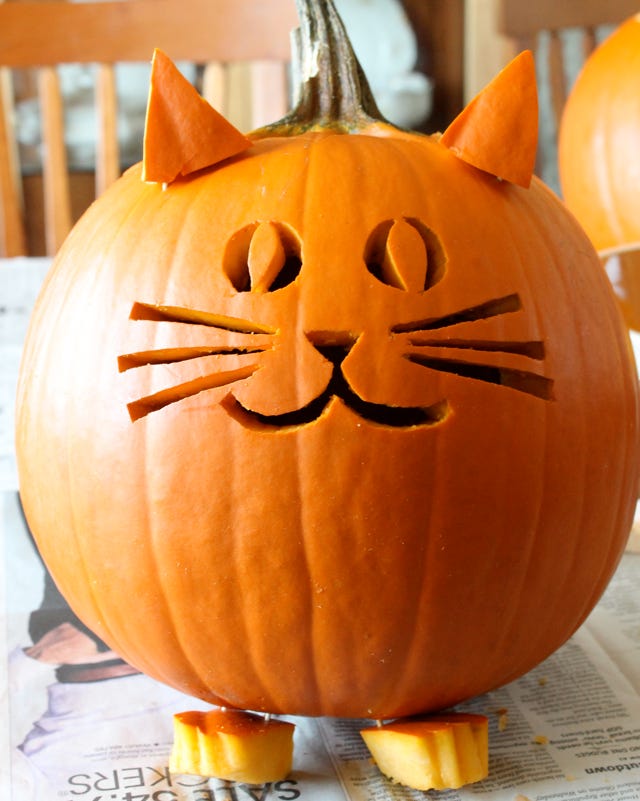 Image Source: LadyFace Blog
We have alluded to choosing a pet as inspiration for your Jack O Lantern designs. We have also spoke about the use of chopsticks to ensure certain features, like feet, to stand out. This is a lovely design where both techniques are utilised to make a cute cat cool again.
27. Positive Messages
Image Source: Eyewolf
The fun of carving a pumpkin is the wacky and cool designs that you are going to attempt. If you wanted a different purpose, you could write a positive message so trick or treaters could learn valuable lessons when out collecting sweets. These messages look incredibly cool in neighbourhoods amongst other messages.
28. Pumpkin DIY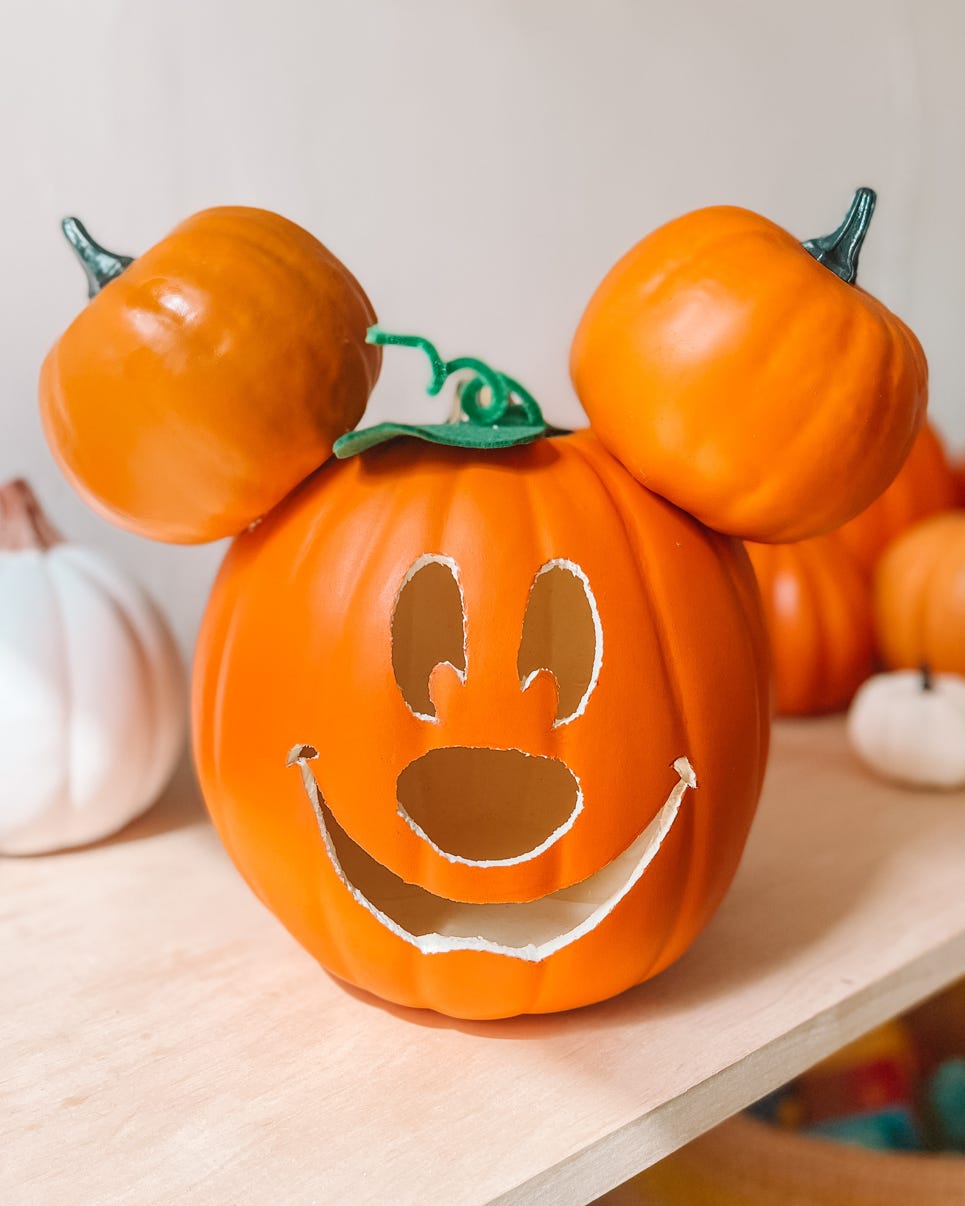 Image Source: Studio DIY
If carving a pumpkin and dealing with all the sticky, smelly flesh is not your style, you could always use Jack O Lanterns made out of plastic or plasticine to replicate your designs. This will allow you to create a pumpkin with less mess and hassle.
29. Smoke Bomb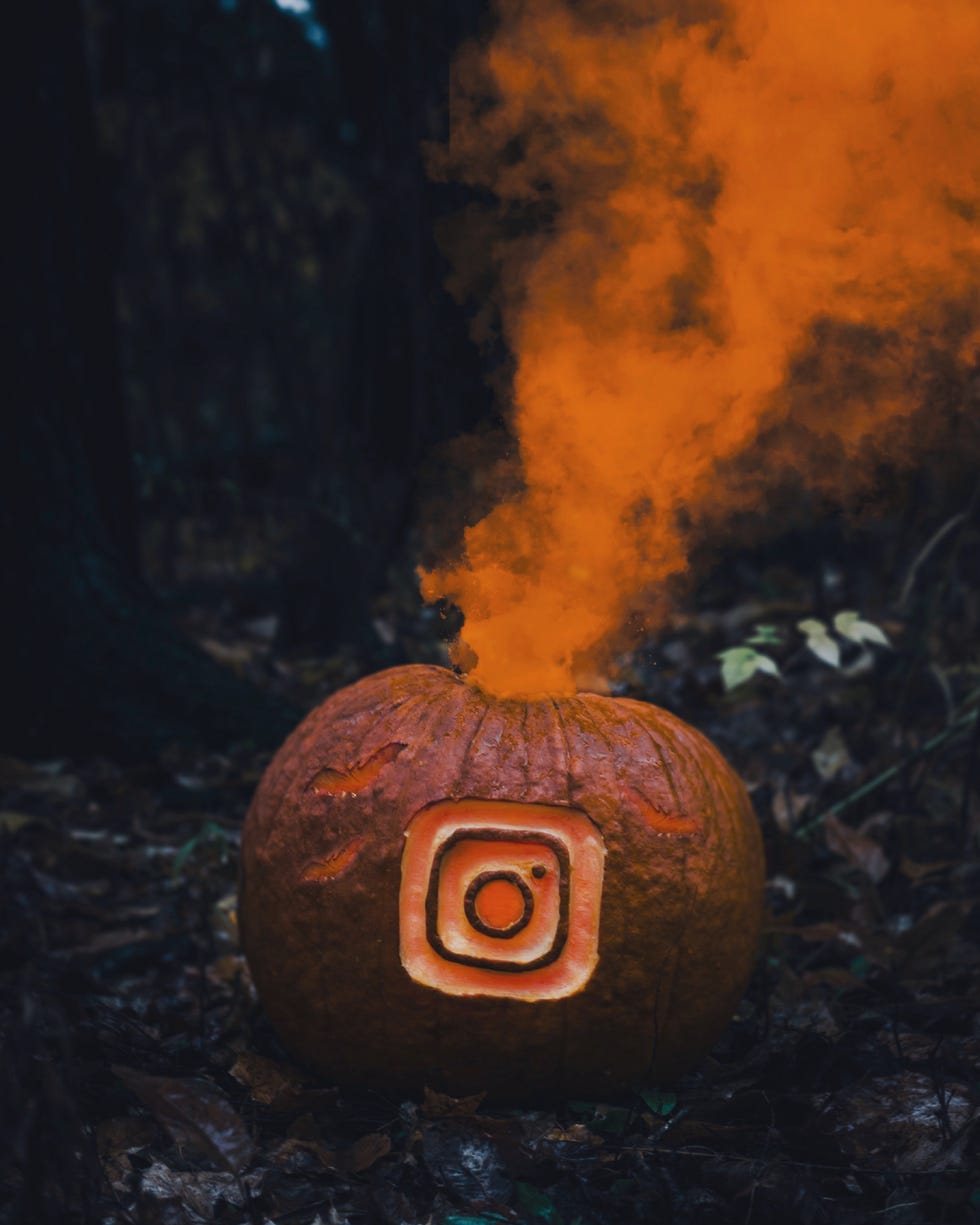 Image Source: Unsplash
There is so much more variety and option to add more detail and to make your Jack O Lantern stand out from the rest in the neighbourhood. One of those is using some pyrotechnics such as colored smoke. This will have every passer-by envious of your Halloween display.
30. Sick Of The Insides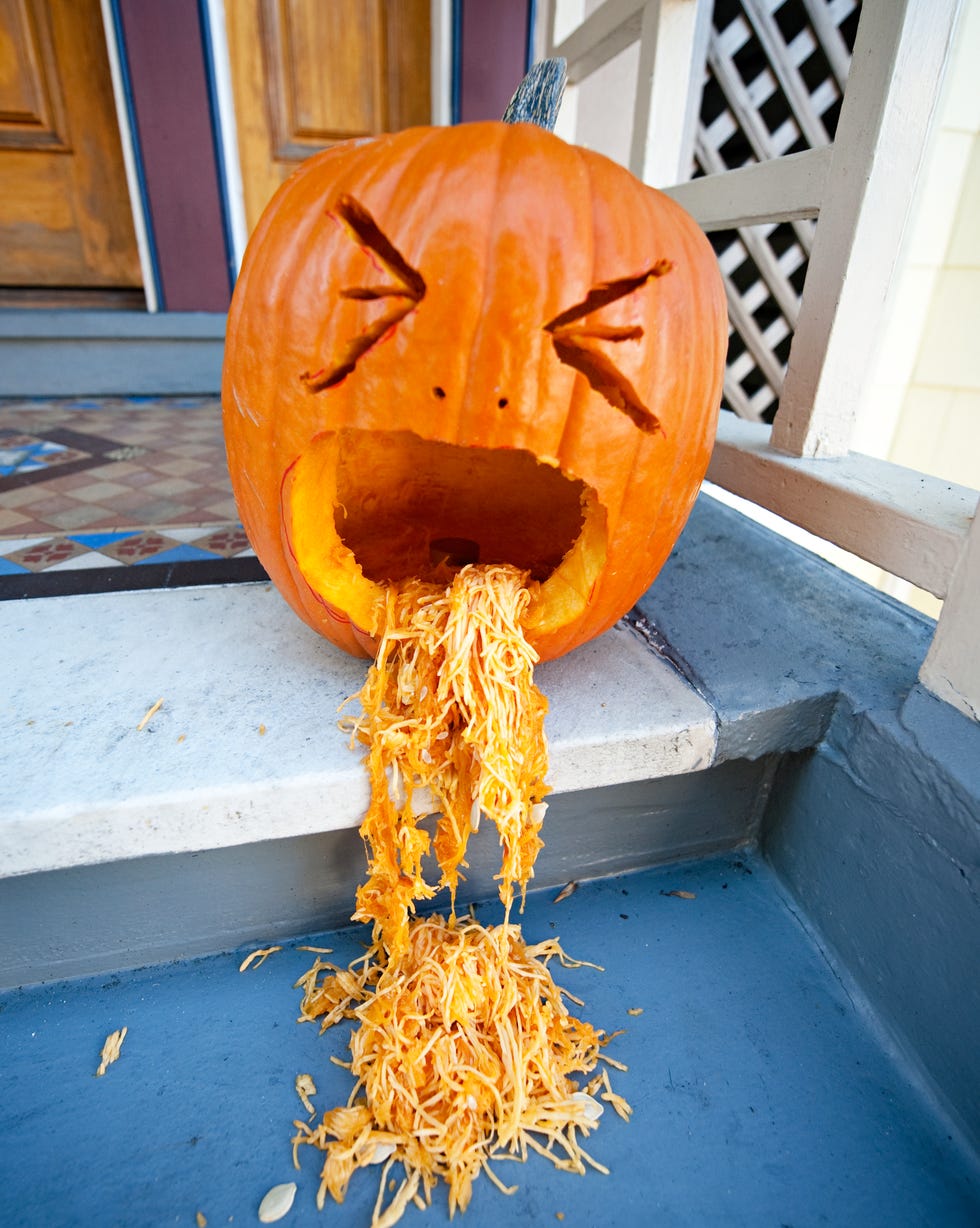 Image Source: Navid Baraty
The majority of the people hate the inside of the pumpkin, nearly as much as this pumpkin hates it! This display uses the inside that we would normally throw away to add a different dimension to their design. The flesh could resemble human flesh, blood or alien gunge for a display of your choosing.