The Funniest Google Street View Images From Around The World
By Callum Atherton
1 month ago
1. Sea Monster Rises!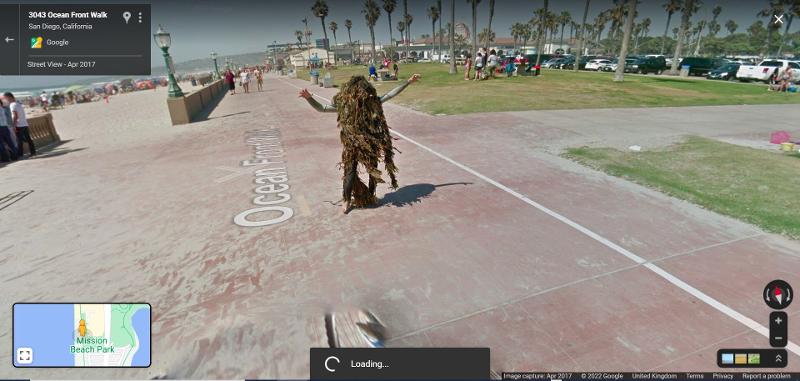 Source from Tech Advisor
Imagine it... Walking down the Ocean Front Walk in San Diego... Sun beaming down, sea breeze in the air. Then a suddenly, a green, disgusting, and wet seaweed monster emerges out of the water and appears on the sidewalk. Now, I know this is maybe not the real thing, however, this is a one of a kind sighting especially for the famous google maps car!
2. Followed By A Familiar Face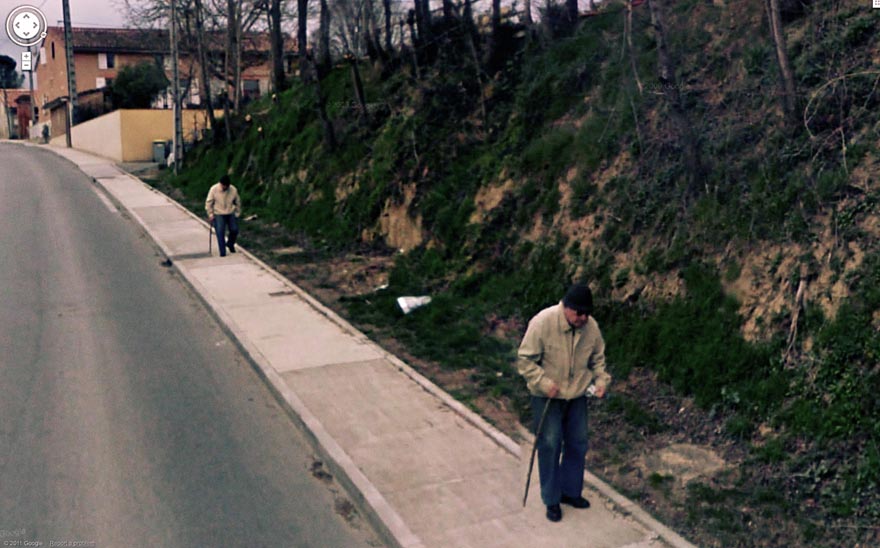 Source from Bored Panda
Do you ever feel like someone is following you? Well this gentleman is certainly feeling that notion, but not in the way that he envisioned! The pictures shows that there seems to be two identical men walking up a hill with a cane! Unfortunately, this happens when images overlap on the google car and sometimes duplicates certain subjects in the photo. Sorry for the disappointment.
3. Halloween Comes Early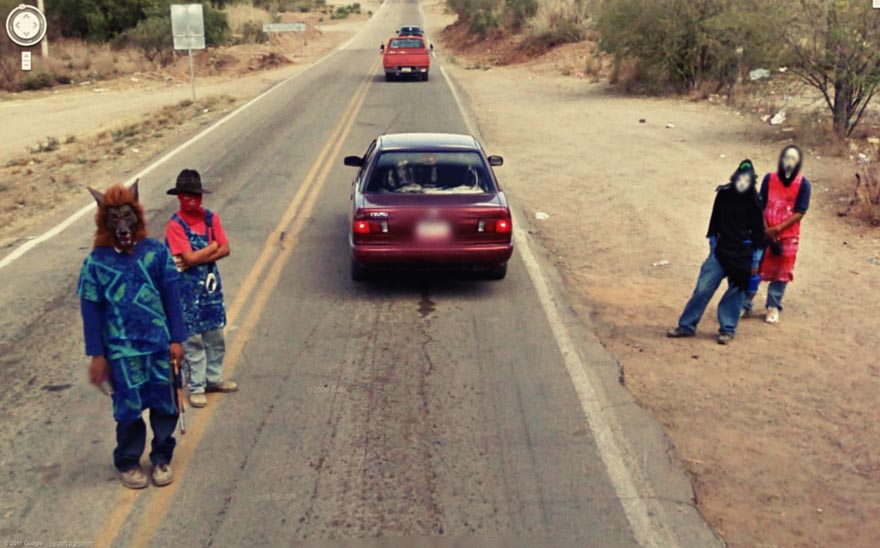 Source from Bored Panda
When driving the car down this sandy road, I sure hope for the drivers sake that this was pictured on Halloween! As the google car follows a cherry, red saloon, four masked individual stood beside the road. A wolf, a classic scream mask, some red faced bandit and a white hooded figure stand ominously. I think it would be time to press the accelerator a little harder.
4. It's Raining Toilet Roll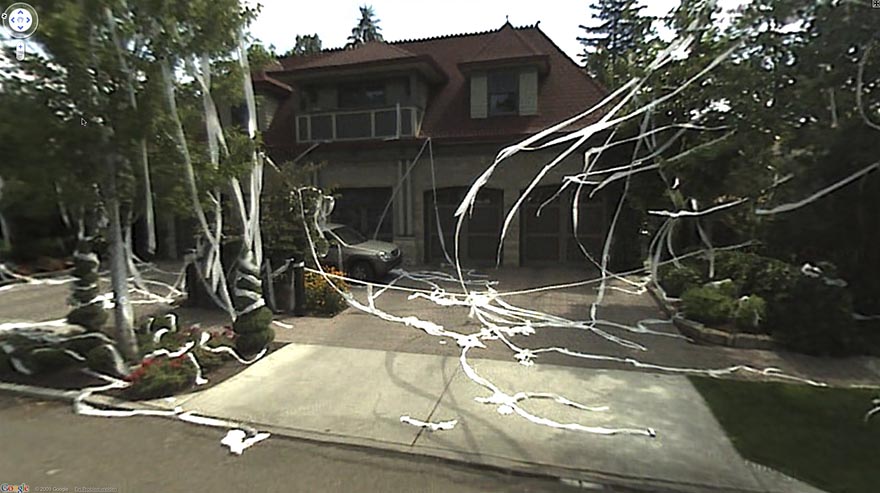 Source from Bored Panda
Whether 'It's Raining Men' by the Weather Girls or its the popular film 'Cloudy with a Chance of Meatballs,' pop culture as a subliminal link with the weather, specifically rain. Something makes me think that 'It's Raining Toilet Roll' may not have the same ring to it! Someone has played a prank on this homeowner and thrown twelve pack of toilet roll over the house and trees at this property!
5. Dentist On The Go!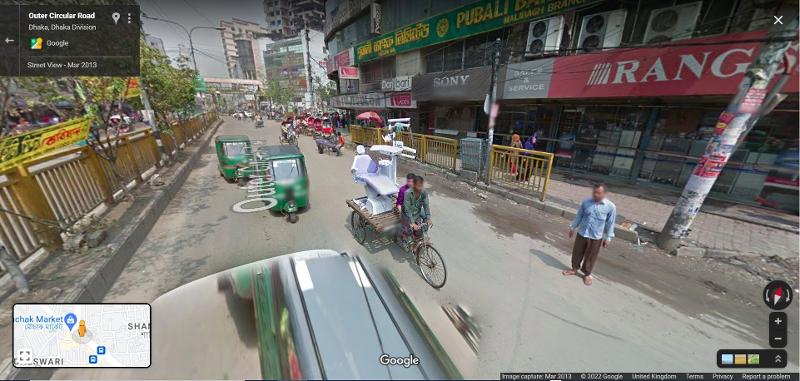 Source from Tech Advisor
Everyone has suffered with agonising toothache were it is unbearable and you have to haul yourself to the dentist to have it fixed for an astronomical fee! In Dhaka, India, this pair have created a dental practice on the go! Whether it's a home visit or a check up on the go this could be a revolutionary idea that we see on the streets everyday across the world. Maybe not.
6. Perfect Dive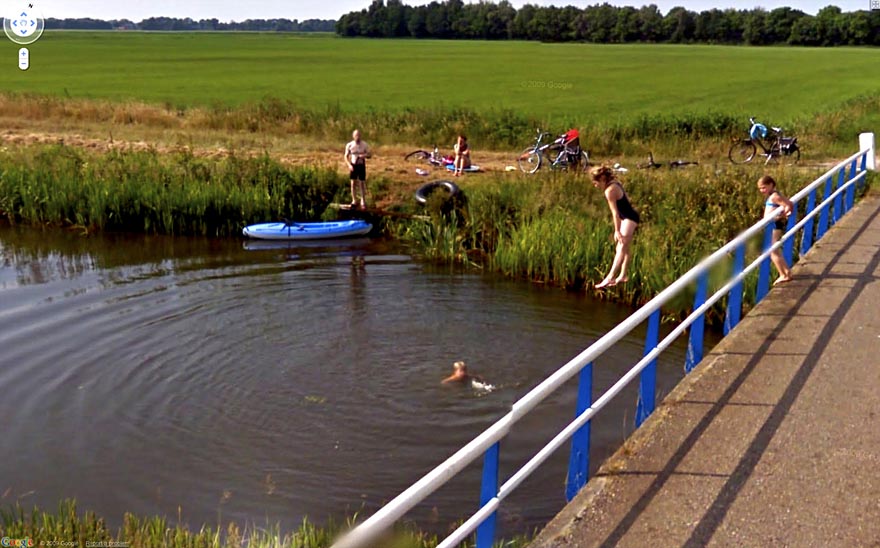 Source from Bored Panda
There is not a better feeling than jumping into a cold body of water on a warm summer's day! This perfectly timed snap sees this young girl take the plunge of a bridge into the river. In the middle of the countryside, surrounded by her friends, you can vividly picture the beaming smile on her face! The precautionary girl clinging to the railing of the bridge whether she will make the plunge is funny to see.
7. Flock Of Pigeons!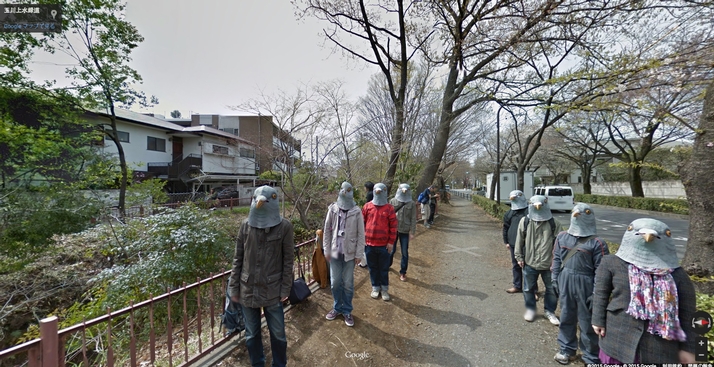 Source from Tech Advisor
This is probably up there as the most bizarre picture ever taken. In a suburban street in Japan, eight humans with pigeon heads stand still facing the unexpecting google street view camera. The creepy looking figures have no rhyme or reason for standing where they are as people are passing them without batting an eyelid. This one may remain a mystery!
8. Better On The Fence than In it
Source from Bored Panda
No one likes when someone is stuck on the fence when it comes to giving their opinion. But, I guarantee you would rather be indecisive than stuck like this poor little dog. Photos only tell you so much and this is one of them times were you wish you could see a picture as a video! What is the dog running from? What is it chasing? Will the dog be their forever? Age-old questions.
9. Penny Farthing and Penguin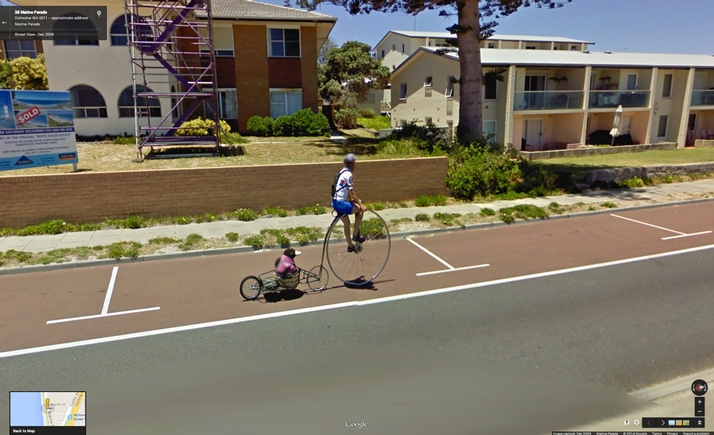 Source from Tech Advisor
Not sure where to begin with this image. A man riding a penny farthing pulling a mini cart with a penguin inside wearing a pink vest. This will be the most random picture on this list due to the archaic mode of transport, the porcelain looking aquatic, flightless bird and the fact it has been captured by chance by a google street car. Just one of the very bizarre sightings in Western Australia.
10. Seagull Frenzy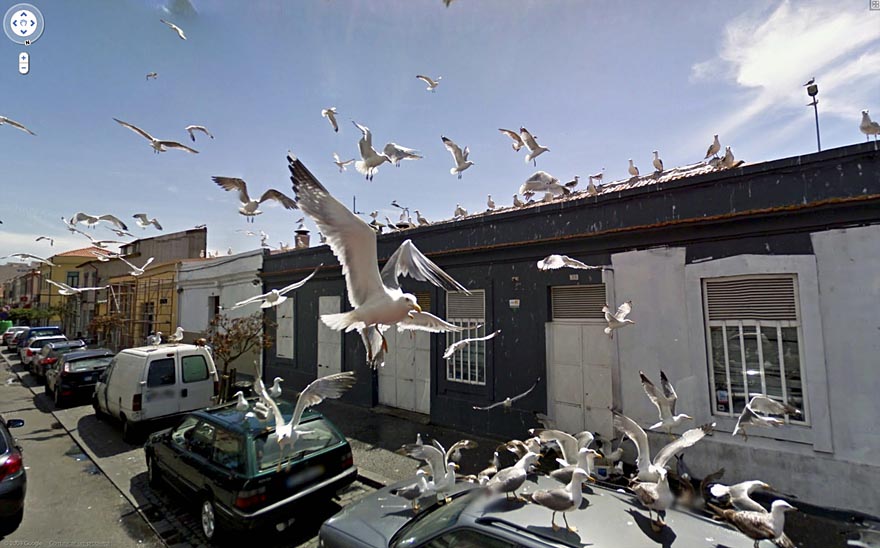 Source from Bored Panda
Another bird related image and this one is pure chaos. Someone must have left some food around because a group of 20+ seagulls have descended on a residential area. An inconvenience of noise and mess would not be very nice for the local residents. I would not like to be walking through this neighbourhood with my fresh french fries and see this gang of vandals raid my food.
11. Sleepy Ranger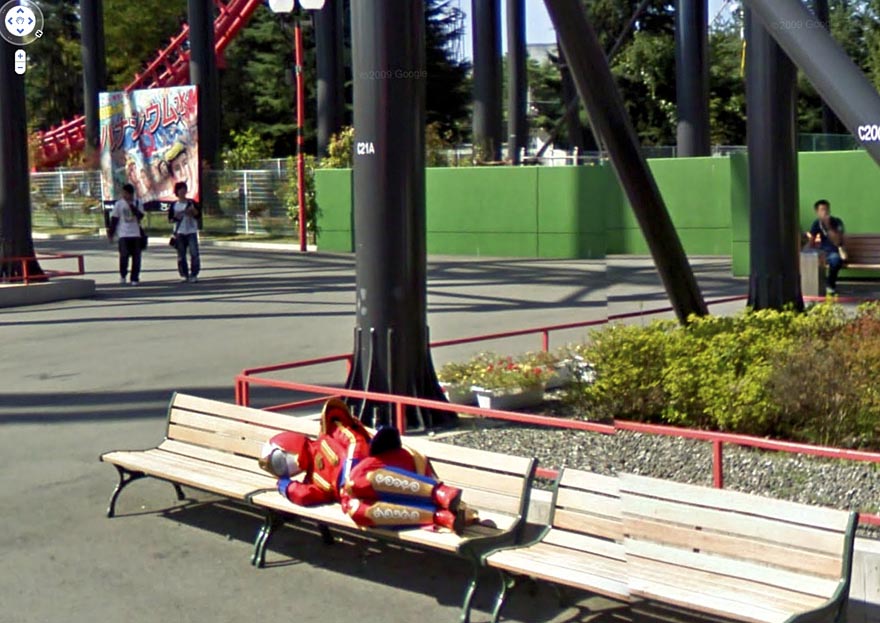 Source from Bored Panda
If you are a certain generation, you or maybe one of your kids would be running round pretending you/they were a power ranges. Arguments would break out across the playground as their would be an argument over which person would be the red Power Ranger. During them arguments, no one asked to be the 'Sleepy Ranger' like this one seen at this theme park.
12. Caught In The Act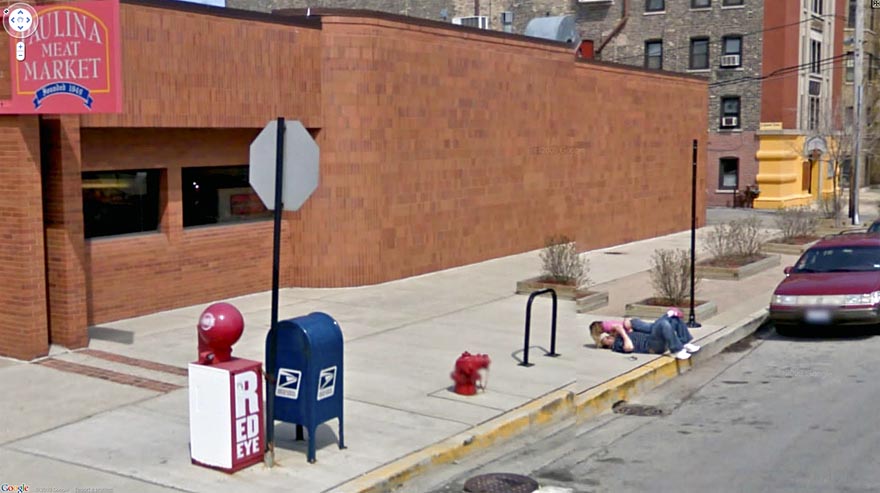 Source from Bored Panda
These two love birds couldn't wait to get home for a kiss and a cuddle and decided to proceed on the sidewalk. When you think of romantic spaces in your city, you make think of a park, a church, a river bank to name a few. One place that probably is not at the top of your list is the local meat market as these two eager beavers have done! Get a room!
13. A Murder of Crows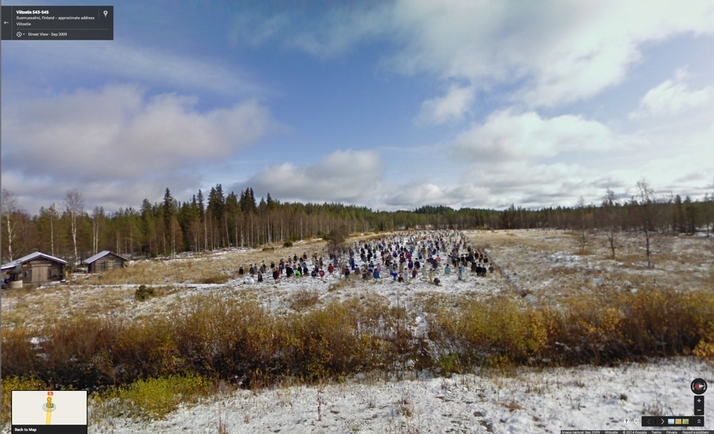 Source from Tech Advisor
Did you know a group of crows is called a murder? A group of scarecrows however is a completely different name altogether! In a snowy, pine- lined woodland a group of fifty crows stand looking in the direction of the camera. These scarecrows are not placed for the purpose of scaring away birds from crops, but more as an eerie exhibit for passers by.
14. Fire Truck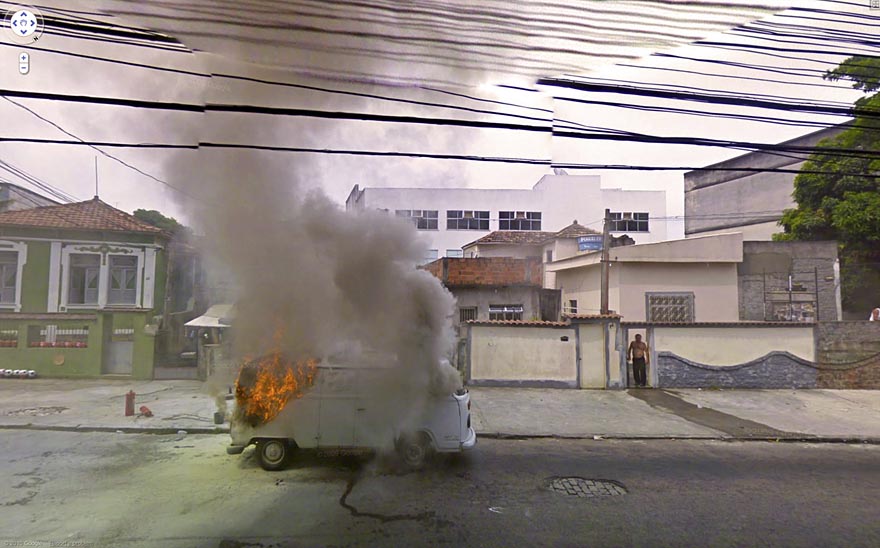 Source from Bored Panda
When there is a fire the one thing you need to help put out the blaze is the fire department which normally arrive on a fire truck. One thing you do not normally see is a truck on fire. This white, little van is ablaze with plumes of black smoke rising and a worried onlooker from the wall on the right. There is no indication to what caused the fire, but let's hope a truck that isn't on fire comes to the rescue.
15. "Put Your Hands Up Punk!"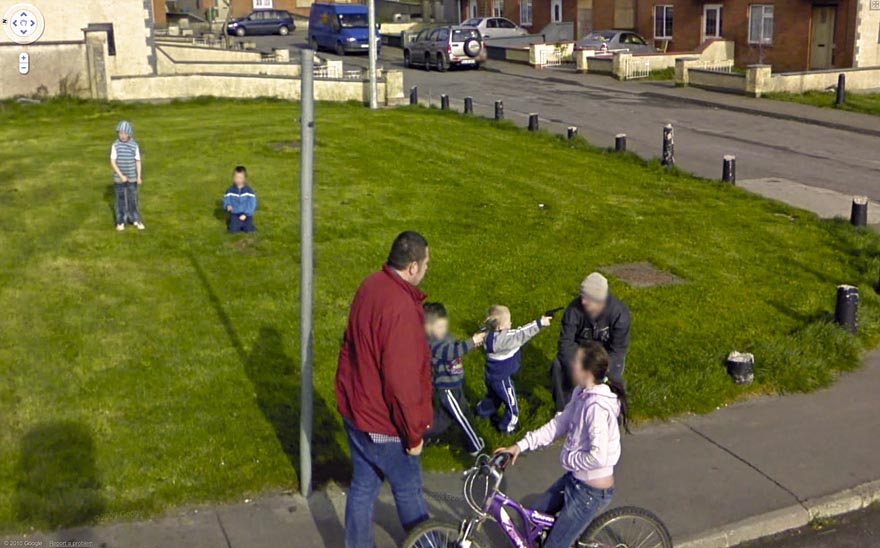 Source from Bored Panda
Kids mischievous behaviour can have a adhering quality to it. However, I feel like mischievousness as taken a step too far with this picture. Two toddlers seem to be holding pistols towards a man on a grassy area in a residential area. Hopefully, these two trouble makers have got toy guns and are playing games, but the props black colour makes us think they could be real!
16. Driver Surprise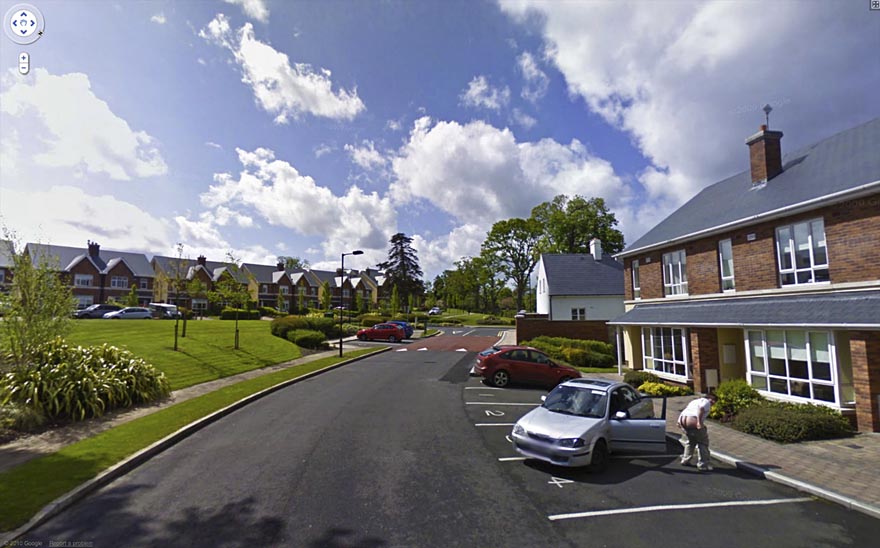 Source from Bored Panda
The sun is not the only thing out in this photo. This gentlemen is so ecstatic for the sun or the passing google car that he has decided to pull his car over and get his bottom out. The quick and rude thinking of the driver as given the world a wonderful picture to enjoy forever more. A delightful view for google car driver and for local residence in the area.
17. Messi Fans Arrested!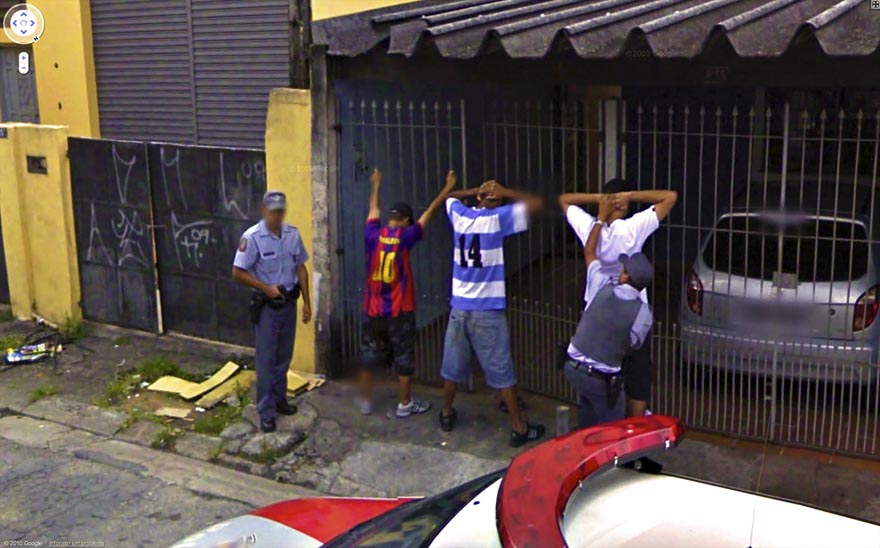 Source from Bored Panda
Now there is no way to know if these individuals are Lionel Messi fans, however they are sporting the current Inter Miami superstars national colors (Argentina) and former team (Barcelona). Something tells me they have not been arrested for their insane skills in this South American street as they are being searched by these two officers. Looks like an own goal for these three.
18. Mean Streets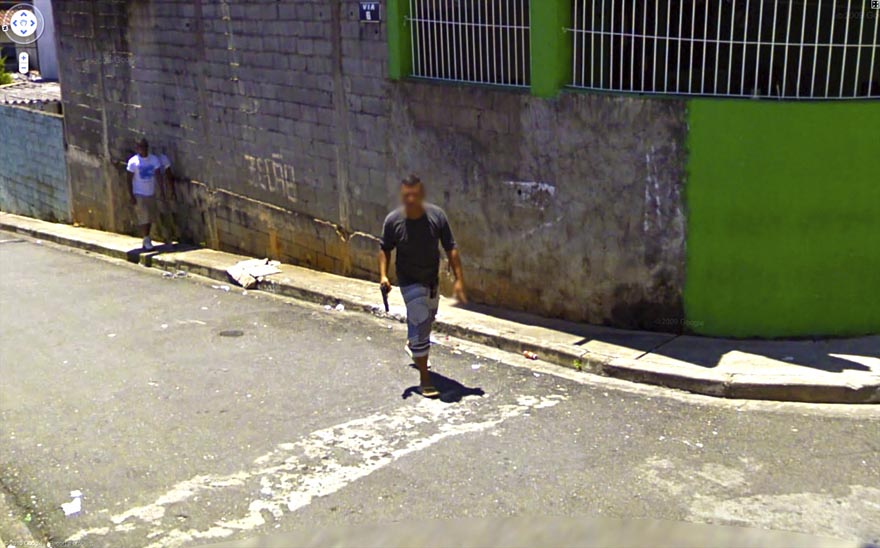 Source from Bored Panda
Seeing the Google car pass through your neighbourhood is a story to tell all your friends and a chance that you are captured for google maps for the world to see. Not everyone greets the car with such excitement as this gentlemen is walking towards the car with a gun in his hand. We are not sure with the car did continue down this hill once the man approached but one thing is for sure- they won't be hurrying back to capture this neighbourhood.
19. Took A Wrong Turn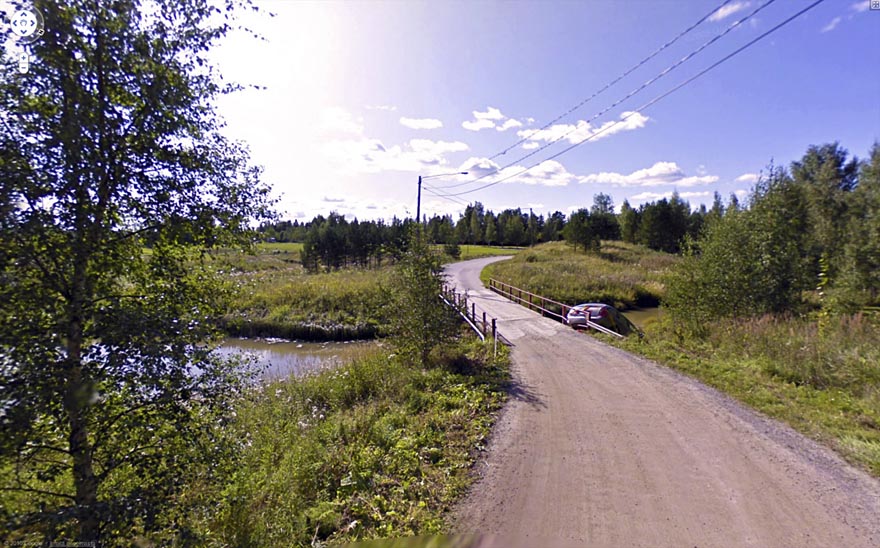 Source from Bored Panda
We have all had it when our Sat-Nav has had a nightmare and told us to go the wrong way or down a road that does not exist. I guarantee that your navigation system has never mistaken a river for a road. This poor driver has ended up taking his car for a swim instead of taking it across the bridge. I'm not sure what the driver would say to their insurance!
20. E.T Phone Home!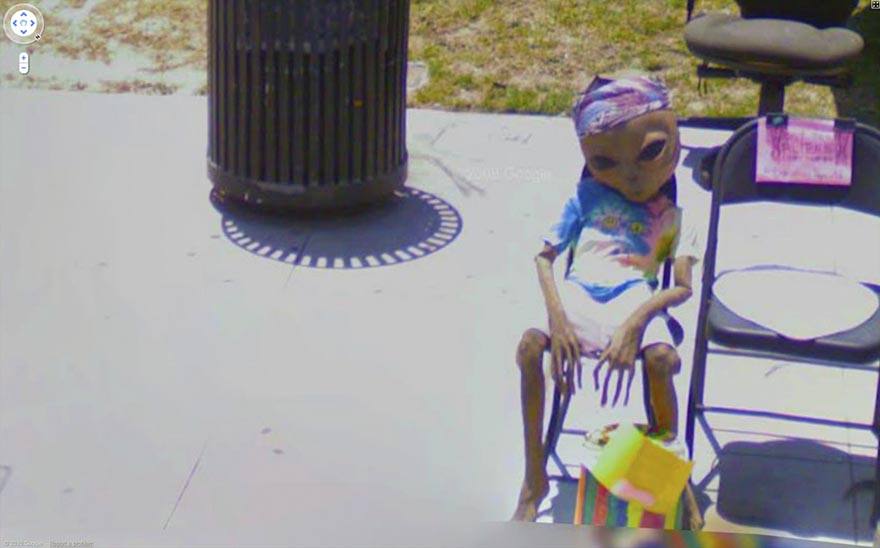 Source from Bored Panda
People have said that aliens have already made contact with Earth with enthusiasts delving through evidence and speculating where they have come from. One place they haven't looked is at the side of this road where he sits in tie- dye clothing with a bright colored bag. Maybe he is waiting for a spaceship to come and pick him up and take him back home.
21. Racing Duo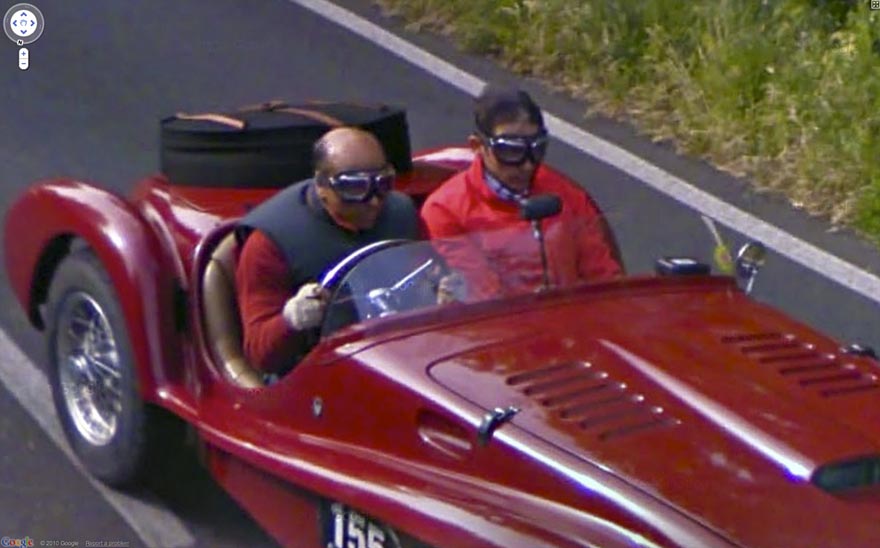 Source from Bored Panda
Motor racing is one of the most thrilling sports in the world. The smell of burning rubber. The roar of the engine. The danger of the sharp corners. These two daredevils have equipped their goggles and got in a classic, red racing car. They are seen to be travelling at some speed and enjoying putting the vehicle through its paces. Just two guys living their best life!
22. Caught In Flight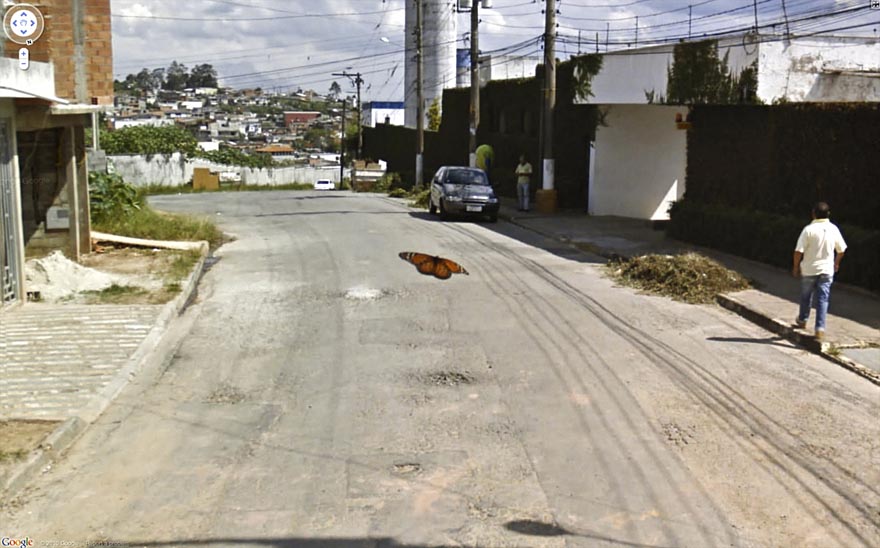 Source from Bored Panda
Sometimes pictures are captured at just the right time to snap the perfectly timed picture. This snapshot is a great examples as a butterfly is captured mid flight in front of the google car. Sometimes the technology used to capture street view images is criticised for the image quality but this butterfly is so clear with all of its vibrant colors on show.
23. Squid Game Battle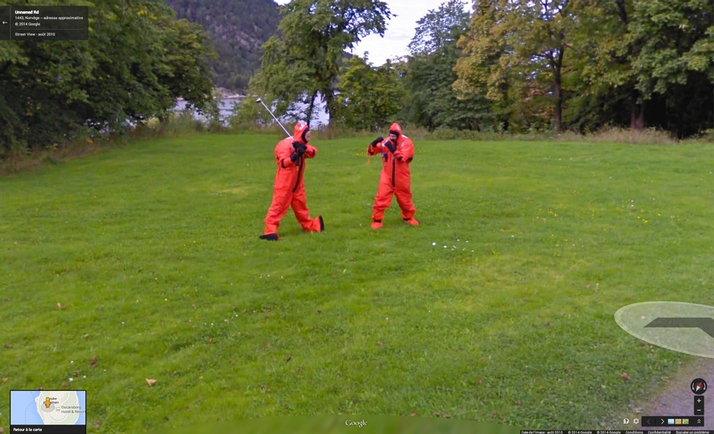 Source from Tech Advisor
As soon as you see this image, there is only two words that you should think of. Squid. Game. The 2021 Netflix sensation sent the world into a craze with people glued to the fictional game show set in South Korea. Wearing the famous red overalls, these two look like they have had a disagreement and decided to face off. Maybe someone broke the rules of 'Red Light, Green Light'?
24. Tiger On The Loose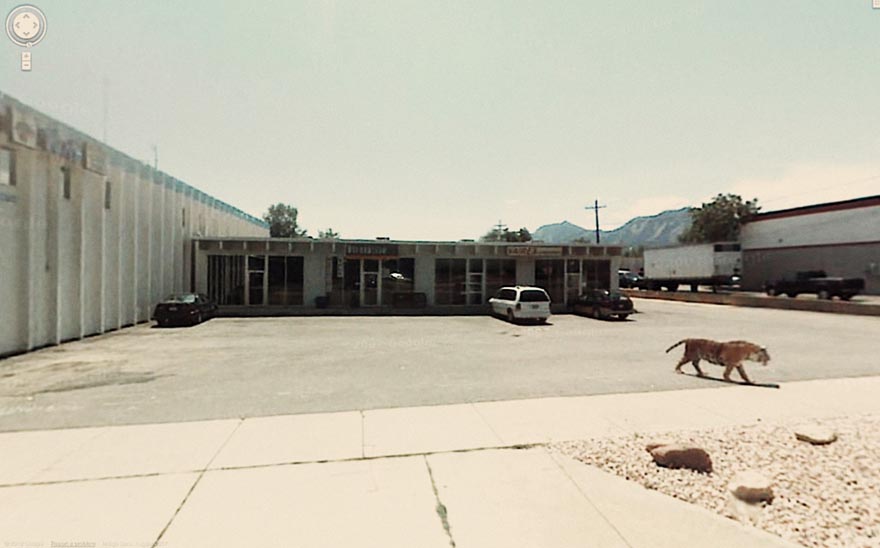 Source from Bored Panda
When you leave your house and go to work or head to the shops, one of the very last things you would think of seeing is a tiger roaming the streets. Well it may not be as far fetched as you think as the google car spotted one in a parking lot near some shops. Far from his natural habitat, this predator is probably searching for food or a place to rest.
25. Gras-ski!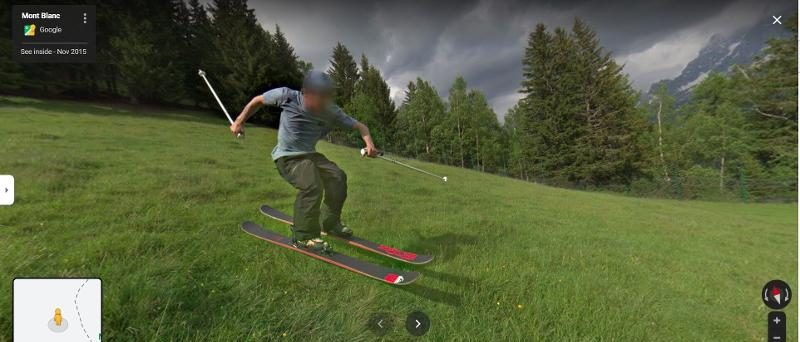 Source from Tech Advisor
There is nothing like hitting the slopes and shredding on the snow whether that be using a pair of skis or a snowboard. This avid skier could not wait for the snow and decided to hit the grassy banks. Fair play to this thrill seeker who does not let ANYTHING get in his way. The snowy mountains in the background makes us think that this person may be skiing in the wrong place.
26. First Time Rider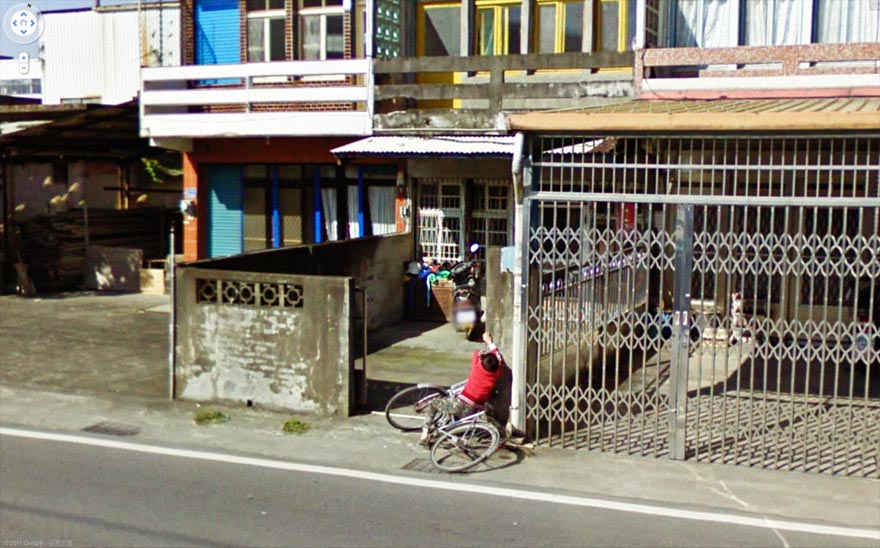 Source from Bored Panda
One thing that will connect us is that we have all tried to ride a bike. Like this little lad, sometimes learning to ride a bike can be a traumatic and dangers experiences. Clinging for dear life, this boy is slowly falling down the wall outside of this house has he tries to stand up on his bike. The poor boy thought he avoided embarrassment until he seen the google car drive past.
27. Highway To Hell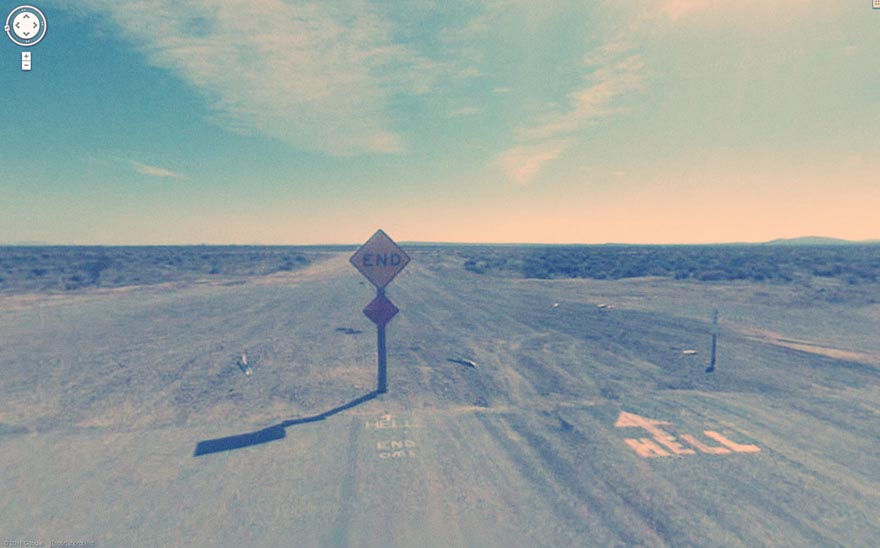 Source from Bored Panda
Some road workers have took the AC/DC hit song to a whole new level when constructing this road. At the end of this road, there is a barren landscape for as far as the eye can see. Marked on the road is an arrow into the horizon labelled as hell. The curiosity makes you want to venture as far as you can and see what's there. What do you think you would find?
28. Post Apocalyptic Ready
Source from Bored Panda
Many up and down the country are preparing for a post apocalyptic world. With no one knowing how the world will end, people are preparing in their thousands for an inevitable end. This person is lurking in the woods wearing a gas mask. Maybe they are looking for a new bunker? Maybe they are practicing an evacuation route? Nevertheless, he is more prepared than me.
29. Fish Out Of Water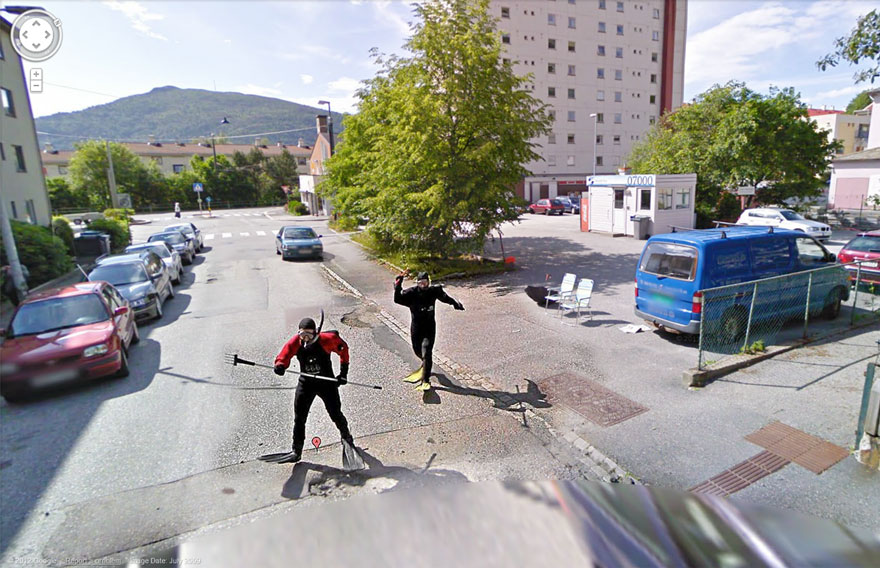 Source from Bored Panda
To be a fish out of water is to be out of your depth or field. These two scuba-divers are literally out of the water as they seem to be angrily chasing the google car. I wonder why they are chasing the car? It leads to a hilarious picture! One of the weirdest thing about this picture is that the two men in wetsuits are nowhere near any water. Pretty weird!
30. Medieval Warfare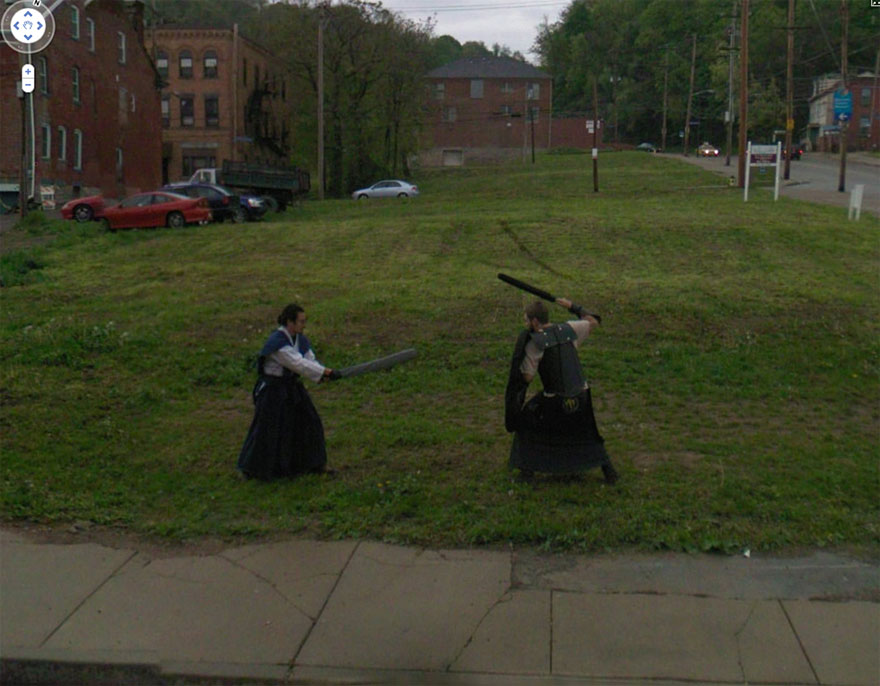 Source from Bored Panda
Have at ye! These two medieval warriors are doing battle on the grassy plains of this town. Dressed in robes with armour and weaponry like swords and shields, these two are equipped adequately for an intense battle. If you ignore the petrol fuelled cars, telephone poles, the plastic rimmed windows, bright lights and the fact it is taken by a camera, you could be mistaken for being on a 15th century battlefield.