The Cast Of Labyrinth Then And Now
By Aaron Love
1 month ago
David Bowie (Jareth) Then
Image Source: Vox
Jareth is the main antagonist within the movie and steals Sarah's little brother Toby which becomes the focus of the entire movie. He enjoys making Sarah traverse his labyrinth and he continues to try and impede her progress through the labyrinth through a number of tricks. He is ultimately defeated by Sarah when she utters the words 'You have no power over me'.
David Bowie (Jareth) Now
Image Source: Reddit
David Bowie needs no introduction, he was one of the greatest and most decorated singer-songwriters of all time and had such a huge impact on the industry worldwide. He had his Ziggy Stardust era and a whole range of songs and albums that were incredibly popular. He released music through to two days before his untimely death in 2016. He really was the man that could do it ALL!
Jennifer Connelly (Sarah) Then

Image Source: Reddit
In comparison, Sarah Williams is the films protagonist and although she hates her step-brother Toby she realises her mistakes after wishing he left and goes out to save him. Although she begins to get frustrated within the labyrinth she eventually makes it through and defeats Jareth with the help of the 'friends' she finds within Jareth's castle labyrinth.
Jennifer Connelly (Sarah) Now
Image Source: Reddit
Labyrinth was Connelly's breakthrough role and although it bombed at the box office became more popular as time went on; her major breakthrough probably came in 1998's Dark City. She also appeared in the 2003 movie film Hulk although she preceded the MCU. In more recent years she has gone on to have roles in the Top Gun sequel and has a main role in Snowpiercer.
Toby Froud (Toby) Then

Image Source: Reddit
Toby Williams is the baby step-brother to Sarah and after he was wished to be removed from the home by Sarah she set off to rescue him from Jareth. She hates him because he is related to the step-mother, Irene, that Sarah hates too. Although Jareth is seen to look after Toby by the end of the film we see that Sarah wants to be able to do that for him instead.
Toby Froud (Toby) Now
Image Source: The Dark Crystal Podcast
Although Toby Froud had very little understanding of what was going on during the filming of Labyrinth as he was aged just one, he has continued to stick with the puppet and acting industry. In recent years he has been working on building and designing sets, perhaps most popularly on the show The Dark Crystal on netflix where he works as the design supervisor.
Shelley Thompson (Irene) Then

Image Source: The Daily Star
We don't see Irene much in the film but we do see her telling Sarah off for returning home late when she's supposed to be looking after Toby. It seems to be the traditional relationship between a step-mother and step-daughter and Irene seems genuinely upset by being unable to control Sarah in the same way that her father can. Sounds about right doesn't it?
Shelley Thompson (Irene) Now
Image Source: Fandango
Thompson worked for quite a period in London's West End and during this time made a number of appearances on British television including the long-running soap opera Eastenders. However, her most popular role might be within Trailer Park Boys where she has appeared in all seasons as well as the film. These days you're most likely to hear of her work in theater.
Christopher Malcolm (Robert) Then

Image Source: Daily Star
As with Irene, Robert is a minor character within the Labyrinth movie but we know he previously married Sarah's actual mother before she left him. This meant him and Sarah have a very strong bond, although this becomes strained when he remarries with Irene. We see Sarah dismiss his attempts to talk to her before Toby is taken by Jareth to the labyrinth.
Christopher Malcolm (Robert) Now

Image Source: Whats On Stage
You might not have known that Christopher Malcolm actually played a rebel soldier in The Empire Strikes Back and even appeared in the popular British comedy series Only Fools and Horses for an episode! He was most well known for co-producing a newer production of The Rocky Horror Show back in 1990 ultimately leading to it appearing on Broadway. He unfortunately died in 2014 aged 67.
Brian Henson (Hoggle) Then

Image Source: Reddit
Hoggle is the first of the puppets we really meet in the film and is employed by Jareth to keep setting her back in her route through the labyrinth. Although they become friends he still gives her a peach which causes her to forget why she's there! He feels so guilty he runs away but he does return at the end of the film to save Sarah and some of the others by disabling Humongous.
Brian Henson (Hoggle) Now
Image Source: Variety
Brian Henson was one of only two people to both control and voice the puppet he played within the film! He was actually the child of director Jim and has since gone on to become the chairman of his company. He has worked in shows like Bear in the Big Blue House and The Muppets and he even directed the adult puppet comedy The Happytime Murders in 2018.
Ron Mueck (Ludo) Then
Image Source: Reddit
Although Ludo appears quite frightening, once he is saved from the goblins he becomes Sarah's first proper companion in the film although he loses her in the forest after falling in a trap door. He defeats Sir Didymus to help Sarah cross the bridge and they become good friends. The duo then proceed to help Sarah retrieve Toby and defeat Jareth's army.
Ron Mueck (Ludo) Now
Image Source: Sartle
Ron Mueck was the other actor within the film to both voice and control the puppet he played. Surprisingly, he never really worked on TV again instead turning to creating hyperrealist sculptures that explore the human body by changing the scale of different parts of the body to become more and more interesting. You might find his work at a range of exhibitions around the world.
David Shaughnessy (Sir Didymus) Then
Image Source: Reddit
Sir Didymus is often seen riding Ambrosius, his sheepdog; but we first meet him outside his hut by the bridge that Sarah, Ludo and Hoggle are trying to cross. He attempts to stop them from crossing but after being defeated by Ludo joins them on their quest. He continues to, sometimes too illogically, help Sarah as she tries to save her brother Toby from Jareth.
David Shaughnessy (Sir Didymus) Now
Image Source: Soap Hub
Labyrinth was actually Shaughnessy's debut in voice acting but it led to a great career with a number of other voice roles that gained even more attention. This includes voice acting roles in Big Hero 6, Star Wars Resistance and Dota. He has perhaps had even greater 6 in video game acting with roles in The Elder Scrolls games, GTA V, Fallout 4 and World of Warcraft.
Timothy Bateson (The Worm) Then
Image Source: Reddit
Sarah comes across the Worm quite early during her journey to find Toby in the labyrinth, he appears through a little crack in the wall after she slumps to the ground in frustration. Although the worm seems more interested in introducing Sarah to his wife, he eventually informs her that there are many ways to escape and that she just needs to look harder.
Timothy Bateson (The Worm) Now

Image Source: X
The Labyrinth came towards the backend of Bateson's career that actually began back in the mid 1950's with starring role in The Adventures of Peter Simple for the BBC. He even appeared in an episode of Doctor Who during its original run too! And for those of you that were fans of the Harry Potter series you might recognise his name and voice as he voiced Kreacher in the Order of the Phoenix before his death aged 83 in 2009.
Michael Hordern (The Wiseman) Then
Image Source: Muppet Wiki
After escaping the Cleaners, Sarah and Hoggle run in to the Wiseman who she asks for some guidance in which path she should take to help save her baby brother. Although his help isn't very useful and mostly cryptic, his words obviously assist Sarah, especially after she offers him her ring as payment for information; he's also seen celebrating with her after her victory.
Michael Hordern (The Wiseman) Now
Image Source: British Comedy Guide
By the time that Michael Hordern unfortunately died in 1995 he had made nearly 150 credited appearances which began during the 1930's! He appeared in a huge range of BBC projects and theatre projects, perhaps most notably Jumper which he worked on as the lead character for more than 2 years from 1971 to 1973. His final role came in the BBC's Middlemarch.
Denise Bryer (The Junk Lady) Then

Image Source: Reddit
We don't see too much of the Junk Lady within the film but we do understand that she's one of a race of people that seem to be employed by Jareth. She tries to slow Sarah's progress during her scene by trying to force a load of possessions on to Sarah; although this also seems to be the way that the character manages to keep a living and survive in Jareth's Labyrinth.
Denise Bryer (The Junk Lady) Now
Image Source: Radio Times
Denise Bryer began her acting career all the way back in 1946 and voiced the popular kids character Noddy for 14 years prior to her performance as the Junk Lady. In fact pretty much all of her roles came as a voice actor including her most popular role in the UK has both the main protagonist and antagonist in the series Terrahawks. She died aged 93, two years ago in 2021.
Anthony Jackson (The Four Guards) Then

Image Source: Muppet Wiki
There are actually four guards out in the labyrinth movies, and there are 2 dedicated to each of the doors that Sarah wants to go through. As a four, they each present her part of a riddle which she has to solve. The problem is that through one door is the next part of the labyrinth whilst through the other there will be instant death for the team.
Anthony Jackson (The Four Guards) Now
Image Source: Eastenders Wiki
There were obviously four different actors who played the four guards, including David Shaughnessy and Timothy Bateson who we've already discussed. He never really acted on our screens instead mostly working in voice acting on radio shows and animated series for the BBC in the UK. He unfortunately died aged 62 in 2006 having not appeared on our screens for a while.
David Healy (Right Door Knocker) Then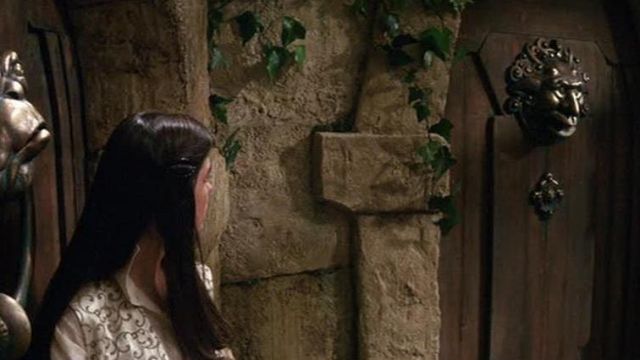 Image Source: Spotern
There were two door knockers for a brief period in the film and they appeared to speak as the knockers moved up and down. Sarah and Ludo were trying to determine which door they should go through and after they pass through the right door this is where they enter the forest. It's after this that Sarah and Ludo end up being split up as he falls down a trap.
David Healy (Right Door Knocker) Now
Image Source: MUBI
The labyrinth came towards the back end of David Healy's career which began back in the early 60's. He was born in the New York and worked with brief roles in shows like The Secret Service and Dallas. He even won a Laurence Olivier award back in 1983 after working in theatre productions of Guys and Dolls for a season across the pond in the UK. He sadly passed away in October 1995.
Danny John Jules (Fiery) Then
Image Source: Reddit
There are also a group of fierys which appear to be a group of crazy little creatures that have body parts they are able to attach. They begin messing around and attempt to remove Sarah's head before she tries to run away and has to be saved by Hoggle. It's not entirely certain why they felt the need to attack Sarah but that probably has something to do with Jareth.
Danny John Jules (Fiery) Now

Image Source: Reddit
Of all the fiery's Danny John-Jules is perhaps the most well known actor; he has gone on to have a good career in the years following the Labyrinth. He is perhaps best known in the UK for being part of the Red Dwarf cast and then in a number of BBC productions like kids' shows M.I. High and Kerching! You might have heard his voice in both Bob the Builder and Robozuna here in the US.
Percy Edwards (Ambrosius) Then
Image Source: Reddit
We meet Ambrosius as the cowardly sheepdog mount of Sir Didymus; many people believe he represents Sarah's actual dog too! Although we don't see or hear much of Ambrosius in the film he is always alongside his master in Sir Didymus and helps Sarah cross the 'bog of eternal stench'. He was also part of the final celebrations at the end of the film too.
Percy Edwards (Ambrosius) Now

Image Source: Facebook
Percy Edwards had made a career off being able to imitate a number of animals noises throughout BBC radio shows; it's believed he was able to almost perfectly recreate the sounds of over 600 birds! He 'voiced' a number of animals in shows like Santa Claus: The Movie and he even provided the bird noises in the opening to the Kate Bush song The Dreaming.