The Best Celebrity Disguises That Fooled The Paparazzi
By Nick Hadji
2 months ago
1. Sandra Bullock and Melissa McCarthy disguised as fishermen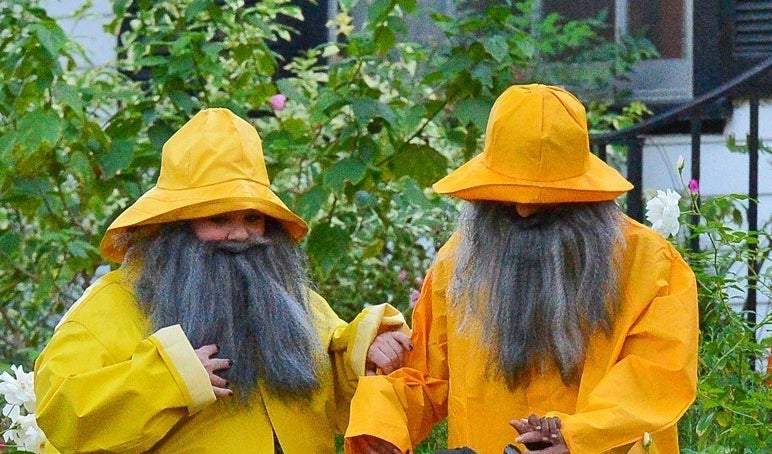 imagesource: BACKGRID
For Halloween 2013, these two jokers, Sandra Bullock and Melissa McCarthy disguised themselves as fishermen. The pair were spotted out with their kids trick-or-treating and they absolutely were not having their afternoon ruined by the paparazzi. Would you guess who this was?
2. Daniel Radcliffe wearing the exact same outfit every day for months
imagesource: quora
"I would wear the same outfit every single time with different T-shirts underneath but I would wear the same jacket and zip it up so they couldn't see what I was wearing underneath, and the same hat," he said. "So they could take photos for six months but it would look like the same day. They became un-publishable, which was hilarious because there's nothing better than seeing the paparazzi get really frustrated."
3. Kendall, Khloe and Kylie disguised as old women
imagesource: themirror
During an episode of Keeping Up With The Kardashians, Kendall and Kylie spoke about how they had never experienced their lives away from the spotlight or cameras. So Khloe brought in a prosthetics team to create some crazy disguises so they could walk the mall without anybody recognising them.
4. Cole Sprouse not getting into a disguise...
imagesource: quora
Cole Sprouse has stated how much he hates having his photo taken without his consent, he even started an Instagram account named @camera_duels. The bio reads "This instagram is dedicated to the people out there who secretly take photos of me, and how I take photos of them first. May the fastest camera win." .
5. Benedict Cumberbatch being Mr Napkin Head
imagesource: quora
Two celebrities instantly come to mind when I think of a napkin covering someone's face...Jude Law in The Holiday and Benedict Cumberbatch. Two British heartthrobs. Benedict decided he had no time for papz this morning whilst having a coffee so instead, he covered his face with his napkin and carried on his morning.
6. Emma Stone & Andrew Garfield
imagesource: quora
Back in 2014, the paparazzi were told about a couple sitting outside a Manhattan restaurant, people were taking photos of them and each time the couple took the opportunity to raise awareness for various non profit organisations by holding up signs in front of their faces.
7. Paris Hilton's anti-flash scarf
imagesource: news24
Paris Hilton was the queen of everything in the 00s and this just proves it. The socialite and DJ spent her 20s getting papped with her friends, outside nightclubs and on vacation. But when Paris wasn't in the mood for the papz, she wore her anti-flash scarf. Iconic.
8. Taylor Momsen's great escape
imagesource: quora
Rather than hiding from the paparazzi by wearing a scarf over her face or a mask, or even just running away from them, Taylor Momsen decided that that wasn't enough. On this particular day, she decided to become Spider Man and jump over the banisters and leap over cars to avoid the papz.
9. Kesha and her wild disguise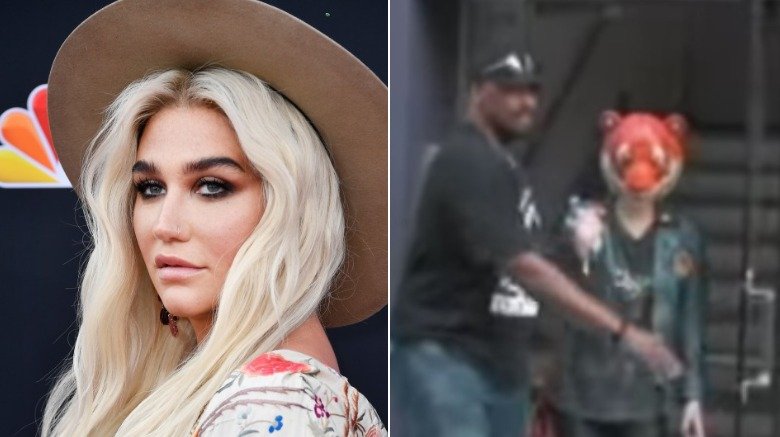 imagesource: youtube
In August 2010, the pop singer was seen in New York City wearing cowboy boots and a stripy orange and white tiger mask. The "Cannibal" singer stepped out of a cab with this outfit in the hope that the paparazzi wouldn't recognise her. As you can probably guess, she failed miserably only drawing more attention to herself.
10. Justin Bieber and his bushy mustaches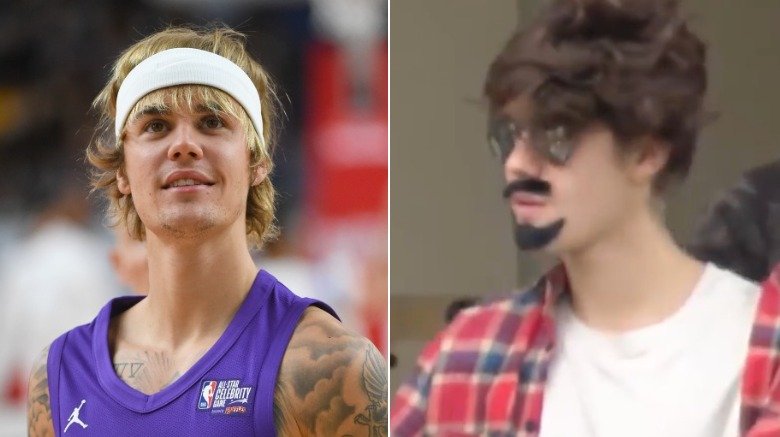 imagesource: youtube
If he isn't walking around with a gas mask on, he's probably wearing one of his moustaches. The singer was seen wearing a checkered shirt, white T, brown wig (an awful one at that) and a moustache and goatee at a Brooklyn Mets baseball game a few years back.
11. Shia La beouf and the grocery bag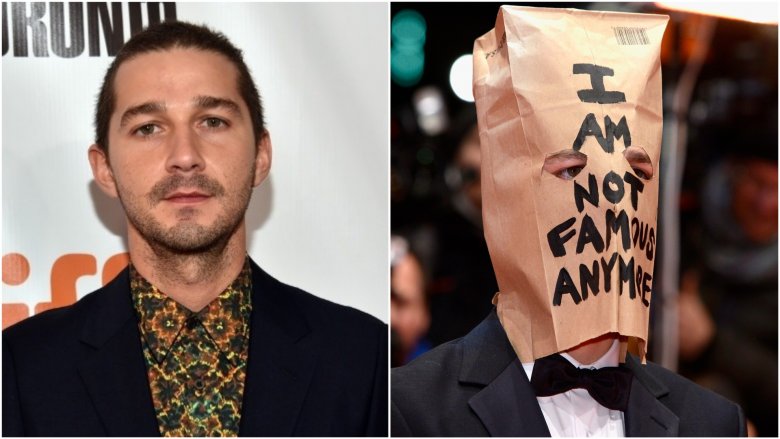 imagesource: gettyimages
Actor Shia La Boeuf has had his fair share of issues with the paparazzi. He been seen pushing paparazzi around at LAX, chased them through parking lots, flipped them the finger and obviously avoided them at all costs. He appeared on the red carpet with this paper grocery bag in 2010.
12. Dustin Hoffman and the tree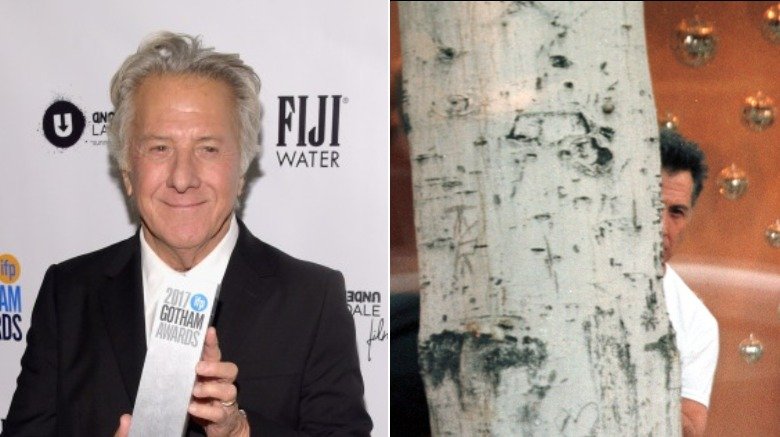 imagesource: gettyimages
Peek-a-boo! Dustin Hoffman has pulled quite a few pranks against the paparazzi and has become a bit of a Hollywood legend for it. From time to time he finds clever strategies to evade their wide angles and this time he decided to hide behind a tree...for hours. Just peeking out from the side of it from time to time.
13. Jake Bongiovi & Millie Bobby Brown and the box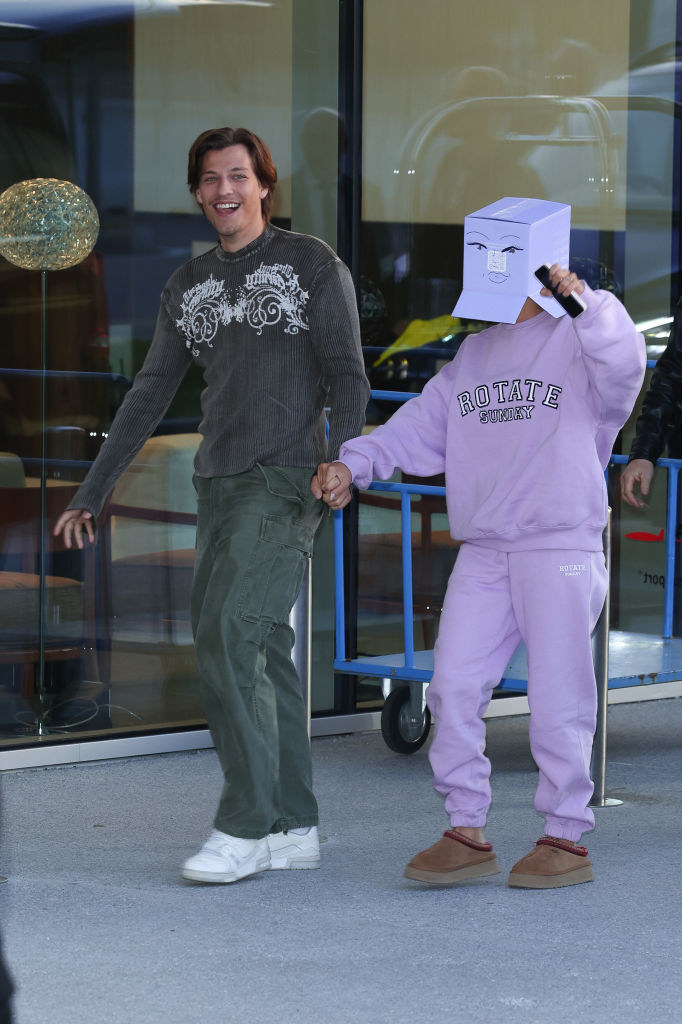 imagesource: gettyimages
Stranger Things actors, Jake Bongiovi and Millie Bobby Brown have been followed about more than usual since announcing their engagement. The pair were seen out in New York City, but this time, Millie was seen with a lavender box - that matched her outfit - over her head.
14. Ashlee Simpson & Pete Wentz in creepy masks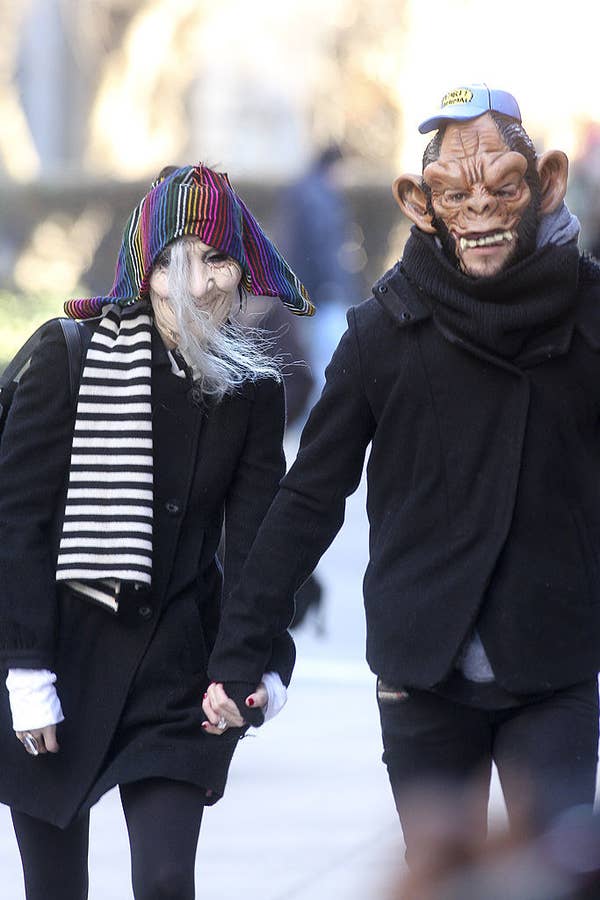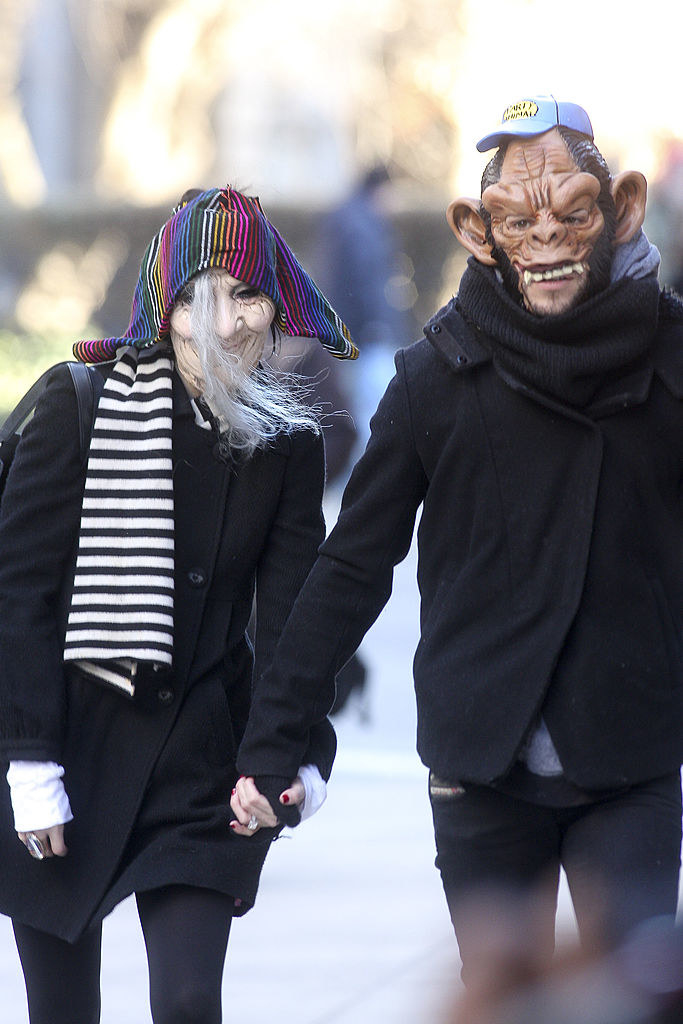 imagesource: gettyimages
Some celebs choose to put really creepy looking masks over their heads to cover their faces, and Ashlee Simpson and Pete Wentz decided to do exactly that. The pair were seen in Manhattan when this photo was taken, wearing creepy chimp and witch masks.
15. Katy Perry as a donut
imagesource: pintrest
Katy Perry is arguably the paparazzi disguise queen of Hollywood. In 2009, the singer bought this giant doughnut pillow that couldn't fit in any of her bags, so it ended up serving as a great cover from paparazzi's. It soon became the bet paparazzi shield around.
16. Katy Perry again...wrapped in a Chanel towel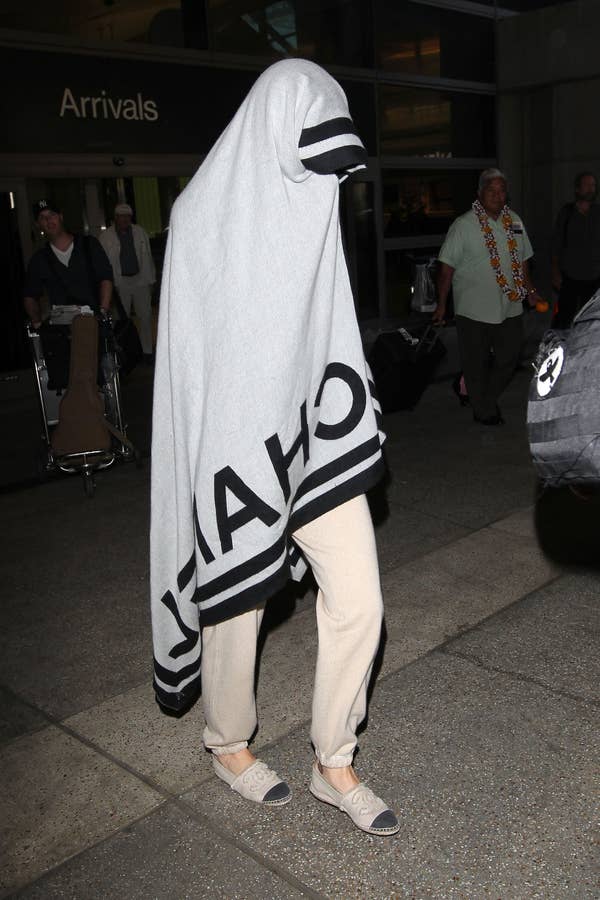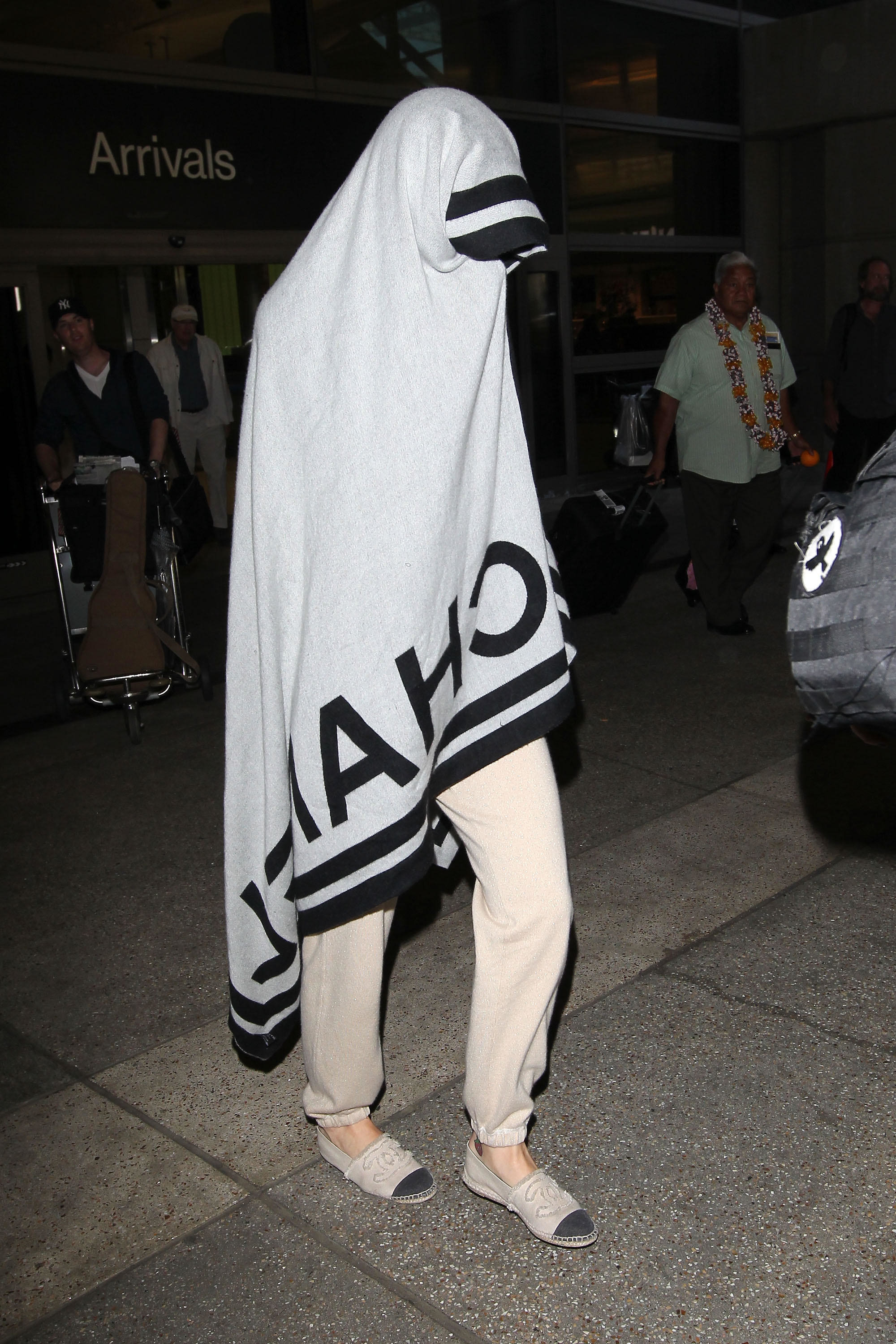 imagesource: alamystockphoto
Here she is again, the disguise queen at it in the airport...again, of course. Because where else would she be with a Chanel blanket wrapped around her? Katy clearly had no time for the cameras this one day, so instead of buying a disguise, she just whipped her towel around her.
17. Katy Perry, yet again...in a poop costume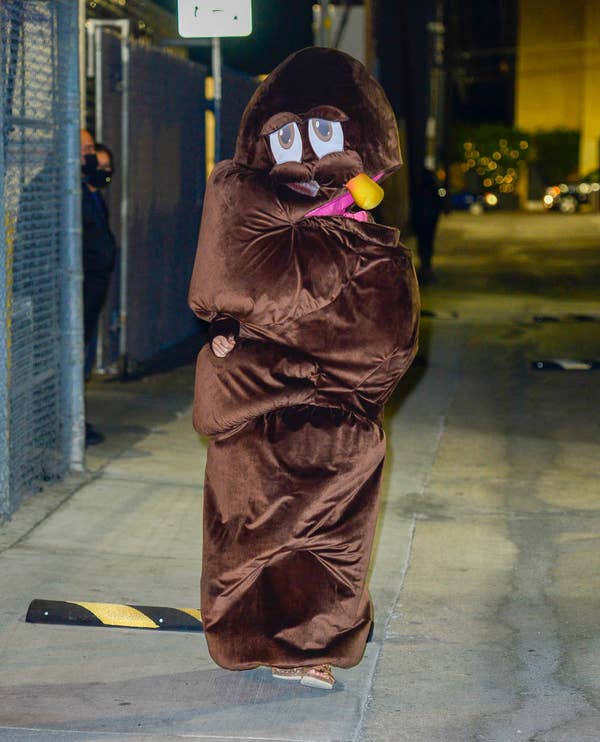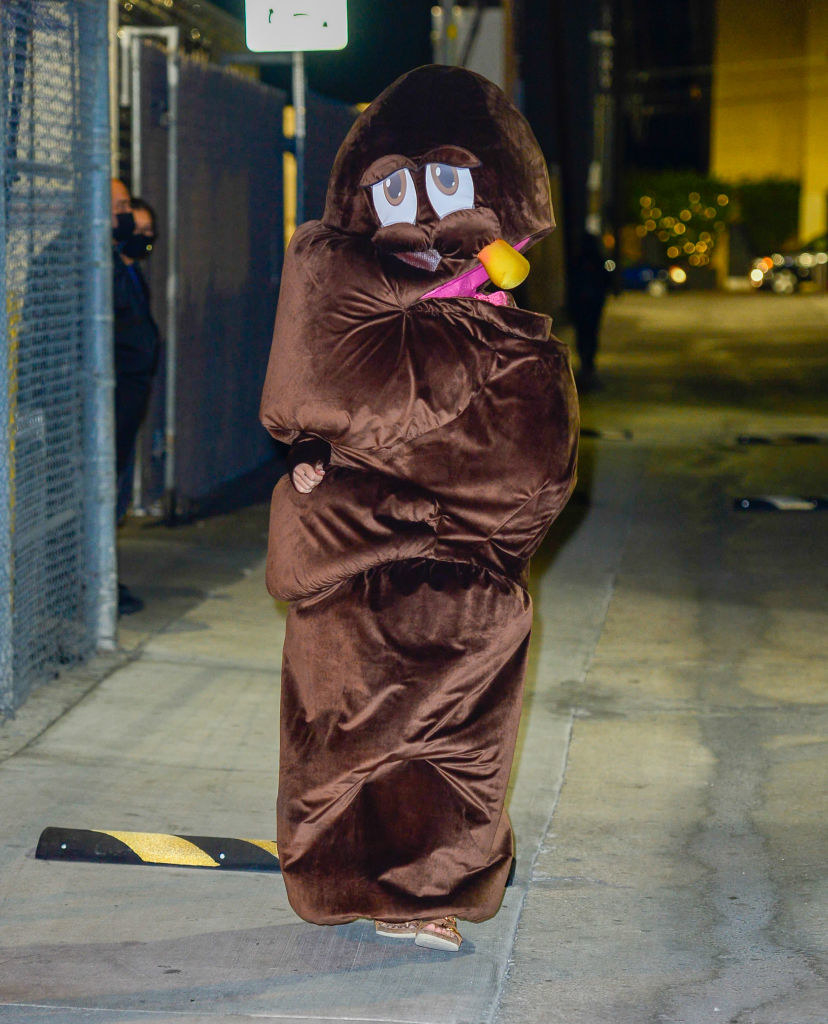 imagesource: gettyimages
After taping for Jimmy Kimmel Live!, Katy left his studio dressed as a giant piece of poop. No one is fully sure whether she bought the costume or if she was given it, but either way, it was iconic. Just Katy being Katy isn't it! And she wore a similar one during her Las Vegas residency.
18. Justin Bieber in a gas mask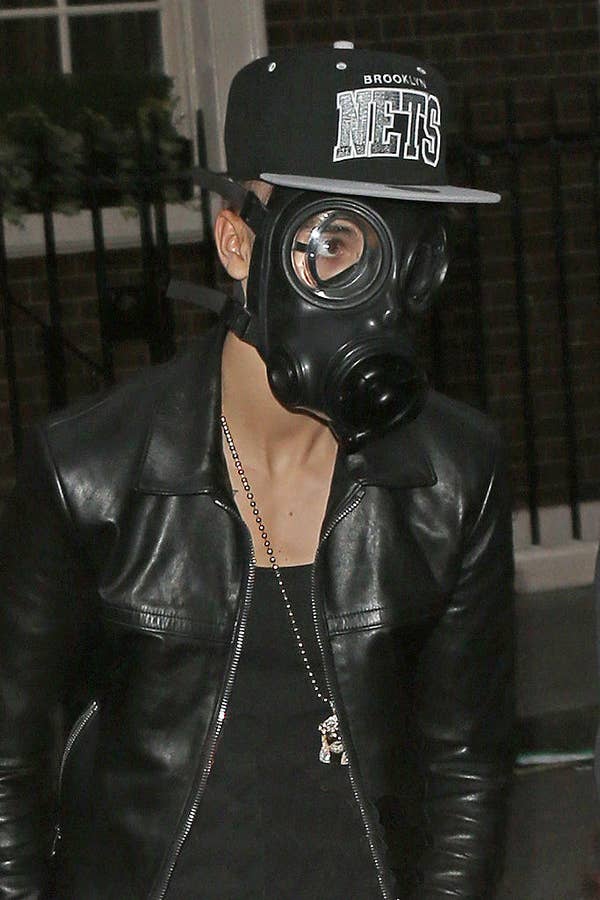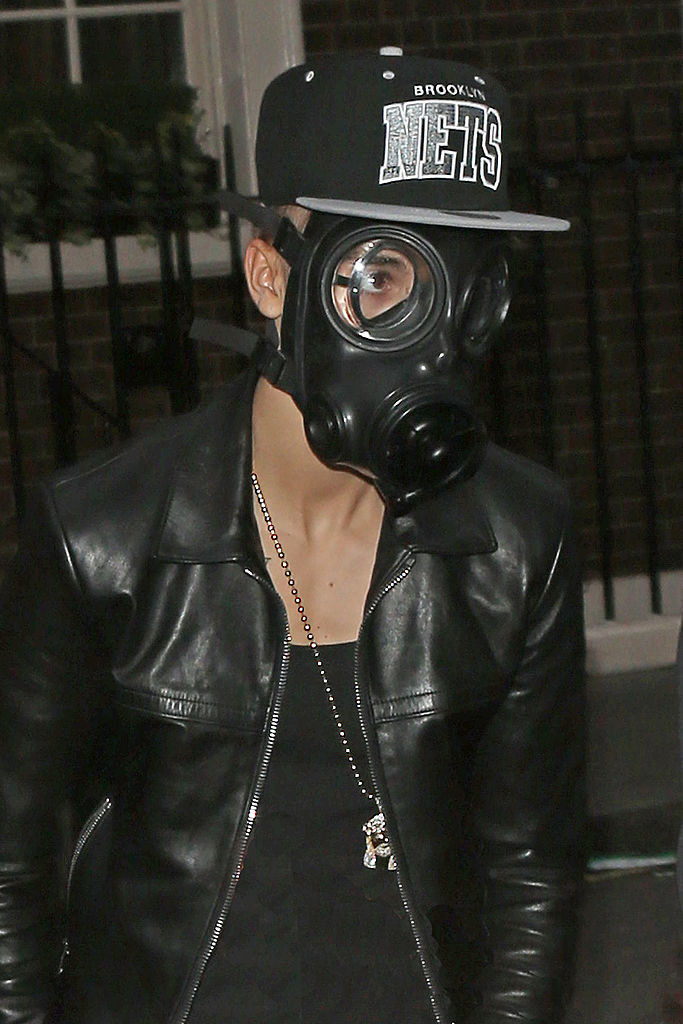 imagesource: gettyimages
Justin Bieber isn't exactly known for getting on with the paparazzi, in fact, he's definitely got on the wrong side of them a few times. Or should we say, they've got on the wrong side of him. But this one day, rather than fight them, he just decided to walk around in a gas mask as a "joke" to throw them off.
19. Laverne Cox and a face visor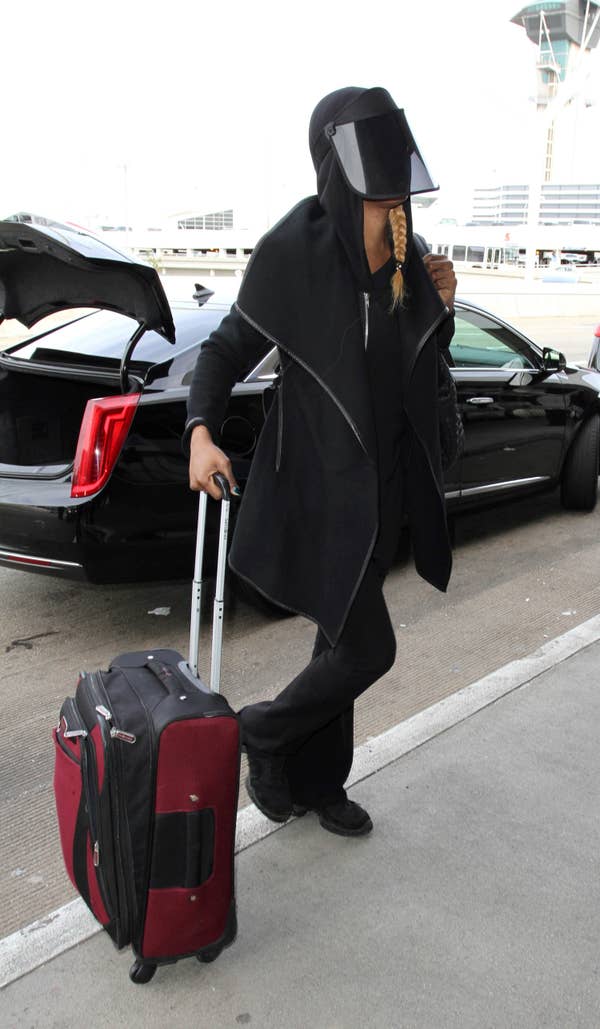 imagesource: BACKGRID
Laverne Cox was spotted at LAX with a face visor on in 2016. She didn't even take it off to get in and out of the car, showing just how much she couldn't be bothered that particular day with any of the cameras that were swarming around her. Go on her we say!
20. Lily Allen wrapped in a comforter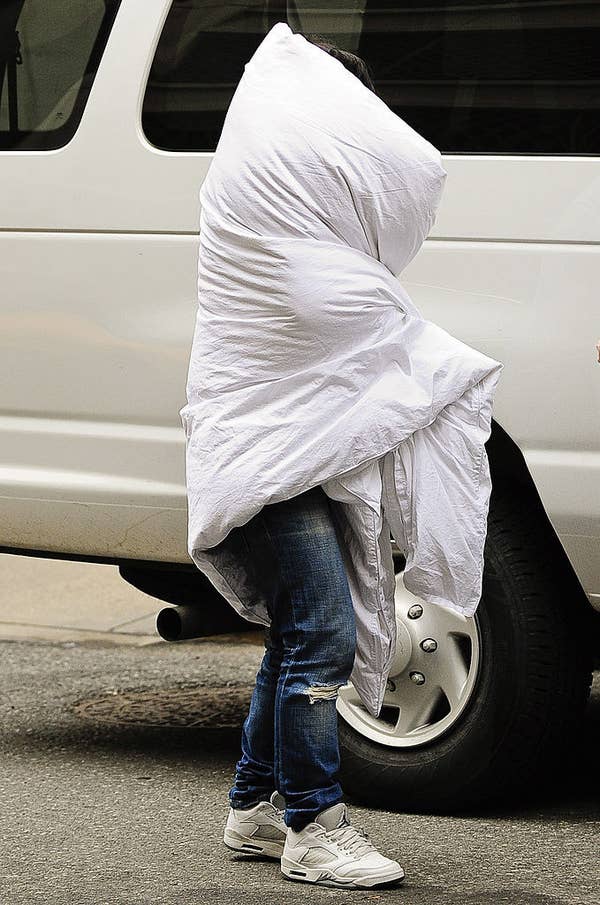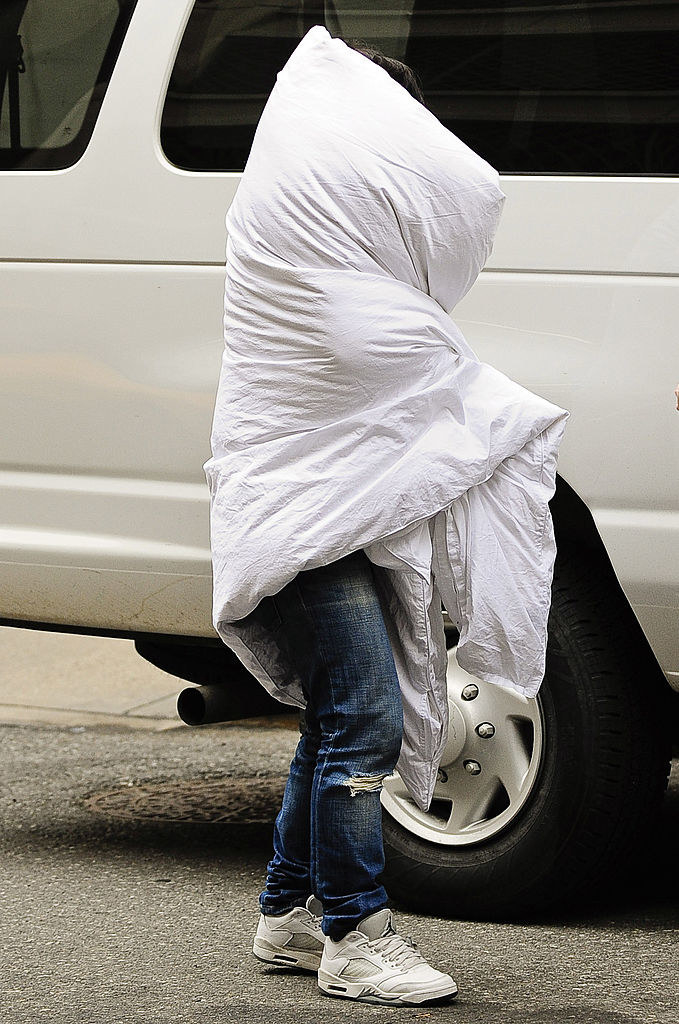 imagesource: gettyimages
We've all had those days when we would rather go to work wrapped in our bedding, but Lily Allen took this literally. In 2009, she was spotted walking through Manhattan wrapped in a comforter, which we later found out that she was wearing to avoid any of the paparazzi.
21. Dustin Hoffman with a bag over his head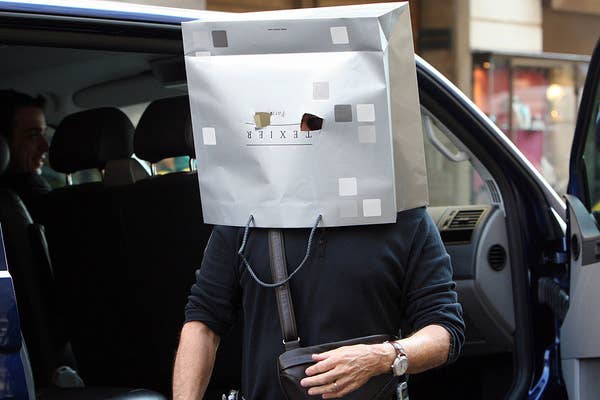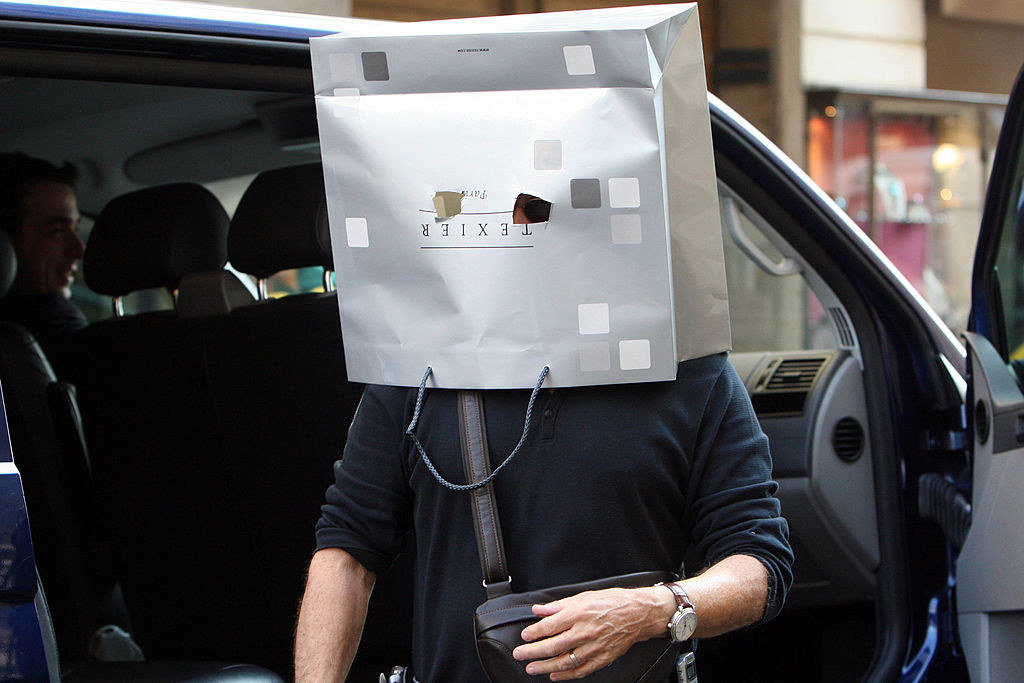 imagesource: getty
Dustin Hoffman may be getting on a bit, but he's still got the wit and humor of a young dude! Whilst out shopping in Paris, he decided that the paparazzi's weren't going to get their way with him that day so he put a bag over his head and walked straight into the store.
22. Madonna and the Jean Paul Gaultier program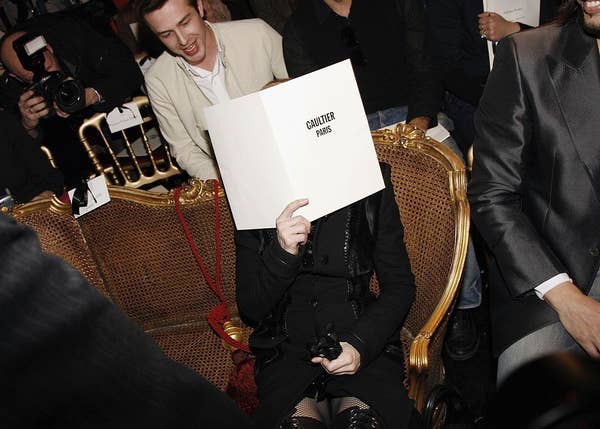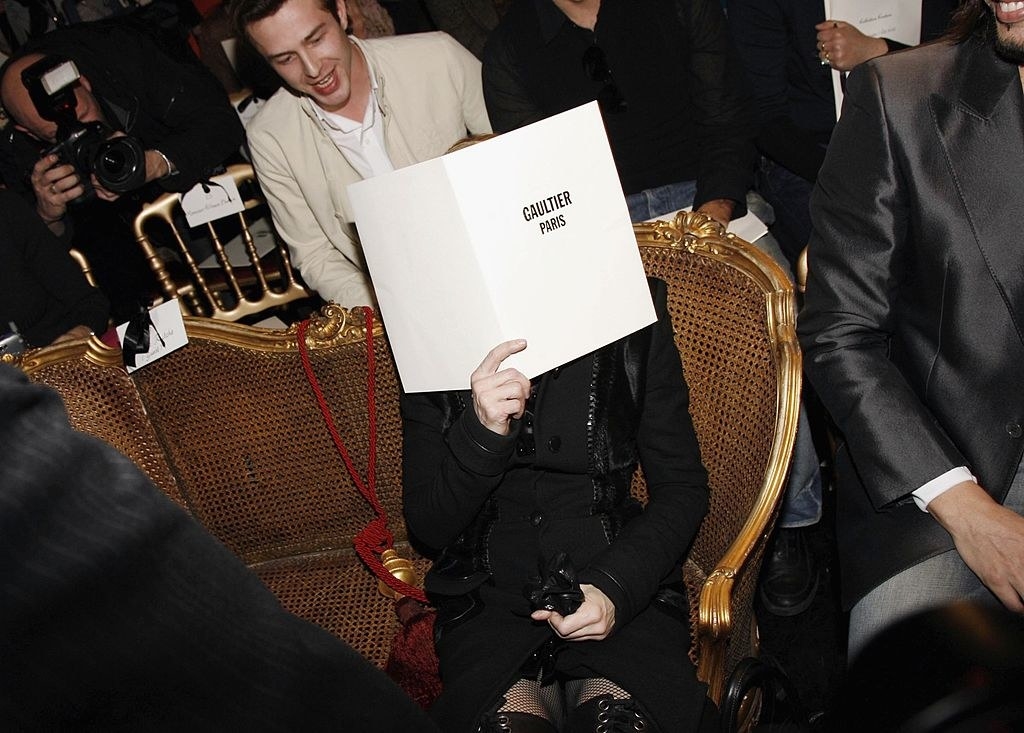 imagesource: getty
In this cover-worthy pose, Madonna was actually hiding from the paparazzi by blocking her face with a program. During the 2006 Jean Paul Gaultier show at Paris Fashion Week, the singer and actress said bye to the haters quite literally with this shot.
23. Brad Pitt and the wool hat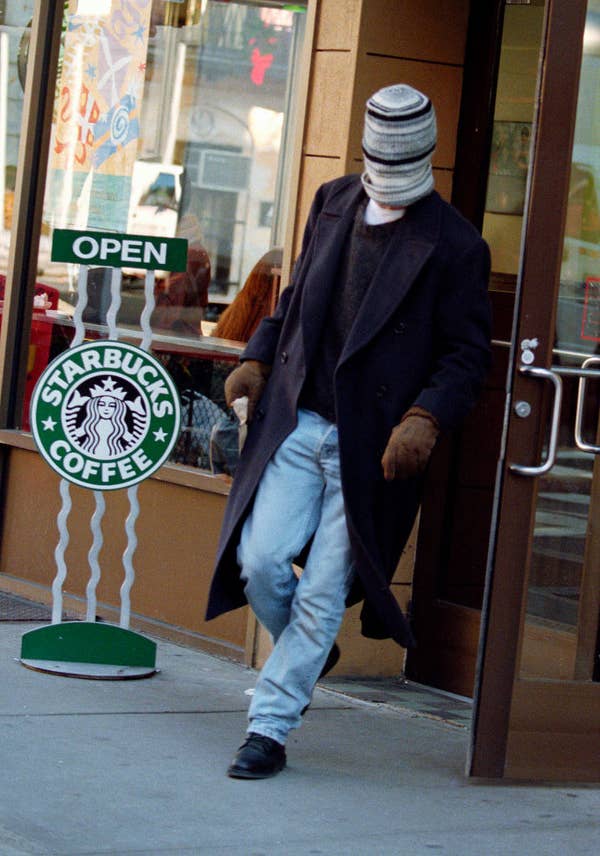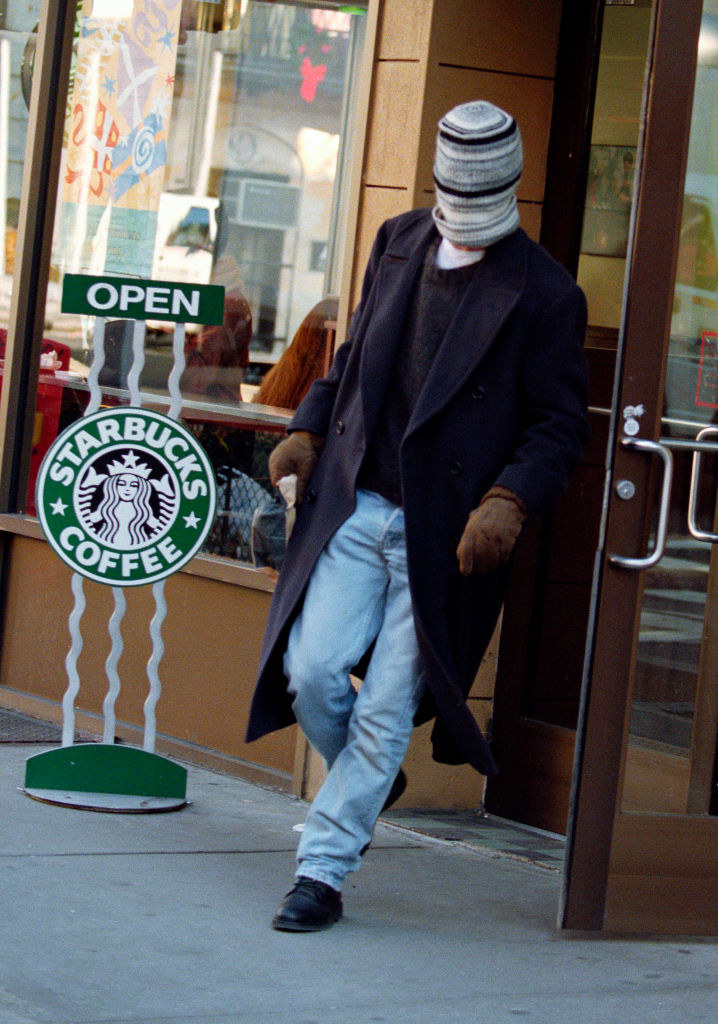 imagesource: gettyimages
Brad Pitt has never been a celebrity who has ever given much of his time to the paparazzi, so when he was spotted in 1995 on a Starbucks run he knew he was not going to be giving them what they wanted that day. He walked out of the coffee shop wearing a wool hat as a mask.
24. Jennifer Lopez and the napkin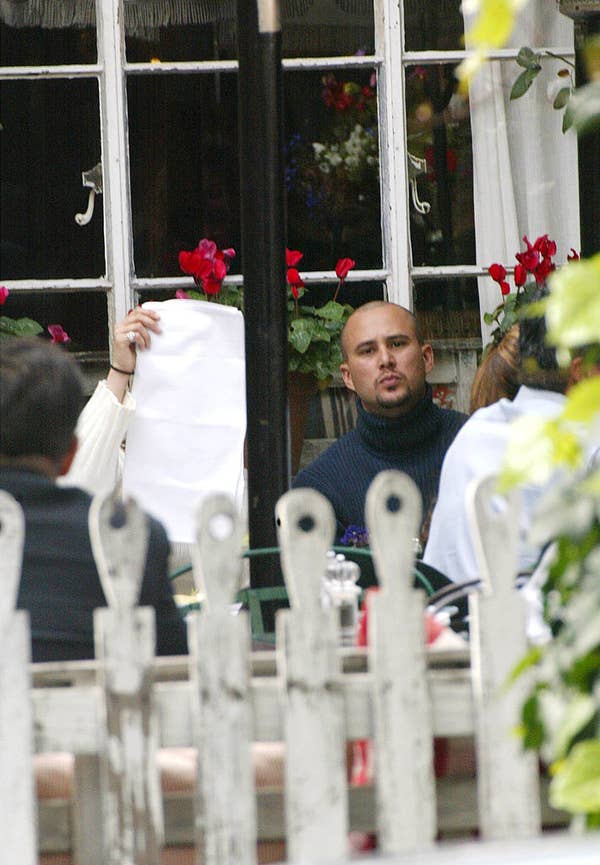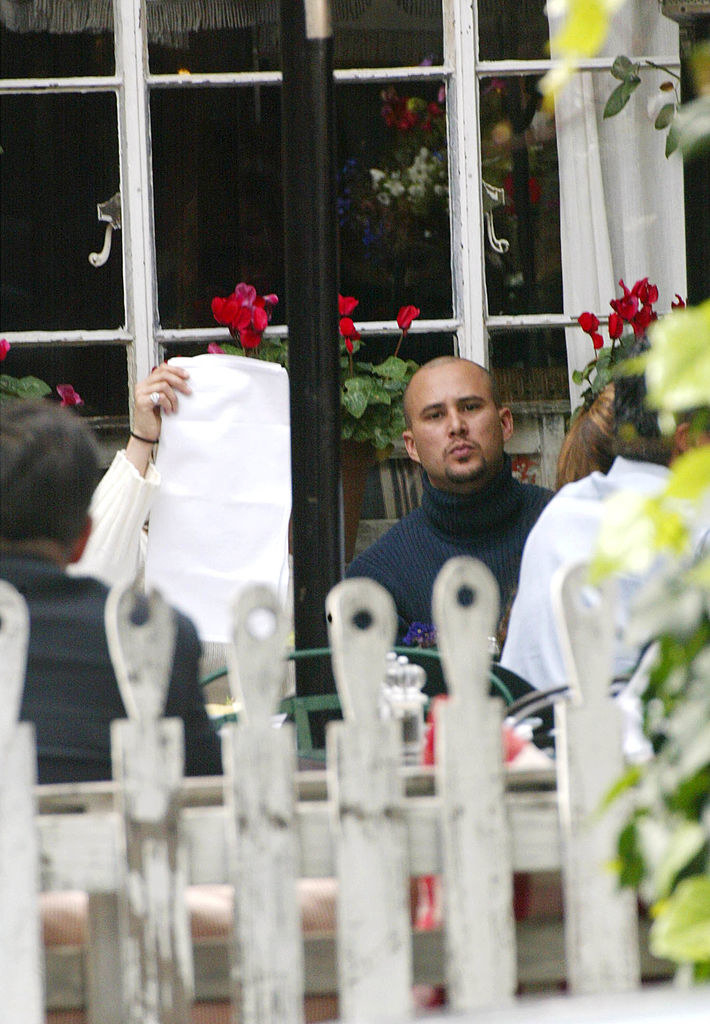 imagesource: gettyimages
Whilst out for food with her then husband, Chris Judd, Jennifer Lopez was spotted shielding her face with a napkin. She was the original napkin head. But what makes this photo so funny is Judd's icy stare. He clearly woke up that morning and chose violence.
25. Woody Harrelson covered completely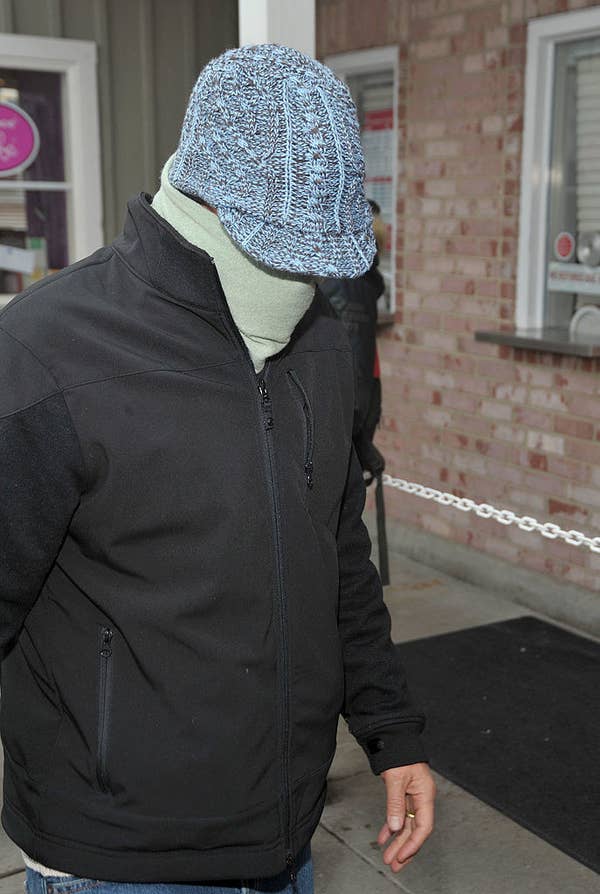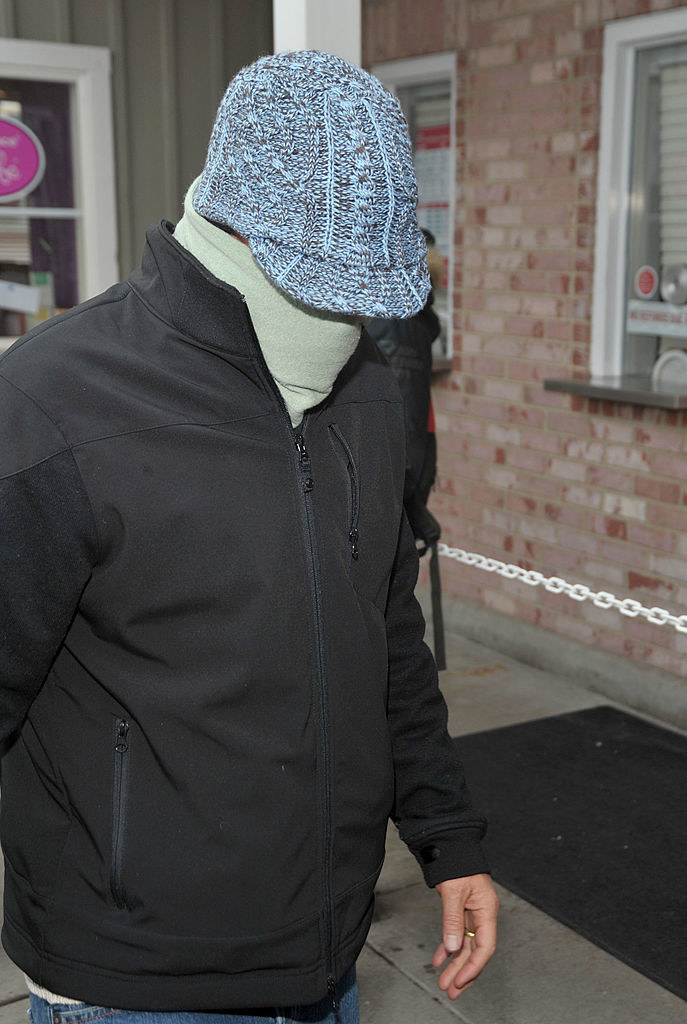 imagesource: gettyimages
With absolutely no patience for the paparazzi, actor Woody Harrelson got a little creative with his hat and scarf whilst at the 2009 Sundance Film Festival. Rather than just hide his face with his hands, he wrapped his scarf around his face and pulled his hat over his face.
26. Judy Garland and the handkerchief

imagesource: pintrest
At one time, Judy Garland was probably one of the most recognisable faces in Hollywood. The star was often seen at movie premieres with her Hollywood friends but this one time she decided to cover her face with a handkerchief to avoid anyone recognising her or taking her photo.
27. Leonardo DiCaprio and his many disguises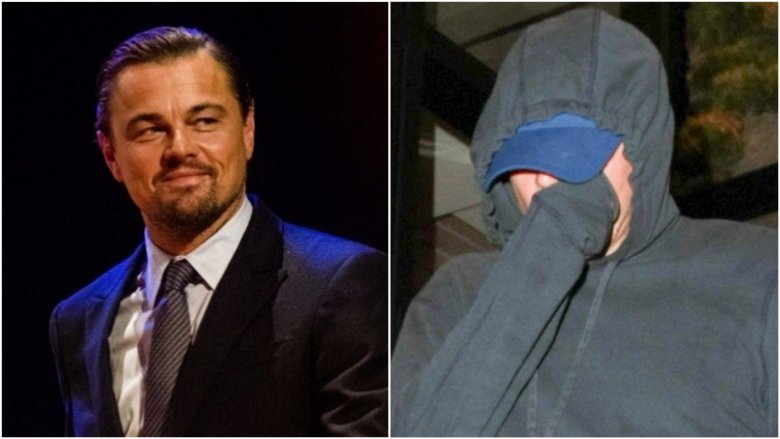 imagesource: BACKGRID
Leonardo has cultivated more disguises than he's had hot dinners. He's strolled through Central Park in a ski mask, swaddled his head in a closed umbrella and tried passing himself off as an ordinary guy in Paris wearing sunglasses and a cap.
28. Ashley Tisdale and her cup of Joe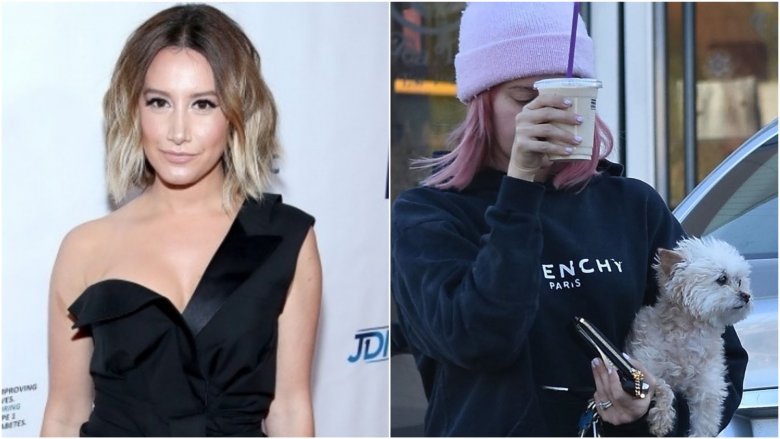 imagesource: BACKGRID
Rather than cover her face with her hat, the actress, who was holding her adorable puppy in one arm, decided to cover her face with her Starbucks Latte. She was in no mood for photographers that day and screamed "Get out of my way!" whilst walking to the gym.
29. Kanye West playing coy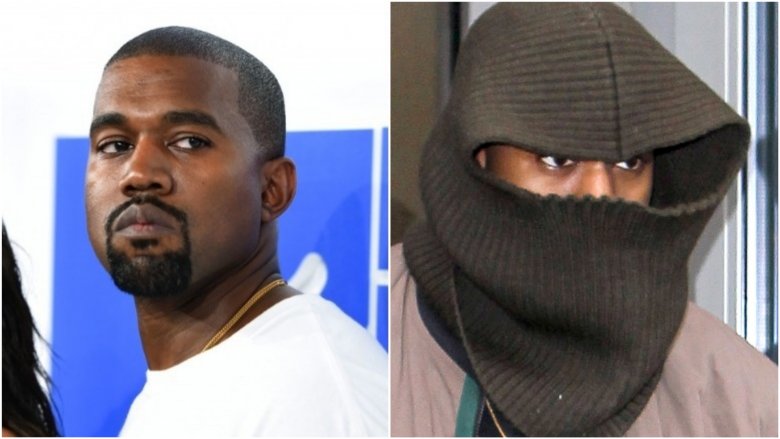 imagesource: BACKGRID
When Kanye West steps out, no one is ever sure which Kanye he's going to be that day. When he was seen out in 2016, he told cameramen, "You, the paparazzi, you keep me alive. Cause you keep me relevant." blowing them kisses and theoretically hugging them.
30. Katy Perry's tracksuit disguise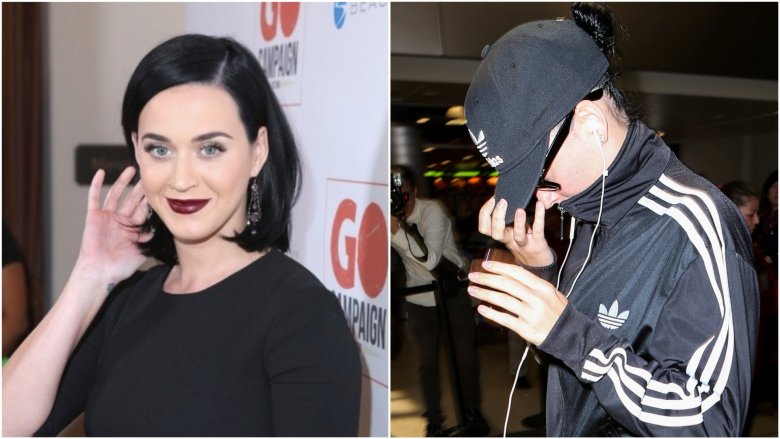 imagesource: BACKGRID
A pioneer in the fine art of dodging the cameras, Katy Perry decided she had finally had enough of the cameras in 2014 after she was stalked by 4 different men. Rather than walk out with a giant donut on her head, Katy decided to just cover herself completely with her tracksuit.
31. 20 times paparazzi went too far with celebrities! When a pap prankster got too close to Leo DiCaprio's groin
image source: pinterest.co.uk
The good news with this one is that actor Leonardo DiCaprio seemed to take it pretty well, at first with a confused smile on his face and then an obvious attempt to get the man away from his private parts! The man responsible was a prankster named Vitalii Sediuk, known for doing this sort of thing (he also went up to Bradley Cooper on the red carpet once and hugged his legs) but he managed to rush toward the actor and wrap his arms round before security managed to get him off. He says prank, we say it's basically physical harassment!
32. When Kim K almost got trampled
image source: dailymail.co.uk
Kim Kardashian is absolutely no stranger to paparazzi - and definitely no stranger to the pap going too far. Whether it's just general shots of her, trying to get shots of her children or trying to showcase her marriage and relationships, she's always in the spotlight. But one time the paparazzi went too far during Paris Fashion Week when there were so many people rushing at once to get close to the star, who was there with Kanye. And who was to blame? Prankster Vitalii Sediuk again! He rushed her so aggressively that she fell to the floor and her security had to help her from getting trampled in the crowd.
33. When topless photos of Kate Middleton were snapped
image source: thesun.co.uk
The British royal family are no strangers to getting followed around by the paparazzi either, but usually when we see photos of them in public, they're usually nothing to be ashamed - or even excited - about. Because of the amount of rules the royals have to follow in how to look, act and dress, there's nothing really ever 'scandalous' about everyday paparazzi shots... that was, until, they managed to get shots of Kate Middleton topless during a vacation, which William and Kate fought hard to get taken out of circulation, understandably!
34. When a pap tried to reach for Jennifer Lawrence's dog!
image source: boredpanda.com
Celebrities are used to being swarmed by paps all the time, and actress Jennifer Lawrence is no different - but that turns into a whole different ball game when you're out trying to walk your beloved dog and a paparazzi member not only tries to get close to your dog, but actually pick it up and touch it! Jennifer Lawrence only has a tiny dog, which could easily get trampled anyway, but the pap actually reached to touch the dog, without asking for permission. Jennifer responded angrily by telling him to get his hands off her dog - we don't blame her!
35. Not taking no for an answer from Britney Spears

image source: rollingstone.com
Britney Spears's relationship with the press, and her problems over the years, have been widely documented, and those who grew up loving Britney and her music are of course on her side! Her constant battles with the paps were what drove her to meltdowns in the first place - who can forget her shaving her head and the umbrella incident - but one of the worst cases of paparazzi hounding a celebrity constantly has to be with popstar Britney Spears. They just wouldn't leave her alone, even when it was clear she was going through something!
36. When a Harry Styles fan almost got trampled

image source: her.ie
When you're a celebrity surrounded by paparazzi when you leave a concert, a building, or just spotted in the street, obviously getting trampled yourself is a huge risk. But the problem becomes more serious when fans who are also around the celeb looking for a photo or to say hello also get in the path of a rowdy photographer. Such was the case with Harry Styles, who was being hounded by the pap when one of his fans actually fell and would have been trampled if Harry himself hadn't bent down to help her! Prime example of the paps going too far with both celebs and their vulnerable fans!
37. Photos of Adele's baby son
image source: eonline.com
We know protecting your dog is important - shout out to Jennifer Lawrence - and that no pap should touch your fur baby, but most celebs also struggle with the constant battle of trying to protect their own children from getting photographed by the paparazzi when they didn't even want the fame - and when they're not even old enough to know what being famous is! This is what happened with singer Adele and her baby son when he was only recently born, with her constantly trying to protect him from the press when they tried to get a photo of the baby at every opportunity.
38. When paps managed to get photos of Jennifer Aniston from INSIDE HER HOUSE
image source: cheatsheet.com
Actress and Friends star Jennifer Aniston tries to live a private life, which is hard to do when you're so famous. She understands she's going to be photographed pretty much wherever she goes, but what you don't expect when you're a celeb is to be snapped when you're inside your own home! To make it worse, Jennifer Aniston was somehow snapped by the press in her own home when she was topless and relaxing in her own (should be) private space. She ended up suing the cameraman - of course! - for taking the pics.
39. When paparazzi climbed over George Clooney's fence
image source: papermag.com
Another celebrity to have his home privacy invaded in a huge way was George Clooney, who was relaxing at home thinking the high fence around his property would be enough to keep the paparazzi at bay. Boy was he wrong! The reason the pap so desperately wanted a photo was because they wanted a picture of the newborn children of Clooney and his wife, Amal Clooney. They wanted it so badly that they willingly scaled the fence around his home to try and get a picture. Both the cameraman, and the magazine, were sued!
40. When Halle Berry's daughter was too scared to go to school
image source: pagesix.com
Having your baby hounded by the press when they're not old enough to understand is bad enough, but it gets more difficult when celebrities are trying to protect their growing children from being photographed. Halle Berry's daughter was so sick of the paparazzi that she was even too scared to go to school, and it went so far as the actress having to testify in court against the paparazzi, for how scared they were making her daughter when they "jump out of the bushes" and "from behind cars" just to get a photo of a child going to school!
41. When Justin Bieber accidentally hit a cameraman with his car
image source: thesun.co.uk
When you're a celebrity driving in their car just trying to get from A to B, or even out of your front driveway, only to have your car swarmed and surrounded by paparazzi, the chances are you're going to hit one of them - and that's on them for being so dangerously close if the celeb is driving. Justin Bieber is a huge name in famous circles and he's constantly chased down by the press for a good pic. When he was leaving an event a few years ago, his car was surrounded by cameramen, one of which got accidentally knocked down. Justin stopped so that he could try and help the guy!
42. Lindsay Lohan's car chase
image source: dailymail.co.uk
At one stage in her career - and her life - Lindsay Lohan was known for some pretty negative things in the press. She had a period where she got into a lot of trouble, and one of those instances was a car crash - and despite getting into a lot of driving problems that she was actually responsible for, this one wasn't on her! When she was driving, she ended up being involved in a car crash with another car - but witnesses confirmed that she was being tailed by aggressive paparazzi at the time, which must have been more than a distraction for her!
43. When a pap prankster tried to kiss Will Smith
image source: dailymail.co.uk
A long time before Will Smith famously slapped Chris Rock on stage at the Academy Awards show, he actually gave us a preview when he slapped prankster reporter - none other than the guy who keeps hugging people's legs, Vitalii Sediuk! The slap happened when Vitalii went up to Will Smith during a red carpet event and claimed to be a big fan, asking if he could hug him. Will agreed to the hug at first - but it went to far when Sediuk tried to kiss him without his consent, and Will slapped him. No matter what you think about the Chris Rock incident, this particular slap was valid.
44. Nicole Kidman being knocked down by a pap on a bike
image source: dailymail.co.uk
When actress Nicole Kidman was leaving a New York hotel, she was not only accosted and knocked down by a paparazzi - which would have been scary enough - but she was actually knocked down by one on a bike zooming by! You can only imagine how much that hurt, and enough to knock her clean off her feet. The photographer fell off his bike to the ground, too, and Nicole lost her shoes in the process. Luckily, nobody was seriously hurt, but it could have been a lot worse - and prime example of when paps go way too far!
45. Reese Witherspoon's daughter's Disneyland party ruined
image source: dailymail.co.uk
While a lot of celebrities will want to host their children's birthday parties in the privacy of their own home, actress Reese Witherspoon wanted to celebrate her daughter's birthday by taking her family for a trip to Disneyland. Unfortunately, paparazzi got wind of it, and ruined the entire day for her. It's bad enough ruining it for Reese, but this was also an innocent child that had her own birthday at Disneyland ruined! They were chased through the park by aggressive paps, and it was even reported a cameraman hit another child by accident with his camera while trying to get a good shot of Reese and her family!
46. Ryan Reynolds was hit by a pap's car
image source: unlockthelaw.com
Actor Ryan Reynolds is the king of laughing things off, and that even includes hit and run incidents with the paparazzi, apparently. Humor seems to be his defence mechanism for some pretty serious situations! Back in 2015, the actor was actually hit by a paparazzi in a car - who then drove off, leaving Ryan the innocent victim of a press hit and run. Luckily, he wasn't injured - not that the driver stopped to find out - but it could have been a lot more serious and a heck of a lot worse. Reynolds later spoke of the incident on Twitter.
47. Nicole Richie having to take out a restraining order

image source: justjared.com
Nicole Richie used to have a positive relationship with the press, back in the days when she was always on the streets or attending an event with Paris Hilton - it was part of the package deal of being a socialite. But in her later years, Nicole started to get more hounded by the media and wanting her privacy that little bit more - especially when it came to protecting her family. There was an incident when a few member so the press actually managed to trespass at her home when they were trying to get photos of her and her children.
48. When Sharon Osbourne was trampled - while the pap were after another celeb!
image source: glamourmagazine.co.uk
It's bad enough when a celebrity gets trampled, but even worse when they only get trampled because the paparazzi are running so fast to try and get a photo of another celebrity, that they haven't even noticed you! Sharon Osbourne was leaving a restaurant when she was run down by paparazzi who were rushing by to try and get a photo of actor Johnny Depp, who was nearby. Sharon could have been seriously hurt - and luckily she wasn't, when she laughed off the incident - but we don't even know if the press caught up to Depp to hound him, too!
49. When Suri Cruise was called a brat

image source: eu.sj-r.com
It's so important to remember that the children of celebrities are just that - children. No matter what their parents are doing in the showbiz world, these are kids just trying to grow up and go to school without having a camera shoved in their face. One bad incident for Katie Holmes and Tom Cruise's daughter, Suri, was when they were leaving their own apartment only to be surrounded by paparazzi. Suri herself told them to move out of the way - good for her - which then led to verbal abuse from the paps, who called her a "brat" and even a worse curse word than that!
50. Princess Diana's death

image source: thenewyorktimes.com
One of the most infamous cases of paparazzi going way too far has to be the fatal car crash and death of Princess Diana after being hounded by the press, even after she'd long since divorced the now-king of England, Charles. While we do know that there were plenty of other factors that led to this car crash, and the Princess's death, from inside the car itself, it doesn't change the fact that Diana had been being tailed by the paparazzi when the car crash happened. Everyone in the car died, including the driver and Diana's partner.