Surprisingly Simple Ways to Look Younger
By Nick Hadji
1 month ago
1. Exfoliate regularly
(Image/ Source: todewlist.com)
As your skin ages, it tends to dull and lose its natural glow. Regular exfoliation can counteract this, as it will slough away those dead skin cells and reveal fresh new skin underneath. There are absolutely tons of exfoliators on the market – some more scrubby than others. Choose carefully and be sure not to overdo it! On scrub once or twice a week should do.Original content sourced from Femanin.com
2. Stand up straight
(Image/ Source: reddit.com)
Many people tend to hunch over as they get older, but there's an easy fix for this. If you're sat down, try and elongate your neck while aligning your ears and shoulders. This should make your chest protrude slightly. You can also focus on exercises that improve your overall posture like pilates and yoga.
3. Hydrate your skin with oil
(Image/ Source: reddit.com)
Your skin will tend to dry out as you get older, which makes it looks less plump and wrinkly. It's therefore worth investing in some top-tier oils to not only banish those dry patches, but also keep your skin hydrated and healthy. Jojoba oil is great at giving a youthful, dewy look, as is rose oil. You don't have to use it nightly – every other night will do the job.
4. Invest in some good bras
(Image/ Source: reddit.com)
Looking good for your age isn't just about your skin – it's about your boobs too! Gravity will naturally take it's course, so if you're keen to look as youthful as possible, invest in a proper fitted bra. You might think you have those already, but if you're not having regular fittings, you might well be wearing a bra that doesn't give you the right support.
5. Keep your hair moisturized
(Image/ Source: reddit.com)
Our hair tends to get coarser and drier as we age. This is why it's a good idea to stock up on deep conditioning treatments and hair moisturizers to keep your hair healthy and hydrated. Try and use these weekly if you can. Bear in mind that heat can also damage your hair, so air-dry your hair as and when possible. If you have to use hair dryers and styling tools, use plenty of heat protection spray!
6. Use a primer
(Image/ Source: reddit.com)
If you need a little more coverage, a primer is a fail-safe solution. Use a primer after moisturizing, but before you put your foundation on. Primers temporarily fill in all those little lines on your face, and as a result, your foundation will sit on top of a smooth surface. Just to be sure to buy a primer that suits your skin type.
7. Wear fitted clothing
(Image/ Source: reddit.com)
It's sometimes a tough lesson to learn, but dress for the size you ARE – not the size you were! Instead of wearing baggy, frumpy clothes, opt for tailored cuts and clean lines that accentuate your shape. This doesn't mean you have to wear skin tight clothes  - just opt for pieces that nip you in at your smallest point, and smooth over areas you're not so keen to show off.
8. Drink a LOT of water
(Image/ Source: reddit.com)
This is a really simple way to keep your skin looking healthy. The more hydrated it is, the plumper it will appear. You can easily keep track of your water intake thanks to a fancy smart water bottle, which will help you get your 2.7 liters of fluid per day. For those who are super active and live in hot climates, be mindful that you'll need more than this!
9. Ditch the sugar
(Image/ Source: reddit.com)
We know this is a tough one to follow, but if you really want to look as youthful as possible, it means reducing your sugar intake. A recent study found that high-sugar diets increase the rate at which skin ages, which means those lines on your face will end up getting deeper. Be careful with treats like cakes and sweets, as well as sugar-packed carbs like processed bread.
10. Make SPF your best friend
(Image/ Source: reddit.com)
One of the biggest secrets to youthful looking skin? SPF. It will protect you against free-radical damage from the sun's UV radiation, which leads to collagen breakdown, wrinkles and sagging skin. You should be wearing a minimum of SPF 30 each day (yes, really) for maximum results, even on those cloudy days.
11. Use these three amazing skincare ingredients
(Image/ Source: reddit.com)
The best anti-aging creams out there will contain three key ingredients; retinol, alpha-hydroxy acids and hyaluronic acid. Retinol and alpha-hydroxy acids (AHAs) can rejuvenate the skin and get rid of wrinkles and fine lines, while hyaluronic acid will help your skin retain moisture. Together they will give you a soft, dewy glow.
12. Go steady with the booze
(Image/ Source: reddit.com)
We don't want to be responsible for ruining the party, but booze is one of the key culprits of premature aging. This is because it dehydrate skin and increase inflammation, giving your skin a dry, wrinkled appearance. While drinking alcohol in moderation does have a few health benefits, be sure to balance your intake with plenty of water.
13. Soften your hair color
(Image/ Source: reddit.com)
We're all for dying hair to banish greys, but tread carefully when picking a color. If you go too dark, you could end up washed out, so try and opt for softer, more natural tones that compliment your complexion. Strategic highlights can also go a long way in giving your hair more depth, so don't be afraid to experiment!
14. Go easy on the face powder
(Image/ Source: reddit.com)
As you get older, it's a really good idea to ease up on your face powder. Powder can dull the skin and settle into those fine lines, which will emphasize them. Ditch the cakey powders in favor of a light, translucent powder that will set your makeup and banish those shiny zones. Sweep over your T zone with a big, fluffy brush and you're good to go.
15. Look after your hands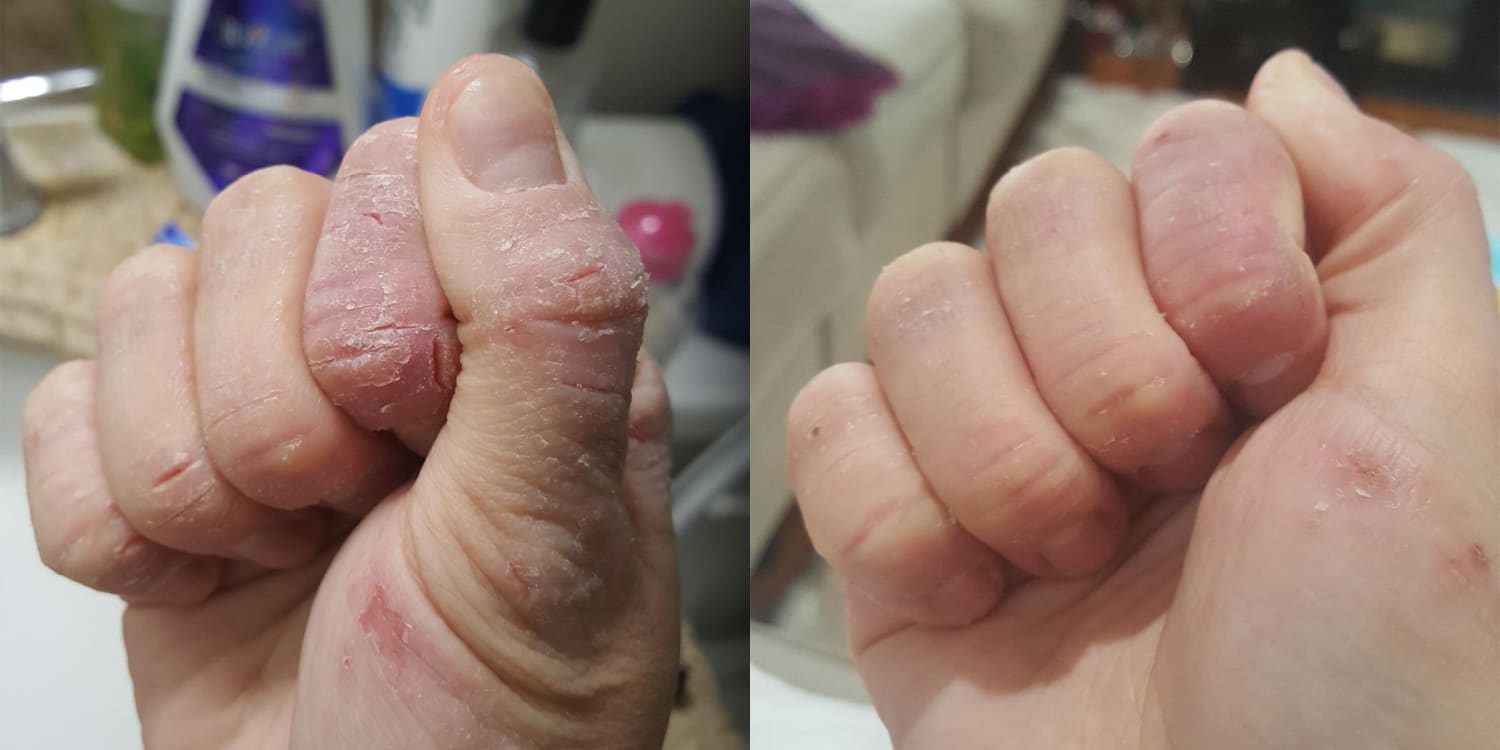 (Image/ Source: today.com)
You can buy all the fancy skin care products you want, but if your hands are all wrinkly, it kinda goes against the youthful vibe you're aiming for. Our hands get exposed to everything from cold weather to washing up liquid, so be sure to stock up on moisturizing, non-greasy hand creams that will keep your skin hydrated.
16. Get strategic with highlighter
(Image/ Source: reddit.com)
If you have mature or textured skin, be careful with the highlighter. To give an example – if you have sagging brows, don't put highlighter on your brow bone. Highlighter will accentuate whatever it's put on top of, so be sure to use it strategically on those areas you want to draw attention to, like your cheekbones.
17. Look after your chest
(Image/ Source: reddit.com)
Your chest and neck area (otherwise known as your decolletage) can be a big tell-tale sign of aging. UV and sun radiation can do the damage, so be sure to stock up on suncreams and SPFs. It's also a good idea to use serums and moisturizers that contain retinol and Vitamin A and C. If all else fails, wear clothes with a higher neckline.
18. Cover up thinning hair
(Image/ Source: reddit.com)
Thinning hair can make us feel self-conscious – but there are plenty of products around that can help. Root concealers are great at filling in the hairline – just spray it on your scalp where your hair is at its thinnest. Look out for products that can volumize hair to give it more fullness, and opt for a shorter hairstyle. It's better to have less hair that looks fuller than long wispy bits!
19. Eat more healthy fats
(Image/ Source: reddit.com)
You don't need to take collagen supplements to get some anti-aging magic in your system. Foods rich in healthy fats like avocados, nuts and fish can protect your skin, and even restore it to its former glory. Eating them as a part of a balanced diet will help promote glowing, healthy skin, and give you a youthful appearance.
20. Get rid of age spots
(Image/ Source: reddit.com)
Age spots aren't actually a sign of aging, but they can make you look older. They're sections of sun-damaged skin that show up over time, so it's a good idea to tackle them as soon as they pop up. Be sure to exfoliate the darkened skin area, and use retinol serums and dark spot correctors. Professional chemical peels are also a good option.
21. Exercise regularly
(Image/ Source: womenshealth.com)
You won't be too surprised to hear that regular exercise is a good way to keep your body looking young and healthy. Not only does it fend off muscle loss, but it also boosts your immune system – and your mood! The CDC recommends 150 minutes of moderate exercise each week, including two days that focus on muscle-strengthening.
22. Lighten up your liner
(Image/ Source: reddit.com)
You've probably been using black liner for years, but as you get older, it's a good idea to switch to a lighter color. Try brown, as it's much softer on your face. Black can be harsh on older faces, and will add years to you! Also avoid using liner under your bottom lashes, as this will accentuate any dark circles.
23. Reduce eye puffs
(Image/ Source: reddit.com)
Natural remedies like cucumber slices and cold tea bags are great at constricting blood vessels, which reduces those dreaded eye puffs. If you want something more cosmetic, there are tons of eye masks on the market, including options with caffeine (which perks up your skin) and hyaluronic acid (which will moisturize).
24. Sleep
(Image/ Source: reddit.com)
Beauty sleep is a real thing. Giving your body the rest it needs (seven to nine hours a night) will repair your body's cells and boost collagen production, helping your skin stay plump and gorgeous. Try to go to bed around the same time every night, and stay off those pesky devices in the run up to bedtime.
25. Moisturize regularly
(Image/ Source: pinterest.com)
This is a pretty obvious one, but it's still worth pointing out. You need to be moisturizing every day, morning and night to get the best results, as your skin will be able to stay hydrated. Studies have shown that people who stopped their daily moisturizing experienced redness and dryness in just one single day, so it's super important.
26. Wear less makeup
(Image/ Source: thebeautyblotter.com)
Instead of applying tons of heavy makeup in dark or bright colors, try and pick shades that are a bit more subtle. Nudes and soft pinks are a great place to start, as they'll complement your complexion. Less makeup looks better on older complexions, as it's less likely to settle into any fine lines or wrinkles.
27. Massage your face
(Image/ Source: asiaone.com)
There's no need to limit massages to your neck and shoulders. Studies have shown that those who regularly use facial massage devices like rollers actually see improvements in their wrinkles. You can pick up a facial roller on the cheap these days, which will help stimulate bloody flow and massage your muscles.
28. Go for soft, shorter style of hair
(Image/ Source: deavita.net)
Shorter, softer hair styles can compliment your face as you get older. Just be sure to leave a bit of length at the crown of your head, which will give you a soft feminine look. Don't be afraid to switch things up with waves and partings in different places; you can even slick it back to look super youthful.
29. Add a pop of color to your wardrobe
(Image/ Source: awellstyledlife.com)
While we love the power of an all-black outfit, it can wash you out when you reach a certain age. This is why it's really helpful to add a splash of color to your outfits, which will add a little bit of lightness and brightness to your complexion. Remember to be strategic with your color use though- head to toe brights can feel like you're trying a bit too hard!
30. Whiten your teeth
(Image/ Source: today.com)
White teeth will give you a brighter smile AND make you look younger. While it's much better to go to a professional dentist to get your teeth whitened, there are plenty of good-quality teeth whitening kits you can buy. And if all else fails, avoid drinks like red wine, tea and coffee, as they can end up staining your pearly whites.
31. Don't smoke
image source: reddit.com
Apart from having very well-known health risks, smoking can also make you look a lot older than you are. Smoking can cause wrinkles on your face and lips, it can cause your fingernails to yellow and your hands to look older, and it can negatively impact your teeth, too!
32. Tame those brows
image source: reddit.com
Whether you have thinner brows or full natural brows, taming them can be a great way to look younger. Wild and frazzled brows stuck up everywhere will only make you look a little older - it's amazing how something as simple as brushing through that hair will make it look sleek and youthful!
33. And all your excess hair, for that matter!
image source: reddit.com
We don't mean your body hair - you can do what you like with that after all - but we just mean the more obvious hairs on your face. Again, you never have to remove any hair you're comfortable with, but if you have thicker nose hair, ear hair or the odd facial hair, getting rid of it can shave a few years off (scuse the pun!).
34. Give oysters a go
image source: reddit.com
Oysters are more than just an aphrodisiac - though there's nothing wrong with that either - because they're packed with muscle-supportive protein as well as zinc. Zinc can help vitamin A with improved eye health as you get older, as well as potentially slowing down macular degeneration.
35. Learn the right way to frame your face
image source: reddit.com
Framing your face the right way is a beauty hack that makes all the difference. You can start by finding out what face shape you have. There are then certain hair partings and hairstyles which will suit your face shape. On top of this, certain makeups will frame your face in a more youthful way!
36. Add flax seeds to your diet
image source: easycookingwords.co.in
Flax seeds are full of Omega-3 fatty acids, which is great news for your overall health - and your aging health at that. These fatty acids can help to eliminate skin spots and fine lines. They also have anti-inflammatory properties, making them perfect for red skin reduction.
37. Dress your age

image source: reddit.com
First things first: you should always where whatever you want to wear, and whatever you feel comfortable in. But if you're squeezing yourself into fashion that people 20 years younger than you are wearing even when you don't like it, that's only going to make you look and feel comfortable. You don't have to go down the mutton dressed as lamb route - wear what you love, for the stage you're at in your life now.
38. Smile more!

image source: reddit.com
We promise this isn't 'cheer up!' or 'smile, it could be worse!' - don't you just hate it when people say that? - because what we mean is simply smiling can make you look more youthful, happier and friendlier! Even just the act of smiling can have you feeling more youthful in yourself!
39. Eat more grapes
image source: reddit.com
Grapes are great news if you want to protect your eye health, but also want to target any joint difficulties. That's because this delicious fruit - always a bonus when it actually tastes nice - is filled with anthocyanins, which help to fight arthritis as well as boost collagen in the retina.
40. Try a water and citrus detox
image source: reddit.com
We already know how important it is to be drinking enough water, but combining water with citrus fruit for a good detox every now and again is simple and quick! Simply chop up some citrus and add it to cold water. It'll improve the flavor for you, and you'll also be able to benefit from the compounds which will flush the toxins out of your body!
41. Don't skimp on those facials
image source: reddit.com
Regular facials can not only help to relax you (which is great news for a stress-free aging process!) but they are also there to massage your skin, boost your circulation and tackle and skin problems. Tailored facials mean that your skin can look better for longer - and more youthful!
42. Or any massage, for that matter!
image source: reddit.com
But don't think that benefits of massage are only on the face! Getting regular massages can help to promote better blood flow and circulation, and make for a healthier heart, mind and body as a result. This is good news if you want to look and feel younger for longer!
43. Decide what to do about greys
image source: reddit.com
Looking younger isn't as simple as 'just dye your grey hairs'. You can look young and still have grey hair. What you have to decide is whether to own it or not! If you have greys, fully grow them out and become confident with a stylish hairstyle. If you want to dye them, then make sure you keep on top of it so you're never in-between - as it's this neglectful look that can make you look neither here nor there!
44. Don't neglect sex
image source: reddit.com
There have been studies to suggest that regular sex can actually make couples look younger as a result! This could have something to do with the feel good hormones, the regular workout and just feeling happier. We know it's not as simple as 'just have more sex', but trying new things in the bedroom is never a bad thing!
45. Control your face fat

image source: reddit.com
We don't mean 'get rid of your face fat' - we actually mean the opposite! It makes sense why you'd worry that excess fat around your face can make you look older or more likely for it to sag, but there's a reason it's called 'baby fat'. If you lose far too much fat, you'll end up looking gaunt - which will make you look older.
46. Go for yellow peppers
image source: reddit.com
Yellow peppers in particular are rich in vitamin C, and there are some studies that have suggested that people who ate more yellow and green vegetables had less wrinkles and crow's feet around their eyes. Just a single bite of a yellow pepper every day can be a hefty dose of wrinkle-fighting vitamin C!
47. Avoid stress as much as possible
image source: reddit.com
Easier said than done with work stress and life burdens, we know - but finding your own way of relaxing is very important. It's also important to cut out as much stress from your life as you're able. The more time you have where you don't feel worked up, the better news for your health, smile and youthful skin!
48. Keep on top of your haircuts
image source: reddit.com
When you get older, the right haircut is even more important to keep on top of - not only because it'll keep your hair looking youthful and cared-for, but because it'll keep you looking so, too! Make sure to find a haircut that's easy to manage if you don't like high maintenance!
49. Add sweet potatoes to your grocery list
image source: reddit.com
In order to have a healthy and youthful complexion, it's important to have a regular intake of a substance called carotenoids, which are compounds that can help to fight against disease, and also help for a more sun-kissed glow for the skin. These can be found in orange vegetables, and sweet potatoes in particular are great for them!
50. Give meditation a go!
image source: reddit.com
Did you ever think about meditation being a way to relax the skin as well as the mind? People think of meditation as a time to switch off and sit still for a while, and while that's true, it's also a good opportunity to relax the muscles of your face into a neutral position - so your face isn't stuck in a frown or with those worry lines more than it needs to be!