Rarest Baby Names In The US Right Now
By Nick Hadji
2 weeks ago
1. Aurelia
Image Source: daily star
This sweet baby girl's name is Latin for
"The Golden One"
and dates back to the Roman Empire! Aurelia was a popular baby name in the 1950s but has only started to re-emerge more recently. So, if you want your little girl to remember that intellect and knowledge are worth their weight in gold, this is the name for you!
Originally sourced from Femanin.
2. Calliope
Image Source: pinterest.co.uk
Do you want your baby to have a voice of an
angel?
... then look no further than this beautiful name! Of Greek origin, the name Calliope means
"Beautiful Voiced"
and is the name of a Greek Muse. The name rose to popularity in the 90s when Disney's 'Hercules' was released.
3. Esmeralda
Image Source: tumblr.com
Disney's 'The Hunchback of Notre Dame' lead female character 'Esmeralda' made this a popular choice for parents in the 90s, but has become a rarer name in more recent years. Originally of Spanish and Portuguese descent meaning 'Emerald', this name will ensure your baby girl grows into a
strong
and
independent
little lady!
4. Liberty
Image Source: pinterest.co.uk
From the land of the free comes the name Liberty! This American name is Latin for
'freedom'
and will encourage your daughter to grow up to be whomever she wants to be. The name peaked in popularity in 2004, and as of 2021 was ranked 619th on the most popular baby names list.
5. Jewel
Image Source: instagram.com
Like most parents, we all think our babies are precious and naming your child Jewel was seen as a way to symbolise this back in the early 20th century. Although more modern twists seem to have become more popular in recent years, we can all agree this has a nice ring to it!
6. Mabel
Image Source: instagram.com
This
'loveable'
English-inspired name has stolen our hearts. The use of name Mabel was introduced in the US in the 1800s and was most popular in 1880! This rare and old-fashioned name can make your baby girl add loving energy to any room she may be in...
7. Nori
Image Source: pinterest.co.uk
This attractive but simple name is of Japanese origin. Meaning
"Seaweed, North or Small Person"
this name is a cute choice for any parent! As of 2021, it was ranked 1,103 on US popularity charts and became popular after
Kim Kardashian
used it as a nickname for their daughter North West.
8. Pearl
Image Source: instagram.com
This baby girl's name rose to popularity in 1890 but has slowly declined in use over the years since. Pearls are normally described as gems of the sea and are associated with elegance and innocence. We can't think of a more precious and feminine name!
9. Roselyn
Image Source: pinterest.co.uk
New parents will be inspired to use this unique name as it symbolises worthy attributes such as;
endurance, freedom and spirit.
Of old Germanic origin the name Roselyn translates to
"gentle horse".
The name was most popular in the 20th century but did not remerge on US popularity charts until 2003.
10. Sia
Image Source: pinterest.com
In 2014, the hit 'chandelier' by singer Sia saw a significant rise in the name being used for baby girls. However, by 2021 the use of this name had dropped to only 165 babies being named Sia. The uncommon name originates from Old Norse and means 'Victory'.
11. Vienna
Image Source: blogspot.com
'From wine Country' is the Latin meaning of the name Vienna. This pleasant-sounding European name comes from Austria and the US state of Virginia. In 1980, only five babies had this given name, this increased after Billy Joel released the hit 'Vienna' but it is not currently on the top 100 US baby names.
12. Waverly
Image Source: instagram.com
A new stylish name for baby girls! Waverly is of English origin and means 'meadow of quivering aspens" -
how sweet!
Described as the next 'Kimberley', the name became popular in the US in 2018 but has since steadily declined and is now ranked 843 on popularity polls.
13. Zoya
Image source: samallencreates.com
Welcome a little girl into the world with the name Zoya...it is a great way to celebrate her existence! This baby name means
'Life'
and has Russian, Ukrainian and Bulgarian origins. This inspiring name only started to emerge in the US in 2020.
14. Faye
Image Source: pinterest.co.uk
This magical name can be translated to 'fairy' and is considered a lucky name in various cultures. Whilst the name was very popular for little girls from the 1800s, it finally peaked popularity-wise in 1934. However, there has been a slow increase in baby girls being named Faye in recent years.
15. Clementine
Image Source: pinterest.co.uk
With a name that means
'Gentle'
and
'Merciful'
, we can see the appeal of naming your little girl Clementine! Mainly used in the 1800s until 1952, the name seemed to drop off everyone's radar. It seems to have made a reappearance again in 2021, with only 552 female babies being named after the orange fruit.
Now It's Time For Boy Names... 16. Ares
Image Source: pinterest.co.uk
An uncommon baby boy's name is Ares...which originates from Greek mythology! Ares was the god of war and is also one of the zodiacs. Although we may have heard this name before, it first entered the US top 1000 in 2013. This is the name for you if you want to show off your son's strength and restlessness!
17. Benji
Image Source: blogspot.com
Benji which is normally a nickname for Benjamin or Ben has Hebrew origins and means
'son'
- what an ideal name for your baby boy! This name is quite a rare first name for male babies, and it first entered lists in the 70s and is currently sitting at 1977 on US popularity lists.
18. Cassius
Image Source: pinterest.co.uk
Of Latin origin, this ancient roman name means
'Hollow'
or
'Vain'.
Don't let this put you off...the name Cassius has been used in Shakespearean literature and is boxer Muhammad Ali's birth name! Becoming more popular in recent years this unique name will help parents show the world their son is the fairest of them all.
19. Deacon
Image Source: instagram.com
With English and Greek origins, this baby boy's name means 'Messenger' or 'Pastor'. The name rose to popularity in the early 2000s but remains at 478 on US birth lists. Although the name Deacon is quite humble, it is an empowering name for your child as it is reserved for the most honourable and loyal!
20. Forrest
Image Source: pinterest.co.uk
If you want your little boy to be an adventurer and love the outdoors… then look no further! Forrest is a French/English name which means
"dweller near the woods".
After the initial spike in popularity after the hit film "Forrest Gump" was released in 1994, there has been an incline in the use of this name in the US.
21. Lachlan
Image Source: sportkilt.com
A
new name
on the rise in the US is the Scottish name Lachlan! Originally used to describe the Viking invaders by the Scottish, this name translates to "from the fjord land". This unique and interesting name currently resides at 724 on US birth lists.
22. Moses
Image Source: pinterest.com
Most parents will know the biblical story of Moses and won't be surprised when I tell you that the name means
"delivered from water"
and is of Egyptian origin. It is no surprise that this name has been used since the 1800s but has become less popular over more recent years.
23. Onyx
Image Source: instagram.com
Like most parents, you may think your baby boy is an absolute gem! The mysterious name Onyx is one of the more masculine-sounding gemstone names and has become more popular in the US since 2016. As of 2023, only 56 new babies in the US have been born with this name - now that's what we call
unique!
24. Rocco
Image Source: instagram.com
Rocco is an inspiring name which has Italian origins. The name has been associated with a catholic saint and increased in popularity in the US when Madonna and Guy Ritchie named their first son Rocco! Reaching its peak in popularity in 2009, this name has become rarer in recent years.
25. Sullivan
Image Source: pinterest.de
Staring into your newborn's eyes for the first time can make any proud parent enamoured and what's a better way of reminding your baby of their beautiful eyes than naming him, Sullivan? Originally an Irish name which means "dark eyes" this name rose to popularity in the early 2000s when Monsters Inc character 'Sully' was introduced.
26. Tripp
Image Source: instagram.com
Tripp is a baby boy's name that originates from America and means
'The Third'.
It was originally a nickname for little ones with the suffix III in their name. The double pp in the spelling of this name is what makes it unique and it currently resides at 445 on popularity lists!
27. Valentino
Image Source: instagram.com
Italian fashion designer Valentino brought this romantic Italian name to the US. This dramatic and dashing name originates from Spain and signifies 'Strength' & 'Health'. This name has increased in popularity since 2008 but is still currently ranked at 561!
28. Armani
Image Source: pinterest.co.uk
Another desirable fashion designer name for baby boys is Armani. With Italian and Persian roots this
trend-setting
name means 'Solider' and 'Hope'. The name has been rising in popularity in the US in recent years and was ranked as the 547th name in the US in 2020.
29. Gunnar
Image source: mustardseedbaby.com
The
"Bold Warrior"
is the Scandinavian meaning of our next baby boy's name! Gunner is the ideal name for military parents who wish their son to grow up fierce and brave - a little warrior in the making. It is normally used as a surname making it quite a unique first name. However, it seems to be the
go-to name
of 2023!
30. Santana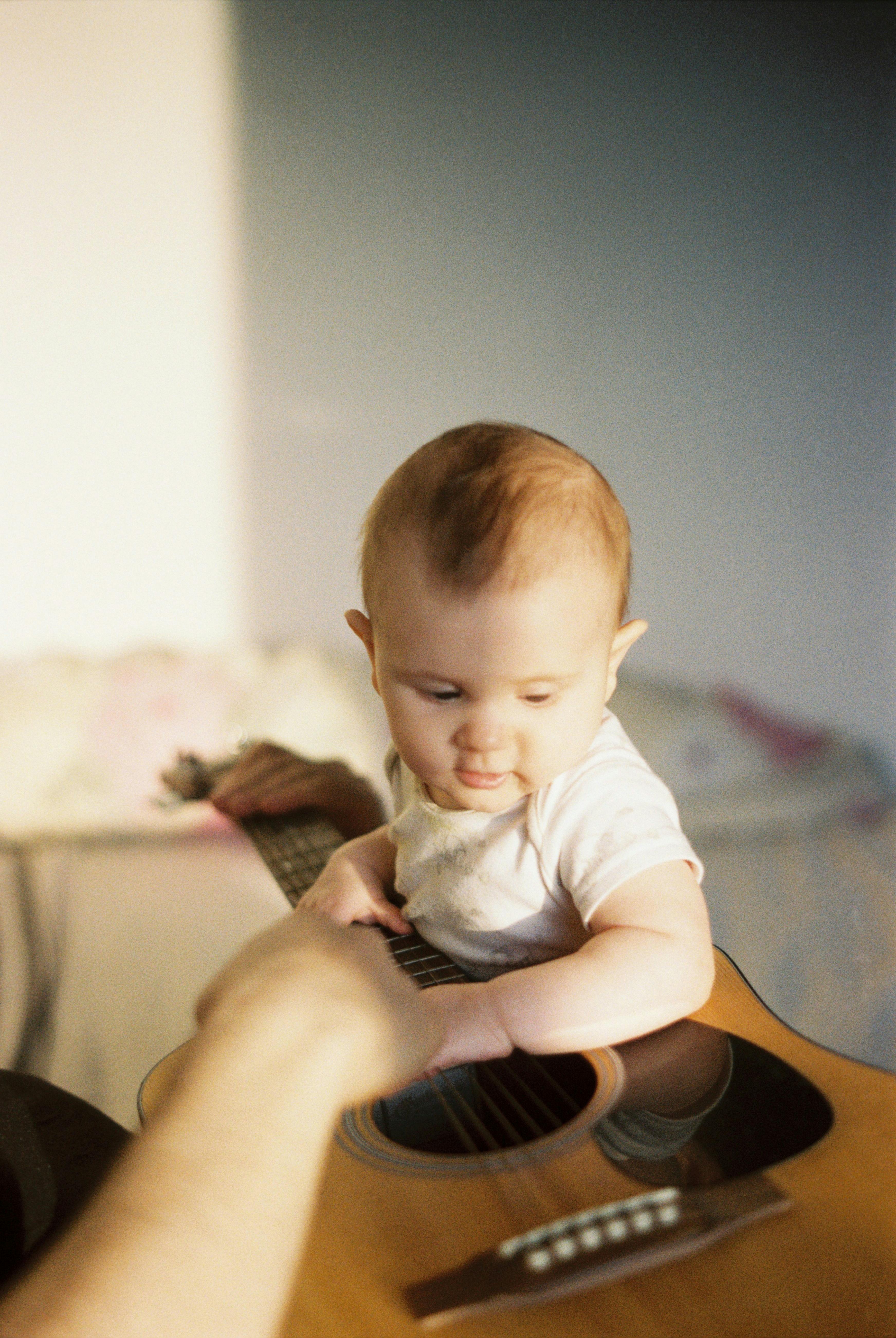 Image source: pexels.com
Lastly comes the spiritual name Santana! Of Spanish origin, this name caught parents' interest through the rock guitarist Santana and can be translated to 'Holy'. Reaching its peak of popularity in 1972, the use of Santana as a boy name has decreased over the last few years and in 2021 it was recorded at 575th on the US list.
31. Amber
image source: reddit.com
Baby names which come from precious stones are always a good shout, and with most people reaching for their healing crystals these days, Amber is a lovely name for a baby girl hailing from the precious metal. It may sound like a common name but it's actually quite rare! Think how many Ambers you know.
32. Artemis
image source: worldhistory.org
Artemis is a name which hails from Greek mythology, and why wouldn't you want to name your baby girl after a goddess? Artemis was the goddess of the hunt, of wild animals and even childbirth - so a great name for a newborn babe! It was also said that Artemis was the favorite goddess.
33. Bellamy
image source: reddit.com
Bellamy is a name that has popularity in the UK, too, and also has French roots. Bellamy means 'good friend' in French, so it's a great name if you want good vibes for your child who can hopefully make lots of besties as they grow! It's a beautiful name for a baby girl.
34. Caspian
image source: welcometoiran.com
If you're a fan of the Narnia books and films, you might already know about this one! While you'd think it'd be popular as a boy's name thanks to the character in the franchise, it's actually quite rare. Caspian is also the name of a sea, and it's been associated with strength!
35. Falconer
image source: reddit.com
While Falcon itself would be a cool name, Falconer is a very rare name for a baby boy. It could also be a premonition of the job title they'd like to do in future if you want your child to grow up loving birds! It's a unique name that gives a sense of strength and determination.
36. Wolfram
image source: reddit.com
Any name that has 'wolf' in it is going to be pretty cool, right? But we bet you've never really heard of this one before! Wolfrum is actually another name for Tungsten, which is one of the strongest metals in the world - so if you're looking for a strong baby name, this is it!
37. Kiernan
image source: reddit.com
Kiernan is an Irish name, and we know Irish names can be really beautiful! The great thing about this name is that it's not only a great-sounding name, but it's gender neutral, so you can give it to a baby of any gender! If you're a fan of the latest Sabrina, the lead actress has this name, too!
38. Lapis
image source: reddit.com
Lapis Lazuli is a very beautiful blue gemstone, so this is another name for a baby you could use if you're a fan of of healing crystals - and also if you particularly like blue. Lapis is also a gender-neutral name so it's great if you don't know what sex your baby is going to be but you think this name is perfect!
39. Monet
image source: reddit.com
You don't have to be a fan of art to appreciate this name - though, of course, if Monet is your favorite painted then it's a no-brainer to call your new baby this! Monet is another gender-neutral name, so perfect for a girl or boy, and could be a great one if you're an artistic person!
40. Tamsin
image source: reddit.com
Tamsin, though a rare name, has been associated as a female baby name - but it can actually be a girl or a boy's name. Not only that, but it means 'twin' - so perfect if you're expecting more than one baby! Though you might not want to call both of them 'twin'... could get confusing.
41. Wren
image source: reddit.com
Bird names are always great names, there's something really pretty about them, and a great shout out to nature. But if you're not a huge fan of the more common options like 'Robin', why don't you try this rarer bird name, Wren? It can be used for a girl or a boy!
42. Luz
image source: reddit.com
This name not only sounds really cool (and simple to spell), but it also has a lovely meaning behind it. Luz means 'light' in Spanish, so it's the perfect name to give the little light of your life when they're born. It's also another great one for either a girl or a boy, so have at it!
43. Quinn
image source: reddit.com
Quinn is another great gender-neutral name that's rare these days. Quinn means 'chief', so it's a great name if you want a strong baby name to make them into a leader, future CEO or maybe just running circles around you when they get into their toddler phase!
44. Sage
image source: reddit.com
Names that take after flowers and herbs really are some of the best, and while you often heard of 'Rose', 'Daisy' or 'Basil', Sage is a lovely name that's very rare as a baby name - and while it is a herb, it doesn't sound too herb-like to not just seem like a really pretty name!
45. Amari
image source: reddit.com
Amari is a beautiful and rare name that can actually be found in quite a few countries outside of the US, including in Hebrew and Thai culture. Amari might sound like a girl's name but it's actually a great gender-neutral option. It has quite a few different meanings, including 'to be loved' and 'strength'.
46. Branwen
image source: reddit.com
The name 'Bronwyn' is a common one in the Welsh language, so it's one you can find often in the UK and Wales. But outside of those countries in the US, Branwen - which is a variation of Bronwyn - is just as rare, but it's a great gender-neutral name, strong-sounding.
47. Ferris
image source: reddit.com
We all know the classic movie Ferris Bueller's Day Off (and if you don't, you should go watch it right now) but thinking about it, have you ever actually met anyone called 'Ferris' in real life? Ferris is a great gender-neutral name that hails from Ireland, and it means 'rock'.
48. Arden
image source: reddit.com
Arden is a beautiful name for either a girl or a boy, and it's ideal for you fans of bird names who actually don't want to name their child directly after a bird. That's because the pretty name 'Arden' translates as 'valley of the eagles', so you can call your baby that without calling them, you know.. 'eagle'.
49. Zosia
image source: reddit.com
This name is a strong name for a baby girl, and that's because it means 'wisdom' in Slavic. The strong-sounded 'Z' at the beginning also helps it sound like a more powerful name - as well as a very rare one! It's inspired by the Greek name 'Sophia', which is more common.
50. Rivka
image source: reddit.com
Rivka is another rare baby girl's name, which actually translates to 'to bind or link together' in Hebrew. So this is a great name if you want to create more of a 'bond' with your baby, or feel like having your baby is the new link that will bring your growing family together!