RANKED: Which State Has The Best Food In America
By molly atherton
3 weeks ago
America is known for many things: Hollywood, Disney, some of the best national parks in the world and, of course, food! Sure, it might not be the healthiest food, but it's some of the most delicious. And every state in America is known for its own pride and joy when it comes to culinary delights, whether that's a hearty main meal or an indulgent dessert. With 50 states to choose from, how are you supposed to decide which has the best? Let us help!

West Virginia
Other than that god awful song we all get stuck in our minds when we think of WEST VIRGINIAAAAA (okay, maybe not god awful, we all secretly love it, right?) this state is also known for its signature food, which is better known as the Hot Pocket.
imagesource: reddit.com
Oh and road kill, this Eastern state is known for its Hot Pockets and road kill... so you can choose which you would prefer to eat (please say Hot Pockets). Sure, we're not talking about gourmet cuisine here when we talk about hot pockets, but they're quick, easy and relatively filling (you might want to have more than one, though).
Content Originally Sourced: Femanin.com
North Dakota
So coming in at number 49 on the list, Buffalo burgers are a fan favorite amongst the people of North Dakota. However, when you compare it to its southern counterpart, South Dakota looks like France, doesn't it? Where's the culture? Where's the class guys?
imagesource: reddit
Everybody loves a good burger, though, and especially in America - which is pretty much the place to go if you want some of the best (and North Dakota at that). Buffalo burgers are a little different to your normal hamburger, because the meat comes from - you guessed it - buffalo! It can be sourced from the American bison or water buffalo.
Nebraska
Nebraska is the home of the Runza, which is sort of like the hot pocket we just spoke about, but more like a 'posher' version. Runza is even considered 'gourmet Hot Pockets', basically. Nebraska claims to have invented the Reuben and delivers a steak right to your door (that's the dream).
imagesource: reddit.com
While Nebraska itself isn't the most gourmet of states in terms of food, but if that's your style, then there you go. The Runza is an easy-lunch option of a dough pocket combined with a filling, which is usually meat like beef, and then onions and seasoning to make it taste a little better.
Delaware
The signature food of the state of Delaware is basically just as you would imagine. It's a piece of un-toasted white bread with a dollop (medium amount, not too much) of mayonnaise on it. I mean, this is absolutely a joke, but that's the standard you're getting in this state according to many stats.
imagesource: reddit.com
Sure, it might fill you up in a pinch, but it's hardly worth getting excited about for your breakfast, lunch or dinner... Of course, it improves a little - only a little - if you end up toasting it, so it's at least warm. But still... why you wouldn't at least put cheese on it, we don't know.
New Hampshire
Known as the Arkansas of New England, apple cider donuts and orange cake are a thing of beauty in the political t-shirt state. Coming in at 46 on the list, out of the 50 states of America, New Hampshire doesn't have that much to offer on the food front in comparison to others.
imagesource: reddit.com
But we would never turn our nose up at an apple cider donut or two (or three). And paired with orange cake? It would be rude not to... If you're wondering what gives these donuts the edge over regular donuts, they're made with a spicy kick, delicious apple sauce and, of course, real apple cider.
Iowa
The state of Iowa is known as America's largest pork producing state (by far), so it should surely have an amazing barbecue scene, right? Well, say what you want to say, but their pork tenderloin sandwich is up there with one of the best. The meat to bun ratio makes it the perfect sandwich.
imagesource: reddit.com
Though some might argue it's not the best, nor the most delicious, meat you can find in the US (but we'll get to that later...) The pork tenderloin sandwich is usually breaded meat, sort of like a schnitzel sandwich, that's popular in a few other midwestern states, too, including Indiana and Missouri.
Utah
Utah is all about it's "fry sauce". What's fry sauce you ask? It's basically a mix of ketchup and mayo together. Some other countries, like the UK, know this concoction as similar tasting to Thousand Island Dressing. And that's not the only famous delicacy in the state of Utah! We're forgetting about sweet Jell-O molds.
imagesource: themoderngelatina.com
How could we forget about sweet Jell-O molds?!! Perfect for any meal, any season. Utah has been known for having the highest birth rates, meaning families - and food catered for them - are a huge hit, part of the reason Jell-O became such a popular thing!
Wyoming
There's some great food in each city in every state of America and the Pitchfork fondue is a marvel of modern eating when we're talking about the state of Wyoming. But when it comes to the state where the cattle population more than doubles the human population, it's worrying that so many restaurants in this state don't actually utilise this.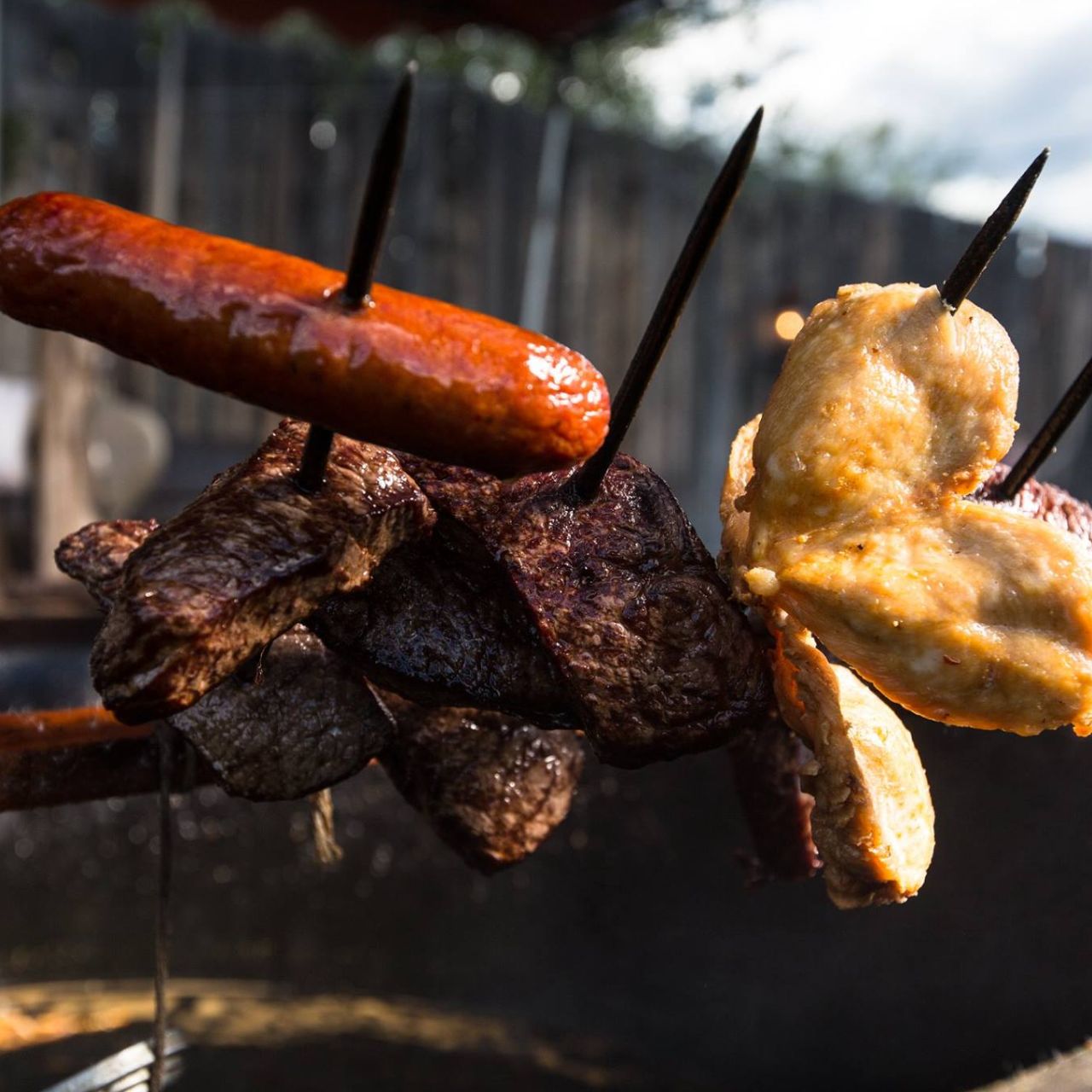 imagesource: opentable.com
You would think they would push the boat out on the likes of their famous and delicious steak sandwiches! A pitchfork steak fondue is usually made with three layers of NY strips which are then deep-fried to perfection - saving on the cutlery by eating right there off the pitchfork.
South Dakota
South Dakota is an underrated state as a whole, but especially when it comes to food. They have the best Indian tacos and amazing steaks as well as fried steak tips, and still manage to come in at number 42 on this list? Can you imagine, then, how much better the food is going to get as we hit lower and lower down the list?
imagesource: reddit.com
If you're hungry, now might be a good time to go and grab something from the kitchen... This state's Indian tacos differ from your usual Mexican style tacos because they're made on fry bread instead of in taco shells. It's then cooked in hot oil and browned.
Idaho
Boise is known as the Portland of Idaho, which means a great deal of even greater food. Chicken wings, burgers, pizza, you name it! You can usually bang on 'typical' American style food here. The rest of this state however, is not known for its food...(this is where the potato jokes start...)
imagesource:107.9LITEFM
So it all depends on where you go if you're visiting this state over some of the others in the US for your road trip. Idaho is known specifically for the Ice Cream Potato, which is more of a sweet food item than a savory one. It looks like a baked potato, but is swimming in chocolate sauce!
Kansas
Areas of Kansas like the KC metropolitan area have great food places. The KC metropolitan area is blessed with the likes of Joe's and other fantastic food chains, so you'll never go hungry if you're visiting this area of the state. Without them, there isn't much going on on the food front, which may come as a surprise but y'know!
imagesource: reddit.com
There are lots of other states that beat Kansas on the grub front, but it's still better than the few we've mentioned. The Sunflower State is known for your basic hearty foods like chicken steaks, wings and ribs, so it's a great place to go if you like typical American food.
Alaska
Juneau and Anchorage have some fantastic dining scenes - it's not all reindeer sausages and akutaq in Alaska. King crab is in fact, the king of the dinner tables in this state. There's also a great Thai food scene in Fairbanks too!
imagesource: alaskankingcrab.com
It's safe to say that you definitely need to be a fish lover to eat well in Alaska, or at the very least be okay with some meat options. It's heaven for seafood lovers, though! Alaskan king crabs are usually brought in from fishermen who earn their keep off the coast of this state, so they can be fresh and delicious for restaurants!
Montana
Some might say, Montana is known as the rich man's Wyoming. This state is known for its open expanses and beautiful wilderness resulting in exceptional food; bison, huckleberries, chokecherries, morels and some of the best beef in the country.
imagesource: reddit.com
So to eat well in this state you need to be a meat-lover to say the least - unless you're happy to just live off berries during your time in this popular state. In Montana, you can be sure to find a hearty, filling steak, so if that's the only thing you like to eat, maybe you'd rank Montana as number one for the best food offering!
Arizona
Arizona is the state you can thank for inventing the chimichanga by choosing to deep fry a burrito, as well as introducing its residents and visitors to the Pizzeria Bianco. These chains can be found dotted across the scorched landscape of Arizona so you're never really stuck for choice in this desert state...
imagesource: reddit.com
... provided you're happy with chimichangas and pizzas, of course... which of course you are! This is definitely a state for lovers of filling food they can easily grab on the go. Even staying in a self-catering place in this state, you can whip up a chimichanga in no time.
Indiana
Over recent years, Indianapolis has come a longgggggg way, in more ways than one - but for the most part, in its culinary offerings. The extremely chain dominant dining scene offers a great range of desserts for all of those people who have a sugared cream pie addiction - which is the majority of Indiana!
imagesource: reddit.com
And that's what this state is best known for in terms of sweet and tasty dessert. So you best like sweet things if you visit here! The reason it's so popular is that it's a dessert that can be whipped up any season of the year, so you don't have to wait for the time to be right for this one. No excuse needed!
Oklahoma
A lot of people spent time debating what Oklahoma's signature dish would be. Is it the onion burger? BBQ food? Fried catfish? There are just far too many to list - which means this state is doing well on its offering of food!
imagesource: reddit.com
The onion burgers have a lot of people talking, they're full of juiciness, they're delicious and you can get your hands on one for as little at $3. But maybe you'd prefer fried catfish? Or maybe you've plans to visit Oklahoma and want to go all in by ordering a delicious onion burger with a side of fried catfish? You do you, we won't judge of course!
Rhode Island
At number 34 on the list, Rhode Island may be the smallest state - and not the one you'd necessarily think of in terms of the best food offering - but it still packs a punch when it comes to clam chowder it's known for!
imagesource: reddit.com
You can also expect really tasty Italian food in this state, including grilled pizzas - which, lets face it, you'd be happy with no matter what state you visited. Rhode Island is also known something else ... its offering of Del's frozen lemonade! That means you have the perfect icy drink to wash all that heavy Italian food down with, or help you polish off that pizza.
Connecticut
Some might say that the state of Connecticut, known for its beautiful coastline and lavish homes, isn't particularly known for an amazing array of food offerings. But that all depends on whether hamburgers and pizza are your idea of heaven!
imagesource: reddit.com
With its rich hamburger history and pizza culture, that's about as much as you'll get out of the confederate state - but we wouldn't say that's a bad thing! Especially if you're a picky eater and you just want to travel somewhere you know you're guaranteed a decent hamburger or pizza, then Connecticut is a good choice!
Nevada
The home of Las Vegas offers every single food and drink you could possibly imagine, often known as the Disney theme park of world cuisine. However, the rest of the state really doesn't have much to offer, it's basically the equivalent of a little cup of shrimp and ketchup.
imagesource: reddit.com
Tasty... Unless you're into shrimp and ketchup and that's your favorite thing! We won't judge if it is - it's better than shrimp and no sauce! So if you're looking to eat well when you visit Nevada, you're probably best prioritizing staying in the Las Vegas Strip so that you have a wealth of options to choose from.
Arkansas
Arkansas doesn't have any signature dishes or styles of food that their neighboring states do. However, thanks to the folks behind The Root and a few other joints, this southern state isn't completely off the podium. It's a warning to Mississippi not to get complacent because this state could come creeping up the list.
imagesource: reddit.com
Arkansas is known for its famous Possum Pie, as well as something you might think sounds questionable... chocolate gravy! This might be too much even for those lovers of sweet and savory, but we have to admit smothering things in chocolate gravy does sound appealing.
New Jersey
New Jersey, also known as the poor man's New York, especially when it comes to Italian food. Definitely still better than being the poor man's Wyoming, or even the rich man's Wyoming. Plus, a lot of these restaurants in New Jersey let you bring your own wine. Ooh la la!
imagesource: reddit.com
Still, being the poor man's New York isn't a bad thing if you're still known for an offering of Italian-style food... we'll take it. If you do order anything Italian, make sure to get it with tomatoes. New Jersey is famous for its Jersey Tomatoes, and this state is very proud of producing them!
Kentucky
Kentucky is best known for its robust bourbon culture, and one of the most famous chefs to come out of this state is Edward Lee, who has actually helped put Louisville specifically on the map for anyone who wants to eat well during their trip to the states (and Kentucky specifically!).
imagesource:reddit
However, when it comes to signature foods, the Hot Brown is a turkey sandwich that seems like it quit midway through being made... But that's based purely on aesthetics! It looks unfinished because it's an open sandwich. It's made with both turkey and bacon, and finished off with Mornay sauce.
Virginia
There are a lot of exciting things happening on the dining scene in Virginia, however, there are also many other states ahead of it in this ranking so it's still got a lot to learn. That doesn't mean it's bad, though! Northern Virginia is the place to go through if you want a tasty meal! This place is best known for its southern-style cuisine, and most notably its meat: country ham! They're big on ham in this particular state.
imagesource: reddit.com
This place is best known for its southern-style cuisine, and most notably its meat: country ham! They're big on ham in this particular state. As well as its ham, this state is known for favoring BBQ flavors, and if you're not into meat, you'll definitely get a fine selection of oysters if you visit this state.
Minnesota
When it comes to the twin cities, you're never far from an unreal dining experience. From vibrant Korean, Somali and Hmong food scenes, you're always in for an exceptional and unique meal. And how could we forget about the Juicy Lucy AKA Minnesota's signature burger.
imagesource: reddit.com
Surprisingly, you can also find a variety of Scandinavian dishes if you hit up the food scene in this particular state - offering something a little different! If you're not into anything too fancy, though, you can also find warming and hearty meals here, including a casserole this state is famous for, and your usual state-fair foods.
New Mexico
Here we have the state that makes a HUGE deal out of green chillies. Unfortunately, Santa Fe Bite (IYKYK) shut down - the home of the best green chillies and cheeseburgers around. If you've ever been to New Mexico, you'll know just how much they're loved in this state.
imagesource: reddit.com
That doesn't mean you can't grab cheeseburgers or anything with chillies elsewhere in the state, though - you just have to find your new favorite place. New Mexico is of course known for delicious Mexican cuisine, and all the usual favorites like beef or chicken enchiladas, delicious burritos or anything deep fried with cheese!
Vermont
If you're happy to live off a diet of maple syrup, fancy ice cream and artisanal cheeses (which of course you are, because that sounds amazing and we wish it was possible!) then Vermont is the place to be. Burlington is a great place to start but all jokes aside, Vermont actually has some amazing restaurants and diners for anyone visiting from out of state.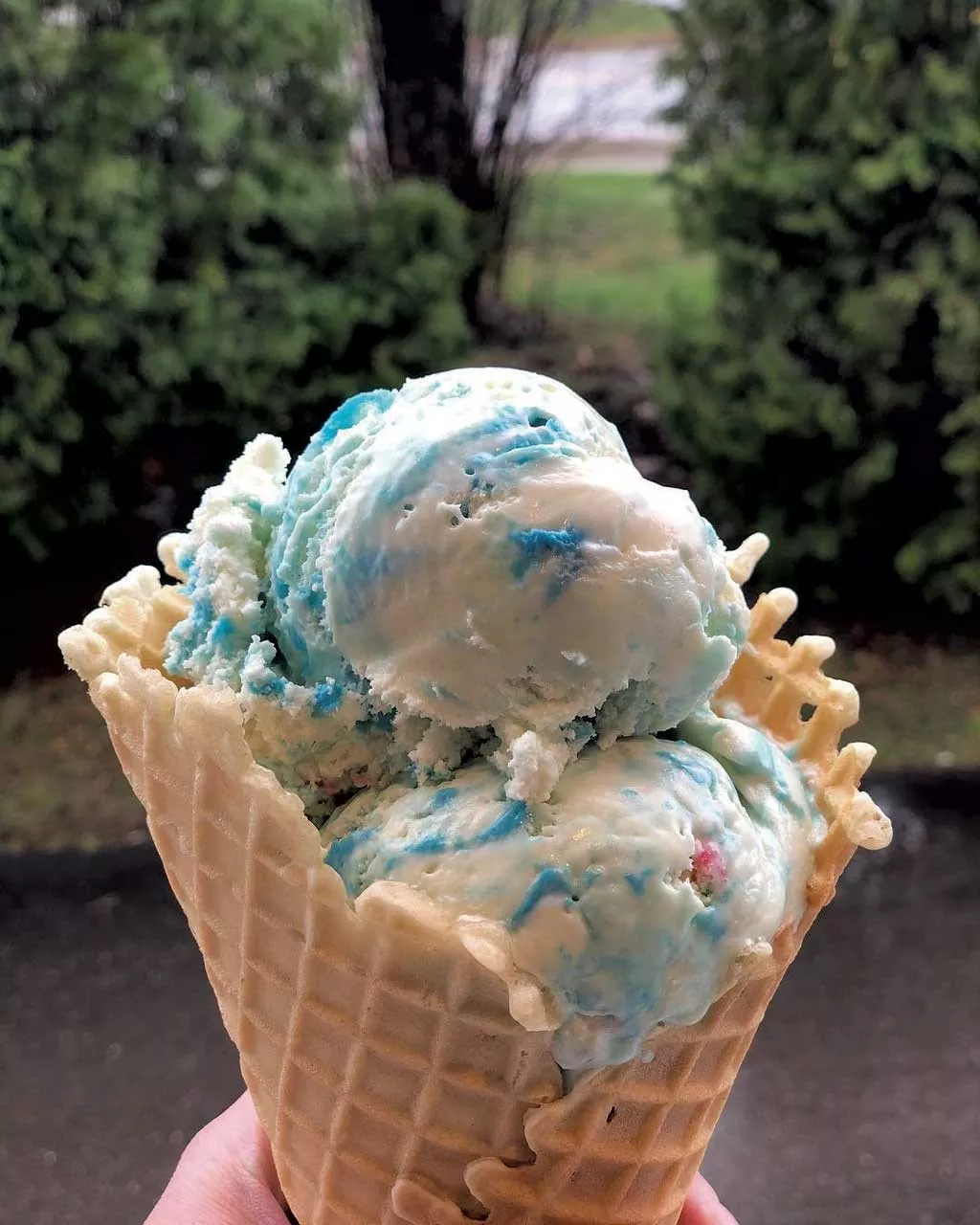 imagesource:sevendays
At least you're then guaranteed an awesome dessert on the menu! If you're more the savory than sweet kind of person, you can enjoy wood-smoked bread in this state, as well as lamb being the meat of choice! (Maple syrup optional).
Ohio
Cleveland has established itself as the Midwestern leader of the rust belt food revival. Here you'll find regional foods like the Polish Boy and Columbus style Pizza, but depending on how you're feeling you can also indulge in chili spaghetti or ice cream from Jeni's and Graeter's.
imagesource: reddit.com
This state also has its very own delicacy, but it might not be as impressive as you'd expect... it's just a corned beef sandwich! You'll also want to try a Cleveland-style pizza while you're in Ohio - and if you're into Italian food - as well as other menu items like Hot Browns and Sloppy Joes!
Mississippi
Mississippi is the home of some deep fried soul food gems, like catfish and pork chops, not to mention étouffée, poboys and jambalaya. Due to the blending of African American and Mexican cultures, there's a reason why Mississippi is one of the tastiest states on this list.
imagesource: reddit.com
And, of course, we have to mention the most famous food item from this state: the Mississippi Mud Pie! Filled with chocolate and gooey goodness. Mississippi is also well known for its offering of delicious seafood, so you'll want to visit (though we don't know about seafood with a side of chocolate pie...).
Florida
Florida has a lot more to often other than oranges and sunshine. Conch fritters and stone crabs are amongst some of the tasty delicacies you can get your hands on - as well as their glorious sandwiches stuffed with pork, pastelitos, arroz con pollo, vaca frita and coffee.
imagesource: reddit.com
This state is known for a ton of different food options, including southern and European food styles. You can also expect a whole lot of shrimps ... and even gator tails! And how about a nice slice of Key Lime Pie? One of the most famous desserts you can find as the most popular in Florida (better or worse than chocolate?).
Maryland
If crab cakes and football tickle your fancy, then look no further. Joking, Maryland has a lot more to offer than just that, it is possible one of America's most underrated states when it comes to food. There's something called the Smith Island cake that EVERYBODY should try in their lifetime.
imagesource: thegazette.com
It's actually the official dessert of Maryland, so it'd be rude not to if you're planning a visit to this state. As well as delicious crab cakes, you can also be treated to the Hot Crab Dip you can find in this state and pair with your cakes! Perfection when you need something warming.
Missouri
Both Kansas City and St. Louis have their fair share of perfectly delicious BBQ joints that would get anyone's taste buds tingling. Some would say that the burnt ends of the meal are the tastiest parts. Missouri is the place where Kansas City BBQ sauce was born, so if you want BBQ, this is the state you need to be in!
imagesource: reddit.com
You'll also have a great selection of St Louis-style ribs, so make sure you want to eat lots of meat before you go here. But don't worry if you're not a huge fan of meat or BBQ. You can also enjoy a little Italian pasta with their favored ravioli, as well as butter cake for dessert to finish!
Colorado
Colorado has some of the best edibles in the USA and in some diners they're considered as the perfect appetizer. This state doesn't have a specific signature dish or "thing" that defines why it's rated the 19th best state other than its unbelievable meats like buffalo and Colorado lamb.
imagesource: reddit.com
Just go and check it out for yourself! You can expect Colorado-style pizza, though - so that's always a safe bet. Colorado is also known for the Rocky Mountains, of course - and with that in mind, its aptly named Rocky Mountain Oysters! You can also expect lamb and bison for meat options.
Hawaii
The Polynesian and East Asian influence in Hawaii gives it that bit of magic that other states don't have. With its incredible seafood and Kalua pork which is a real rival to the Carolina throne. Sushi and hamburger patties covered in gravy also make this state very different from others.
imagesource: reddit.com
One of its best known meals, though, has to be Poke, or Poke Bowl, made from diced raw fish served up on a colorful plate! The great thing about Poke bowls is they're also acceptable as an appetizer or a main meal, so you can go with what you feel! You can also find Poi, similar to a sweet potato.
Alabama
Both Frank Sitt and Highlands Bar and Grill have deservedly won most outstanding restaurant in America at the James Beard Awards. And Birmingham itself, specifically the Avondale area has always been a great place to eat for years now.
imagesource:reddit
And, like many of the southern states, Alabama is known for its love of the BBQ flavor, meaning that you can expect that pretty much anywhere you go in this particular state! In Alabama, you can also expect favorites like pork chops or fried chicken, as well as shrimp and grits, or even tomato pie if you want a break from BBQ food items!
Wisconsin
Wisconsin has a lot to offer in terms of cheese and sausages and fried things. But this states edible culture does  disservice to it's sophisticated restaurants scenes in particular the areas of Milwaukee and Madison - fried things and cheese, just go try them for yourself.
imagesource: eater.com
Wisconsin is also officially known as America's Dairyland, so you can expect to find a ton of dairy food stuffs when visiting this state. But don't worry, it's not all cheese - you can also find bratwurst sausages paired with beer, as well as fish dishes and hearty stews! It's a great state for both food and drink.
Massachusetts
Some of the glorious things we have to talk about when it comes to Massachusetts are; clam chowder, lobster rolls, fried full belly clams and the cannoli triangle in Boston's North End. Oh and the "Dirty Italian" grinders at Pajer's in Agawam are just some of the few delicious delicacies.
imagesource: reddit.com
The state of Massachusetts is very much known for its seafood offering, so if that's the only thing you like, flock here! You can expect to find lobster, crab, clam chowder and, of course, oysters! It's also the birthplace of Boston Cream Pie, and you can also enjoy a fluffernutter sandwich.
South Carolina
There's Charleston which is known for holding the Hot New Food Town crown for years now and outside of Charlestown, Greenville is slowly creeping into the world of food conversation with its inventive restaurants and small batch of distilleries.
imagesource: reddit.com
Frogmore Stew is considered the staple dish in this state, so that is always an option no matter where you are planning on traveling to in South Carolina. South Carolina is also, of course, known for its generous offering of... shrimps and grits! You can also find lots of BBQ food to chow down on, as well as peaches being a big deal.
Georgia
Atlanta has always held a spot high up on the list, especially when they've got their lemon pepper wet wings in the mix. You'll also find yourself plenty of contemporary dining as well as southern fried joints. Savannah in particular deserves a shoutout!
imagesource: reddit.com
Georgia itself is also known as The Peach State, which means you can find this fruit aplenty! It's a hugely popular ingredient in many restaurant dishes. So you can expect to find things like peach pie, peach salsas and peach salads! You should also visit Inman Park's Queen of Cream for every ice cream flavor you can think of.
Maine
Maine is known for many things - mainly where Stephen King sets most of his stories. It's also known for some pretty darn good food! Maine does some things better than everywhere else on this list. Namely: Blueberries, Lobster rolls, Clambakes and Clams! Not to mention Maine's outlets in Kittery which offer some cut-price Maple Syrup!
imagesource: reddit.com
What more could you want?! Sure, you can get seafood in other places, but give Maine seafood a try. Funnily enough, as well as lobster and chowder, Maine is also known for baked beans! Would you eat those two together? Why not... we'll trust the state knows what it's doing...
Michigan
Home of the Coney hot dog, enormous pasties and Detroit style pizza, Michigan's diverse cultures are the main reason why this state lands at number 11 on the list. Detroit metro area has a massive wealth of Polish, Greek and Middle Eastern food and as well BBQ and soul food.
imagesource: reddit.com
The state of Michigan is also known for its very famous Mackinac Island Fudge, and even Cornish Pasties, hailing from England due to miners who traveled there. You can also expect to find sweet treats in the form of cherries and Polish-filled donuts, Packzi. You can also enjoy the famous Superman ice-cream in this state!
North Carolina
Not only is North Carolina known for having one of America's greatest barbecue traditions but the abundant seafood shacks lining the coast from Nag's Head to Calabash make this state increasingly popular each year. This state is also very much known for fried chicken, fried green tomatoes and sweet potatoes ...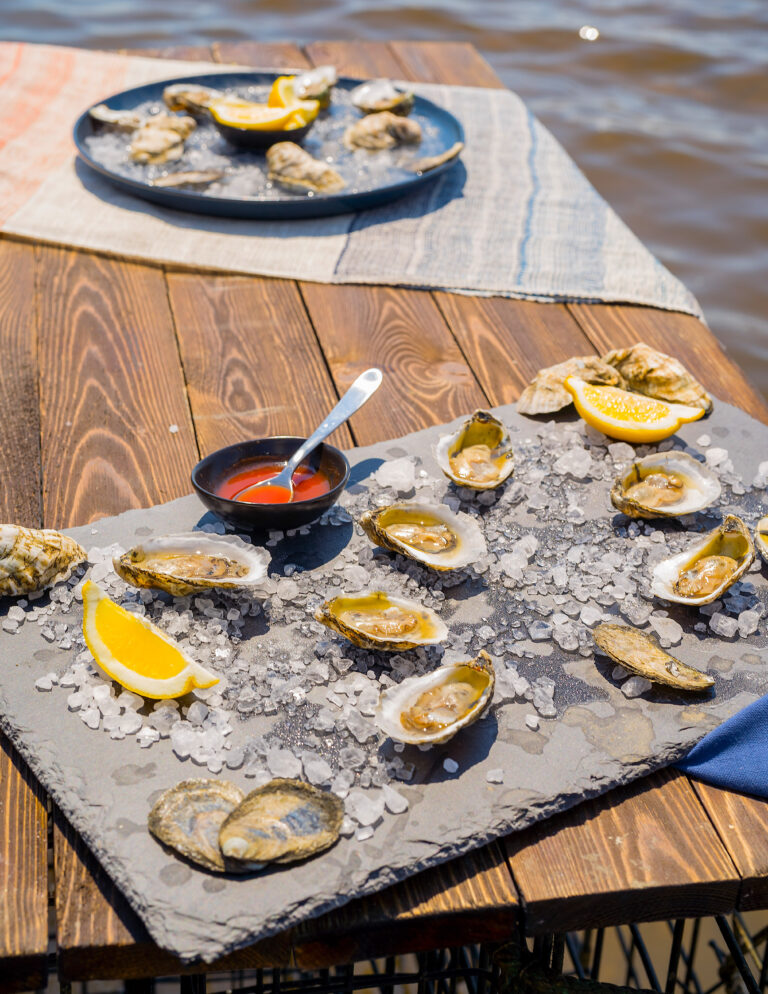 imagesource: NCoystertrail.com
...maybe even all on a plate together at the same time if that's what you fancy! You can also expect a delicious helping of cheese and grits. In Western North Carolina you can also expect to find (and feast upon) livermush, which is mainly eaten for breakfast or lunch, and consists of pork, cornmeal and spices.
Pennsylvania
Philadelphia boasts an extremely rich food scene, from Vernick Food & Drink and Vetri Cucina and Zahav and Serpico to cheesesteak and roast pork it isn't hard to understand why Pennsylvania is in the top 10 - especially when they have the likes of Lancaster and Berks county.
imagesource: reddit.com
Of course, the most famous food item to come from this state is the Philly Cheesesteak, that you need to try at least once in your life. This state is really big on its delicious sandwiches, but you can also expect to bag a tasty snack, too, because Philly Soft Pretzels are a huge deal in Pennsylvania.
Washington
It probably comes as no surprise to hear that this western coastal state boasts some of the best seafood in America. You'll probably never taste salmon like it and it's fine dining is something you should definitely call home about. Seattle's basically Portland's more refined older brother.
imagesource: reddit.com
On top of that, in the drinks department, Washington is also known for its vast amount of coffee shops in the state. It also considers vineyards a very big deal, which means you can expect to find fine wines and coffees to pair with the awesome culinary scene in this state.
Illinois
If someone has something bad to say about Chicago's deep dish pizza, then you do not need that negativity in your life. The rest of the state might lag behind a little, but Chicago has enough to offer to bring Illinois in at number 7 on the list.
imagesource: reddit.com
So yeah, this state is known for its great pizza and great sandwiches, mostly, but that's definitely not the only delicious thing Illinois can offer you. The state is also known for the popular Pierogi, which are homemade Polish dumplings that you can enjoy if you're really not in the mood for pizza (hey, it happens).
Oregon
Central and western Oregon is known for its prized beef, The coast, it's crab (obviously) and southern Oregon for its mountainous landscape and legendary off highway restaurants. Let's not forget about it's Tillamook cheese, all that Tillamook cheese, god damn!
imagesource: reddit.com
Oregon is actually known for a specific food indeed: berries! A whole lot of berries. Some of its most famous berry offerings include... huckleberries, blueberries and marionberries! If you like a nice berry and nut mix, too, the good news is that this particular state is also known for its hazelnuts.
Tennessee
Memphis is arguably better for it's poultry, but let's not forget about Nashville's barbecue joints. With some vibrant yet connected food cultures, places like Yazoo's and Wiseacres make Tennessee one of the best states to stuff your face.
imagesource: reddit.com
This state is of course known for its Memphis barbeque flavor on pretty much everything you can get your hands on, and especially meat like beef and fried chicken. You could also expect a whole load of delicious extras in the buffet barbeque style of things, including cornbread, fried pickles and even banana pudding for a sweet treat.
Louisiana
If New Orleans was its own state, it would probably end up in the Top 10, with it's muffulettas, po-boys, oyster Rockefeller, beignets, king crabs, pralines, sno-balls, turtle soup and banana fosters (just to name a few) these unique dishes set Louisiana's food culture miles apart from other states.
imagesource: reddit.com
Gumbo is arguably the most well-known and popular food out of this state - it's something even people in other countries will know. Gumbo is a popular stew type soup from this state, usually made with shellfish or meat and then paired with other hearty ingredients like onions and peppers. Delicious!
New York
Of course the Big Apple is going to be in the top 3 of the best states in the US to get the best food! You only have to go there and visit one of the pizza places or food street vendors to know that. The big apple has so many advantages that come from being a major immigration hub for generations.
imagesource: reddit.com
The foldable pizza is just the tip of the iceberg, with Michelin star restaurants, fresh seafood joints and buffalo wing. The New York state of mind is one that induces a food coma, which is the only type of rest anyone is going to get in the city that never sleeps after all! Yummy.
California
Coming in at number 2 is, unsurprisingly, the amazing state of California! Sonoran hot dogs and fresh fish tacos drizzled with crema and burritos stuffed with fries are just a few of the amazing meals you can get your hands on in most food joints around the Golden State.
imagesource: reddit.com
Sacramento is highly underrated for it's food scene. Different areas of this state are each known for different types of popular foods. In Los Angeles, you can expect fries to hit the spot for some of the best around, while in Hollywood, you'll definitely want to try Cobb Salad. In Oakland? It's a simple popsicle!
Texas
So coming in hot at the number 1 spot is, of course, Texas. It should be no surprise when Texas is famous for its meat-filled barbeques all the family can enjoy! Texas has one of the most diverse immigrant populations in the country making it easy to understand why it comes in at number 1 on this list.
imagesource:reddit
The best places to eat are always where the most different people collide and bring their delicious delicacies together. This is what happens all over Texas and this is why it's voted time and time again, the best state by a country mile - and the best state to be served a pile of food for sure!