Ranked: The Most Expensive Celebrity Weddings
30: Mariah Carey and Nick Cannon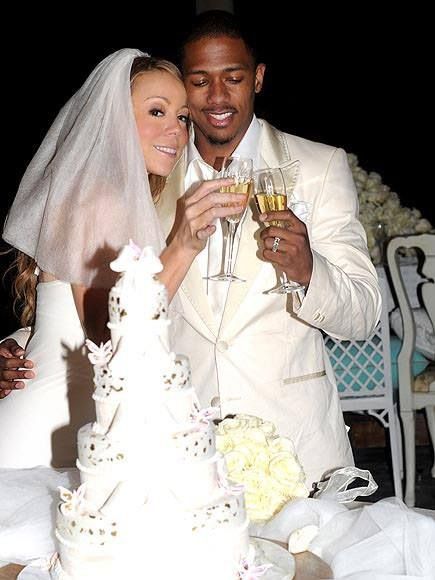 Image source: pinterest.com
The queen herself, Mariah Carey initially married Nick Cannon in a surprise sunset ceremony, that shocked both their friends and families. During their five year relationship, they renewed their vows twice, with their latest being a private celebration at Disneyland, after hours, which apparently set them back $180,000.
29: Sean Lowe and Catherine Giudici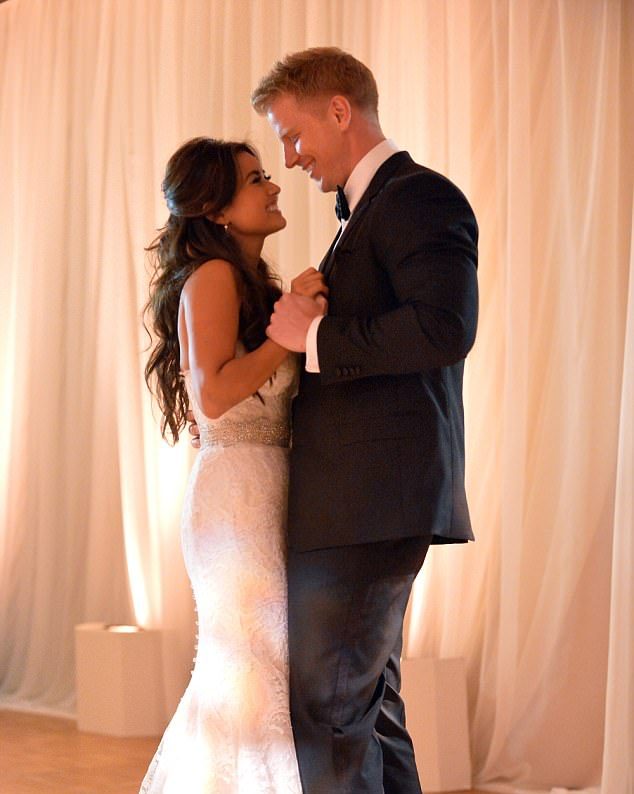 Image source: dailymail.co.uk
One of the most loved couples from the Bachelor, Sean and Catherine, tied the knot in a TV exclusive wedding costing $250,000 - and they didn't have to pay a dime! The nuptials were watched by millions during the live TV broadcast which saw Lowe's father officiate the wedding. Lowe, being a self-confessed 'softie' couldn't help but tear up as he saw his bride approaching the alter.
28: Nicole Kidman and Kieth Urban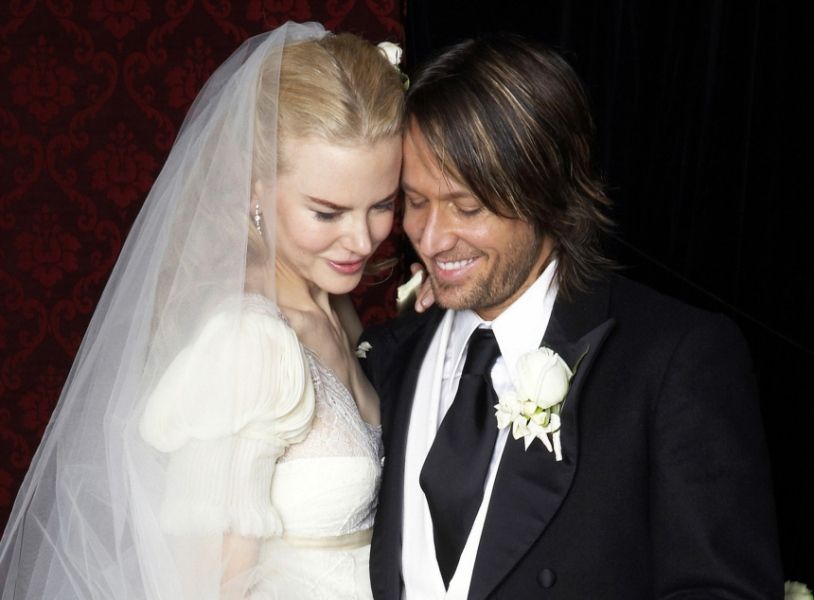 Image source: pinterest.de
A candled ceremony in Manly, Australia was the start of a long budding romance for Nicole and Kieth. Their romantic and extremely private ceremony cost $250,000 and not much is known about it. It is rumoured Nicole had a custom Balenciaga gown and arrived in a Rolls Royce limousine but that's all that is known!
27: Carrie Underwood and Mike Fisher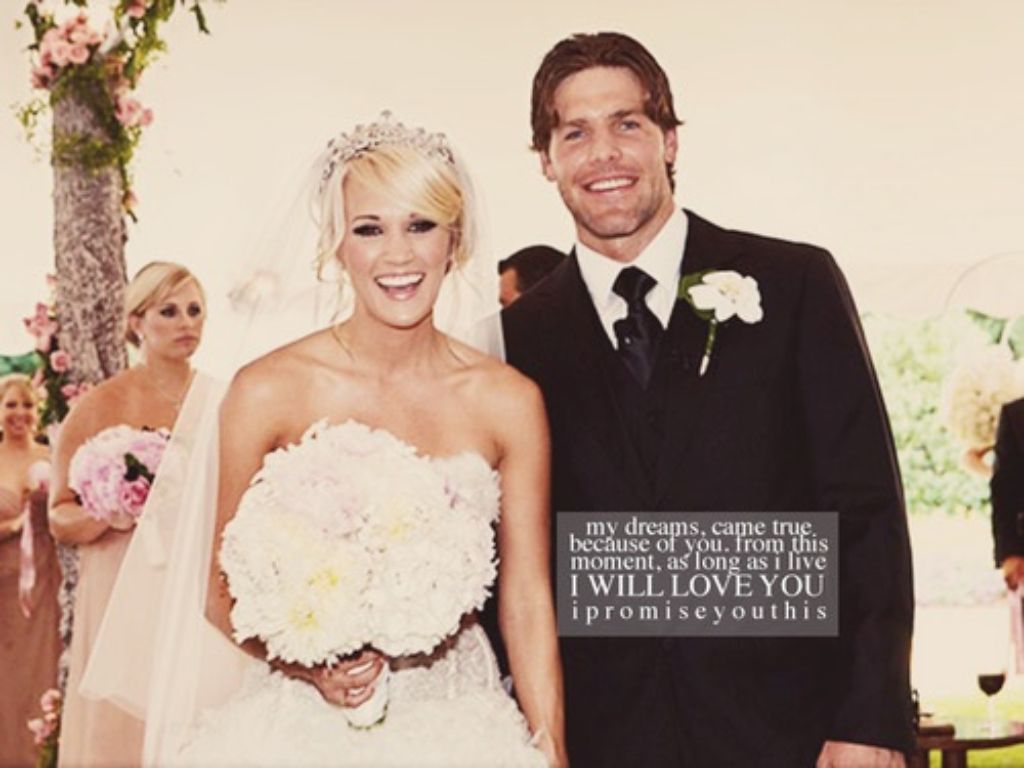 Image source: pinterest.com
No expense was spared for the lavish wedding between Carrie and Mike. They hired the resort of the Ritz Carlton Lodge for the entire weekend, costing them a whopping $500,000. They even in fact redecorated the hotels decor by replacing the rugs and soft furnishings with their very own 'CM' logo!
26: David and Victoria Beckham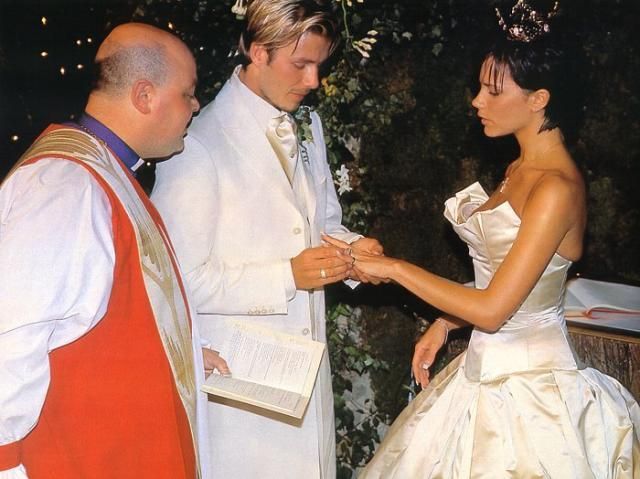 Image source: Reddit
One of the most famous couples of all time are currently celebrating 23 years married. They chose to tie the knot in a rather intimate ($800,000) ceremony in Ireland, UK, 'although media pictures made it look more lavish than what it was', Victoria says. The Spice girls were obviously present and Elton John was meant to perform, until he had his heart attack!
25: Khloe Kardashian and Lamar Odom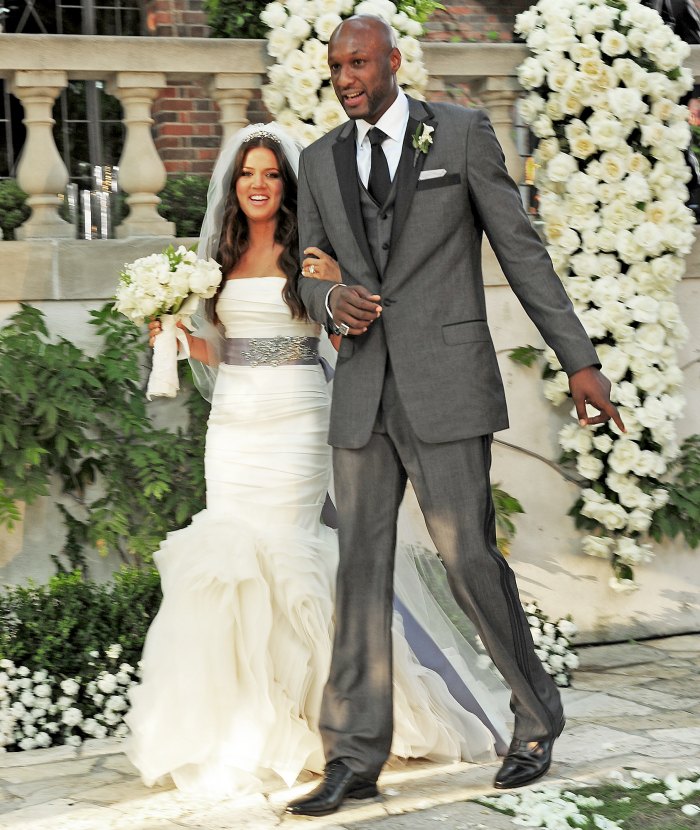 Image source: USmagazine.com
Khloe and Lamar decided to tie the knot after having only dated for 1 month! The $1 Million affair is said to be one of the most romantic weddings of all time, with Khloe Kardashian wearing a custom Vera Wang silk gown and it being held in a private mansion.
24: Donald and Melania Trump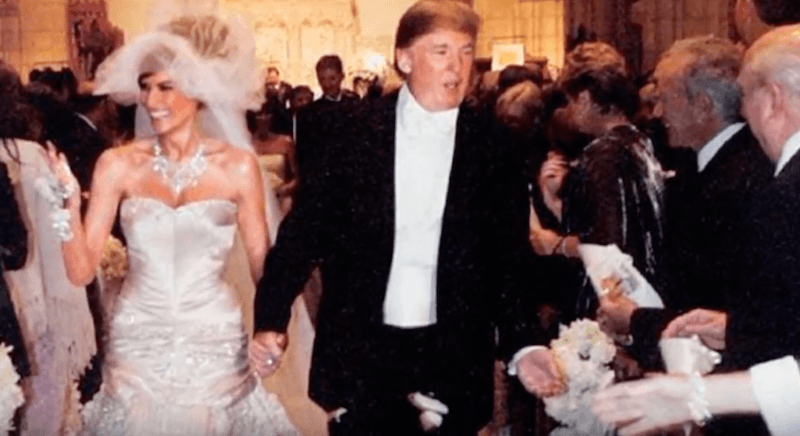 Image source: Reddit
A wedding to suit 'the lifestyle of the rich and famous' was that of Donald and Melania Trump. The $1 Million ceremony saw them surrounded by 10,000 flowers, a gown worth more than most American homes and a diamond ring more expensive than most yachts!
23: Brad Pitt and Jennifer Aniston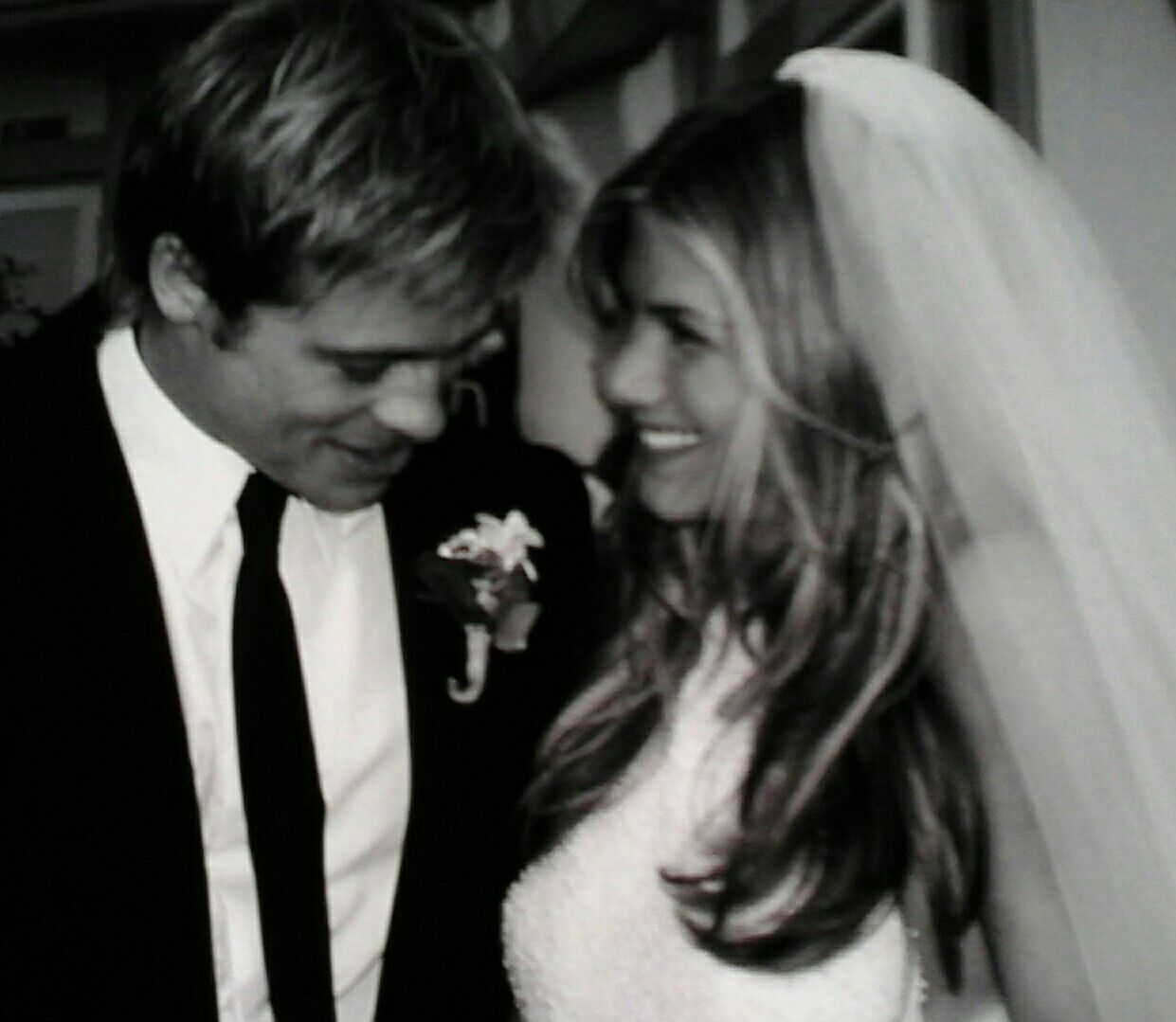 Image source: pinterest.com
A five acre, multi-million dollar Malibu clifftop estate, with stunning views of the Pacific Ocean, graced the wedding of Brad Pitt and Jennifer Aniston. These nation sweethearts tied the knot in their $1 Million wedding which saw the venue being covered in 50,000 flowers, a $15,000 firework display on a private barge and restricted airspace to avoid the paps!
22: Anne Hathaway and Adam Shulman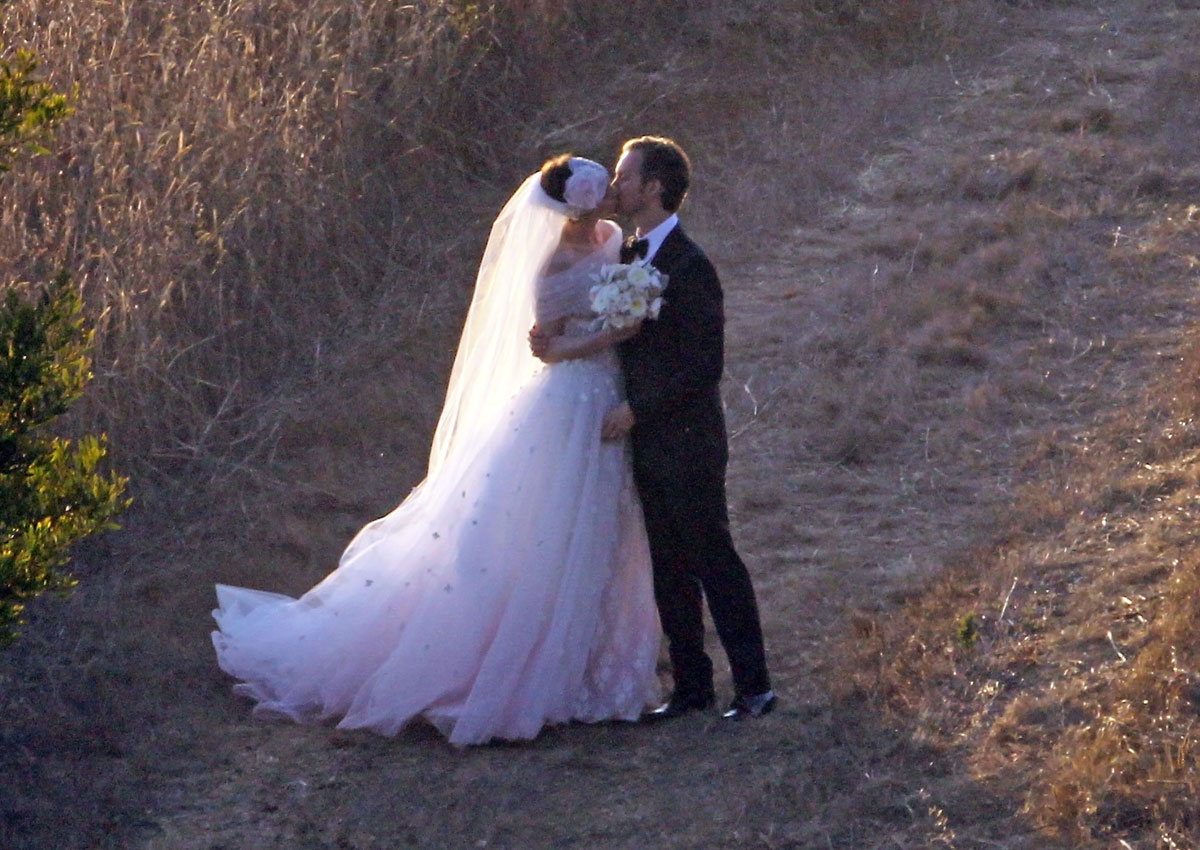 Image source: hawtcelebs.com
Anne and Adam spent $1 Million of their 'rustic' wedding in Big Sur, California. Anne wore a custom Valentino Garavani wedding dress and was surrounded by $100,000 worth of flowers. They were joined by 150 members of their friends and family, no celebs in sight!
21: Jessica Simpson and Eric Johnson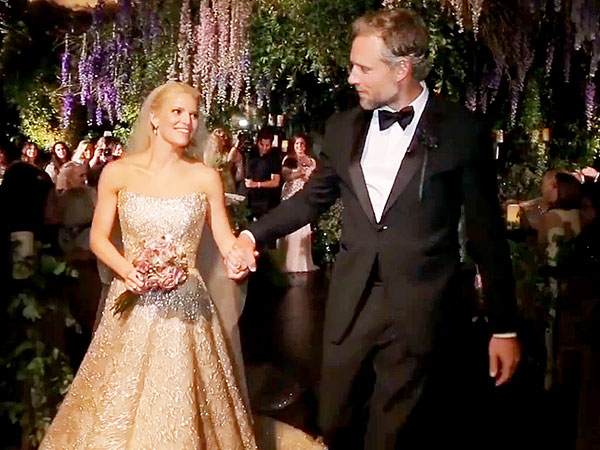 Image source: people.com
Jessica Simpson and Eric Johnson tied the knot during a four day celebration with their 250 friends and family. Their intimate ceremony saw both of their children being ring bearers and stealing the show but getting standing ovations for walking down the aisle. Their $1.4 Million wedding saw them spend $750,000 on dressing the bridal and groom parties!
20: Tiger Woods and Elin Nordegren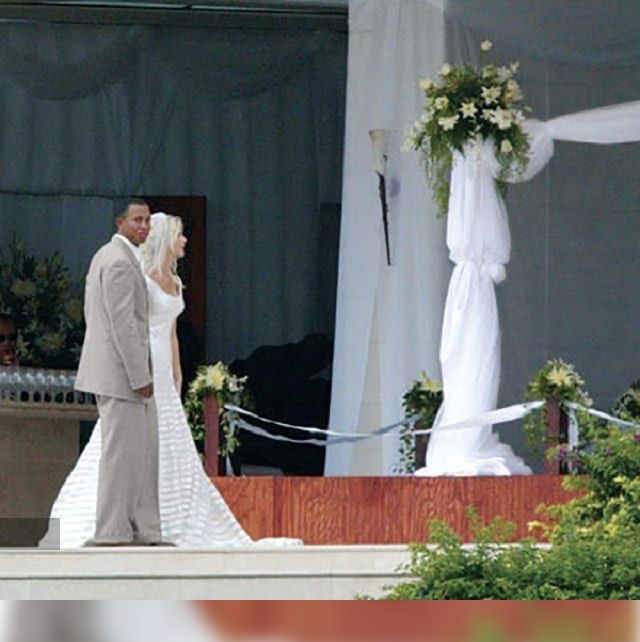 Image source: pinterest.co.uk
Tiger Woods married Swedish-born Elin Nordegren in a private ceremony in Barbados that lasted five days and cost a whopping $1.5 Million! The couple kept their engagement and wedding details a secret, until the day before! Can you imagine the rush to find an outfit...?
19: Pierce Brosnan and Keely Shaye Smith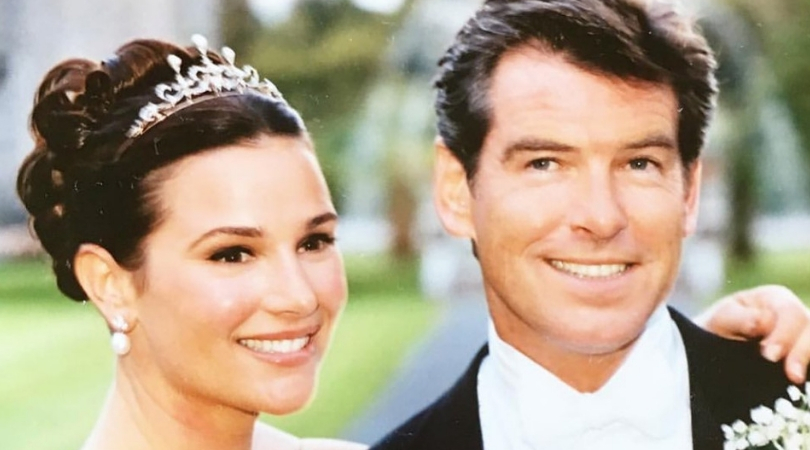 Image source: rare.us
The James Bond actor tied the knot to his second wife Keely in 2001. The $1.5 Million wedding was held at an Irish castle with over 100 guests and saw Keely draped in a timeless gown, teamed with pearl drop earrings. The two danced the night away and are said to still be as loved up today as they were on their magical day.
18: Eddie Murphy and Nicole Mitchell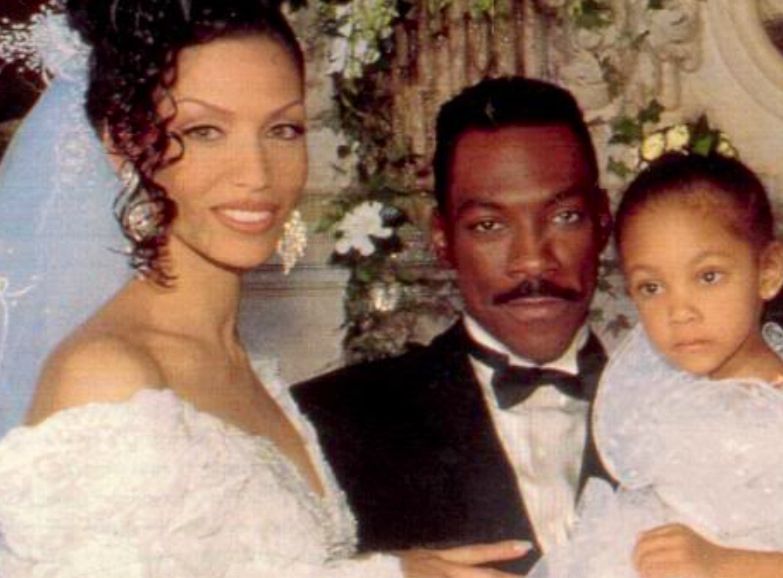 Image source: pinterest.com
Eddie Murphy and Nicole Mitchell graced the Plaza Hotel with yet another wedding with their $1.5 Million ceremony. Their wedding was a little different however as they decided to donate all of their flowers from the wedding ceremony and reception to a hospital in Harlem! How lovely!
17: Elton John and David Furnish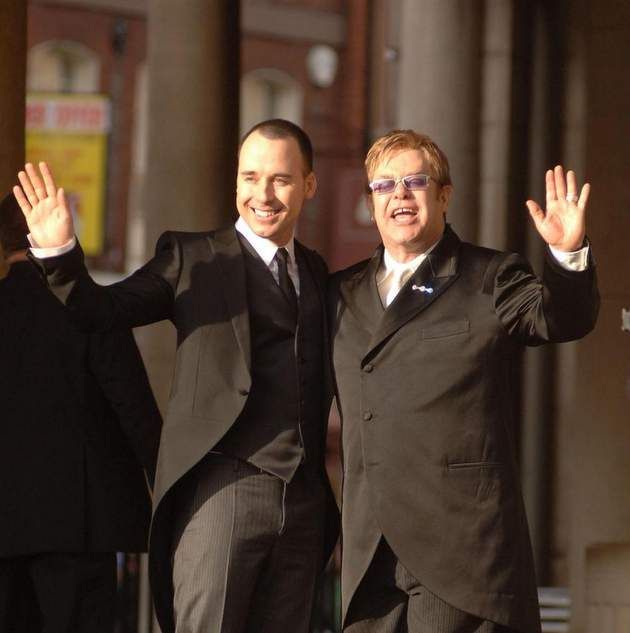 Image source: pinterest.com
Elton John getting married was sure to be a beautifully unique and magical experience, just like him! He tied the knot to David Furnish for $1.5 Million and got married in the same place and Prince Charles and Camilla! They had over 600 guests attending and it really was the wedding of the year that you wanted to be at.
16: Elizabeth Taylor and Larry Fortensky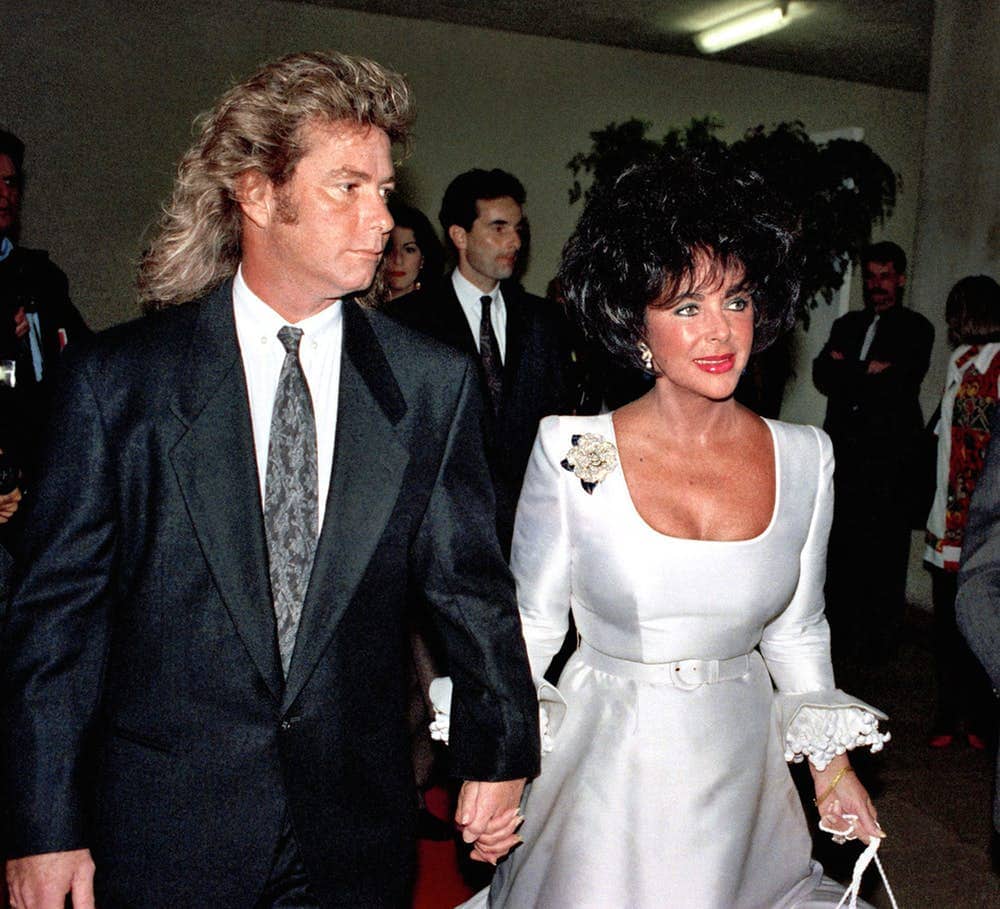 Image source: ninjajournalist.com
For Elizabeth's eighth and final wedding, she married Larry Fortensky. Their ceremony was held at Michael Jackson's Neverland ranch and cost a small fee of $1.5 Million, seeing over 100 security guards present. Elizabeth found herself in hospital the next day though! A routine appointment apparently.
15: Madonna and Guy Ritchie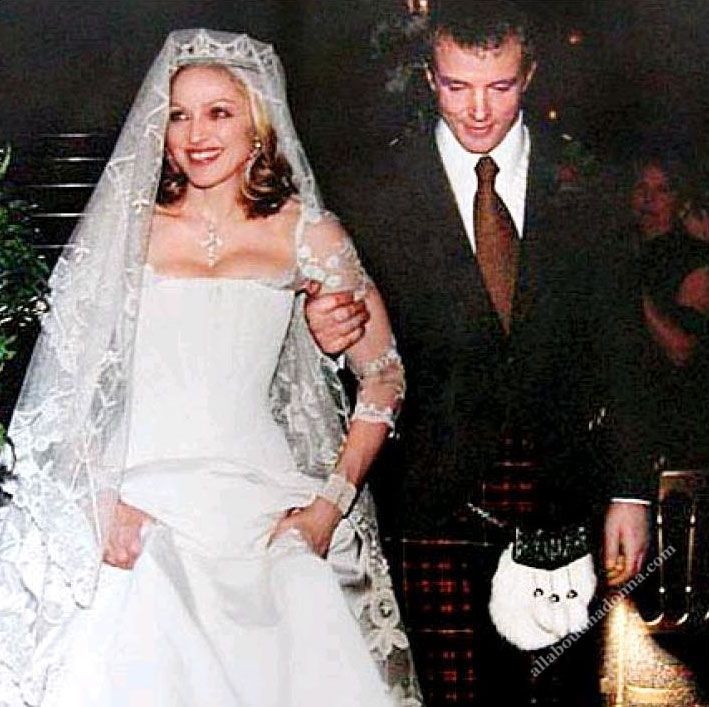 Image source: pinterest.com.mx
The Most famous and most photographed woman married Guy Ritchie in a largely private ceremony - impressive I know! The couple spent a causal $1.5 Million on their big day with Madonna wearing a 1910 diamond tiara, once worn by Princess Grace Kelly of Monaco!
14: Kate Moss and Jamie Hinch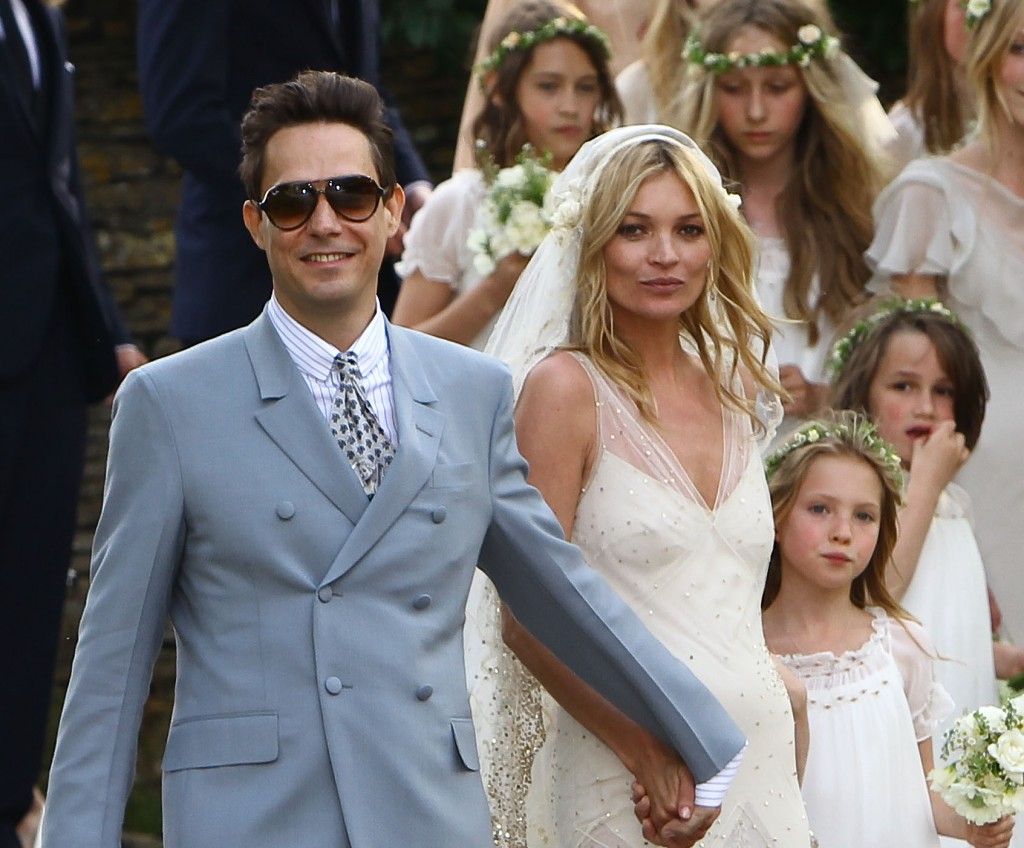 Image source: pinterest.com
Supermodel Kate Moss married Jamie Hinch during a $1.6 Million wedding ceremony held in the Cotswolds, Uk during a three day event. This exclusive couple were privileged enough to have none other than Princess Diana's favourite photographer capturing their special day.
13: Christina Aguilera and Jordan Bratman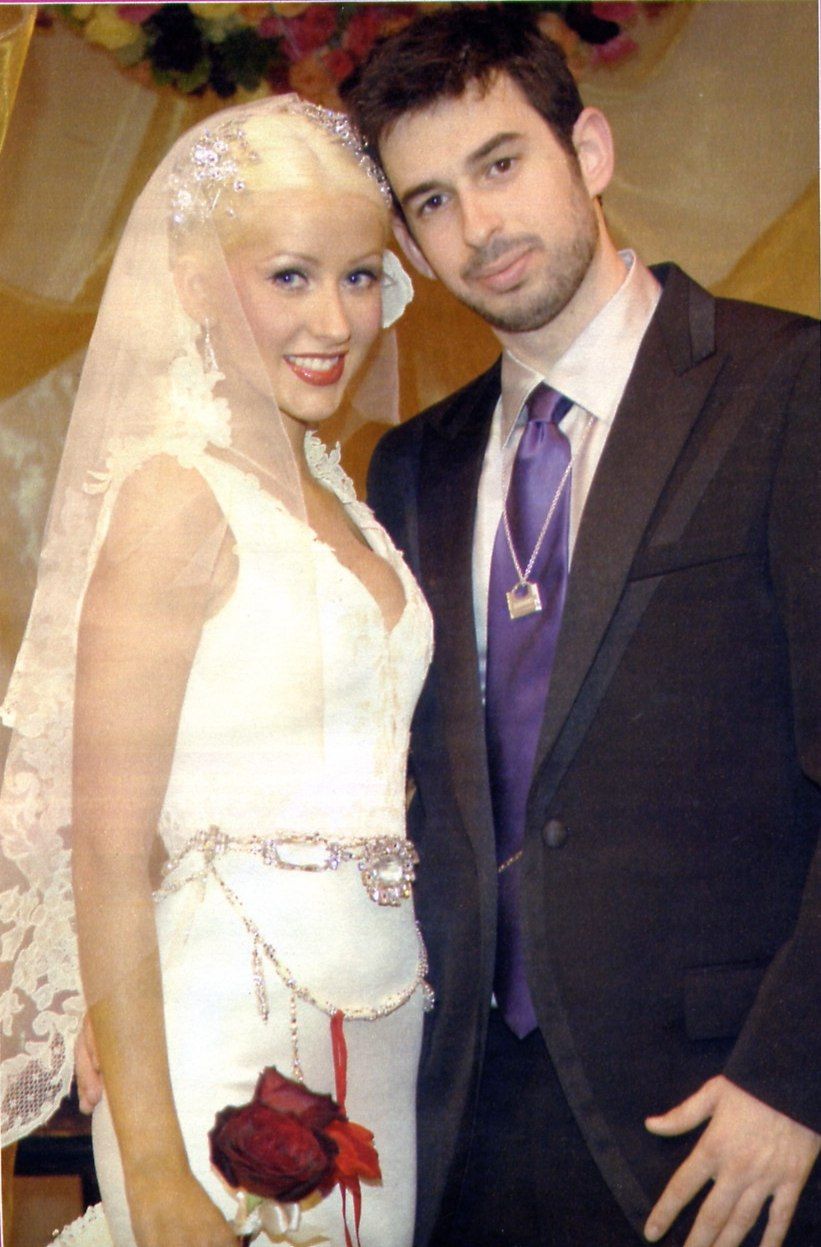 Image source: pinterest.de
Christina and Jordan met in 2002 and got married three years later in a rather intimate ceremony in Napa Valley, California. The $2 Million affair saw her entering in an $80,000 wedding dress with 150 guests watching on in awe. The couple are no longer together but are amicably bringing up their son they share.
12: Elizabeth Hurley and Aran Nayar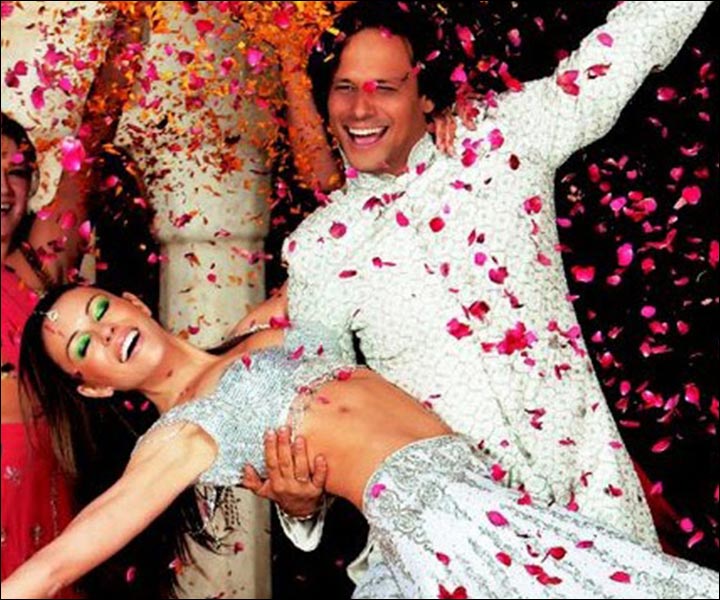 Image source: thebridalbox.com
Elizabeth Hurley and Aran's wedding has much been talked about for years. The couple ended up having two ceremonies to mark the occasion, totalling to a hefty $2.5 Million: one traditional wedding in a castle and one Hindu wedding to mark Nayar's heritage. Such an expense when they were only married for two years!
11: Kim Kardashian and Kanye West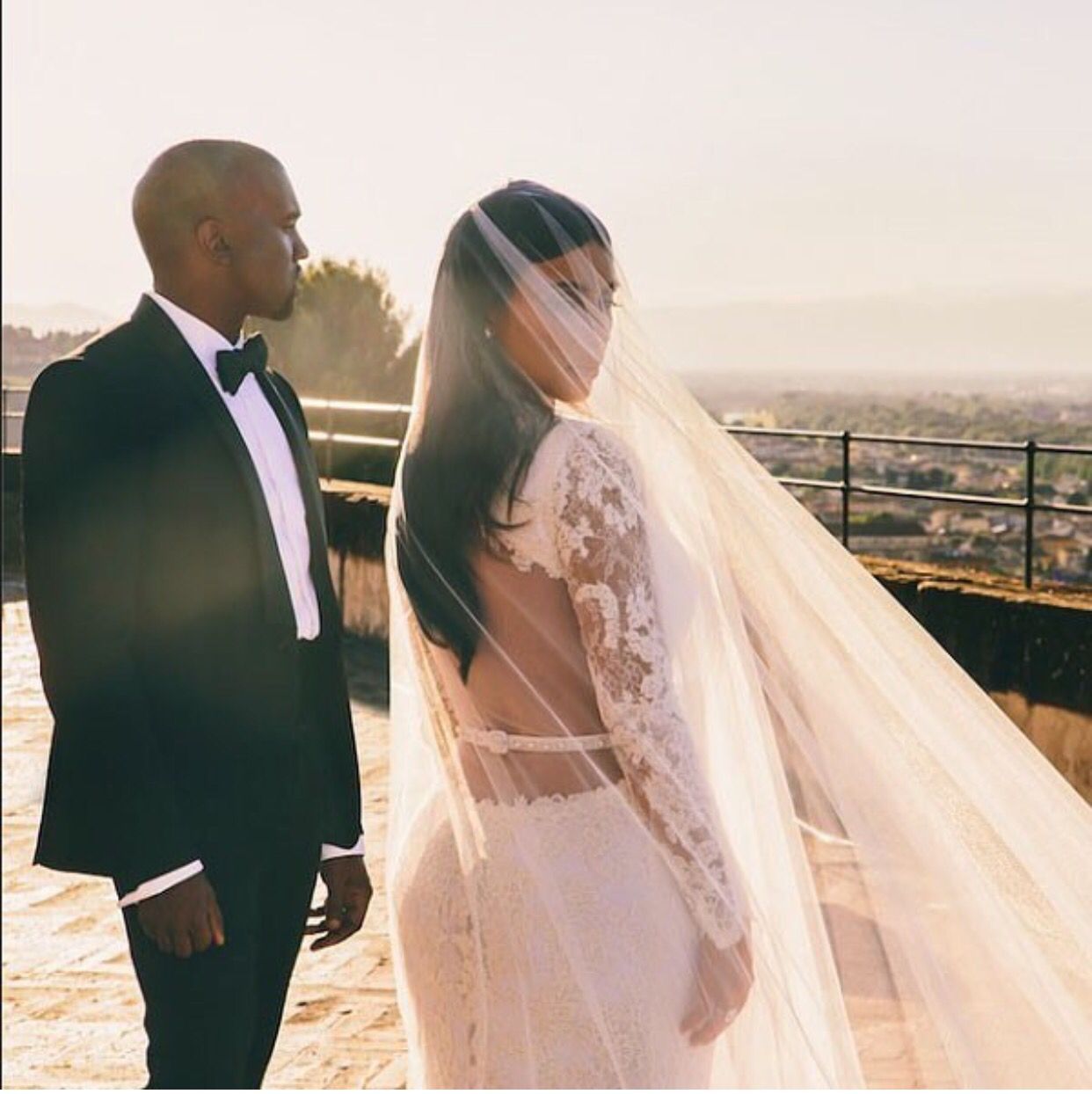 Image source: pinterest.com
Kim Kardashian and Kanye West spent around $2.8 Million on their wedding ceremony, not including the private pre-parties, hen parties and elaborate rehearsal dinner for 600 people. Kim walked in in a $178,000 dress by couture wedding dress designer, Riccardo Tisci.
10: Tom Cruise and Katie Holmes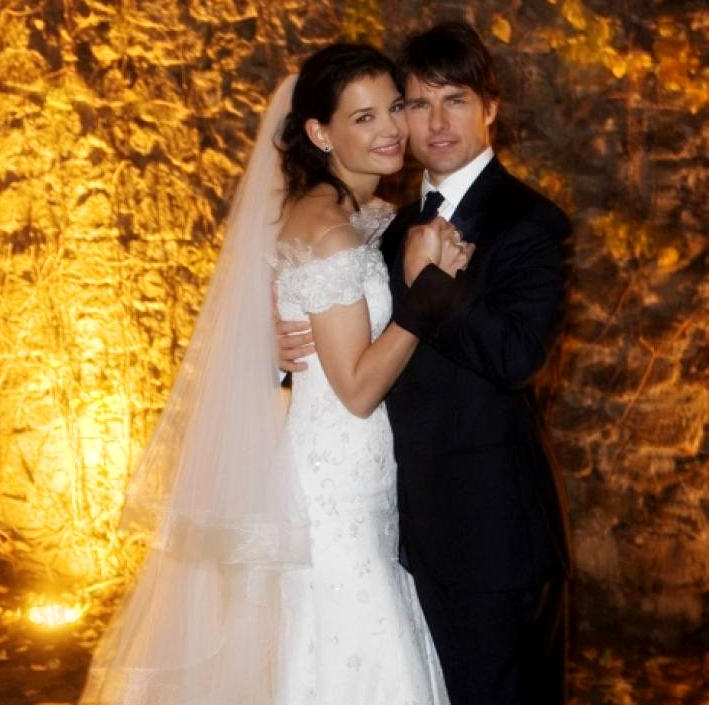 Image source: becomegorgeous.com
The beautiful wedding of Tom Cruise and Katie Holmes was held in an Italian castle where they had their entire wedding party wearing nothing other than, Armani! No wonder the wedding rang up a $3 Million total! Katie's dress itself took 350 hours to place every crystal single handedly.
9: Paul McCartney and Heather Mills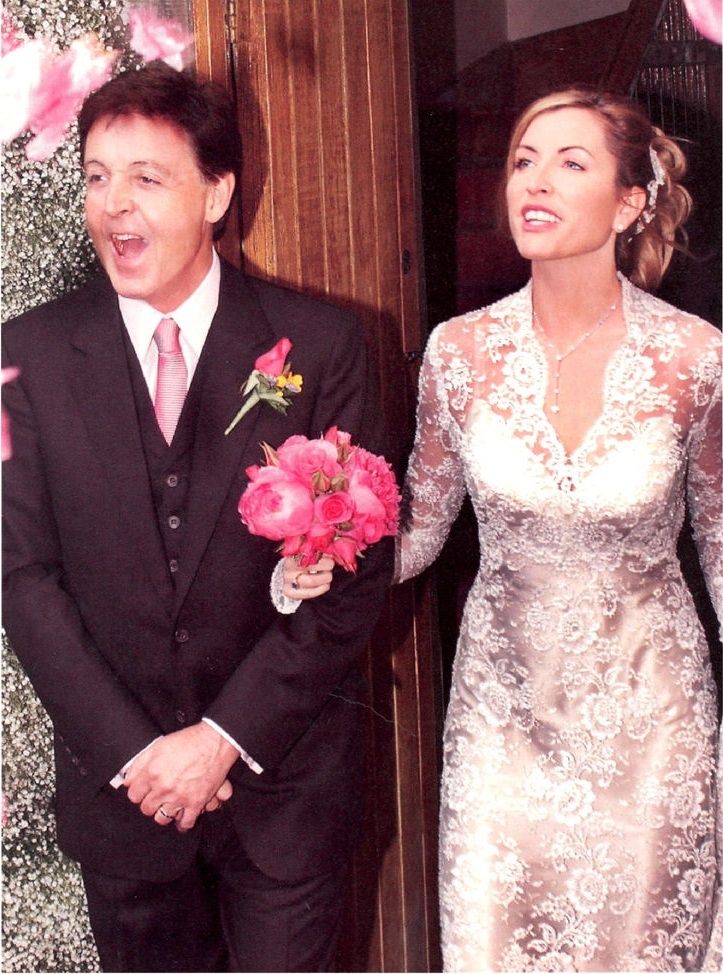 Image source: pinterest.com
For Paul McCartney's second wedding, he married none other than Heather Mills. The tied the knot in a $3 Million ceremony, held in a remote castle in Ireland. 300 friends and family were invited, however it was strictly a vegetarian only wedding! Sorry meat eaters, you're not invited!
8: Liza Menelli and David Gest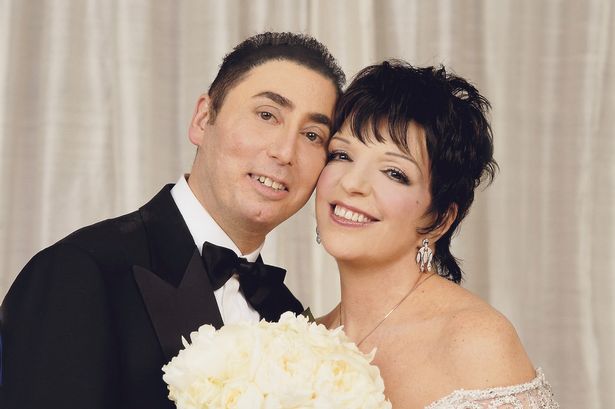 Image source: ok.co.uk
Producer David Gest married Liza Menelli in a $3.5 Million ceremony that saw a large guest list of 850 people attending! Elizabeth Taylor was casually Liza's maid of honour and they had 60 piece orchestra to mark their special day. It's a shame the marriage only last one year after all of that!
7: George and Amal Clooney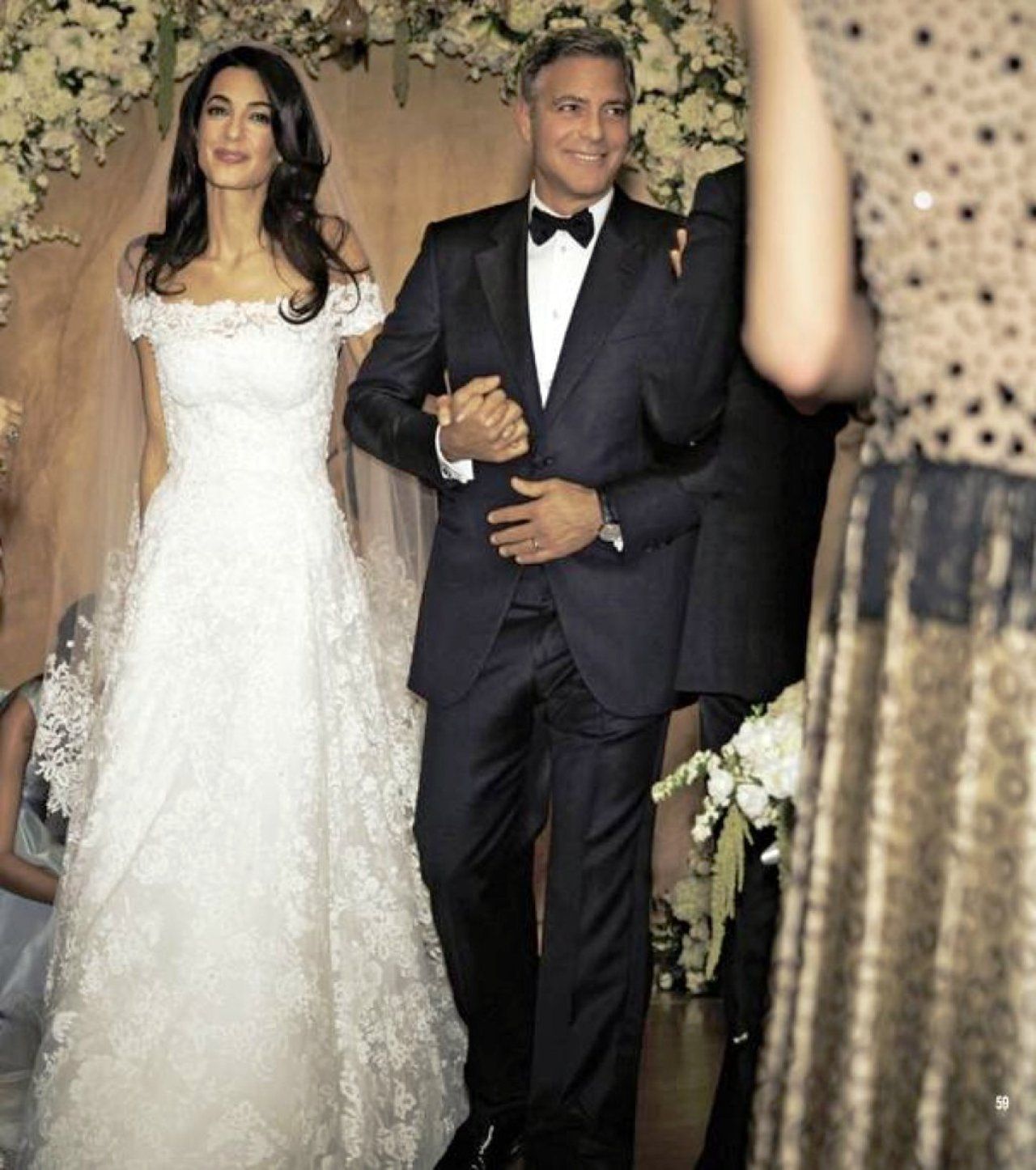 Image source: pinterest.com
George and Amal arrived at their $4.6 Million Italian wedding by water taxi with their friends and family. It was actually a remarkably cheap wedding believe it or not! That's because they decided to spend a whopping $3 Million on housing all of their guests for their special occasion.
6: Wayne Rooney and Coleen McLoughlin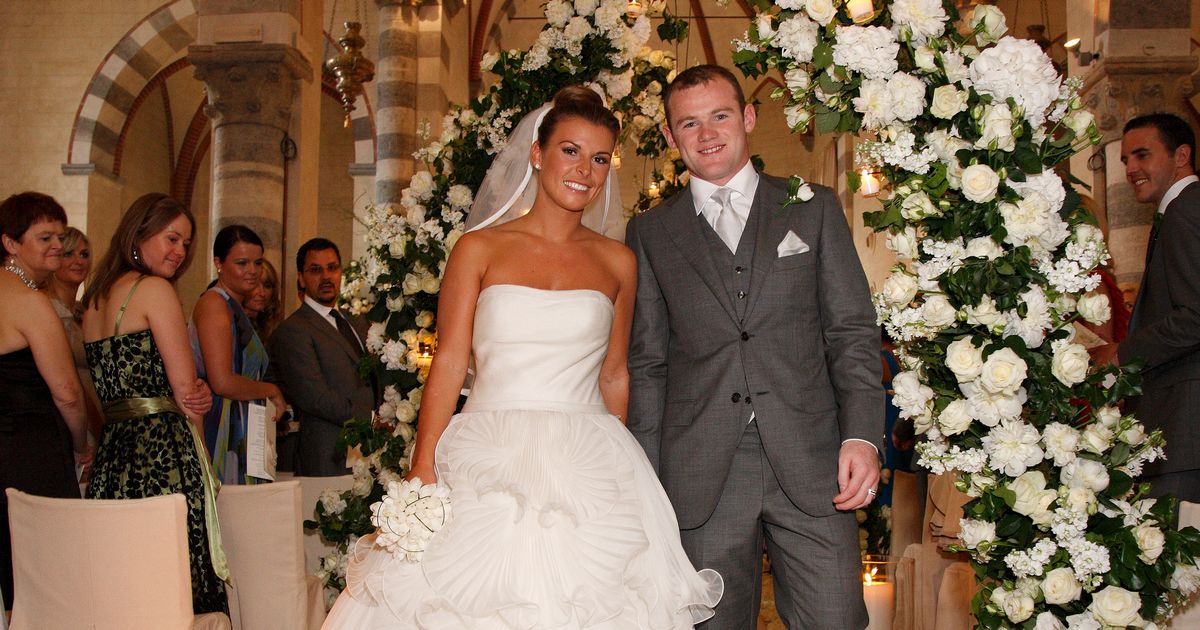 Image source: ok.co.uk
Another stunningly Italian wedding was that of the soccer star Wayne Rooney and Coleen McLoughlin. The couple spent $5 Million on their special day which saw 64 of their closes friends and family join them for their special day - a real intimate affair!
5: Justin Timberlake and Jessica Biel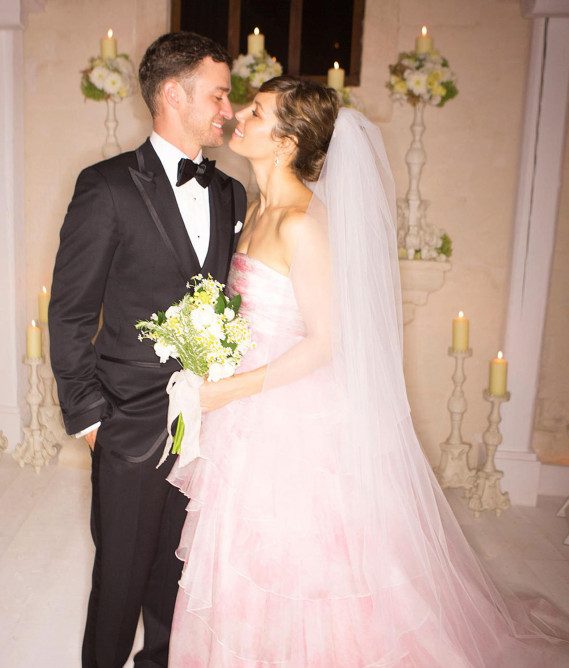 Image source: huffingtonpost.co.uk
Fun fact about the wedding of Justing Timberlake to Jessica Biel is that the stunning bride went rogue and wore a $100,000 blush pink dress to mark the occasion. The $6.5 Million romantic, Italian ceremony was celebrated with 100 guests and had Justin serenading his wife.
4: Michael Jordan and Yvette Prieto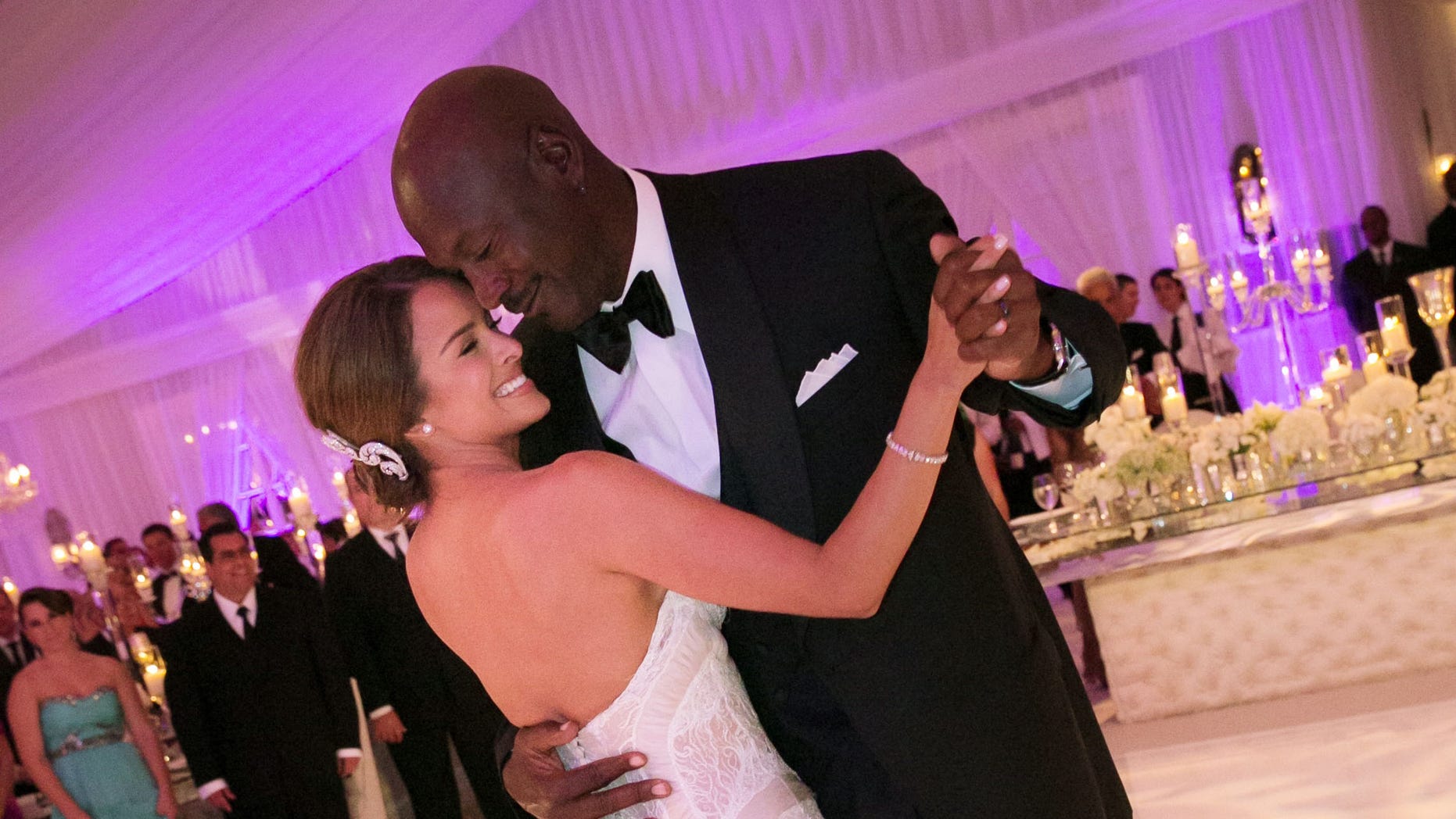 Image source: foxnews.com
The basketball legend that is Michael Jordan married his second wife and sweetheart in a $10 Million do in Juniper, Florida. Over 300 people attended and arrived via tour bus, later to join the happy couple at their newly built home at the Bears Club, a purpose built golf estate by Jack Nicklaus.
3: Kim Kardashian and Kris Humphries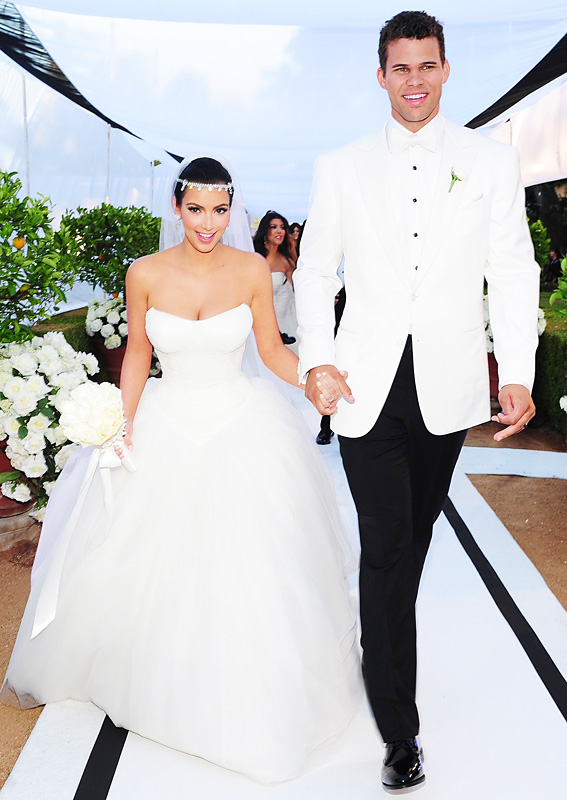 Image source: instyle.com
One of the most lavish celebrity weddings of all time was Kim Kardashian's wedding to Kris Humphries. Although it didn't last long, it did cost a small $10 Million which later aired as a two-part series for their TV show, 'Keeping up with the Kardashians' - 72 day marriage must be a new record!
2: Prince William and Kate Middleton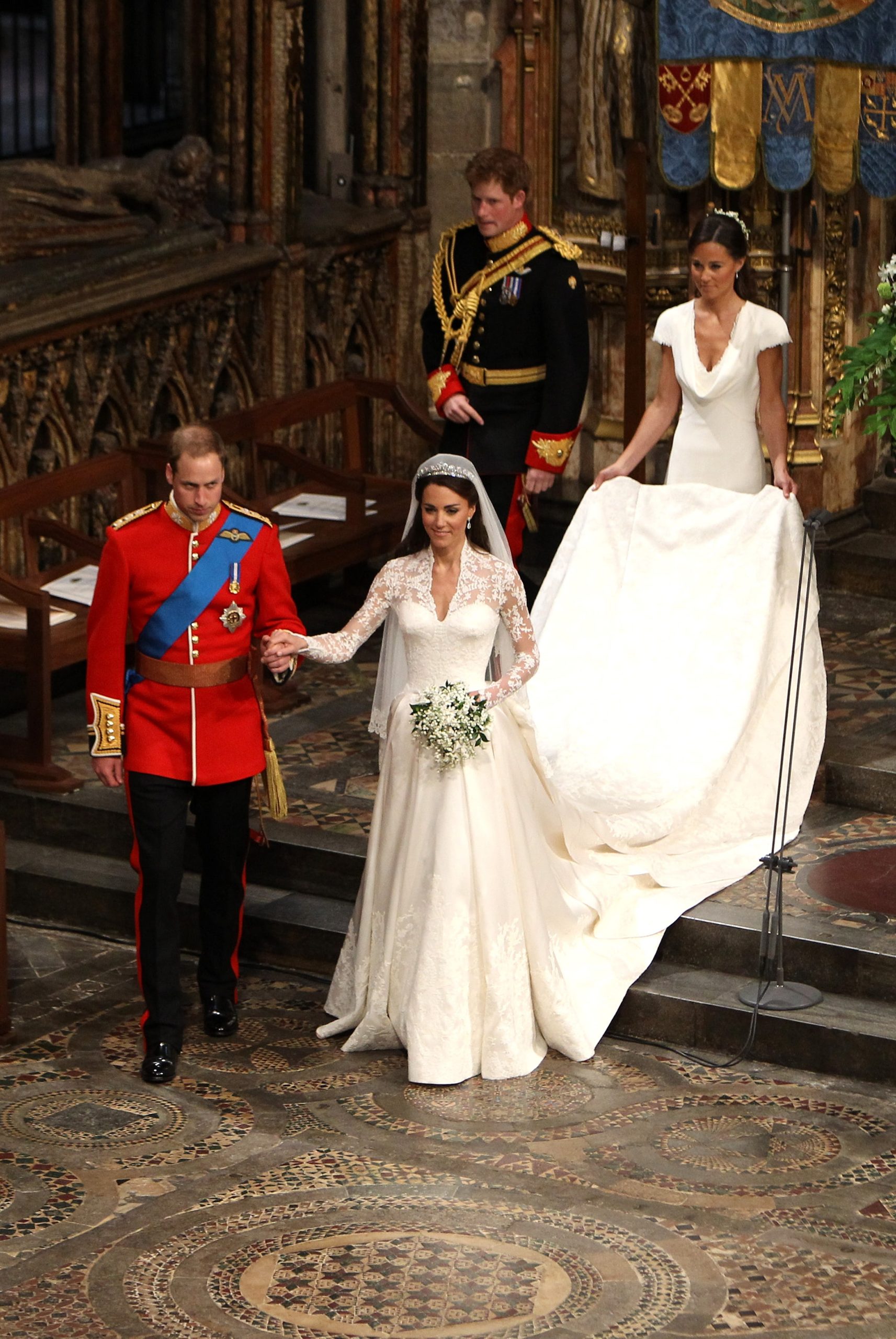 Image source: bustle.com
When you're a member of the royal family, you know you're having an elaborate affair for a wedding, televised and watched by millions of the general public. The wedding of Prince William and Kate Middleton was no different and this $34 Million wedding took centre stage!
1: Prince Charles and Princess Diana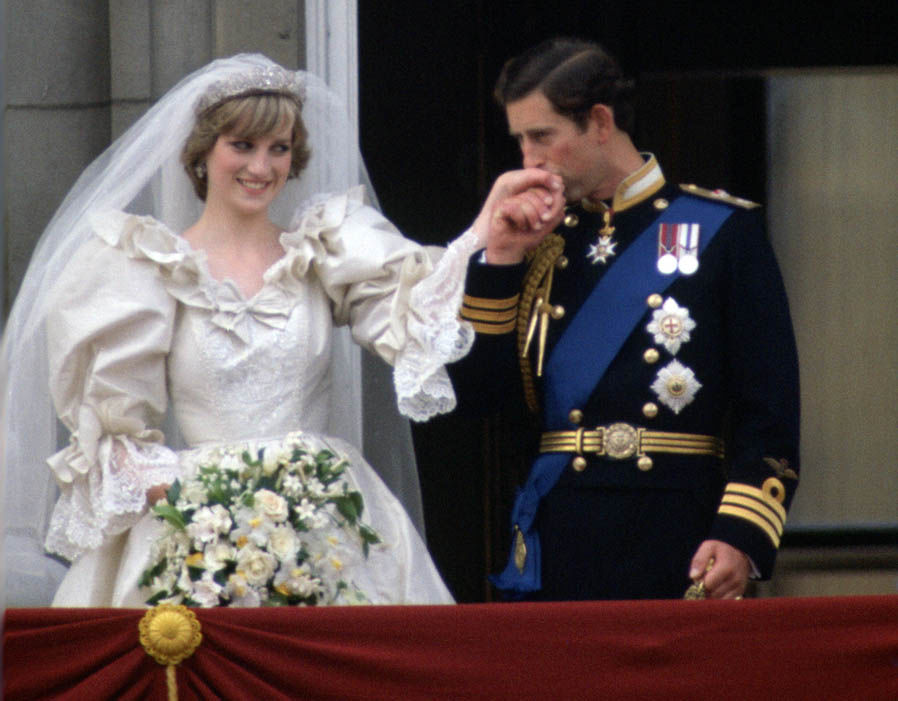 Image source: express.co.uk
The wedding of Prince Charles and Lady Diana Spencer took place at St. Pauls Cathedral, London and cost a staggering $48 Million! Diana looked incredible, followed by a 25-foot train - the longest in history for the royals. The wedding ceremony was a traditional wedding service and was watched on my millions of viewers - a real spectacle!