1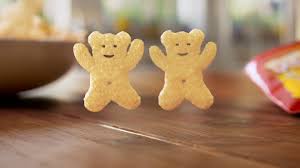 What are these crisps called?
TEST YOURSELF: Guess These Crisps Without Seeing Their Wrappers?
Share Your Results!
Have you ever met anyone who doesn't love crisps? We all remember opening up our packed lunch in school and praying that we had our favourite flavour in there. Let's face it – the tastier your crisps, the cooler you were. I spent most days jealous of my friends with Doritos, when my mum's idea of a Friday treat was a small bag of healthy veggie bites (school was tough!).
Walkers, Britain's largest crisp manufacturer, turns out 3 tonnes of crisps an hour – that's nearly 120,000 packets! So, whether you're a cheese and onion kind of person or a ready salted (seriously, they're the worst!) guy, this figure alone proves just how much us Brits love munching on a good packet of crisps.
So, you think you love your crisps? Consume at least two packets a day? Call yourself a crisp connoisseur? Well, we've put together a quiz to see how much you really know about crisps.
All you have to do is guess what crisp you see in the picture… the only thing is you will not be able to see the crisp packet. Good luck!