1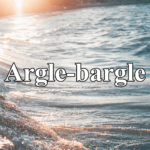 Argle-bargle
QUIZ: Only 7% Of People Can Tell If These Words Are Real Or Not
You got out of !
Share Your Results!
In the English language there are more than a million total words, about 170,000 words in current use, and 20,000-30,000 words used by each individual person.
There are, of course, some weird and wonderful words that titilate our brain cells but can you distinguish between which ones are real and which ones are not?
You might want to incorporate some of these into your every vocab!