1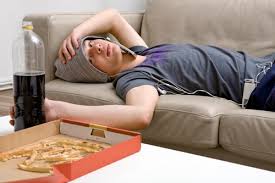 First off: do you think you're lazy?
Yes, definitely
I can be sometimes
No way
QUIZ: We'll Guess Your Bra Size Based On How Lazy You Are
Share Your Results!
No one likes getting out of bed in the morning – 'just a bit longer' is always a great mantra – but there's a fine line between being comfortable and calling in sick to work for a week just to avoid untangling yourself from the covers.
But how lazy are you exactly?
Can you remember the last time you took a shower, washed your clothes, went out of the house, or made a home-cooked meal without reaching for the takeaway menu? Does picking up the phone to order your food even feel like too much exercise?
There's nothing wrong with taking it easy every now and again, especially with a hectic life, but how much does laziness seep in to everything you do? It's so easy to do everything these days without moving much, whether it's streaming TV shows, telling Alexa to do something for you or Facetiming your favourite person to bring you something from the other room.
Sloth is one of the Seven Deadly Sins, after all…
So complete this quiz (if you can be bothered) and we'll reveal your bra size based on how lazy you are!