Popular Tourist Attractions That No Longer Exist Because We've Destroyed Them
The Original Penn Station

Image Source: Reddit
An architectural marvel that took you back to the past century, Penn Station was an enthralling walk down memory lane. We took it down, however, in favor of more modern transport systems, and thus we're left with nothing but fond memories. However, some tracks and platforms of yesteryears remain.
The Stardust Hotel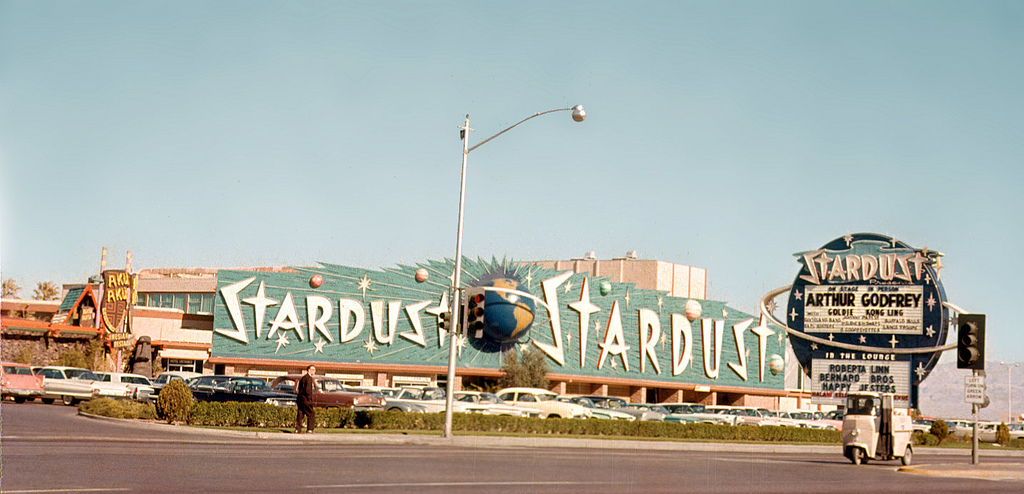 Image Source: Reddit
Over the years, the City of Angels has become famous for its iconic hotels. The Stardust Hotel and Casino grabbed the headlines, proving a beacon for tourists. Unfortunately, you can't visit it anymore as it has become yet another casualty of Los Angeles's rebuilding journey.
River Country

Image Source: Reddit
Walt Disney's River Country was selling tickets like hot cake back in its heydays. It was one of the earliest fully-themed water parks and was always the talk of the town. Corporate greed would be its undoing, as the company shut it down in favor of ventures it thought to be more lucrative.
Sutro Baths

Image Source: Reddit
You never fail to spot a tourist wandering about in the curious and enthralling streets of San Francisco. While the town continues to attract interest, it is one short of a popular gem in the Sutro Baths. The owners tore it down to build a skating rink in a desperate attempt to turn a profit.
Duckbill Rock

Image Source: Reddit
I always found this sandstone Hoodoo quite humorous. It was a curious rock formation that looked breathtaking in the sunset. Sadly, it will never quack again, as Duckbill Rock fell at the hands of vandal tourists. It's preposterous that, despite being caught on camera, the culprits remain at large.
Jump Off Joe

Image Source: Reddit
A combination of human activity and mother nature ensured the downfall of Jump Off Joe. What was once a towering landmark and a tourist mecca remains only but a handful of mundane rubble and stone. Human construction altered the tide to accelerate its erosion and seal its fate.
Palisades Amusement Park

Image Source: Pinterest
Between 1890 and 1970s, this amusement park was full of pleasure seekers who thronged its premises to get a taste of the daredevil rides and the sand. Today, a gathering of high rises occupy the land, with the initial park torn down after complaints regarding the crowds. Way to go, New Jersey.
Metropolitan Opera House

Image Source: Reddit
Would you like to visit the "old met" your parents never shut up about? You can't. Once a haven for tourists with an appreciation for fine music, the building survived the first attempt on its life in 1930. With new-age competition stealing attention, it finally met the wrecking ball 37 years later.
Hippodrome Theatre

Image Source: Reddit
The Great Depression claimed a lot of architectural casualties across the Big Apple. Hippodrome Theatre was one of them. Once a lavish theatre known for reeling in masses keen to witness the circus animals and Harry Houdini up close, we thought a ritzy office block would look better in its stead.
Honey Run Bridge

Image Source: Reddit
The mesmerizing Honey Run Bridge was no match for the campfires of 2018. 131 years of history went up in flames, and it was all gone in an instant. There are plans to reconstruct it from the ash, but I doubt it'll ever be the same again. All we're truly left with are pictures of what was.
Action Park

Image Source: Sports Illustrated
People got hurt so often that Action Park earned its infamous sobriquet, "Accident Park." It claimed over six lives during its run. But the tourists kept coming because, if you didn't get hurt here, you weren't having fun "right." The authorities finally took notice and intervened.
Heritage Park

Image Source: Road Trip Alberta
While a hurricane technically took out Heritage Park, our hands are by no means clean. Especially not those of Jim Bakker, the park's founder. His less-than-honest financial dealings resulted in his conviction, leaving the park uncared for, hence paving the way for its permanent closure.
Dogpatch

Image Source: Reddit
You may have noticed a theme of amusement parks going under. Well, that's because managing one is no walk in the park. Although a hit right out of the bat, poor mismanagement sent Dogpatch to its knees and eventually to its grave. The abandoned structures remain as echoes of a livelier past.
Midway Gardens

Image Source: Reddit
Frank Lloyd's Midway Gardens was a tourist hotspot long before I was born. It was a spectacular indoor/outdoor entertainment facility torn down in 1929. After ownership was tossed around like a game of hot potato, it was finally demolished in favor of something new.
Chicago Federal Building

Image Source: Reddit
The Midwest's federal courts called home the Chicago Federal Building until 1905. Preservationists fought tooth and nail to protect the building when news of its proposed demolition surfaced. Unfortunately, they were unsurprisingly unsuccessful as, after all, the move was backed by Congress.
The OG Madison Square Garden

Image Source: Reddit
No, not the neon-stuffed Madison Square Garden that you know and love. The less colorful one that never made it past 1889. Even then, the original Madison Square Garden attracted thousands of tourists who crossed several national borders to get a feel of its whitewashed gorgeousness.
Beacon Towers

Image Source: Reddit
New York seems to have a vendetta against the treasures of the old, and Beacon Towers provides yet another example. It was the epitome of Gilded Age architecture and attracted high-profile visitors from afar. New homes have since taken up its position, but the gatehouse endures.
Disney's Discovery Island

Image Source: Reddit
You cannot get within 50 feet of Discover Island today. But that wasn't always the case. Until 1999, the park was the place to go for a fun outing on a blissful island. Allegations of Disney workers abusing birds thinned the crowds, and this was partly responsible for its closure.
Morning Glory Pool

Image Source: Reddit
During its glory days, the Morning Glory Pool was famous for its tropical blue hues. Today, this attraction is on its deathbed due to the countless amount of litter that tourists have thrown into it over the years. The pool's original color has changed forever.
Candlestick Park

Image Source: Reddit
Named after the candlestick birds in the surrounding ecosystem, Candlestick Park was destroyed to make way for modern buildings. Before that, though, it was an iconic baseball stadium that later housed the San Francisco NFL team. It drew large crowds, but it today remains as abandoned as a graveyard.
Hotel Astor

Image Source: Reddit
When you visited Times Square, it was almost a rite of passage not to leave before you experienced the awe of Hotel Astor. We'll never know how that feels, with high-rise buildings taking place as New York continues to obliterate any traces of our architectural lineage.
Original Yankee Stadium

Image Source: Reddit
Have you ever wondered why they knocked down the old Yankee Stadium? Well, it's now Heritage Field, a rather eye-catching park complex that I recommend you visit. The original Yankee Stadium was destroyed because the Yankees had found a new place to call home.
Chippewa Lake Park

Image Source: Reddit
Next up on our list, we mourn the tragic demise of Chippewa Lake Park, which went toe to toe with big names during its heydays. So what happened? You can point the finger of blame at government/company battles and arson. All that's left standing is a haunting Ferris Wheel.
Washington Coliseum

Image Source: WTOP
Formerly known as Uline Arena, this indoor stadium was a hit with tourists and was known for hosting high-profile concerts. Sadly, it's lights out at the Coliseum after it was demolished. This followed its abandonment and locals turning it into their dump zone.
Goblin Rocks of Utah

Image Source: Reddit
A Do-not-touch sign wasn't enough to prevent three idiot tourists from touching the ancient rocks. In their defense, they said they were eliminating a "safety hazard." I'm glad the judge wasn't buying their story and handed them a year of probation. Still, I feel they got off easy.
Racetrack Playa

Image Source: Reddit
I know it's called Racetrack Playa, but that doesn't mean you should drift on your SUV atop a natural wonder and leave tire marks everywhere. An unknown tourist permanently defaced this dry lake by doing just that. It's things like this that make me ashamed to be called human.
Devil's Hole pupfish

Image Source: Reddit
Pupfish are critically endangered and are less than 400 worldwide. In the heat of a drunk escapade that entailed skinny dipping and gunfire, a couple of morons saw the demise of a pupfish resident of Devil's Hole. I'm pleased to report that all perpetrators were sentenced.
Everglades National Park

Image Source: Tripadvisor
The Everglades National Park is edging closer to the end, and we helped push it to the brink when we erected flood control structures, messing with the wetlands. Additionally, air pollution has done the park no favors either. Some of the biodiversity has died as a result.
Glaciers of Glacier National Park

Image Source: Reddit
We are largely responsible for global warming, which has destroyed some of the majestic glaciers of Glacier National Park. From 80 glaciers in 1850, we're down to just 25, and their days are numbered too. Pretty soon, this may just be another national park and nothing more.
"The Senator"
Image Source: Reddit
The planet's oldest cypress tree (and the fifth oldest tree overall) is no more, and I'll tell you that this was no act of nature. It was the doings of a moron who, for some reason, thought it would be a great idea to set ablaze a 3,500-year-old tree. She rightfully got 2½ years in prison.