Iconic Movie Locations You Can Visit In Each State
By Aaron Love
2 months ago
The Yuma Desert, Arizona
Image Source: Reddit
The Yuma Desert in Arizona is actually known to have featured in a whole range of things on our screens over the years, no more perhaps than within the original Star Wars trilogy. Obviously there isn't any leftover set anymore and you aren't going to run into R2D2 or Darth Vader anymore but it would still be a pretty cool place for a Star Wars nerd to spend their days.
Redwood National Park, California

Image Source: Reddit
From one infamous setting of the Star Wars movies to another, the Redwood National Park in California was actually the location used to create the fictional planet of Endor. Yes, you obviously aren't going to come across any Ewok's or space bikes today, it's still somewhere that all diehard Star Wars fans should consider visiting at some point in their life.
Philadelphia Museum Of Art, Pennsylvania

Image Source: Reddit
You'll most definitely know what film this is from, as it features in one of the most widely recognised movie scenes that anyone has ever created. Yep, these are those infamous steps that featured in the Rocky movie when, during his training we hear that motivational music as he runs up the steps during his training. Why don't you give the running up the stairs a go yourself!
Stadium High School, Washington
Image Source: Reddit
Okay, well you might not want to go and spend your time in and around a high school, you probably won't appear in the best light if that's how you spend your day. However, if you're a fan of a good old Rom-Com then you might recognise this high school. Located in Tacoma, this was the location that appeared in the movie 10 Things I Hate About You, not one of my personal favourites.
Beverly Wilshire Hotel, California
Image Source: Four Seasons
From one very famous rom-com in 10 Things I Hate About You in to a potentially even more famous rom-com in Pretty Woman. During the film Richard Gere's character Edward, takes Julia Roberts Vivian to the Beverly Wilshire Hotel. Why not head off and see if you can recreate some of the feelings within this film with someone that you love just as much yourself?
Ohio State Reformatory, Ohio

Image Source: Reddit
If you think yourself a movie aficionado then you'll almost certainly recognise this reformatory building from one of the greatest movies to have ever been produced in the US. The Shawshank Redemption, based on the Stephen King book had numerous of its prison scenes filmed both inside and outside of the building. No police brutality here in real life though, thank god.
2640 Steiner Street, California

Image Source: Reddit
On first glance you might not realise where this house was actually seen on our screens and its name doesn't really help either. And to this day people still flock to the house to leave flowers and visit the home. If you haven't worked it out yet, this house is actually the one that housed one of Robin Williams' most famous characters, Mrs Doubtfire. People love to pay respect to his life here!
The Griffith Observatory, California
Image Source: Reddit
If you're still a fan of some of the most classic movie series of all time then you might instantly recognise The Griffith Observatory that featured in the movie The Terminator all the way back in 1984. The Griffith Observatory is actually the location that Arnold Schwarzenegger initially appears during the movie as he begins his hunt for Linda Hamilton's Sarah Connor.
Circus Liquor, California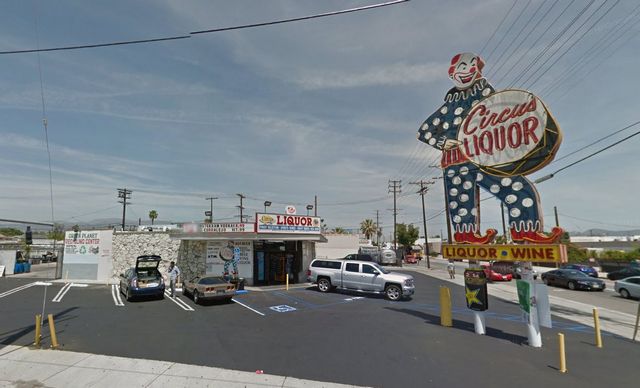 Image Source: Los Angeles Daily News
So I wouldn't claim that Clueless is quite as important in cinematic history as The Terminator was and still is, but it still remains a very popular, cult-classic, rom-com that has survived the decades. There isn't really much to do here, its very much just a plaza with a few stores, but many people still choose to drop by and have a browse. You won't get robbed like Cher though (hopefully!).
The Great Northern, Washington
Image Source: Conde Nest Traveler
Many people were absolutely furious when Twin Peaks wasn't renewed past its second season, but can you blame them when you look into how bad season 2 actually turned out to be? If you're a fan of the show however then you'll definitely recognise The Great Northern Hotel or as its known in the real world as The Salish Lodge & Spa; they stick with the Twin Peaks theme still to this day too!
Fox Plaza, California
Image Source: Reddit
Fox Plaza, found in the busy area of Los Angeles has featured in numerous popular shows and movies during its time but perhaps none as recognisable as during the Christmas Party in cult classic (not a Christmas film!) Die Hard. Of course, in the film it was known as Nakatomi Plaza and no, it wasn't really damaged as the film might have made you think.
Atlanta Historical Society House, Georgia

Image Source: Reddit
This glorious looking 1920's build might not look quite as it did during filming, but it definitely looks like somewhere you might want to visit right? Well, during the location casting for Hunger Games sequel Catching Fire, this became the home of the villain throughout the series, President Snow. They had to be very careful to not damage the old place and even chose to build additional sets on site!
Boston Public Garden, Massachusetts
Image Source: Reddit
This is another film location that has become famous in recent years as a way to pay respect to the much-loved, late Robin Williams. Since his death back in 2014 many fans have dropped flowers and visited the location. It featured as part of a scene opposite Matt Damon back in 1997 during the filming of Good Will Hunting. Why not go have a seat, it won't cost you anything!
66 Perry Street, New York
Image Source: Reddit
Sex and the City became one of the most popular television shows during its time thanks to the relatable (ish characters) and the way that romance was explored throughout the seasons. Although it was mentioned throughout the show that Carrie Bradshaw lived on the Upper East Side of New York, her apartment can actually be found in the West Village instead.
Cabazon Dinosaurs, California

Image Source: Reddit
You might be a little concerned or confused if you were to drive along the interstate and you could see a pair of 60ft dinosaurs towering over you, but you might even recognise them from your screens! Popular director, Tim Burton used the dinosaurs in his film Pee-Wee's Big Adventure, although they actually already stood, used as a way to attract customers to a local restaurant.
Grand Central Market, California
Image Source: Reddit
The less said about the Blade Runner remake the better, but it's hard to deny that the original film was one of the greatest to have been produced during the golden era of the 80's. Although Ridley Scott chose to film most scenes on a lot, one real location he used, in order to gain a sense of reality, was the Grand Central Market during Harrison Ford's character Deckard's chase scene.
Tom's Restaurant, New York

Image Source: Reddit
You might instantly recognise the exterior of this place and think that the name atop the sign isn't right at all. If so, then you were probably a fan of Seinfeld, possibly one of the most popular sitcoms of all time. The thing you have to be aware of however, is that the inside of the building was actually filmed elsewhere, so don't think you'll be sitting at the same table as the guys and gals on the show.
Martha's Vineyard, Massachusetts

Image Source: Reddit
Jaws, at the time was an absolutely terrifying watch for viewers, although in today's era it doesn't have quite the same effect as it once did. It played the fictional location of Amity Island which supposedly appeared in The Cape according to the film. They used this place as a result of it being quieter than the supposed location and is still a popular tourist location to this day.
Monument Valley, Utah

Image Source: Reddit
Although Monument Valley might have appeared in shows and films for decades in many many different films and shows, its perhaps most recognisable for being the spot in which Forrest Gump finally stops running after years and years. If that isn't your cup of tea then it might come to your mind easier when thinking about movies like Back to the Future instead!
Katz's Delicatessen, New York
Image Source: Eater NY
This place hosted perhaps one of the most awkward, yet hilarious scenes in film history. During famous rom-com When Harry Met Sally, Meg Ryan's character, Sally ensures that her love interest, Harry, knows that its very easy for females to fake their enjoyment in the bedroom. To this day, the place still hold the film in their hearts and you can even sit in the same booth the infamous scene was filmed.
Point Dume, California
Image Source: Reddit
Point Dume and its cliff face have actually been used in two separate, very famous movies decades apart from one another. If you prefer some of the older generations of TV and Film, then you might recognise this area as part of the original Planet of the Apes movie back in 1968. More recently however, and more famously importantly, it was the location of Tony Stark's Mansion throughout the Marvel Cinematic Universe.
Hook & Ladder Company 8 Firehouse, New York
Image Source: Reddit
Although none of the scenes within the Ghostbusters' movies were actually filmed within this fire station, its exterior featured numerous times and has since become very popular with fans of the series. It seems strange that they chose a Firehouse to be the HQ within the film, but to this day it has become a famous landmark in the city and there's even a Ghostbuster's logo on the floor outside.
Timberline Lodge, Oregon
Image Source: Reddit
Stanley Kubrick, one of the most famous directors to have ever produced films here in the US, really had an eye for choosing great locations for his sets and films. Although he didn't use the actual inside of the building for filming, this was the building used for the exterior of the infamous Overlook Hotel, in the terrifying horror The Shining. Millions of people still visit the place each year.
Randy's Donuts, California

Image Source: Reddit
You might have seen a load of architecture around the US showing large pieces of food above restaurants or statues nearby; but this particular place has featured in numerous famous shows and movies across the decades. Its no wonder when you know its been standing since before the 50's. It's perhaps most well known for Tim Burton's Mars Attacks! but it more recently featured in Iron Man 2.
Thelma And Louise Drop, Utah
Image Source: Latitude and Longitude Finder
Thelma and Louise was an extremely popular movie back in 1991 and another directed by the famous Ridley Scott. Without spoiling the ending too much, the end of the film culminates with drop off the Grand Canyon. You might be a little confused then, to hear that the scene was actually filmed at the Dead Horse Point State Park in Utah instead. You can stand at the exact spot!
732 Duane Street, Oregon
Image Source: Reddit
The 1985 film classic 'The Goonies' is very much cult-followed and it warmed the hearts of millions around the world, some who still thoroughly enjoy watching it still today. One of the houses featured in the film still stands today, although the owners aren't particularly welcoming to tourists with signs telling people to go away as well as the building being covered so people won't take a couple of snaps.
Acadia National Park, Maine
Image Source: Reddit
Stephen King is obviously well known for his incredible writing skills and remains one of the most famous of all time. You might not know he was born in Maine and for that reason, many of his famous movies were filmed in the same state. Pet Sematary, one of his most famous horrors to have been turned into a feature was filmed within this national park. There won't be any reanimated cats these days though!
The Michigan Building, Michigan
Image Source: Detroit Free Press
8 Mile Road signified the beginning of the acting career of Eminem and was very loosely based on himself. Yes, Eminem really did take part in rap battles around Detroit and although this wasn't where they actually happened it does seem somewhat realistic. The rap battles were filmed in an 'underground parking garage' that was actually a former ruined theatre building.
The Bellagio Casino & Hotel, Nevada
Image Source: Reddit
Obviously, this place is very VERY famous amongst visitors to Las Vegas as a place that many people choose to go and visit to bet away their cash. The whole place really is an extravagant building with water features inside and crazily priced interior furniture. In 2001, the Ocean's Eleven film featuring a star studded cast was filmed on location here.
Cypress Gardens, South Carolina
Image Source: Pinterest
It seems rude to end on anything but a rom-com considering everything to feature on this list, and what better to end on than one of the most popular ever, The Notebook. You'll be able to come across a load of movie locations out in South Carolina but the most popular tourist destination from The Notebook is Cypress Gardens where Noah and Allie have that infamous rainy smooch.