Hidden Messages We Never Noticed In Disney & Pixar Movie
By Nick Hadji
2 months ago
1. Arlo and Spot Score Drugs In The Good Dinosaur
We NEED to talk about
The Good Dinosaur
. No, not just because it terrified every single kid out there and received TERRIBLE reviews... but because there's a legit scene where Arlo and Spot eat some psychedelic berries and go on a crazy drug trip. They hallucinate and swap heads and float through space, leaving us all thinking... did that really just happen!?
Original content sourced from Femanin.com
2. We Get A Glimpse Of Luigi's Underwear in Ratatouille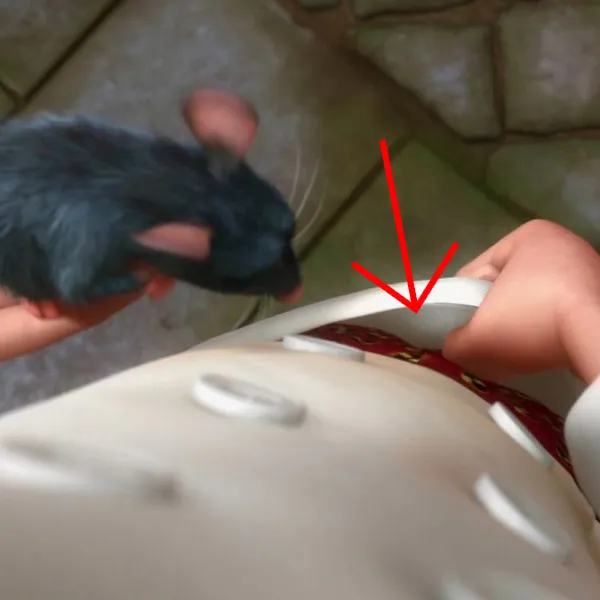 Image Source/ Good Housekeeping
A very small detail in Ratatouille. While Luigi holds Remi in hand, we catch a tiny glimpse of the underwear he's wearing... and it's covered in The Incredibles logo. He must be a HUGE fan of the Incredibles. I wonder if he has anymore clothing merch...
3. There's Creepy Skeletal Incredibles in 'Coco'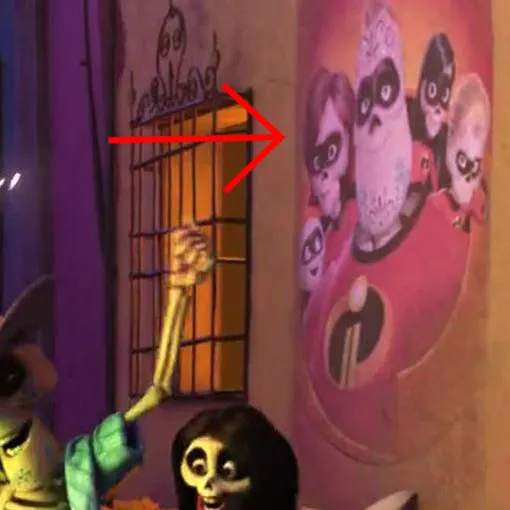 Image Source/ Good Housekeeping
In Coco, while Miguel and Hector walk the Land of the Dead, you may have noticed a few familiar faces on a poster there. The Incredibles are pictured as skeletons *shivers*. Whether or not this means they came to an end, who knows! Maybe they are just skeletal actors?
4. Is There Really An Ode To Steve Jobs in 'Brave'?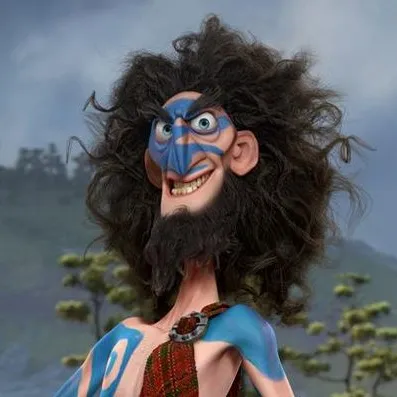 Image Source/ Good Housekeeping
The Macintosh clan in Pixar's Brave is supposed to be an ode to Steve Jobs and the Macintosh computer. Although not confirmed, Jobs was a leader in the early days of the Pixar company and Brave was released a year after his death in 2011. He has a tribute in the credits.
5. Scar Gets His Comeuppance
Image Source/ Quizzable
Any fan of Lion King would rejoice at any sort of grim fate for the villain, Scar - and even though the movie itself took care of that, it was Hercules that decided to add the icing on the cake with this very familiar-looking lion rug lying on the floor... Remember early on in the film when Mufasa asks Zazu, "What am I going to do with Scar?" and Zazu replies with the perfectly snarky, "He'd make a very handsome throw rug"? It all makes sense...
6. Sully Carving in 'Brave'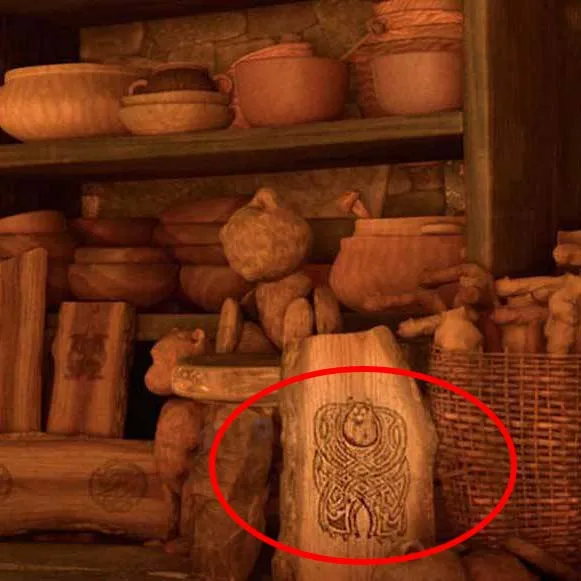 Image Source/ Good Housekeeping
One of the lore that are told in Brave include those that characters transform into bears. This means there's often images of bears floating around the film so they're easy to overlook. Pay enough attention and you will spot this wooden carving of Sully.
7. Pizza Planet Truck from Toy Story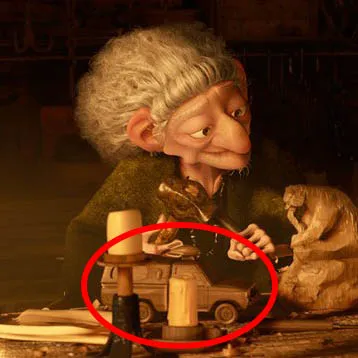 Image Source/ Good Housekeeping
The Pizza Planet Truck has worked its way around a number of movies since its first appearance in Toy Story. The yellow truck with a rocket originally appeared when the characters of Toy Story head to a sci-fi pizza restaurant, and can be seen here in The Good Dinosaur.
8. Incredimobiles Reference in Cars 2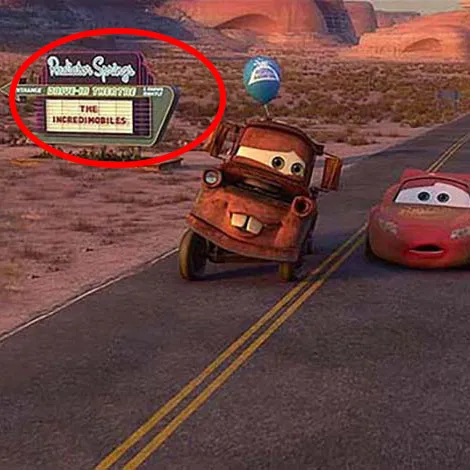 Image Source/ Good Housekeeping
A reference to The Incredibles clan, the Incredimobiles appears on a sign in Cars 2 as Mater and McQueen pass by a movie marquee. It's no surprise that Mr Incredible actually refers to his car as The Incredimobile shortly after in The Incredibles (2).
9. This Takeout Container is EVERYWHERE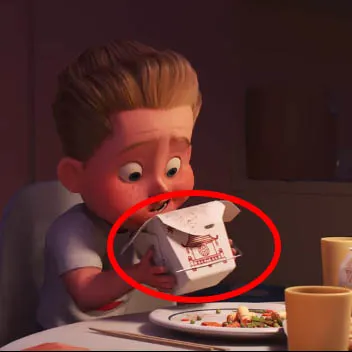 Image Source/ Good Housekeeping
If you take a close look at this logo on Dash's takeout container in Incredibles 2, you might recognise that Pixar have been using this design numerous times through their film creation career. It can be spotted in Toy Story 4, Inside Out, Ratatouille and A Bug's Life.
10. Postcard from UP In Toy Story 3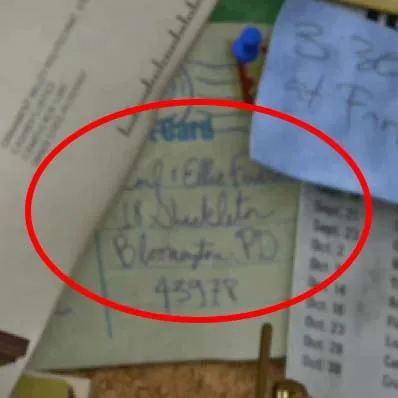 Image Source/ Good Housekeeping
A blurry image because of how buried it is, you will miss this if you don't zoom in. There's a handwritten post card actually pinned up on Andy's bulletin board in Toy Story 3. This is written by non other than Up's much loved couple Carl and Ellie!!
11. Sox Sticker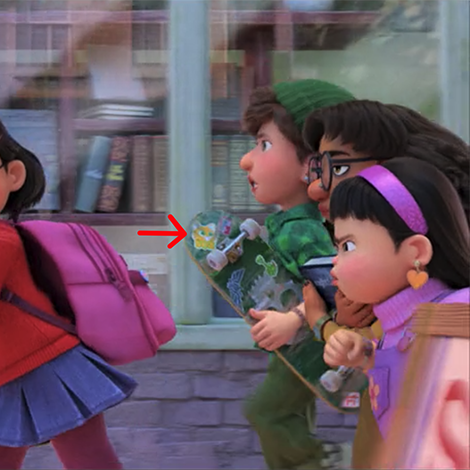 Image Source/ Good Housekeeping
If you've watched Turning Red you might've noticed Mei's world is covered in stickers, many of which happen to be Easter eggs. Pixar cleverly included this sticker of Sox, a feline companion from the upcoming Lightyear. It seems that Pixar enjoy foreshadowing characters!
12. Lightning McQueen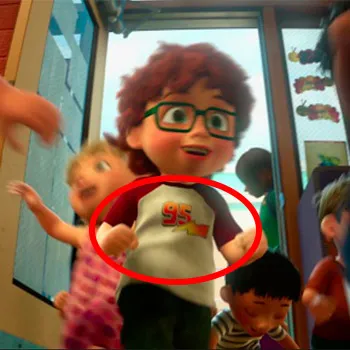 Image Source/ Good Housekeeping
A little kid barges into Sunnyside Day Car in Toy Story 3, sporting the coolest top. The t-shirt is actually an ode to Cars' Lightning McQueen, and the number 95 actually commemorates the year that the original Toy Story was initially released. Double whammy!
13. Turning Red Stickers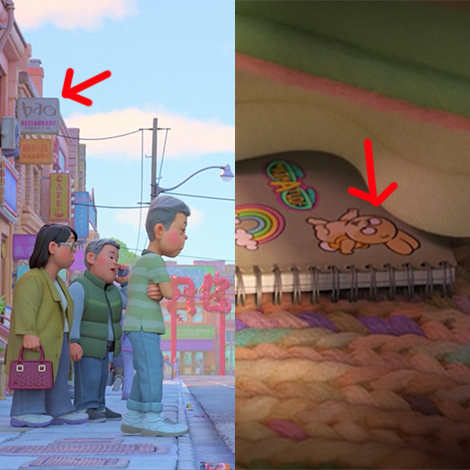 Image Source/ Good Housekeeping
Other stickers that appear in Turning Red are Bao and a bunny from Burrow, which are both references to previous Pixar shorts. Bao is the notorious short that debuted before Incredibles 2, while the bunny s from Burrow that premiered before Soul debuted.
14. Lots-o-Huggin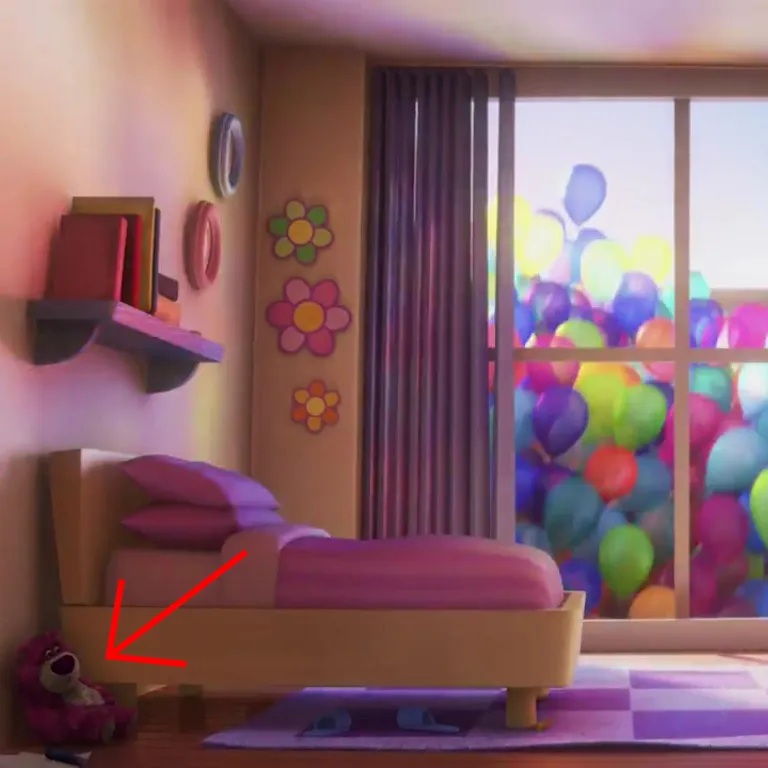 Image Source/ Good Housekeeping
Not only does the little girl's room have an ode to the Luxo Ball, there's also another Easter Egg lying around there. Look right at the corner of the screen and you will see a Lots-o-Huggin Bear that goes on to be the villain of Toy Story 3. How cool!
15. 1200 Dark Avenue
Image Source/ Good Housekeeping
Don Carlton flashed a business card in Monster's University, and if you pay enough attention you'll recognise the address. 1200 Dark Avenue is an ode to the Pixar Animation Studios location, which is itself 1200 Dark Avenue in Emeryville California!!
16. Knick Knacks
Image Source/ Good Housekeeping
While visiting a travel agent to take his beloved Ellie on a trip, a framed brochure on the agent's desk provides us an Easter egg. It's actually a character from "Knick Knack", which is a Pixar short about travel souvenirs and the secret life they get up to.
17. Name Tags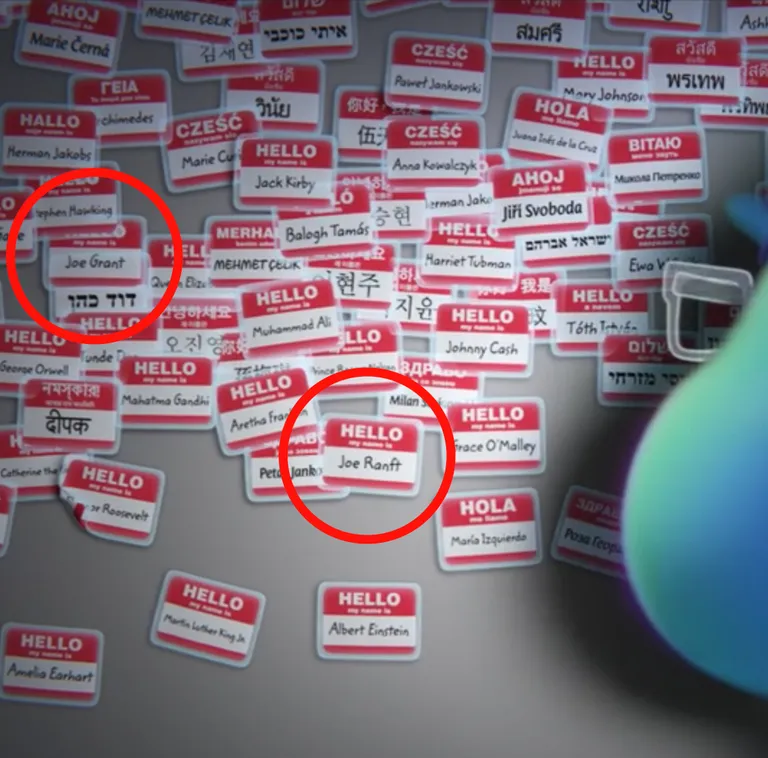 Image Source/ Good Housekeeping
Animators Joe Grant and Joe Ranft managed to sneak there names very secretly into Soul. While reading the name tags in 22's room, we can see an array of well recognised people, Einstein, Johnny Cash, but along with them is the names of two Pixar animators.
18. Hamm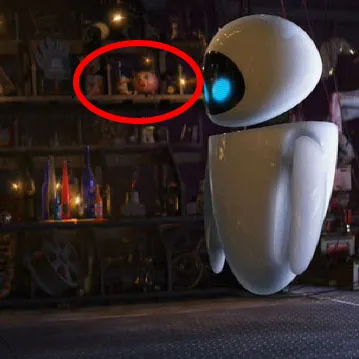 Image Source/ Good Housekeeping
Hamm from Toy Story is considered an Easter egg himself. Voice Actor John Ratzenberger, who voices Hamm, is actually included in every single one of Pixar's movies. Here, Hamm can be seen as a piece of junk hiding behind Eve in a scene from Wall-E.
19. Remy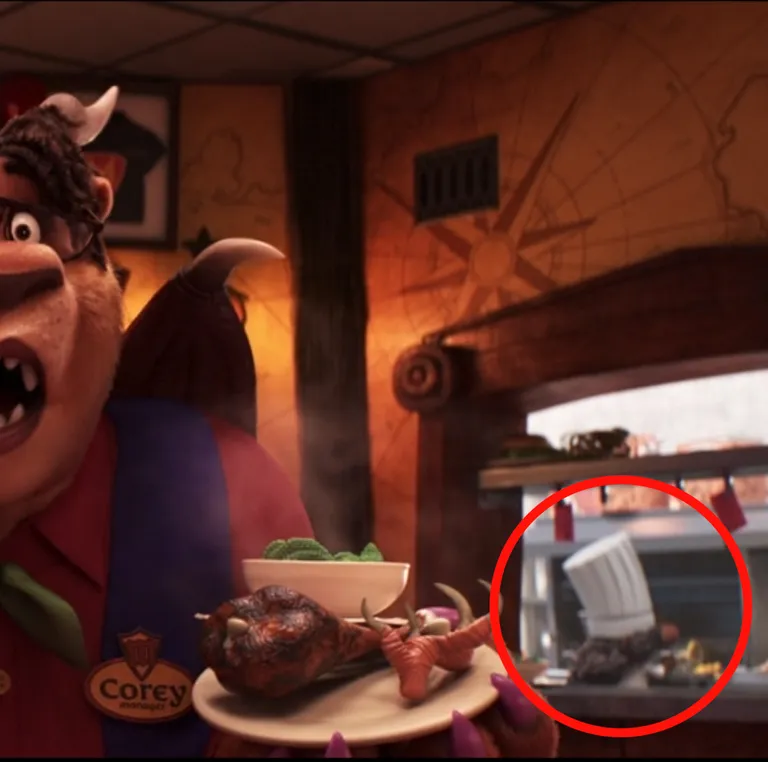 Image Source/ Good Housekeeping
At the Manticore's Tavern in Onward, we see the likes of Barley and Ian Lightfoot begin their journey. A busy family restaurant, Corey runs around making demands, which makes it nearly impossible to see Remy in the background, cooking the food, what an egg.
20. Steve Jobs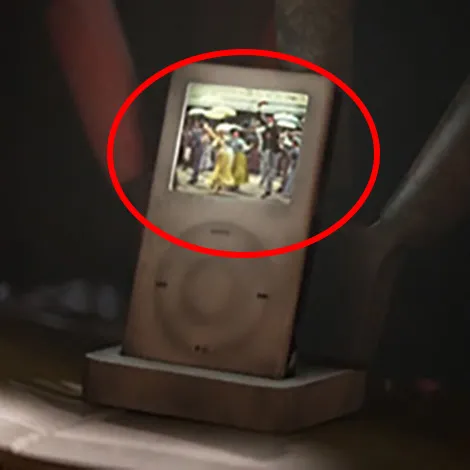 Image Source/ Good Housekeeping
Steve Jobs is referred to in Wall-E as well as Brave. While it was his Mac that got the spotlight in the latter, the first generation version of the iPod gets a cameo appearance in Wall-E. Eve watches Hello Dolly on this and when Wall-E's charging finished he makes the Mac start up sound.
21. Toy Story 4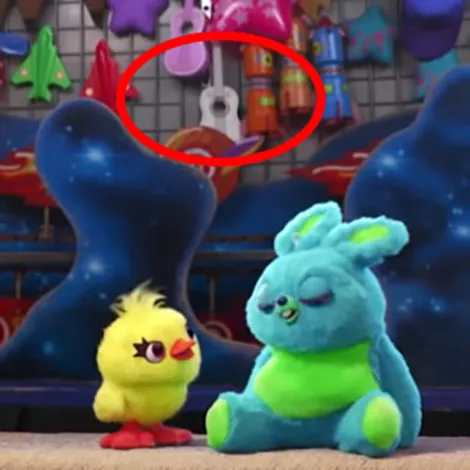 Image Source/ Good Housekeeping
Toy Story 4 is bustling with Easter eggs. Along with the classic Pizza Planet truck and takeout container logo, you will catch the Casey Jr Box (A Bug's Life), Dug (Up), Tripledent Gum (Inside Out) and Ernesto's guitar (Coco). How many can you fit in one film!
22. Bomb Voyage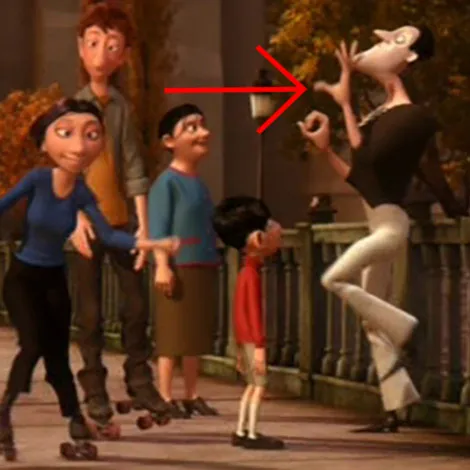 Image Source/ Good Housekeeping
Caught in Ratatouille, Bomb Voyage appears to be just like a regular street mime. Later in the film, Colette reads a newspaper that appears to feature a story about Bomb Voyage's misdeeds. The character originally appeared as a mime-like villain in The Incredibles.
23. Watching Johnny Quest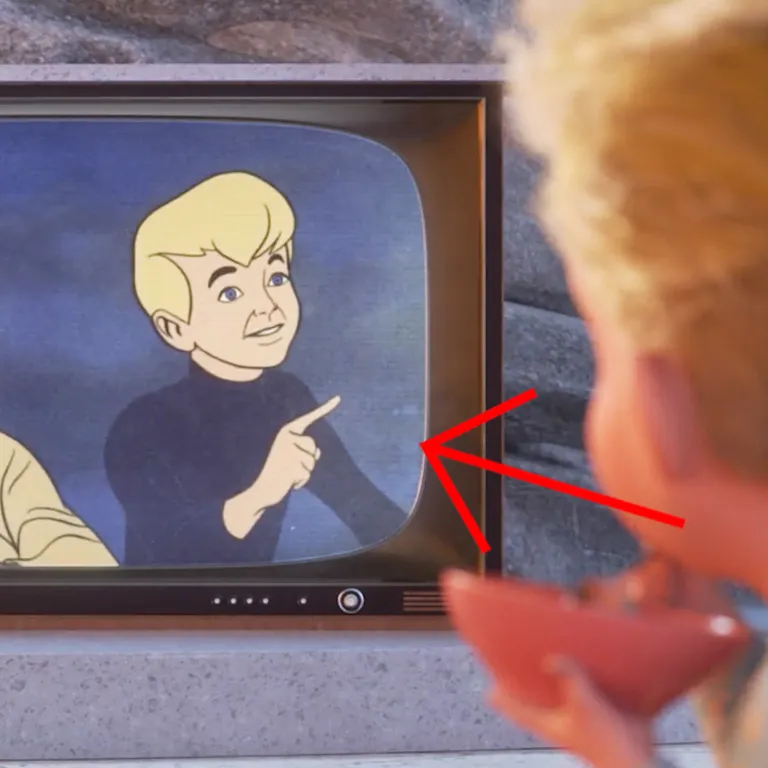 Image Source/ Good Housekeeping
If you've watched Incredibles 2, you might've caught this scene of Dash watching Johnny Quest on the TV. Director Brad Bird spoke openly about his inclusion of the real-life programme, and how it inspired him so much as a child that he wanted to include it.
24. A113 Is More Than Just A Number!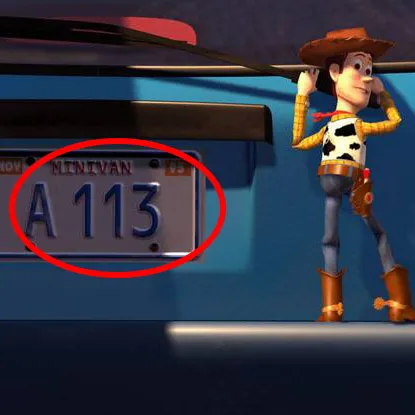 Image Source/ Good Housekeeping
Look closely and you'll catch this number, A113, in lots of different Pixar movies. You can see it here on Andy's SUV in Toy Story, but the number also appears in a movie marquee in Incredibles 2 and refers to a classroom reference where many Pixar folks began animation.
25. Luxo Ball Is A Secret Reference...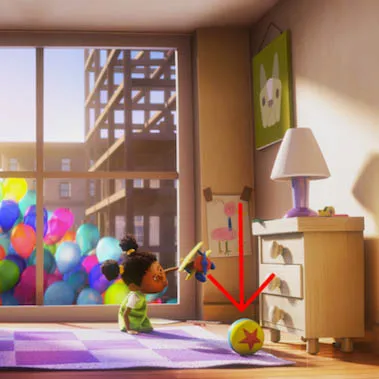 Image Source/ Good Housekeeping
The Luxo Ball can be seen here in a little girl's room in Pixar movie Up. With it's blue stripe and red star, the Luxo Ball is a secret reference to Pixar's computer-animated short Luxo, Jr. The ball can be seen in a number of Pixar films, including Toy Story and Soul.
26. Dug in Ratatouille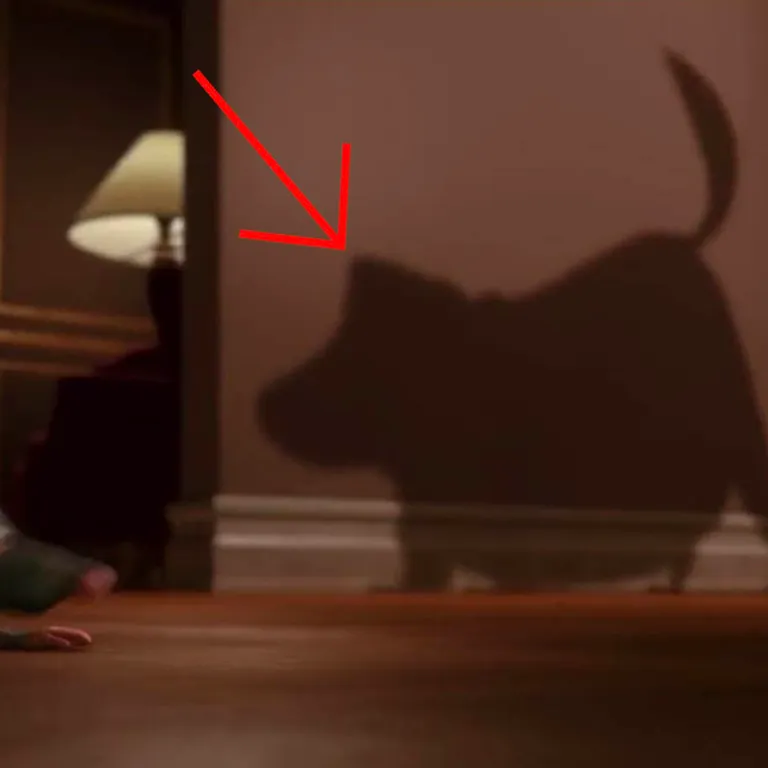 Image Source/ Good Housekeeping
Although just a shadow in Ratatouille, it's clearly obvious what dog was lurking around the corner... none other than Up's Dug! If the dog could speak, we'd probably hear him say "Rat" instead of his catchphrase "Squirrel". Another cool Easter Egg in Ratatouille.
27. Sid Really Gets Around!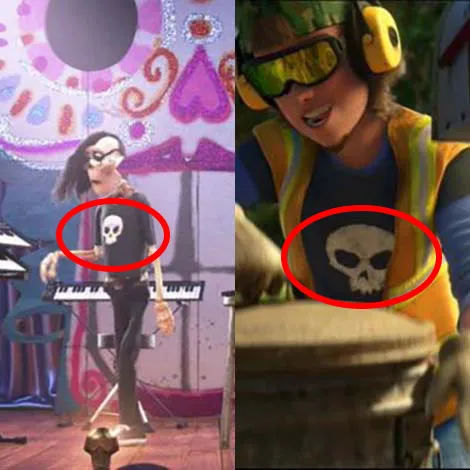 Image Source/ Good Housekeeping
Looks like Sid, the bully from Toy Story, really got around! You can see him making another appearance in Toy Story 3 as a rubbish collector and then again in the Land of the Dead in Pixar's Coco. Sporting that same skull t-shirt, it must be the Sid we knew.
28. Lightyear Tyres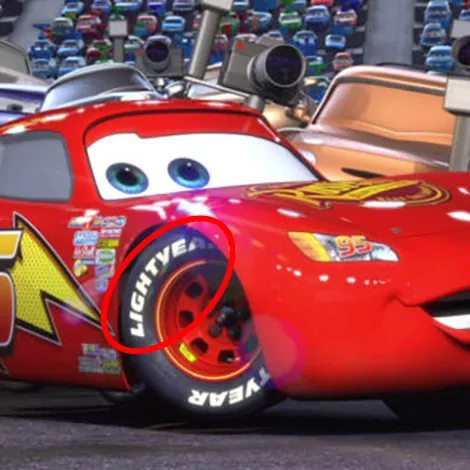 Image Source/ Good Housekeeping
Lightning McQueen's tyres in Cars are actually branded Lightyear, which is an explicit reference to Buzz Lightyear from Toy Story. Not only is there this reference, but Dinoco the gas company appears in both Cars and the station the toys are stuck at in Toy Story.
29. Triple Dent Gum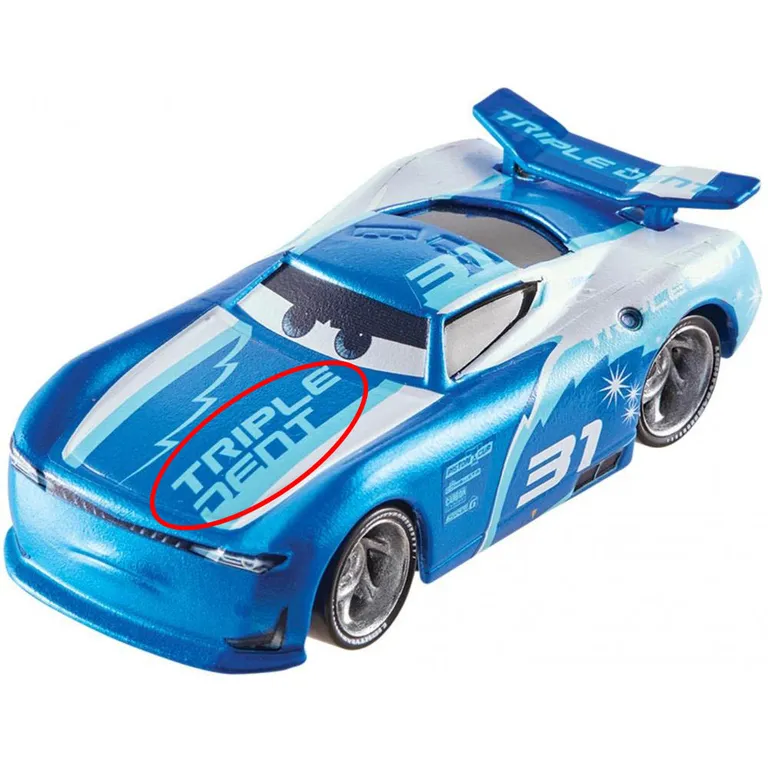 Image Source/ Good Housekeeping
Originally a product of Inside Out, Triple Dent Gum is promoted through a jingle that nobody can shake. Well, in Cars 3, one of Lightning McQueen's opponents, Cam Spinner, happens to be sporting the recognisable Triple Dent Gum logo on his bonnet, and yes he chews the gum.
30. Emeryville Is Pixar's Real Location!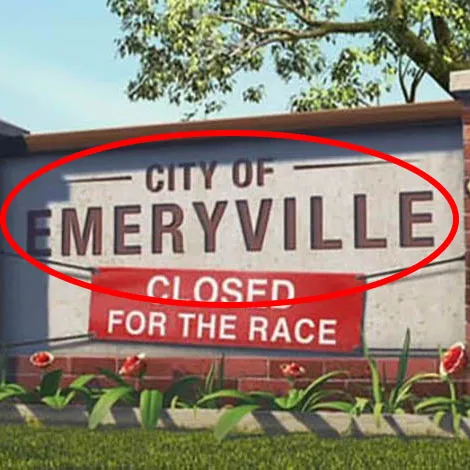 Image Source/ Good Housekeeping
With the races on, a town shuts down in Cars named Emeryville. You may recognise this as the location of the Pixar Animations Studios based in California. It seems that Pixar love to try and drop this address into their films wherever they can. Cool!
31. You Probably Missed Riley!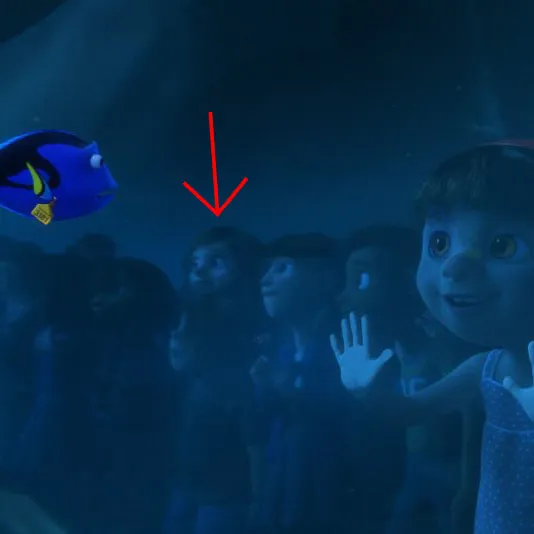 Image Source/ Good Housekeeping
Inside Out's Riley is a very familiar character driven by the emotions in her brain. You may have to pause the screen at the right moment, but you can catch a glimpse of her in the Finding Nemo sequel, Finding Dory. She spends her time gazing in an aquarium.
32. Luxo's Deli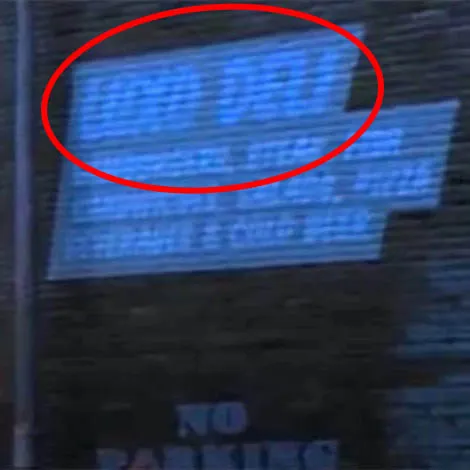 Image Source/ Good Housekeeping
Another nod to Luxo Jr is hidden within the background of one scene in The Incredibles. Luxo Deli appears as a logo one some sort of screen. It so happens that the deli is across the road from a business called Andy's, a potential ode to Toy Story? Who knows!
33. Hank Is Apparently Hidden In EVERY Movie! Can You Spot Him?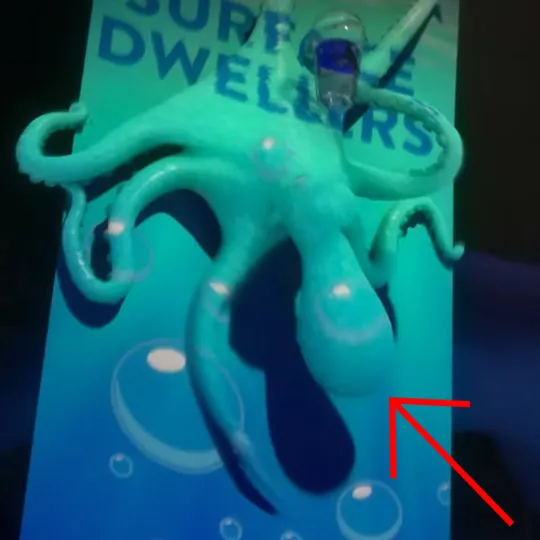 Image Source/ Good Housekeeping
Do you remember Hank the Septopous? Well, the director of Finding Dory claims that he's actually hidden in every other Pixar movie, but is just camouflaged the whole time. It's hard to tell whether he's telling the truth, but we are here for it if so.
34. Iron Giant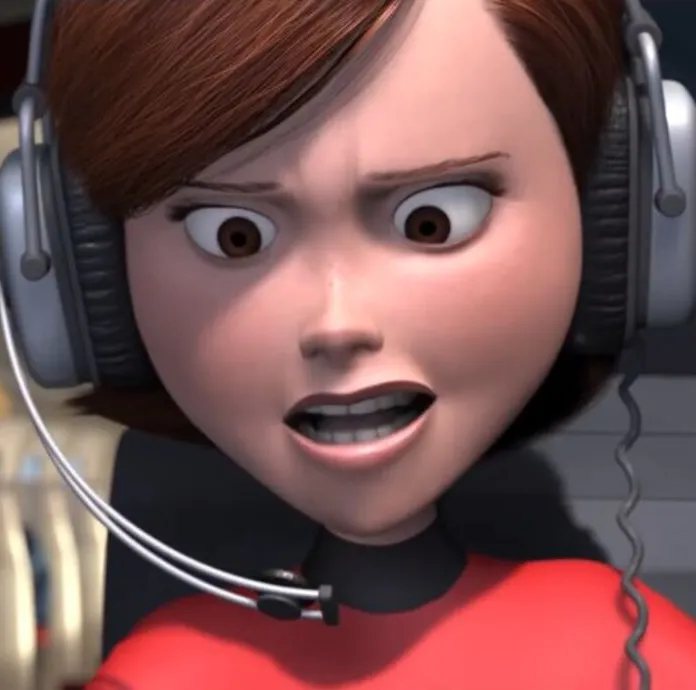 Image Source/ Good Housekeeping
This one's a cool one. In The Incredibles, Elastigirl gives the plane reference code "India-Golf-Niner-Nine" which is IG99. This is a very subtle reference to The Iron Giant directed by Brad Bird, a pre-Pixar animated movie that was released in... 1999.
35. Hank in The Good Dinosaur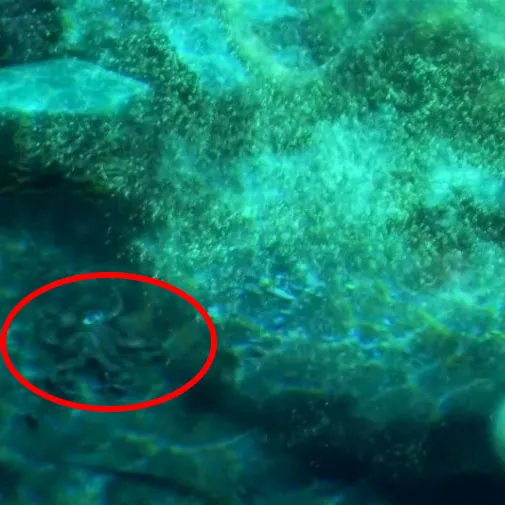 Image Source/ Good Housekeeping
Hank the Septopous can actually be seen lurking in The Good Dinosaur. If you remember, Arlo is knocked into a pool where he learns to swim. Look closely and you will catch a cameo of Hank right at the bottom. It was an ode to the next film they were producing.
36. Dr Sherman's Toy Chest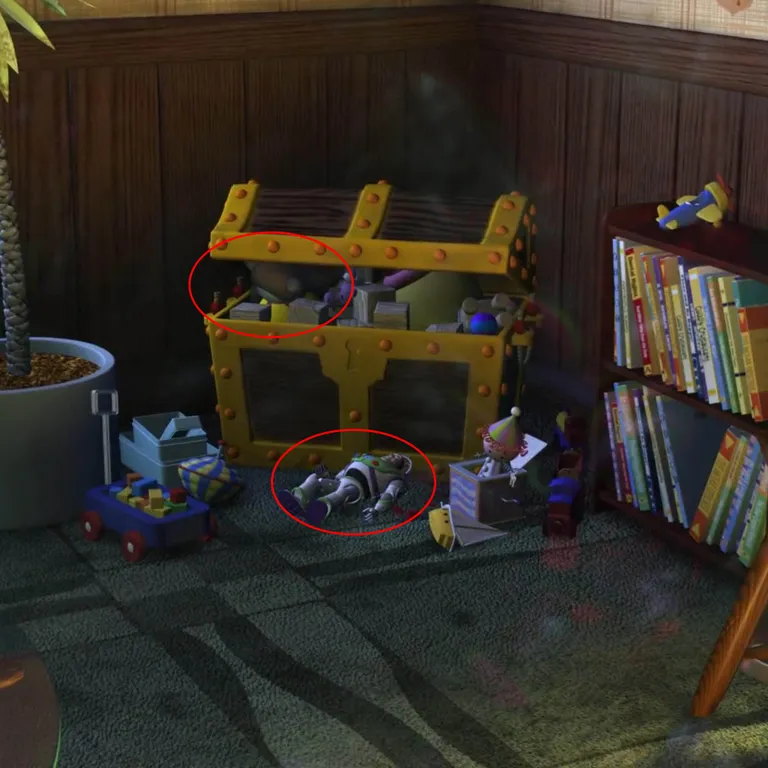 Image Source/ Good Housekeeping
Although we don't see many out of water locations in Finding Nemo, we do see Dr Sherman's office and his toy chest. Look closely and you will catch sight of Buzz Lightyear chilling on the floor. Some people think the teddy is the same one as Boo had in Monsters Inc too.
37. Forrest Is Back!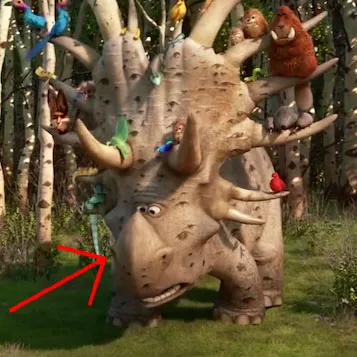 Image Source/ Good Housekeeping
Arlo bumps into a Styracaceous in The Good Dinosaur named Forrest Woodbush. Forrest actually originally appeared in Inside Out, specifically in Riley's memory when the family stopped at a roadside Dinosaur attraction. Bet you missed that Easter egg!
38. Winds of Change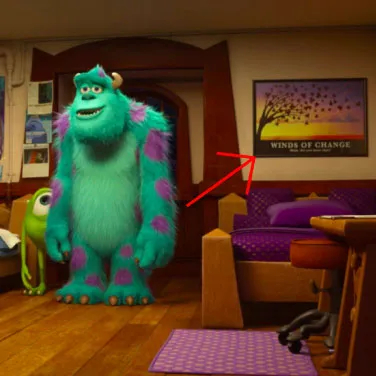 Image Source/ Good Housekeeping
In Monster's University you can see a poster titled "Winds of Change" on the wall of Randall's dorm room. This appears to be a mantra that stuck with Randall. In Monster's Inc, Randall actually tells Sully: "Do you hear that? It's the winds of change!"
39. Memory Orbs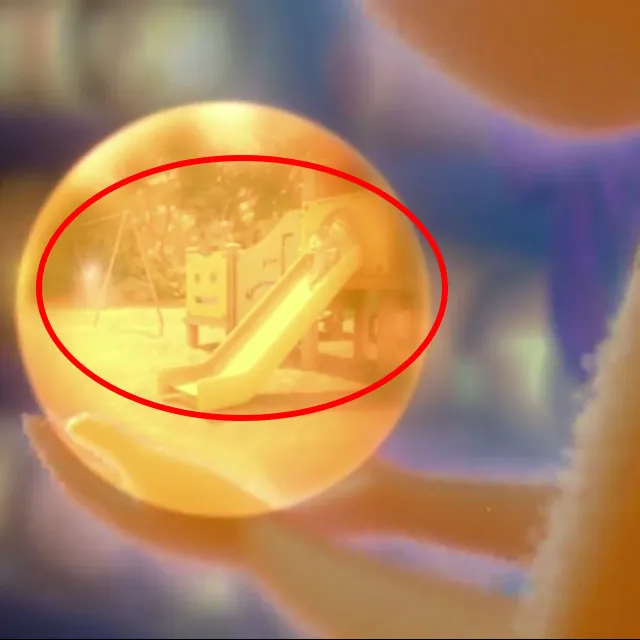 Image Source/ Good Housekeeping
Do you remember the memory orbs scene in Inside Out? If you do, you will remember seeing the Sunnyside Day Care on one of the orbs, which references Toy Story 3. It's been supposed that you can also catch a glimpse of Up's Carl and Ellie in Riley's sad orbs too.
40. Sleeping Beauty's Castle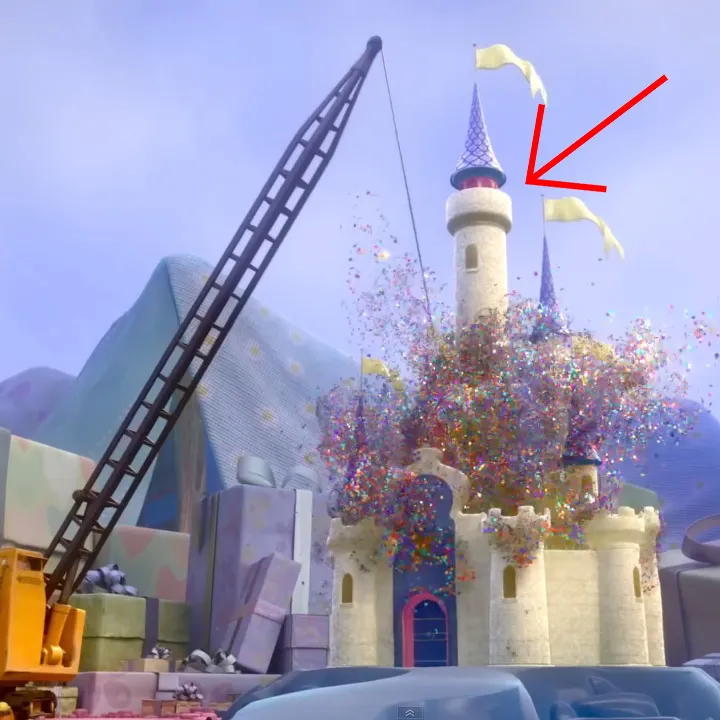 Image Source/ Good Housekeeping
In Inside Out, taking place in Riley's Dream World, we catch a glimpse of Sleeping Beauty's Castle, which is demolished by a wrecking ball and exploded in glitter. This is a references to Sleeping Beauty's castle, and the Disney logo while they're at it.
41. Nemo Is Found (In Monster's Inc)
Image Source/ Quizzable
Nemo was lost, after all, but turns out he wandered into another movie: Monster's Inc. When Boo is talking to Sully in her room and trying to hand him her toys, she offers out a very familiar looking clown fish (though it's not obvious from a distance whether his fins are normal!).
42. And There's Also A Jesse Toy
Image Source/ Quizzable
Speaking of toys, if there was ever going to be a toy cameo in another movie, it's bound to be from the hit Toy Story franchise that made all our childhoods. And, in fact, you can see the toy of a certain cowgirl named Jesse lying on the floor when Sully leaves the room.
43. Look Closely At This Magazine In The Dentist's Office
Image Source/ Quizzable
The dentist's office in Finding Nemo is one of the most memorable sets from that movie (because we all know what happens in there with the fish tank!). But look a little further than the fish, and you can see none other than Mr Incredible gracing the cover of this magazine.
44. The Return Of The Pizza Planet Truck
Image Source/ Quizzable
In one movie you probably didn't expect to see a Toy Story crossover, the hit movie A Bug's Life reveals the iconic Pizza Planet truck positioned next to this trailer during the bugs' adventures! Maybe it's a worker for the restaurant, or maybe they took delivery?
45. Doug The Dog's Shadow
Image Source/ Quizzable
Any mention of Up and Doug the Dog is enough to send any Disney fan into tears, so what if Doug had actually wandered into another movie? The beloved four-legged friend can actually be seen in Ratatouille (although, sadly, it's only a shadow on the wall).
46. Posing Next To A Dinosaur You Might Recognize
Image Source/ Quizzable
And no, it's not Rex from Toy Story! For the hit movie Inside Out, the characters can be seen watching a group of people posing next to a dinosaur... a dinosaur that will look very familiar if you're also a fan of The Good Dinosaur! There's nothing like a dinosaur cameo.
47. Guests At Elsa's Castle
Image Source/ Quizzable
It's very difficult to recognise Rapunzel without her flowing blonde locks, but our favourite Tangled lead with her short bobbed hair, accompanied by none other than Flynn, can actually be seen in the crowd of guests attending Elsa's castle in Frozen!
48. Mrs Potato Head And The Story Book
Image Source/ Quizzable
It seems A Bug's Life and Toy Story are making a habit of teaming up for easter eggs! In Toy Story 2, you can see Mrs Potato Head holding up a story book with something very familiar on the page - if you look closely, you can see characters from A Bug's Life.
49. The Good Dinosaur Toy
Image Source/ Quizzable
You might not pay much attention to toys being swept up on the floor, but this scene from Monsters University shows a very familiar looking dinosaur toy being tidied away... and no, it's not Rex from Toy Story! On the floor you can clearly see a toy-version of The Good Dinosaur.
50. The Tapestry From Brave
Image Source/ Quizzable
You might not put 'Merida' and 'Cars' in the same sentence, but here we you have the cast of Cars posing beneath a very familiar looking tapestry... if you're a fan of Brave, then you'll recognise the family posing on the front of it! A fact completely missed by our favourite four-wheeled friends, of course.
51. The Lightning McQueen Toy
Image Source/ Quizzable
If there was ever a toy you'd want based on a Disney character, it'd be the lightning speed of McQueen from cars - and that's exactly what this Toy Story 3 character thought, too. The Cars toy can be seen in the background, in the iconic red and yellow colours.
52. Lotso Hidden Messages
Image Source/ Quizzable
In Toy Story 3, it turned out that Lotso-Huggin-Bear didn't have many hugs to give when he turned out to be less than loving. Apparently that didn't deter this Up character, though, because the Lotso bear can be seen sitting on the floor in the left hand corner by the bed!
53. There's More Than Meets The Eye With Wall-E's Scrap Heap
Image Source/ Quizzable
You might think that Wall-E's scrap heap wouldn't include anything interesting to look at, especially if it's discarded trash in the background. However, to the left of Wall-E in this shot, fans of a little movie called Ratatouille might recognise a certain scooter.
54. A Familiar Looking Restaurant Sign
Image Source/ Quizzable
Gusteau's restaurant played a pretty important role in Ratatouille, and apparently it was important enough to replicate in another Disney/Pixar movie. In the background in this scene in Cars, you can see a familiar looking building with a familiar looking sign...
55. Background Cars
Image Source/ Quizzable
When it comes to easter eggs, sometimes it really is a background 'blink and you'll miss it' situation, and especially when you might not be paying much attention to stationary vehicles in the background. But look closely for this scene in The Incredibles, and you'll spot Doc Hudson on the left.
56. A Certain Crab Hiding In A Recipe Book
Image Source/ Quizzable
When you're dealing with a genie who can grant lots of wishes, there's probably a lot of stuff you'll miss from Aladdin in terms of cameos or background items. Well, it'd be hard to miss Sebastian the crab from The Little Mermaid being found in the Genie's recipe book!
57. Pinocchio Appears In Aladdin
Image Source/ Quizzable
Do you remember seeing Pinocchio in Aladdin? Our nose isn't growing so we're definitely not making it up - when the Genie is doing many of his fun transformations, he momentarily turns into a very familiar wooden puppet - complete with extra-long nose!
58. Can You Spot A Certain Bookworm?
Image Source/ Quizzable
There's a lot of busy hustle and bustle within Hunchback of Notre Dame, so you'll be forgiven if you don't pay attention to every single passerby. But look at the bottom right of this shot, and you might spot a certain Beauty - which makes sense, seeing as it's in France.
59. Cup Of Tea, Anyone?
Image Source/ Quizzable
No, it's not Alice in Wonderland - it's Mrs Potts from Beauty and the Beast! As well as none other than Chip, of course. Here we can see Terk declaring 'Be Our Guest' with a very special tea party served up of which Lumiere and the rest of the castle would be proud.
60. Finding Mike Wazowski
Image Source/ Quizzable
You may not put our favourite one-eyed monster Mike Wazowski and Finding Nemo in the same sentence, but Mike apparently wanted to go for a quick swim if the Finding Nemo credits are anything to go by! Did you catch him swimming by with his snorkel as the credits rolled?
61. Dalmatians And... Lady And The Tramp?
Image Source/ Quizzable
They're all dogs, sure, but a 101 Dalmatians and Lady & The Tramp crossover has to be a match made in heaven! In this shot, you can see both Lady and The Tramp watching as the kidnap vehicle for the Dalmatian doggies is driven away in the distance..
62. Did You Spot The Beast Toy?
Image Source/ Quizzable
At first glance this might seem like an innocent pile of discarded toys, but look a little closer and you may see a familiar hairy face... This pile of discarded toys from Aladdin reveals the figure of The Beast from Beauty and the Beast in toy form - top left!
63. The Infamous Luxo Lamp Features A LOT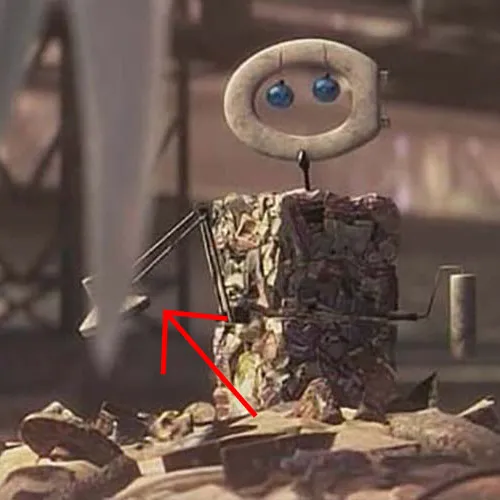 Image Source/ Good Housekeeping
While it's notorious in the Pixar logo, the Luxo Lamp can be seen in a number of films produced by Pixar. Also taken from Luxo, Jr the lamp can be seen here as one of makeshift Eve's arms fashioned by Wall-E. Try and see if you catch Luxo Lamp in any others.
64. The Mulan Poster
Image Source/ Quizzable
We're all probably guilty of having a Disney poster or two displayed on our walls, but did you think about the characters themselves decorating their own rooms? This scene from Lilo & Stitch reveals a Mulan poster over there hanging by the bed! They're obviously got good taste.
65. The Pizza Planet Truck Makes Another Journey
Image Source/ Quizzable
Once again the Pizza Planet truck in all its iconic glory is sneaking in to another movie. This time, you can see the abandoned Toy Story truck with its bonnet open in Wall-E, abandoned on the crap heap when Eve is using her scanner to look for something.
66. Another Surprise Guest At Elsa's Coronation
Image Source/ Quizzable
When you're a Disney princess being coronated, it only makes sense that all the other beloved princesses of the world would come and pay their respects, right? We've already had Rapunzel's cameo, and now it turns out that Tiana from Princess and the Frog turned up, too!
67. Prince Hans's Wanted Poster
Image Source/ Quizzable
The evil Prince Hans, Frozen's villain, deserves everything he gets for what he did to Anna and her family. And in Big Hero 6, you can actually spot that his criminal nature has spread to other realities, in the form of the Wanted poster you can see displayed in the police station!
68. What's That? You Guessed It: The Pizza Planet Truck Is Back!
Image Source/ Quizzable
The Pizza Planet truck is a 1978 Gyoza Mark VII Lite Hauler pickup truck that is used to make deliveries for Pizza Planet in Toy Story. It has made cameos in every Pixar film to date except The Incredibles, though it appears in its video game adaption.
69. The Spinning Wheel
Image Source/ Quizzable
The enchanted object from Sleeping Beauty which cast its victim - poor Aurora - into an eternal sleep broken only by true love's kiss, here makes a cameo appearance in the background of Rapunzel's tower in Tangled. Luckily, Rapunzel was clever enough not to go near the thing.
70. The Surprise Wedding Guests
Image Source/ Quizzable
If there was ever a wedding The Little Mermaid fans didn't want to talk about, it's that of Prince Eric and the sea witch Ursula. But if you managed to sit through it, you may have noticed some surprise guests in the background - here, we have the King and Grand Duke from Cinderella!
71. Donald Duck Toy In 'Luca'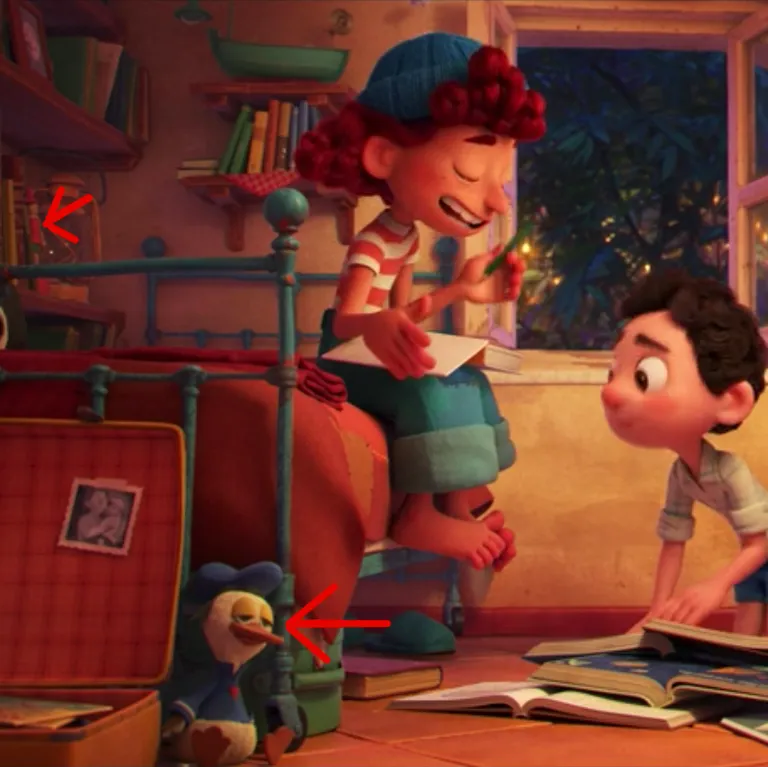 Image Source/ Good Housekeeping
While a much-loved modern Pixar film, Luca was riddled with references to previous Pixar productions. The Luxo Ball appears on a rooftop and the Pizza Planet Truck also creeps into a shot. But look closely and you'll see Giulia's toys of Donald Duck and Pinocchio.
72. Freudian Symbols In Alice In Wonderland
Image Source/ Older Millenials
You may not have thought it but Alice in Wonderland is actually full of Freudian symbols the entire was through - but we bet you haven't noticed. It is one of the most complicated Disney movies of all time. Doorways symbolise new life stages and caterpillars are said to symbolise regret.
73. "He conquers who conquers himself" Is The Message In Beauty And The Beast
Image Source/ Older Millenials
"He conquers who conquers himself" is spelled out for us right at the beginning in the phrase ''vincit qui se vincit". But, since it's in Latin none of us noticed. This is the theme of the story - the beast is trapped as a monster due to his own past actions but redeems himself.
74. The Illuminati Hidden Message
Image Source/ Older Millenials
This one we could never have seen coming - a message about the Illuminati in the duck tales. As we can see here when Scrooge goes to the doctors for his eye test, spelled out in the background is an eye test poster saying 'ask about the illuminati'. Conspiracists love this one.
75. A Swear Word Disguised By An Acronym
Image Source/ YouTube
This one is a different kind of secret message entirely in Madagascar. Oh Sugar Honey Iced Tea...it sounds innocent right? Not when you spell it out (or watch on subtitles) - it's actually an acronym for sh***. Who'd have thought it. Here we can see a much cheekier side to Disney than we usually expect.
76. A Hidden Tribute In The Lion King
Image Source/ Whatculture.com
In a split second, if you pay very careful attention, you can see the letters S,F, X written in the sky in the formation of the stars. This is said to be a tribute to the special effects team (which is often referred to by the abbreviation SFX) to honour their work.
77. The Voice In EVERY Pixar Movie
Image Source/ YouTube.com
If you did not know this before, and most people didn't - there is someone that appears in not most but ALL the Pixar movies to date. It may sound familiar, and his voice is only used for characters with small parts in the movies. The voice belongs to John Ratzenberger.
78. The Hidden Tribute To Walt Disney Himself
Image Source/ Wikipedia.com
So in the classic Fantasia from 1940... during the part known as The Sorcerer's Apprentice you may know that the wizard's name is Yen Sid. You see this in the end credits. Spell it backwards... Disney. A tribute to the man himself who started it all - Walt Disney.
79. A Lesson In Contracts
Image Source/ oldermillenials.com
Is Disney highlighting the fact that we should all read a contract before signing it. Poor Ariel thought she had signed away her voice, yet as we can see the contract is actually gibberish so in reality it would be void and Ariel could have been free... It's certainly a lesson from Disney.
80. Alice In Wonderland As Eve
Image Source/ BuzzFun.com
Some people think that Alice from Alice In Wonderland may actually be based on a biblical figure. There are lots of comparisons to Alice and Eve. Eve took a bite of the apple whilst Alice went down the rabbit hole and then entered a world of temptation and sin.
81. Disney Gave A Spoiler
Image Source/ BuzzFeed
As we saw before, Nemo starred in Monsters Inc before it was even out. With Disney/Pixar movies they take several years to make. So when Monsters Inc came out there's no doubt that Finding Nemo was on the horizon already. If you want to know what's coming next, then pay attention to the latest movies for any spoilers.
82. A Shakespearian Message In The Lion King
Image Source/ oldermillenials
The Lion King and Hamlet? Who would have thought that these two went hand in hand. It turns out that The Lion King is actually based around the story, plot and characters of Hamlet. Right down to the little details such as the scene where Scar plays with the skull.
83. The Foreshadowing Of The Fallen Queen In Frozen
Image Source/ oldermillenials
Chess is used in a lot of films to symbolise some great change due to the fact that it is a game of strategy and conquest. In Frozen, if you look VERY carefully you can see in the background behind Olaf the chess set with the fallen queen. This is to symbolise Elsa's imminent fall as queen and her upcoming danger.
84. Scar And Mufasa Are Not Real Brothers
Image Source/ cosmopolitan
Disney do not do things by halves, and since lion's do not stay alongside their brothers in a pack it was not factually correct to call these two characters brothers. Because after studying how lion prides work their can only be one alpha, so Scar and Mufasa had to be brothers in the movie...but not by blood.
85. The Hidden Symbol That Gaston Died
Image Source/ oldermillenials
When Gaston fell and died, his death was never shows. That would be way too gruesome and horrid for the younger audience. So how do we know he really died? Disney put little skulls in Gaston's eyes which can be seen if you zoom in. These are symbolic of his death.
86. The Obvious But Hidden Intention With Gothel's Touch
Image Source/ YouTube
We all know that mother Gothel is bad - it was clear from the start and it's hard to know why Rapunzel was ever fooled by her. Have you ever noticed that when ever Rapunzel says I love you, Gothel replies I love you most, but whilst she says it she touches Rapunzel's hair each time.
87. An Ode To California
Image Source/ Pinterest
We all remember clearly when Belle's father Maurice is lost in the woods - how could we not? But I bet you did not notice the worn and old wooden sign in the background with writing that is very unclear. What it says is Anaheim and Valencia - Anaheim is where Disneyland is, and Valencia is home to the iconic California Institute of the Arts where many talented animators come from.
88. Spot The Mickey
Image Source/ whatculture.com
It's a recurring thing in Disney movies that there will always be a hidden Mickey Mouse, it's actually become a game of spot the Mickey Mouse. In some, it's totally obvious but in others they are so discreet. Just like here, when Jasmine's tiger transforms he momentarily develops Mickey Mouse ears.
89. A shout To Being The First Virtual Reality Feature Film
Image Source/ whatculture.com
Toy Story was the first entirely CGI feature film based in virtual reality. And on way to pay tribute to this subtly was to name the estate agent company Virtual Reality. Since then, CGI has changed the world of film forever and Toy Story was the first of it's kind.
90. Stitch's Adoption Paper Was A Thank You Letter
Image Source/ whatculture.com
What appears to be Stitch's adoption letter in Lilo and Stitch is actually a touching thank you letter to everybody who worked on the film. It was a sneaky yet meaningful way to fit it into the film without being too obvious. It is barely legible but it is there.
91. Some Hidden Adult Humour
Image Source/ pinterest.com
Disney have been known to throw in the odd adult joke from time to time. It's always hidden so that it is always child appropriate. But they appeal to the adults who they know watch Disney, let's face it, just as much as the kids. This joke about foot size not mattering is clearly referring to something else...
92. Symbolism In Cinderella
Image Source/ dejaview.com
We know that Cinderella's life was just like a prison. What Disney does well is manages to fit symbols into many aspects of the films that are so subtle we don;t even notice. Here Cinderella is stood in the bedroom with the light shining and the reflection of the window casts a cage around her.
93. The Morbid Sign In The Three Little Pigs
Image Source/ oldermillenials.com
A little bit of a morbid sign in The Three Little Pigs. The mother is shows on the wall pictured with her suckling babies. But, the father pig who we never see and suspect is dead is actually pictured on the wall as a piece of meat - a sure and not so subtle picture.
94. The Built Up Dwayne Johnson 'The Rock' Joke
Image Source/ codelist.com
Hei-Hei has to be our favourite sidekick. In Moana he is continuously trying to eat rocks. While you may have thought this was random, it was actually a built up joke. Later on he tried to chew Maui's finger. Meaning he is eating the rock - Dwayne "The Rock" Johnson, who is the voice of Maui.
95. Is The Evil Queen Mother Gothel?
Image Source/ codelist.com
Some people have put forward a convincing argument that the Evil Queen in Snow White is the same woman as Mother Gothel in Tangled. Of course, she looks younger because she is using magic to do so. There are a LOT of similarities we have to agree on that.
96. More Adult Jokes
Image Source/ oldermilenials.com
Yes... that is what a Lion's face looks like. But it looks uncannily like the back of a woman wearing revealing underwear and now we can't unsee it. Surely this was on purpose - it can't be hard to make a Lion not look like a scantily dressed woman surely?
97. The Movie Credits In Mulan In The Middle Of The Film
Image Source/ sweetthingsonearth.com
These graves are written in Chinese. In the movie, what they say is the names of Mulan's ancestors. In reality, it is the movie credits to pay homage to the hard work of he creators of the film in a more creative and involved way that just appearing in the credits.
98. Hints To The War
Image Source/ oldermillenials.com
This scene with Scar (one of the worst ever Disney villains) is actually modelled on ww2 scenes and the speeches made by Hitler during the war. It's no wonder that this scene is so chilling in the movie. It's not the only historical Disney reference there is either, the movies are full of subtle references.
99. The Meaning Of Mary Jane In Scooby Doo
Image Source/ oldermillenials.com
This would go straight over the heads of children..and maybe most adults too. But the name Mary Jane was not random. And, it is no coincidence that it shares a name with something else. Again, this one is for the adults, another sneaky reference from Disney.
100. Tangled Characters Appear In Wreck It Ralph
Image Source/ viralnova.com
We love when characters show up in different films. In Wrack It Ralph, there are two Tangled characters (Maximus and Vladimir) who show up and make an appearance in Wreck-It-Ralph. As you can see they are in the background and you would have to be super eagle eyes to spot this.