Fashion Trends That Should Stay In The Past
By molly atherton
2 months ago
1. Low-rise jeans
imagesource: reddit
The ultra-low waistline that dominated the late 1990s/early 2000s and has made its way back in recently. Low rise jeans have recently made a comeback but most of us really aren't loving them! They're not welcome here anymore. No matter how good they may have looked on Paris Hilton, they're a no go! Props to anyone who can pull these off, we are SO envious!
2. Velour tracksuits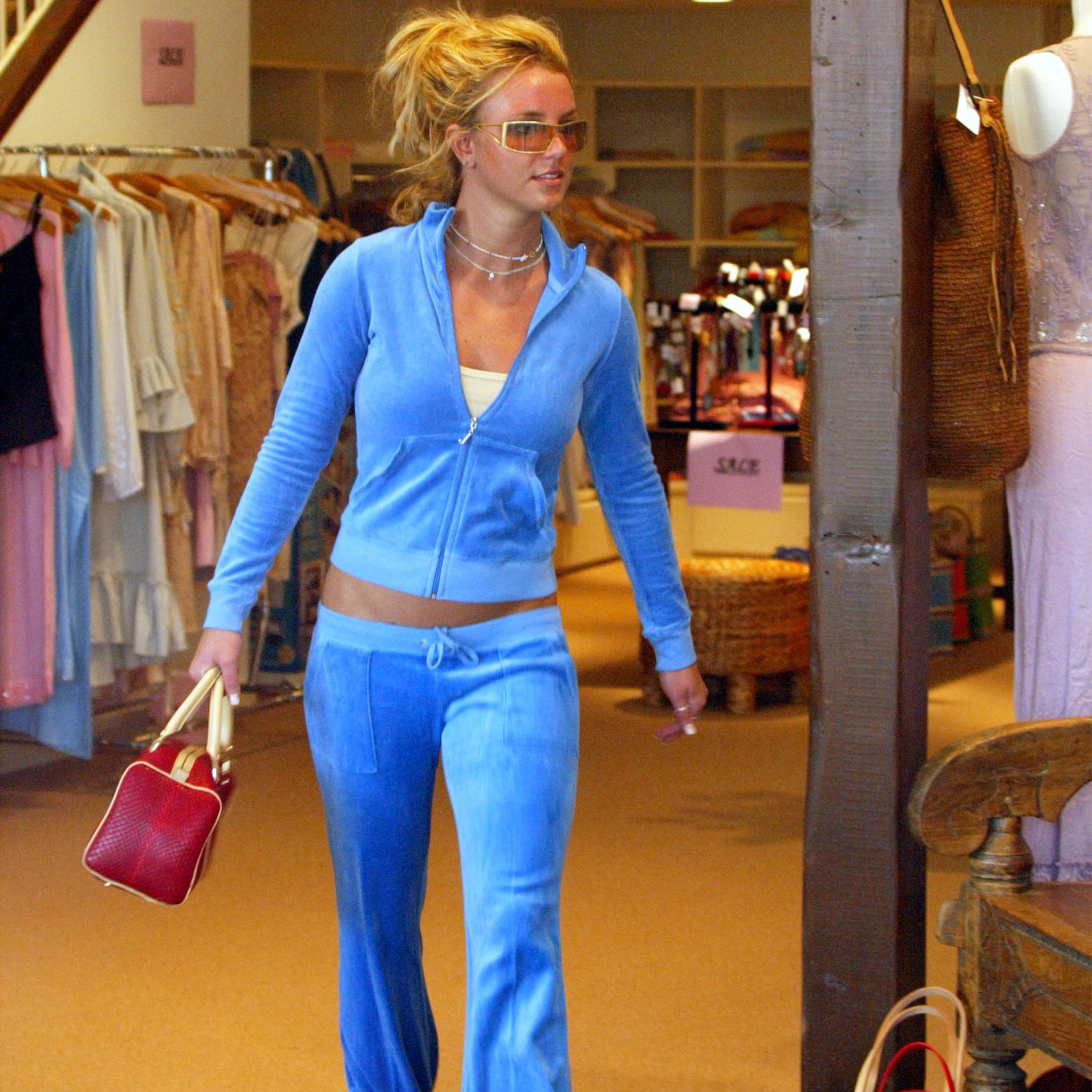 imagesource: popsugaruk
While they were popular in the 2000s, velour tracksuits have had their time and can make way for more sophisticated athleisure options. They may have been comfortable back in the 00's when Paris Hilton donned her Juicy Couture ones... but we're so over them now! As we see them creep back into our clothe stores, would you wear these again? I'm not sure that I would!
3. Frosted or streaky highlights
imagesource: reddit
The chunky, two-toned hair color trend is better left in the past... Like what on earth were we thinking?! Who remembers the box dyes you could get so you could do it from home? Tacky tacky tacky, and so bad for our hair. And most of us couldn't even pull the home dyes off either! Seamlessly blended hair and balayage are in fashion now, let's keep it that way please!
4. Platform flip-flops
imagesource: reddit
These exaggerated, chunky footwear options should have been replaced with sleeker and more elegant shoe styles. They're very in at the moment, but nowhere near as much as they were in the 90s and 00s and hopefully they won't be back on trend next summer. Unfortunately, we are seeing them slowly make their way back into people's wardrobe, as seen on the stunning Kendall Jenner! Platform flip flops stay in the past please. Capiche!
5. Logos, logos, logos
imagesource: reddit
Excessive branding on clothing was anything but a timeless and subtle approach to fashion. We all remember the Von Dutch hats and Tees thanks to Nicole Richie and Paris Hilton. And obviously the Ed Hardy phase as well. Please no, never again! Who decided that it was cool to show off our status with the branding on our clothes?This is so flashy and CRINGE!
6. Cargo pants with excessive pockets
imagesource: reddit
Now this is one that is definitely making a comeback into people's wardrobes, and we really wish they weren't! While practical, cargo pants with numerous oversized pockets just made us all look like we had bizarre shaped legs. Not trendy at all. Now, cargo's have definitely made a comeback over the last two seasons and we're here for them...just not the excessive pockets.
7. Popcorn shirts
imagesource: instyle
These tiny, stretchy, and textured tops from the early 2000s should never have made a comeback. Now, no one is saying that they weren't insanely comfortable, because they were! But they just weren't a good look, no matter how much fast fashion brands try to force them back out. Why were we all so fascinated by their super small size and stretchability, SO NOT COOL!
8. Bandage dresses
imagesource: reddit
The body-hugging, skin-tight dresses were so popular in the noughties and early tens. How many of us would spend our nights out waddling around like penguins in these dresses. They weren't a good look and I'm sure they stopped circulation in our legs. But hey, if they make you feel amazing, then wear them to your heart's content, we're not here to judge!
9. Oversized sunglasses
imagesource: stylecaster
Huge, bug-eye sunglasses didn't suit a wide range of face shapes, in fact, they were pretty unflattering for most of us, especially the different colored frames... ew! Victoria Beckham has a lot to answer for when it comes to some of these questionable fashion choices. We followed along like sheep. Sometimes though, a big sunglass is needed, if you know, you know!
10. Ed Hardy-style graphic tees
imagesource: pintrest
The bold and heavily adorned graphic tees from the past were always so tacky but very 'cool' at the time. The 'tacky' brand was loved by many men and women but all I see when I think of this brand was 2006 Tom Hardy on the catwalk. Not a good look. I have a feeling that these graphic tees will find their way back into people's wardrobes, as much as we don't want them too!
11. Ugg boots with mini skirts
imagesource: fashioncelebsmovies
No one and I mean, no one wants to ever see those worn down Ugg boots with a denim mini skirt, Ugg boots made a comeback a few winters ago...we're just so glad that this style didn't come back in. Why we thought this ever looked good I will never understand! Hopefully the Ugg trend will end at the ultra - mini style, let's keep our fingers crossed for next winter!
12. Super low-cut tops
imagesource: reddit
As they say, if you've got it flaunt it! But extremely plunging necklines can be replaced with more elegant and versatile neckline options making you look more classy. After all, the 'It Girl - Sofia Richie' look is very in at the moment. Move aside YK2, we've got no time for your tackiness. We're not here to tell you what you can and can't wear, aso if you feel great in a low cut top, don't let us stop you!
13. Clear plastic shoes
imagesource: reddit
Transparent footwear is something that should never have come into fashion in the first place. Perspex heels have been the cause of many fashion faux pas in recent seasons, but for some reason there are people out there who just absolutely love them! Whether that is the condensation from your sweaty feet after a long day, or your visible squished toe in the pointed clear heel, we say avoid these for any fashion mishaps!
14. Juicy Couture tracksuits
imagesource: reddit
The velour tracksuits were the in thing in the 00s, mainly because of the celebrities who wore them. Paris Hilton put these tracksuits on the map. We loved to wear them with our Ugg boots, but we're so glad this style never made it fully back in this season. Similarly to 'Juicy' Tracksuits, we are slowly starting to see the velour slipping back into our stores... Bye Felicia!
15. JNCO jeans
imagesource: reddit
Who remembers these extremely wide-legged, oversized jeans that just didn't flatter any of us in the slightest?! Surely you've got to remember them. JNCO jeans were the in thing at the minute and they're often seen on eBay going for a bit of a hefty price. God knows why! Everyone who had these jeans will be able to relate to the image above, so impractical!
16. Overly distressed denim
imagesource: reddit
Excessive rips, tears, and distressed details needed to be toned down for a cleaner and more polished denim look. No one's saying a little distressed was wrong but overly distressed jeans were not the one. They just took away from the look and made it look....tacky. No one wants their older relatives to ask them where the rest of their jeans are, so not funny anymore!
17. Bubble skirts
imagesource: racked
Bubbly everything was the in thing in the late 90s and early 00s but why? It was so unflattering and it seems to be making its way back into the trends recently. Bubbly skirts with matching bubble crop tops need to stay in 2000 and never come back... it was just too over the top! Would you agree with our list so far? How many of these items did you own in the 1990s/2000s?
18. Tube tops
imagesource: reddit
Tube tops are an item of clothing from the 1990s/2000s that never truly goes out of style, and in 2023 they are as popular as ever! Tube tops with those cargo trousers we mentioned earlier, have become a staple of many young, Y2K girls wardrobe. We have no real issue with a tube top, just make sure they aren't see through, and they have a sticky seal on them, so they WON'T FALL DOWN!
19. Shoulder pads
imagesource: reddit
The exaggerated shoulder pads from the 1980s need to stay in the 80s and never return. All we think of when shoulder pads are mentioned is Dynasty! Joan Collins and her huge shoulder pads caused a real stir in the 80s but please, for the love of god, don't let them come back in fashion! In recent years, we have noticed a slight return of a shoulder pad, but nothing has intense as the ones featured on this list!
20. Edible accessories (candy necklaces, gum wrapper chains)

imagesource: reddit
What screams childish more than a candy necklace or gum wrapper chains?! They weren't cool in the noughties and they definitely wouldn't be cool now if they were to come back in fashion. Please leave them in the noughties and let's forget they were ever a thing. This is such a strange concept, and I'm not sure what the creators were thinking when they designed these!
21. Shutter shades
imagesource: reddit
Kanye West has a lot to answer for when it comes to the shutter shade fashion trend. Throughout the mid-noughties, Kanye would be seen on his music videos, out in clubs and in public with these monstrosities on and he made us all think they were acceptable. Someone please tell me the point in these? They are completely impractical, and dare I say they don't look good either!
22. Crocs with socks
imagesource: reddit
Now, this one's a toughie. Crocs are like marmite, you either love them or you hate them. They've definitely come back in fashion in recent years and people are loving them, but crocs with a pair of socks are just a step too far. Leave the socks at home and don't ruin this already slightly ugly shoe. Are you team Crocs or team no Crocs? ANd would you wear them in public?
23. Bedazzled denim
imagesource: reddit
Bedazzled denim has snuck back into our wardrobes, but thankfully nothing too bedazzled. Some of us may remember the hideous bejeweled jeans we would wear that at the time we thought looked good, but looking back at photos we realise really did NOT look good. It's nice to look back on our fashion journey, but I think these ones should stay in the past!
24. Acid wash jeans
imagesource: redddit
Acid wash anything can be a bit blah, you've got to be careful when you're purchasing anything acid wash not to match it with something that's going to make it look tacky. However, many of us don't really know how to even style ourselves properly - so in answer to this. Just stay away from acid wash anything. We believe a solid color jean will look a lot more classy!
25. Tulle skirts over jeans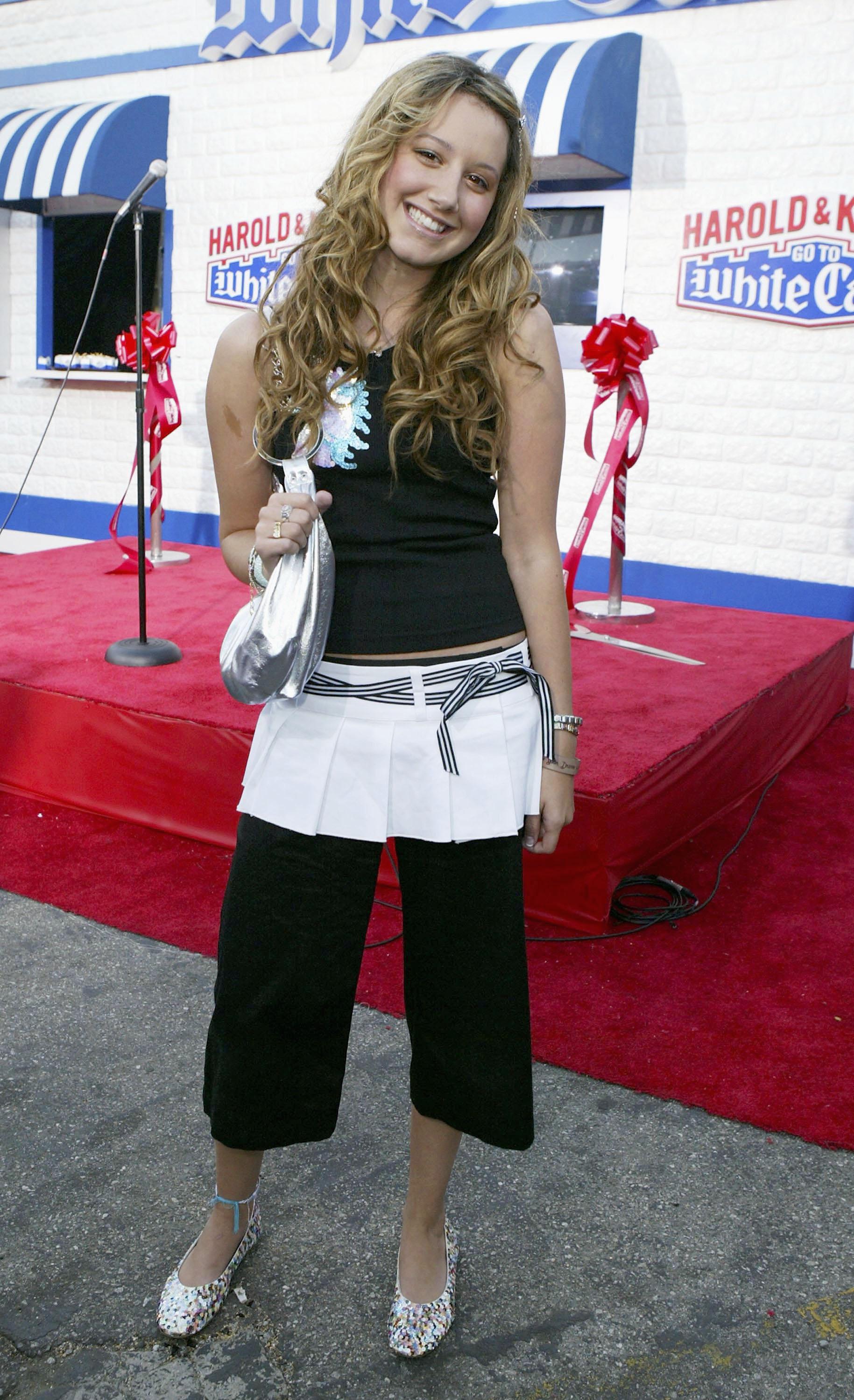 imagesource: reddit
Skirts over jeans are a fashion trend we could never fully wrap our heads around. Why? I mean, I don't get what possibly could have made this trend even acceptable? Remember all of those celebrities who walked the red carpet in a tulle skirt and jeans? They'll never be able to live those photos down. We are slowly seeing this come back on to our runways, labelled 'high-fashion'... weird!
26. Trucker hats
imagesource: reddit
These oversized, mesh-backed caps can be left behind, I mean, they were just so unflattering. Trucker hats are a thing of the past, where they need to stay. Stop trying to make Von Dutch happen!!! Again, these hats are too branded, and we're not sure of the purpose of this! Trucker hats are a no go, always and forever. Unless you're a trucker that is.
27. Leg warmers
imagesource: reddit
Leg warmers are comfortable, there's no denying that! They're practical, they keep you warm but they're hideous. Keep these things in the 80s and we'll have no issues. Jane Fonda may have pulled them off in those workout videos, but that's where they need to stay! If you get cold, try adding a layer under your clothes, not on top... and definetly not around your ankles!!
28. Crochet blanket shirts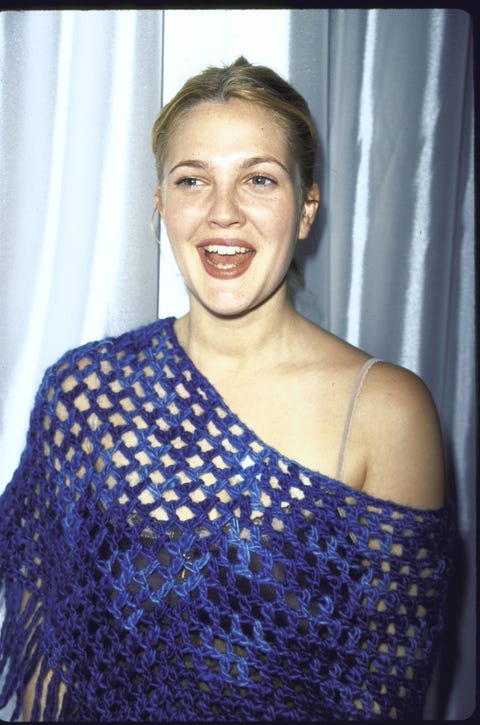 imagesource: gettyimages
These hideous things looked like something your great aunt would throw over the dinner table and somehow they made it on the runways in the 90s. These oversized teapot looking things were stuff of nightmares and although crochet has made a big comeback in recent seasons, we can rest assured these horrific things haven't. If you want to rock crochet, approach with caution!.
29. Burnt velvet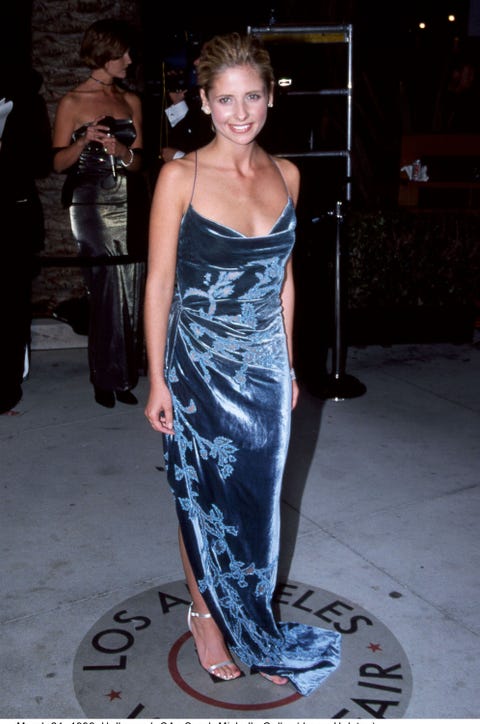 imagesource: gettyimages
Long, figure hugging dresses are ALWAYS flattering, and some 90s celebs really pulled the look off. But when it came to these burnt velvet things, well, they were not flattering. Not one little bit. Burnt velvet blouses were also a huge no go as well. Stay in the 90s, you're not wanted! Can anyone else not stand the feeling of burnt velvet on their fingers too?
30. Corsets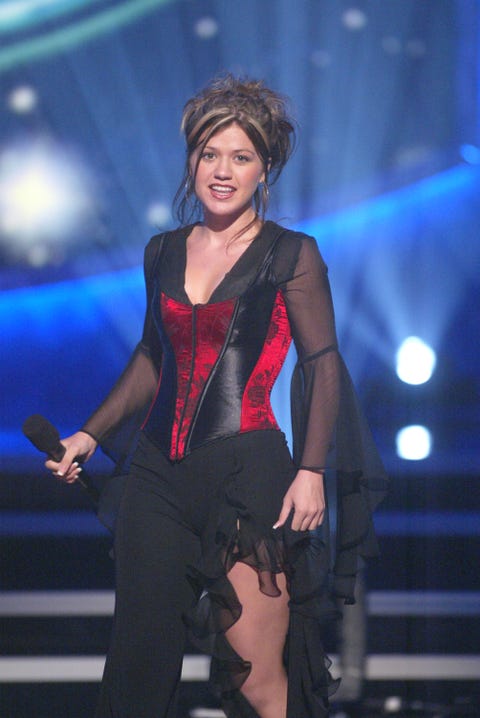 imagesource: cosmopolitan
Let's all promise not to let this 19th century, stomach cramping, unflattering things where they belong. In the bin. Or on burlesque dancers. Far too many of us small chested ladies tried to pull off this trend and failed miserably. There was nothing flattering or sexy about corsets. Let's forget about them forever. Stay comfortable is our advice, it's so not worth it!