Dark Secrets Of The Taj Mahal
By Aaron Love
2 months ago
It Was Built For Love

Image Source: Reddit
You might have heard the stories behind the creation of the Taj Mahal before, they're quite commonly mentioned when people talk about the building. The Emperor at the time of its creation, Shah Jahan, commissioned the building as a way to show his love for his favourite wife, Mumtaz Mahal. I'm sure you can work out why it's called the Taj Mahal now.
The Cenotaphs Are Empty

Image Source: Pinterest
If you've ever been to the Taj Mahal or have seen images or videos from within the building you might have seen some cenotaphs right in the center of the main room. The stories you've probably heard explain how they contain the two lovers in their final resting places, although it turns out they're completely empty with them kept elsewhere.
The Bodies Lie At Garden Level

Image Source: India Today
Instead of the cenotaphs where people usually believe the bodies of Shah Jahan and Mumtaz Mahal lie, they are actually found at the garden level of the Taj Mahal where they are kept together within one of the fanciest looking, golden sarcophagi you'll ever see. To be fair though, if you've built this huge building then that isn't a surprise.
It Changes Colour

Image Source: YouTube
Depending on what time of the day you choose to visit the Taj Mahal, you might be surprised that it looks a slightly different colour than you might originally think. At noon you'll see the traditional blinding white colour whereas as the sun is setting you're more likely to see an orange tinge. What you really want to see however is the blue colour it shows off at night.
You'll Get Tricked

Image Source: What's Hot
For some reason, when the Taj Mahal was being built, the architects employed by Shah Jahan incorporated some optical illusions, supposedly meant to confuse anyone who attempted to attack the building. To this day though, people still get confused by the shrinking Taj Mahal deception that occurs when you walk from the main gate towards the building.
It's Earthquake Safe (Ish)

Image Source: Travel Blog
Another thing that the architects chose to build whilst developing the Taj Mahal were small towers that looked seemingly straight and symmetrical with another, but are actually leaning slightly. They didn't want them to look wonky, but they also wanted to ensure that, in case of an earthquake or something similar, that they wouldn't collapse inwards on the building.
It's Been Turning Yellow

Image Source: Reddit
As with anything, over time the building has began to see some ageing and the once bright white marble has began to yellow out a little bit. In order to try and change that, the building has been cleaned using a paste known as Multani Mitti to attack stains and remove dirt. Don't expect this to happen too quickly though, it takes absolutely ages!
The Gardens Have Changed

Image Source: DESIBlitz
Originally, the famous gardens of the Taj Mahal were built to represent the four gardens of paradise from within the Quran. However, after the Mughal empire deteriorated, the gardens became overgrown and messy. During the rule of the British Empire, the Taj Mahal was controlled by the UK and they imposed their own idyllic garden rules instead.
The Brits Wanted To Sell It

Image Source: Wonders Of The World
When British Colonizers came to stumble across the Taj Mahal, they originally intended to try and demolish the entire structure as a way to increase profits from their trip. They wanted to take the marble used to build the structure and sell it, although, because no one was interested they scrapped their plans. Then they destroyed the gardens!
22,000 Workers Were Used

Image Source: Mashable India
It seems like a hell of a lot of work to have to be done just to prove to your lost wife that you loved her, but Shah Jahan ended up employing more than 20,000 workers to build the Taj Mahal. And when I say employed, it's actually very likely that the people involved in building the structure didn't really have any choice or say in the matter.
They Used Elephants Too

Image Source: Pinterest
In order to transport some of the building materials to the building site of the Taj Mahal, they used around 1,000 elephants to carry and drag marble. It would obviously be much easier today with the invention of cars, but there was no way humans were carrying marble nearly 400 km. They wouldn't get away with stuff like this in the current day and age.
Shah Jahan Gouged

Image Source: Reddit
As Mahal wished for Shah Jahan to make her the most beautiful building ever seen, a number of rumours and myths began to surface in the years following its building. One of the most gruesome stories that appeared and some continue to believe to this day is that Jahan chose to gouge the eyes and sever the hands of the people who built and designed the building so it couldn't be equalled.
It's Perfectly Symmetrical

Image Source: Reddit
It's crazy to think that during the time of the Mughal empire they were able to create something so perfectly symmetrical, without the technology we have available to us today. But in all aspects of the building, there is complete balance in the way that it was developed. Except for one tiny part, the Shah's empty cenotaph. I wonder why?
There Was Going To Be Another

Image Source: Heritage Times
Its actually believed that Shah Jahan wanted a secondary Taj Mahal to be built as a shadow image original building, all the way across the Yamuna River. Rumour has it that this is actually where that Shah Jahan wanted to be buried; although his plans were ruined after he was imprisoned by his own son. Not the way he'd have wanted to go out I'm sure.
Was It For Love?

Image Source: Reddit
Although historians and many others will tell you that Shah Jahan built the Taj Mahal solely for his wife; some actually believe that it was more as a show of power instead. From the sheer greatness of the building, to the intricacies of the symmetry, the building appears to represent power. Was Jahan using the story of love to hide his need and desire for power?
The Foundations Are Actually Wooden

Image Source: India Tours
The Taj Mahal is famous for its massive size and beautiful, white marble exterior, the problem architects had at the time was working out how to maintain something so heavy. Its crazy to believe that 400 years after the building was initially constructed, the wooden timber used to build the foundations is actually still supporting the structure today.
The Real Tombs Are Plain

Image Source: D5 Channel English
I mentioned earlier that the cenotaphs within the main room of the Taj Mahal were empty and they were kept much lower. The actual tombs containing the duo are actually completely plain. You might think they'd have a crazy looking tomb covered in jewels but the Muslim religion is against grave markers being bejewelled. Very respectful.
The Writing Contains A Signature

Image Source: Reddit
Throughout the building (exterior and interior) you'll see a wide range of writing which is pretty much all from the Quran. You might not have noticed this if you aren't trained in reading the particular language. The designer, Amanat Khan wanted to be behind the transcriptions of God which were cut in black marble. However, he also wanted his name remembered and signed his name too.
The Dome Is Off

Image Source: Reddit
Although the entire building appears perfectly symmetrical, the main dome's shape actually means it can't be! Although it was first noticed back in 1980, most people refused to believe him through until 2016 when a paper backed by satellite imagery was published. Some people believe it was a simple mistake whilst others believe it was done on purpose to follow an old-school Islamic practice.
The Gold Spire Has Changed

Image Source: Reddit
Every time you look at the structure you might notice something separate on the building that you hadn't spotted before. The golden spire atop the main dome looks amazing from a distance, but apparently it would have looked much better centuries ago! The original gold piece was replaced in the early 19th century by the bronze that stands today.
The Gardens Extended Further Originally

Image Source: Third Eye Traveller
Its believed that the original plans for the gardens around the Taj Mahal actually extended much further out than the ones you can see when you visit today. Supposedly, the now ruined Moonlight Garden, found across the Yamuna River was actually pencilled in to be a part of the grounds. Maybe this is where Jahan's other palace was going to be built?
Was It Built Earlier?

Image Source; South China Morning Post
With anything important in history, there always comes some form of conspiracy theory, and in the case of the Taj Mahal that remains the same. Many people, with some backing from historians claim that Jahan actually only seized the temple and that it was built centuries earlier by Hindu rulers. This, unsurprisingly has caused some religious tensions.
Agra City Is Part Of Hindu History

Image Source: Reddit
Another aspect of this conspiracy theory that causes people to choose to believe that the structure was actually built centuries before the Shah Jahan's rule. Agra City, where the temple stands, has been the home to Shiva worship for centuries. So many people believe that this signifies the building was used by Hindu followers before his time.
It Echoes Specifically

Image Source: Reddit
If you've ever spent any time within old buildings with domes and ancient architecture like the Taj Mahal, then you'll know that the noises you make can echo for prolonged periods of time. Within the building it takes around 28 seconds for the sounds to become inaudible again, perfect for prayers to remain within our ears.
Scaffolding Was Expensive

Image Source: Arab News
A French traveller, around the time of Shah Jahan's rule, claimed that the scaffolding around the Taj Mahal actually cost more than the work on the building itself. He believed, and obviously was told, that the building was actually not commissioned by Shah Jahan, but they just worked on making the building look cleaner again.
The Door Was Carbon Tested

Image Source: Stephen Knapp
In order to try and work out whether or not that the conspiracy theory had any scientific backing to support its age being older than claimed. To do so, a wooden piece of the door was carbon dated and it actually showed that the piece was 300 years older than Shah Jahan himself. I wonder how they'd be able to go about clearing this one up?
Mumtaz's Death Date Is Unknown

Image Source: Reddit
It's common for dates to get mixed up as they are passed down from century to century, especially when records weren't as meticulously kept then as they are now. Some people believe it seems a little weird that if Shah Jahan loved Mumtaz so much then her death date would be public knowledge. Instead her death date hasn't appeared in any records.
There Are 22 Hidden Rooms

Image Source: Travel Genes
Within the walls of the Taj Mahal lay 22 rooms which its believed Shah Jahan chose to make uninhabitable for use. And to this day, the Archaeology department of India have chosen to keep people out of these rooms, locked away with only limited people allowed access. This has obviously done nothing to stop conspiracy theorists concocting ideas.
They Were Walled For Safety?

Image Source: Rapid Leaks
Some people actually believe that the basement of the Taj Mahal was actually bricked up in order to decrease carbon dioxide getting in to the rooms. As they were made of marble, constant exposure would result in the marble turning in to calcium carbonate. This would turn into a powder and increase the chances of it collapsing at any point.
Mumtaz Was Mummified

Image Source: Reddit
Another conspiracy theory that arisen around the body of Mumtaz is that she was actually mummified. Supposedly, Shah Jahan wanted to preserve his loves body so chose to mummify her and ensure her path to the afterlife went smoothly. You probably weren't aware so much that people around the world still mummified their loved ones that late on.
The other sites in India you definitely need to visit: Agra, Uttar Pradesh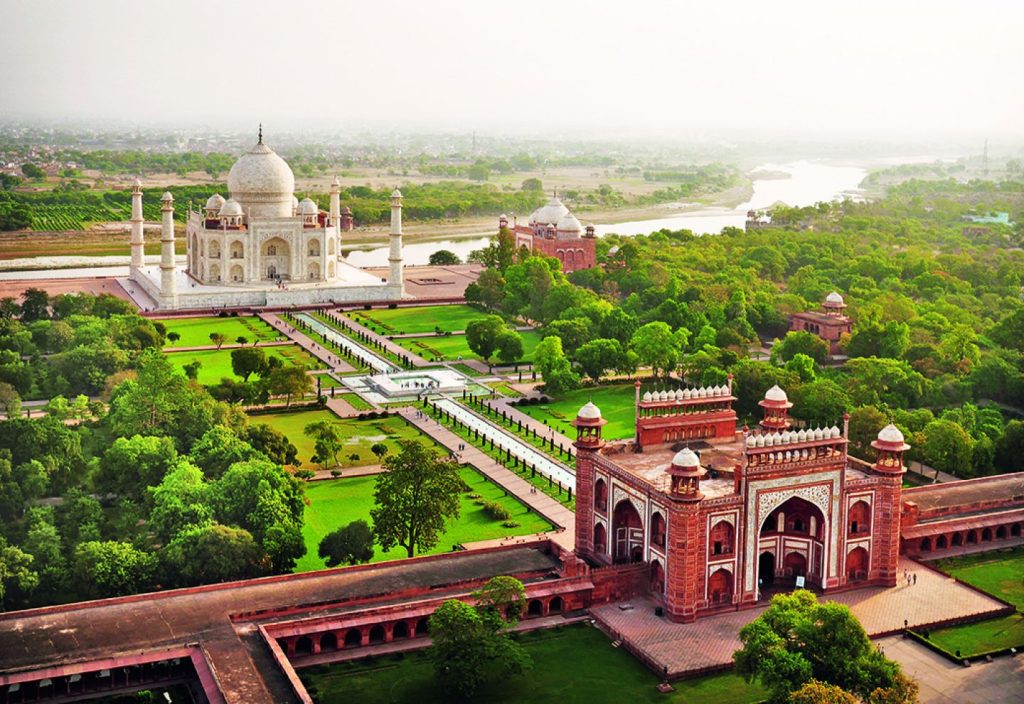 image source: foodandtravelmagazine.com
The Taj Mahal is found in this particular location, but don't forget about all the other attractions in Agra that you won't want to miss! It's known as the Golden Triangle circuit here for tourists, and you'll want to see the Agra Fort made of striking red sandstone, as well as taking some hard-earned cash to the Kinari Bazaar where they sell a variety of spices, clothes and souvenirs.
The Golden Temple, Punjab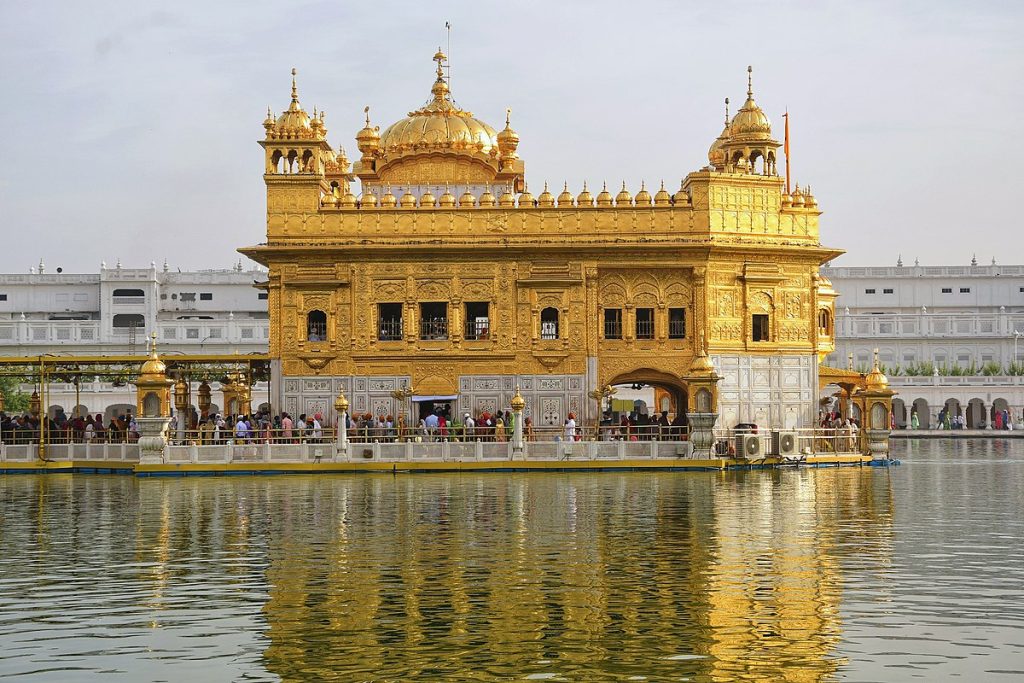 image source: en.wikipedia.org
Located in Amritsar is the Golden Temple which is one of the most revered shrines in India - so you won't want to miss it! You can also visit a piece of history at the Jallianwala Bagh, which reveals details of India's past, before taking in more cultural history at the nearby Partition Museum. You can also explore old city bazaars here if you prefer a traditional vibe to ultra modern!
Bangalore, Karnataka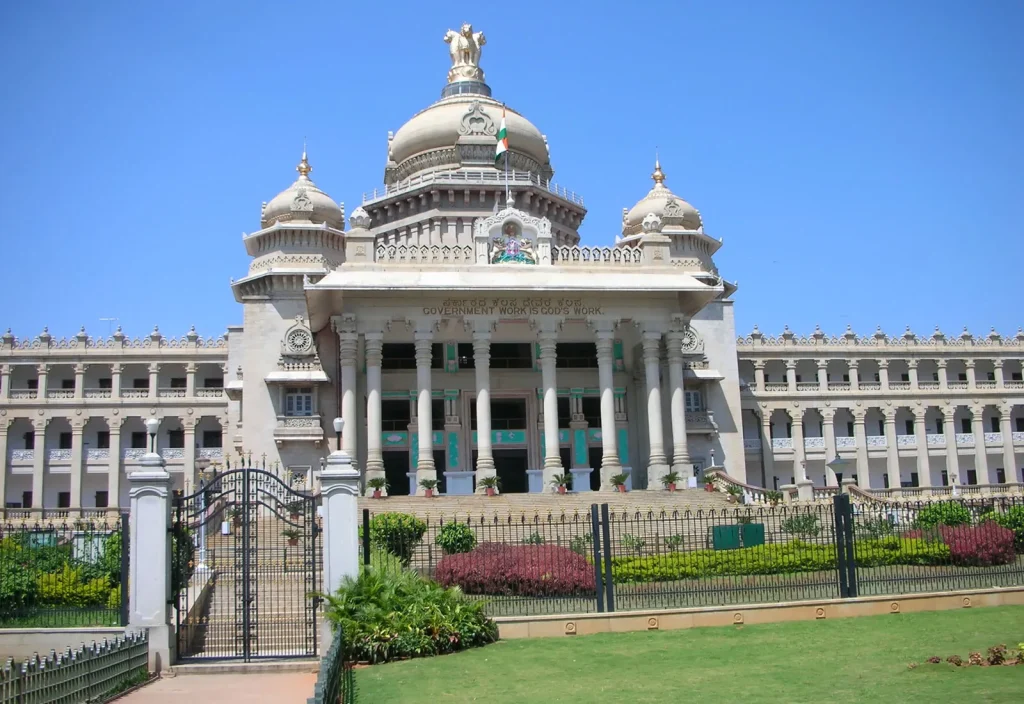 image source: britannica.com
If you're planning on hitting some of the big cities, then Bangalore is a must-stop as one of the biggest cities in the south of India. Here you can find plenty to eat, drink and shop for, as it's the perfect spot if you like to take in a mall or two during your vacation. You can also visit the Garden City if you need to balance it out with a bit of nature, as this includes botanical gardens and more.
Chennai, Tamil Nadu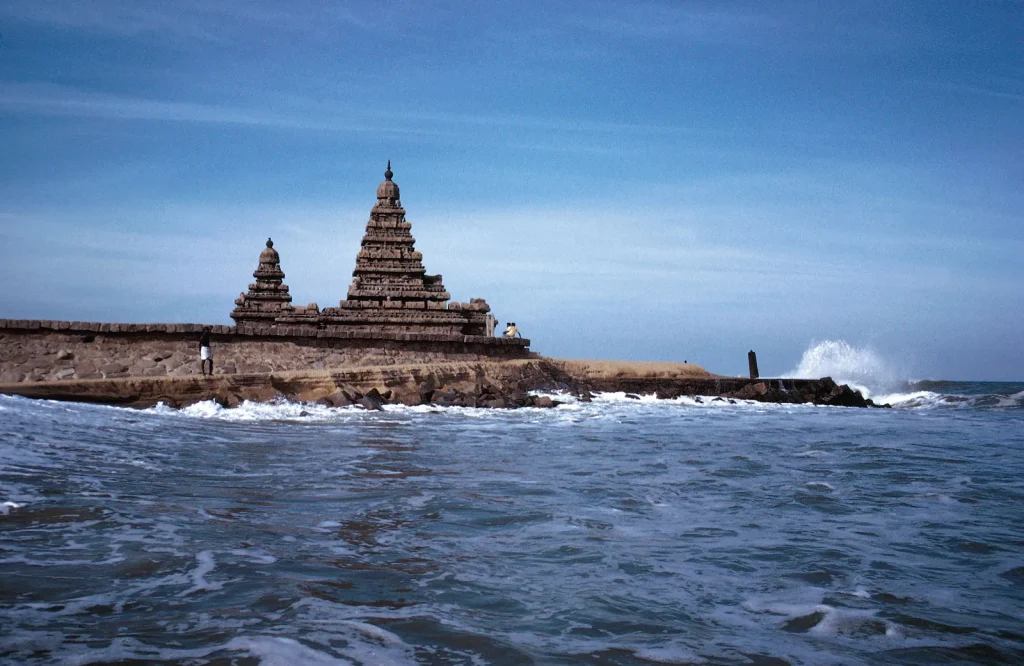 image source: britannica.com
This traditional city has a lot of beautiful temples for you to see, in a range of colors, so it's definitely one for those Instagram snaps. The most well known and popular temple (so you'll want to plan ahead) is the Kapaleeshwarar Temple in honor of Lord Shiva. You can also visit the Government Museum in this area, which has interesting collections, before visiting the world's second largest beach, Marina beach.
Jodhpur, Rajasthan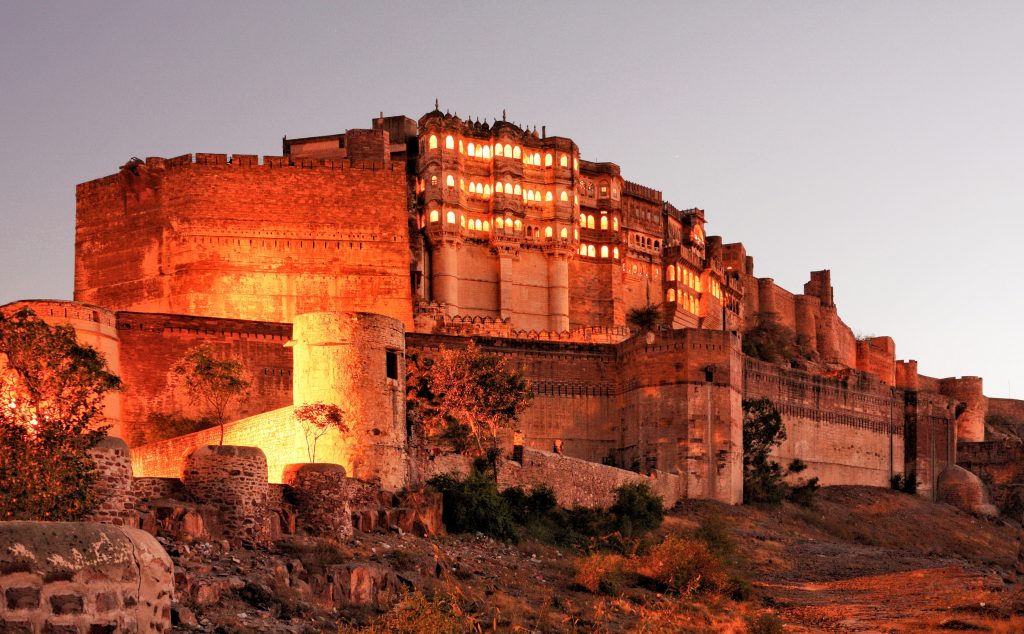 image source: en.wikipedia.org
This is one for lovers of winding, medieval streets! Also known as the Blue City, this place has a vibrancy of architectural color, as well as having the huge Mehrangarh Fort you can pay a visit to, perfect if you want a little exercise, too, based on its hilltop location. You can also take in the Umaid Bhawan Palace, which doubles as a hotel and a museum, and has connections to the old Indian royal family.
Kochi, Kerala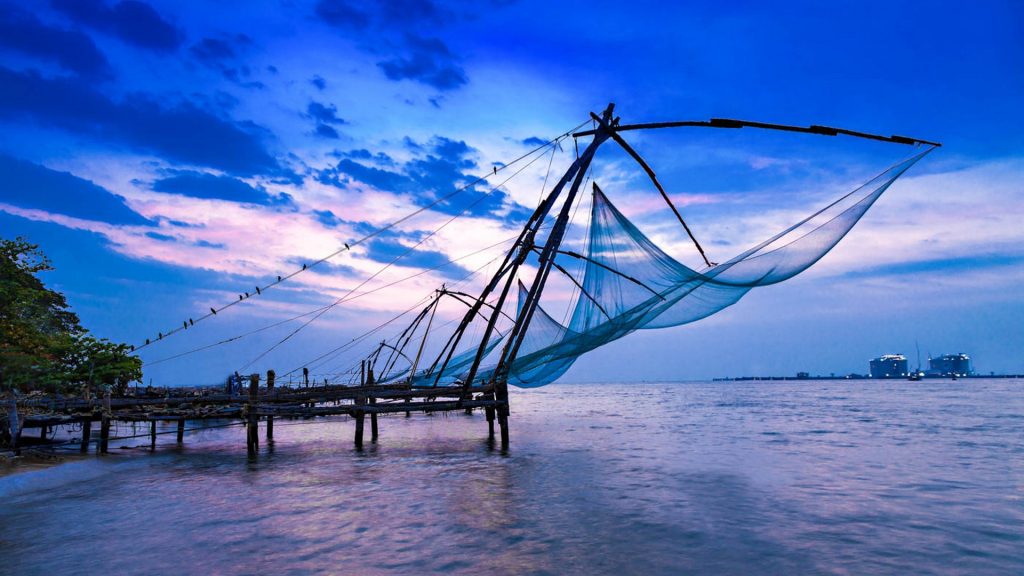 image source: irisholidays.com
Found on the Malabar coast of India, Kochi includes the old town of Fort Kochi to explore, and also offers a cultural mix of influences, including Portuguese and Dutch. Here you can visit the Pardesi Synagogue, which goes back 450 years, as well as the Mattancherry Palace - so it's a must stop for lovers of historical buildings. You can also see the Chinese fishing nets here!
Calcutta, West Bengal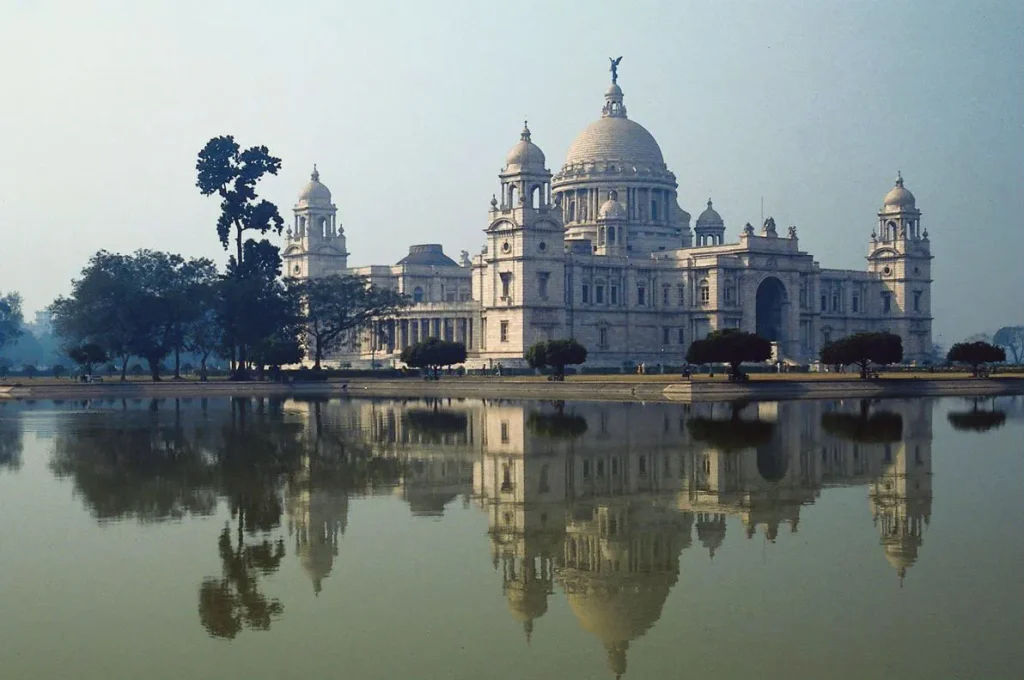 image source: britannica.com
Calcutta was once the capital of British India, and nowadays it's known for its metropolitan feel - but don't let that put you off if you don't like crowds, because it's actually not that busy. Here you can also take a break from shopping and see the Victoria Memorial and St Paul's Cathedral. You'll also want to grab a picture on Howrah Bridge and visit the Mullick Ghat Flower Market.
Leh, Ladakh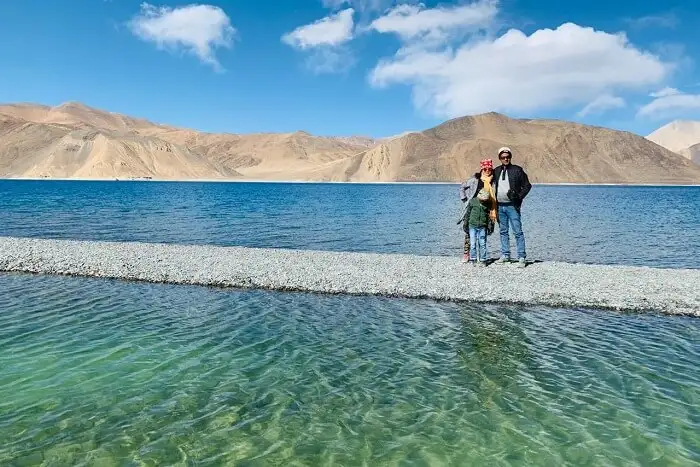 image source: traveltriangle.com
If you'd rather get out of the city and see some of the amazing natural sights India has to offer, then a visit to Leh in Ladakh will treat you to snow-capped mountains, beautiful blue lakes and even peaceful monasteries in the area. Found in the north of India, this region - with Leh being the capital - also holds the Hemis festival, which usually happens in July - so if you're taking a trip in the summer, you won't want to miss that!
Manali, Himachal Pradesh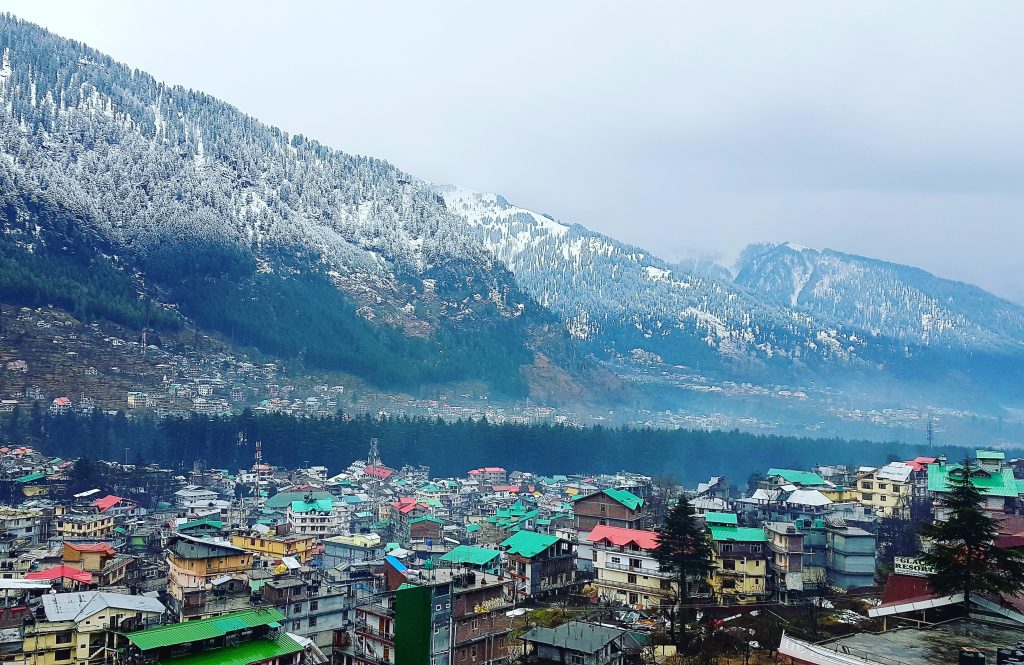 image source: en.wikipedia.org
Another offering for lovers of peaceful nature rather than the bustling hubbub, this area of India is a more quaint location surrounded by beautiful forests and mountains. There's also the River Beas if you like to be close to water, and you can take in the Hidimba Devi Temple here. But you don't have to worry about being too much out of it, either, because close by is the Mall Road shopping area.
Mumbai, Maharashtra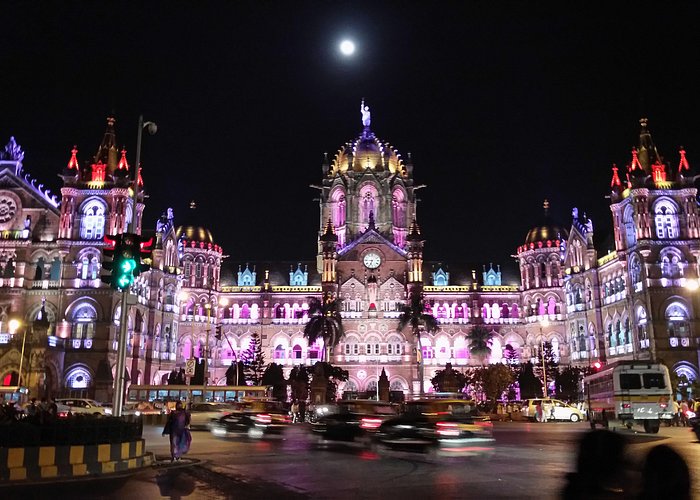 image source: tripadvisor.co.uk
Mumbai is perhaps one of the most well known places in India for its cosmopolitan city scene, and here you can find some stunning architecture like the Gateway of India, Banganga and Khotachiwadi. Lovers of art will want to visit the Kala Ghoda district and also taken in bars and restaurants in the Bandra neighborhood. You can take in the Arabian Sea here, too, with a visit to Marine Drive.
Delhi, India's capital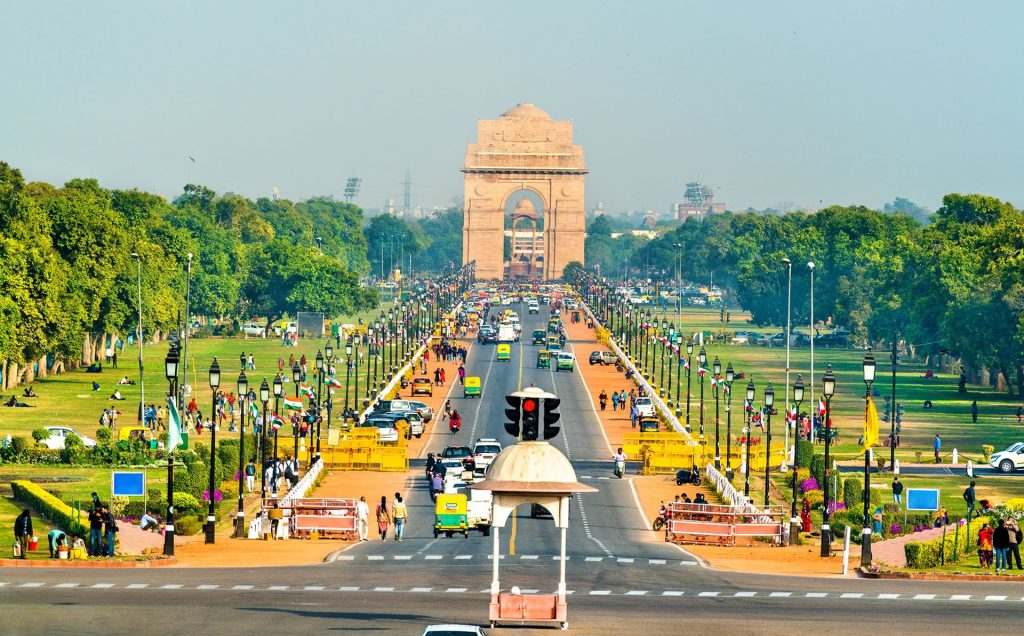 image source: roughguides.com
And you definitely don't want to miss the capital city of India if you're planning a trip there! Here you'll find plenty to see and do, and plenty of history. You can visit some iconic pieces of architecture, including the Red Fort, Humayun's Tomb and Qutb Minar. It also offers a great mix of busy city bustle and serene locations, like the Lodhi Garden. It's also the perfect spot to grab a bite to eat if you want the best food!
Panaji, Goa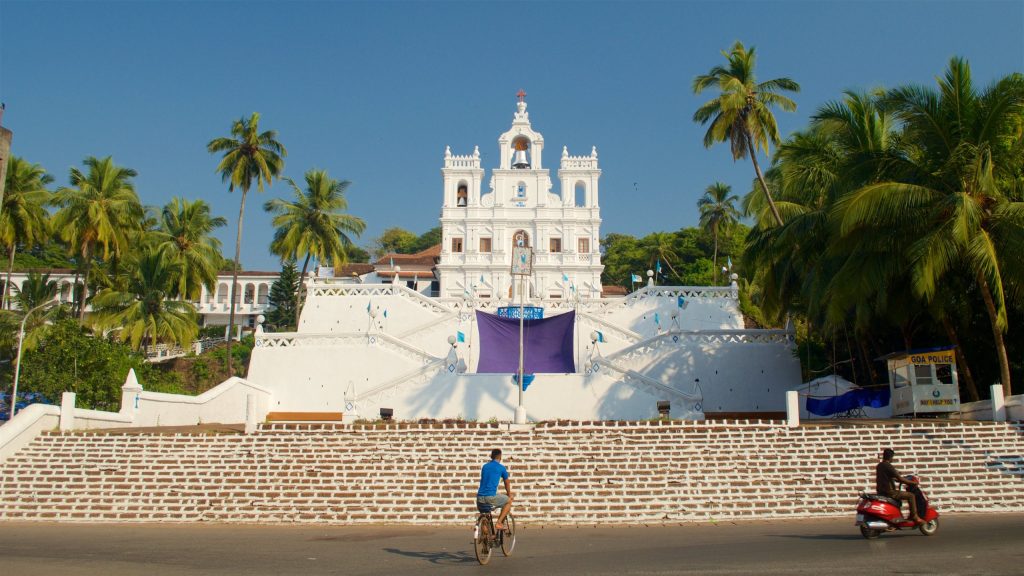 image source: expedia.com
Goa is the one to visit if you're looking for a relaxing break with sun, sea and sand. There are plenty of beachfront accommodations you can choose from here, and a ton to see and do, including the Church of Our Lady of the Immaculate Conception, boutiques and bars and the Mario Gallery showing off the work of India's most famous cartoonist. Don't miss the Latin quarter, either!
Rishikesh, Uttarakhand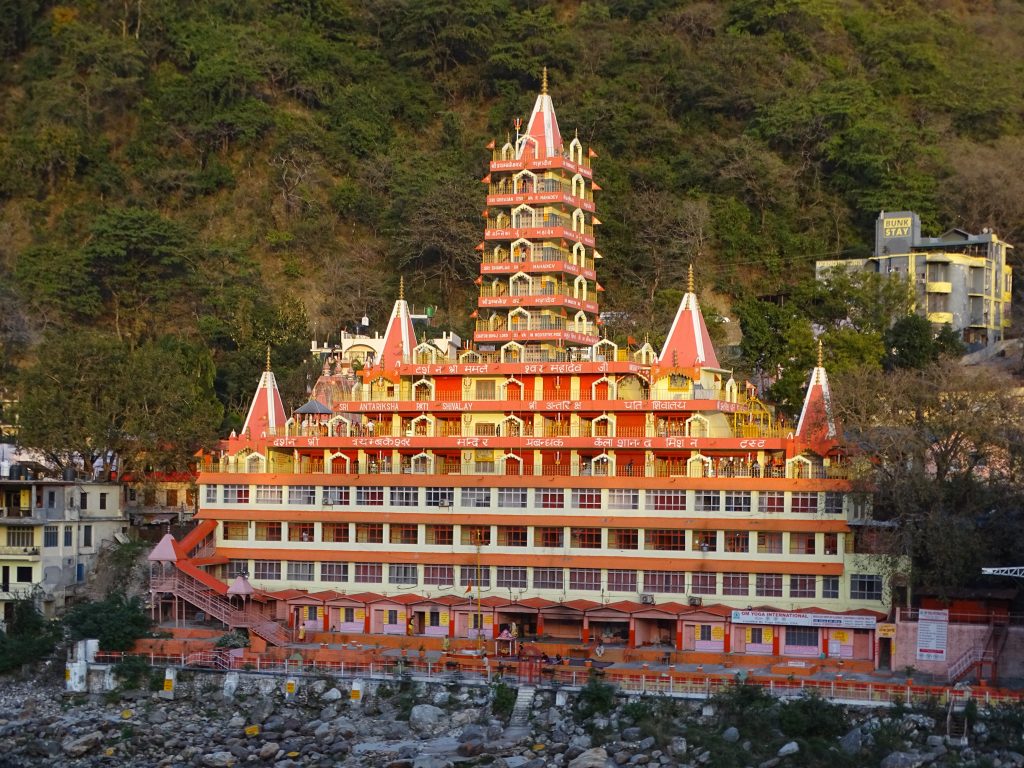 image source: en.wikipedia.org
India is a place steeped in culture, history and spirituality, and Rishikesh is a spot known for being a very spiritual city. It's beside the River Ganges, and includes many hotspots for meditation and yoga retreats. You can also take in an evening worship on the river that includes chanting and drum-beats, as well as a beautiful lantern show. The water also lets you take in some rafting, too!
Porbandar, Gujarat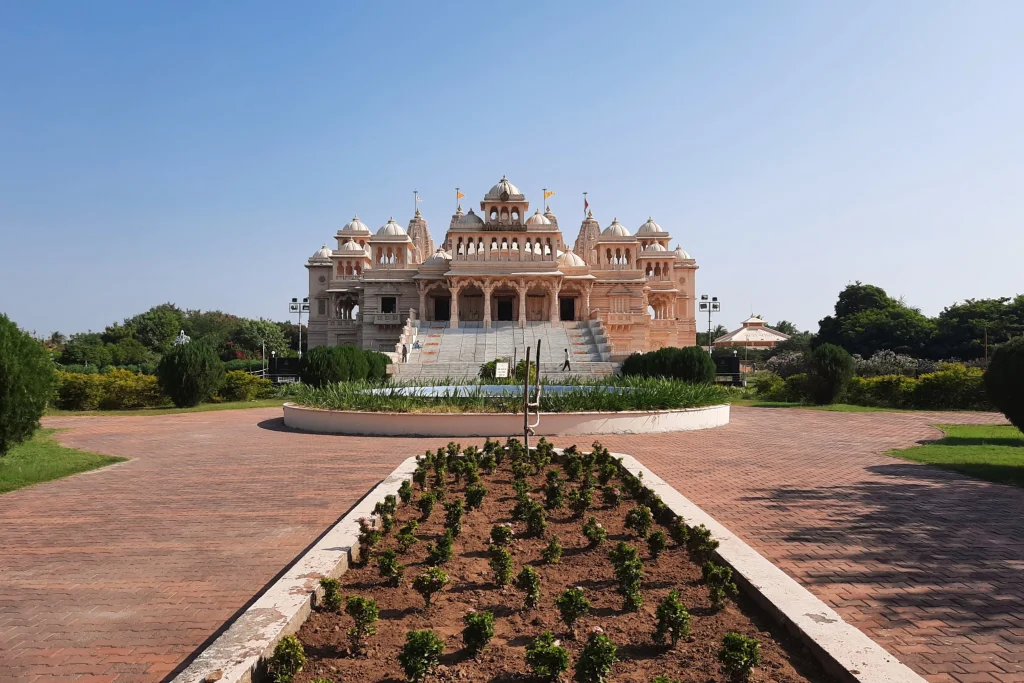 image source: expedia.com
If you're interested in the life and history of Mahatma Gandhi, then here you can take a visit to the house he was actually born in, found in this northwestern port. It's even said there's a marking for the very spot he was conceived! That's not all you can see in this place, either, as there is also the nearby coast, and the Dwarka, which is a key Hindu pilgrimage spot. There's also the Barda Wildlife Sanctuary nearby.
Lucknow, Uttar Pradesh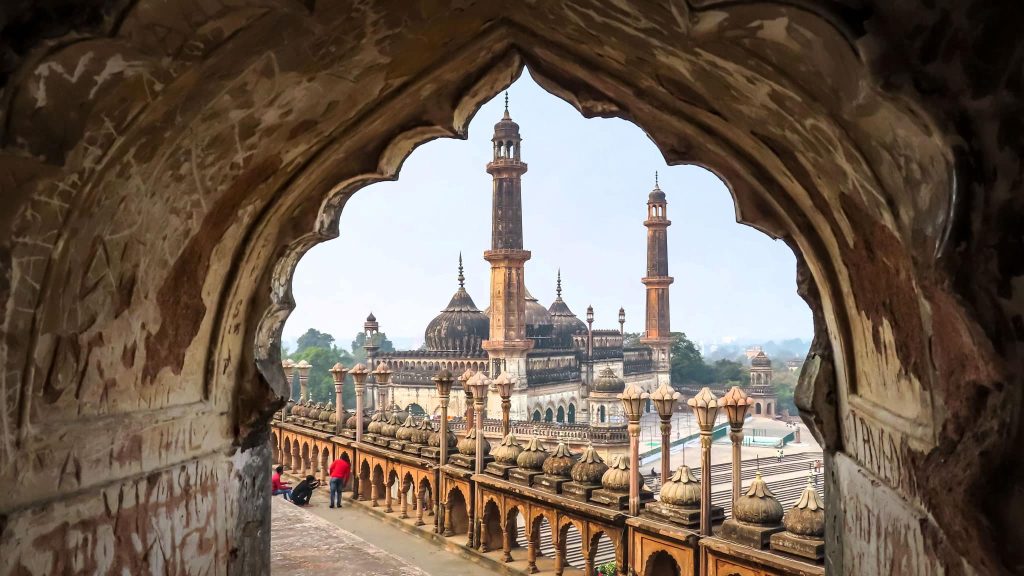 image source: danflyingsolo.com
Lucknow is the location of a well-known historical siege in India's history, which happened in 1857. This was where the British fought rebels, and the place now still stands preserved for tourists to visit. The city is also brimming with places to eat and drink, in particular famed for its Awadhi cuisine, which includes kebabs and revadi. There are also plenty of accommodation options in this area.
Puducherry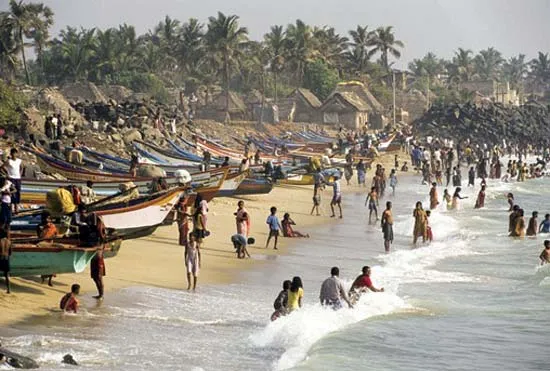 image source: britannica.com
You might have heard of this location before if referred to as 'Pondicherry', and it's a former settlement that was occupied up to the 1960s. Here, you can find plenty of beaches to take in and relax on, as well as beautiful villas and cobbled streets to explore. If you're a fan of the water and water sports, then you can also plan some activities in the area like scuba diving or taking a trip to the Bay of Bengal.
Varanasi, Uttar Pradesh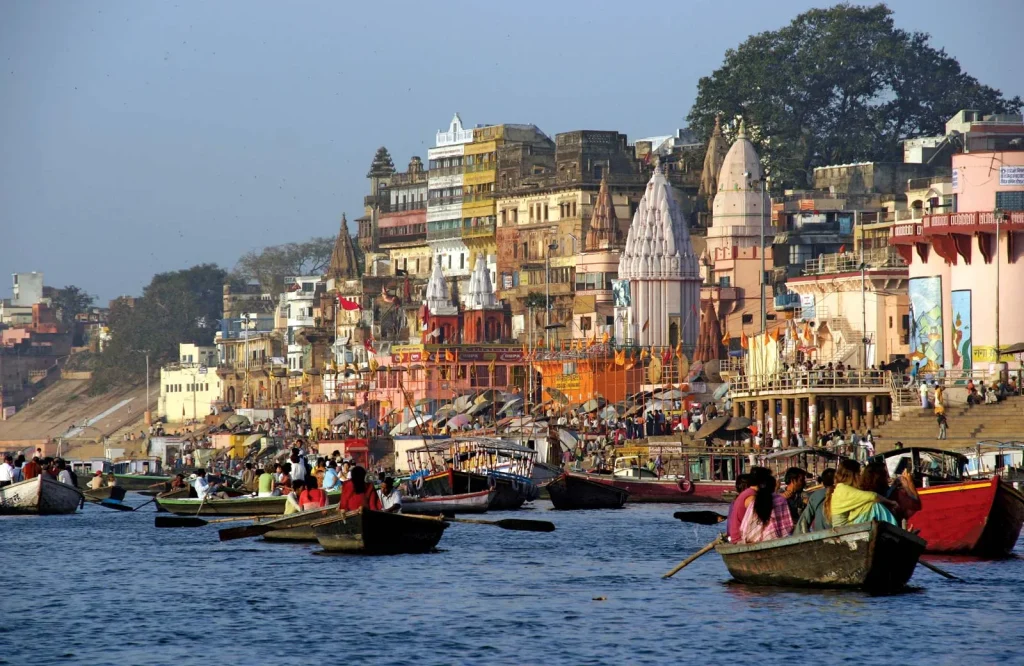 image source: britannica.com
This is a very sacred location in India, as it's the chosen spot for Hindus to be cremated after they have passed on. It's also another spot next to the River Ganges, which is also respected as a sacred place. The river is used for funeral boats to be sent along the water. You can also find boat cruises here to experience at sunset, and there are a great number of temples to explore.
Jaisalmer, Rajasthan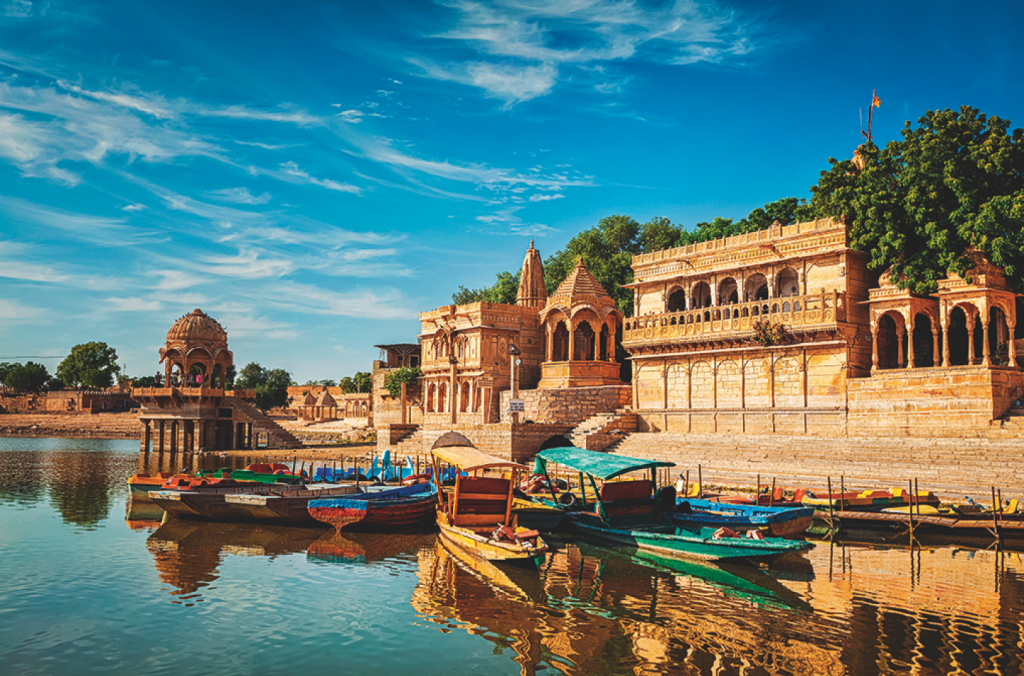 image source: foodandtravelmagazine.com
Here you can find the stunning golden sandstone fort of Jaisalmer, which is found in the sandy desert. It's a citadel from the 12th century, with nearly 100 bastions that kept the fort protected from attacks. You can find winding lanes and temples to explore here, too, as well as the Sam Sand Dunes close by, which is a peak spot for tourists to take in a camel ride!
Kerala's backwaters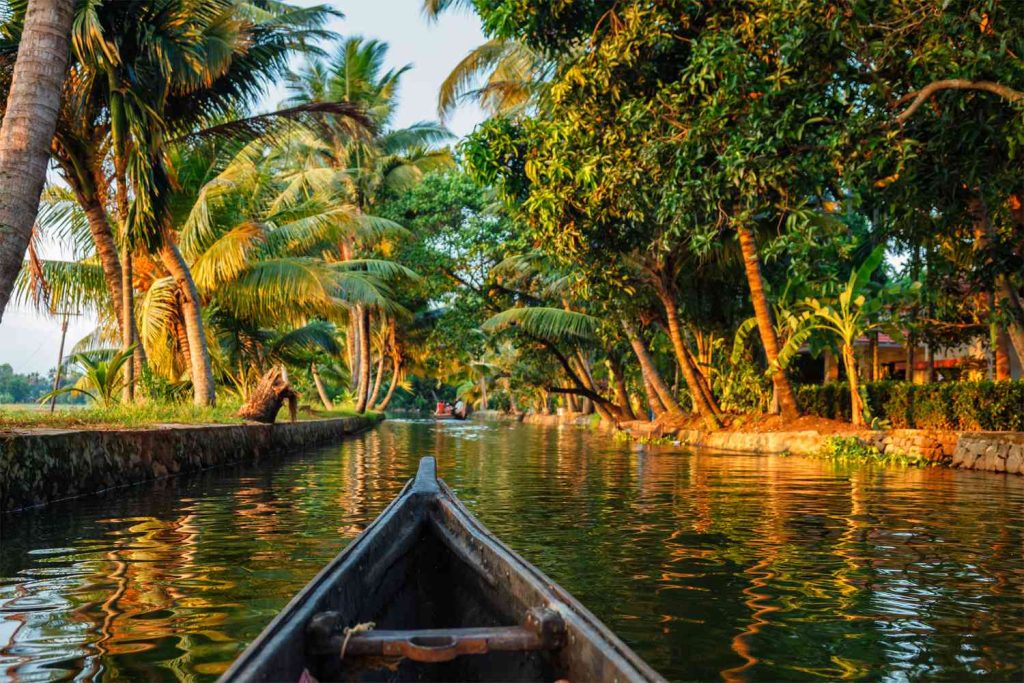 image source: tripsavvy.com
If you're hoping to take in a boat cruise during your visit to India, then this is a spot you'll want to take note of, as the backwaters are the main starting point for a lot of boat cruises to set sail. There are plenty of rural canals here, with many local birds to be seen during the ride. You even have the option of staying on a houseboat overnight, or if you have experience sailing, you can even take a boat for a week long exploration!
Jaipur, Rajasthan
image source: en.wikipedia.org
Jaipur is the place you'll want to visit if you want to see some beautiful royal palaces and many pieces of history. Jaipur is also known as the Pink City, due to the terracota coloring of many of the historical buildings. You'll want to stop at the City Palace and Hawa Mahal, while the Amber Fort can be found near to the outside of the main city. There's also the Ranthambore National Park close by for a tiger safari!