AI Imagines Dogs Doing Human Activities
By Tianna Chen
1 month ago
1. Having A Drink At The Bar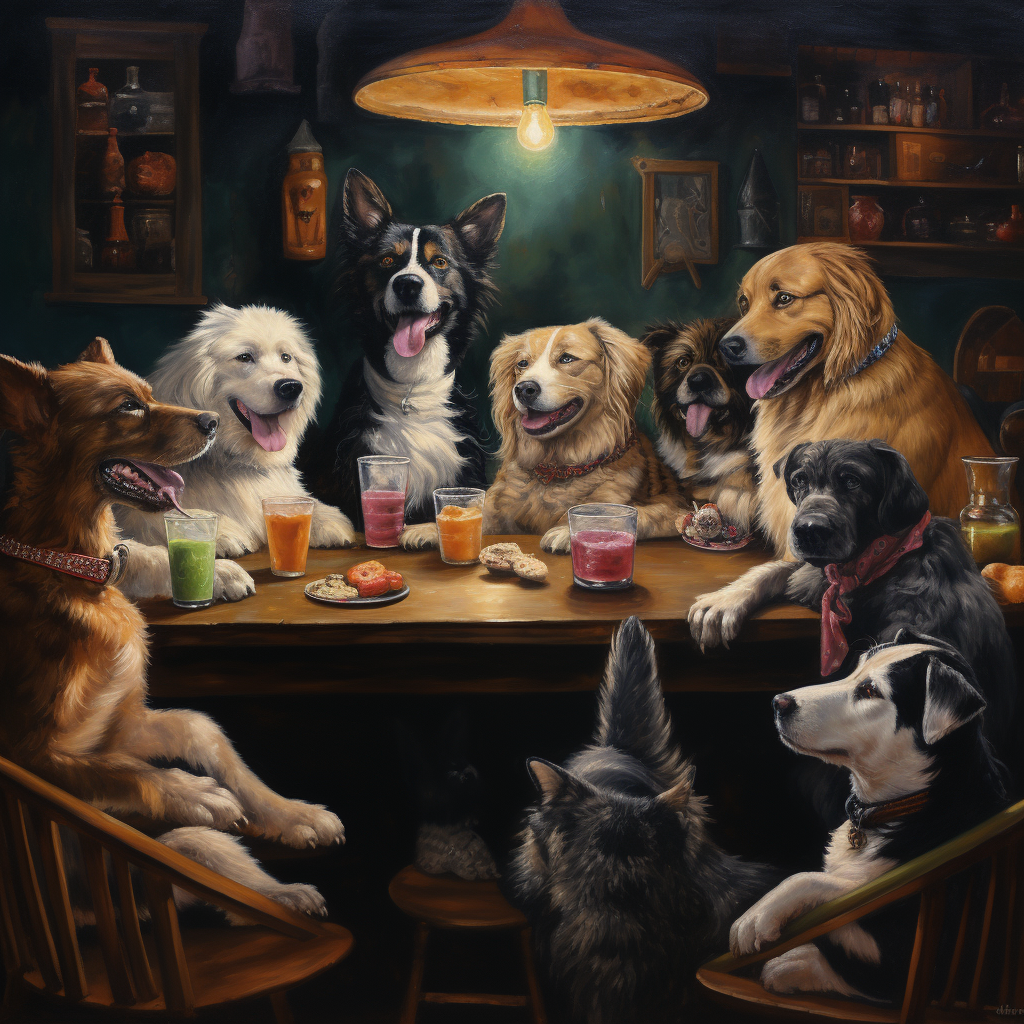 Image Source: Mid Journey
It's a world where dogs meet other dog friends for drinks at the bar. With an air of nonchalance and tails wagging with excitement, they perch their furry bodies onto the bar stools. Happy hour is their favorite hour of the day. Some might say they like to 'crack a cold one with the boys.' It's a great night to paw-rty out with their canine friends.
2. Working At The Office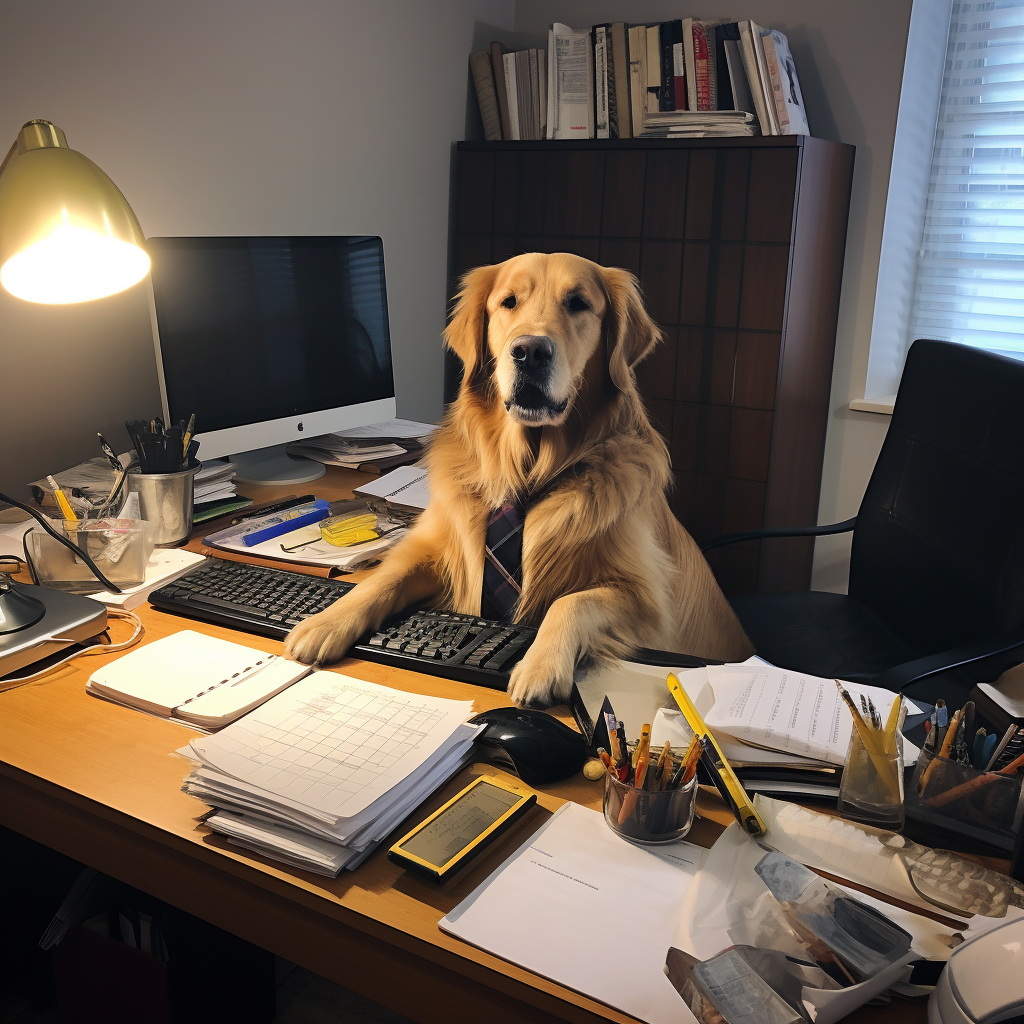 Image Source: Mid Journey
Spot the new co-worker at your office? He's already clocked into his nine-to-five job on a Monday morning, ready to seize the day. He wore a crisp new tie to match his office space today. During your break, you take a stroll to his cubicle. "How's the weather today?" he might ask. He can't speak for long though. He has got to get back to work.
3. Taking A Bath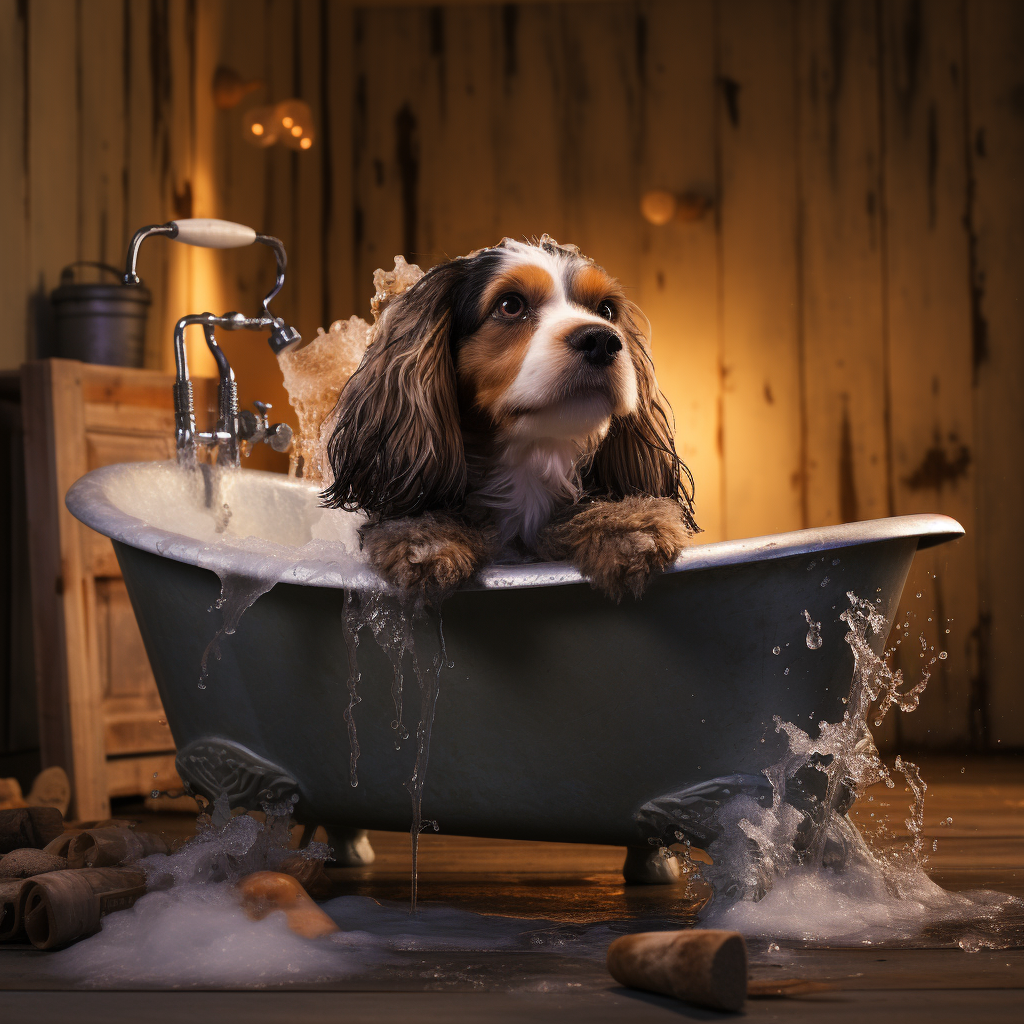 Image Source: Mid Journey
Get ready for suds and scruffs! Bath time is always a great time as this pup takes a bath all by itself. He's got his own porcelain tub, too. After playing outside all day, this pup cleans itself right off. His bathtime is no different than yours. They just need some bubbly soap, yellow rubber duckies, and a quick treat to go along with it!
4. Brushing Teeth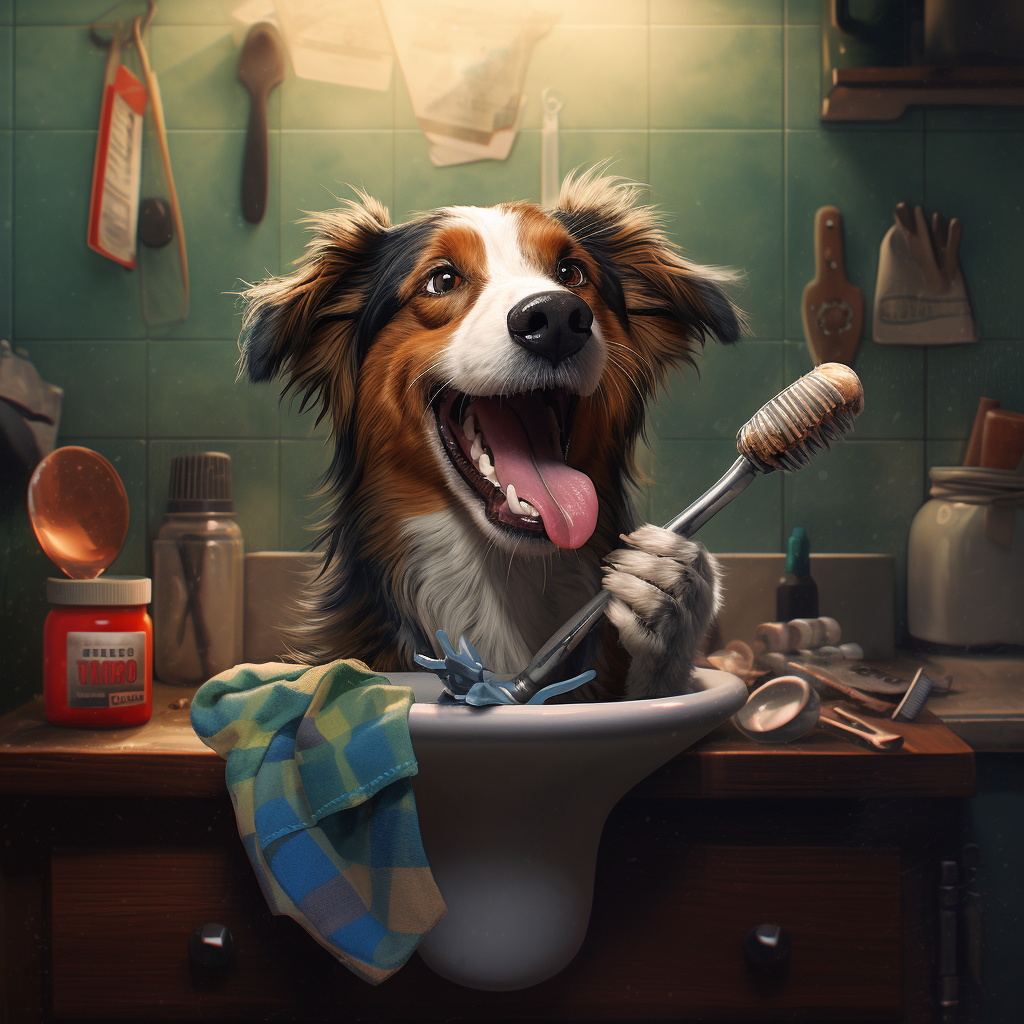 Image Source: Mid Journey
Brushing teeth after a long day to avoid doggy breath is a must. He likes to use minty toothpaste and slip on a pair of jammies afterward. It is all part of his nighttime routine. After a quick brush, he's almost ready to go to bed. Tonight, he decides to skip the floss though. The dentist can't possibly know, right?
5. Choosing An Outfit For The Day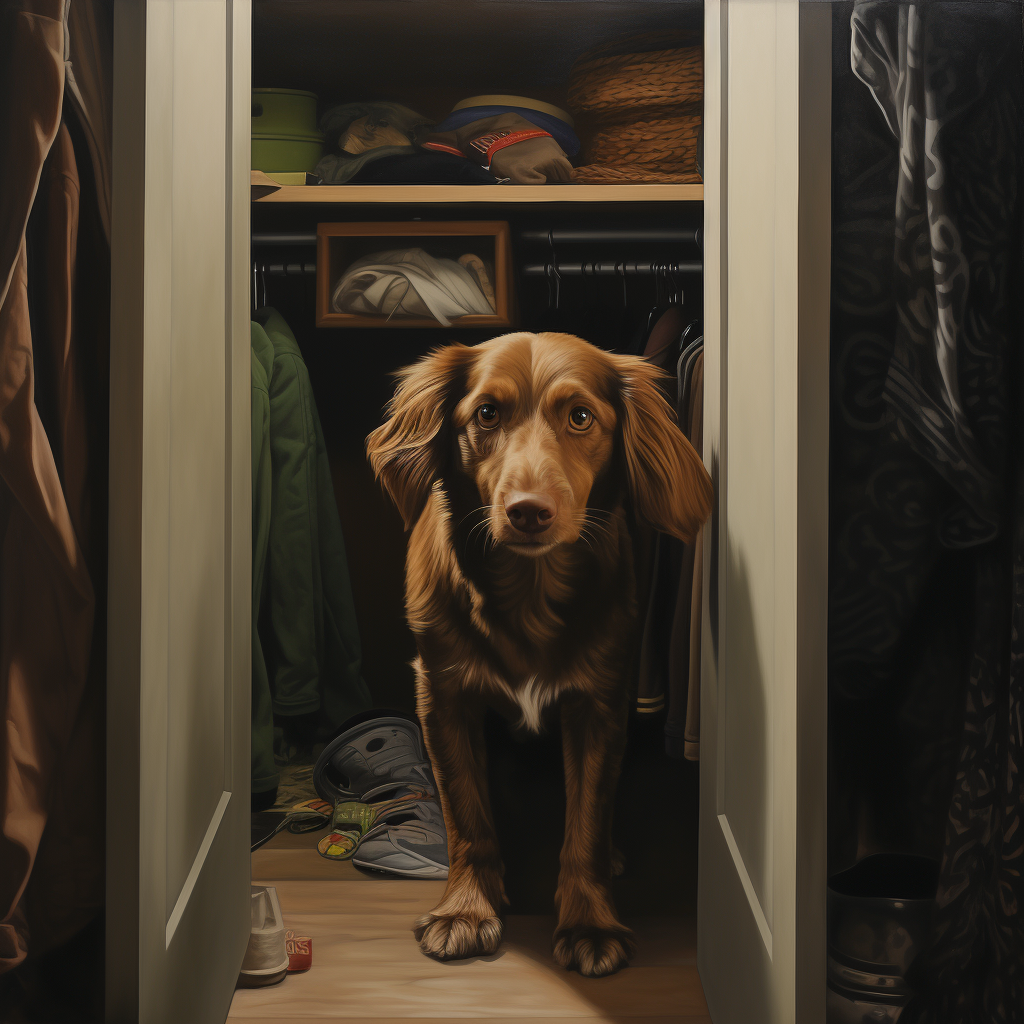 Image Source: Mid Journey
It's hard to pick an outfit for the day. There are too many options! After rummaging through the depths of her closet and drawers, this pup settles on something trendy. Finally, she found an outfit she loves! She decides to take a quick mirror selfie later to post on her socials. She might even caption it "Felt cute, might delete later #ootd."
6. At The Dentist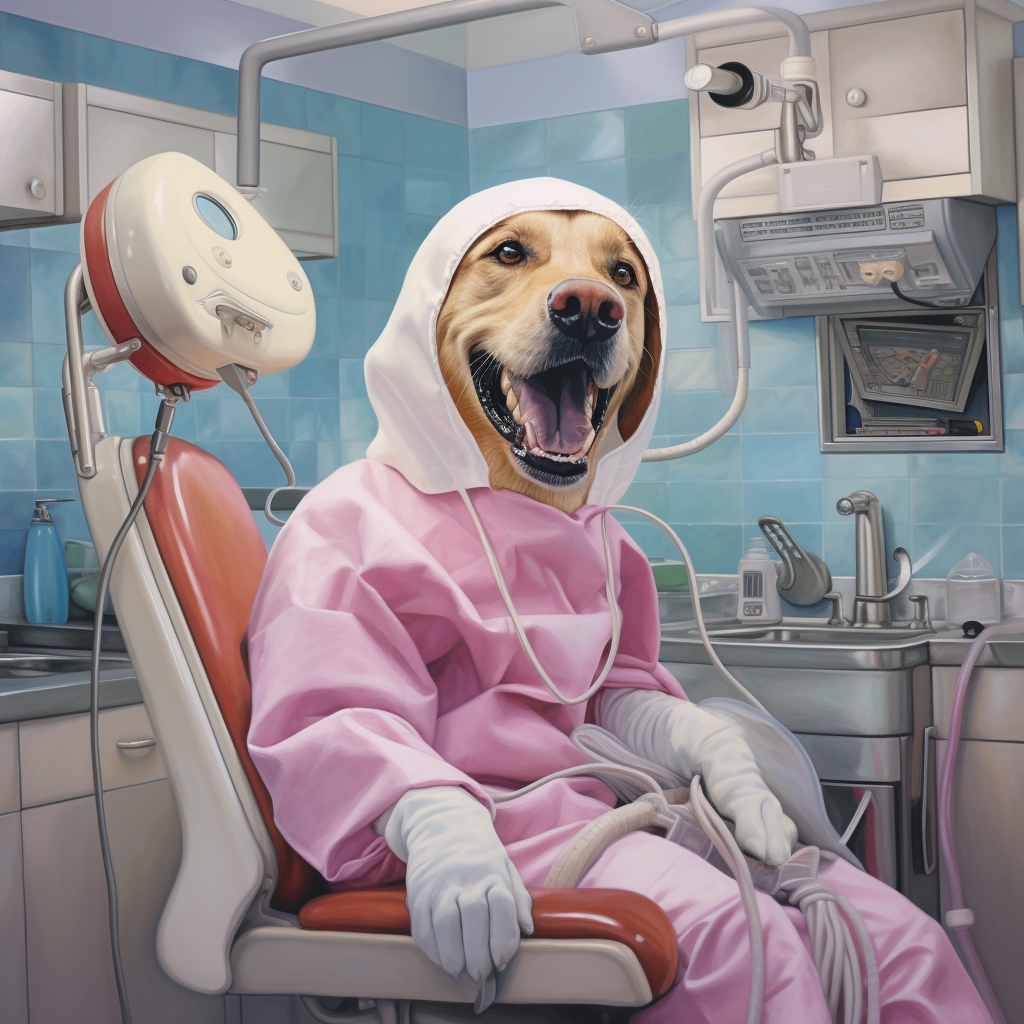 Image Source: Mid Journey
Our doggo here pays a long-awaited visit to the dentist to ensure his smile stays 'pawsitively' radiant. Doggo quickly hops onto the comfy reclining chair and assures the dentist that he's been flossing regularly to avoid any case of cavities. He shows everyone a huge cheesy smile. Today he's hoping the dentist will give him the thumbs up to have more treats!
7. Clothes Shopping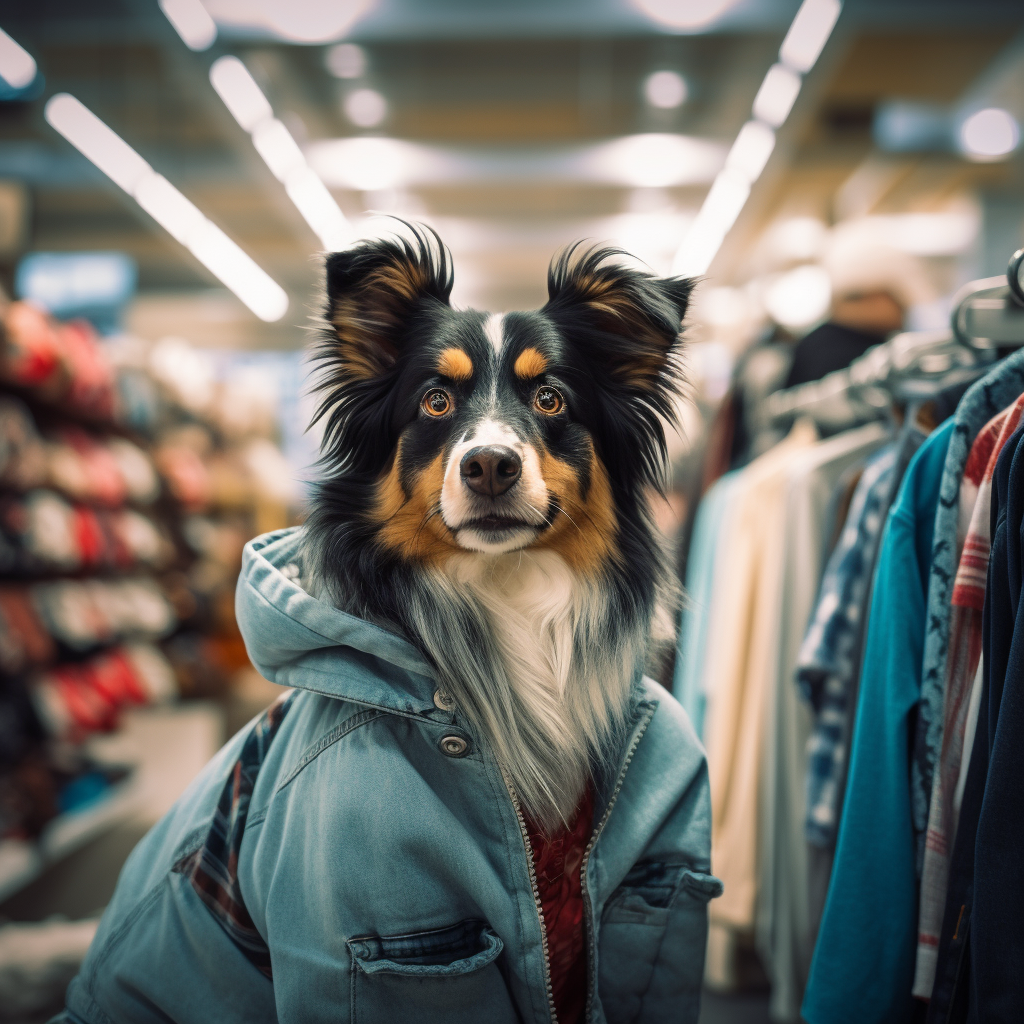 Image Source: Mid Journey
Staying stylish as this four-legged shopper embarks on a shopping spree of its own. He confidently paws through the colorful array of garments. As if meticulously choosing the perfect ensemble, he holds up various outfits giving them a tail wag of approval. He has got a keen eye for fashion and takes an interest in this season's coziest sweaters.
8. Cooking A Meal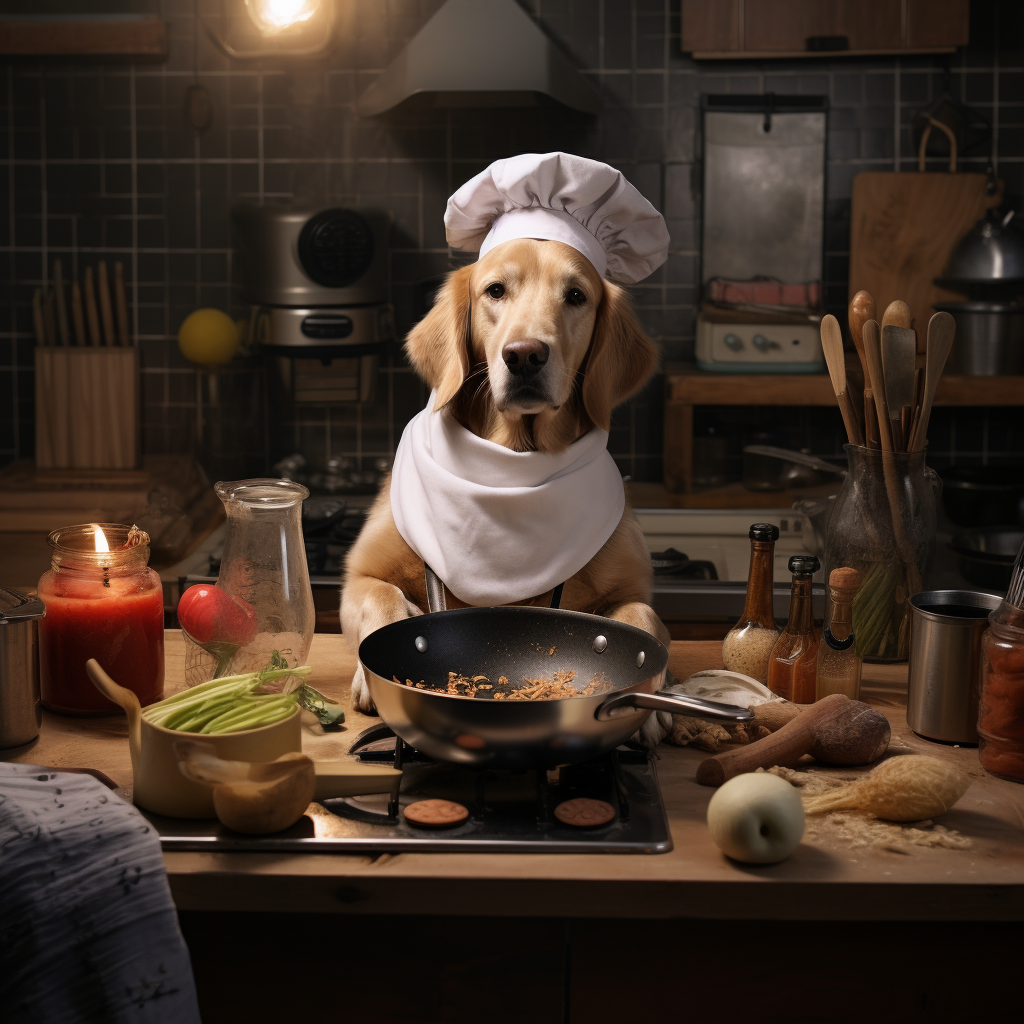 Image Source: Mid Journey
An adorable culinary enthusiast takes an interest in cooking the best dog food. With much determination, our chef takes a stand on its hind legs and places its paws on the countertop. He's put on his finest chef's hat and apron. Cut vegetables, zesty spices, and other ingredients are already lined up and ready for use. The aroma of the dish fills his nose. Bone Appetit!
9. Date Night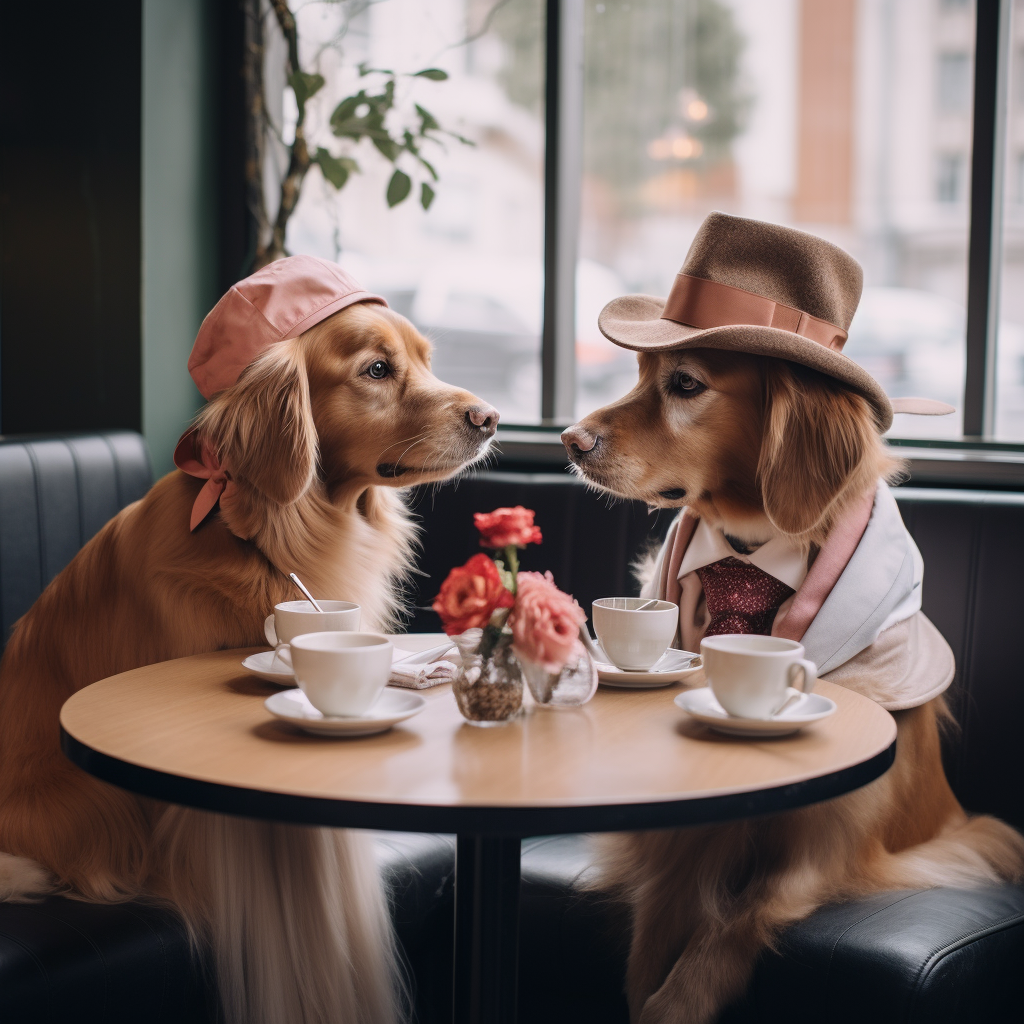 Image Source: Mid Journey
Two canine lovers got dressed up fancy to share a cup of tea in their favorite cafe. From their playful gestures to carefree interactions, their bond is the purest form of companionship. On this romance-filled night, they find themselves nuzzling nose-to-nose as they gaze into each other's puppy-dog eyes. The only fetch they're playing tonight is fetching hearts.
10. Cleaning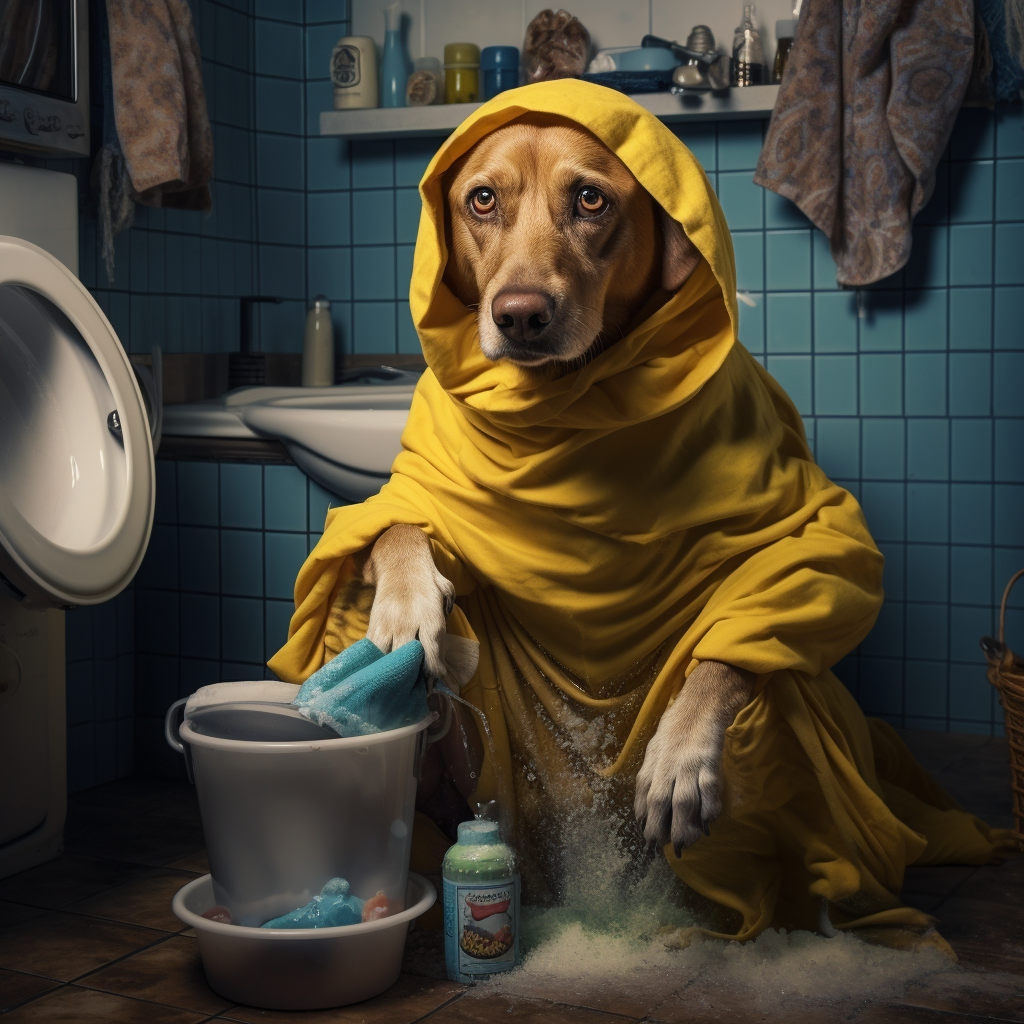 Image Source: Mid Journey
In this household, this pup keeps the bathroom squeaky clean. No more messes! He might look sad in this photo, but he's actually diligently scrubbing away the water droplets left over from bathtime. He loves cleaning so much that he notices every spot, bubble, and hair on the tiled floors. Armed with his favorite scrub and bucket, cleaning never feels like a chore!
11. Washing Dishes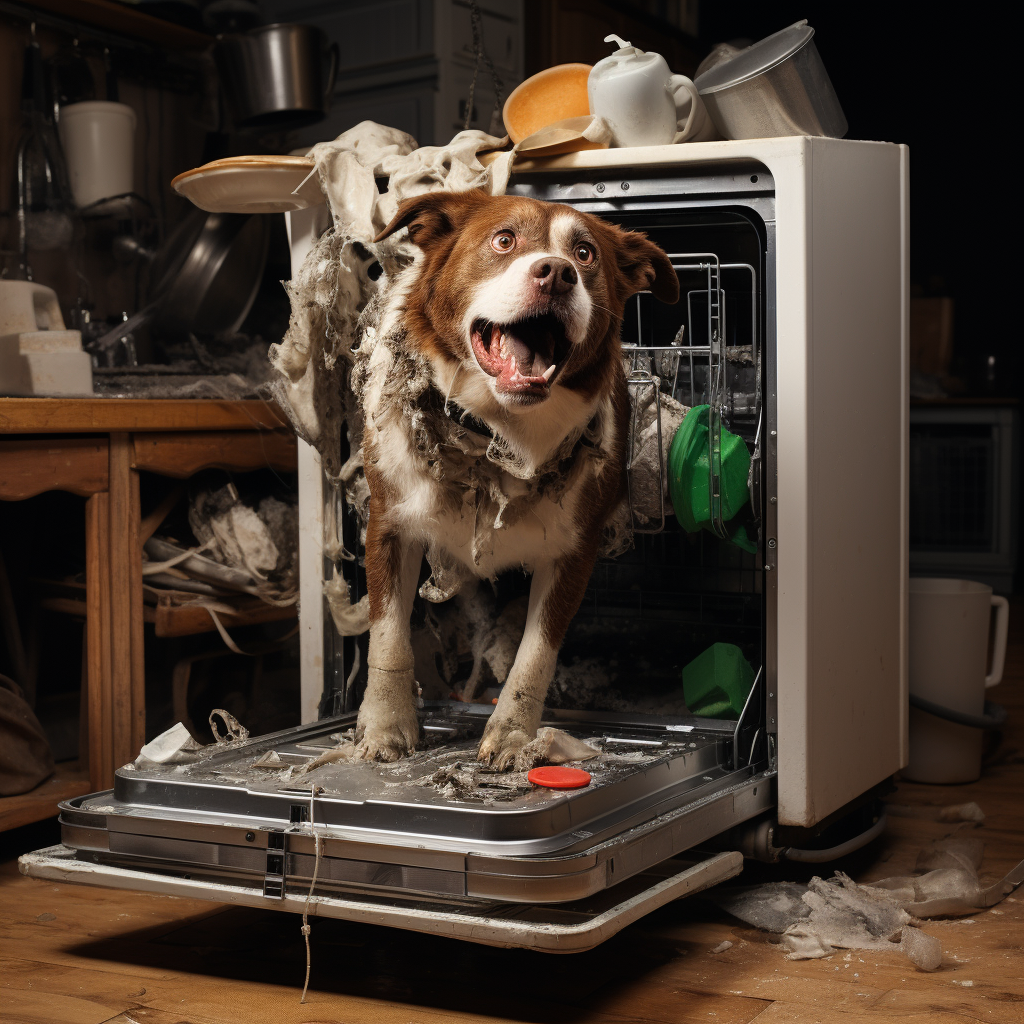 Image Source: Mid Journey
On the topic of chores, we can't forget about getting the dishes done as well. However, this pup got a little bit confused during the process. Did he wash the dishes or did the dishes wash him? Regardless, he's happy to figure out the dishwasher. After he snacks and drinks out of his doggy bowl, he's got to retrieve clean dishes for his next meal. Maybe next time he'll wash the dishes instead of himself!
12. Dog Walking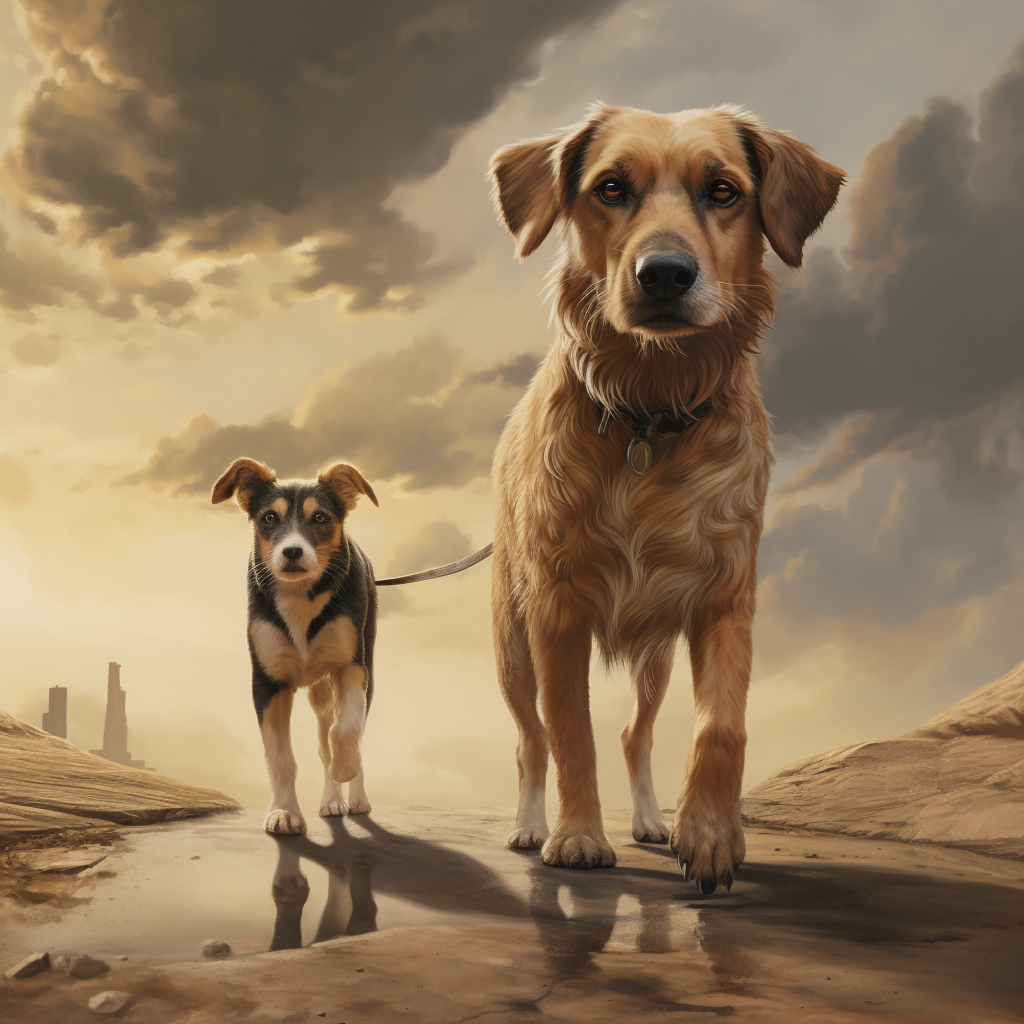 Image Source: Mid Journey
Dog walking doesn't get better than this. This is a dog-walk-dog world. Take your canine besties out for a nice walk in the neighborhood by placing them on a leash. Don't let them get distracted and run off though because it'll drag everyone else on a leash through the park! Speaking of which, all leashed walkers should definitely be hyper-aware of squirrels and birds.
13. Driving Around Town
Image Source: Mid Journey
Normally, you see a car with windows down, a dog's head sticking out, and a tongue-lolling against the wind. This pup, however, likes to place itself right in the passenger seat. His paws guide the steering wheel and take a light cruise downtown on his new ride. Passerby does a double-take as he is well on his way to pick up his other doggie pals.
14. Eating At The Table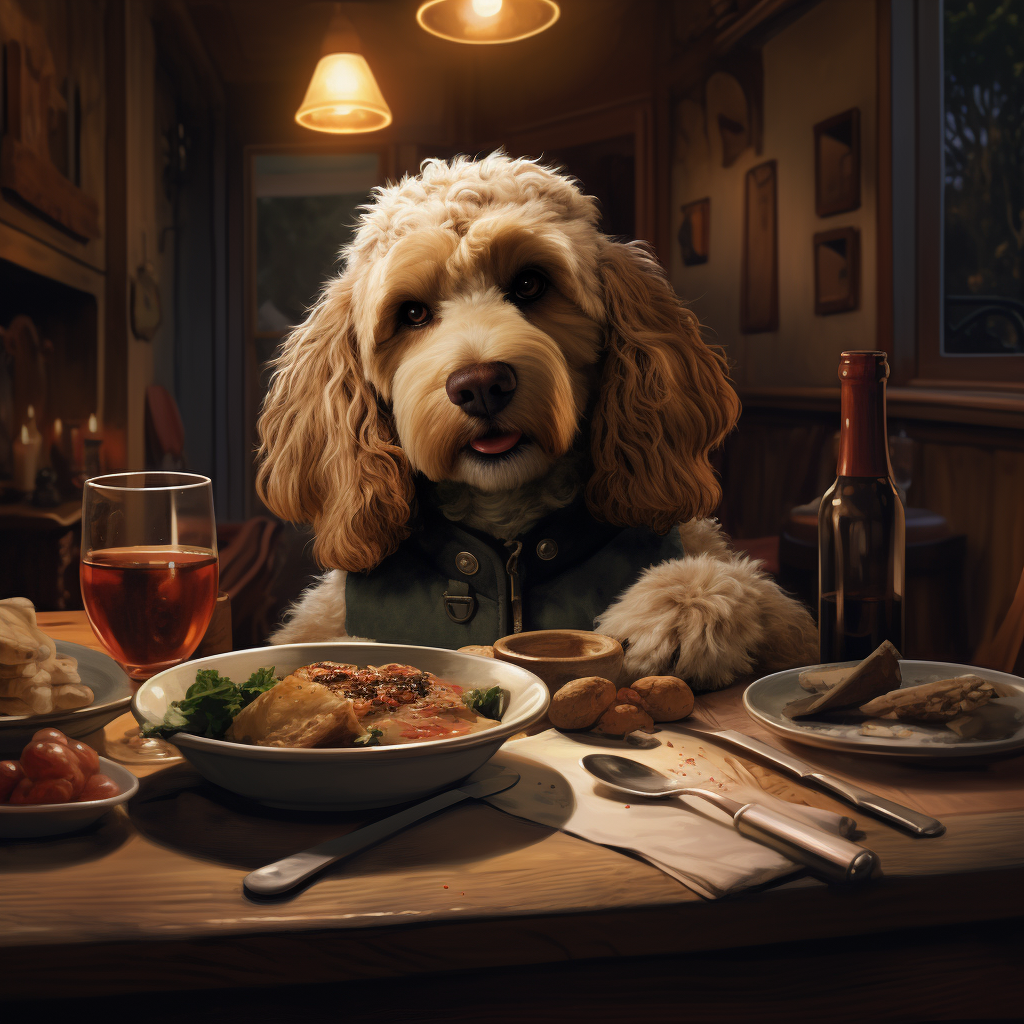 Image Source: Mid Journey
Whoever came up with the rule that dogs could not eat at the dinner table? They must have had bad taste because imagine having a meal right across from this adorable puppy. He will never let you have a lonely meal all by yourself. Besides, who doesn't love devouring a main course meal rather than scrapping leftovers underneath the table?
15. Gardening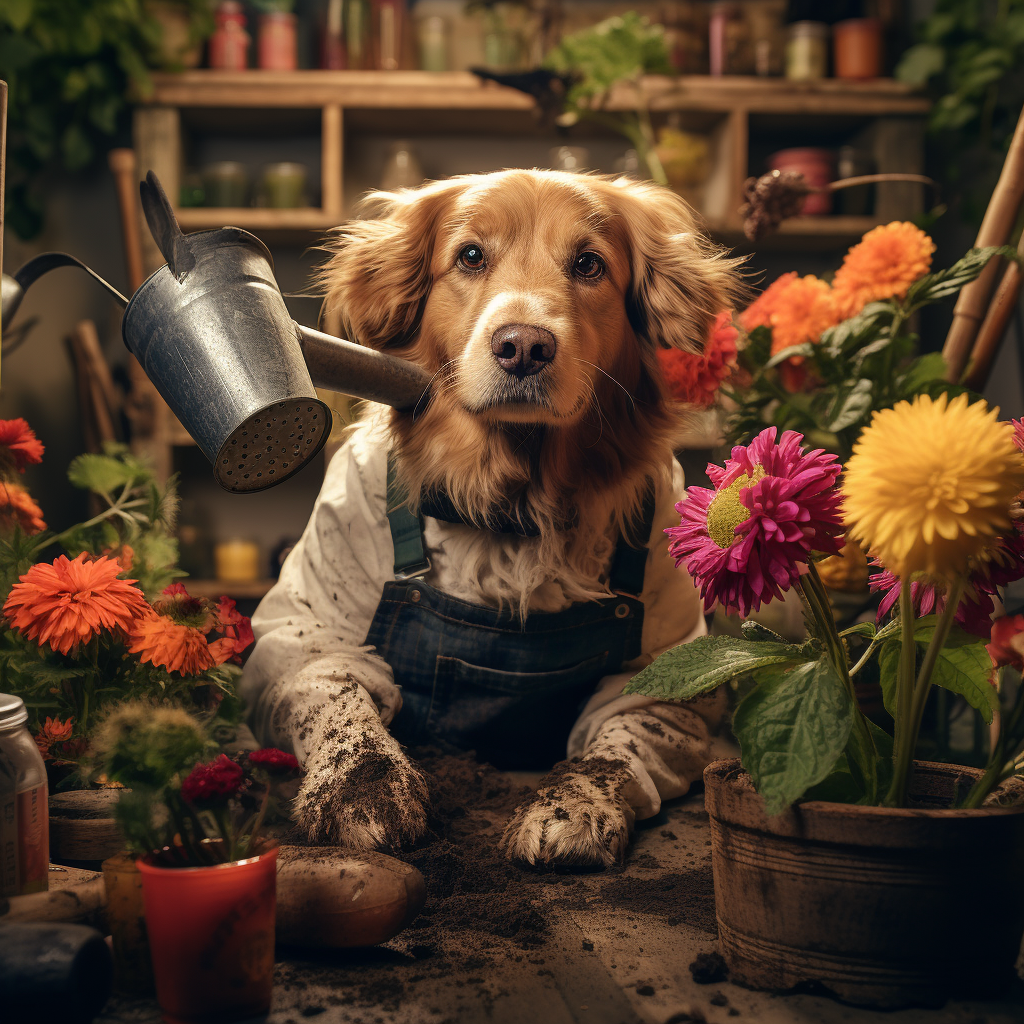 Image Source: Mid Journey
Hear me out — dogs give off green-thumbed gardener vibes. You will never need a shovel since they've got precise digging skills to paw into the earth and plant anything in the soil. Don't worry about other things bothering your garden either. This dog has got an exemplary nose that smells and barks at everything before it even gets to harming your plants. I'm sure this dog here can water plants too since he has a watering pot on him.
16. Grocery Shopping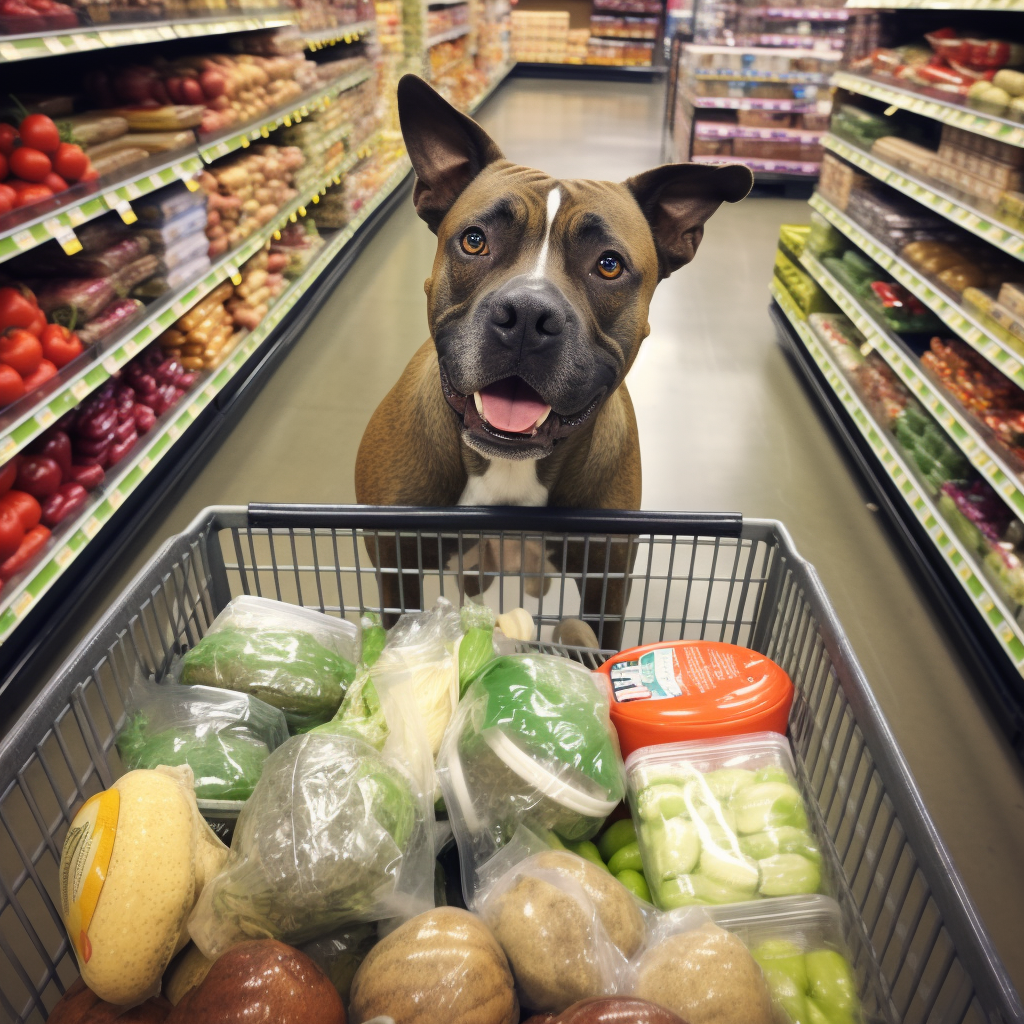 Image Source: Mid Journey
An adorable shopper curiously sniffs through the grocery aisles and pauses to throw items into the cart with his mouth. He skips through all the sections of the store to his favorite spots -- the food aisles. His favorite errand of the week as he buys whatever he wants to eat later. You might find several bags of treats and a toy or two make its way into his basket. Dogs are great companions to go grocery shopping with!
17. Working Out At The Gym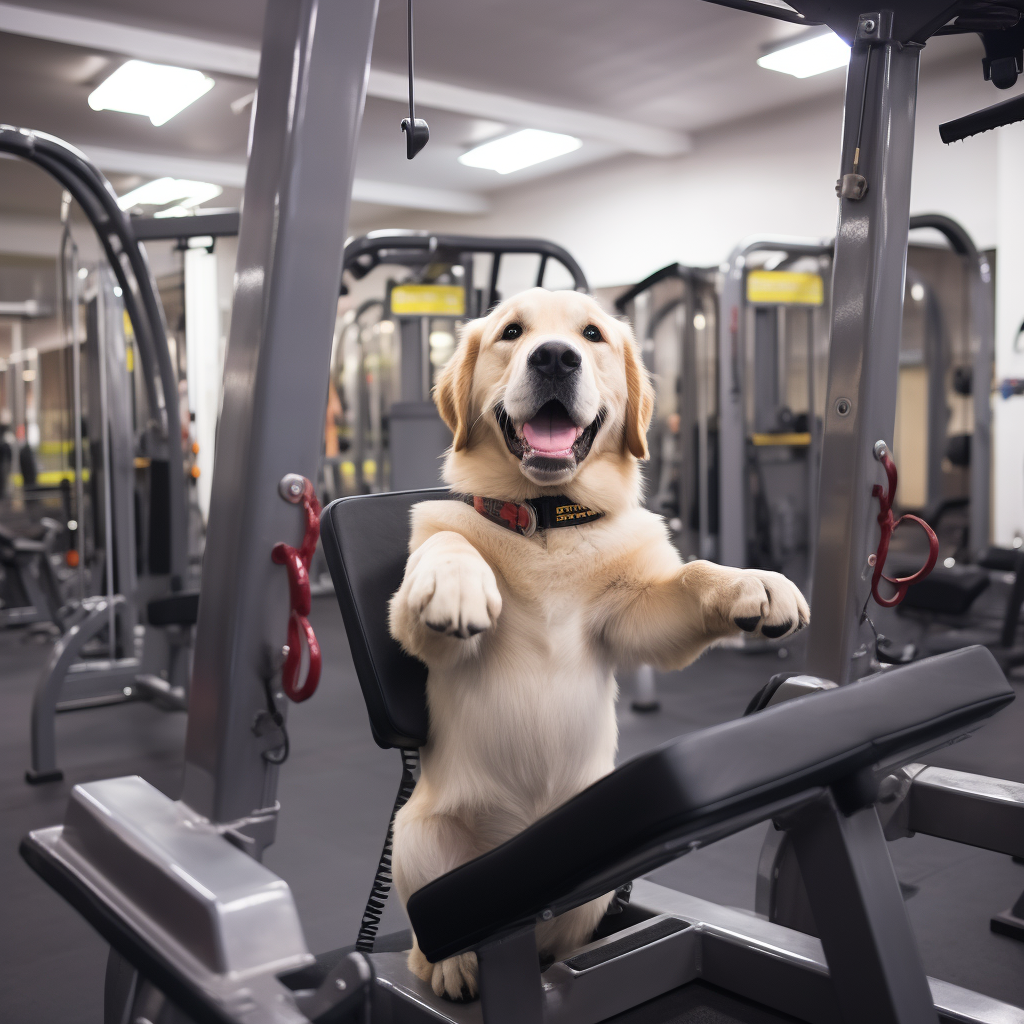 Image Source: Mid Journey
A fitness enthusiast joins the band wagon of fitness gurus and makes time to he get his daily workouts in. Working hard or hardly working? You can see here he is absolutely breaking a sweat on workout machines at the gym. Treadmills and dumbbells are not problem. Working out might be RUFF sometimes but he is on a pursuit of a healthy lifestyle. He is everyone's favorite workout buddy.
18. Hot Tubbing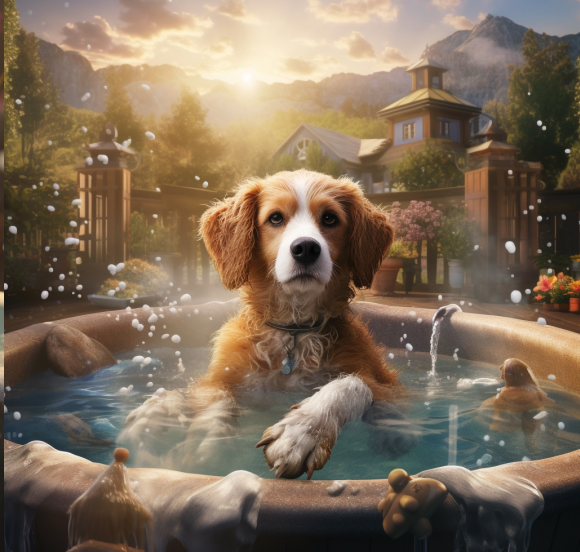 Image Source: Mid Journey
This furry swimmer unwinds in the warmth and bubbling jets of the hot tub. He creates a splash as he sits down in the tub. Nothing like a nice, joyful swim as he doggy paddles in his own space. If you zoom in to his right side, you will see that AI created a small companion of a human that enjoys the hot tub alongside him. It's great to have friends around when you're out hot tubbing.
19. Eating Ice Cream In A Park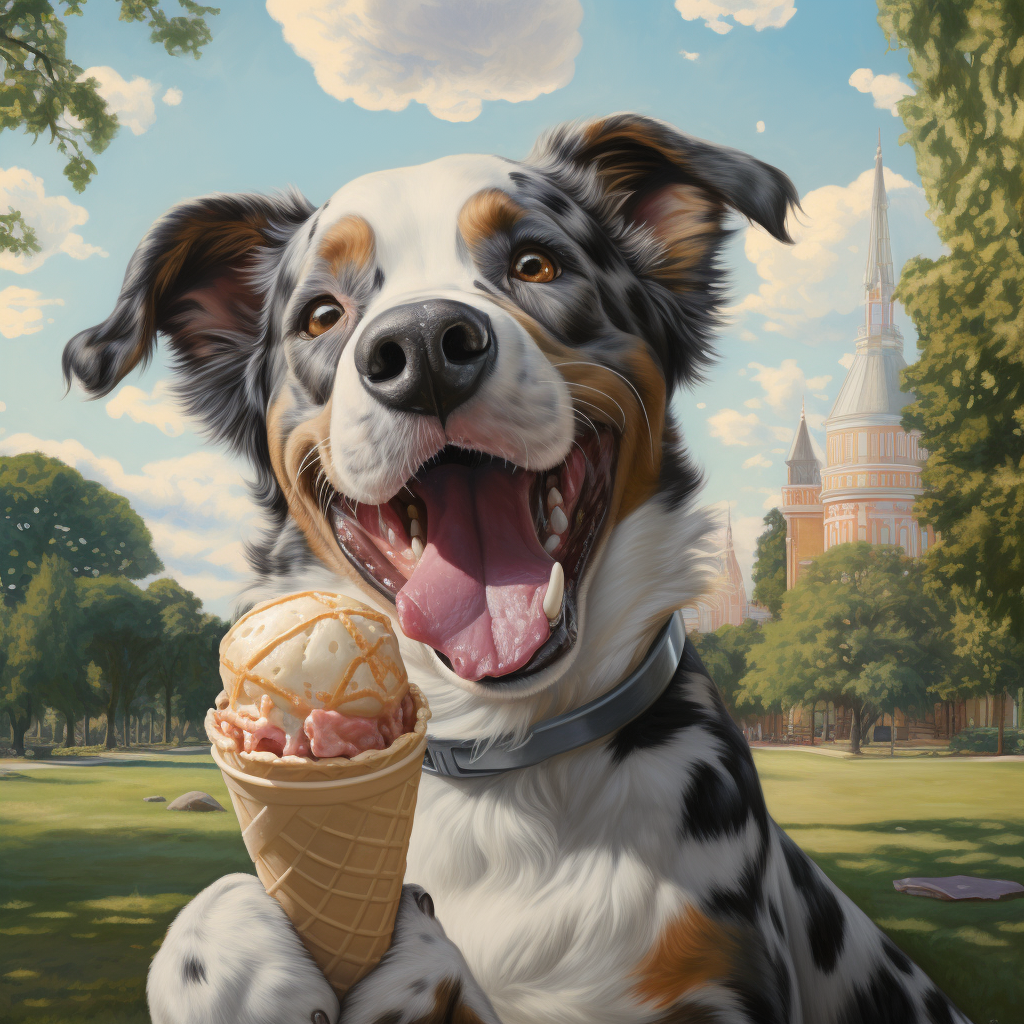 Image Source: Mid Journey
After taking walks in the park, he likes to get a bite of his favorite treat. This is unlike his regular treats though. Ice cream on top of a miniature cone is his favorite. He is able to hold the frosty treat within his paws. He takes an eager lick and radiates with joy. Look how happy he is! A walk in the park has never felt so good.
20. Laundry Day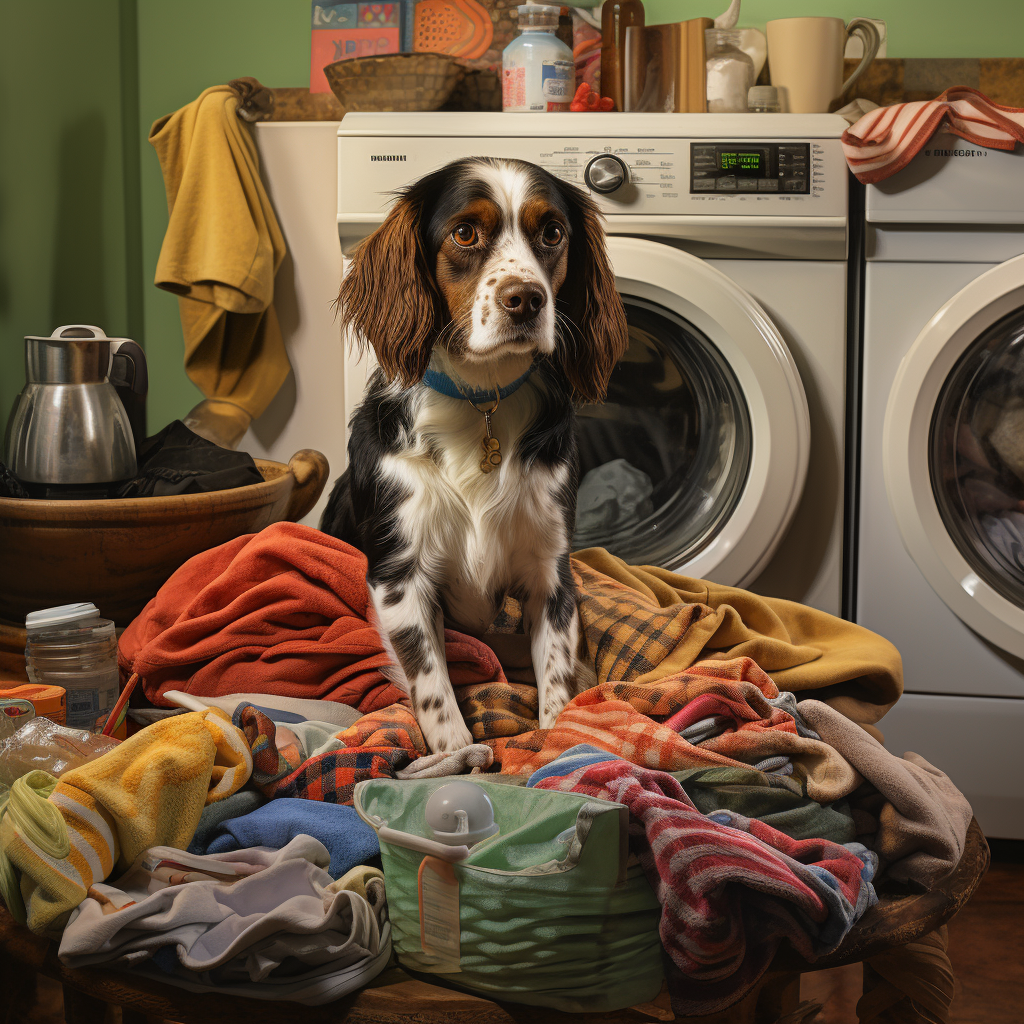 Image Source: Mid Journey
Remember when our furry friends tried on clothes and went shopping? That's why you can't skip laundry day! As he's standing before the laundry machine, you can spot him pawing through a pile of laundry. He's organizing the colors of his clothes to add into the load. However, distinguishing colors is not his strong suit, so he tosses everything anyway!
21. Putting On Makeup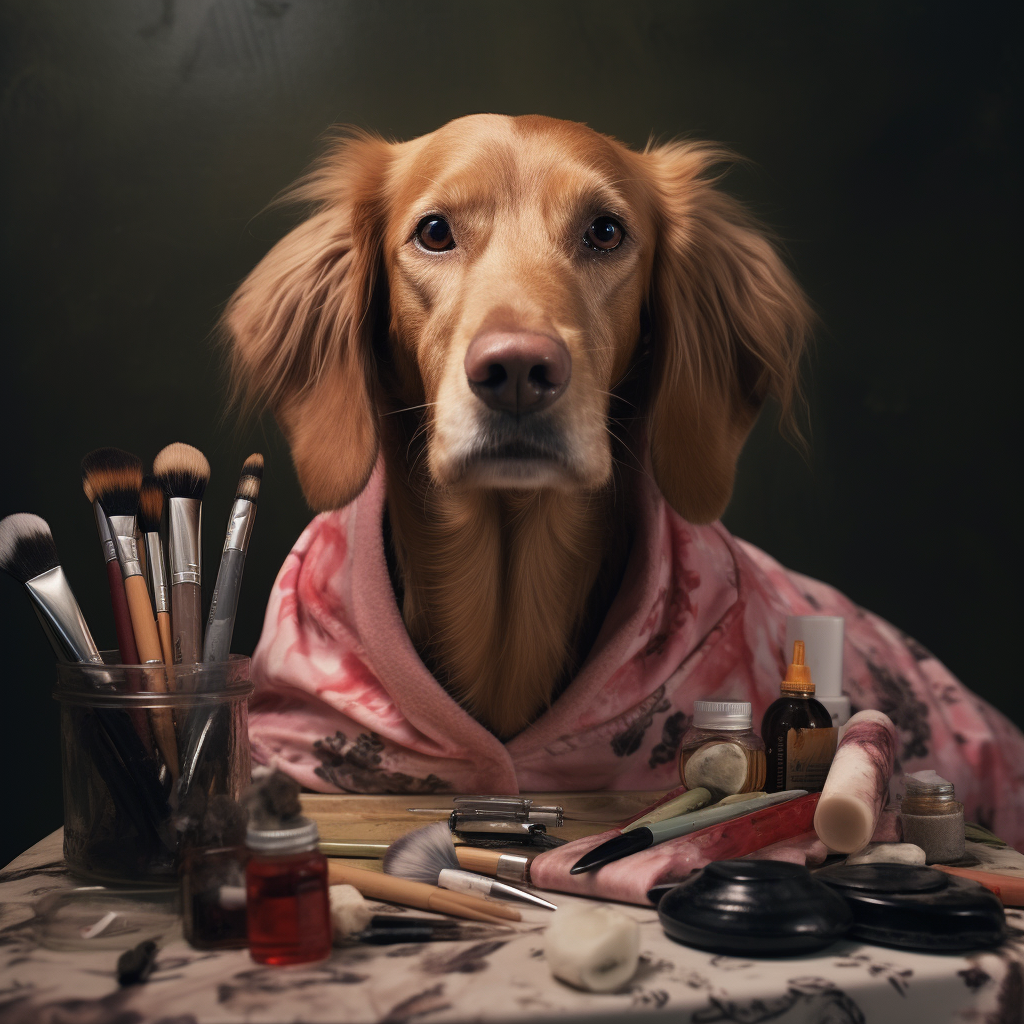 Image Source: Mid Journey
An unexpected makeup artist pats her favorite beauty products onto her furry cheeks. This pup lounges around in her pink bath robe while she gets ready to go out. Makeup brushes and palettes are scattered along her vanity. A little powder here and a dash of blush there. Don't forget about the lipstick and viola! We have got ourselves a beauty queen.
22. Riding A Bike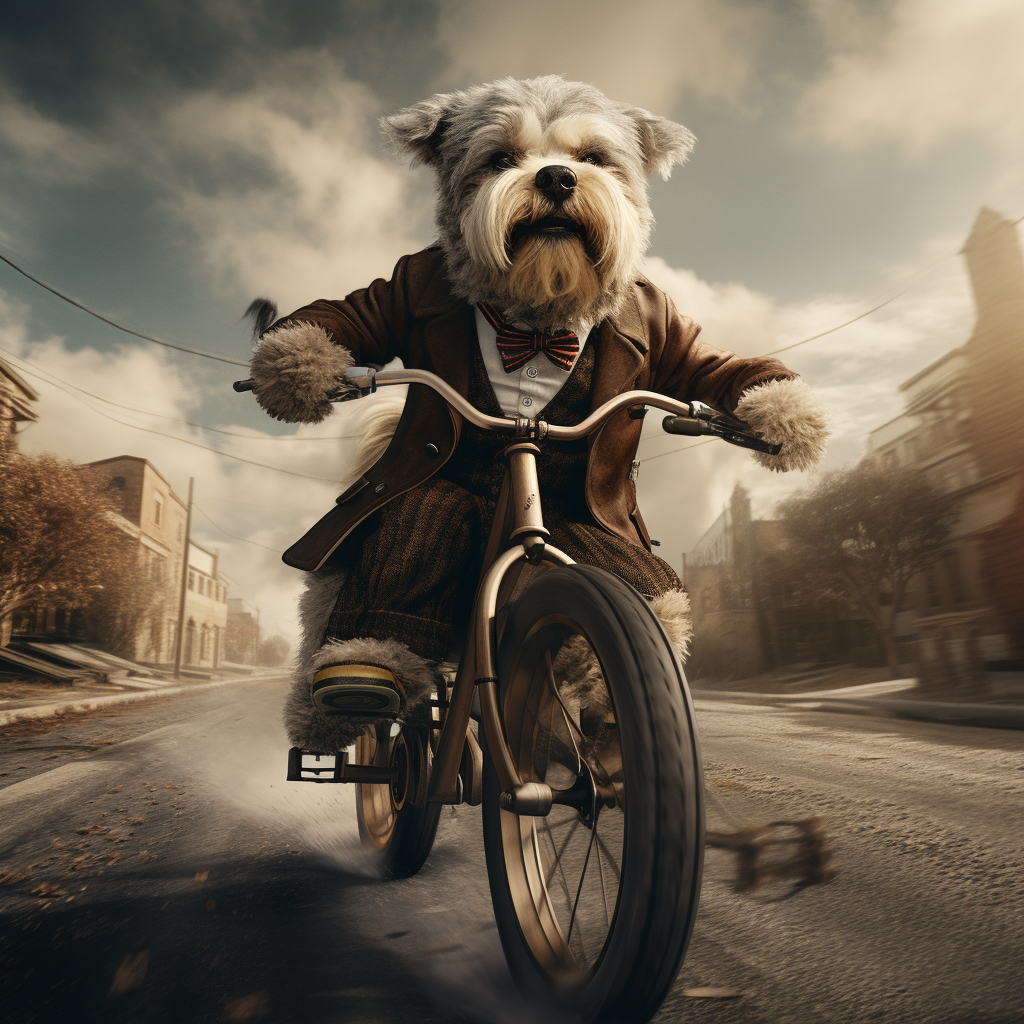 Image Source: Mid Journey
Our four-legged friend here likes to bike downtown. With a couple of paws on the wheel and the other two on the pedals, his furry body whooshes through the wind. He is on a mission as he tumbles down the streets on his doggy-sized bike. Maybe it was a cold day since he threw on his favorite 3- and bow tie. What a handsome boy!
23. Going To School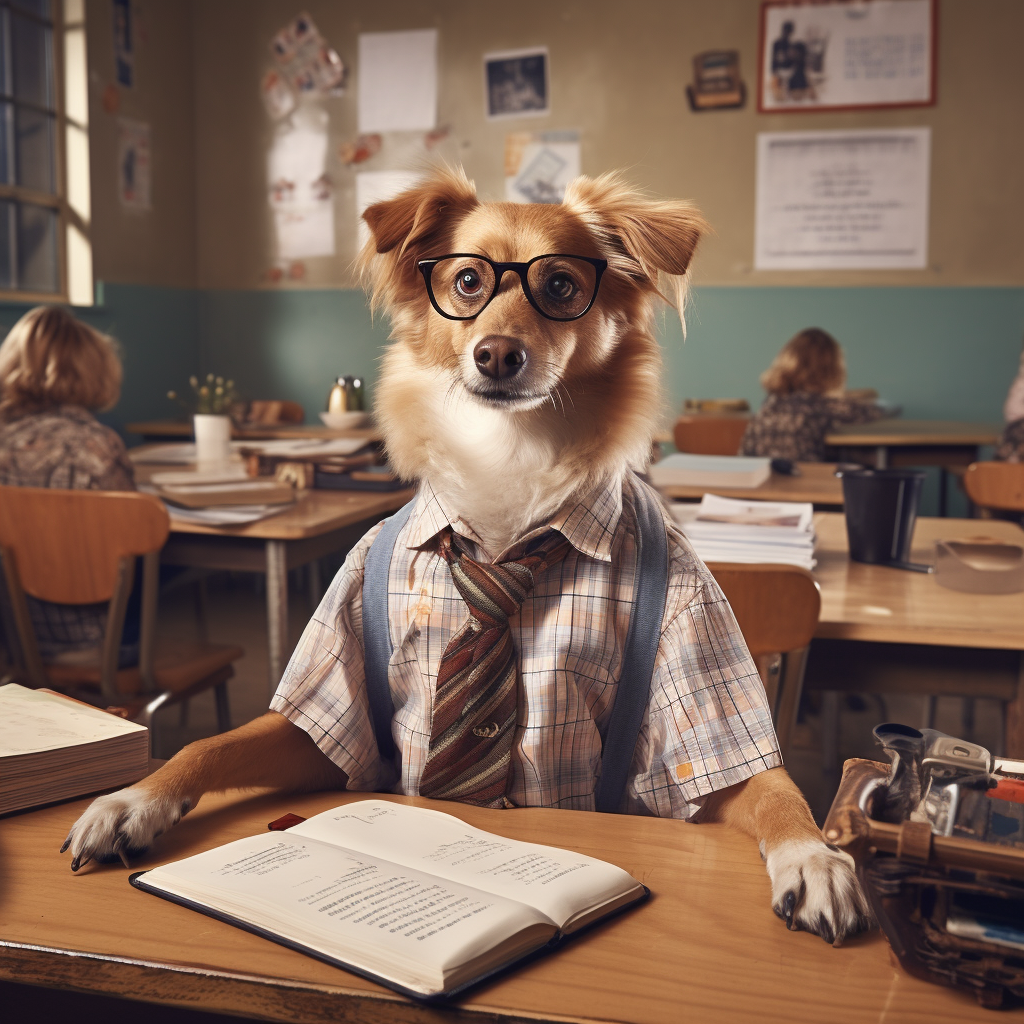 Image Source: Mid Journey
Dogs can be quite studious as well. This pup has already settled into the classroom with his classmates. He has his books out to study later. Recess is probably his favorite thing on his schedule. He looks like he can't wait to play catch with the other children. Sporting his thinking glasses and necktie, he is ready to emBARK on a journey of learning!
24. Taking A Shower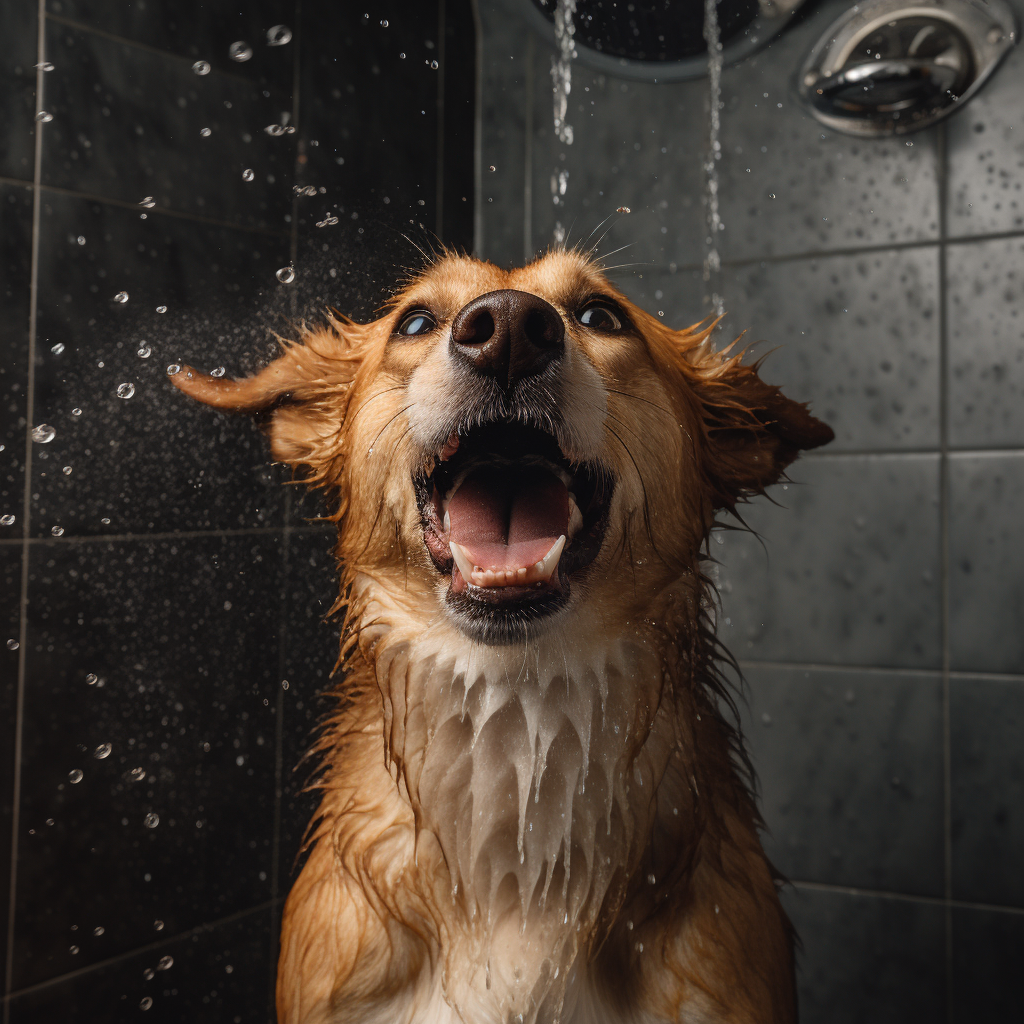 Image Source: Mid Journey
After playing outside all day, this dog skips his usual bathtime ritual and goes in for a shower. Walking in the park and playing with his other doggie friends are fun. However, he exudes much enthusiasm as he goes into the shower to clean himself off. He goes in to turn on the faucet with his teeth. Taking showers reminds him of running around in the rain!
25. Going To Bed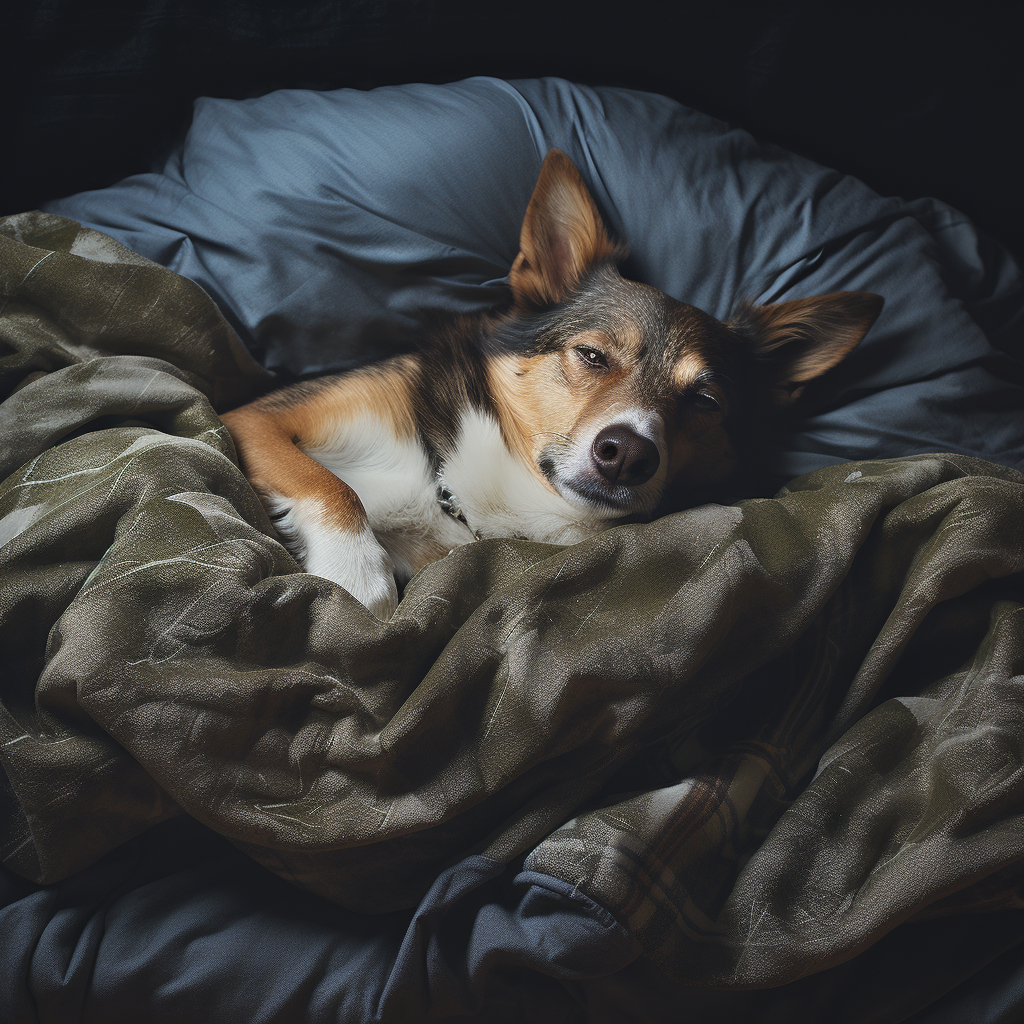 Image Source: Mid Journey
After completing his daily nighttime routine, this pup climbs in for a snooze in his human-size bed. This bed also happens to hold human size blankets and pillows to maximize comfort for this lovable canine. Running in the fields and playing catch requires a lot of energy and so it's time to nestle into a peaceful slumber for the night.
26. Sunbathing By The Pool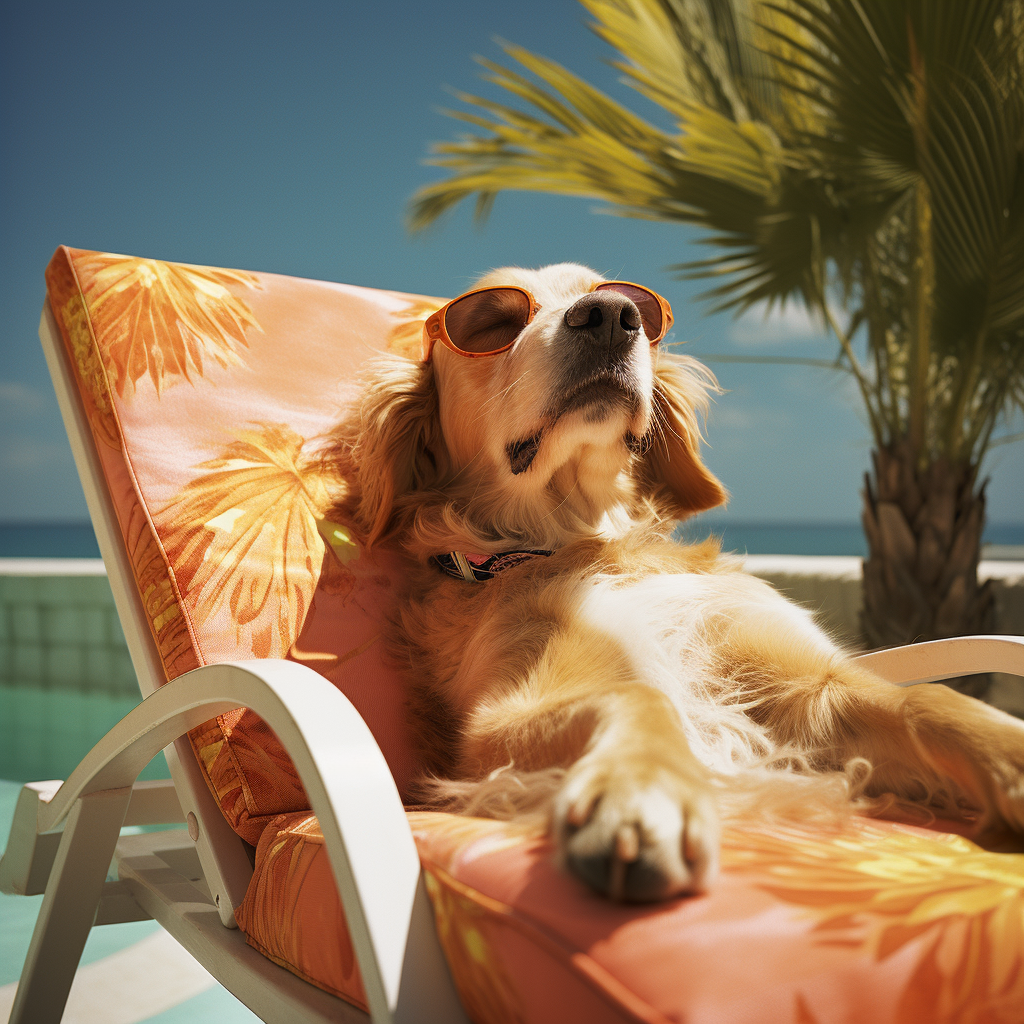 Image Source: Mid Journey
This summer season has never felt hotter as this little one sunbathes by the pool. Sunshine, palm trees, and treats are all he needs to relax at this moment. He throws on a pair of shades and lays back with his paws in the air, relaxing into the tropical hues of the day's sunny weather. He might even go for a doggy paddle swim later if it gets too hot.
27. Surfs Up!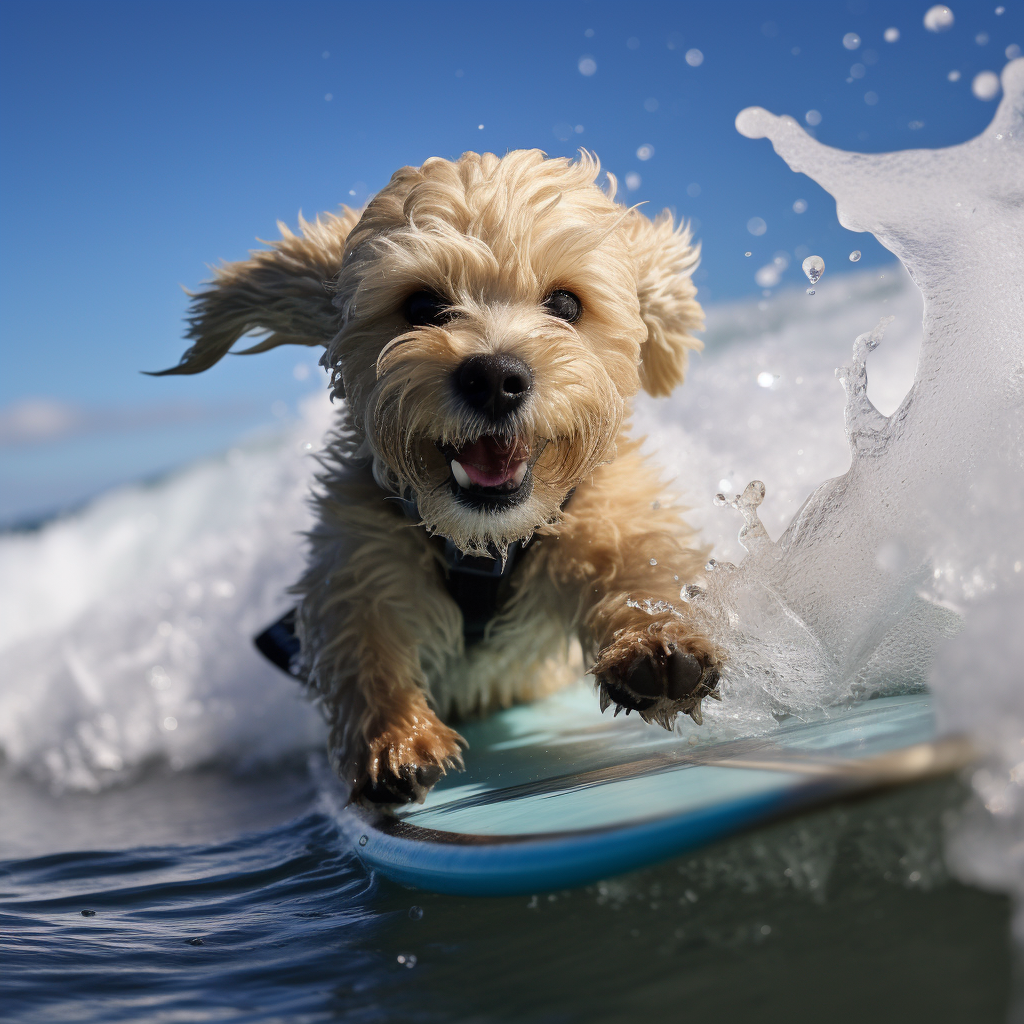 Image Source: Mid Journey
Watch out, here comes our little broski shredding the waves! It's a great day to be out on his favorite surfboard. He happily paddles out to the ocean with his paws to catch the waves. Here is a snapshot of him getting ready for a big one! There is nothing like going out to the beach to make a splash. Maybe next time you'll see him surfing on two legs just like us.
28. Vacuuming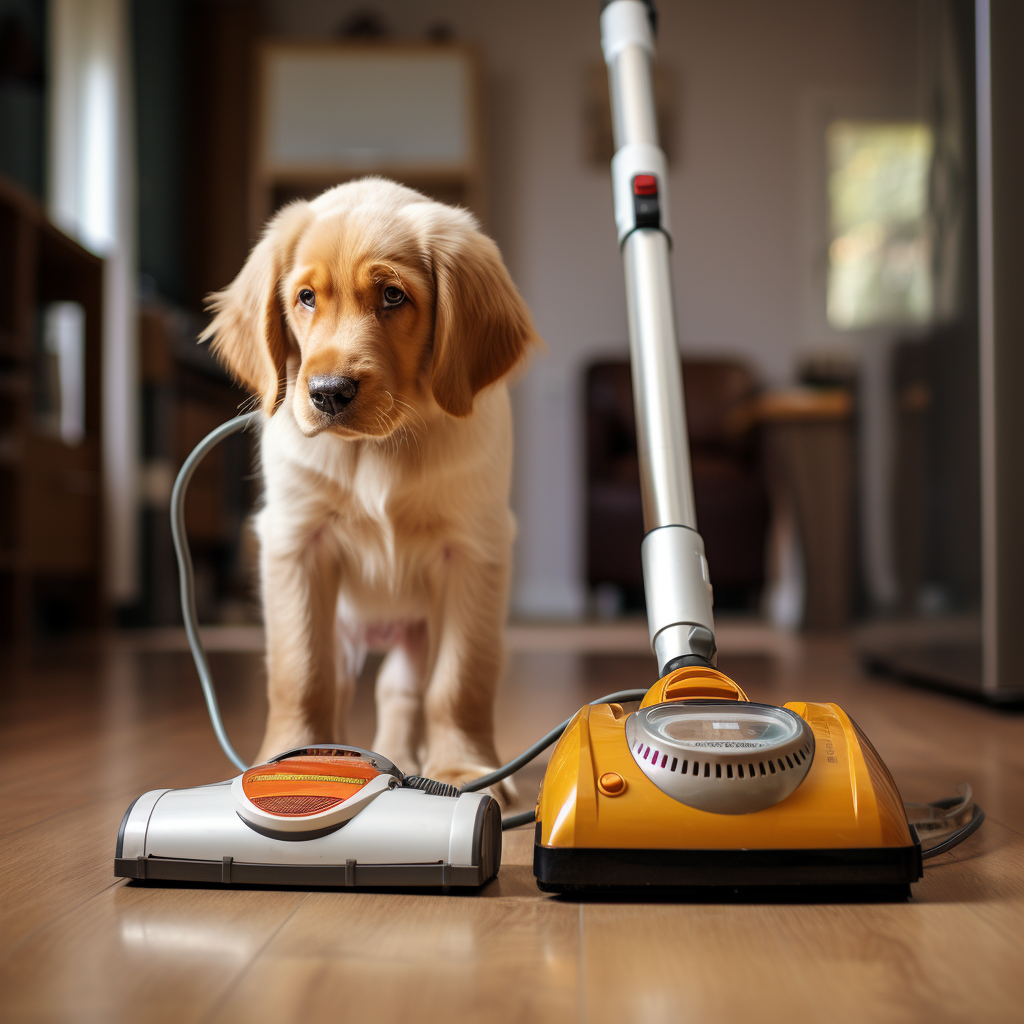 Image Source: Mid Journey
Bet you never expected to see a dog vacuuming a living room floor today. The amount of shedding from his coat is no joke. Does your dog leave a trail of his own fur on your couches? No need to worry about this one because this pup knows how to keep his floors spotless. The only trail he leaves is a trail of tidiness as he vacuums tufts of fur throughout his home.
29. Washing Up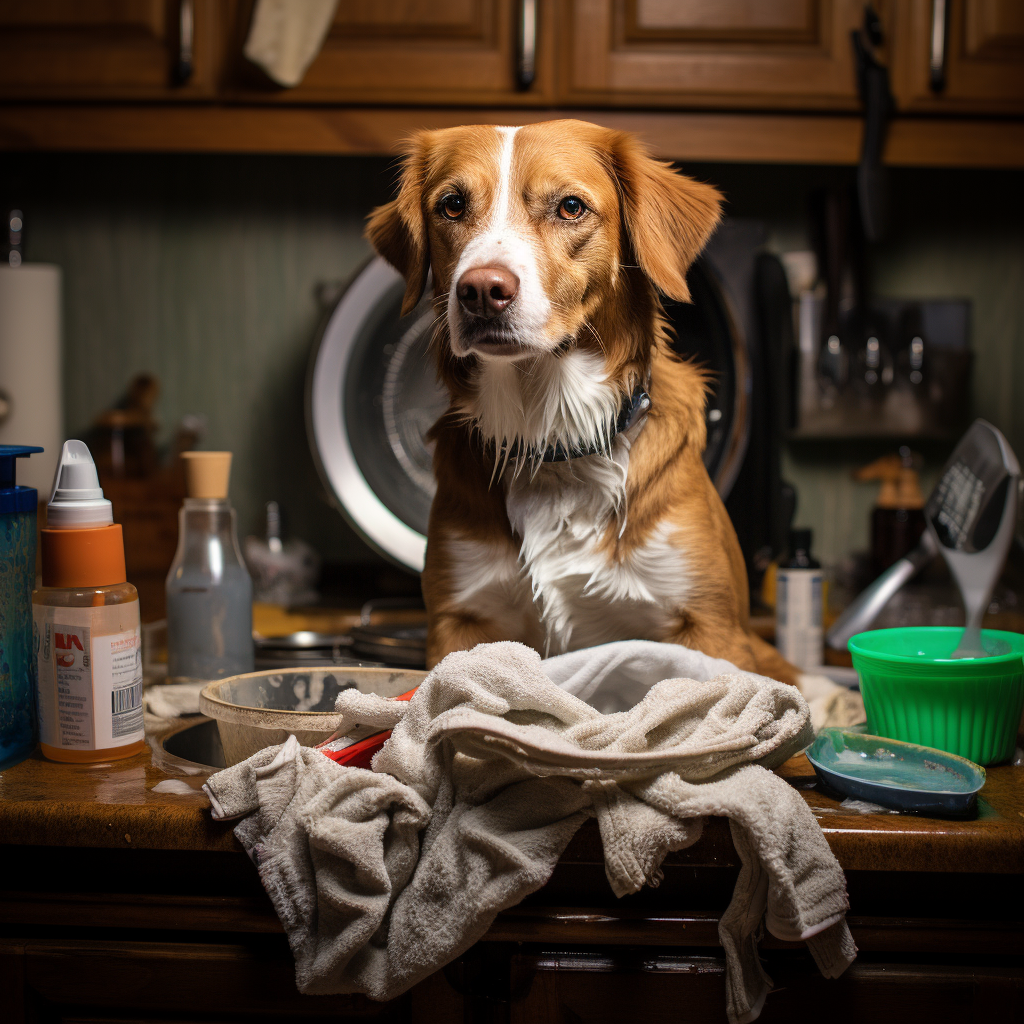 Image Source: Mid Journey
This dogs face says it all, don't you think? Dishes, pans, and appliances are everywhere! On the subject of doing chores, he might as well wash up the kitchen too. He just finished all the cooking and his belly is satisfied. However, he was not satisfied with the mess. Let's not go to bed with a dirty kitchen today! This is one busy pooch, I bet you wish your real dog could do this too!
30. Watching TV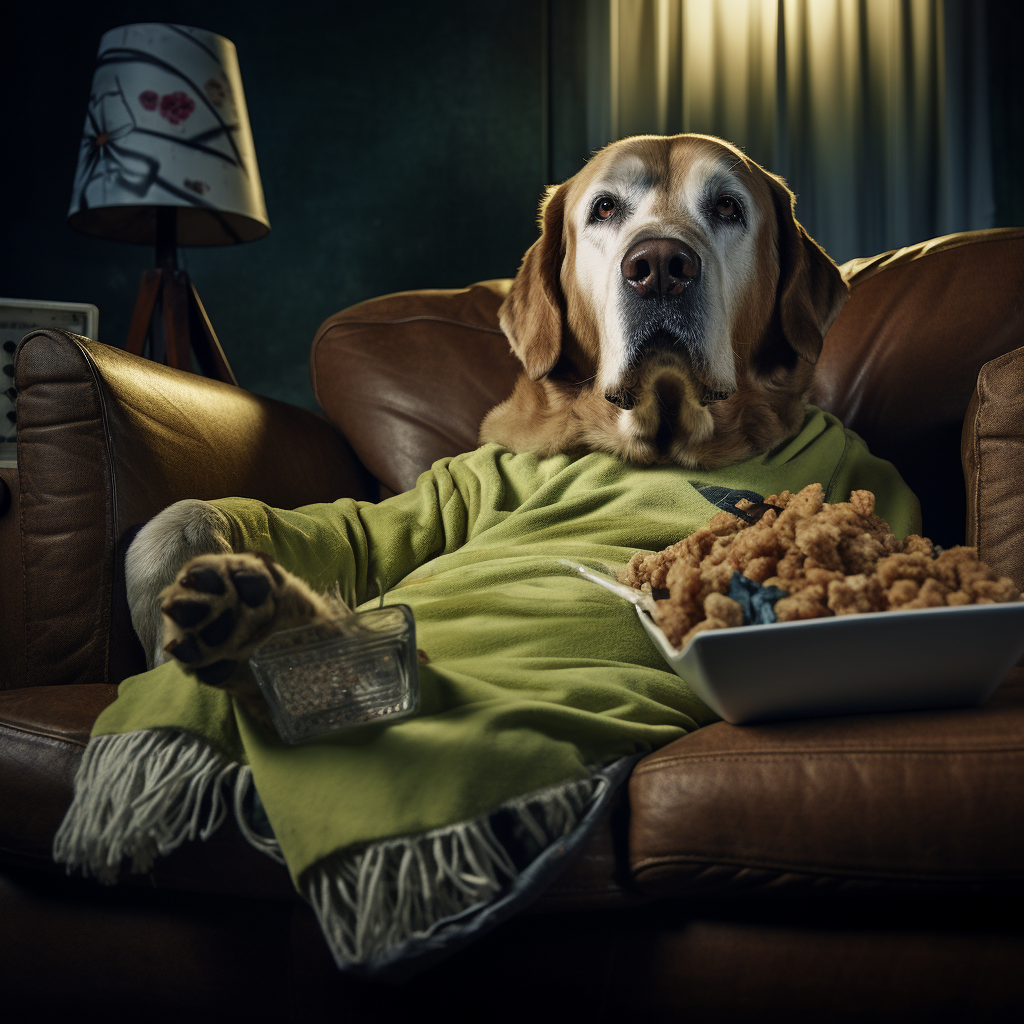 Image Source: Mid Journey
It's nice to unwind on your couch in front of the television. Instead of popcorn, he microwaves his favorite doggy treats in a bowl. Legs crossed and jammies on, he presses play on the remote and puts on his all-time favorite show. Tonight is the night he will binge the seasons to that new show everyone is talking about. Shortly after, he will most likely begin snoring on the couch.