30 Celebrities Nail Designs We All Need To Try
1. Vanessa Hudgens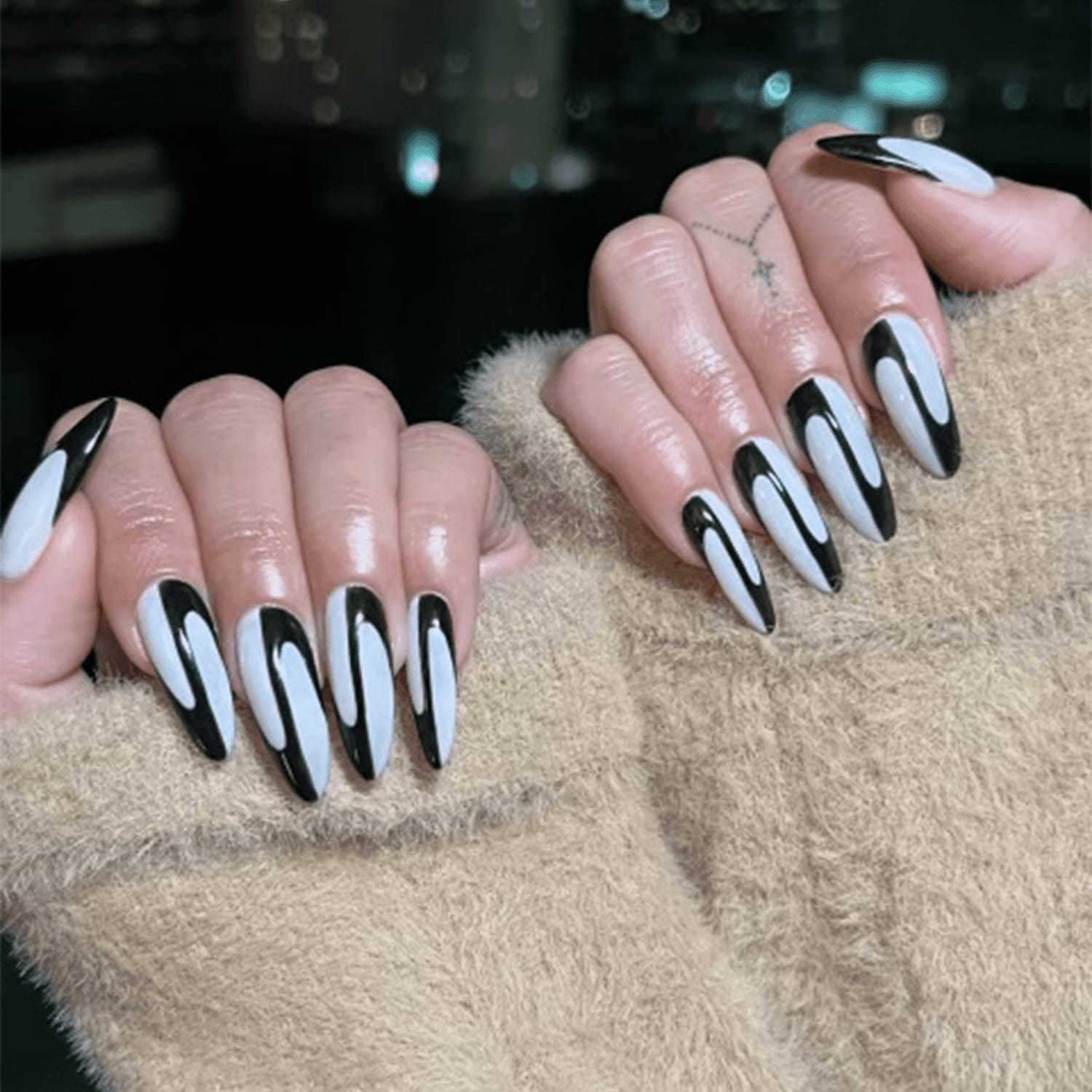 image source: byrdie.com
The High School Musical Star rocked this monochrome look at the 2023 Oscars, as she styled it with a black and white dress. This look is timeless yet dazzling, and we love how the black stripe seems to lengthen her already long talons. There are so many patterns to choose from that'd achieve a similar vibe, the possibilities are endless!
2. Margot Robbie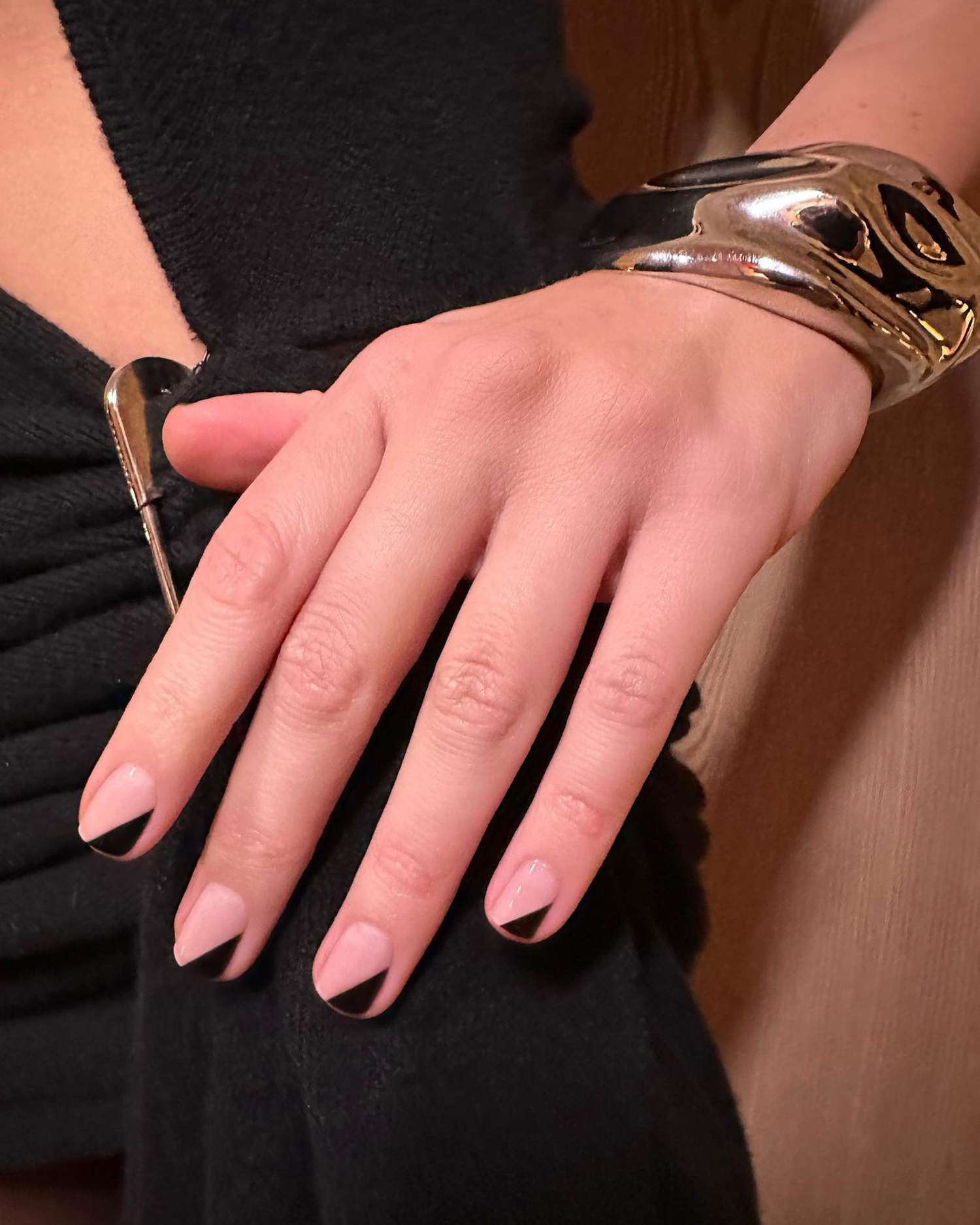 image source: people.com
Margot's style has been in the spotlight since the release of the Barbie movie, and she can usually be seen wearing her character's signature pink. However she has opted for a slight style change here as she went all Oppenheimer with black tips! She loves French Tips and we love this take on the classic.
3. J-Lo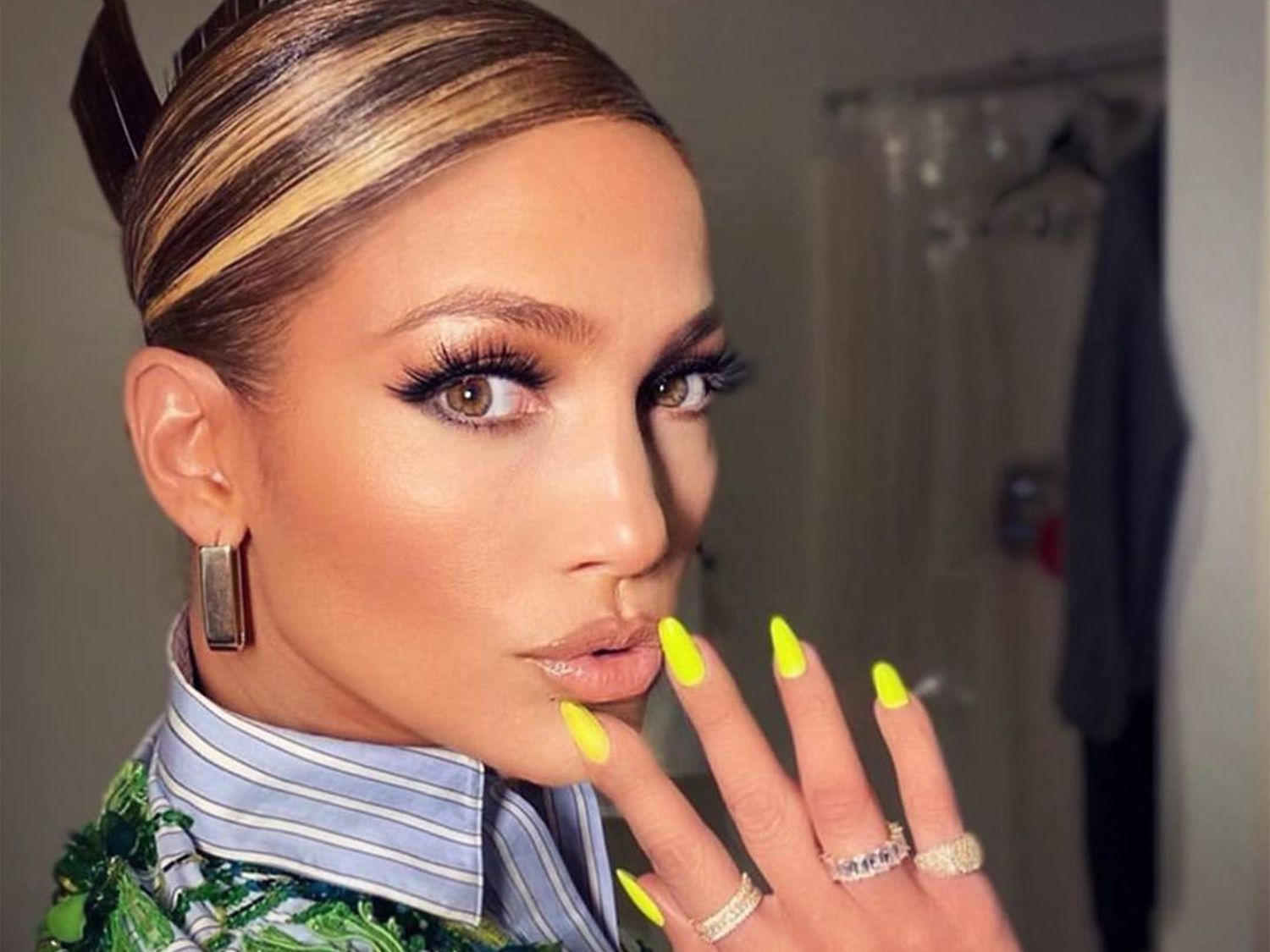 image source: byrdie.com
J-Lo's style has always been eye-catching, she loves color, glamor, and flamboyant clothing, so it's not surprising that she's gone for a bright yellow manicure here. You can style this with a block-color outfit, to really make those statement nails pop.
4. Emily Ratajkowski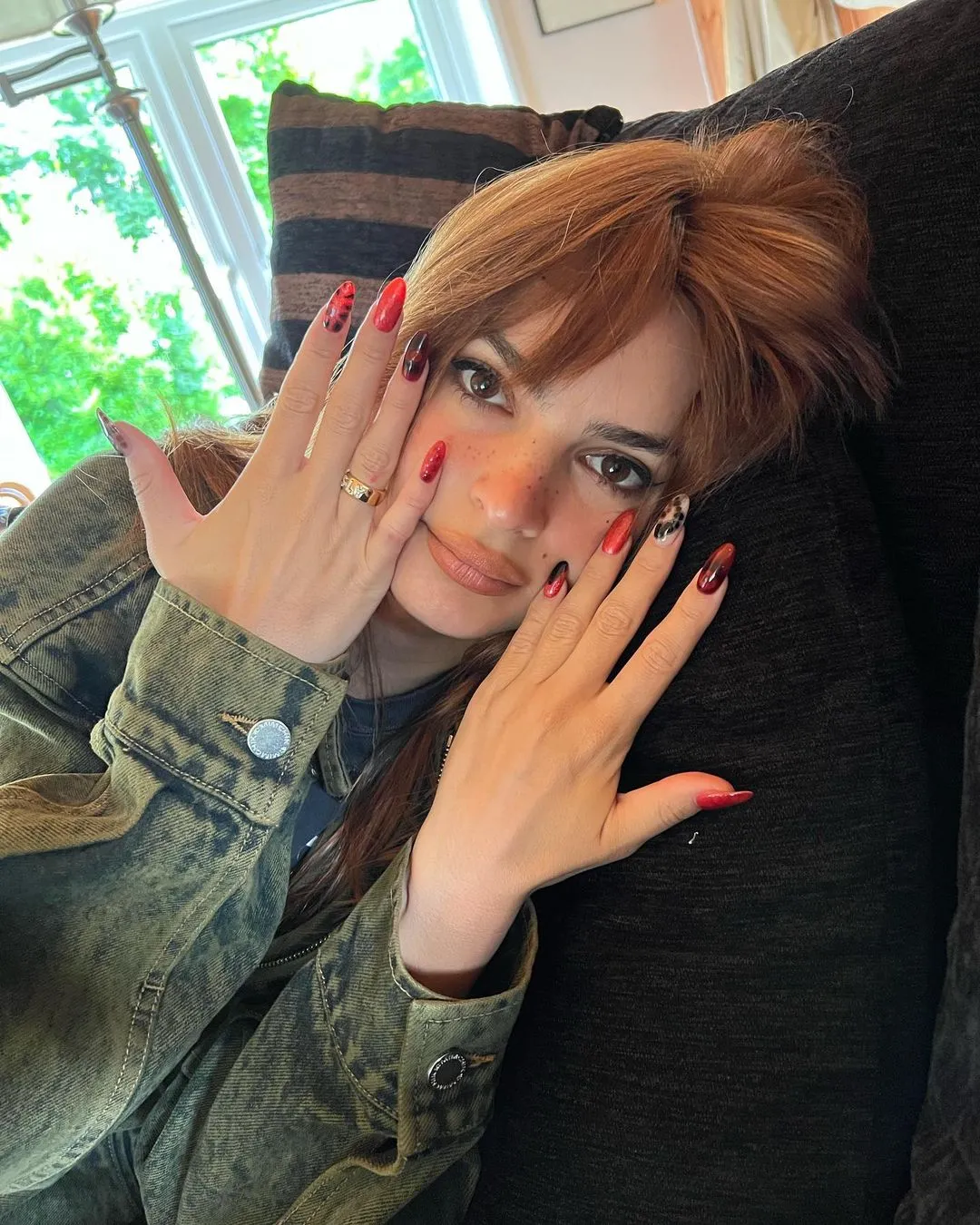 image source: vogue.co.uk
The model loves to be daring with her style, and that doesn't stop at her nails! We love these devilish Serpent nails that will add a touch of naughtiness to an outfit. The mismatched nails make for a quirky finish and can be adapted however you'd like them to be!
5. Miley Cyrus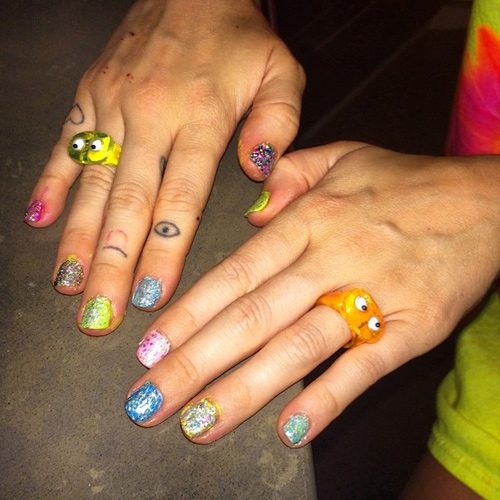 image source: stealherstyle.net
Miley has always taken her fashion to the next level; she just loves to stand out! Her fun style is enough to put a smile on anyone's face, and it's great to see what she'll come up with next. These mismatched nails are surprisingly versatile, and will add a pop of color to any outfit.
6. Rihanna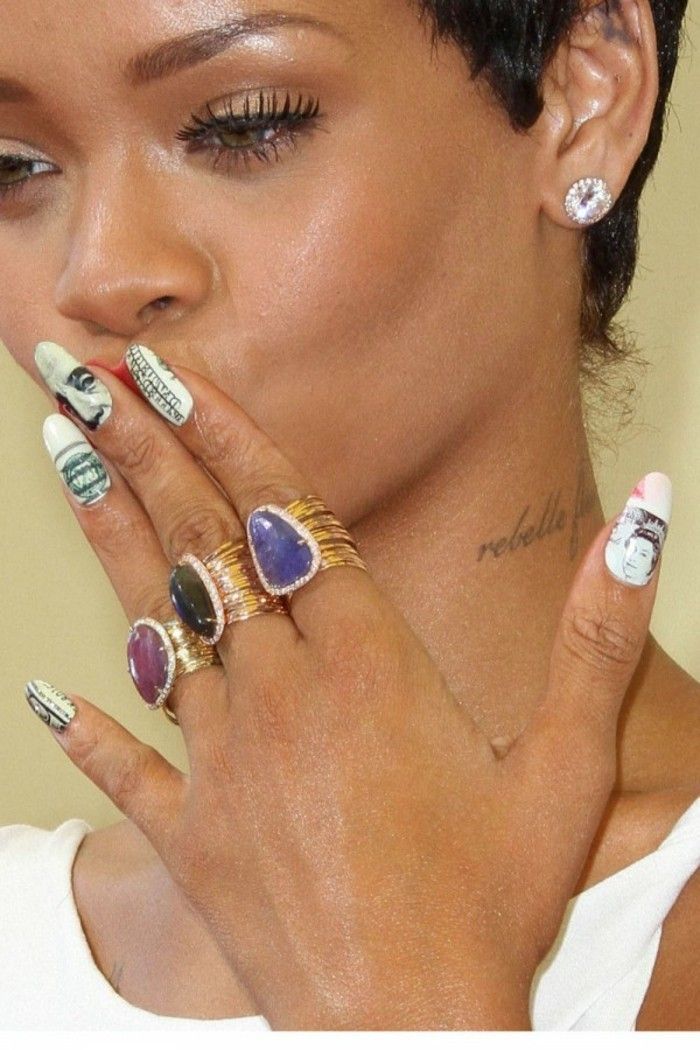 image source: pinterest.co.uk
Ri Ri is a pro when it comes to the hustle, and she loves to make a statement. A nod to her hard work is displayed on her nails here as she flashes dollar signs. She doesn't shy away from presenting herself as an independent woman which is inspiring for women and girls everywhere!
7. Halle Bailey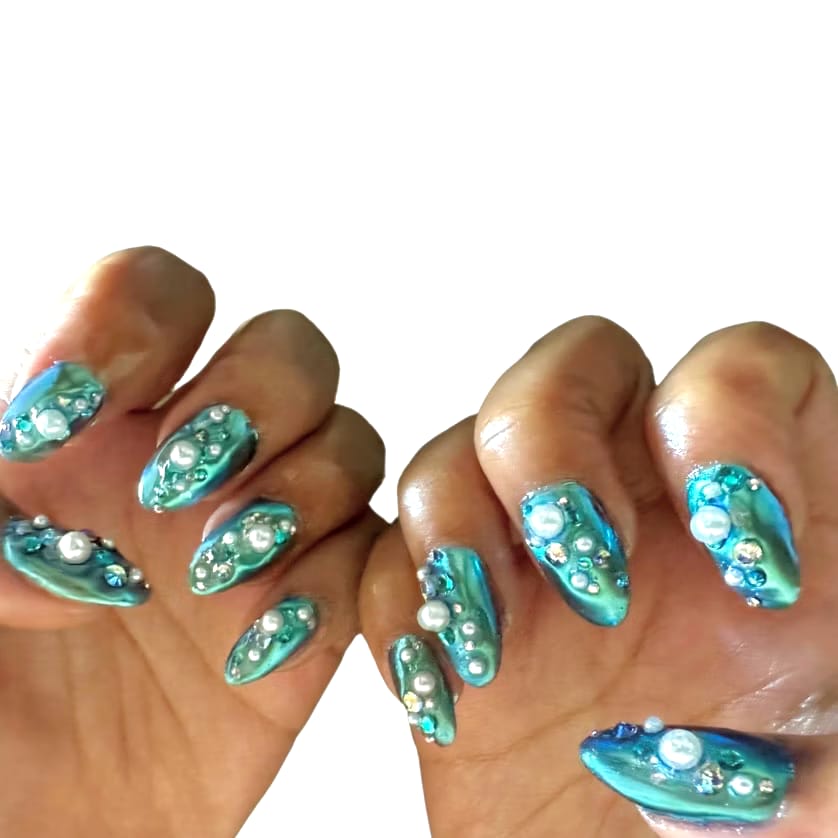 image source: nailpro.com
The Little Mermaid actress stays true to her role, as life imitates art with her aquatic nails. The ocean inspired color, the gorgeous sparkly gems that resemble shells, has us dreaming of a life under the sea! They're a great nod to the success of the movie, which was a hit at the box office.
8. Olivia Rodrigo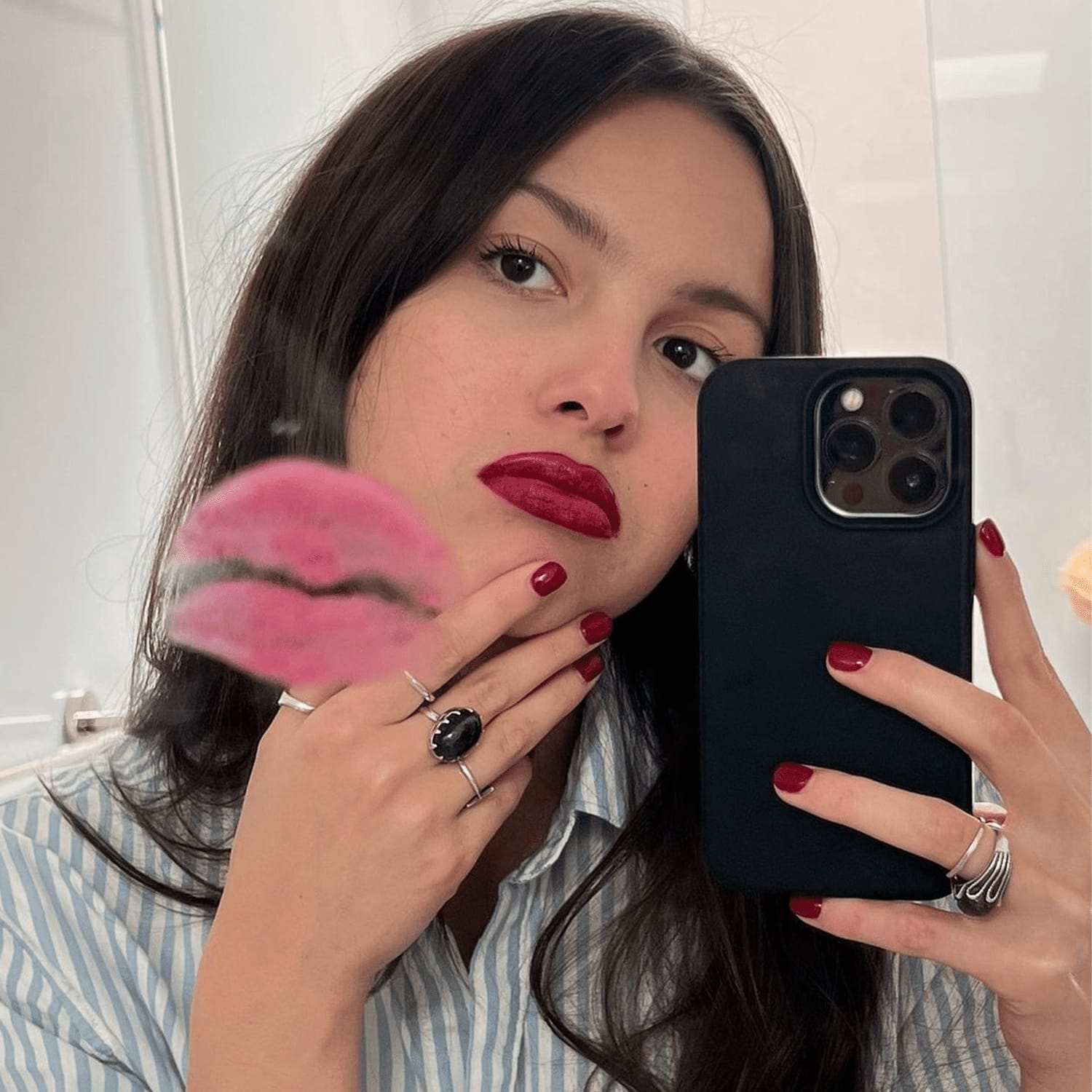 image source: byrdie.com
The Disney actress-turned-singer-songwriter keep it classy here as she goes for a timeless Hollywood red. We absolutely love the trend of matching you nails with your lip color, and we think Rodrigo has nailed it here! Her dark hair gives the look a Snow White finish.
9. Harry Styles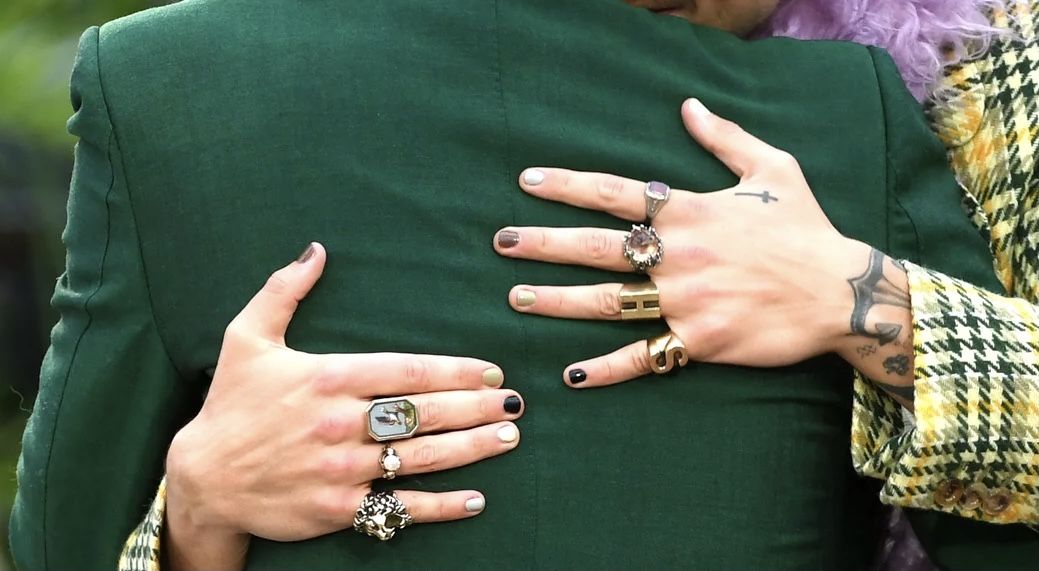 image source: pattern.com
Harry's quirky fashion is always a talking point, and his nails are no different. We love this multicolored look, that pairs so perfectly with his suit jacket. The rings give him a bad boy vibe and we love the bold statement jewelry. Styles is fearless when it comes to fashion and we are here for it!
10. Rochelle Humes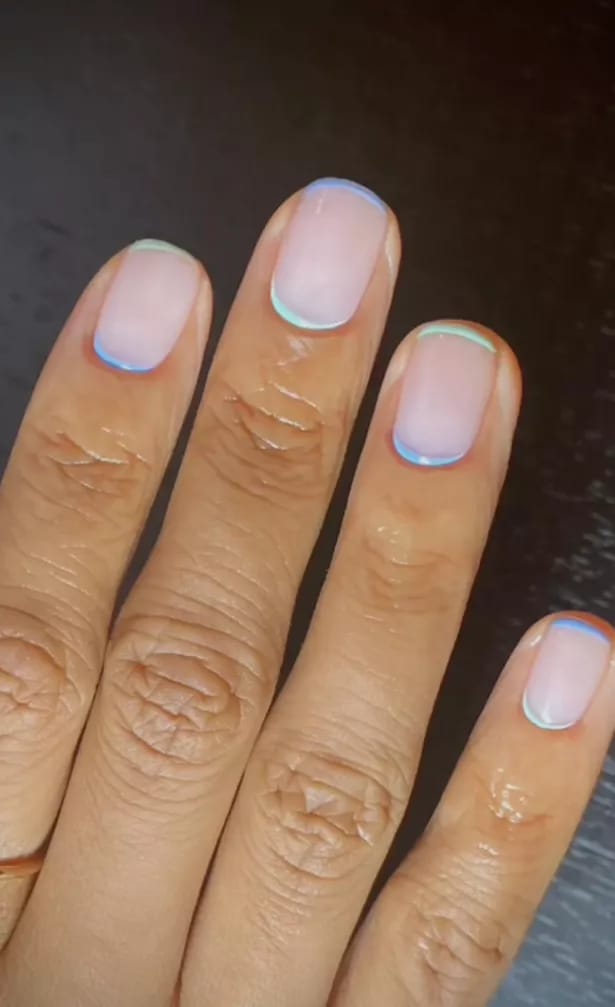 image source: ok.co.uk
The Saturdays and S Club Juniors singer is always keeping up to date with the latest fashion trends, and we just love the fresh look she has going on with her simple manicure. The pop of color at the cuticle and tip is so subtle, but super cute! You can opt for whichever color you want, which is what we love about this versatile trend.
11. Selena Gomez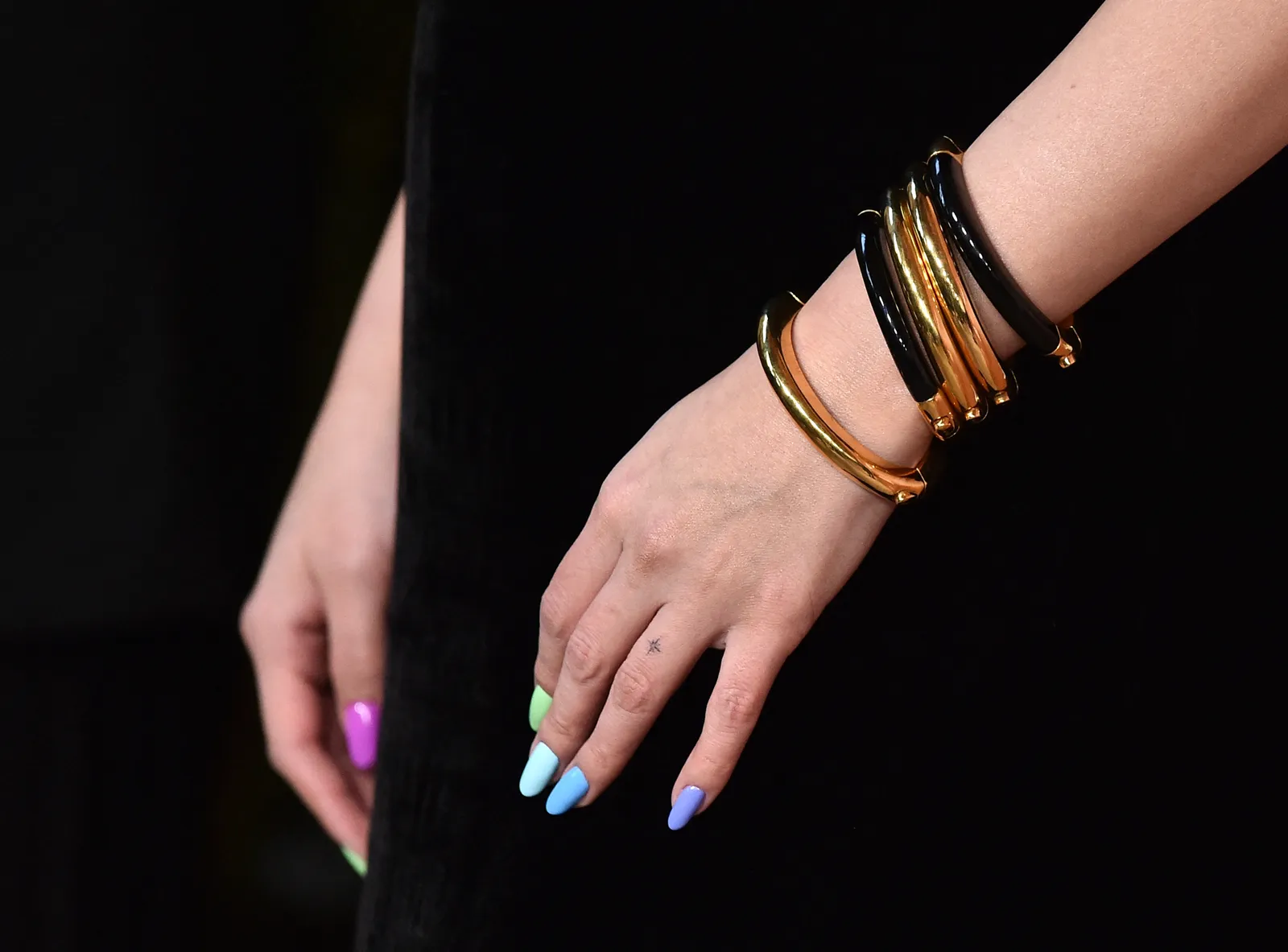 image source: vogue.co.uk
Selena Gomez keeps it colorful with what has been described as the trend of "Skittles Nails". The multi-colors resemble the well-known sweets and can be mixed and matched however you want! We think they look gorgeous here teamed with her black attire and gold jewelry.
12. Lizzo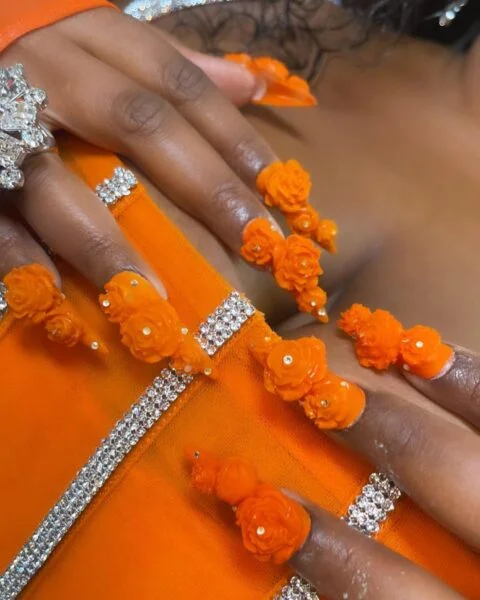 image source: scratchmagazine.co.uk
Always one to make a statement, Lizzo wowed the crowd at the Grammy Awards, as she dressed head to toe in bright orange flowers. Leaving no stone unturned, the floral masterpiece made its way to her nails as she sported orange claws to match. We love it when fashionistas play with textures!
13. Hailee Steinfeld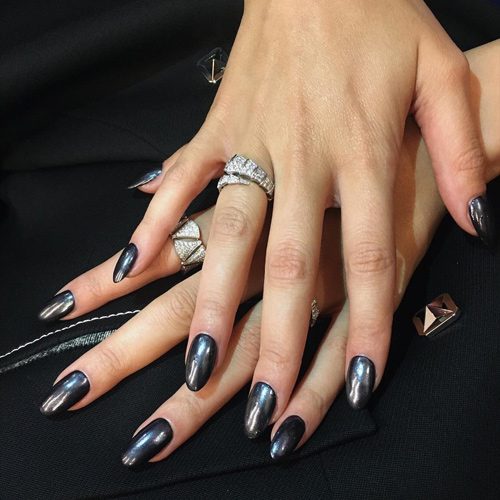 image source: stealherstyle.net
True Grit actress Hailee Steinfeld goes for metallic black in a look that would make any rock chick green with envy! But fear not, you can achieve this look too with a bottle of metallic top coat. Simply paint this over black nail polish and you've got it!
14. Blake Lively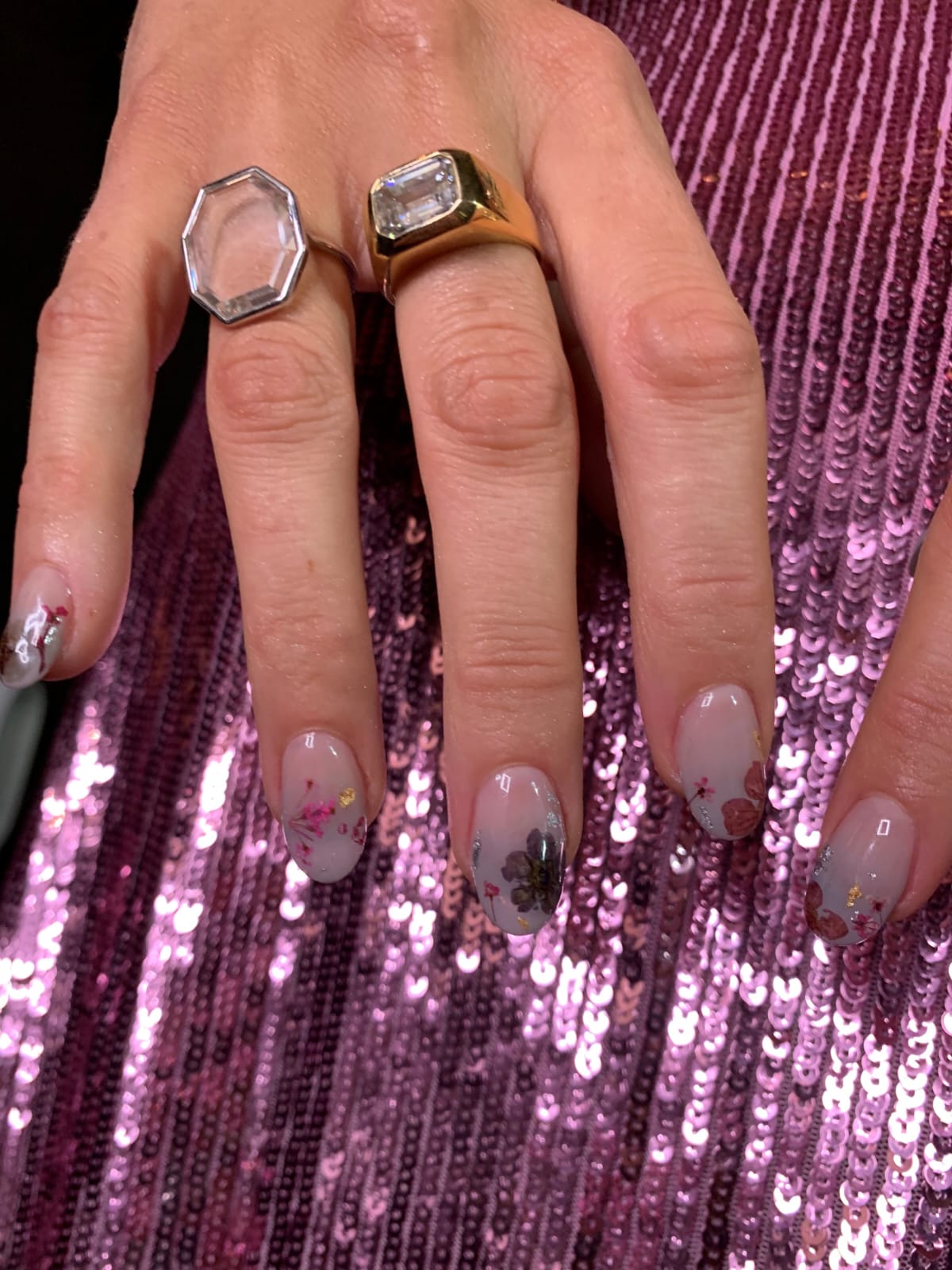 image source: refinery29.com
Never one to disappoint, Lively teams her classy nails with purple sequins. We're obsessed with how the flowers look in this take on a classic French Mani, and love that you can swap and change what colors and flowers to include, depending on the sequins!
15. Rita Ora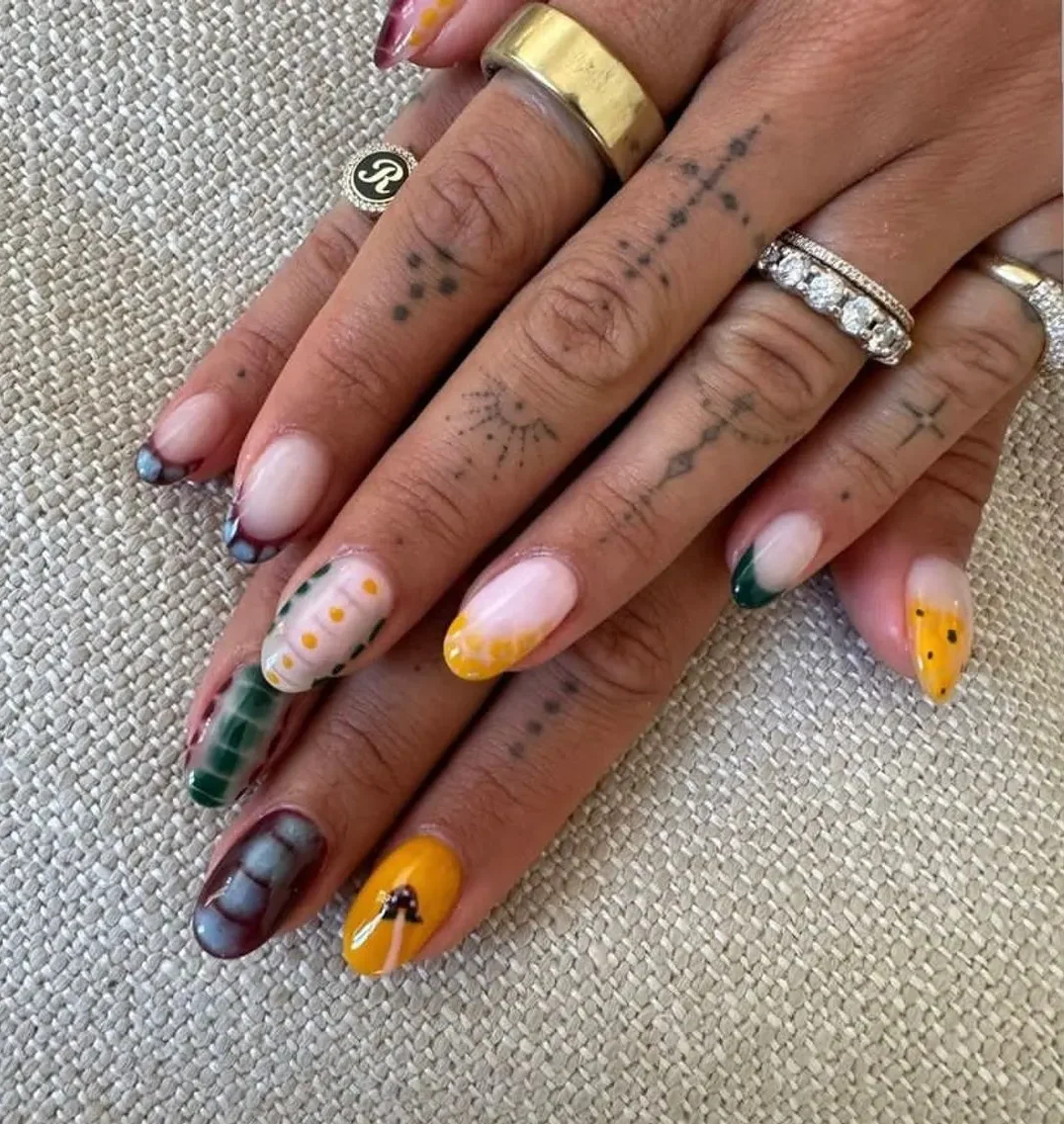 image source: hellomagazine.co.uk
Another fan of the mismatched look is none other than singer Rita Ora. We love the snakeskin-inspired accents, as well as the mustard and green colors which reminds us of 1970s fashion. Rounded nails are so in at the minute and we love how it's made this style look!
16. Kendall Jenner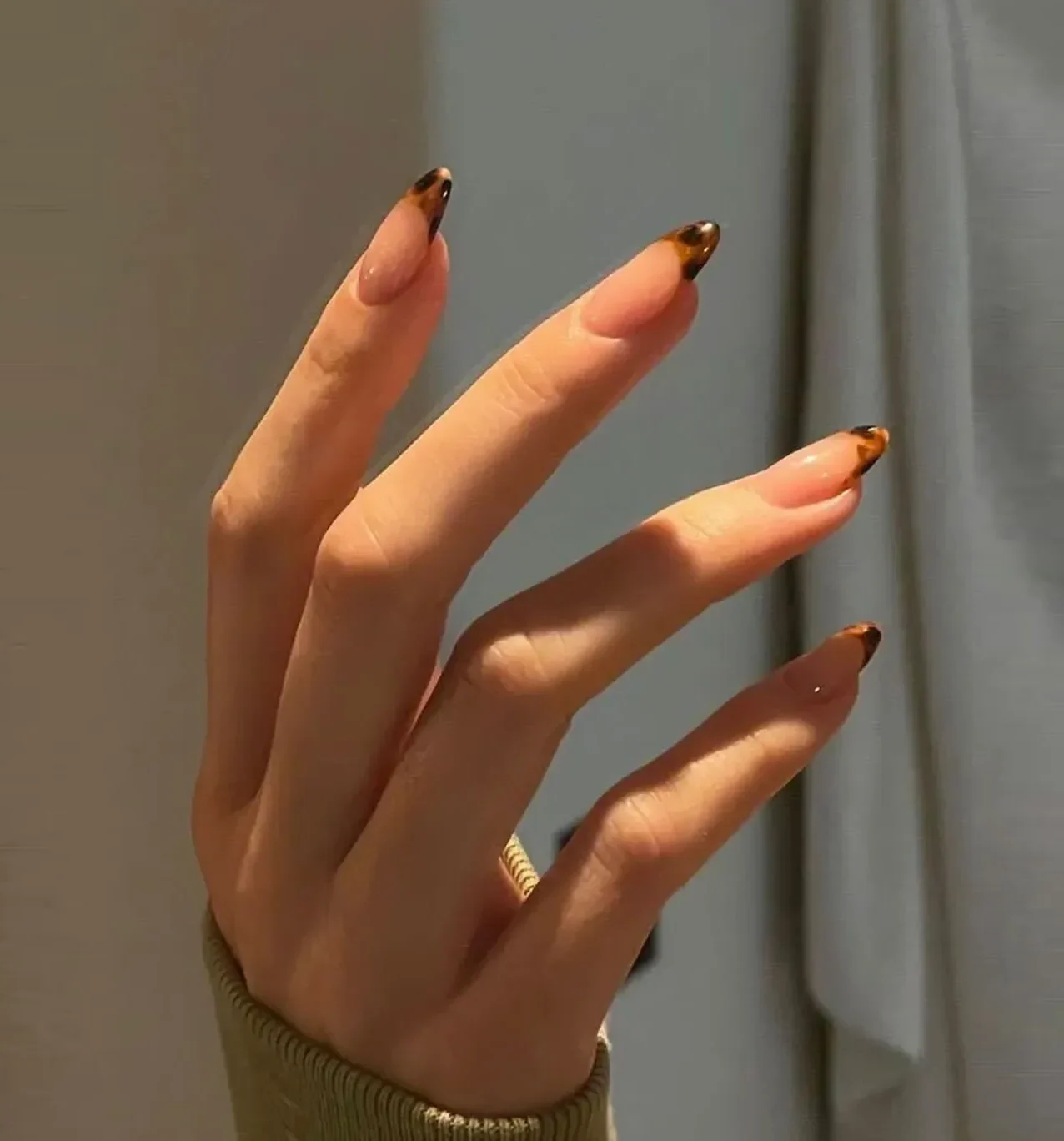 image source: glamourmagazine.co.uk
Kendall has gone for a style-clash here as she's brought a modern French classic into the 21st century by adding the fashionable tortoiseshell pattern on the tips. You'd probably have to get these professionally done as they can be a bit of a challenge to paint, however there are some great stick-ons on the market nowadays!
17. Jenna Ortega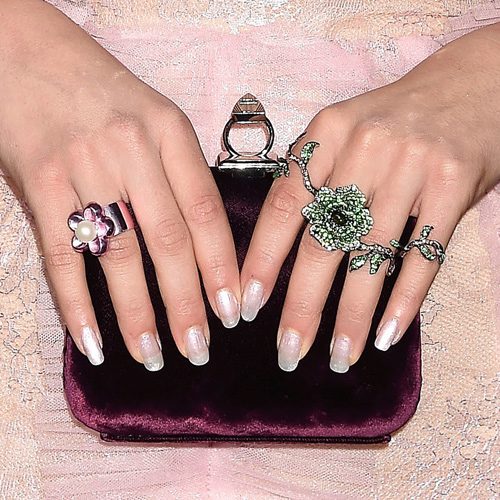 image source: glamourmagazine.co.uk
Wednesday Addams wouldn't be seen dead in something so feminine! Jenna Ortega seems to have distanced herself from her character as she goes for a subtle shine on her simple nails. Her rings do all the talking here as she teams the effortless look with some bold glamor.
18. Megan Fox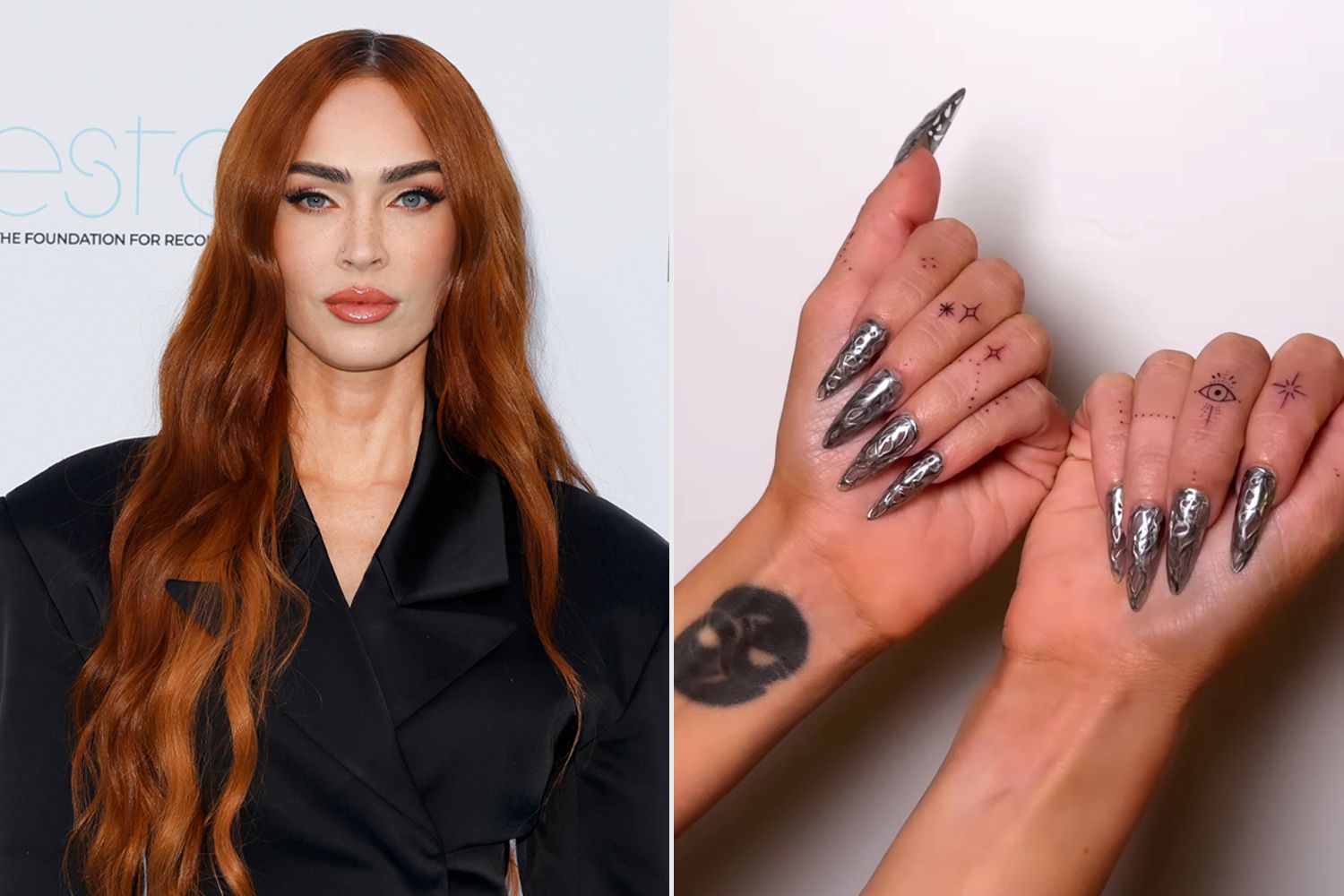 image source: people.com
Fox's nails are a real statement piece here as she rocks long, metallic nails that look like they've been struck by lightening! They're so sharp they look like weapons so we're unsure how they'd fare in day-to-day life, but they can be altered to be more family friendly. We love the look regardless!
19. Kate Beckinsale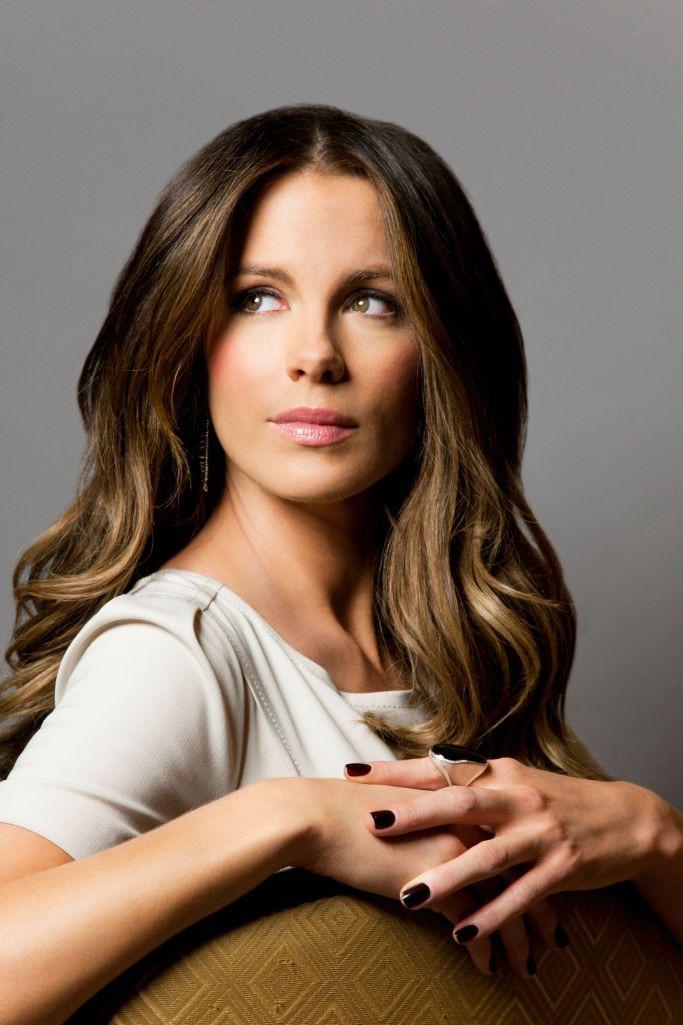 image source: reddit.com
Classic black nails are all that's needed to really pull an outfit together, and they go with absolutely anything. They're good nails to opt for if you have multiple outfit choices and their look can range from Hollywood glamor to grunge, and from goth to hippy, depending on who you want to be that day!
20. Jennifer Lawrence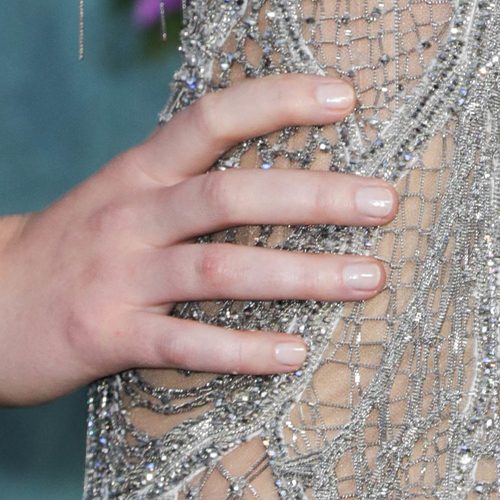 image source: stealherstyle.net
J-Law is always looking glam, and we just love her goofy personality! These short, barely there nude nails look so classy next to her diamond-encrusted dress. There are so many different shades of nude that it can be a minefield to know which is the right one for you, so it's worth getting advice from your nail tech.
21. Chloe Moretz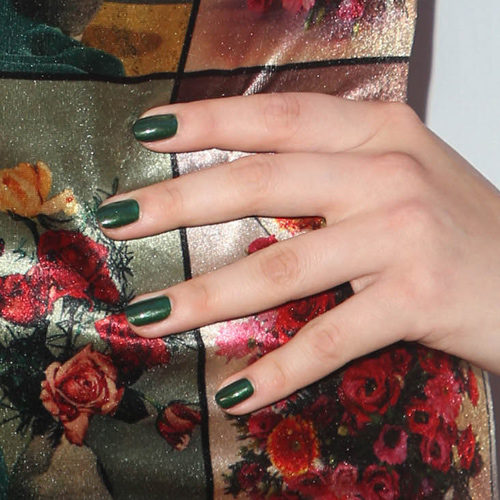 image source: stealherstyle.net
We just love how the Kick Ass actress as picked out the green shade in her dress and painted her nails with it! Green is such a versatile color with the darker shades giving a classy finish. Just make sure you always apply a base coat with green polish as it has a reputation for staining your nails.
22. Victoria Justice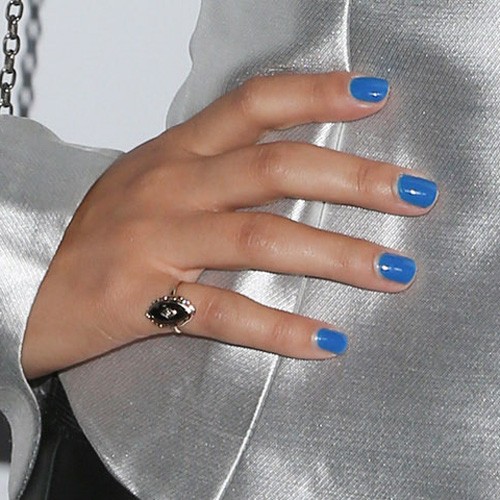 image source: stealherstyle.net
The bright blue of Victoria's nails here make a bold statement as she teams it with a silver outfit. The pairing give us Ice Queen vibes which we think is divine! Short nails are so manageable so even if you work a manual job, you can still keep a gorgeous mani!
23. Anne Hathaway
image source: byrdie.com
The Princess Diaries actress is looking like royalty in this beautiful gown! We love how she has matched her nails to the gold accents on the dress, pairing them with gold diamond jewelry. The heavy metal look is sure to catch your eye, as the gold glitter makes a statement with every outfit!
24. Emma Chamberlain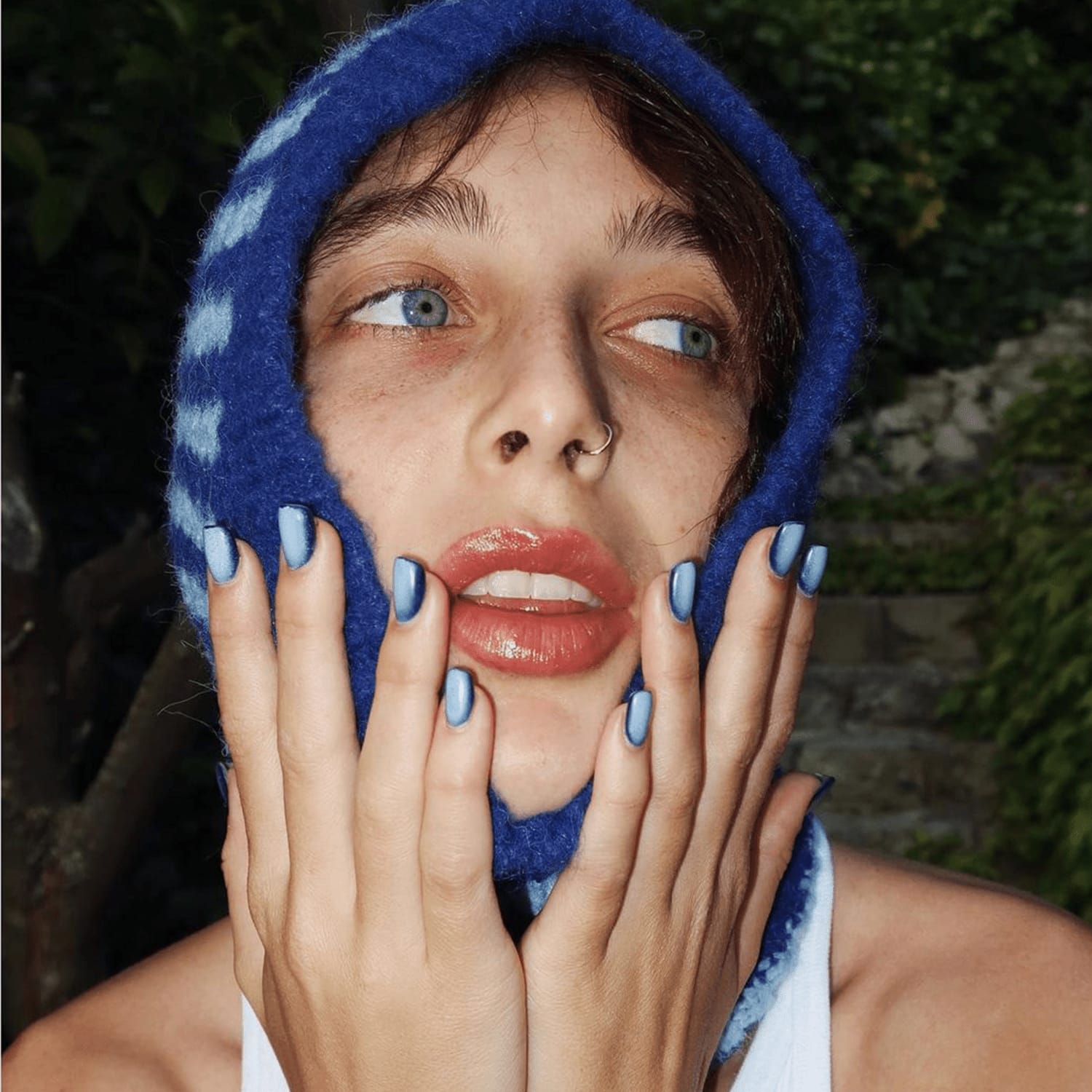 image source: byrdie.com
The two tone look here is reminiscent of blue China plates, and the darker border makes the paler shade really pop. The misty design is so effective and really goes with her blue eyes. You can change it up for whatever color you want, as long as there are two shades!
25. Camila Cabello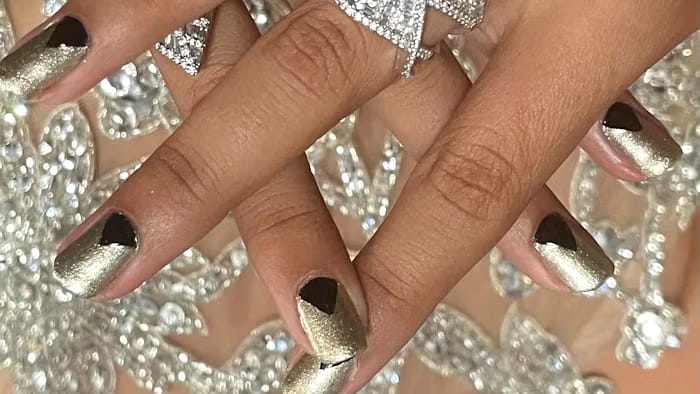 image source: nailpro.com
Another celeb to go for gold, is singer Camila Cabello. Rather than have a solid color, Camila has added black to a "negative space" triangle coming off her cuticle, which is reminiscent of an arrow. This effect can make your nails look longer than they are, and can be done with any color you want!
26. Ashley Graham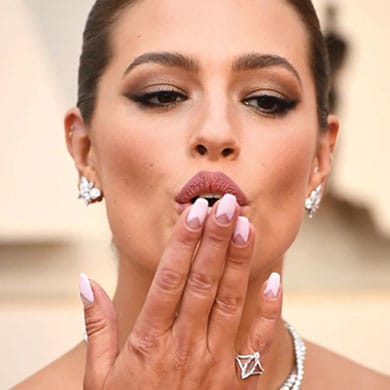 image source: salonmagazine.au
The "negative space" look is huge right now, with another celeb opting to keep it clear. This is a really classy style which was popular in the 1950s, and we just love how Ashley has made it girly with the pale pink color. Perfect for the "Barbiecore" look that's popular at the minute!
27. Nick Minaj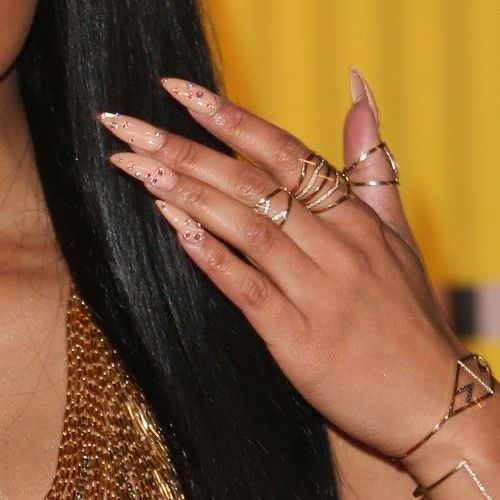 image source: pinterest.co.uk
We love how killer Nicki's simple design looks! It's so effective with the simple yet elegant gold jewels, mixed with the long length and sharp shape - she's got some serious glamor going on. A nude base allows for the jewels to do the talking, which look really great with her gold jewelry.
28. Molly-Mae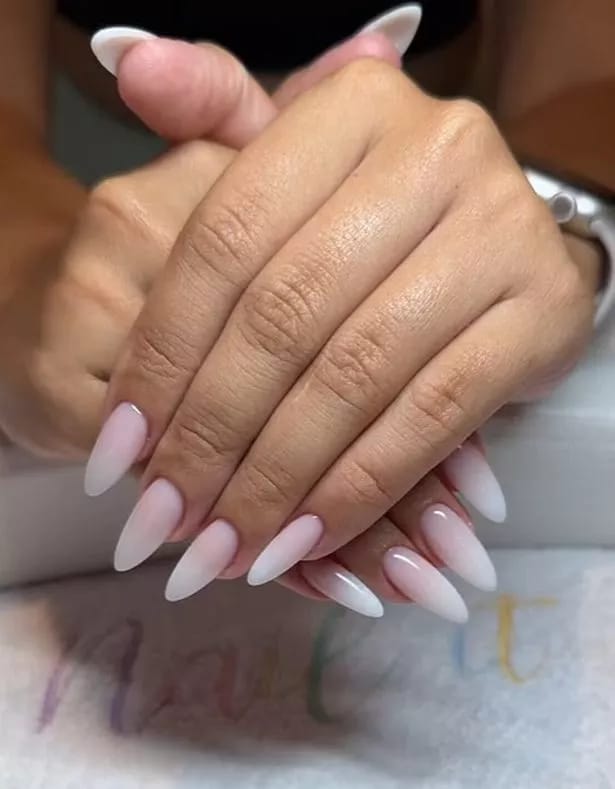 image source: ok.co.uk
The British media personality and social media influencer just adores muted nudes, and we do, too! The subtle ombre effect of this manicure gives it a gorgeous clean finish. With a pink tinge towards her cuticle, you could go as bright as as muted as you wanted, but we love the super pale pink that Molly's gone for here.
29. Lily Allen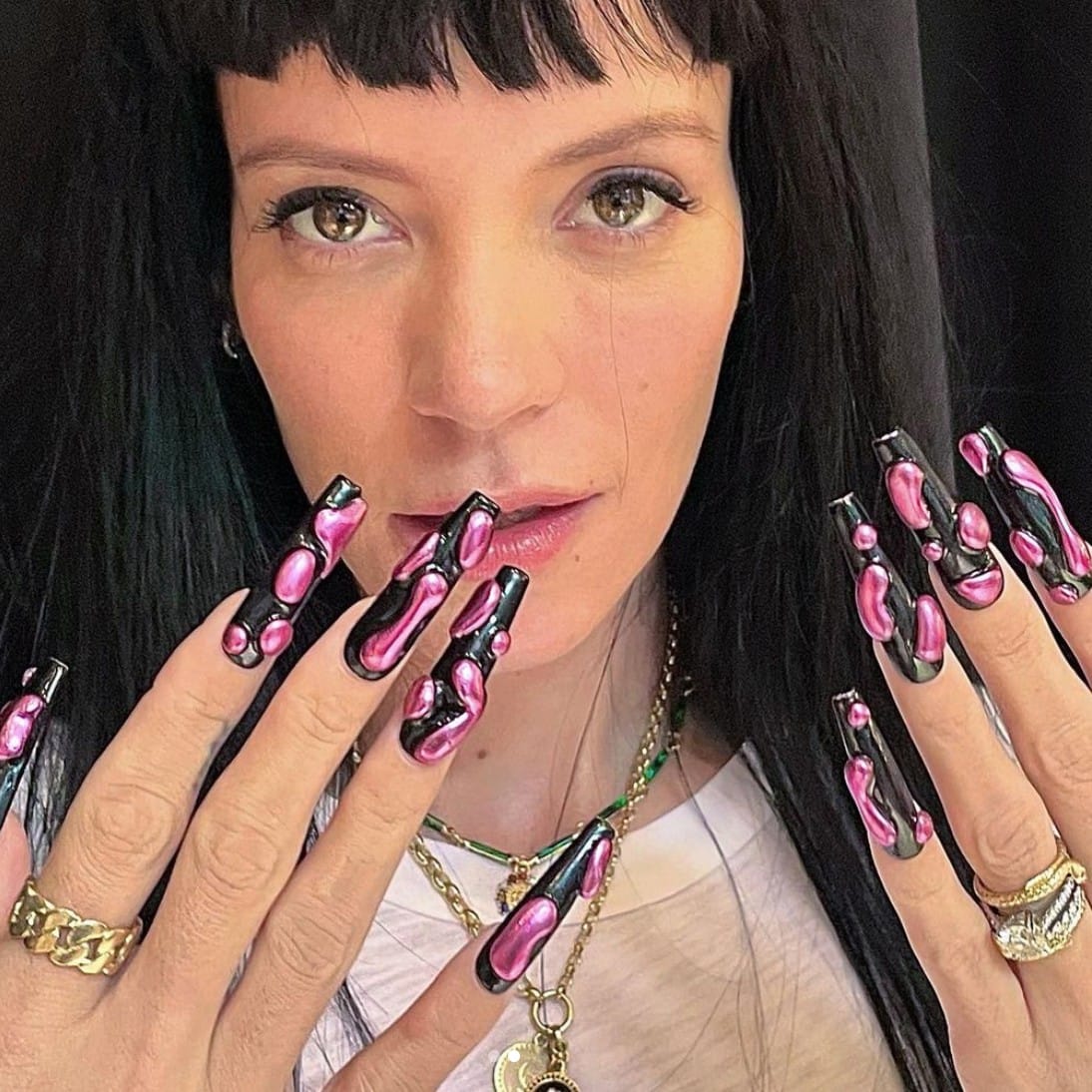 image source: mariclaire.com
3D manicures aren't for everyone, but they're sure to be a conversation starter! Lily's nails look like they're dripping a molten pink lava, which looks really cool against a black base. They might not be the most practical length, but who cares when they look that stylish?!
30. A$AP Rocky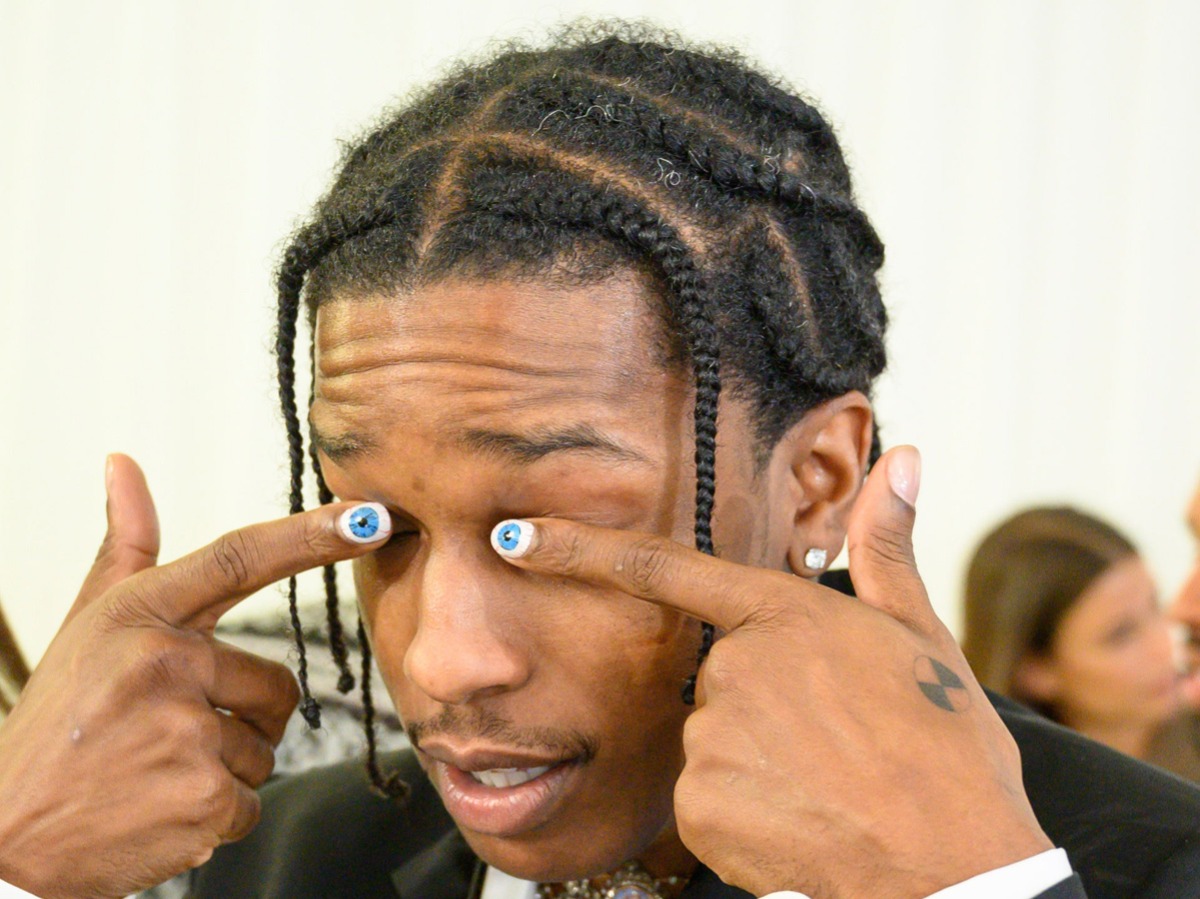 image source: mensxp.com
We love nails that create an illusion, and especially love when they appear as performance art. Rapper and beau to Rihanna, A$AP Rocky put on a show with his nail art, sporting an eye on each index finger, which he shows off by covering his actual eyes! Neat!