21 Foods That Only Exist In America
By Jack Clark
3 months ago
Sweet Potato Casserole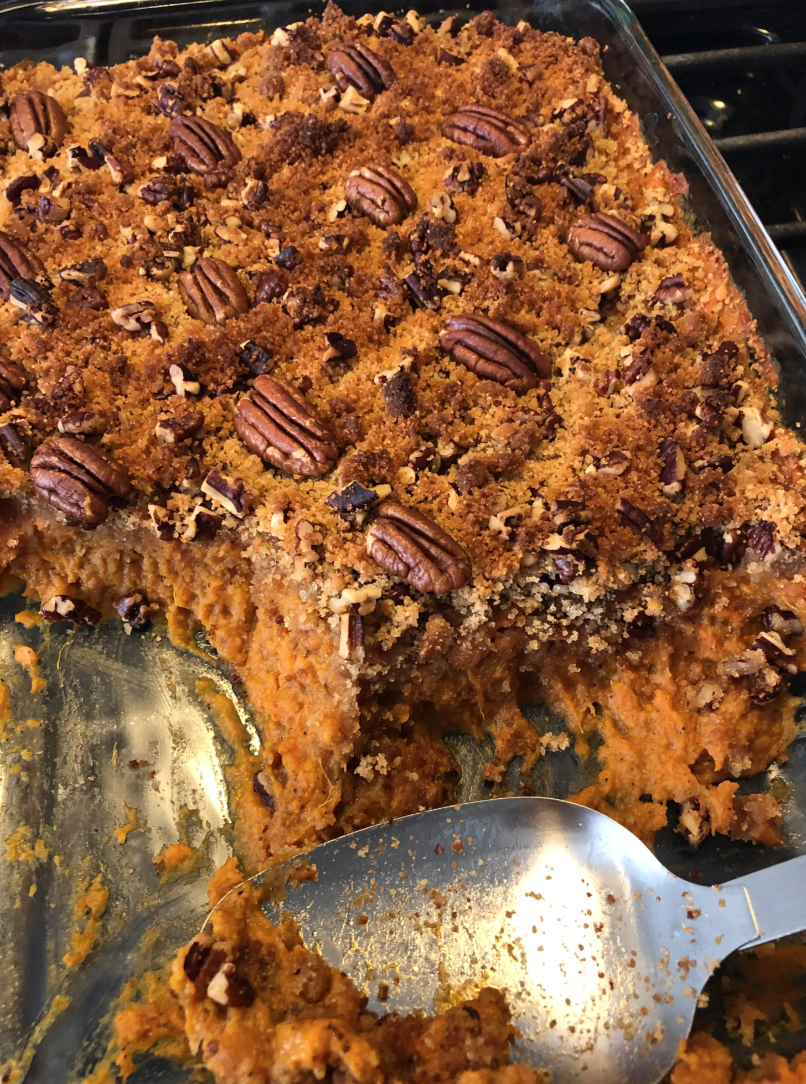 Image Source: Reddit
Now THIS is a winter warming soul-food dish that is full of flavor and comfort. It is generally served at Thanksgiving or over the Christmas period, but tastes great all year round. Sweet potato has a naturally sweet taste (duh, well obviously?) and the combination of savory ingredients like spices, salt and butter make this SUPER delicious. It was apparently invented in the southern states of America; sweet potatoes are a plenty in Southern US and has been a staple cooking ingredient for years.
Candy Corn
Image Source: Reddit
Candy Corn was invented in the US by George Renninger of the Wunderlee Candy Company in the late 1800s. This iconic halloween candy comes in a LOT of different colors and resembles the kernel of a corn. It was originally made by hand, and consists of four main ingredients: sugar, corn syrup, confectioners wax and food coloring. Hmm, that doesn't sound good when you describe it like that, but candy corn is delicious. It tastes sweet and creamy and has a hint of vanilla. Yum.
Corn Dogs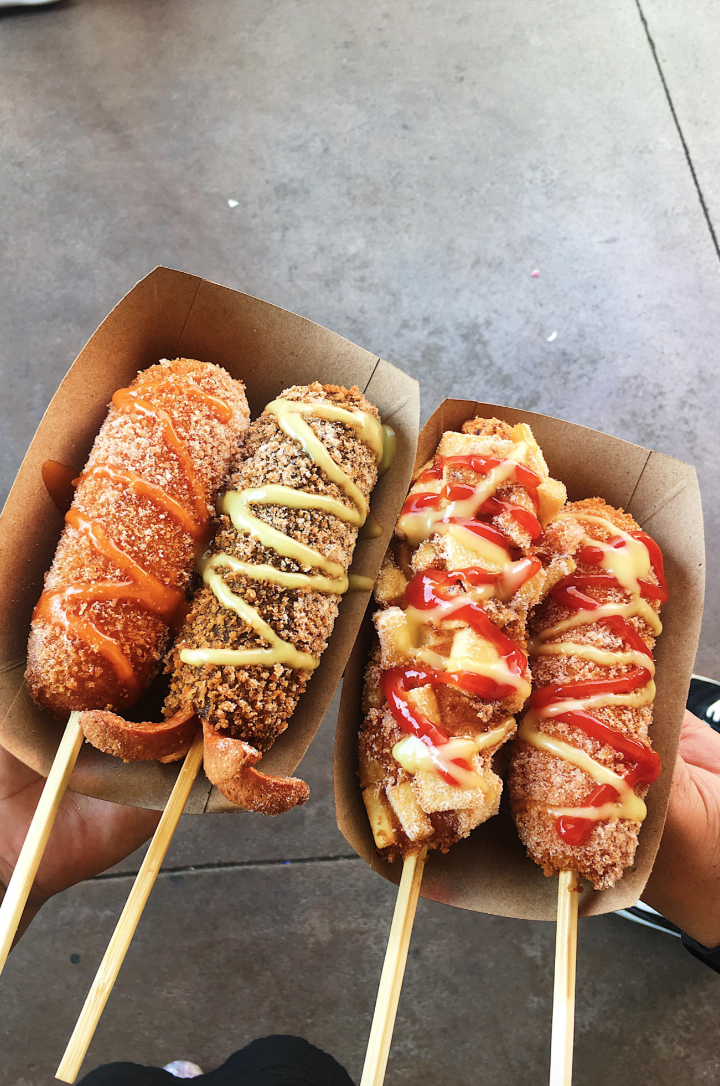 Image Source: Reddit
Corn dogs come with an endless amount of toppings and flavors to experiment with, there isn't really anything you CAN'T put on a corn dog. Well, maybe not anything, but you get the point. When it comes down to it, it's basically just a hot dog dipped in cornmeal batter and deep fried, but they taste SO good. Apparently, they were invented in the early 20th century in America, and were typically found at carnivals, fairs and sports events. The savory sausage meets the slightly sweet cornmeal batter, creating one of America's most beloved snack.
Grits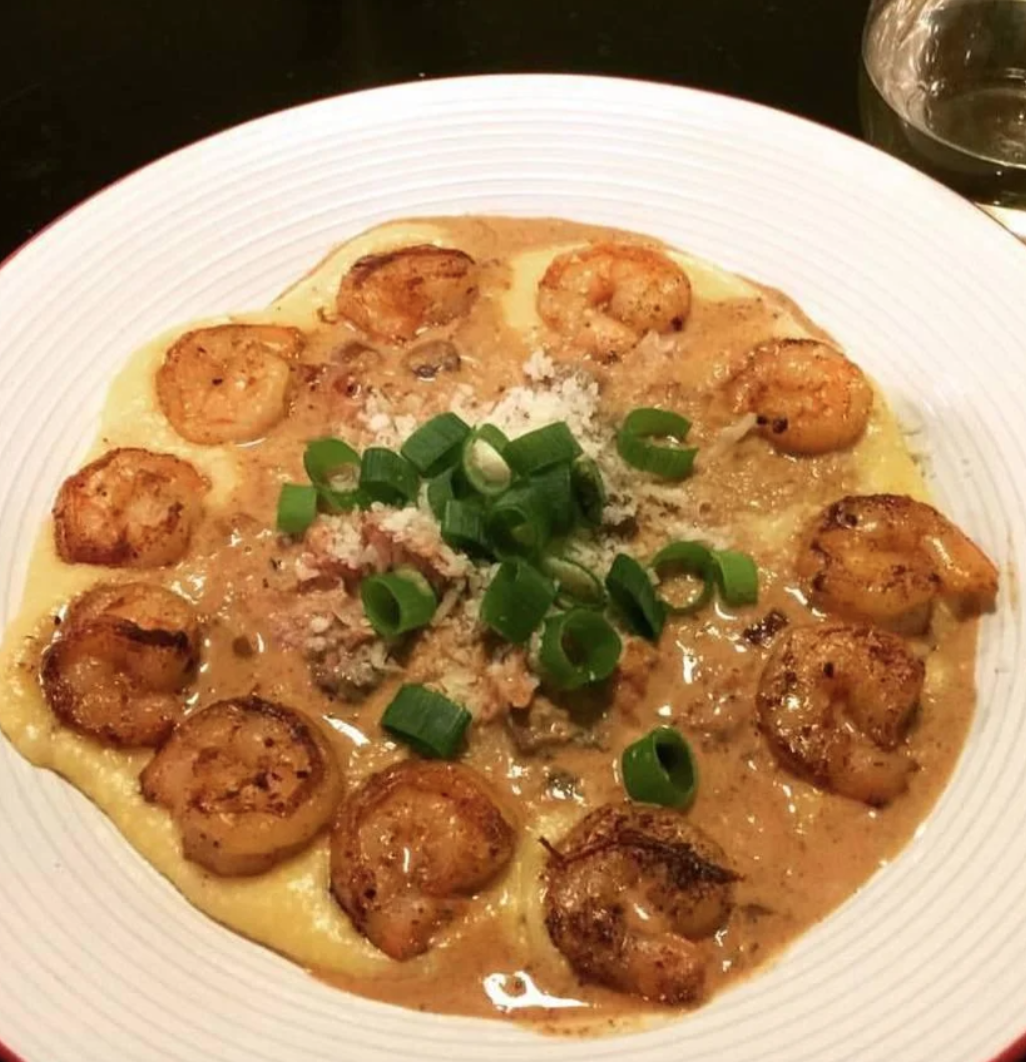 Image Source: Reddit
Next up on our list and hailing for the southern states of America, we have the popular porridge-like food, grits. They have been a southern staple for centuries, and have deep cultural ties with the south. Grits are super versatile, and are eaten as part of a breakfast or even supper. It is generally served as part of a creamy sauce that goes with shrimp, or is sometimes seen at breakfast to go along with your bacon and eggs.
Sloppy Joe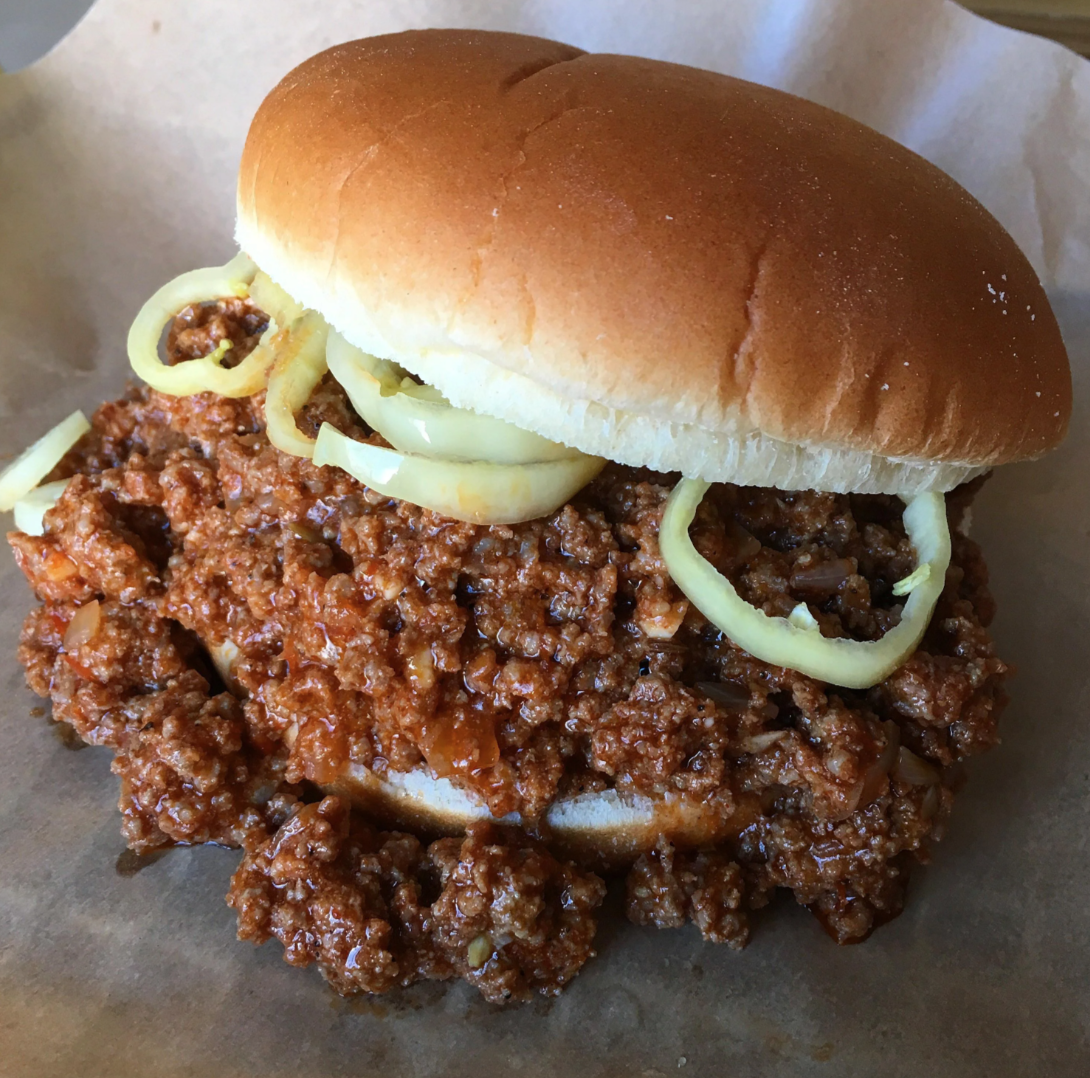 Image Source: Reddit
Let's be honest, sloppy joes are iconic. Perfect for parties, cook outs and family gatherings, and kids LOVE them. Traditionally, they're made with ground beef, but plenty of people have made delicious variations of them, and even vegans have taken to sloppy joes by using tofu. It's always hard to pinpoint exactly where a food originated, but it's definitely an American dish, and it started getting really popular in the mid-20th century. Word of warning: sloppy joes are messy (kinda in the name), so maybe don't eat this on a first date.
Biscuits And Gravy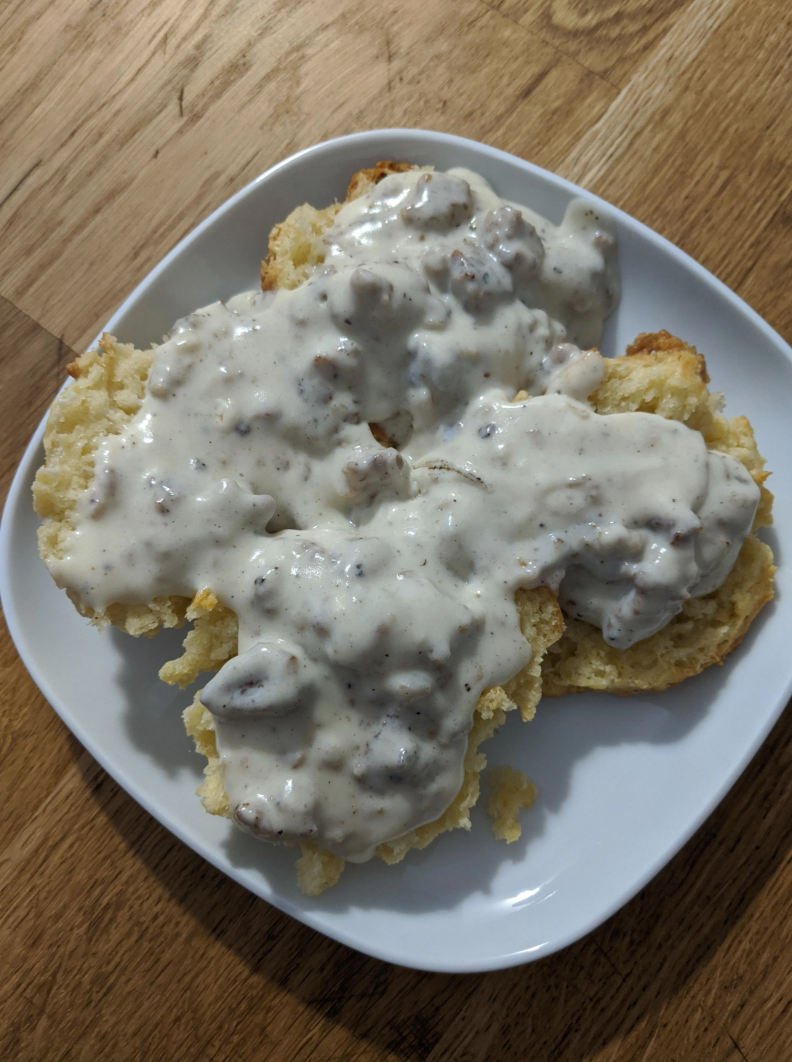 Image Source: Reddit
This one causes a bit of drama. A contentious food choice for sure. With origins in southern US, it is a popular choice of breakfast and brunch and those who enjoy it love its comforting flavors. It is made up of just two components: Fluffy, buttery biscuits topped off with a creamy sausage gravy. People love the contrast between the buttery and salty biscuit and the savory, peppery taste of the gravy. Say what you want about it, it's a popular dish, especially in the south, and it's definitely worth a taste test.
Canned Cheese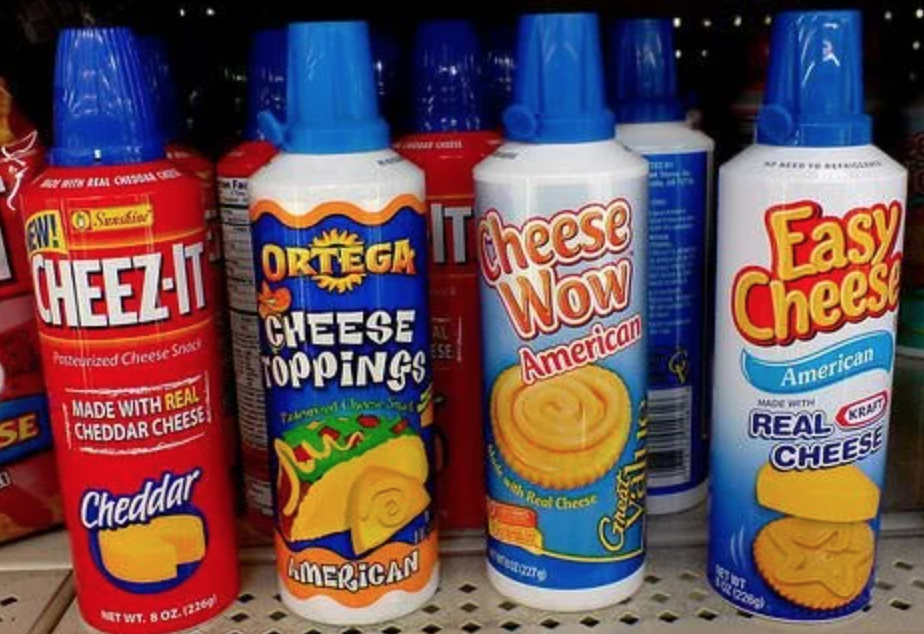 Image Source: Reddit
This is an American delicacy if there ever was one. People who aren't from America don't seem to 'get it' when it comes to canned cheese, and some even recoil at the idea of eating it. I know, weirdos. The ultimate portable cheese, you can take it anywhere and use it on anything. Going on for a picnic? Bring some canned cheese along to top off your crackers with or dip some carrots in. It also basically doesn't have a use by date which means that can of cheese in your cupboard from 2 years ago is probably still going to be alright. Dope.
Cornbread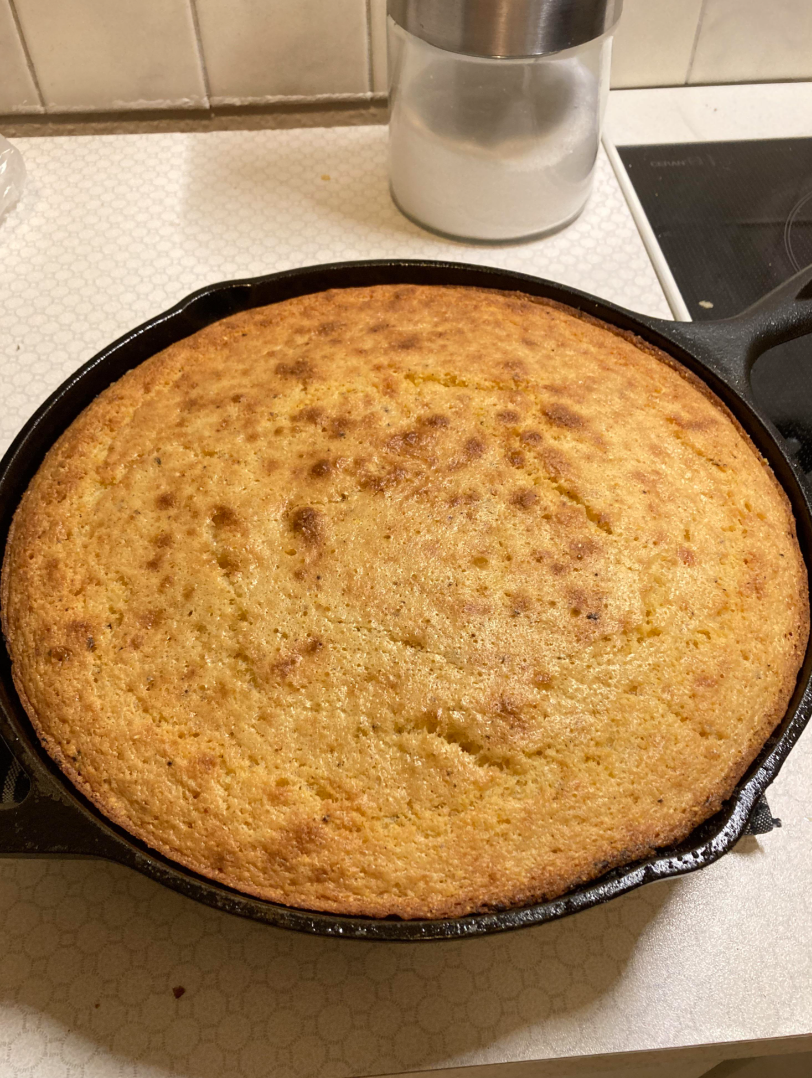 Image Source: Reddit
Another popular food that comes from the south (maybe there is a running theme here?), cornbread is often served with chili or can be used as the basis for stuffing or croutons. A lot of home cooks add other ingredients to maximise the flavour, like bacon, cheese and jalapeños. For those of you who haven't tried this before, it has a nutty and slightly sweet taste and, dependant on the recipe, can be soft and tender or drier and crumbly. Delicious.
Apple Sauce
Image Source: Reddit
Okay, this isn't a strictly American food, but it's pretty darn popular here. It gained its popularity during colonial times when we had more access to food from around the world, and has remained a staple food choice in American homes. You can eat it on its own as a snack, or it is commonly used as a topping for various foods like pancakes and waffles, or in your oatmeal or yoghurt. It has a, well, apple taste (thanks Sherlock), and can have a smooth or chunky texture depending on how you make it.
Pumpkin Pie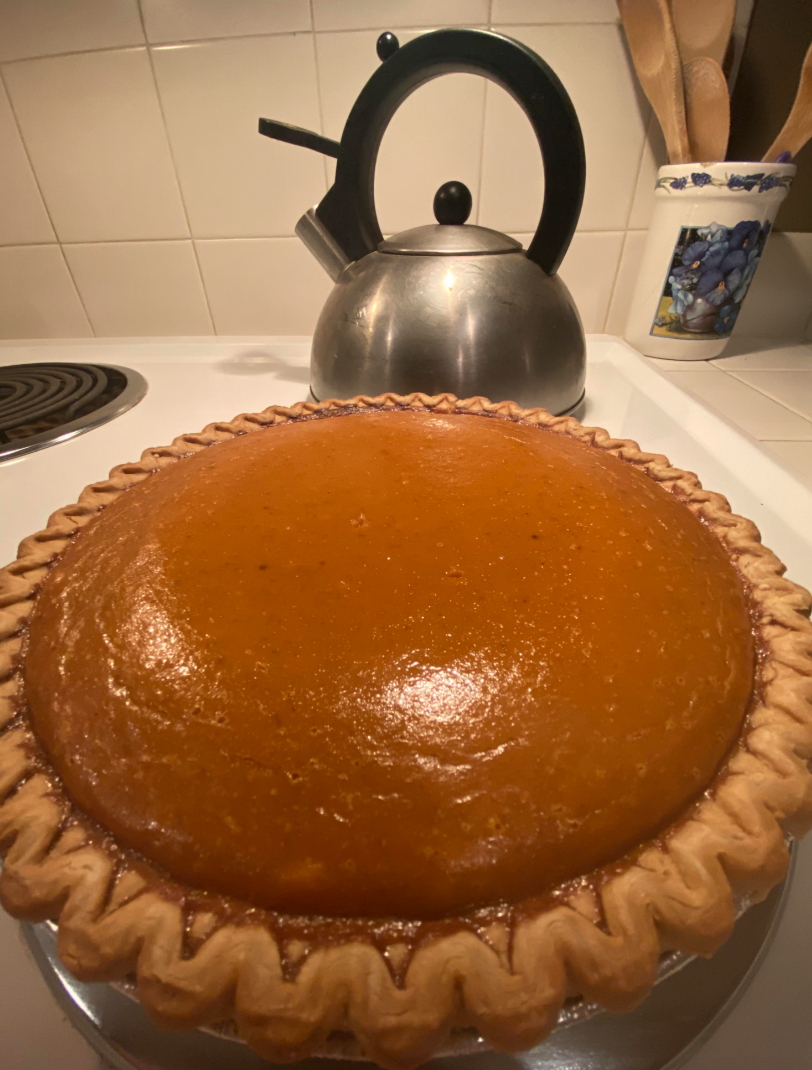 Image Source: Reddit
We LOVE pumpkin pie. It generally resurfaces around Autumn time each year and runs through to the Christmas holidays, but we'll eat this all year round. It tastes even better when you top it off with a bit of (or a lot of) whipped cream, and some people like to add chopped nuts or a drizzle over caramel sauce for that added sweetness. The combination of warm flavors and wintery weather make this an absolute must-have dessert during the festive season. We're getting hungry now...
Wonder Bread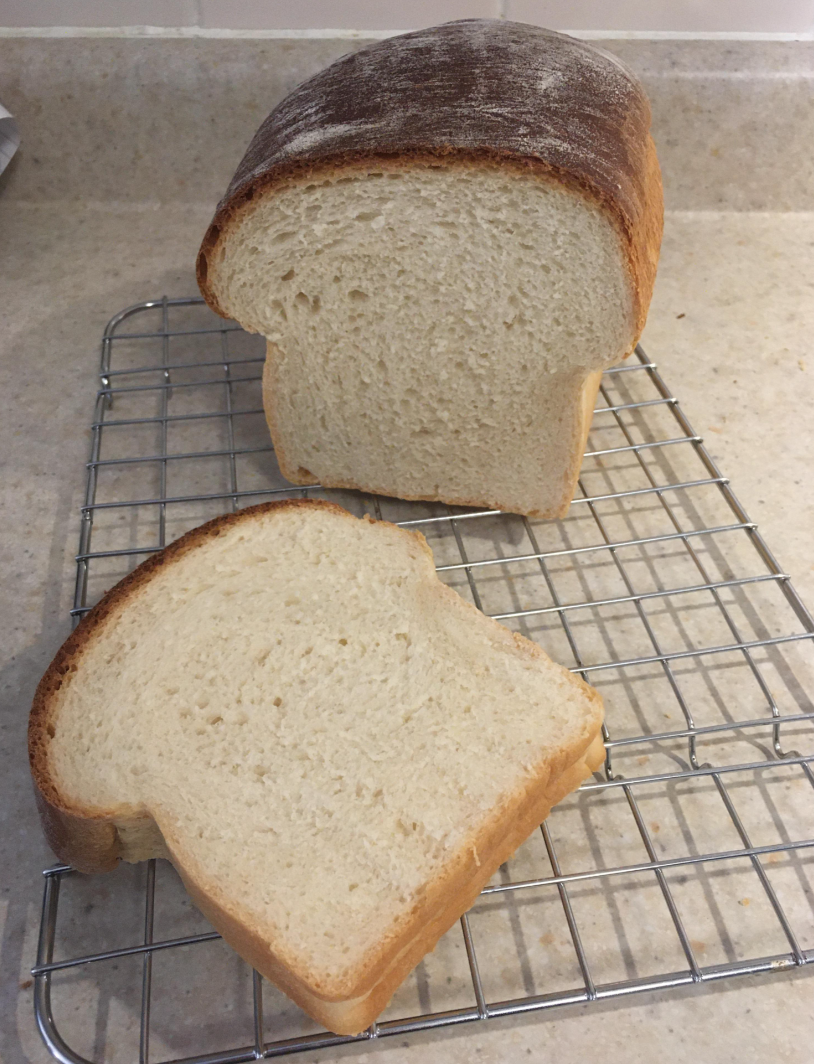 Image Source: Reddit
This delicious bread started showing up in the 1920s after it was created by a food manufacturer called the 'Taggart Baking Company', who were based in Indiana. It took America by storm as it lasted longer and was also softer than the usual bread you could buy at the grocery store. It has a mild flavour along with a hint of sweetness, and is great for making a sandwich or using for French toast. It was seen as a symbol for American industrialization and still remains a popular brand today.
Root Beer Float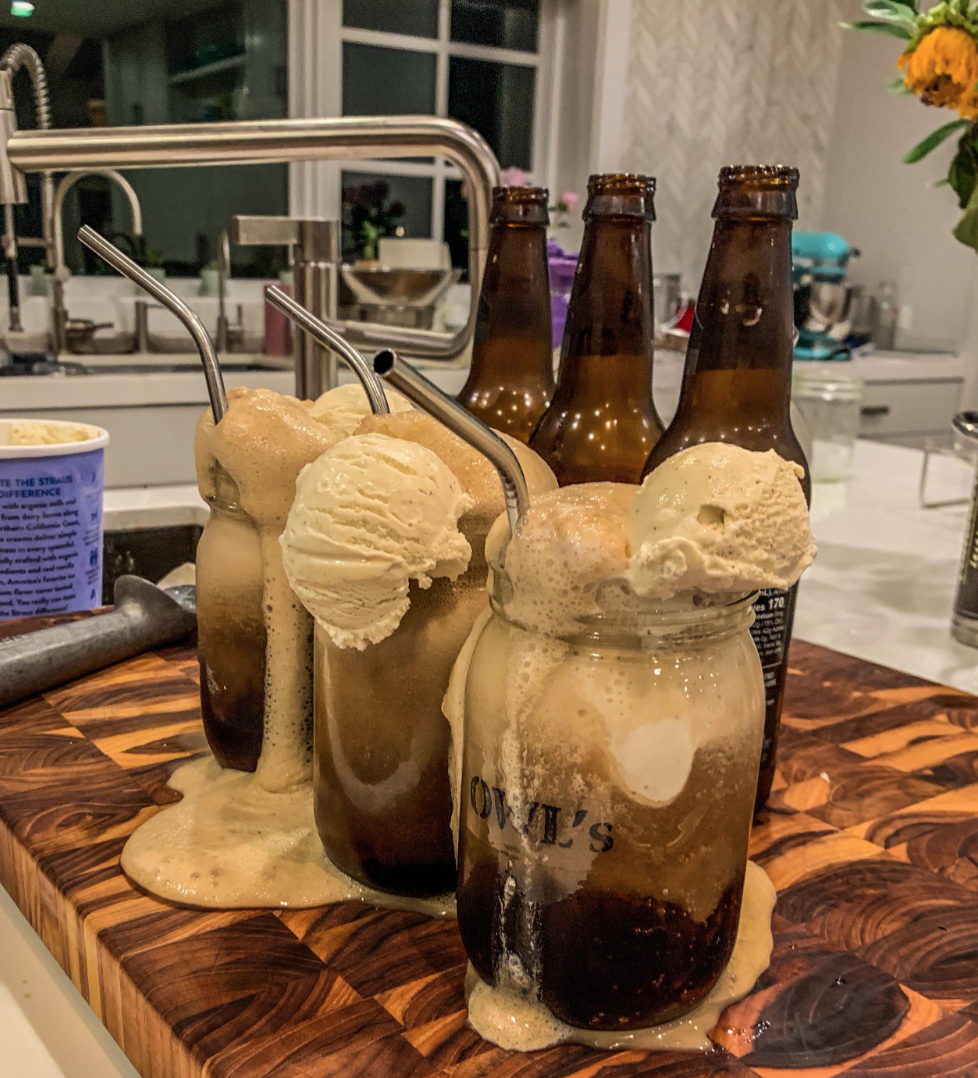 Image Source: Reddit
This is a CLASSIC American dessert beverage, comprised of root beer and vanilla ice cream. It's one of those weird food combinations that makes you think "why did someone try this?", but we're very, VERY glad that someone did. The rich and creamy vanilla sumptuously blends with the sweet and spicy root beer and makes for a delicious summer treat. Apparently, it first gained popularity back in the 19th century and, whilst its origin isn't 100% confirmed, I think we can all agree this is an American food!
Tootsie Roll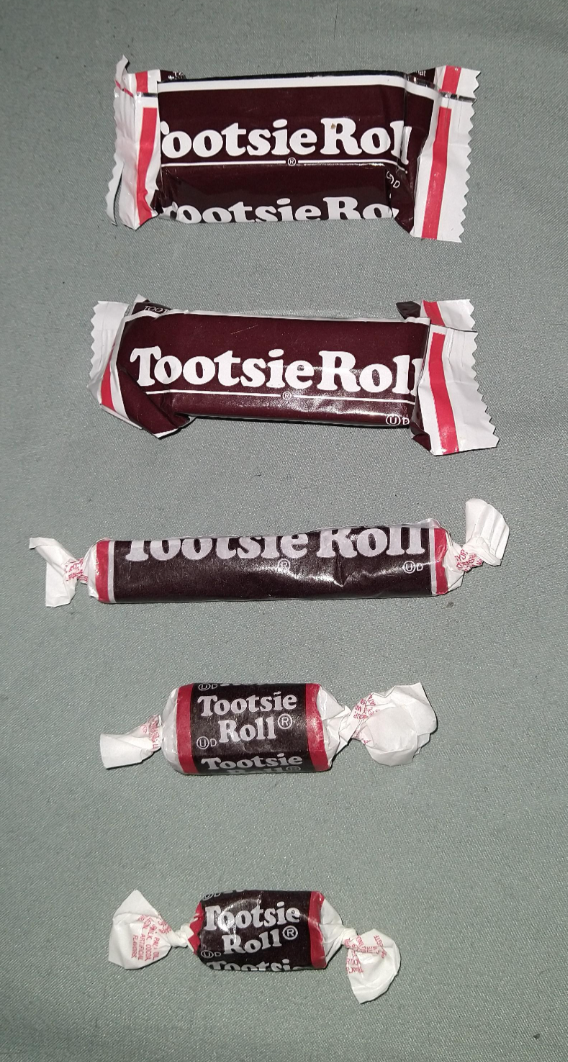 Image Source: Reddit
Tootsie rolls were first brought to the American market back in 1896 when it was created by the Austrian to US immigrant Leo Hirshfield. Apparently, he named it after his daughter, Clara, whose nickname was "Tootsie". How adorable! They are chewy and taste like chocolate, and have been a super popular candy treat in the US for decades. They used to be wrapped up in paper but, in 1905, they changed the packaging to a wax paper that has been used ever since.
Funnel Cakes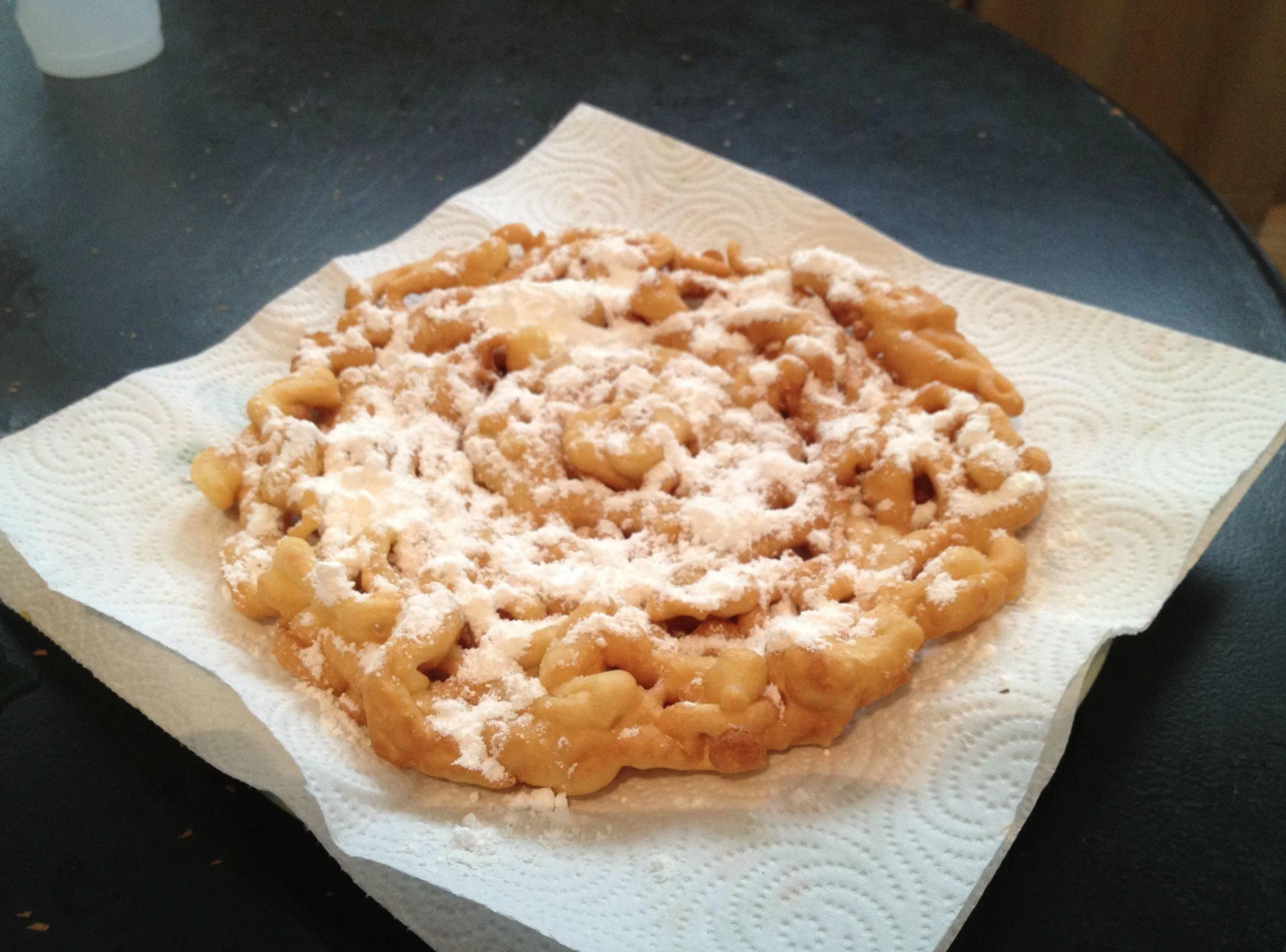 Image Source: Reddit
Although the funnel cake recipe made its way to America through European immigrants, we definitely made it our own. It became super popular in the mid 19th century, especially with Pennsylvania Dutch communities, and remains a super tasty dessert or snack choice throughout North America and Canada. To make it, you need to pour the batter through a funnel (which is how it got its name) and, as it fries, carefully shape it into a lattice pattern. Fancy something deep-friend and delicious? Look no further.
Tater Tots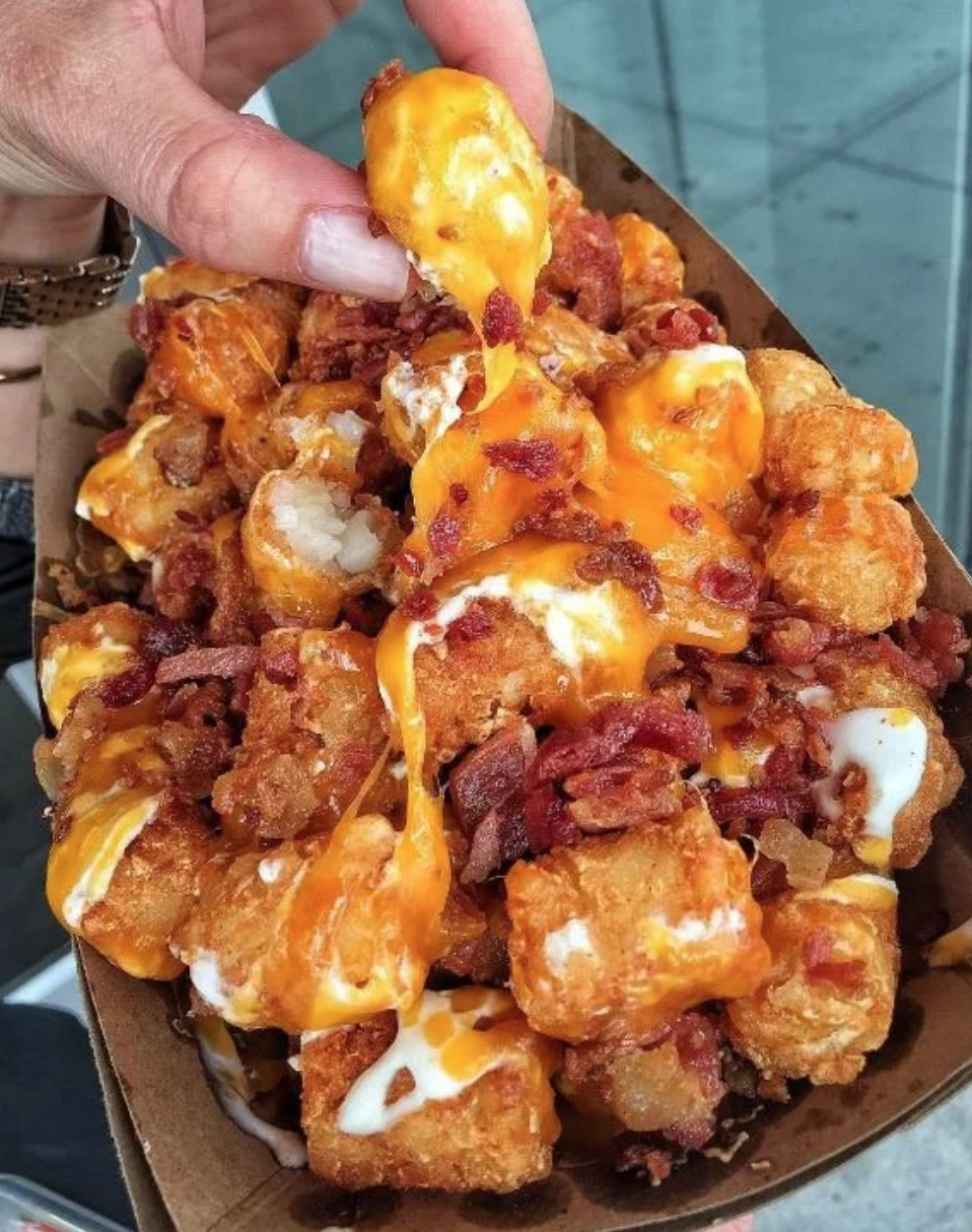 Image Source: Reddit
These are basically mini, square-shaped fries and they taste amazing. They were apparently first created in America (obviously) back in the 1950s, whereby the tiny potato chunks were mixed with flour and spices and then deep fried to create these carb-filled pieces of heaven. People often cover them in various sauces, or even pieces of meat like bacon, to add to the overall delicious flavor. Perfect as a little snack if you're feeling peckish, or to go with a juicy burger or some fried chicken. You'll find these pretty much everywhere you go.
Jolly Ranchers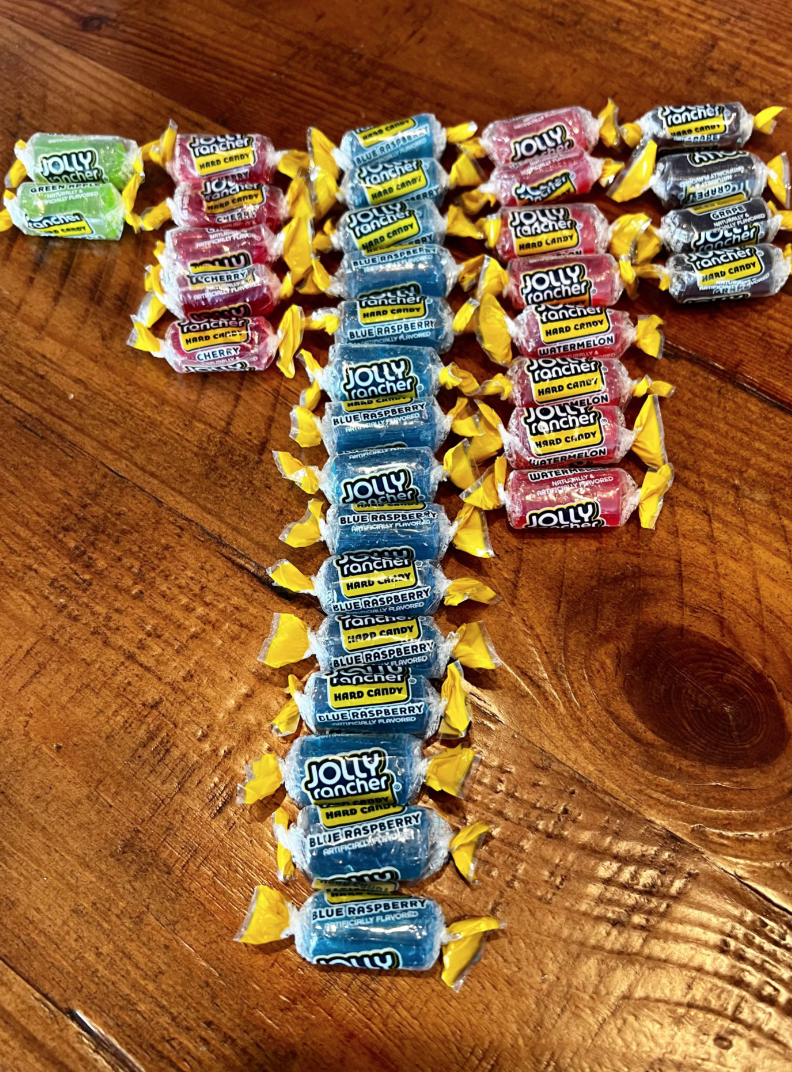 Image Source: Reddit
Jolly ranchers have been in grocery stores and confectionary shops ever since the 1940s when they were created by 'The Hershey Company'. They're a type of hard candy and they come in a variety of fruity flavors like cherry, grape and blue raspberry ('blue' isn't exactly a taste, but if it was it would probably taste like this). You don't have to just enjoy these by eating them straight: bakers use them in their sweet treats, mixologists use them in cocktails and chefs use them in their desserts.
Lobster Roll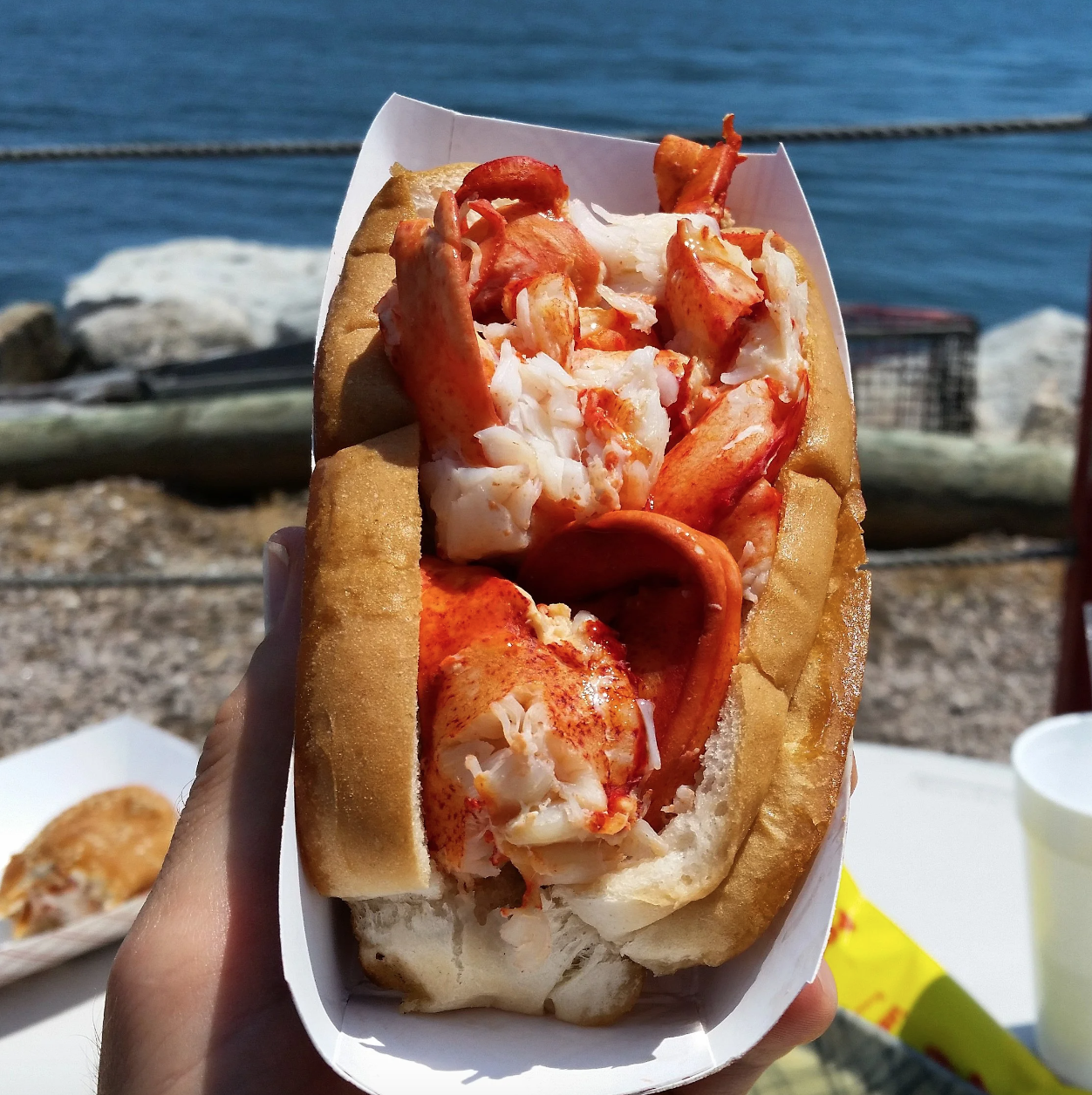 Image Source: Reddit
Lobster. Dressing. Bread. This dish may be simple in its nature but the taste is out of this world - unless you don't like seafood, in which case you may want to avoid it. There are two main types of lobster roll: Maine-style and Connecticut-style. Both are delicious, but we all have a favourite. If you like a chilled lobster that's dressed in herbs and some mayo, then Maine should be your main choice. If you like your lobster hot and drenched in butter, then you'll want to ride with the Connecticut crew, the hardcore lobster-lovers.
In N' Out Burger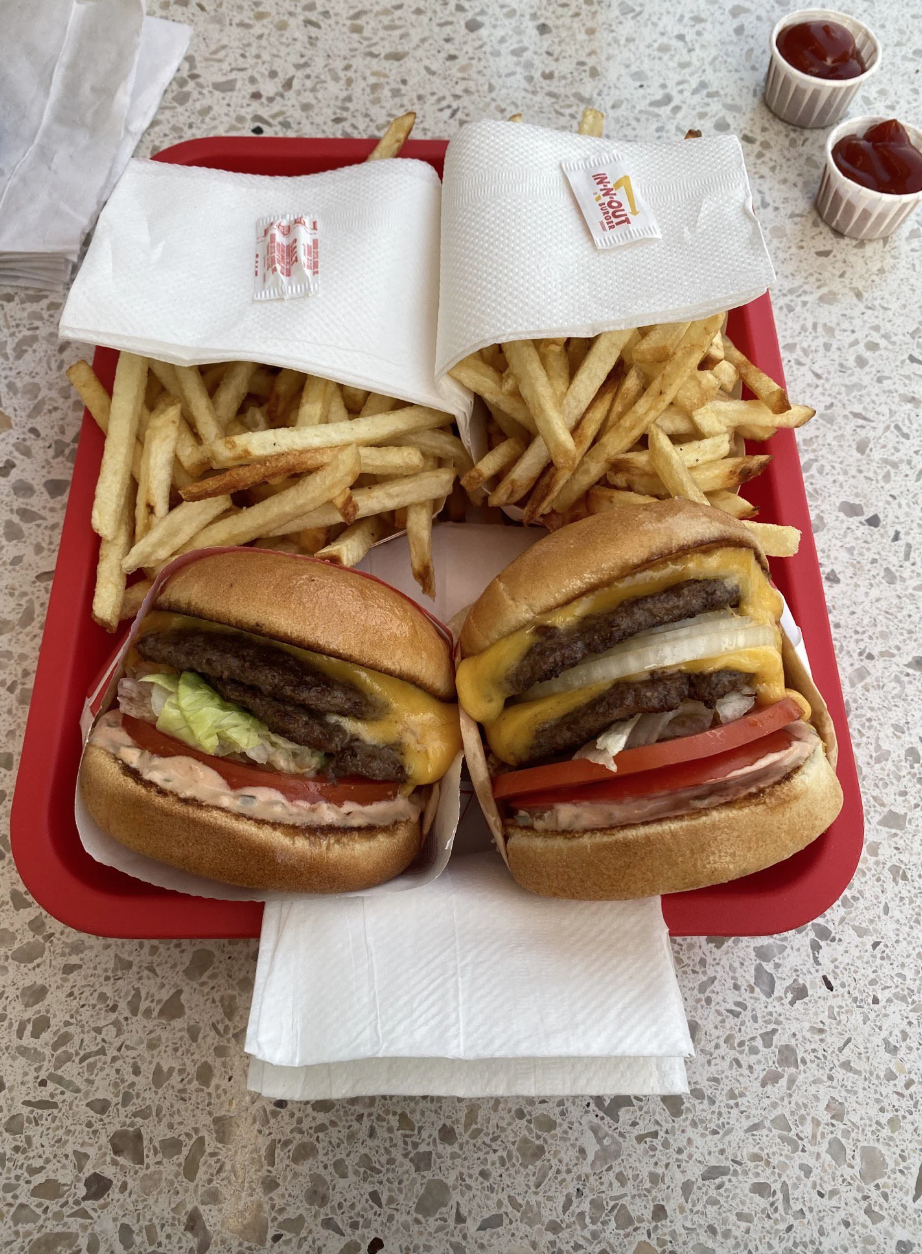 Image Source: Reddit
We know, burgers are served all around the world, we don't have a monopoly on burgers in America. However, we DO have In N' Out Burger, which is probably the best fast-food burger chain out there. A truly American restaurant, you wont find one outside of the US. It tastes better than most other fast-food restaurants as they only use fresh food - nothing is frozen here (well, so they say), but you can 100% tell the difference. For the seasoned In N' Out pros, you an order from their 'secret' menu if you're bored of their normal menu.
Cheez-its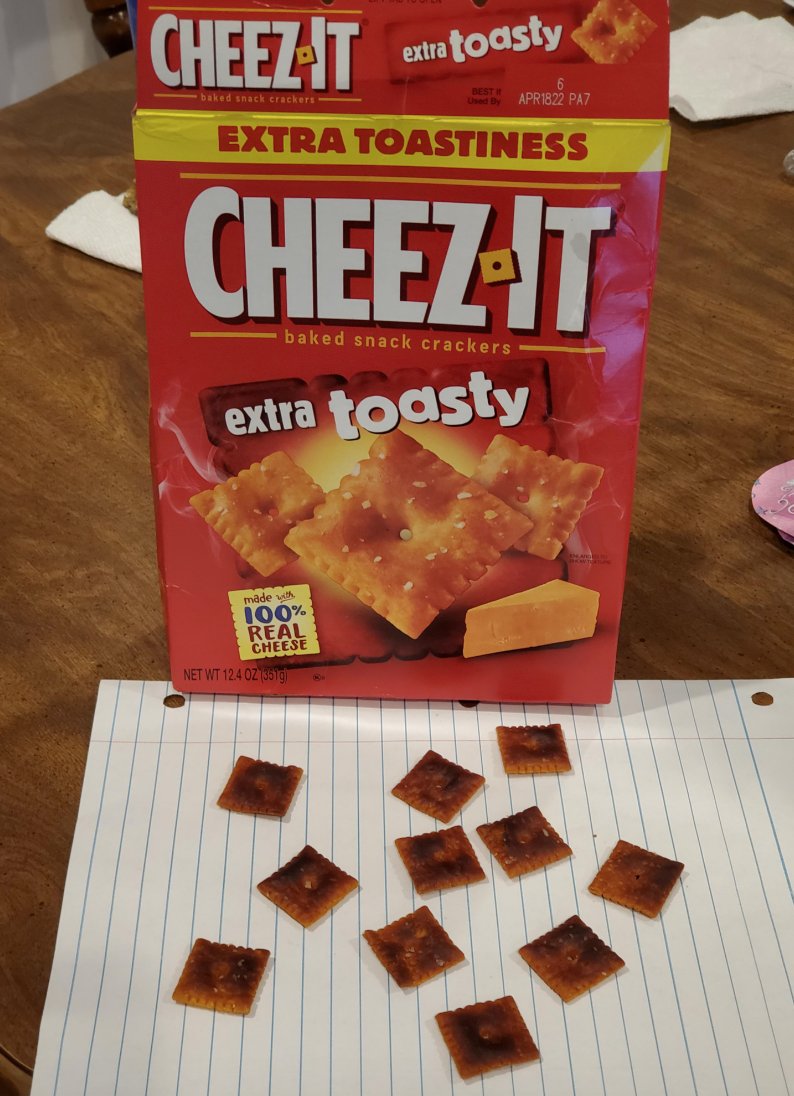 Image Source: Reddit
Probably the most popular cheese-related snack or, at the very least, cheese-related cracker in America. These things are made of real cheese among other ingredients like wheat flour and other seasonings. The combination of these ingredients make a super tasty and addictive snacking cracker that will never find itself out of place. They were created back in 1921 and are now owned by a subsidiary of the Kellogg company. You can eat them as a snack, as part of a party platter or even tucked away in your lunchbox for a bit of taste pleasure on your break.
Hidden Valley Ranch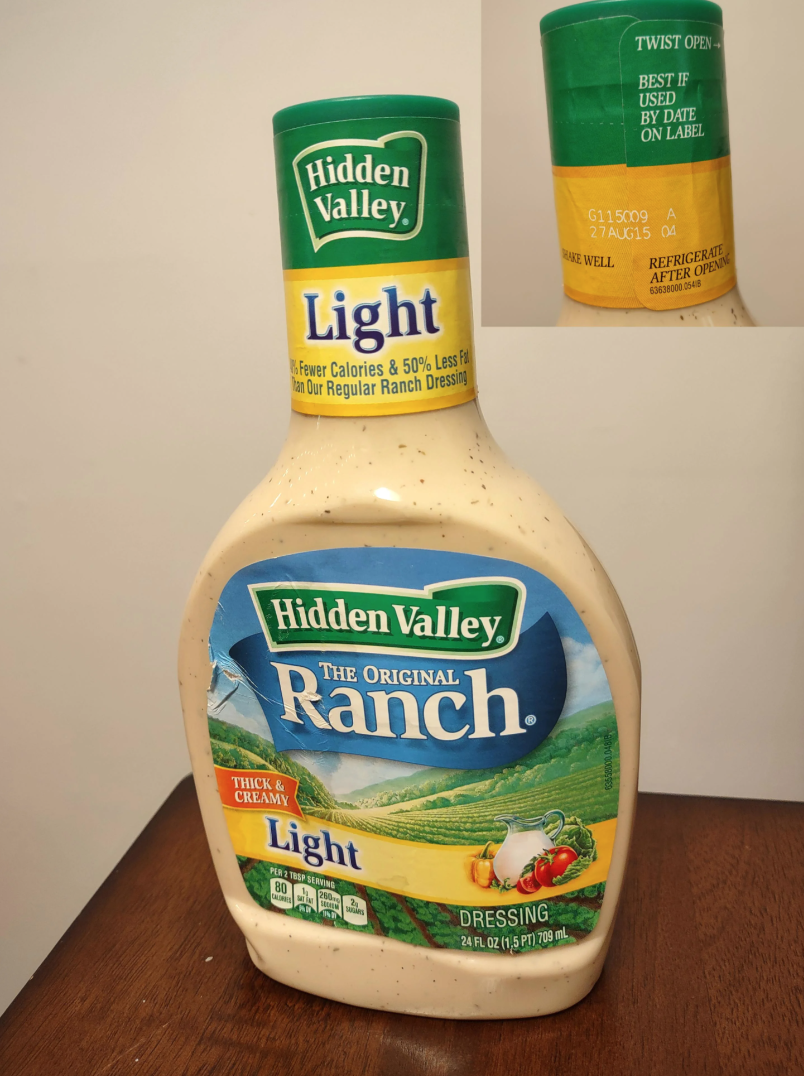 Image Source: Reddit
We have this dressing on everything, especially in the summer. It goes with so many savory dishes that you couldn't even begin to count how many. It goes well with potatoes, chicken dishes, burgers. Hell, we'd even dip bread in it. Okay, maybe not, but this stuff is delicious. It is also available to a multitude of different diets as the brand now offers reduced and low fat ranch and even a vegan-friendly sauce. For those of you who haven't tasted this, it adds a herby and tangy twist to any meal, and can spice up otherwise boring meals.
Chick-Fil-A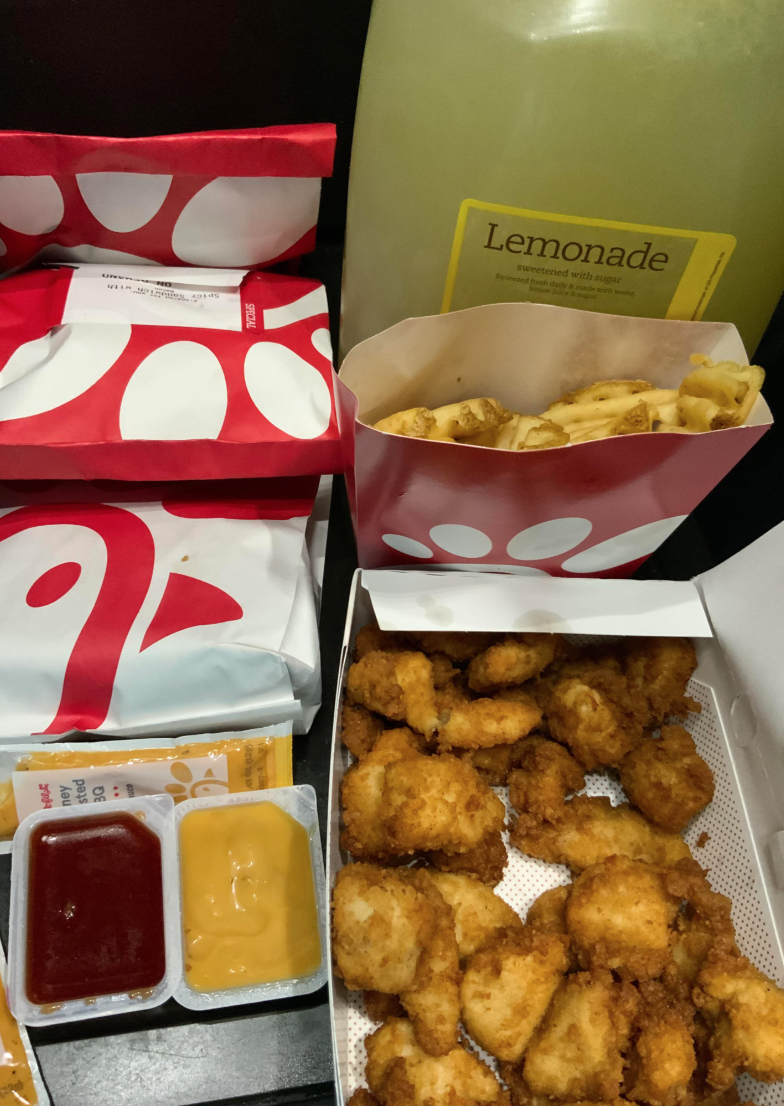 Image Source: Reddit
Another American-only fast food chain, you don't find these anywhere else. It was founded in 1946 and is one of America's top fast food chains. Chick-Fil-A features a chicken-focused menu that offers a variety of chicken items. Whether you fancy a chicken sandwich, chicken strips or chicken nuggets, Chick-Fil-A has got you covered. It also has a variety of other menu options like waffle fries, and also offers a breakfast menu including chicken biscuits and breakfast burritos. This is definitely a naughty treat, but so deserved on the weekend after a hard week of work.
Chicago Pizza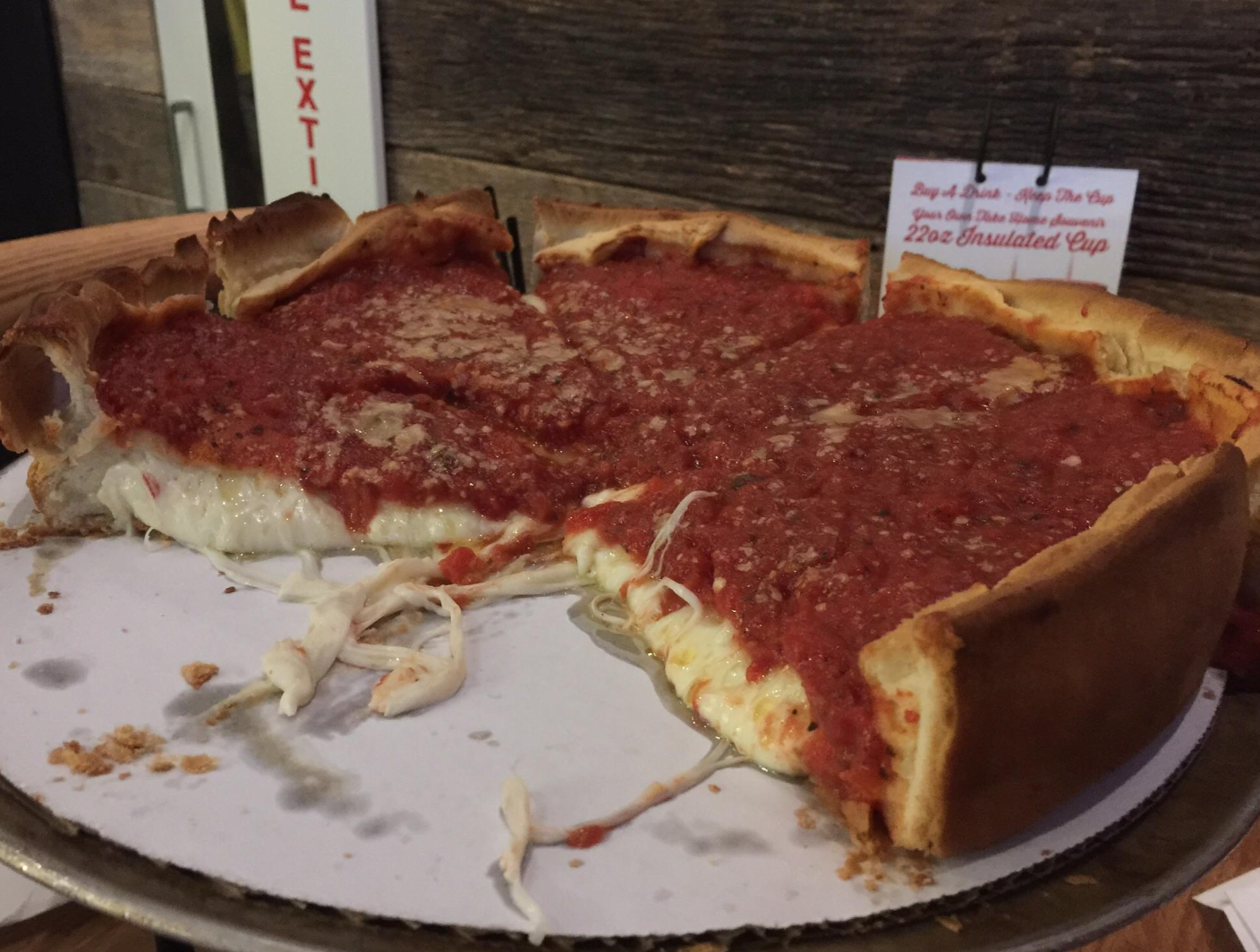 Image Source: Reddit
You know you're dealing with a thick pizza when you have to use a knife and fork to eat it. There is no way you're picking this thing up without trouble - it's basically a pie at this point. Still tasty though, our friends in Chicago know how to get to our hearts: through our stomach, with delicious deep-filled cheesy pizza. It was first developed back in the 1940s by two culinary geniuses called Ike and Ric, whereby they baked this divine food in a pan and served it to hungry customers. After this, the rest was history, and deep-filled-pizzas are here to stay.
Philly Cheesesteak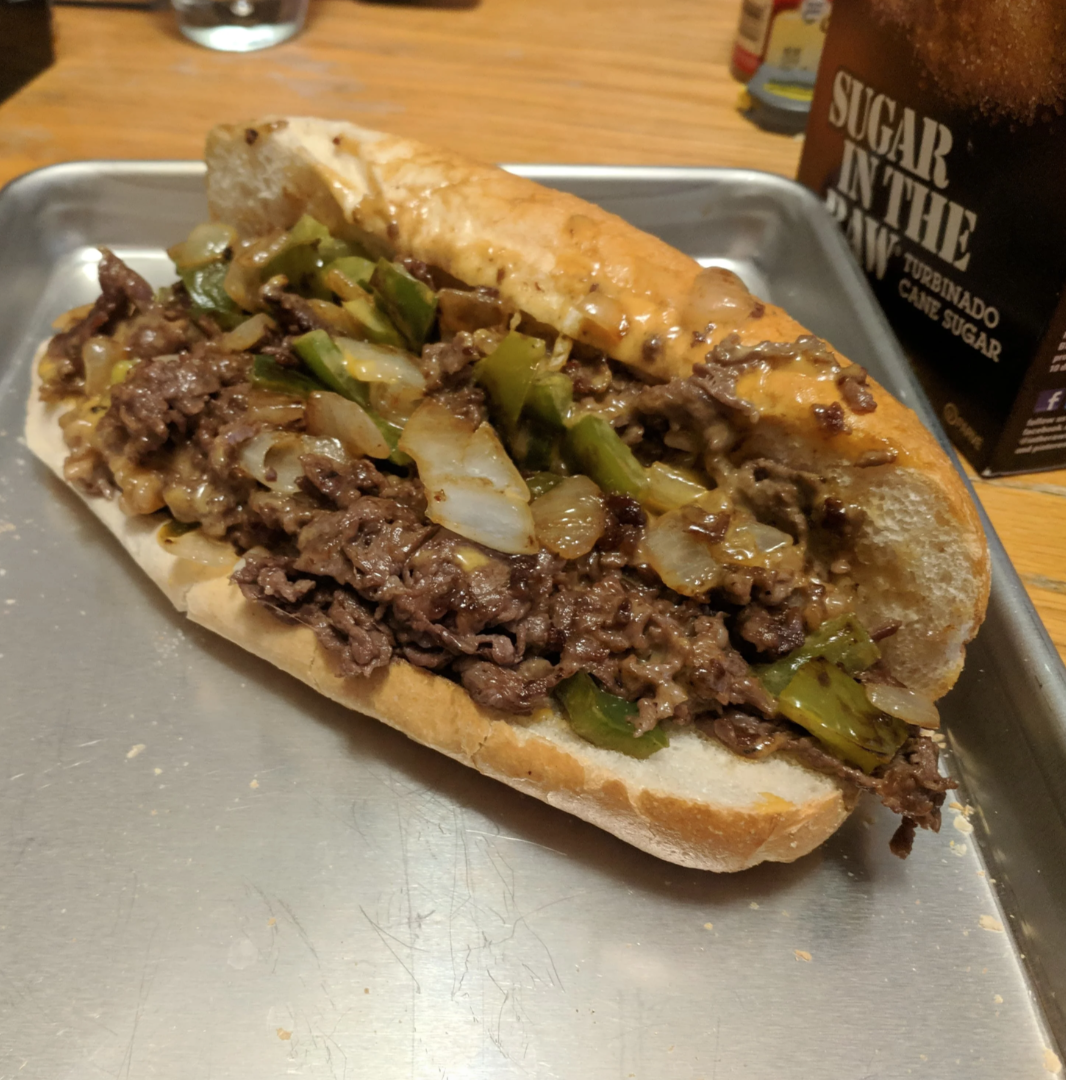 Image Source: Reddit
We couldn't write this article without mentioning the pinnacle of American cuisine. Everyone knows about this sandwich, and tourists from all over the world are desperate to try this delight. Traditionally, it is made with thinly-cut ribeye steak (the best steak cut you can get in our opinion), topped with American cheese and placed onto a hoagie. Many people customize their sandwich with onions and peppers, and some even add lettuce or even ketchup. The true Philly cheesesteak fans (just called a cheesesteak in Philly), argue that it's best without all the frills: just steak and cheese.
New York Cheesecake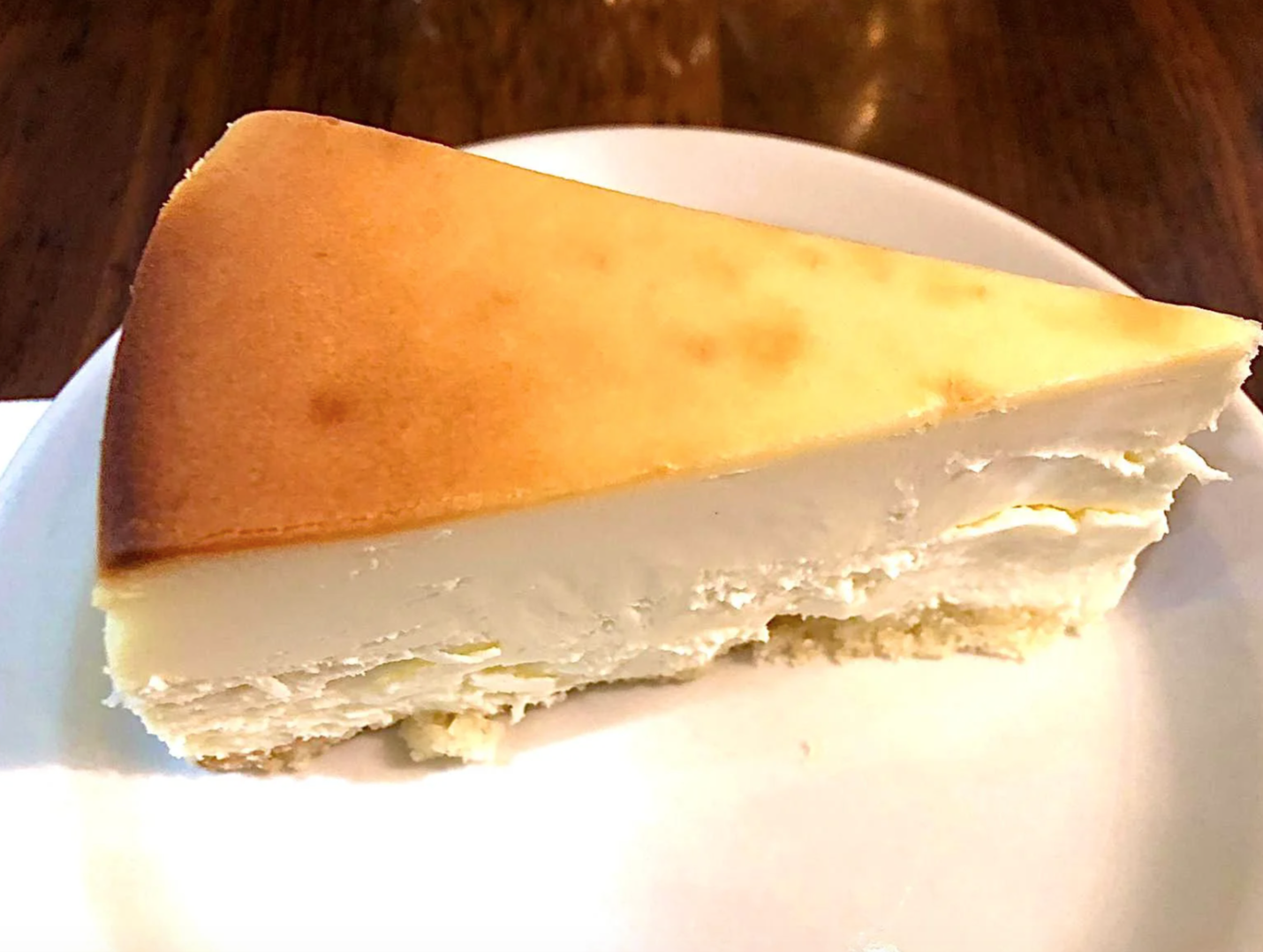 Image Source: Reddit
You'll find this delicious dessert all around the world, but its origins are based here in America. The clue is in the name: New York City, baby. Its ingredients are simple; cream cheese, eggs, sugar and vanilla extract, which are mixed and laid onto the biscuity base. The true NY cheesecake fans will eat this without any toppings, but for those with more of a sweet tooth, or those who find the tangy taste of the cheese too strong, it is common to add toppings to the cheesecake like fruit compotes, caramel sauce or fresh berries - you wont regret any of these choices.
Collard Greens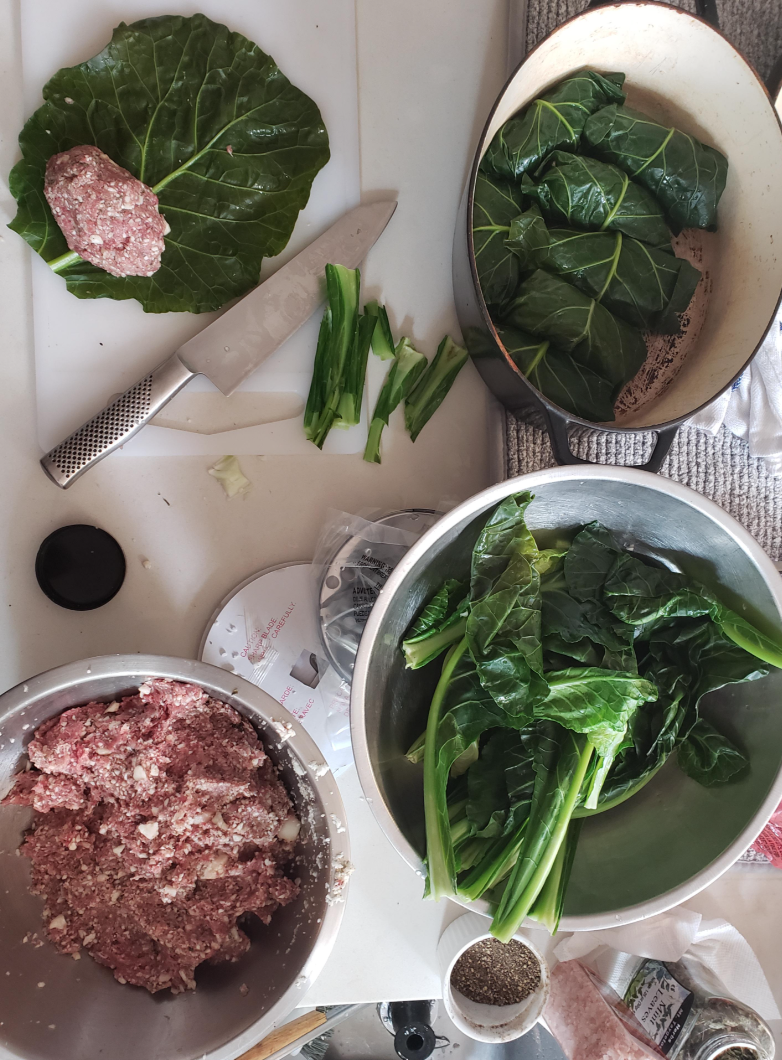 Image Source: Reddit
Who doesn't love Collard Greens? Residents of the southern states LOVE collard greens, and it's easy to see why. They're full of vitamins and minerals and are just an all round healthy food option. They are often served as a side dish to go along with meat dishes like chicken, mac and cheese and black beans. They are often cooked to remove the natural bitterness that comes with the plant, and can be boiled, braised and sautéed. So many foods are called 'soul food' nowadays, but collard greens fit that description to a tee.
A1 Sauce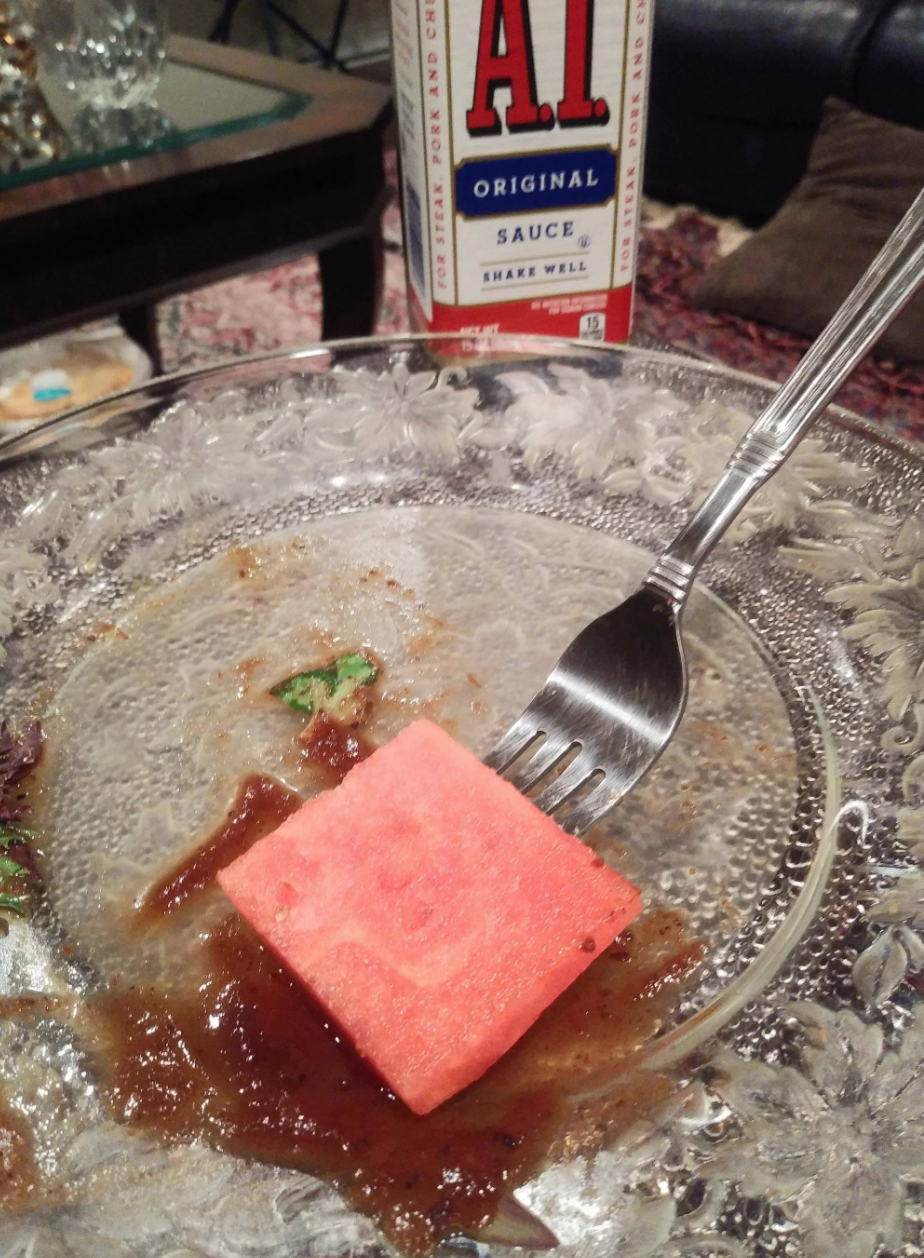 Image Source: Reddit
We LOVE A1 sauce. Like the label says, it goes well with steak, pork and chicken dishes, and even vegans have found a use for it given that the sauce itself is vegan. Not quite sure we'd try it with watermelon, but maybe it's like the pineapple on pizza situation? Some love it, most hate it, but you can't say you dislike it until you've tried it. Its origins go alllll the way back to 1862, and it was invented by a British chef called Henderson Brand, who created it during his tenure with King George IV. You'll find this sauce in most American homes and is a staple food.
Cheetos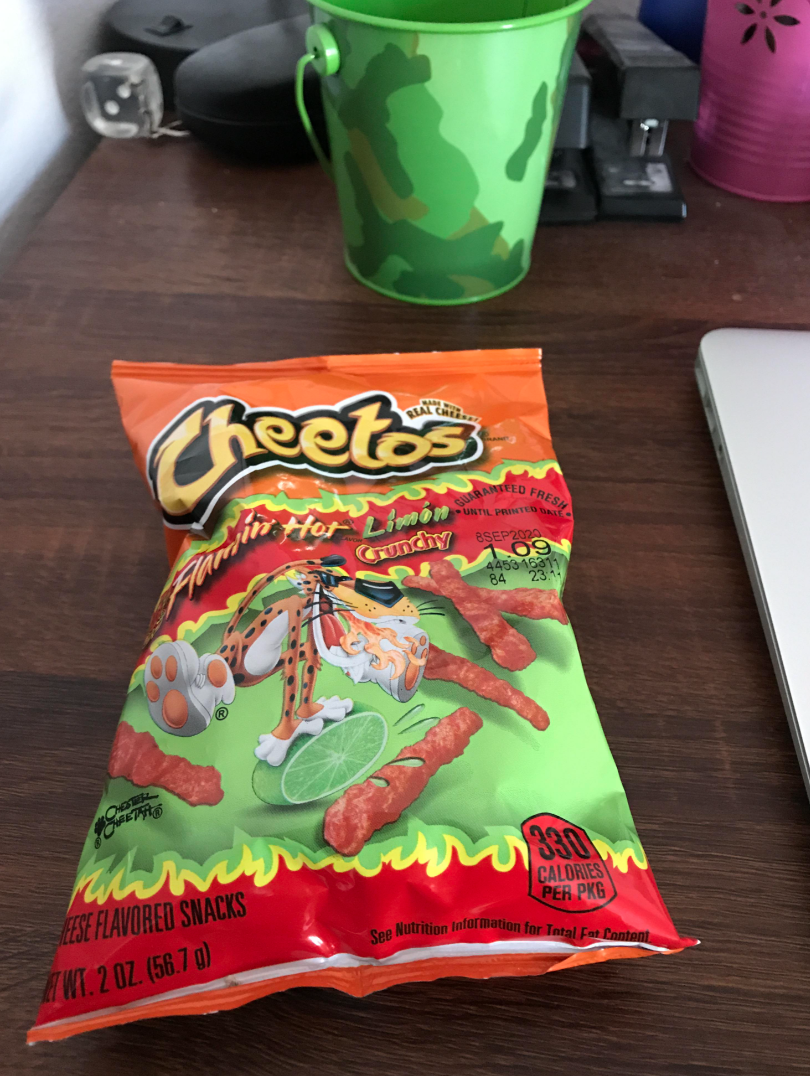 Image Source: Reddit
What more can be said about Cheetos that hasn't already been said? You can get so many different flavors that literally anyone will find one they like. Fancy something spicy? Try the flaming hot or cheesy jalapeño flavors. Fancy something sweet? Try 'Cheetos Sweetos'. They originally came out in 1948 and quickly became one of America's top snacks. They are also seen in several movies, such as E.T and Men In Black - remember that scene where Agent J pours an entire bag of them into his mouth? Yeah, thats us on a Friday night.
Hershey's Chocolate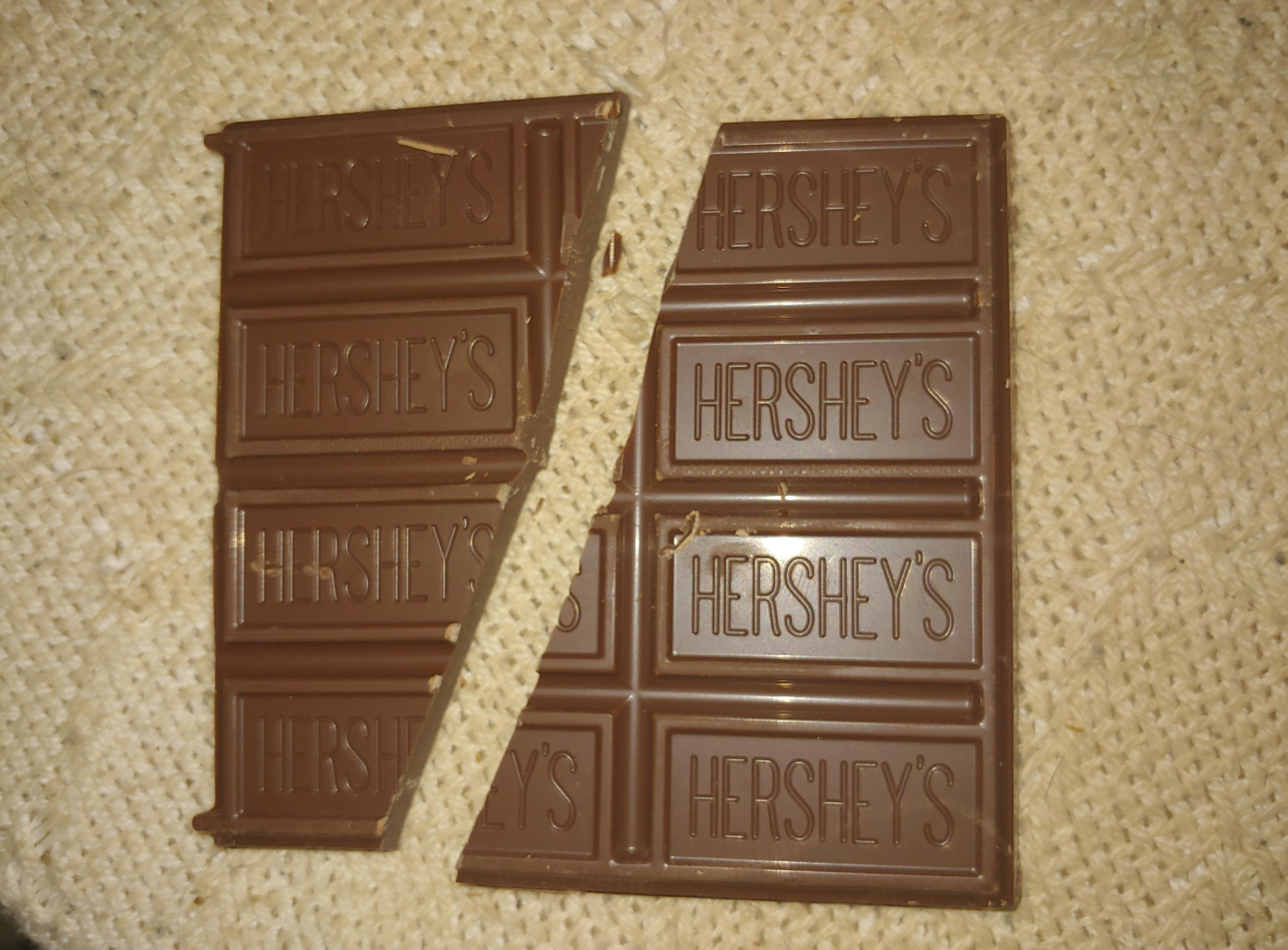 Image Source: Reddit
Even though Hershey's Chocolate was founded in America, it has spread all over the world and is eaten in many different countries. It has been around since 1894 when Mr. Hershey began trading in Pennsylvania. Hershey's is the symbol of American chocolate, and is by far the biggest and most popular brand in the US. It even out does Mars and Nestle, which is quite something. Hershey's has became synonymous with American pop culture and has deep cultural relevance. The chocolate lake scene in Willy Wonka is based on melted Hershey's chocolate.
Lucky Charms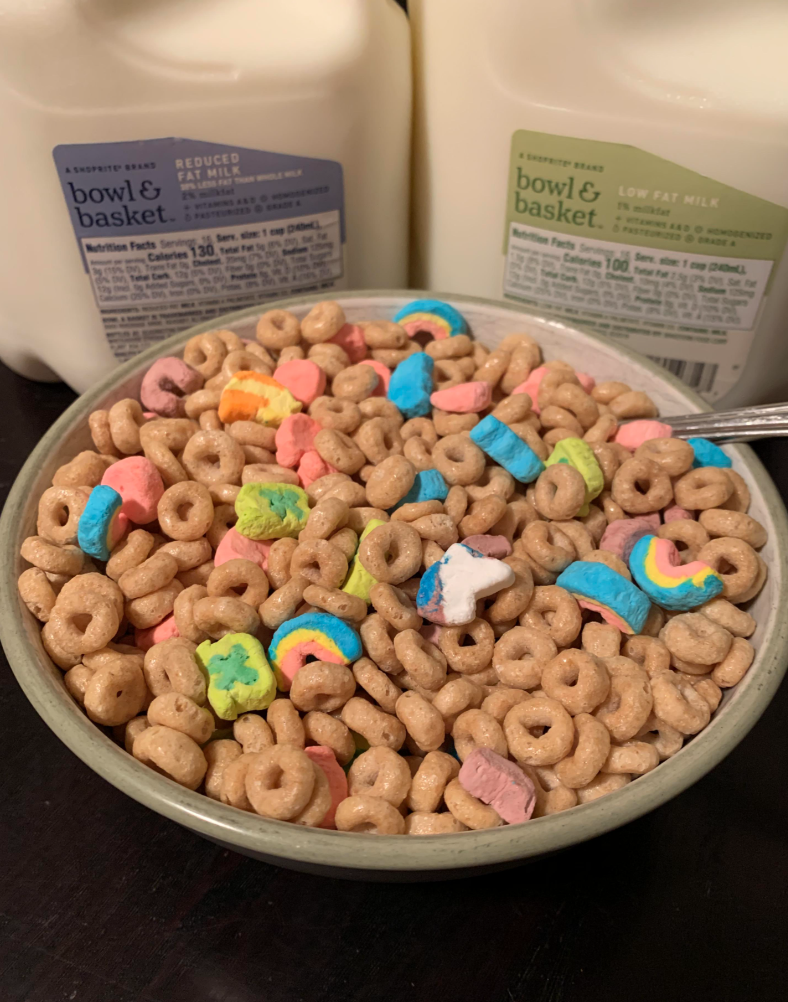 Image Source: Reddit
Lucky charms have been around since 1964 and have been a breakfast treat for generations. Also, it has a leprechaun mascot, which is obviously cool. Interestingly, this is another food that is constantly referenced in American pop culture, and it appears in a plethora of TV shows like 'Family Guy', 'How I Met Your Mother' and 'The Simpsons'. To be fair, what hasn't been on 'The Simpsons'? That show has been going on for a LONG time. Anyway, TL;DR: 'Lucky Charms' are ingrained in the American food market and pop culture, and they won't be leaving anytime soon.
Pop Tarts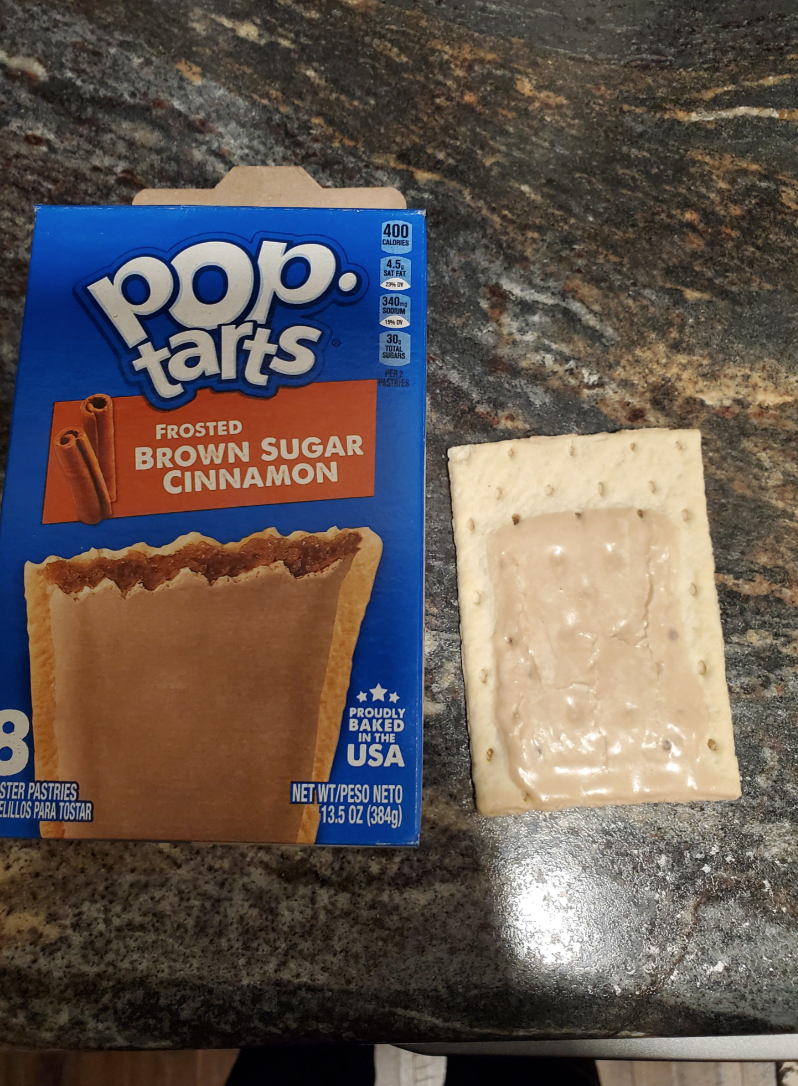 Image Source: Reddit
These used to be called 'Country Squares'. I know, right? Boring af. Luckily, the producers of this brand decided to rename it to 'Pop Tarts', mainly because the sound they made when the came up from the toaster was a 'pop' sound. Sounds like there was zero creativity here, but 'Pop Tarts' have been around for AGES and people love them. You can get loads of different flavors, but the headline is that they're sweet and crispy and there is never an inappropriate time to pop one of these little beauties into the toaster to enjoy as a hot snack.