20 Celebs We Didn't Know Wore Glasses
By molly atherton
3 months ago
Ryan Reynolds

Image Source: Cafemom
One of the most famous actors in the current era is actually often seen his thick black framed glasses; it doesn't do too much to affect the hold he has over a number of fans infatuated with him, and he doesn't actually need them for most daily tasks. Deadpool probably wouldn't look so cool if he had his readers on would he?
Joseph Gordon-Levitt

Image Source: E! Online
Joseph Gordon-Levitt has actually been seen using his glasses since he first appeared on our screens when he was casted as Tommy Solomon in 3rd Rock From The Sun. Just like Reynolds it hasn't done anything to stop his adoring fans from finding him to be incredibly attractive.
Jennifer Aniston

Image Source: RadarOnline
Although she isn't always seen strolling around with her glasses on, Jennifer Aniston has actually been wearing glasses since she appeared in her most popular role as Rachel in the cult classic, Friends. Again, she only manages to look just as amazing in her glasses as she does without them.
Selena Gomez

Image Source: Yahoo
Selena Gomez has had her hand in a number of jobs within film, tv and music over the years. She began her career working on TV in shows like Barney, and then Wizards of Waverly Place and she still acts in popular Hulu comedy, Only Murders In The Building. She is obviously also famous for her amazing music career too!
Kit Harington

Image Source: Telemundo
Winter is coming! Fortunately, it's not just sunglasses that Kit Harington has been seen to wear when out and about, he actually also requires glasses when he's off screen. You'll know Kit mainly for his role as Jon Snow in Game of Thrones but you might have also seen him in Marvel Eternals.
Emmy Rossum

Image Source: Your Next Shoes
Emmy Rossum is probably most well known for her role as Fiona Gallagher in Shameless but she is also popular for roles in Phantom of the Opera, and Angelyne which she also co-produces for Peacock. It seems as though the thick rimmed glasses are actually quite popular with celebs eh?
Andy Samberg

Image Source: Andy Samberg's Specs Appeal
Andy Samberg is one of the more popular comedy actors in the US at the minute, mostly down to his role as Jake Peralta in the cult followed cop comedy series Brooklyn 99. He has had to wear glasses for years, often seen rocking his readers on the red carpet! He even runs a 'specs appeal' to raise money for people to get their glasses and even give away their old ones.
Emma Roberts

Image Source: POPSUGAR
Emma Roberts has garnered a lot of success in the last two decades as someone who has gone from some younger audience roles like: Hotel for Dogs and Nancy Drew; and then later more mature roles in films like We The Millers and Paradise Hills. And yep you guessed it, she spends her time out on the streets with her glasses on.
Rihanna

Image Source: CafeMom
Rihanna is often seen dressed in much less than this when we're on stage and we don't blame her, she's got a body to die for. And one thing we definitely don't see when she's on stage is her walking about in her glasses. It's no surprise however that she's able to pull off her glasses the same way she does everything else.
Justin Timberlake

Image Source: POPSUGAR
Justin Timberlake is another man who isn't often seen strutting about with his glasses on, in fact you don't tend to see many singers wearing their glasses at all on stage. But every now and then he gets spotted by the paparazzi and he's sporting what always seem to be these thick-rimmed glasses.
Gigi Hadid

Image Source: POPSUGAR
It's not actually believed that Gigi Hadid wears her glasses as a result of bad eyesight, but more as a fashion statement. She is a model and there's no denying that she can basically pull off anything she wishes to. Although there is evidence that her mother and half-sister need glasses so maybe she does need them!
Jason Momoa

Image Source: Reddit
Jason Momoa is just one of those guys you would never guess had to wear glasses, but he has actually regularly been seen wearing his glasses to work events and in and around sets between takes. He obviously couldn't wear them in his roles as Aquaman and Khal Drogo in Game of Thrones so he wore contacts!
Stephanie Beatriz

Image Source: Twitter
You probably didn't know that Stephanie Beatriz wore glasses as her character in Brooklyn 99, Rosa, doesn't sport them. But she actually revealed that she has to use hers every day as she is really near-sighted. She chose not to wear them much of the time as she felt self conscious, wearing contacts instead.
Kanye West

Image Source: soFeminine
Kanye West has become somewhat of a controversial figure within the celeb industry in the last few years. Actually he's been quit controversial for even longer than that! But we're used to seeing Kanye dressing in his designer, often unique looking clothing and that excludes his glasses!
Hilary Duff

Image Source: E! Online
Hilary Duff has been constantly on our screens, particularly since her appearances as Lizzie Mcguire in the early 2000's and he roles in the Cheaper By The Dozen films. She is often seen walking around in her glasses and she even had a collaboration with GlassesUSA in an attempt to boost their sales.
Kate Winslet

Image Source: POPSUGAR
Kate Winslet has been a star on our screens for a number of decades now with her biggest breakthrough coming in the form of her role in Titanic. She's yet another popular actor that's known to spend much of her time off the screen sporting a pair of thick rimmed glasses. She looks even better as she grows older!
Kim Kardashian

Image Source: POPSUGAR
This picture was shot back in 2012 and it shows a younger pre-child Kim Kardashian trying on some glasses in Beverly Hills. We don't usually see her walking around in her prescription glasses, but she does always look very glamorous and that doesn't change here. When's she going to bring out her own line?
Tom Holland

Image Source: BuzzFeed
Whilst Tom Holland isn't always seen out on the streets in his glasses, he often chooses to go for a thick circular frame that can be quite difficult for most people to pull off. He does actually need his glasses just like his girlfriend who we are going to get on to a little later on!
Maisie Williams

Image Source: Style Caster
Maisie Williams is the second of the Game of Thrones group to have made this list, often sneaking around in her glasses without it bringing up any attention. The Arya Stark actress is often known for changing her look to try something a little crazier but one thing that remains constant is her choice of glasses!
Emily Ratajkowski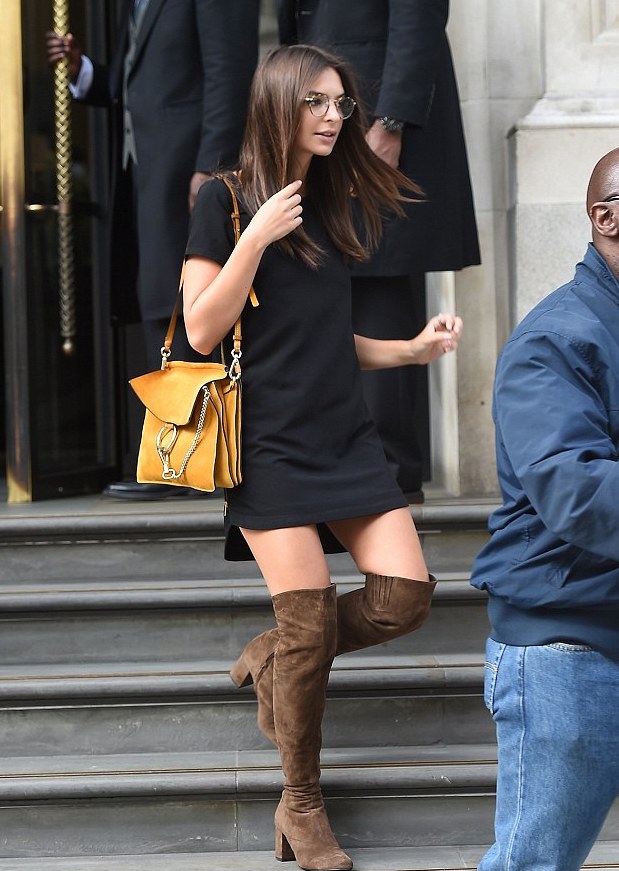 Image Source: Daily Mail
Back in 2015, Emily tweeted out in search (desperately) for a set of glasses or place to get her glasses from. Although this could be quite ambiguous and she might just be using them to add to her delectable fashion taste, there is quite a strong chance that she does need these glasses for actual reasons!
Robert Downey Jr.

Image Source: POPSUGAR
Robert Downey Jr has become synonymous with being one of the best dressed celebs out on the streets or on the red carpet, he's always looking sharp and can seemingly pull of any outfit he wants to try. He loves to wear some tinted lens' when he's on the red carpet to go with the film he's there for.
Emma Watson

Image Source: Pinterest
The former Harry Potter Star has always been seen as an intellectual actor, mostly down to her starring role as Hermione Granger in each of the Potter Franchise films. And much like Hermione, Emma actually keeps her style pretty simplistic with a pair of nice, simple frames; she's still gorgeous though.
Brad Pitt

Image Source: Daily Mail
These really aren't the kind of glasses you'd expect this hunk of an actor to be wearing, but Brad Pitt has decided on a pair of clear rimmed thin lens glasses that you might expect someone in their old age to decide to wear. I'm sure this hasn't affected the many fans that find him attractive view on him though.
Zendaya

Image Source: Classic Specs
Although she isn't seen sporting her glasses all the time, Zendaya has been open about her need to wear them. She even wore them at the Emmy's in 2019! Zendaya has been widely praised for her roles in shows like Euphoria and the Spider-Man films in recent years but her openness wearing glasses has also conjured support.
Prince William

Image Source: Pinterest
Prince William is one of a number of Royal Family members who have been seen wearing glasses whilst out and about, including his own grandmother, The Queen. He's often seen wearing his glasses whilst driving his own car (which isn't all that common) but it keeps himself his wife and the kids safe.
Scarlett Johansson

Image Source: Twitter
Scarlett Johansson probably makes it on to almost everyone's celebrity crush list, and it's no surprise when you see how amazing she looks in all lines of her work. But most notably she is an incredible actor, one who has also been quite sneaky in her use of glasses outside of the big screen.
Jared Leto

Image Source: Digital Spy
Jared Leto is famous for both his acting career and his musical career, making waves within both industries. He's had a number of popular roles (and some unpopular AHEM MORBIUS AHEM) and he also appeared within part of the DC universe as the Joker in Suicide Squad. He also wears his glasses when he's in and around the red carpet!
Dakota Fanning

Image Source: Daily Mail
Dakota Fanning became extremely popular in the early 2000's for her roles in a number of child roles in films like The Cat in the Hat and Charlotte's Web. These days, her roles are much more mature including as Squeaky in the Quentin Tarantino film Once Upon a Time. When she's off the big screen she relaxes with her readers on.
Steve Carell

Image Source: Daily Mail
Steve Carell really has aged like a fine wine, a true silver fox! He's probably most known for his roles within the comedy genre like his roles in The 40 Year Old Virgin and perhaps his most famous role as Michael Scott in The Office. He's seen here shopping with his glasses on, which has become more common as the years pass.
Ashley Benson

Image Source: POPSUGAR
Ashley Benson is probably best known for her role as Hanna in the cult-followed show Pretty Little Liars, something she earned a number of awards for. And like the others on this list, when she's away from the big screen (or the smaller screen) she tends to spend her time making life easier with her glasses.