12 Delicious Items Of Food & Drink That Will Take You Back To The 80s!
1. Instant Whip
I can remember eating this as a child, it tasted so good! I remember my mum used to always make this on a Sunday night if I had been good all week and if I didn't get a portion I would be seriously upset. It was so delicious and so easy to make! It came in a ton of different flavours which was your all-time favourite? I have to be honest, if I just had to pick one flavour then it would be the raspberry for sure.
2. Bovril Flavour Crisps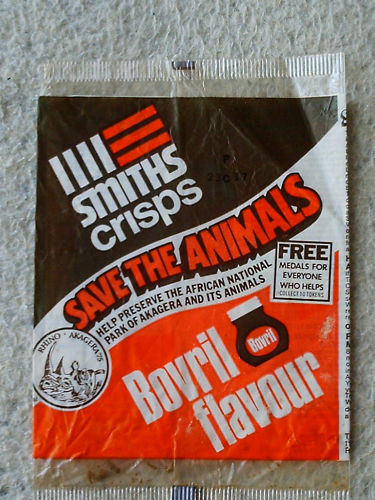 They tasted very Beefy! Do you remember diving into a packet of these back in the day? This was definitely one of our favourites! I used to buy these when I was on my way back from school.
We used to save up our dinner money throughout the week and splash it on treats like this from the newsagents. It would mean having a lunch that wasn't as good as it could've been but the newsagent treats were totally worth it.
3. Crispy Pancakes
I haven't had one of these since the 90s! These were absolutely amazing. I doubt that they taste as delicious as they used to do... these definitely weren't that healthy for you, were they? They're actually still around today but I don't think I've seen them in a shop for years. I wonder if they still taste as nice?
4. Lemonade Sparkle lolly
Loved them all but that was my fav! It was always such a struggle trying to pick which one you wanted when the ice cream van came down the street. There was actually nothing better than the sweet sound of the ice cream van making its way down your street, you could hear it go down other streets and as soon as it was your streets turn you would sprint out the house so you didn't miss the chance to get an after-school treat.
5. Frozen Desserts
Remember these yummy desserts? It was absolutely impossible to just have one of these treats back in the day. We all had a favourite, didn't we? Which was your all-time favourite? I think that mine HAD to be the strawberry mousse... delicious! Although I would have gladly eaten any of them, they were all amazing!
6. Piglets Smokey Bacon Piglets...
Loved these! I think that anything that was bacon flavoured was an instant hit with everybody. There was really nothing more delicious than these, was there? Can you believe how much cheaper things used to be back in the day? It's amazing how much prices have risen since the 80s! These are so cheap, you can't even get a Freddo for this price anymore!
7. Quatro
Remember this fruity drink? I think that this was always one of my favourites from back in the day. We loved nothing more than saving our dinner money and buying cans of pop and packets of crisps on our way home from school and getting a can of fizzy pop was always a great treat if the school day felt like it lasted extra long.
8. Jelly Tots
Still around but the packaging takes me back to being young ... So does the price! Can you believe that they used to only be 3p? How much have times changed?! It is seriously shocking!
I don't think you can buy anything except from 3 penny sweets for 3p nowadays. To be honest, I don't think anything ever costs less than 20p for sweets and it's so upsetting cause they used to be so cheap!!
9. McDonald's menu from the 80s
We didn't have very much to choose from back then it was a very basic menu! But, that didn't stop us getting a McDonald's as much as we could! We never realised how much we could get for such a small price. These were the days! A Big Mac for 89p is an incredible deal, I know we now have a saver menu but that is amazingly cheap!
10. Top Deck
This reminds me of being a teenager! Can you remember drinking this back in the day? A nice cold can of this reminded us all of the Summer evenings. Lemonade shandy was absolutely incredible and they had more flavours! It stopped existing in the mid-80s but we all remember it as one of the best drinks before it ceased to exist. It was low alcohol so it was never for the purpose of getting drunk but it was just nice!
11. Blue Band Marg
Remember having this on your toast? Some of used to hate having butter so we decided that we would have margarine instead. I remember my dad used to have a ridiculous amount of margarine on his toast back in the day. I used to love this but not as much as my dad did!
12. Crackles
Only 5p, what a bargain! Can we go back to the days where everything was this cheap and this delicious? I remember there was one boy at school who used to sell crisps out of his locker and I always used to buy crackles from him. That must have made him so much money because every single kid went to him when they wanted a little treat!
Hope you enjoyed this article!