Unseen Celebrity Mugshots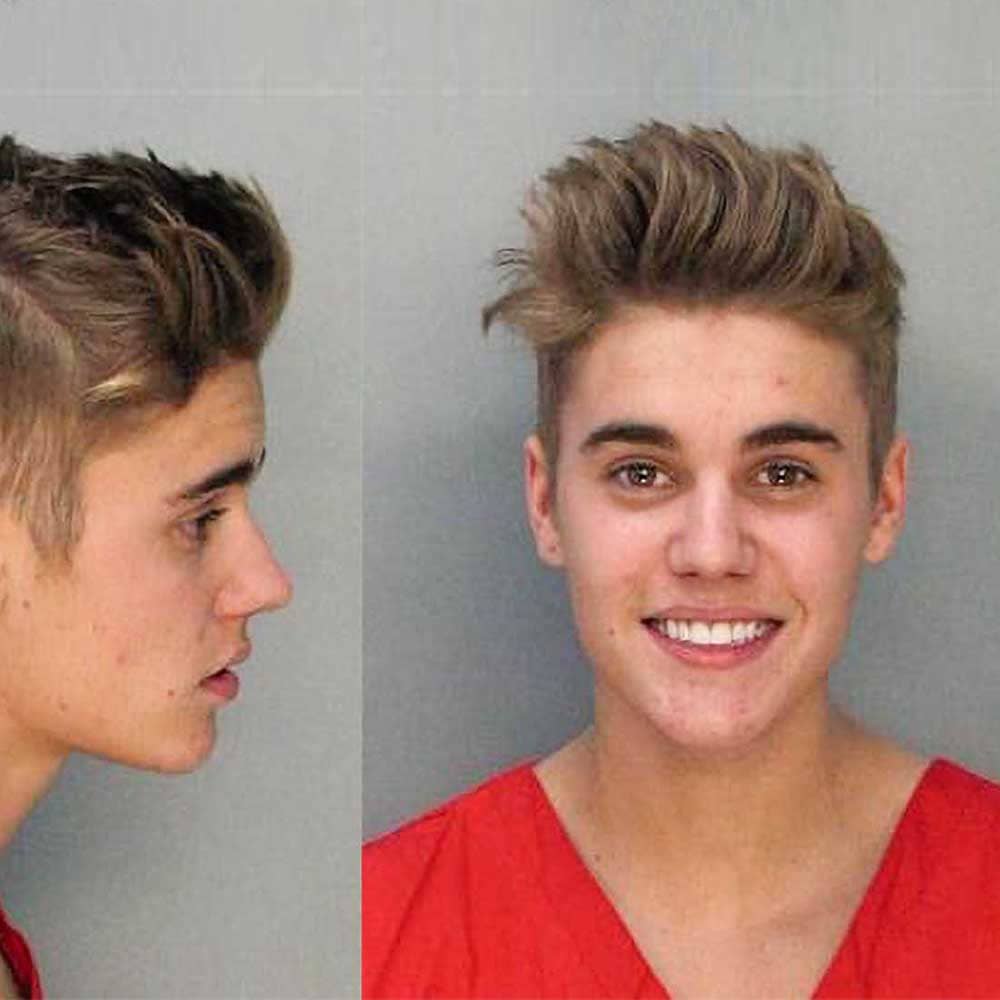 1. Actress Nina Dobrev: Flashing
Image Source / Pinterest
If you're a fan of The Vampire Diaries, you might be surprised to learn that sweet innocent Elena's real life counterpoint was arrested in 2009 for flashing drivers on Highway I-72 whilst hanging from a bridge. More a Katherine thing to do, if you ask me… Not only that, but others from the cast were also flashing with her!
2. Rapper Jay-Z: Assault
Image Source / Chudnovsky Law
Jay-Z – real name Shawn Corey Carter – was arrested in 1999 in New York City on suspicion of stabbing a record producer in a club. The allegations were for felony assault with a deadly weapon, but Jay-Z received a reduced charge of misdemeanor assault with 3 years probation.
3. Reality Star Khloe Kardashian: Violating Probation
Image Source / Chudnovsky Law
Reality TV star and part of one of the most well-known families in the world, Khloe Kardashian decided not to complete the alcohol education program/community service that she'd been enlisted to under the terms of her probation. She turned herself in for violating the terms.
4. Music Legend David Bowie: Drug Possession
Image Source / Chudnovsky Law
Legend Bowie even looks flawless in a mugshot. The rockstar was arrested for marijuana possession in New York, 1976, following one of his performances. He was arrested alongside music star Iggy Pop after the substance was found in their hotel room. They spent the night in jail, but had their charges dismissed.
5. Pop Star Bruno Mars: Drug Possession
Image Source / Chudnovsky Law
Another star of the music crowd found in possession of drugs, singer Burno Mars was arrested in 2010 for felony cocaine possession. He was found in the bathroom of a casino in Las Vegas, and pled guilty to the charges. His charge was eventually dismissed after he paid a fine, completed community service and attended drug counseling.
6. Actor Keanu Reeves: DUI
Image Source / Chudnovsky Law
This one might surprise you, as Keanu always seems like a cinnamon roll that can do no wrong. Actor and heartthrob for many, Keanu Reeves was arrested in Los Angeles, California, in 1993 for reckless driving and driving under the influence of alcohol. He apparently admitted to the DUI, but he wasn't officially charged.
7. Singer Justin Bieber: Drag Racing
Image Source / Chudnovsky Law
Justin Bieber apparently wanted to make his own Fast & Furious movie when he was not only caught allegedly drag-racing in a Lamborghini, but also driving under the influence of alcohol as well as resisting arrest. He was also allegedly under the influence of marijuana and prescription drugs.
8. Actor Robert Downey Jr: Skipping A Drug Test
Image Source / Chudnovsky Law
Robert has a reputation of being a bit of a bad boy before he became the huge hit he is today, so you might not be surprised to learn he has a mugshot or two. He was arrested in 1999 for missing a required drug test while on probation for drug possession. This wasn't the only time he'd been arrested, either.
9. The King Elvis Presley: Staged For His Police Badge
Image Source / Chudnovsky Law
Yep, this isn't actually an official mugshot for the King of Rock & Roll being arrested, but it sure makes a good one. It's believed this mugshot was actually taken in honour of Elvis receiving his police badge as a result of donating to a local gymnasium. He even makes a mugshot look good.
10. Singing Legend Frank Sinatra: Sex Crimes
Image Source / Chudnovsky Law
You might not be surprised to learn that Sinatra's arrest was for 'seducing a woman'. Reports claim that the singer promised marriage to a single woman in order to have sex with her, but was then later charged with adultery after it was revealed the woman was, in fact, married.
11. Microsoft Founder Bill Gates: Driving Without A License
Image Source / Chudnovsky Law
Even those with a massive billionaire wealth can still get a humble mugshot taken of them, and that's what happened to American business guru Bill Gates. This was taken when Gates was arrested in 1977 in New Mexico for driving without a license and also running a stop sign.
12. Singer Cher: Driving Without A License
Image Source / Chudnovsky Law
The Goddess of Pop was only 13 years old in this mugshot. She was arrested in 1959 when she borrowed a friend's car and drove it without a license (because of course she didn't have one at 13!). She drove the car around the streets of Los Angeles, California.
13. Socialite Paris Hilton: Cocaine Possession
Image Source / Chudnovsky Law
Actress, businesswoman and socialite Paris Hilton was arrested in 2010 in Las Vegas when she was suspected of felony cocaine possession after the drug fell out of her handbag at her hotel. She later pled guilty, and agreed to probation, community service and a substance abuse program.
14. Actor Chris Tucker: Reckless Driving
Image Source / Chudnovsky Law
Actor and comic legend Chris Tucker was arrested in Georgia back in 2005 for reckless driving in a Bentley. He reached speeds of 109mph before police tried to pull him over – but he still didn't stop until a 10-mile pursuit later. He then pled guilty to speeding and eluding the police.
15. Actor Shia LeBeouf: Trespassing
Image Source / Chudnovsky Law
Actor LeBeouf is no stranger to being arrested, but for this particular mugshot, he was caught on a misdemeanor trespassing. He was first arrested at the age of 9 for shoplifting from a store, and other offences – alongside this mugshot in 2007 – include refusing to leave a Walgreens in a drunken state.
16. Rapper Eminem: Assault
Image Source / Chudnovsky Law
This mugshot of Eminem was taken back in 2000 as a result of the rapper's arrest following a dispute with a man who allegedly kissed his wife. Eminem responded to Kim Mathers being allegedly kissed by assaulting the man with a pistol. He was later sentenced to a 2 year probation for carrying a concealed weapon.
17. Godfather Of Soul James Brown: Domestic Abuse
Image Source / Chudnovsky Law
Alongside his iconic music career, James Brown was no stranger to coming up against The Law. This mugshot was taken after the soul musician was arrested and charged with domestic violence against his wife, Tomi Rae Brown. This wasn't the only time Brown would be arrested for domestic violence, either.
18. Actor Al Pacino: Carrying A Concealed Weapon
Image Source / Chudnovsky Law
For a man so well-known for playing mobsters and bad guys on screen, his face doesn't look so out of place in a mugshot. Pacino was arrested in 1961 for possessing a concealed weapon. He was caught after police noticed the car Pacino was riding in with friends was driving around suspiciously.
19. Actress Lindsay Lohan: Violating Probation
Image Source / Chudnovsky Law
This isn't the first time actress Lindsay has been arrested, but this one came as a result of her violating her probation back in 2010 after checking in to the Lynwood Jail in California. Lohan repeatedly violated her probation, and was made to serve 3 months in jail and 90 days in rehab.
20. Musician Mick Jagger: Drug Possession
Image Source / Chudnovsky Law
Just like fellow music legend David Bowie, Mick Jagger is another to look particularly suave in his mugshot. He was arrested in 1967 for drug possession, and was with bandmate Keith Richards at the time. Both men were convicted, but their drug charges were overturned on appeal.
21. Actor Mickey Rourke: Domestic Violence
Image Source / Chudnovsky Law
Actor and boxer Mickey Rourke was arrested in 1994 in LA, California. This mugshot came as a result of domestic abuse, where Rourke allegedly slapped, knocked down and kicked his wife of the time. The domestic abuse charges were later dropped, however.
22. Rapper 50 Cent: Selling Drugs
Image Source / Chudnovsky Law
Rapper 50 Cent – real name Curtis Jackson – was only 19 years old at the time of this mugshot. It was taken back in 1994 when 50 Cent was arrested and pled guilty for selling drugs: namely, heroin and crack cocaine. He served time in New York State Department of Correctional Services.
23. Rapper Snoop Dogg: Facing Murder Charges
Image Source / Chudnovsky Law
For this mugshot, rapper Snoop Dogg – who you may or may not have known is actually called Calvin Cordozar Broadus Jr. – had turned himself into the authorities to face murder charges after the shooting of Phillip Woldemarian in LA, California in 1993. The rapper was later acquitted of the charges.
24. Rapper Tyga: Arrest Warrant
Image Source / Chudnovsky Law
Rapper Tyga, who had previously caused controversy over an alleged romance with Kylie Jenner when she was underage, was arrested in 2012 in Las Vegas, leading to this mugshot. He had a warrant for his arrest due to 4 outstanding incidents: driving without a license, violations of registration and unlawful acts relating to finances.
25. Actor Terence Howard: Assaulting A Flight Attendant
Image Source / Chudnovsky Law
Actor Terrence Howard allegedly assaulted a flight attendant on a Continental Airlines flight back in August 2000, the time this mugshot was taken. He was placed under arrest when the flight touched back down in Ohio, but the charges were later dropped due to lack of jurisdiction.
26. Rapper Tupac Shakur: Sexual Assault
Image Source / Chudnovsky Law
Tupac Shakur – rapper 2Pac – is famous (alongside his music career) for his murder that has never officially been solved. This mugshot was taken when the rapper was arrested for sexually assaulting a 19 year old woman at a nightclub. He was sentenced to 4 and a half years but served only 9 months before being released.
27. Actor Ezra Miller: Disorderly Conduct
Image Source / US Weekly
Actor Miller, most recently known for his role in the Fantastic Beasts movies, was charged with disorderly conduct and harassment following an incident at a bar in March 2022. He had allegedly been yelling at other people in the bar, grabbing a mic from a woman on karaoke as well as lunging at a man who was playing darts.
28. Actor Henry Thomas: DUI
Image Source / US Weekly
Actor Henry Thomas is best known as a child actor for E.T, but has more recently appeared in hit series like The Haunting of Hill House. This mugshot was taken after his arrest in 2019 for allegedly driving under the influence. He was found by police passed out behind the wheel of the vehicle and failed a sobriety test.
29. MMA Fight Conor McGregor: Destruction of Property
Image Source / US Weekly
It might not be surprising to hear of an MMA fighter to be involved in real-life altercations, and that was allegedly the case for famous fighter Conor McGregor. In March 2019, it was alleged that he was responsible for smashing the phone of a fan outside a hotel in Miami Beach in Florida.
30. Singer R. Kelly: Failing To Pay Child Support
Image Source / US Weekly
The singer has been up against 10 accusations of sexual abuse in recent times, but this mugshot was actually taken for him failing to pay child support to his ex-wife. The couple have three children together, and this arrest and mugshot came just one week after his denial of the counts of aggravated sexual abuse.