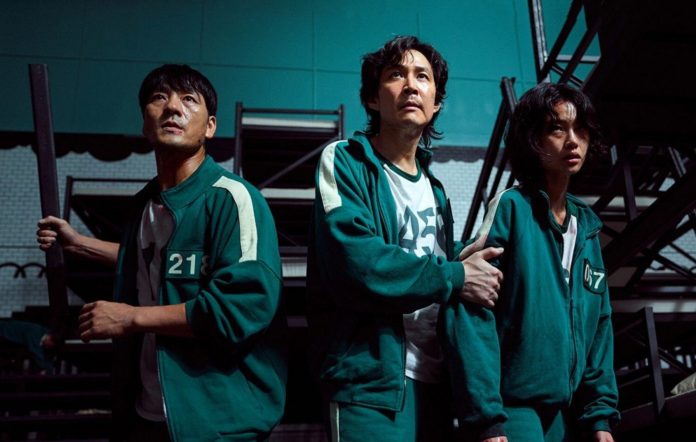 So one episode into Squid Game and you're already debating whether you'd let yourself be slapped by the handsome, mysterious recruiter, which inevitably leads to you wondering about the real life partners of the Squid Game cast, doesn't it? Well don't worry – you're not alone! And as the series went on, it's pretty clear that this is a highly talented (and attractive) cast that your Google search history is suddenly bombarded with.
While the relationships on the show were tumultuous at best and with no clear on-screen romances (unless you count the poor married couple who thought it would be a great idea to play Marbles together, or even the gangster and the crazy chick who opted for a private bathroom break) the love life success in real life for this cast is very different.
So if you've found yourself wondering who the cast are currently dating in real life (and we know you have) here's what you need to know.
Spoilers for the show ahead!
Oh Il Nam, Player 001
Ah, Player 001. The guy who looked a little too happy to be playing a sadistic game of Red Light, Green Light, as he bounced through the bodies with a big smile on his face. It all makes sense in hindsight now, doesn't it?
Player 001 – the original, A.K.A Oh Il-nam — was an elderly man (and apparently the oldest in the entire game) who didn't look like he was going to survive past the first round. He was constantly snubbed by other stronger players who didn't want to team up with the poor guy, but he sure showed them when he revealed how exactly to win an epic game of Tug-O-War.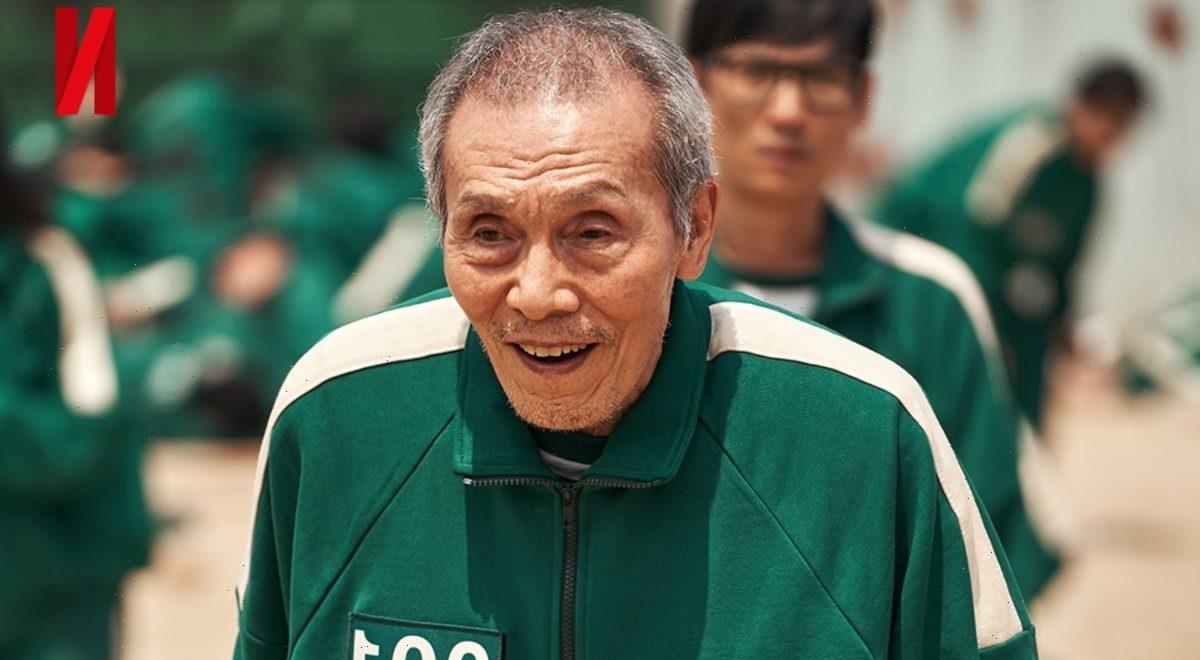 Oh Il-nam was sadly suffering a tumour in his brain, which meant he didn't have anything to lose when it came to the Squid Game.
In the end, however, it was all revealed regarding this guy's real reason for appearing in the game. The true mastermind behind the carnage, Player 001 went from an old man we felt sorry for to a guy that was distinctly disliked, even on his deathbed.
Oh Young-Soo and Wife
So how's he doing in real life? The 77 year old actor who, let's face it, made a memorable and amazing character despite all his wrongdoing, seems to keep his personal life very close to his chest (much like his own character's secrets!) Though Player 001 seemed to be devoid of any family on the show, actor Oh Young-soo is apparently married, and has been happily married since 1998. He also has two sons from his marriage, and who knows – maybe they'll break out into the industry, too, just like dear old dad!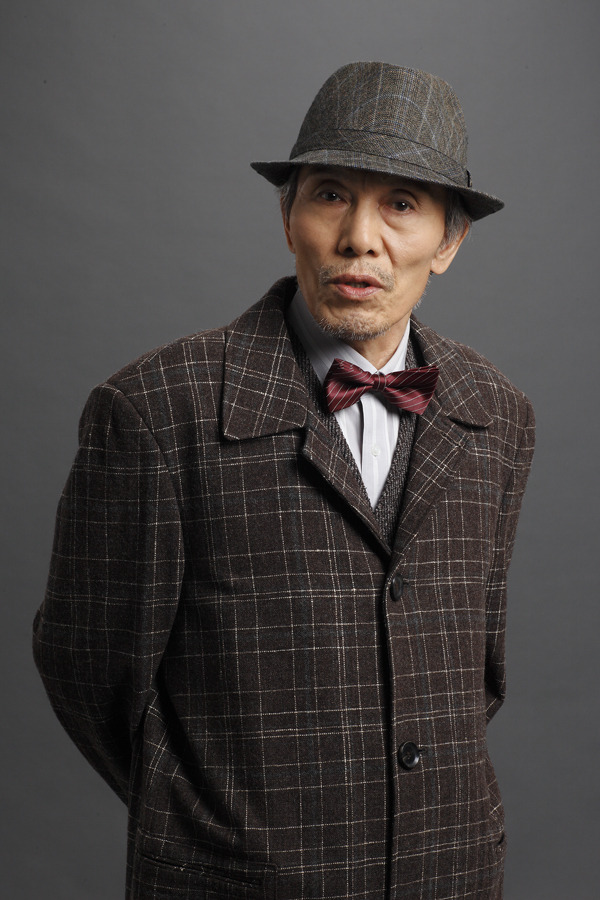 A great actor who, we have to admit, doesn't look his age – and made sure his character had us fooled to the end!
The actor has actually appeared in many iconic stage, film and TV roles, including Shakespeare performances, before his worldwide Squid Game fame, so it's no surprise he caught the eye of his lucky lady.
The Front Man
The Front Man is a character who shows us exactly how 'wearing a mask' should be done. Although we don't see his face until the last few episodes, his on-screen presence is intense and intriguing, and we remain glued to his masked face every time it's on screen.
The Front Man is apparently in charge of arranging and hosting the games, standing at his all-seeing, all-knowing control panel, regulating who's eliminated, and even personally stepping in to shoot someone in the face when it's needed (always happy to chip in).
Unlike his pink guardsmen, the Front Man has access to a lavish gold private suite, all with a personal landline phone (but don't put the phone down the wrong way, because he's very particular about that).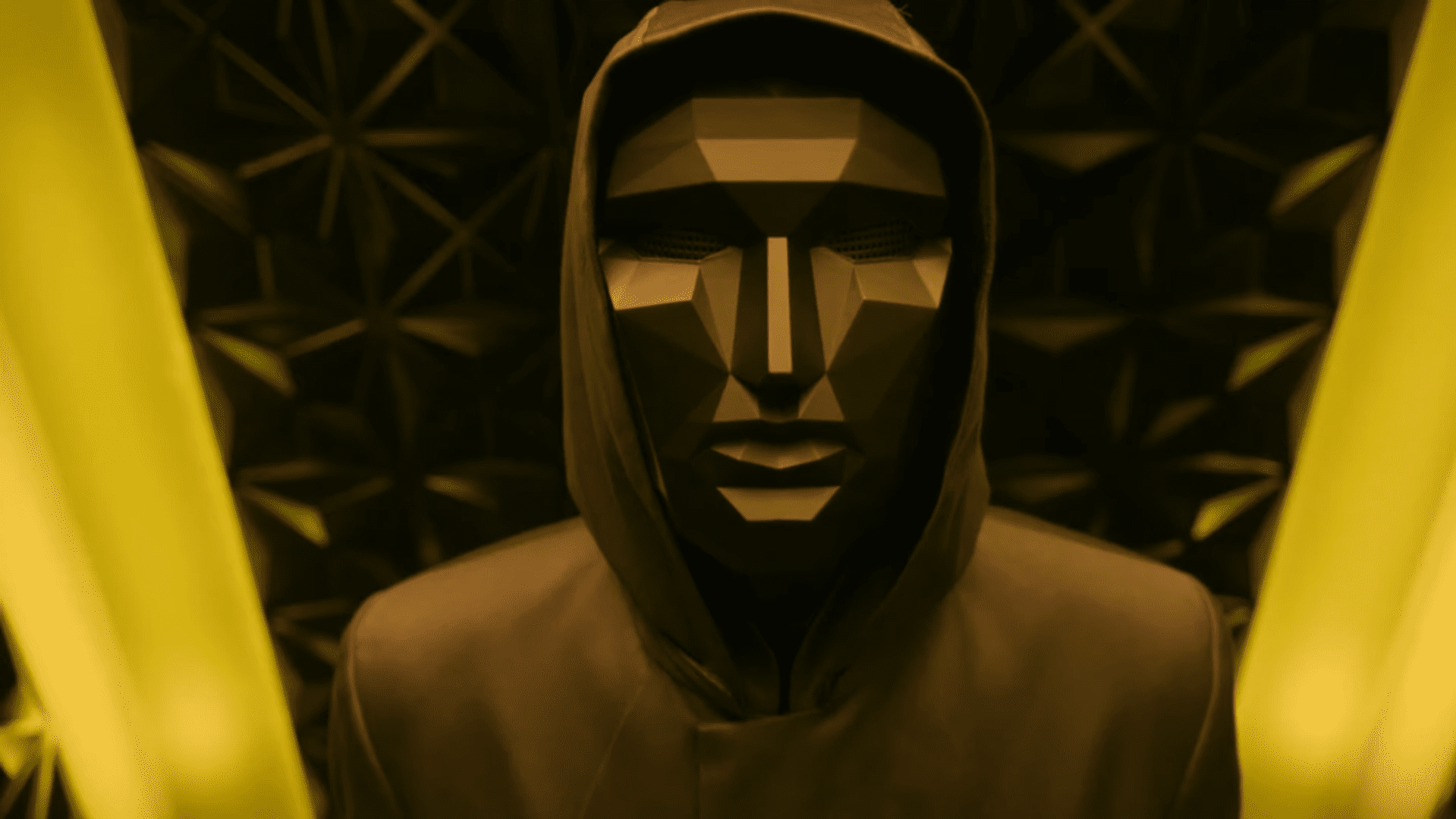 It's later revealed that the Front Man is none other than the missing brother that the police detective is so desperately looking for. As a previous contestant and winner of the games, the Front Man apparently got a liking for murder and psychological torment and decided to stay on to lead the games himself.
Lee Byung-Hun and Wife Lee Min-Jung
When the Front Man finally pulled off his mask, you either squealed in delight or gasped in disappointment, but the latter would be difficult seeng as Lee Byung-hun is a handsome and talented actor.
In real life, the actor is happily married, and has a significant amount of dating history, too.
Lee Byung-hun is currently married to fellow actress Lee Min-jung, but their relationship wasn't always straight forward. Originally, the pair had casually dated back in 2006, which ended. They then resumed dating years later in 2012, and then tied the knot in August 2013.
Lee Min-jung then gave birth to the couple's first child in March 2015.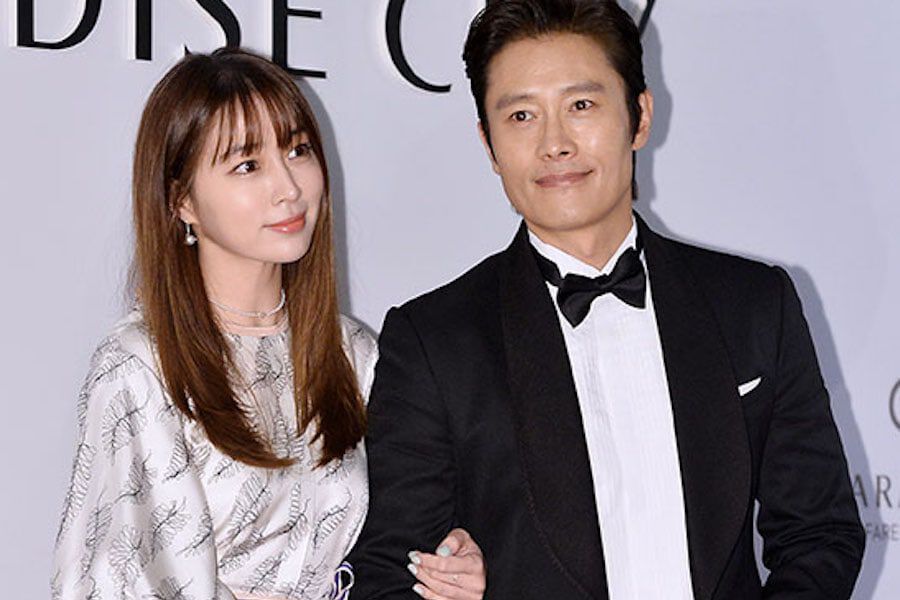 Actor Lee Byung-hun had previously had a two year relationship with South Korean actress Song Hye Kyo before finding love with his current wife.
He has also spoken openly about his wife's support in terms of his own mental health.
Han Mi-Nyeo, Player 212
Now here's one you either love or hate: Player 212. The player with probably the most amount of dialogue in the show, and usually screamed across a room at various people, she proved herself as a loud troublemaker from the very beginning (though showing that she can be helpful when a fellow player wants to sneak into an air vent and find out what's going on, of course).
Originally wanting to get in with the biggest, baddest players, she thought she'd found true love with her bae gangster, only to be severely disappointed. And you have to hand it to her, she was being honest when she said if he betrayed her, she would kill him.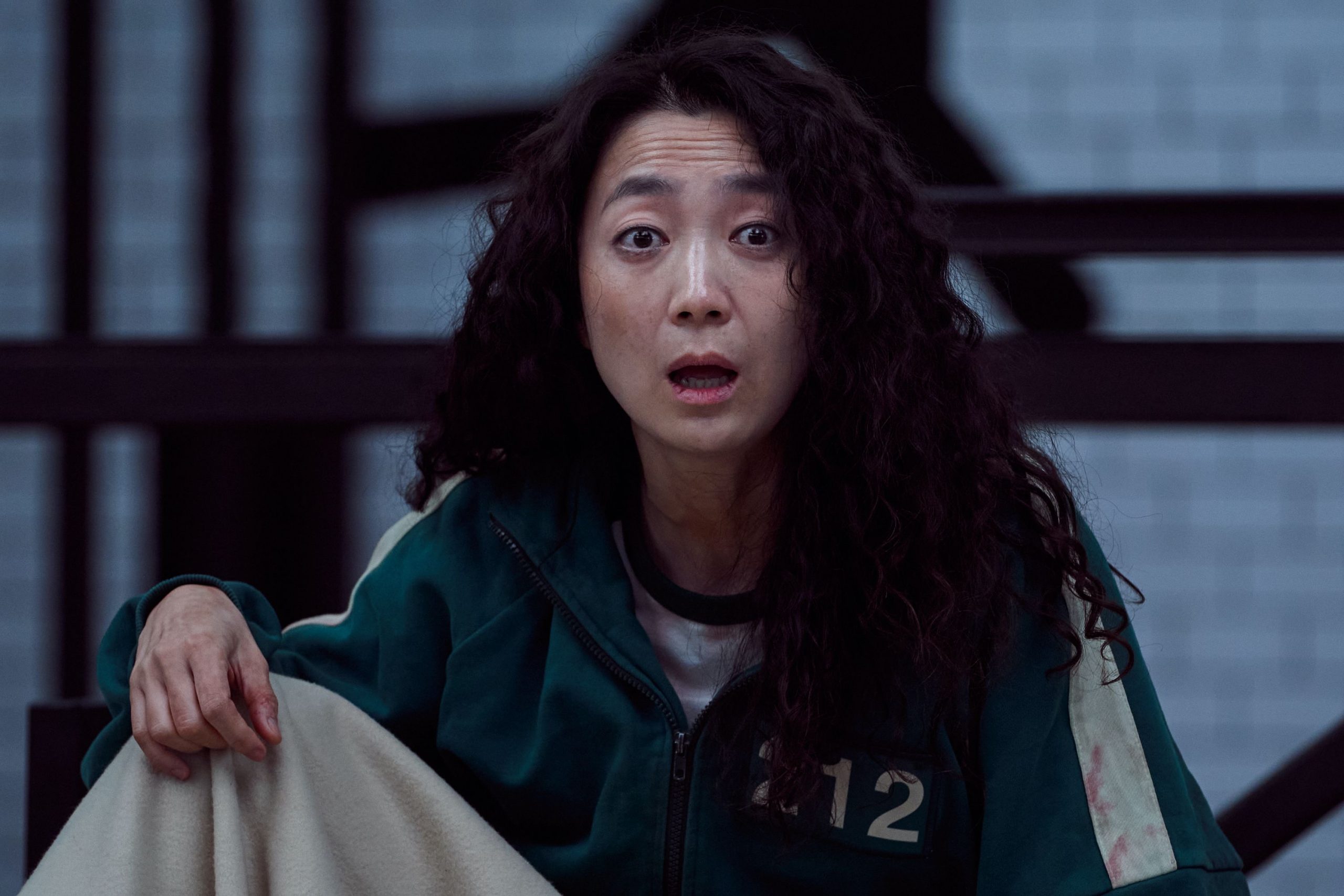 It seemed that Player 212 was done for when nobody wanted to pick her for team sports, but the game's creators decided to give the underdog a chance, leaving her with a surprising return and a shockingly fitting end, taking the bad guys down with her — literally.
Kim Joo-ryoung and Husband
You might be surprised to hear that the 45-year old actress is actually also a model, something her character's untamed hair, serious scowl and demeanour may not have easily given away.
South Korean actress Kim Joo-ryoung keeps her personal life very close to her chest, so there isn't much info and photos out there, but here's what we know. The actress is apparently happily married, and even has a daughter. Her husband's name is unknown and it doesn't seem that he makes any public appearances with his wife, as they are obviously very private about their relationship and family life.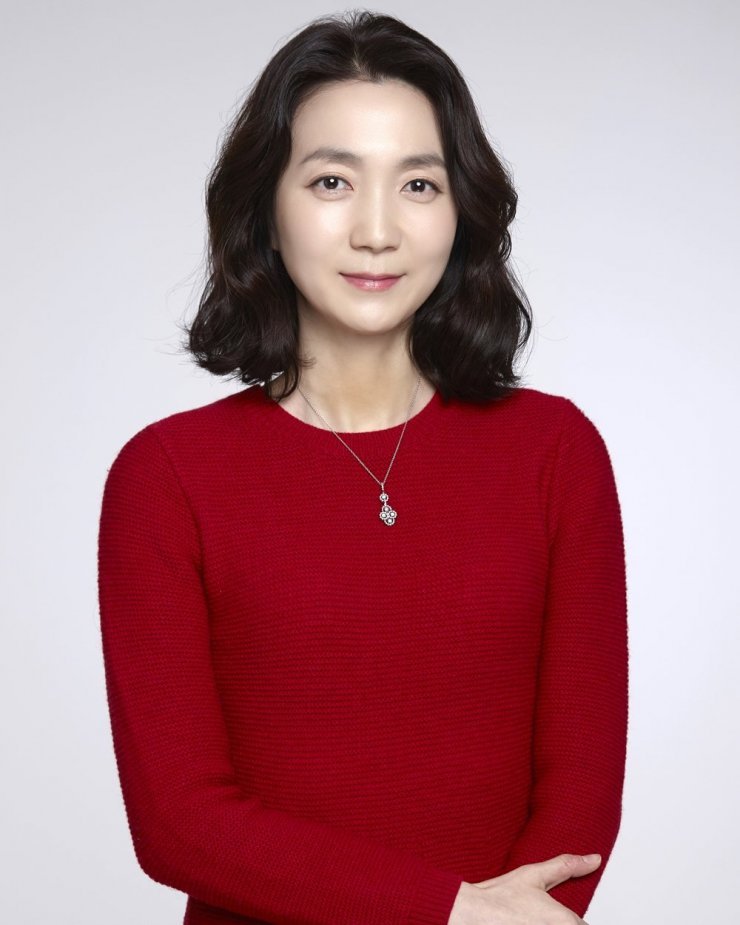 Nevertheless, it's good to see the actress is faring a little better than her character's choice in men! Perhaps with her Squid Game fame, her husband and family will make future appearances with the actress – maybe for the Season 2 premiere?
Here's hoping!
Ji-Yeong, Player 240
We didn't see much of Ji-Yeong until later episodes, but what we saw was enough to tug on our heart strings for life. We immediately felt for her as being 'the other girl' in a team where they'd specifically asked for men, but her attitude let us know we were in for a treat.
As well as helping our faves win that pretty intense game of Tug-O-War, we were then faced with her partnering up with Player 067 for THAT game of marbles.
It seemed Ji-Yeong was eager to make a bestie out of Player 067, making plans for a girly holiday complete with cocktails – when of course, that was never going to happen (sob).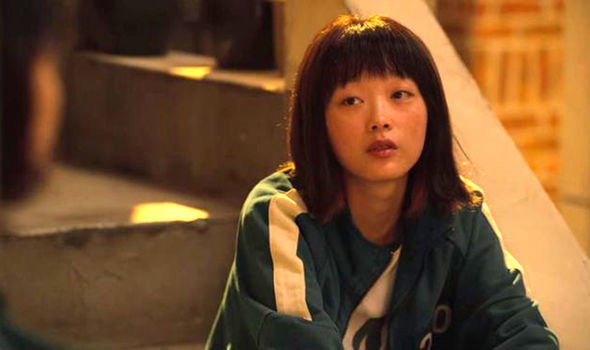 We did get to learn about her being released from prison only to find The Recruiter waiting for her with an offer she couldn't refuse. Her strategy for the marbles round was to chat and get to know her fellow player (or should we say, opponent) before throwing marbles against a wall to see who could get closest… and we know how that ended, don't we?
Lee Yoo-mi
Lee Yoo-mi is a 27 year old actress from South Korea, who made an impression on us with her small role in Squid Game. So is she in a relationship?
Well, Yoo-mi appears to be currently single (or she's very good at keeping her bae private!). She graduated from Cheongwoon University in Performing Arts, inevitably leading to her role on Squid Game, and it seems she takes her career very seriously.
She is busy focusing on her work, and has been in a variety of TV shows and movies alongside the Netflix hit.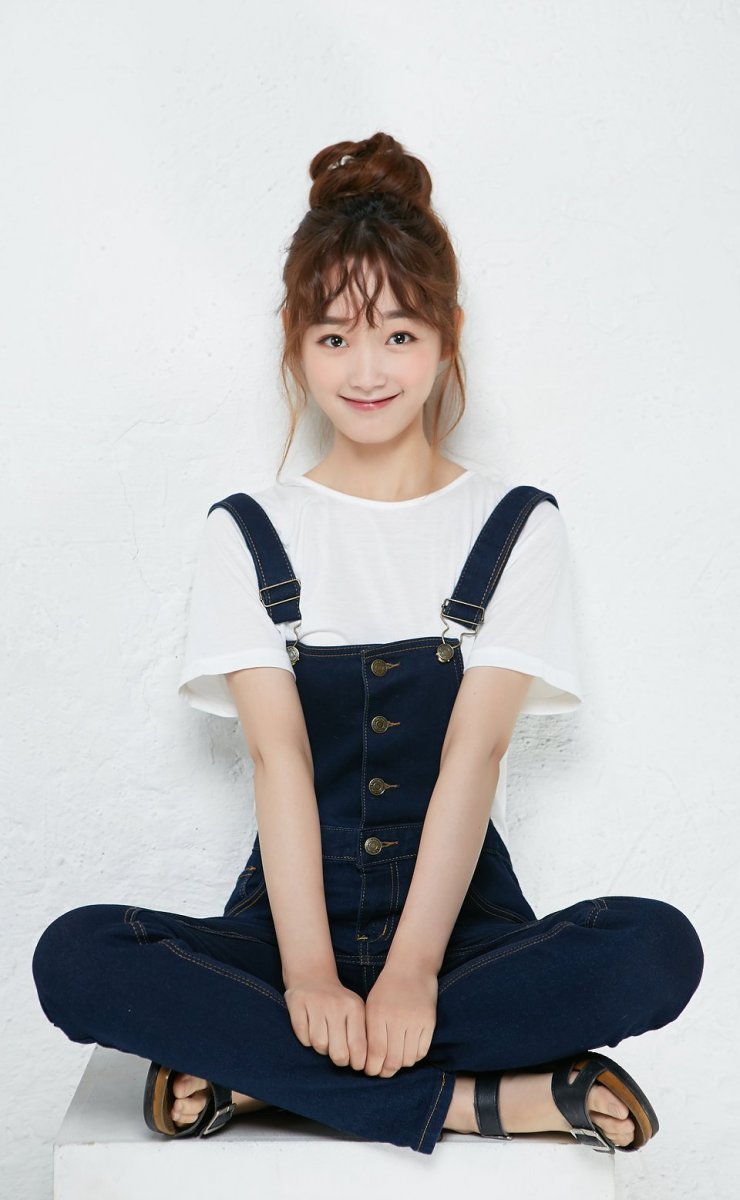 So it's likely she's too busy working to give serious romance a second thought, but who knows – it could all change!
She's active on social media but she only posts photos of herself rather than a significant other, which is why it's believed she's single at the mo.
Jang Deok-Su, Player 101
This guy: you either loved him or hated him. Or both. Let's go with both. There's no denying that he was a sensational character to watch, and his fate was simply chef's kiss. His strategy for the game was to bully, intimidate and threaten as many people as possible – even kicking one guy to death over a soda – whilst taking time out to have a quickie in the bathroom with a fellow player.
On the outside, he'd gotten into a lot of financial trouble as a gangster who made the very bad decision to betray his boss. But hey, no honour amongst thieves, right? He decides to go back into the game when apparently the life-or-death situation in there is not half as bad as the one going on on the outside. And at least in the game you have pretty pink guards to look at.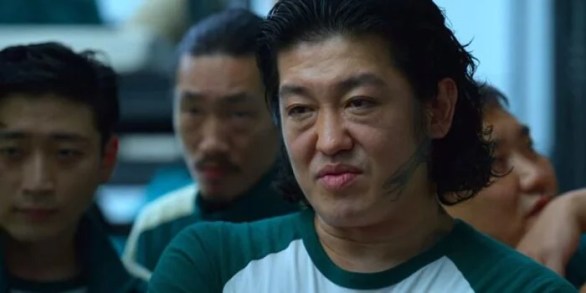 After believing that night rioting and murder was a good idea (can't a guy get at least one good night's sleep in that place?) he swiftly changed his mind when he started to suspect even his closest thugs. In regard to love, he didn't love anyone more than his own smug face, so how's the actor in real life doing?
Heo Sung-Tae and Wife
Actor Heo Sung-tae has seen a swarm of affection for his social media posts since appearing in the show, which depict his happy everyday routine, including flowers, cats and face masks. People seem surprised that he could have such a soft side, but it's acting at the end of the day!
There has been some speculation as to whether the actor is single or hooked up, but he has now spoken openly about his wife on a radio show interview. Although details and photos of her are apparently a closely guarded secret by the actor, he did mention that he had an agreement with his wife not to do sex scenes for his work. Obviously, all of that went out of the window for Squid Game…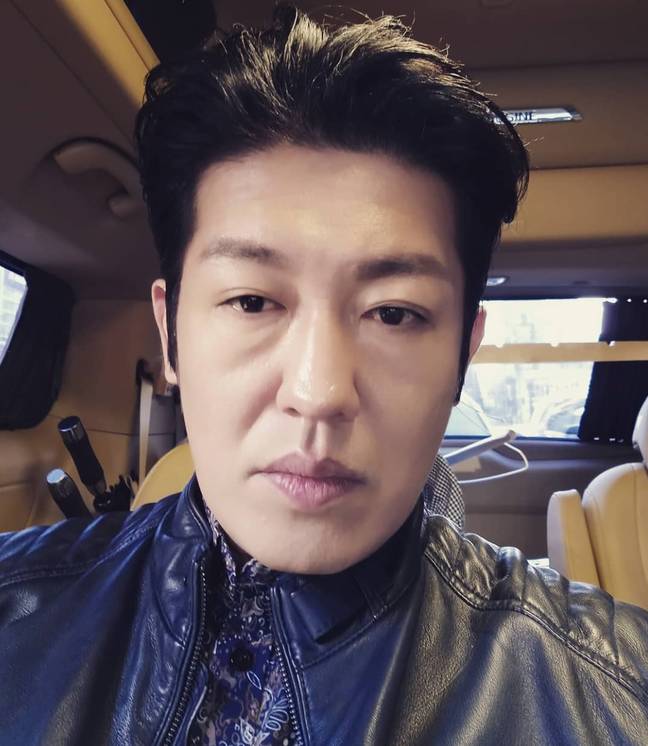 But we can't say it was the most romantic of scenes, can we?
The 45-year-old actor apparently married his wife back in 2010, so a happy couple going strong!
As the actor is active on social media, maybe one day he'll be kind enough to post a photo of his beloved for his fans to see.
Hwang Jun-Ho, The Police Officer
The interesting and attractive characters know no bounds on this show, and that was obvious when in walks the police officer, Hwang Jun-Ho. The only one willing to listen to Gi-Hun's raving about a mysterious show that supposedly let the contestants walk out of there, he's driven by the urge to find his missing brother who he realises entered the fateful game.
Jun-Ho then provides a relatable and intense character who uses his skills and charm (well, as much charm as you can have behind a guard mask that covers the whole of your face) to sneak into the compound and try to get some good video shots of what's going in that crazy place.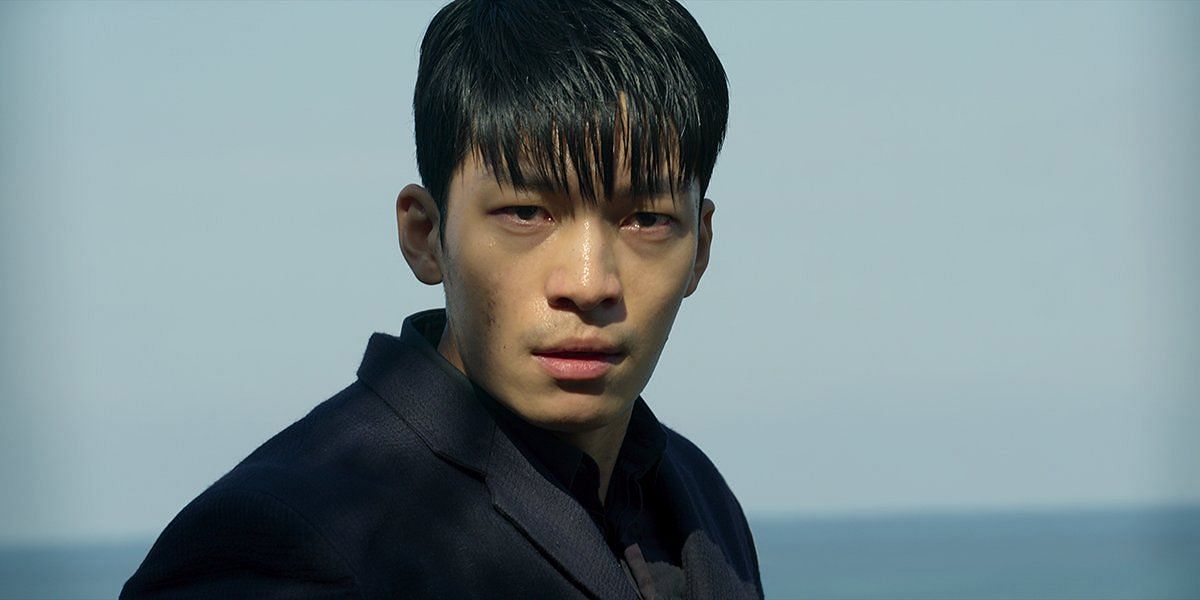 As well as making an impression with audiences, he also made an impression with a certain VIP, who will forever be burned into our memory – and not for good reasons, as I'm sure you'll remember. His quick-thinking and deduction skills seemed to be working quite well until a climactic sibling meeting on the top of a tall cliff.
Wi Ha Joon
In real life, actor Wi Ha Joon appears to be enjoying the single life, although maybe his success after Squid Game will change all of that as he's skyrocketed to one of the show's biggest heartthrobs. The South Korean actor and model (no surprise there) at 30 years old has had many popular film and TV roles, so it seems he's only going from strength to strength.
Many fans rushed to his social media pages to give him a follow after seeing him in the show, but none of his posts reveal any info about a potential bae, so if he is with someone, he's not vocal about it.
It also seems that the actor has an either extremely private or non-existent dating history, after never speaking about any previous partners. He does, however, have an active social and family life, as his social media includes updates about his adorable niece and spending time with her. Obviously he's not against family life, then, so watch this space!
Cho Sang-Woo, Player 218
Get ready to be triggered at just the mention of Sang-Woo, though you can't deny he was a sensational character. You could even feel a little sorry for him to some extent (but only a little).
Sang-Woo was something of a prodigy in his home-town, with his old pal Gi-Hun and his own mother telling everyone who would listen that he got into business school and he's a pretty big deal. Sang-Woo decided to throw away all that potential and good reputation by getting into a BIG amount of money trouble – hence why such a smartie pants ended up in the game.
And the truth started to become clear when he didn't stop poor Gi-Hun from heading towards that damn umbrella symbol.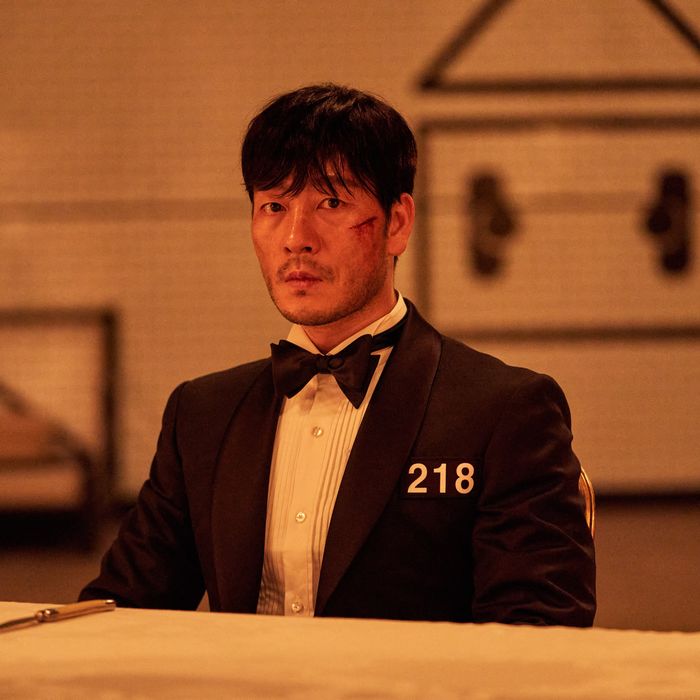 It was all downhill from there when he performed the unforgiveable in a sunset-ridden game of marbles and we still want justice for Ali.
The cold character wasn't married or hooked up in the show – no surprise there – despite his mother singing his praises and the constant surprise that such an intelligent and handsome young man could still be single. So how does the actor fare in real life?
Park Hae-Soo and Wife
Despite all Sang-Woo did in the show, there's no denying that he was easy on the eyes – especially in that tuxedo and bow tie. But good looks don't forgive for everything you did, Sang-Woo, as much as we don't like to admit it.
Actor Park Hae-Soo is of course nothing like his cold-hearted character, and even more so because he's happily married. The actor does keep his happy relationship very close to his chest, however, with no photos of the couple or happy wedding day snaps, but it is said that it was in January 2019 when Park Hae-Soo married his partner, and a month ago even announced the happy and healthy birth of their first child together, a son.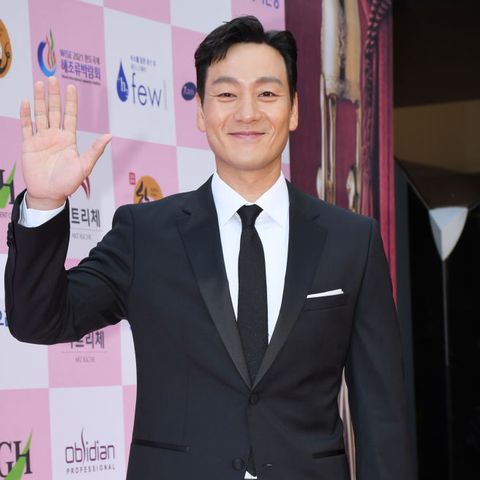 Perhaps the actor will be inclined to share some family snaps in the future, especially as his new baby grows, but at the moment Hae-Soo and his wife are enjoying their loved-up privacy. Ay well, at least we can re-watch Squid Game in the meantime!
The Recruiter
This character created a storm that's frankly ridiculous based on the amount of limited screen time this guy has. Despite only appearing briefly, his playful smirk, his sharp suit, amazing hair and pretty iconic slapping easily made him a fan favourite – both as a character and a heartthrob. His appearance has had many viewers flocking to find out more about the actor.
Known only as the recruiter, this guy shows up right when you need him, armed with red and blue envelopes to choose from. He's the only employee of the game to apparently be allowed to show his face – and we thank the gods for that.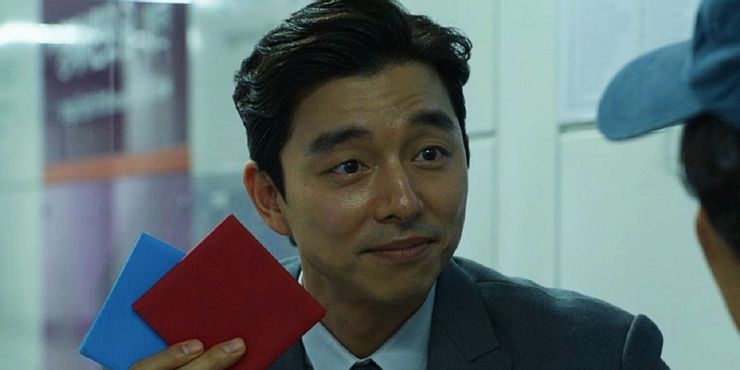 After an exciting, intense and slap-fuelled first encounter with Gi-Hun, we see him present a simple card that sets the game in motion, before a friendly smile and wave as his train departs the station. Luckily for us, he appears again later in the show, trying to recruit yet more victims (or survivors) for the game.
Gong Yoo
The actor Gong Yoo is a prime example of how it can be surprising when someone who looks like this is single. Even more surprising is that he's actually 42 years old, despite what his boyish, playful smirk on the show might tell you!
Despite his quick ascent to number one top spot for 'who you'd like to date', he remains happily single, and has even said he believes himself too young to settle down and get married! Good for you, Gong Yoo. So it seems like he's not dating – or interested in dating – anyone at the minute, despite his Squid Game popularity.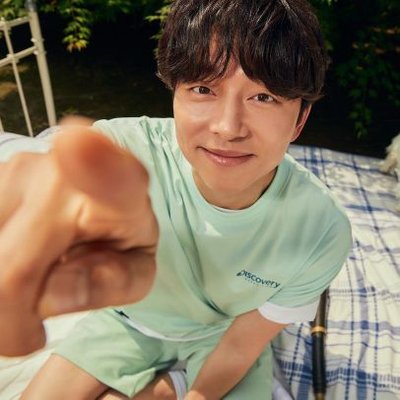 It also seems like he's been enjoying the single life for much of his past, as he hasn't disclosed any serious past relationships from his dating history (if it exists).
It's also possible he's simply focusing on his career, which is undoubtedly going to get even more rewarding after appearing on Squid Game. Surely the job and dating offers will come rolling in.
Kae Sang-Byeok, Player 067
Player 067 has made quite an impression with audiences and fans of the show. Not only does she have stunning good looks and an iconic hairstyle many fans are undoubtedly trying to replicate, but her story is another punch in the gut from the show's creators (why do they do this to us?)
We're first introduced to Sang-Byeok in the first episode, when she steals money from a fleeing Gi-Hun (who still finds the time to stop and help her with her spilled drink, bless hm). Although we don't learn her name until later on, her on-screen presence and her ability to survive the games leaves us hooked to her story.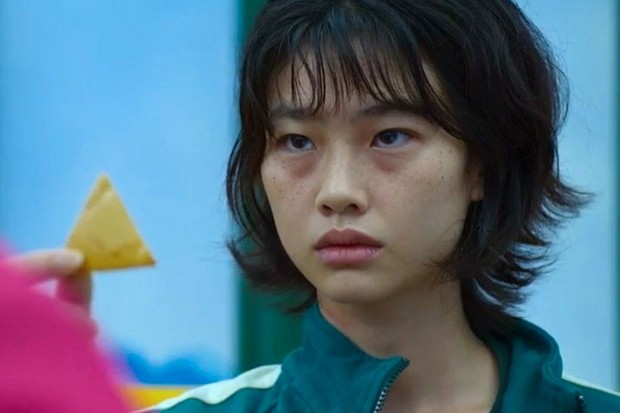 We later learn a little more about her, namely that she is a North Korean defector who is just trying to do her best to support and protect her family, as well as being an awesome big sis. Her story easily becomes one of the most tragic and, like Ali, she deserved so much better. She even took that massive shard of glass to the abdomen like a champ.
Jung Ho-yeon and Partner Lee Dong-Hwi
In real life, actress and model Jung Ho-yeon's story is less than tragic and she's found someone who makes her smile considerably more than her character does on the show (though why would you in that place).
Jung Ho-yeon is currently dating a fellow actor, South Koreon Lee Dong-hwi. The couple began dating back in 2016 and have been going strong, although initially their relationship was subject to criticism due to an age difference. Jung was only 21 years old when she first got into a relationship with actor Lee, who was 30 at the time. But seriously, a nine year age gap is nothing in 2021, and this pair look happy together.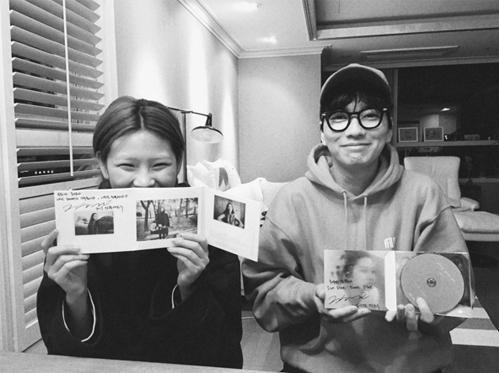 Actor Lee Dong-hwi, now 36 years old, first found big recognition with his role in the television series Reply 1988.
He's also part of a celebrity group of friends which is known as BYH48, a name coined by fans of the celebs, so it seems he's doing just as successfully in his circle of friends as he is in his loved-up relationship!
Abdul Ali, Player 199
Poor Ali! One of the most heartbreaking storylines on the show, the creators knew what they were doing when they presented sweet and innocent Ali to us in the first episode, with an impressive introduction when he saves Gi-Hun from suffering the wrath of our favourite Red Light, Green Light robot girl. Ali showed off his compassion and strength all in one when he grabbed the back of that iconic tracksuit to steady Gi-Hun and stop him from falling.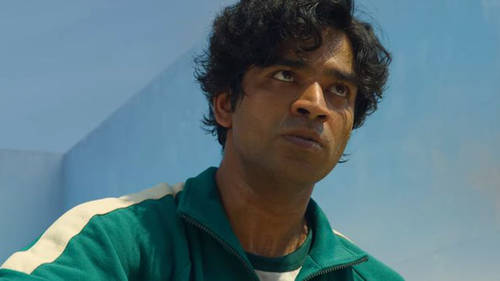 Ali soon fell into our favourite main group of players, but because this is Squid Game, making friends and teaming up with them is always going to be a bad idea in the end – especially when you have to collect 10 marbles.
Many viewers will never forgive Sang-Woo for what he did to Ali, and neither will I. Ali deserved better!
Anupam Tripathi
So is actor Anupam Tripathi just as wholesome and sweet in real life? Well it seems he is!
This apparently doesn't mean that he's attracted the right kind of love yet, though, as Anupam appears to currently be single. No doubt he's basking in the success of his role in Squid Game, and we're sure they'll be a queue of people ready to give Anupam the kind of support his character deserved.
The 32-year-old actor spends his time with friends and is always happy to share a shot or two on social media. So no doubt, if he does find love, he'll be sharing it on social media with his friends and followers.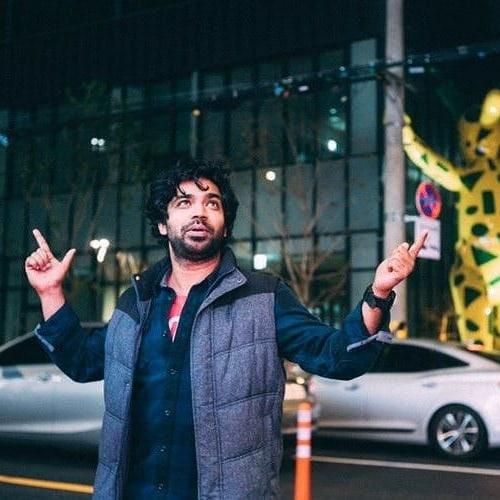 Perhaps the actor is concentrating on preparations for Squid Game season 2 instead of his love life (we can only hope!!) or maybe he's extremely good at keeping his relationships under wraps. Either way, it seems Anupam is content with his fun and carefree single life!
Seong Gi-Hun, Player 456
Let's discuss the star of the show (even though he chose a honeycomb umbrella as his shape instead) who revolutionised the method of getting that darn piece of boiled sugar out of its casing. Gi-Hun is a problematic gambler who has got into more than enough money trouble, currently living with his elderly mother and struggling to support his daughter. He's hounded by people trying to collect money from him so, naturally, when a mysterious stranger offers a way out in a life or death game, it's obviously the way to go.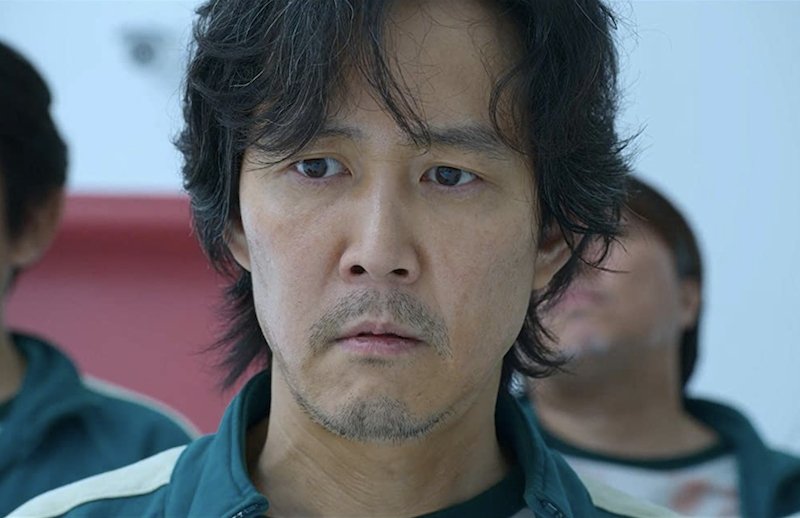 But, of course, Gi-Hun didn't know it would be life or death when he accepted. He did later, though, and still chose to go back into the game, but that's on him.
Gi-Hun quickly becomes a fan favourite with his cheeky smile, his can-do attitude (that slowly descends into madness) and, of course, that iconic red hair he opts for in the end.
Lee Jung-Jae and Partner Lim Sae-Ryeong
Despite his failed relationship and divorce on the show, in real life, Lee Jung-Jae has found more success. He has been dating his partner, Lim Sae-ryeong, since January of 2015
Lim had previously been married to the chairman of Samsung, but the two divorced before she found love with actor Jung-Jae. She also had two children from her previous marriage. She's the daughter of the chairman of the Daesang Group.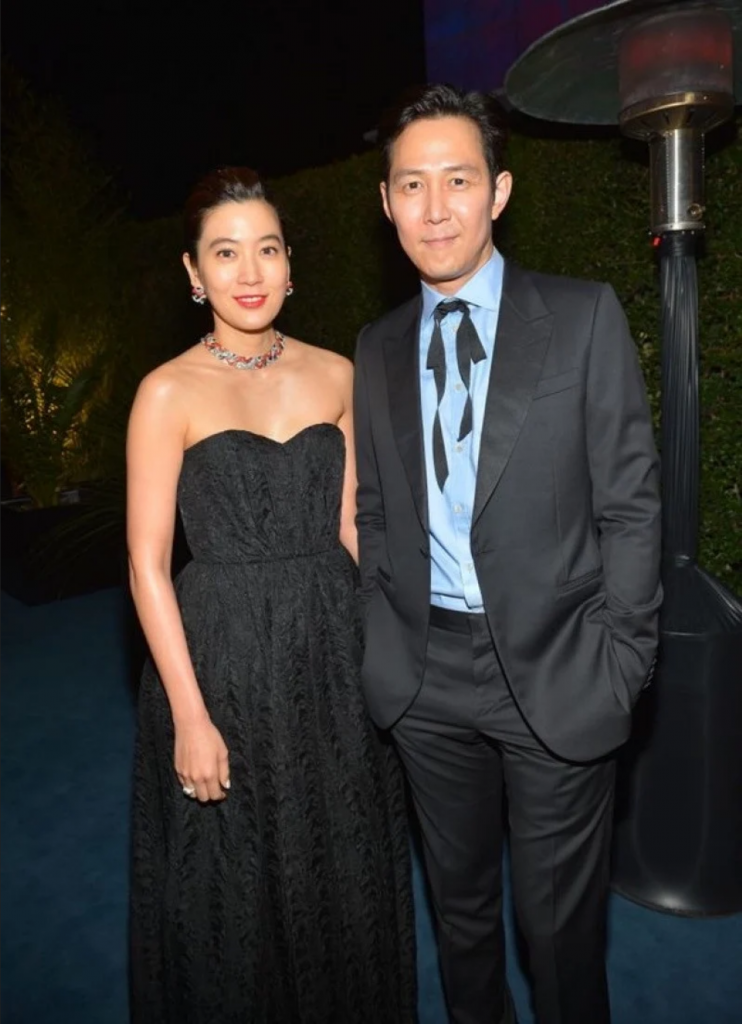 Lim is an executive director herself at Daesang, and graduated from New York University in psychology.
There was some speculation in recent years whether Jung-Jae had actually married Lim Sae-ryeong, but the actor denied these rumours, and it appears they're still enjoying the non-married but loved-up partner life.