The Darkest Royal Family Secrets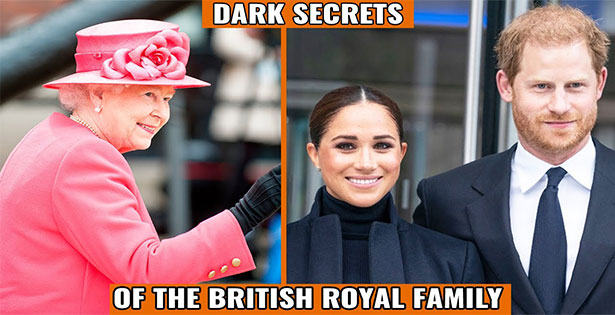 1. The Queen's cousins were hidden because of their disabilities
Image Source/Daily Mail
A documentary that aired on the British network, Channel 4, called The Queen's Hidden Cousins in 2011 revealed a major scandal which had somehow avoided the public eye for decades. Two of the Queen's first cousins, Nerissa and Katherine Bowes-Lyon were both victim to this scandal. Mental disabilities were not understood during the 1940's, in the eyes of the royal family they were seen as a disgrace. The Queen's two cousins were cut off from the royals and placed in a mental institution in 1941, remaining there for the rest of their lives.
2. Prince Harry spent time in rehab
Image source/The Mirror
Prince Harry seems to be getting himself a reputation as a trouble maker. After admitting to his father he had smoked marijuana on multiple occasions, as well as participating in underage drinking, Harry was sent to a drugs rehabilitation clinic aged 17. Although for some viewers this may appear slightly over the top, he spent one day there to learn about the possible consequences of taking cannabis.
3. Princess Beatrice was dating a killer
Image Source/LittleThings
Princess Beatrice, Seventh in line for the throne and the Queen's granddaughter, had some interesting choices of partners in her past. In 2006, aged just 17, she started to date American playboy Paolo Liuzzo. Prior to his renounce with Princess Beatrice, Liuzzo was arrested for the manslaughter of 19-year-old Jonathan Duchatellier in 2002. Miraculously, Liuzzo's manslaughter charged was dropped to assault and battery. Luckily, the relationship was only brief.
4. Prince William danced 'inappropriately' with other women in 2017
Image source/Daily Express
In 2017, reports emerged that William had danced inappropriately with two women while away in Switzerland. This hadn't been the first time the Queen's grandson, future King of England had been accused of not being on his best behaviour. One person from the club that night commented, "He was dancing so wildly".
5. Zara Phillips' husband spent a night at a dwarf-tossing club
Image source/The List
Despite how bizarre this may sound, it is in fact true. Mike Tindall, who is a former England rugby captain, married Princess Anne's daughter, Zara Phillips. In 2011, Tindall spent a night at a dwarf tossing club in New Zealand following a win against Argentina. Although he later claimed not one member of the team took part in the tossing of dwarfs, he sure did kick up a stir in the media.
6. Prince Harry dressed as a Nazi
Image source/ The Washington Post
Staying on the topic of Prince Harry, back in 2005 he was spotted at a costume party – dressed up as a Nazi. This is an outfit you may consider to be very risky for the average person, never mind the grandson of the Queen. Aged 20 in the photo, Harry has made a public apology video via royal officers, reading 'Prince Harry has apologised for any offence or embarrassment he has caused.' In the future he may stick to something a little less controversial.
7. Prince Phillip has said all kinds of controversial things
Image Source/Biography
Being married to the Queen of England, you are going to be under the spotlight your whole life. This spotlight brightens when you come out and say some controversial things. Before his death, Philip was known for casually saying all kinds of politically incorrect comments, many of which where directly hurtful and in some causes harmful.
8. Prince Andrew has some questionable relationships
Image Source/iNews
It is no rumour that the Queen's second son, Prince Andrew, Duke of York was a well known friend of convicted pedophile and sex offender Jeffrey Epstein. Andrew was known to have been on many private jets with him, as well as his ex-wife, Sarah Ferguson, claiming that he had asked Epstein to clear some of her debts. Despite many people making it clear what they suspect of Prince Andrew, the Queen is very adamant in defending him to this day.
9. Diana Threw herself down the stairs while pregnant
Image source/ABC News
It is no secret that Prince Charles and Princess Diana's marriage was a disaster. Diana had been vocal, unlike many royals, about her relationship and how she struggled with depression. In tapes aired on US television in 2004, Diana describes how she threw herself down the stairs whilst she was three months pregnant with William, landing at the feet of the Queen.
10. Prince Charles wanted to be Camilla's tampon
Image source/Insider
Yes you read that right, yes it is as gross as it sounds. As we know, Charles and Diana's relationship was rocky, both of them had numerous affairs, including Prince Charles' very public romance with previous lover, Camilla Parker-Bowles. in 1992, the year Charles and Diana officially parted, leaked phone conversations between Charles and Camilla came alight, exposing Charles' desire to 'live inside[Camilla's] trousers' as 'a Tampax'.
11. Prince Phillip was reportedly unfaithful
Image source/Town & Country Magazine
Although there may be no direct evidence to suggest these allegations against Prince Philip, there had been rumours circulating throughout their 70-year-long marriage that he was unfaithful. The most significant of these rumours being he met dancer Pat Kirkwood several times. She denied them, however the palace never did.
12. The Queen's family might not be legitimate heirs
Image source/NDTV
It has recently sprung to light that the Windsor family may not be the legitimate heirs to the throne. In 2012, a report surfaced that the remains of Richard III, which were discovered 500 years after he died, were examined and researchers learned that he had no living descendants. In result of these findings, it implies that there must have been an affair at some point, breaking the genetic chain of the monarchy.
13. Queen Victoria and Prince Albert were first cousins
Image source/The Independent
You will be shocked to find out that the jokes around incest in the the royal are in fact not just jokes! The thought of two first cousins marrying and having kids seems very wrong, never mind the rulers of the country. Arguably two of the most famous monarchs in our history were first cousins. Queen Victoria and Prince Albert married in 1840, and went on to have 9 children together. Victoria was very vocal about her love for Albert and mourned his death for the rest of her life.
14. Prince Phillip met the Queen when she was only 13
Image source/The Independent
The tale of Queen Elizabeth and Prince Phillip's love story began back when the Queen was only 13 years old. Despite the two of them not being in a physical relationship at the time, or any relationship a such, they had exchanged letters. Prince Philip was 18 at the time, which does seem rather too old to be exchanging letters with a child.
15. Lieutenant Mark Phillips had a love child
Image source/Vogue Australia
This scandal involved Princess Anne's first husband, Lieutenant Mark Phillips. Anne was the Queen's only daughter and they married in 1973, but it soon became apparent that there was trouble amongst their marriage. Phillip had an affair with a teacher named Heather Tonkin, who in 1985 gave birth to their child. The pair divorced in 1992, making her the first royal to do so since Henry VIII.
16. Edward VIII had a friendship with Adolf Hitler
Image source/Vanity Fair
Edward VIII, Queen Elizabeth II's uncle, was reportedly a Nazi sympathiser. No surprise the palace did not want the public finding this out. However, in the book 17 Carantions: The Royals, the Nazis and the Biggest Cover-Up in History it details the close ties and dinner dates between Edward VII and Wallis Simpson, who he abdicated his throne for, had with Adolf Hitler.
17. Richard III faced accusations of murdering his nephews
Image source/History Extra
It is strongly believed by many historians that Richard III had murdered, or at least ordered the murder of his nephews. His brother, Edward IV, had died and following this his two sons, 12-year-old Edward V and his brother 9-year-old Richard, Duke of York were placed in the Tower of London. The Death of the boys is still unknown, but their deaths appeared far too convenient for the royal family.
18. People are doubting if Charles is Prince Harry's father
Image source/Pinterest
There is widespread speculation over who Prince Harry's biological father really is. This speculation grew when Diana proceeded to let it all out in an interview on the BBC program Panorama in 1995. Diana had admitted to a five-year affair with military man, James Hewitt. Despite their uncanny resemblance in some photos, Hewitt explicitly denies the allegations, claiming the relationship started after Harry was born.
19. Sarah Ferguson's "toe-licking" incident
Image source/Page Six
Many of you may know her as Fergie, others may know her for being married to Prince Andrew, but what most of you may not know is that she may be partial to having her toes nibbled. Whilst on vacation with American financial advisor John Bryan, paparazzi pictured him nibbling on her toes. She would go on to divorce Andrew in May 1996.
20. The Royal's hidden son
Image source/MyLondon
Prince John was the sixth son of George V and Queen Mary. He suffered with epileptic seizures and was tragically hidden away for the last four years of his short life in York Cottage at the Sandringham estate. The royal family saw his seizures as a sign of weakness, hence not displaying it to the public. Prince John died aged 13 after a devastating seizure. He would have been Queen Elizabeth II's uncle.
21. Queen Elizabeth was accused of a tax haven
Image source/Biography
Following a report from Newsweek, it's believed the Queen "invested at least $13.1 million into offshore tax-shelters funds located in the Cayman Islands and Bermuda." In response, many party leaders and anti-monarchists began investigating the Queen's finances. They were able to discover that the Queen is avoiding $15 million in taxes on her $680 million duchy.
22. Prince Andrew's girlfriend who did porn
Image source/Tatler
As you are probably well aware now, Prince Andrew is no stranger to controversy. When he began dating Kathleen "Koo" Stark in 1982, he brewed up media controversy due to Stark's line of work. Stark was a soft-core porn actress, with many of her nude and explicit pictures appearing in British tabloids. It is also speculated whether the Queen knew of Stark's acing career prior to them meeting.
23. Sophie Rhys-Jones appeared topless on the front cover
Image Source/Vanity Fair
Just months before she was set to marry Prince Edward, Earl of Wessex, the youngest child between Queen Elizabeth II and Prince Phillip, The Sun ran a photo of her topless in 1999. The editor, David Yelland, apologized to Sophie, whilst Buckingham Palace condemned the paper, describing it as "a gross invasion of privacy."
24. Prince Harry is captured naked
Image source/Wikipedia
Whilst on a break prior to his deployment to Afghanistan, the 27-year-old prince was photographed completely naked playing strip billiards in Las Vegas. The prince stated after the incident, "At the end of the day I probably let myself down, I let my family down, I let other people down."
25. Prince Charles drank a cherry brandy
Image source/British GQ
At only 14 years old, Prince Charles ordered a cherry brandy at a pub in the village of Stornoway Harbor. What seemed rather innocent for the young prince turned into a royal scandal, once a tabloid reporter overheard him order in the pub. The incident appeared in the headlines of almost every tabloid at the time.
26. The wife of Elizabeth I lover ends up dead
Image source/Wikipedia
Despite being known as 'The Virign Queen', her accused affair with companion Robert Dudley suggests otherwise. The relationship was already a scandal, however this intensifies due to Dudley being married at the time to Amy Robsart. The whole situation escalates when Robsart died a very shady death. She allegedly died by falling down a staircase, however several puncture wounds to her head may suggest otherwise.
27. Prince George's bisexuality and drug use
Image source/9Honey
Arguably one of the Monarchy's most controversial figures, George, Duke of Kent, stirred mass gossip around certain indulgences. George reportedly had countless sexual partners, which included both men and women. His lifestyle of partying also raised questions about his alleged drug abuse, most notably cocaine and heroin. George died in 1942 in a plane crash. It remains a conspiracy to this day whether he was too much for the royals, and if his plane was intentionally taken down.
28. The Queen loves a gamble
Image source/Racing Post
Queen Elizabeth is well known for her love of horse racing, however she also loves to bet on races as well. The Queen has supposedly accumulated more than $6 million from bets alone, making her rather successful to say the least. Despite many allegations made against these wins, Buckingham Place insists she is above gambling.
29. Prince Charles dated Diana's sister first
Image source/Woman and Home Magazine
Prince Charles and Princess Diana's relationship actually emerged thanks to Diana's sister, Sarah Spencer. The duo had briefly dated in 1977, and his relationship with Sarah introduced him to his wife of 15 years, Princes Diana. while this may not be illegal, or even technically wrong, the idea of it may seem a bit startling and uneasy.
30. Princess Anne's dog attacked children
Image source/NBC News
In 2002, Princess Anne and her husband had finished walking their dogs around Windsor Great Park when one of the dogs, an English Bull Terrier, escaped. The dog managed to escape from their car and proceed to savagely attack two boys riding bikes. This was the first instance of a royal being charged with a criminal offence. The couple were made to pay a fine after being taken to court. The dog somehow was allowed to live, much to the anger of the victim's families.
31. Princess Margaret's long lost love
Image Source/Biography
Princess Margaret had a long lost lover named Captain Peter Townsend. The two of them met when Princess Margaret was just 14 years old, but they did not fall in love until she was 22 years old. Townsend was married and had two sons, and he filed for divorce due to his wife's affair. He and Margaret desperately wanted to marry, but his divorce made it impossible.
32. Prince Harry used racial slurs
Image Source/France24
There is a very old video which at one time was circulating the internet. It was Harry's private video and he was using racial slurs which especially today – are deemed unacceptable. The palace had to issue an official apology which apologised for any embarrassment or harm caused as a result of it.
33. Diana's Secret Phonecalls
Image Source/9 Honey
Diana had a string of lovers during her marriage to Charles as a result of his ongoing affair with Camilla. His name was Gilbey, and the two of them used to have secret conversations. These were leaked, and in one of the phone calls, Gilbey told Diana that he loved her and called her by the pet name "Squidgy" a massive 53 times.
34. Princess Margaret's Very Public Divorce
Image Source/History.com
The marriage of Antony Armstrong-Jones and Princess Margaret initially seemed like the perfect match. But, soon it was apparent that this was not the case at all. And, after ex-marital relationships the two of them had a very public divorce which cause scandal.
35. And Diana And Charles's Divorce
Image Source/Cosmopolitan
This was not the only public and scandalous divorce which the royals would prefer us all to forget about. The marriage of Diana and Charles was a disaster and finally it became inevitable that the two of them had to divorce – the affairs and scandals were too much.
36. When Fergie Took A Bribe
Image Source/Daily Express
Sarah Ferguson, the Duchess of York was secretly filmed as she was boasting to people after a drink or two, about fixing introductions to her ex-husband, Prince Andrew. In exchange for her contacts she was seeking half a million pounds. At this point in time she was struggling for money.
37. When A Topless Photo Of Kate Middleton Was Revealed
Image Source/BBC
Kate Middleton was sunbathing topless in the privacy of her own home when somebody took a picture of her which was then later published. This was by no means a scandal of Kate's own doing. However, it was shocking and something that the palace wanted to be kept quiet nonetheless.
38. When Prince Andrew Was Accused Of Sexual Assault
Image Source/geo.tv
Prince Andrew as we know has long been linked to sex offender Jeffrey Epstein. But, it was not just deemed that he was a good friend – but that he was actually one of the perpetrators involved in abusing and sexually assaulting young girls. It was never proven.
39. When Princess Michael Wore A Racist Brooch
Image Source/BBC
Princess Michael wore a brooch that was deemed as racist. The brooch itself is a bust of an African man. It has been linked with glorifying slavery. The princess issued a public apology saying she is sorry for any offence she may have caused and that the brooch would no longer be worn.
40. When Kate Middleton's Dress Went Flying
Image Source/Daily Mail
Again, Kate Middleton was pictured at a very unfortunate moment by the paparazzi as her skirt went flying up in the wind in Marilyn Monroe fashion. Again, there was no fault of the Princess but again the picture was something that the royals preferred to keep hush- hush.