QUIZ: Which TV Bad Boy Do You Belong With?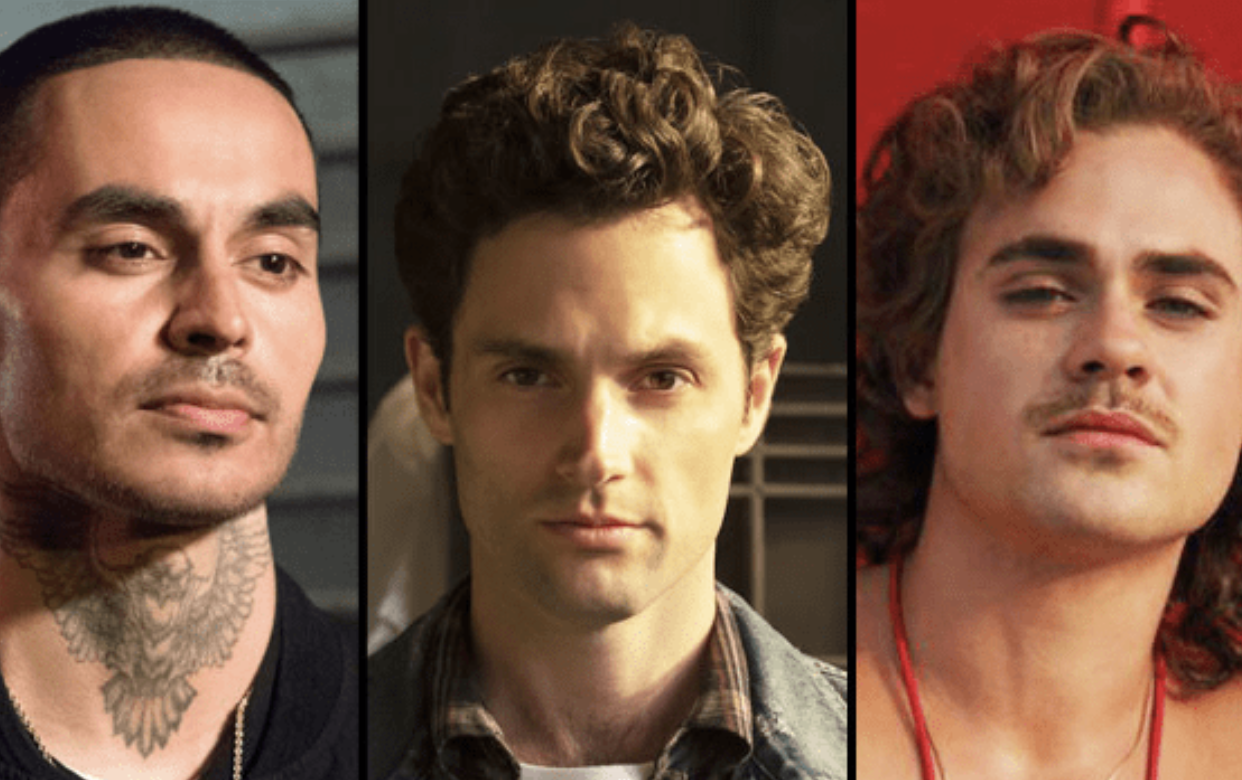 15 Things You Didn't Know About Netflix's Selling Sunset
15. There are FOUR agents we never meet!

The Oppenheim Group agents Chrishell, Christine, Mary, Davina, Maya, Heather and Amanza all feature in the show, but there are actually four more agents… including men!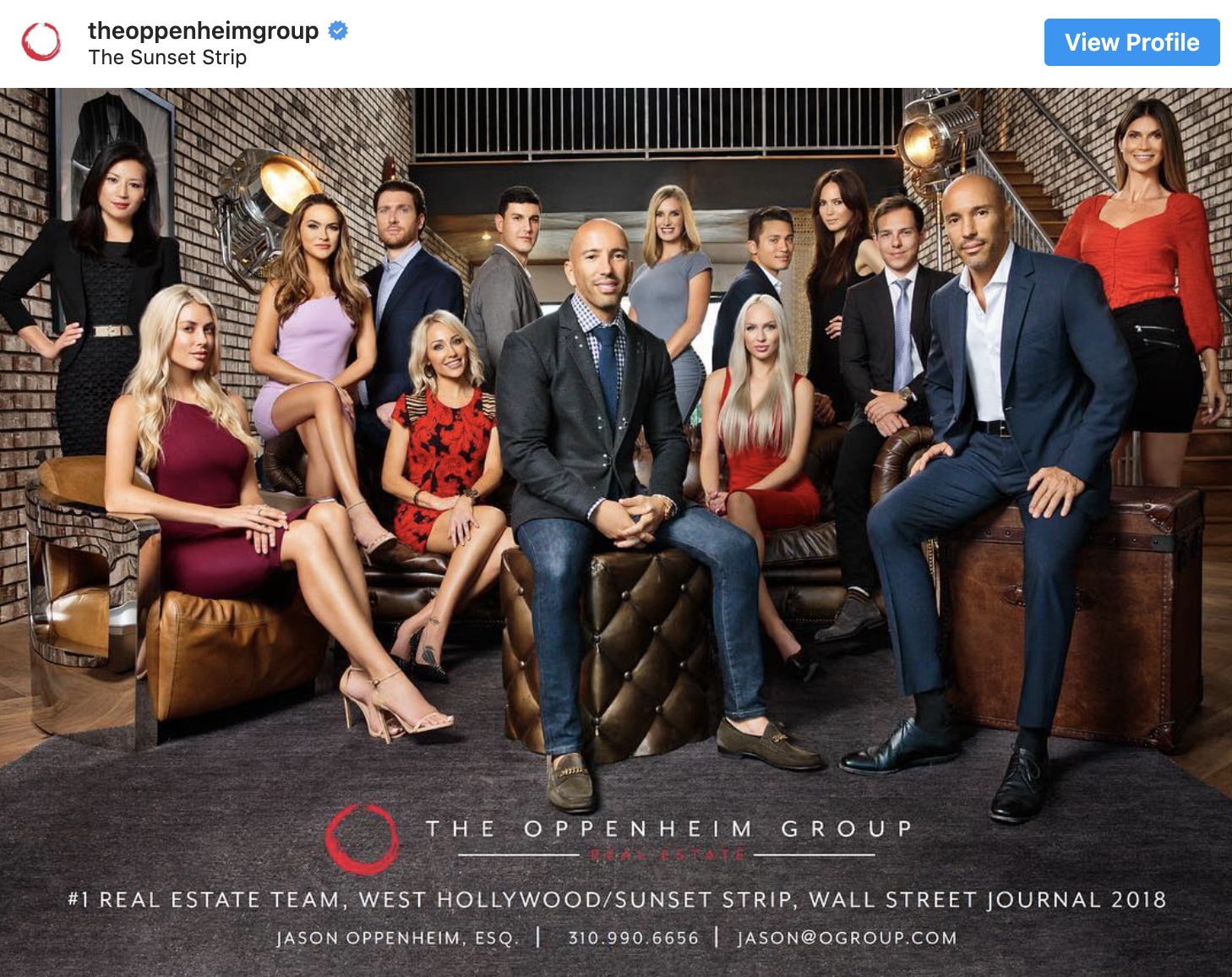 Nicole Young, Graham Stephan, Peter Cornell and Alice Kwan also work for Brett and Jason, they just don't feature on the camera.
14. Chrishell was employed by the Oppenhein Group FOR the show.
At the start of season one, we saw Chrishell start work at the Oppenheim Group, but it turns out she was actually cast by producers specifically for the show.
However, if you thought that meant she wasn't a real agent, you'd be wrong, as the Selling Sunset co-creator Adam Divello previously told Variety that she had "a real estate license selling homes when we met her".
13. Heather was a Playboy Playmate.
She made her debut as a Playmate in 2010 at the age of 21.
Heather also credits posing for the famous magazine for helping her get to where she is today. In a catch-up interview with Playboy earlier this year, she said: "If I hadn't posed for Playboy, I wouldn't have met the people who led me to where I am now."
12. Christine HATED the way her wedding was shown on screen.
Christine's wedding to Christian Richard features in the third season of Selling Sunset, but she was left "disappointed" with the edit of her nuptials.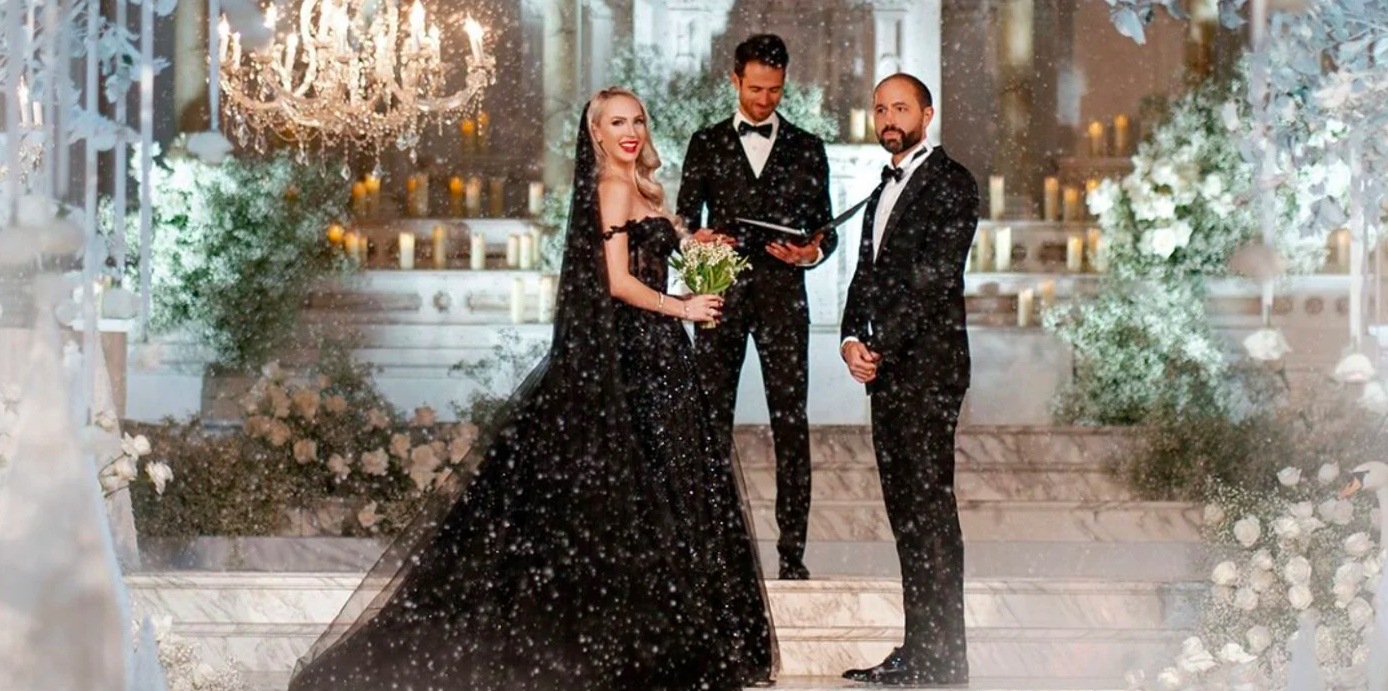 She said she finds it "hard to watch" her opulent nuptials, as she wishes there was less focus on the drama between her colleagues.
11. Chrishell was engaged to "Glee" actor Matthew Morrison.
Years before she met Justin Hartley, Stause was engaged to actor Matthew Morrison from 2006 to 2007. They never got married, however.
"When I was 27, I proposed to my then girlfriend, but I didn't do it for the right reasons. We'd been going out for a year or so and I felt under pressure from society. I was thinking, 'This is the age when I should probably start having kids so this is what I should do…' But after I did it, I immediately felt in my heart it wasn't right. My instant thought was 'What did you just do?'"
10. Jason regrets signing up for Selling Sunset.
Despite DiVello's interest in real estate and desire to steer clear of a "Real Housewives" replica, much of the show revolves around office drama at the Oppenheim Group.
During an interview with Hello! magazine, Jason admitted that he thought Selling Sunset would be more focused on the "nuances of real estate."
"Had I known the show would be this focused on our personal lives I probably wouldn't have signed up for it." 
9. Christine Quinn receives hate mail from Selling Sunset fans.
Christine Quinn's life might look seriously glamorous on Selling Sunset, but if you ask the star, the truth is a different story.
According to the self-styled Britney Spears fanatic, she can't count all of Selling Sunset's viewers as her fans. Quinn told Refinery29 in May 2020:
"It took a toll on me when I would get messages every single day like, 'Go kill yourself. I f**king hate you.' But at the end of the day, I realized that like 90% of the people out there love it and love the show."
8. Netflix DOESN'T pay for the cast's hair, makeup or wardrobe.
Quinn, one of the more adventurous dressers on the show, revealed that Netflix doesn't compensate any of the cast members for their hair, makeup, or clothes during an interview with Refinery29.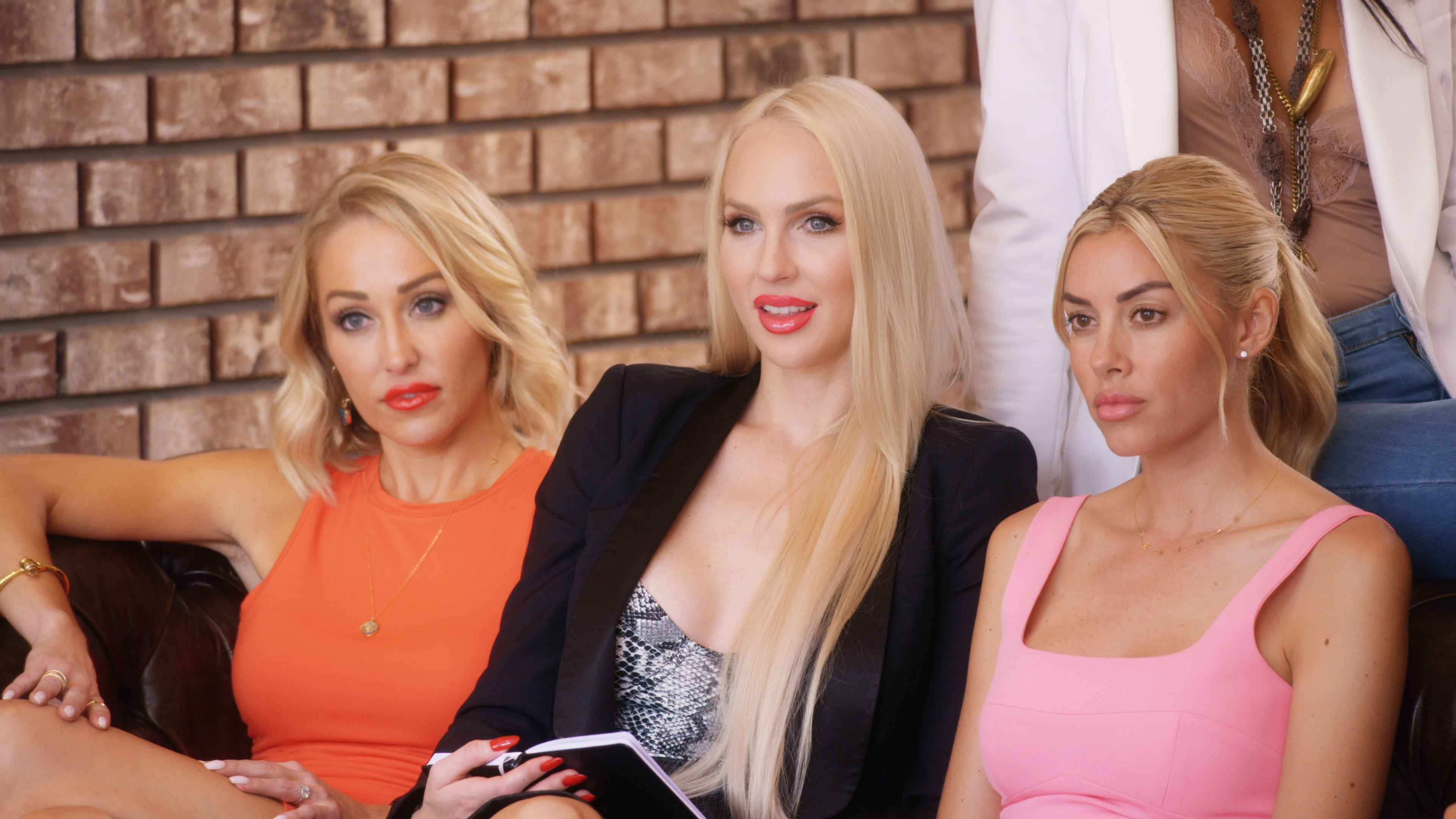 "Netflix doesn't pay for anything. I pay for my own hair and makeup and wardrobe and everything like that, and it's worth it. I have fun with it, and I know that people love to watch it and be like, 'What is she going to do next?'"
7. Quinn takes FOUR hours to get ready.
"My hair takes a minimum about two hours, depending on what I'm doing to it. I give myself a four-hour window from when I have to leave my house."
"I'm not just throwing on a T-shirt: I'm planning everything. I'm like, 'Okay, what's the scene, what's the background? What are we doing? Am I going to be walking? Am I going to be sitting? Is this outfit going to be wasted? Is it being showcased. I take all of that into account."
6. She bought a laptop and iPhone for the teenage girls that run her fan accounts.
While discussing the Instagram "giveaways" she does for her followers during her interview with People, Quinn said she's given gifts directly to the teenage girls that run her fan accounts.
"I got a laptop for a 13-year-old girl the other day who runs all my fan accounts. I got an iPhone for one of the girls who runs another fan account, so I'm helping people go to school. I'm doing tons of stuff for girls, that people don't ever see," she explained.
5. Maya Vander's kids aren't on season 3 due to the expenses of filming children.
The Israeli real estate agent's children, Aidan and Elle, don't appear on the show's third season partially because of the steep cost that comes with filming young children.
"Apparently, it's expensive to film a baby in production. They have to hire nurses. The baby can only be on up to 30 minutes. It's a whole thing."
4. Quinn's wedding cost $1 million.
The real estate agent's wedding planner Lisa Lafferty told The Metro that Quinn and Christian Richard's gothic winter wonderland-themed wedding cost around $1 million.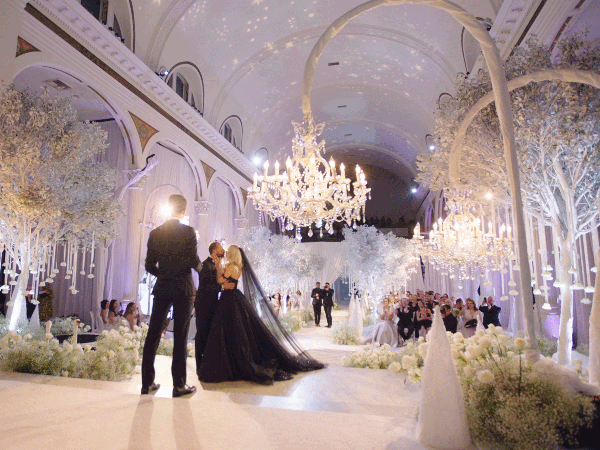 Between the swans, the fake snow, and the black champagne, Lafferty explained the "special effects" drove up the price.
"I worked with a special effects company that actually does Hollywood movies. This team came in and brought a full snow machine they would use for a 'Polar Express' type movie."
3. Quinn had coronavirus while planning the wedding.
The couple got married in front of 130 people on December 15, 2019, a month before the first confirmed case of COVID-19 in the US. However, Quinn said she had the novel coronavirus at her wedding during a July interview with"Goss Chats."
"I was really, really sick on my wedding day. I actually had what I now know is corona. I got really sick in late December and we were travelling, and I was sick for about a month when we were filming. I couldn't even have a bachelorette party. I was so bummed about that because I was so sick."
2. Some of the showings are staged.
When someone touring a $12.4 million house with Quinn criticized the kitchen, the agent said, "This b—- doesn't even cook." The sound byte has since gone viral on TikTok.
During her interview with Refinery29, Quinn revealed that the woman she was talking about was a friend, not a client.
"That actually wasn't a client. That was one of my best friends. Sorry, I'm going to ruin that, but I just have to."
1. Brett left the Oppenheim Group to start his own brokerage.
Since production on season three wrapped, Brett left the Oppenheim Group to build his own firm, Quinn confirmed to Glamour. "Brett has left to start his own brokerage," she told the outlet.
The agent added:
"The girls are fed up with the favouritism of Mary in the office, we don't know who will move where. It may be the battle of the brokerages! I think if season four goes ahead, it is going to be the juiciest season ever."
Brett has also been removed from The Oppenheim Group's website.
15 Behind The Scenes Secrets From Netflix's 'The Last Dance'
By now you've probably watched Netflix's highly-anticipated docu-series The Last Dance, which is based on Michael Jordan's time playing with the Chicago Bulls – and if you haven't, what the heck have you been doing!?
If you're like me, you'll probably want to know even more – which is why I've uncovered 15 behind the scenes secrets just for you!
15. Nike WASN'T Michael Jordan's first shoe deal choice
If there's one company that wants to forget about "The Last Dance" it's Adidas. Michael Jordan's top shoe choice had always been Adidas, ever since college – however when it came to making a deal, it was Nike who came in with the right money.
Jordan even desperately called Adidas one last time before signing with Nike to see if they could match the deal. I don't know about you, but could you imagine a world with Air Jordan's!? Because I definitely couldn't.
14. So many people had to approve the Chicago Bulls' 1998 title run, it took 20 years for it to see the light of day.
It's kind of remarkable that "The Last Dance" ever saw the light of day in general in all honesty.
Not only did Michael Jordan have to sign off on it, but so did the Chicago Bulls, and the NBA and the entirety of the NBA before The Last Dance could even come into fruition.
13. Dennis Rodman had to be interviewed in a hotel suite.
The Rodman interview as a whole was a challenge, in fact, because it was just so freaking hard to track him down.
"I thought for a while we were just going to have to flag him down on the side of the road and do the interview in the back of an SUV," said Hehir (Director of The Last Dance). "Eventually we got him out of a car and into a seat so that was a real achievement unto itself."
Talk about playing hard to get!
12. The only way they were able to get Jordan to partake was if he could have the last word.
Jordan was concerned that his words would get twisted (and in all fairness, rightly so), so his one big stipulation in agreeing to be a part of the show was that he would be able to have the final word.
That meant whatever anyone said — like Isiah Thomas or Gary Payton — Jordan would be able to respond. I definitely need to start adding that stipulation to my daily conversations!
11. Scottie Pippen weirdly was interviewed in an empty house.
Scottie Pippen really didn't mind the film crew to coming to his newly bought house.
However, it was completely empty! The crew shot his interview in his living room which didn't have a single piece of furniture in it yet. I bet the echo feedback in that place was insane!
10. Director Jason Hehir conducted over 100 interviews for the docuseries.
Hehir conducted an incredible 106 interviews for the show – can you IMAGINE!?
That ranged from almost everyone on the Bulls championship teams to legends like Larry Bird and "Magic" Johnson, and even Barack Obama, Bill Clinton, and Justin Timberlake. What a roster!
9. Michael Jordan refused to be interviewed in his own home.
If you thought it was weird to be interviewed in a hotel room or an empty house, get a load of this!
Michael Jordan owns a huge 20,000-square-foot estate in Jupiter, Florida. However "The Last Dance" crew never got near it. Understandably, Jordan wanted to keep his life private, so they found THREE houses in the area where Jordan lives to interview him in.
8. Jordan was convinced people would not understand why he behaved the way he did when they saw the 1998 footage.
Hehir commented that in one of their first meetings the superstar voiced his disinterest in being involved in the show.
"When people see some of this footage they're not going to understand why I behaved the way that I behaved," Jordan revealed to him. Jordan was aware that his tough ways toward his team would be on full display.
Despite this, Hehir admitted he's still shocked by some of the things Jordan approved to be in the show.
7. Michael Jordan gave notes about "The Last Dance" before the show even aired.
Yep, Jordan saw the entire 10-part series before it aired, and then continued to give notes on it.
"Oftentimes, his notes were just as good if not better than the other partners because he knew what the truth was,"  Hehir has said.
6. Hehir had to "work hard" to get insight from Kobe Bryant about Michael Jordan for the docuseries.
The director was said to have around 25 minutes with Kobe Bryant when he interviewed the Laker great for "The Last Dance."
Bryant was also trying to put the final touches on a speech he was giving at the ESPY Awards to Bill Russell as that year's recipient of the Arthur Ashe Courage Award.
Hehir had to "work hard" to get anything at all that was usable. Thankfully he was able to eventually!
5. Jordan wore three different numbers across his career, not two.
Most people know that Jordan briefly swapped his iconic No. 23 for No.45 when he first returned from retirement in 1994-95.
But very few know about the time Jordan's jersey was stolen from his locker in Orlando, forcing him to wear a spare No.12 jersey.
4. Jordan never saw his famous over Craig Ehlo go in.
MJ's iconic arm-swinging celebration was based entirely on the way the mortified Cleveland fans reacted.
"I never saw it go in, but I knew right away from the crowd reaction — silence — that it was good," Jordan said after the game. What a champ!
3. Michael Jordan's first shoe deal with Nike earned him "just" $2.5 million dollars over five years.
Adjusted for inflation as of today, that's $6.2 million.
By comparison, LeBron James' first contract with Nike in 2003 was seven-years, $90 million ($126 million in today's money). Poor guy – the heart bleeds!
2. Polk says Covid-19 made it the success it is!
But the lockdown also provided a massive hurdle for the documentary makers, once the decision was made to rush the production so it could be shown during the mass sporting hiatus.
They had finished the first six episodes and were well down the track with seven and eight. But the last two episodes were "very early in the process".
"So we had to rush to work on nine and 10," he said.
1. Ex teammates are not all happy with the series, including Horace Grant who has declared 'lie, lie, lie'.
Grant denies being the lone source for a book on the team and rejects other The Last Dance claims, including that Steve Kerr was the only teammate to stand up to the domineering Jordan.
Polk said: "People have different recollections. Some of it might be revisionist history. Some things are clarified."
15. McDonald's Nuggets Are Left In A Warming Tray ALL Day
The reason it's fast isn't because they're made and cooked efficiently, it's actually because they are pre-made and then kept in a warming tray all day ready to be served. This is pretty much just a breeding ground for bacteria.
14. A Lot Of The Drink Dispensers Contain E-Coli
There is a nasty strand of bacteria called e-coli which has been found in the drink dispensers of fast food chains. Whatever is in the drink dispensers is being released  into your drinks every time one is poured. This stuff can actually make you really ill.
13. Beetle Juice Gives Strawberry Milkshake Its Colour!
Ever wondered how fast food gets its colouring, those lovely pink milkshakes for example? Some of them contain red cochineal beetle, which are dried and crushed to make colourings. While it's not harmful to consume in low doses, it is definitely not appealing.
12. Fast Food Apple Pies May Contain Hog Hair
In fast food chains the apple pies aren't as innocent as they seem. They are actually loaded with strange chemicals to make production easier and faster. One of these is called L-cysteine. This substance is extracted from unsavoury areas such as hog hair, human hair or duck feathers.
11. The Chicken May Actually Be Bone And Nerves
The chicken nuggets and chicken burger patties are often rarely made up of chicken, or pure chicken. What they actually often contain is bits of muscle, bone, and nerve tissue. This makes production cheaper as it uses the unwanted parts of meat.
10. Some Drinks Contain An Ingredient From The Anal Gland Of A Beaver
To add sweetness to fast food drinks such as milkshakes, there is an ingredient which is added called castoreum. The worst part is that this ingredient actually comes from the anal gland of a beaver.
9. McDonald's Burgers Can Last For 14 Years
Food goes off and decays over time, it's a natural process and any natural substance will do the same. However, McDonald's burgers have that many preservatives and unnatural ingredients in that it can last up to 14 years, meaning it's a totally artificial burger, with all those chemicals going straight into your body.
8. Fast Food Chain Milkshakes Contain More Chemicals Than Garden Fertilizer
To make these drinks there is so much added to them in terms of chemicals and unnatural ingredients that they surpass the amount of chemical ingredients found in many garden fertilizers. That's a pretty shocking way to realize what we are actually drinking.
7. Chicken Nuggets Are Made Out Of Pink Paste
The texture of chicken nuggets is like no other chicken texture, it's completely smooth. That's because it's made from a huge paste. The chickens (whole) get thrown into a big machine, kind of like a smoothie maker, chemicals are added and then it is pumped into shaped trays.
6. Subway Bread Contains Something Found In Shoe Rubber
Azodicarbonamide is used as a bleaching agent to make Subway bread whiter and stretchy. It is also used in products such as yoga mats, rubber, and synthetic leather. It increases the elasticity in products. Subway still use the susbtance and have pledged to phase out its use.
5. Fast Food Chain Salads Contain Propylene Glycol
Getting a salad at a fast food chain seems like an accomplishment, a healthy option amongst a sea of unhealthy food. However, the salad is coated in propylene glycol which is the substance found in anti-freeze and lubricants.
4. The Cheese Is ONLY 50% Cheese
It turns out that the cheese in fast food chains is made up of 50% cheese. That leaves the question, what's the other half – it's pretty much additives, chemicals and fats. It does explain why fast food chain cheese is always more orange and plastic looking.
3. Spicy Fast Food Contains Sand
Silicon dioxide is added to fast food's spicy food, such as the buffalo wings from Wendy's. This is the chemical also found in sand. Sandy food does not sound appealing…
2. Beef Burgers Are Made From 100s Of Cow's Parts
Hundreds and hundreds of cows are thrown into huge machines and ground up into beef patties. This means that while you bite into your beef burger, you could be eating different parts of hundreds of different cows.
1. Fast Food Egg Dishes Are Actually Made From Glycerine
To cut down production costs many fast food chains stopped using real eggs for their egg dishes and instead supplemented it with glycerine. Gylcerine is the chemical you'll be familiar with from soaps, shower gels and aftershaves, as it is the same substance used in these products.