Celebrity Autopsies With Disturbing Discoveries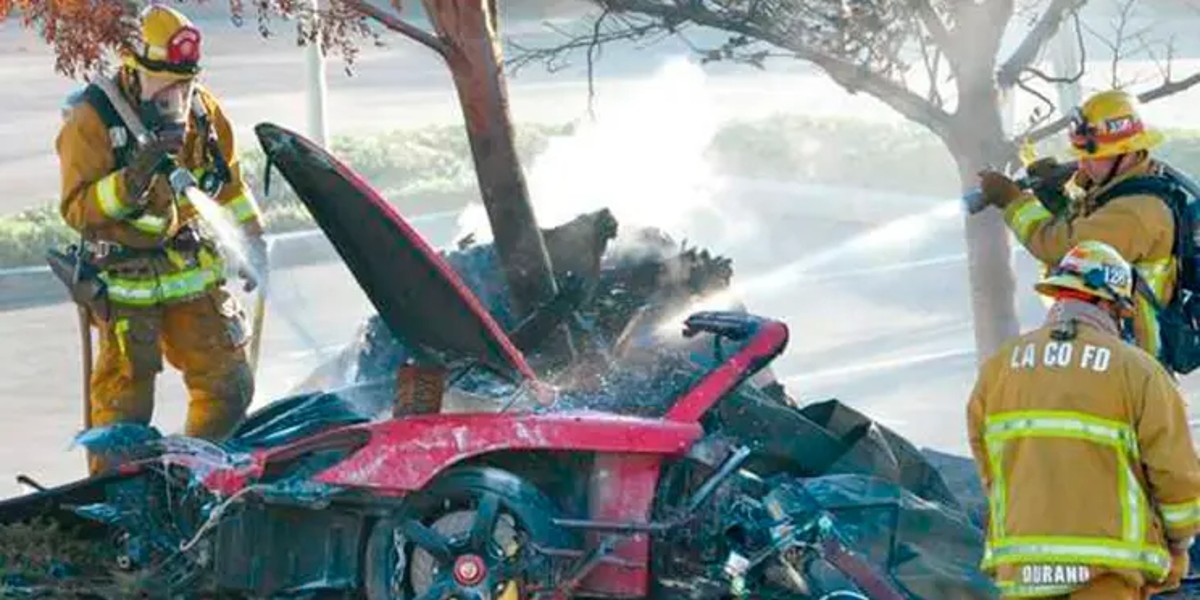 Brandon Lee
Image Source: The Hollywood Reporter
Brandon Lee's appearance in the cult movie "The Crow" should have been a continuation of an amazing career, but it was cut short when he was accidentally shot on set and unable to be saved during surgery. During the autopsy, it was discovered that a .44-caliber bullet had potentially torn through his abdomen before lodging in his spine. The discovery began huge questions about the use of weapons on movie sets.
Prince
Image Source: The Guardian
Fans of music will know the tragic passing of iconic musician Prince, whose death came out of the blue. Prince was the King of the 80s and 90s music scene, with incomparable hits like Purple Rain and When Doves Cry. Living the life of a rock star, it wouldn't be surprising to learn that some interesting facts were brought up during the autopsy.
Prince
Image Source: Showbiz Cheat Sheet
Prince's body was discovered in an elevator at his home, and the autopsy stated the cause of death as an accidental overdose. The musician had consumed a lethal amount of painkillers, believed to be taken following Prince's hip surgery previously. While 70 micrograms of the drug would certainly be fatal, Prince was found with 450 micrograms in his liver.
Robin Williams
Image Source: Biography
Fans of Robin Williams were devastated to hear of his passing, as the actor's comic genius seemed immortal. His epic career includes timeless films such as Mrs Doubtfire and Good Will Hunting, and he dominated both the comedy stage and screen with his iconic characters.
Robin Williams
Image Source: SFGATE
Robin Williams had been suffering from depression and what was believed to be Parkinson's Disease; he was found in what was believed to be suicide in his California home. The autopsy officially confirmed it was suicide, as well as antidepressants in his system. The autopsy also revealed that Williams didn't, in fact, have Parkinson's, but Lewy Body Disease – a condition easily confused with Parkinson's.
Paul Walker
Image Source: Motor1.com
The star of Fast and Furious's death was particularly cruel when it was discovered he died in a car crash. He was a passenger in a Porsche Carrera GT was the driver lost control, resulting in the car crashing and bursting into flame. The driver died alongside Paul Walker.
Paul Walker
Image Source: New York Post
Paul Walker's autopsy revealed that the actor had tried to defend himself by shielding his head and face from the impact of the crash. His official cause of death was trauma and burn injuries. His jaw, collarbone and pelvis was also broken, as well as Walker's body being so burnt it was unsuitable for organ donation.
Brittany Murphy
Image Source: Vanity Fair
Brittany Murphy had a fantastic career at a young age, starring in iconic movies like Clueless and 8 Mile. She seemed to go quiet for a while, taking a step back from movies, but was no less an interest to the media, where she became a tabloid favourite after her high profile marriage.
Brittany Murphy
Image Source: The Brag
Brittany tragically died at age 32, and initially her cause of death was believed to be pneumonia. Apparently her body had been in a weakened immune state and unable to fight off the infection. However, years after her death, her father called for an investigation to be conducted, and it was discovered that there was a presence of heavy metals, implying poison.
Cory Monteith
Image Source: Biography
The death of Cory Monteith came as a shock for many, as the 31-year-old should have had a long life ahead of him. He'd been a star of the hit show Glee, and was in a relationship with fellow Glee actress Lea Michele, who played his on-screen girlfriend.
Cory Monteith
Image Source: Edition.CNN
Monteith's body was discovered in his hotel room in Vancouver. The actor had previously been in a rehab center for substance abuse issues. Monteith had been dead for hours by the time his body was found, and evidence suggested that his death came as a result of alcohol and drugs, with two empty champagne bottles, drug residue and a needle.
Heather O'Rourke
Image Source: TCM
Heather Rourke was famous for her role as the little girl from the Poltergeist movie, a series of films she never got to complete due to her tragic and untimely death. She was rushed to hospital with abdominal pains, and died during emergency surgery. The cause of death had been reported as an abdominal obstruction she had been unknowingly suffering her entire life.
Michael Jackson
Image Source: Biography
Many people have been fascinated by the King of Pop's life – and death – and Michael Jackson's passing came as a shock to fans across the world. He was in the middle of rehearsing for a series of comeback shows with no signs of stopping when his body was found at the age of 50 in his bed.
Michael Jackson
Image Source: NPR
His body was found by his personal physician, Conrad Murray. Murray was then convicted of involuntary manslaughter over Jackson's death, due to the fact that a high amount of serious prescription drugs were found in his system, and that it was suggested only the drugs could have been responsible for his death.
Carrie Fisher
Image Source: TCM
Carrie Fisher was an icon to many, and the sad news came of her going into cardiac arrest during a flight. She died in hospital after the plane touched down. But despite Fisher's well-known dealing with illicit substances, and drugs being found in her system during the autopsy, her official cause of death was ruled as sleep apnea.
David Carradine
Image Source: Showbiz Cheat Sheet
The 72-year-old actor was found in a hotel room in Bangkok with a rope around his neck, causing suspicion that he had died of asphyxiation by hanging. Although suicide may be the first thing to come to mine, other evidence from the scene – such as what Carradine was wearing – suggested that the actor actually died from accidental death due to a sex-related act gone wrong.
Michael K. Williams
Image Source: Los Angeles Times
The actor's body was found in his home after Williams failed to show up for an engagement, and heroin in the room led to a suspected death via overdose. However, the results of the autopsy revealed a cause of death of acute drug intoxication, a mix of heroin, cocaine and extremely strong painkillers.
Johnny Lewis
Image Source: Los Angeles Magazine
Lewis had been a rising actor, but was found dead in the driveway of a villa he was renting. He had either jumped or fallen to his death, with fatal injuries to his skull. The villa's owner had been found strangled and beaten to death. The actor's history of drug abuse was first believed to have played a part in the two deaths, but the autopsy didn't reveal any information of intoxication.
Tawny Kitaen
Image Source: NBC News
Kitean was an 80s music video star, best known for those hard-hitting rock songs with the memorable love interest the band's all singing about. One of the most well known was with the band Whitesnake, whose frontman she went on to marry (and divorce). She suffered with cocaine and prescription painkiller addiction through her life.
Tawny Kitean
Image Source: TMZ
She tragically died at 59 in her home in California. The autopsy report revealed that the actress had died of natural causes, and namely an enlarged heart that had struggled to effectively pump blood. In her system was also found antidepressants and anti-anxiety medications.
George Michael
Image Source: iNews
George Michael was a music legend, both with band Wham! and his solo career. The singer died at the all-too-young age of 53, found in his bed after passing away in his sleep. The autopsy concluded that Michael died from complications with heart disease.
Cameron Boyce
Image Source: The Hollywood Reporter
Cameron Boyce was a Disney Channel star and a rising young actor with a huge career ahead of him. But in 2019, he was found unresponsive in his home, and it was later revealed that he had tragically died in his sleep due to a seizure resultant from an ongoing medical condition. The autopsy confirmed that the death was a natural accident.
Bubba Smith
Image Source: CNN International
Bubba Smith was a star of Super Bowl, as well as landing a few movie roles, too. His death came at the age of 66 when he was found in his LA home. The autopsy revealed that he died from acute drug intoxication related to weight loss medication, as well as suffering from high blood pressure, blocked arteries and an enlarged heart.
Heath Ledger
Image Source: Looper
Heath Ledger's untimely death shocked the world, and especially due to his recent award-winning portrayal of The Joker in The Dark Knight. His body was discovered by a housekeeper, initially suspected as an overdose, and the autopsy revealed that sleeping pills were in his system during his time of death. It was ruled that he died of accidental drug intoxication.
Junior Seau
Image Source: The New York Times
Junior Seau had an over 20-year career as one of the best NFL linebackers. He was found by his girlfriend in 2012 dying of a gunshot wound with a gun next to his body – and the autopsy confirmed that the cause of death was suicide via a self-inflicted gunshot wound.
Anna Nicole Smith
Image Source: New York Post
Glamour model Anna Nicole Smith was found unconscious in her hotel room in 2007, and sadly passed away after being taken to hospital. Her death was originally a shocking mystery, but the autopsy ruled that her death was the result of an accidental drug overdose. A variety of prescription drugs were found in her hotel room, leading to a fatal combination.
Amy Winehouse
Image Source: Glamour Magazine
Singer Amy Winehouse stunned the world with her unique vocals, until 27-year-old Winehouse was found dead after police were sent to her home. It was later discovered that she sadly died of alcohol poisoning; she had recently struggled with heavy drinking and it was this that pushed her body into a comatose state and resulted in her difficulty to breathe.
Natalie Wood
Image Source: NBC News
Natalie Wood was a famous actress who sadly passed away at the age of 43. Her body was found by a lifeguard off Catalina Island after she had left a yacht she had been sailing on with her husband. The cause of death was officially labelled as accidental drowning, but it was found that Wood had bruises and suggestions of assault on her body before dying.
John Bonham
Image Source: Louder
Led Zeppelin's drummer John Bonham passed away after consuming a high amount of alcohol; he had been drinking throughout the day, passed out and died in his sleep at the age of 32. The cause of death was revealed to be asphyxiation through vomiting in his sleep.
Lucille Ball
Image Source: Los Angeles Times
The actress labelled 'the queen of television' of her time Lucille Ball – star of I Love Lucy – had previously undergone heart surgery which saw her recovered for around a week until she died 8 days later. The autopsy revealed that a part of the heart which had not been operated on ruptured and led to heart failure.