30 Celebrities That Were Murdered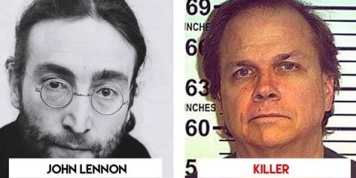 1. Sharon Tate: Stabbed 16 Times
Image Source: The Times
Sharon Tate, an actress married to director Roman Polanski and pregnant with his child at the time, was brutally murdered in 1969 by members of the Charles Manson Family – a cult notorious for this killing that would see Sharon Tate stabbed in her home 16 times.
2. Phil Hartman: Shot By His Wife
Image Source: Vulture
Phil Hartman was a comedian and actor, famous for his roles on Saturday Night Live and if you're a fan of the Christmas movie Jingle All The Way, you'll remember him as the neighbour. Hartman was murdered by his own wife in their home after she shot him three times in his sleep. She then took her own life.
3. John Lennon: Shot 4 Times By A Fan
Image Source: Billboard
In one of the most famous murders in history committed by a fan, legendary Beatles singer John Lennon was murdered outside his own home in New York, by David Chapman. Chapman shot Lennon four times and was sentenced to life in prison. He later claimed the murder was inspired by the book The Catcher in The Rye.
4. Christina Grimmie: Shot In The Head And Chest By A Fan
Image Source: Global News
Christina Grimmie shot to stardom when she appeared on The Voice and kickstarted her music career. She was later shot dead by an obsessed fan at only 22 years old. She had been signing autographs in Florida when the fan shot her once in the head and twice in the chest.
5. Nicole Brown Simpson: Stabbed To Death
Image Source: E! Online
Nicole Brown Simpson's murder was widely publicised due to her marriage to O.J. Simpson – the man who would also be accused of her murder. The actress was found stabbed outside her own home in California alongside friend Ron Goldman, who was also murdered.
6. Princess Diana (Conspiracy Theory): Died In A Car Crash
Image Source: The List
The majority of conspiracy theorists will stand by the idea that Princess Diana was actually murdered. She died during a car crash in Paris, and while it's widely maintained that the paparazzi pursuing her vehicle were responsible for the crash, theorists believe the royal family arranged to have her murdered.
7. JonBenét Ramsey: Head Trauma And Strangulation
Image Source: ABC News
Child beauty star JonBenét Ramsey's murder was famous for the way in which her body was found and the fact that her own parents were suspects. She was only 6 years old when her body was found in the basement of her family home. There was a ransom note found with her body, later believed to have been planted by her parents to cover up their crime of Ramsey's broken skull and strangulation.
8. Elizabeth Short, The Black Dahlia: Tortured And Cut In Half
Image Source: Famous People
The Black Dahlia murder remains unsolved, and has become the focus of many media adaptations. Elizabeth Short was an aspiring actress whose body was found in two pieces in the park of an LA neighbourhood. The body had been severed at the waist, her body drained of blood and cuts on the side of her mouth amongst other places.
9. Gianni Versace: Shot By A Serial Killer
Image Source: Town & Country Magazine
You'll know the name of Italian fashion designer Versace, who was murdered outside his own mansion after enjoying a morning walk. He was shot and killed by a serial killer who was also responsible for the deaths of 4 other people before later taking his own life.
10. Tupac Shakur: Shot 4 Times
Image Source: Rolling Stone
Rapper Tupac Shakur was killed in 1996 whilst riding as a passenger in his friend's car. After leaving a boxing match in Las Vegas, he was shot four times. He later died at the hospital, and his killer still remains unknown – but many believe his murder was due to a feud with rapper Biggie Smalls.
11. Sam Cooke: Shot By Hotel Manager
Image Source: uDiscoverMusic
Famous soul singer Sam Cooke was killed in 1964 by hotel manager Bertha Franklin, who fatally shot him. She claimed that Cooke had attempted to rape a young woman he was with before threatening Franklin's life. Many believe there was actually a conspiracy to have Cooke murdered.
12. Jam Master Jay: Shot In A Recording Studio
Image Source: The Mercury News
Fans of Run-D.M.C. will recognise the name of Jam Mastery Jay, who was murdered in 2002. He was shot in a recording studio in Jamaica, though the case remains unsolved and the killer unidentified. Was it a fan? Or someone who worked with him in the studio? A former NYPD detective claims that he knows who killed the DJ.
13. Marvin Gaye: Shot By His Own Father
Image Source: Smooth Radio
Legendary singer Marvin Gaye was murdered by his own father in 1984. Marvin had tried to break up a fight between his father and mother, and was then shot dead in their home. He was pronounced dead after arriving at the hospital, and his father was sent to jail.
14. John F. Kennedy: Assassinated By Gunshot
Image Source: www.history.com
The assassination of president John F. Kennedy is still spoken about to this day. He was assassinated in public whilst riding in his limousine through Dallas, Texas. He was then shot in both the neck and then the head, before being rushed to hospital and pronounced dead. His murderer was Lee Harvey Oswald.
15. Natalie Wood: Drowned Under Suspicious Circumstances
Image Source: Variety
Natalie Wood's death is still considered a mystery, but largely believed to have been murder due to the condition of her body. The actress had been on a yacht with her husband Robert Wagner when her body was later found in the ocean. She was said to have accidentally drowned, but the autopsy revealed bruises and a cut on her body.
16. Dimebag Darrell: Shot Whilst Performing On Stage
Image Source: Loudwire
The guitarist for the band Damageplan was murdered on stage during a performace. He was shot at a nightclub in Ohio by a crazed fan named Nathan Gale. Gale blamed Darrell for breaking up the band Pantera. Three other people were murdered in the shooting.
17. Adrienne Shelley: Hung And Made To Look Like Suicide
Image Source: The Daily Beast
Adrienne Shelly was a director found hanged in the bathroom of her studio apartment. Originally considered to be a suicide, it was later revealed through a footprint at the scene that it was actually murder staged to look like a suicide. A construction worker later confessed to her murder.
18. Andrés Escobar: Shot 6 Times
Image Source: The Bogota Post
Andrés Escobar was a soccer player for Colombia in the events that led to his death. He accidentally scored in his own team's goal, leading to Columbia's elimination from the World Cup in 1994. He was later shot six times by two men, believed to be in retaliation to his mistake.
19. XXXTentacion: Shot Multiple Times In The Neck
Image Source: Miami New Times
XXXTentacion was a rapper who was shot during an apparent robbery in 2018. He was 20 years old at the time of the attack, where he was shot multiple times in the neck by men leaving a motorsports store. He died due to this injuries, and his death was during a time he was facing charges of domestic violence against his pregnant girlfriend.
20. Carl Switzer: Shot In The Stomach
Image Source: The Famous People
Carl Switzer was an actor best known for his appearance in the 'Our Gang' comedies, as Alfalfa. He died during an altercation over $50 dollars, where the man he was arguing with shot him to death. The man claimed Switzer actually threw a knife at him before he shot him in the stomach.
21. Rebecca Schaeffer: Shot By Her Stalker
Image Source: Zyri
Rebecca Shaeffer was a model who turned to acting – a move which would cause an obsessed fan to seek vegeance. In 1989, she was shot in the doorway of her home and killed by fan Robert John Bardo, who had become jealous after seeing her in bed with another man on TV during one of her acting roles. He had been stalking her for years.
22. Dominique Dunn: Strangled By Her Ex
Image Source: All That's Interesting
Actress Dominique Dunn, who appeared in movies such as The Poltergeist, was murdered when her ex-boyfriend John Thomas Sweeney strangled her. The murder occurred in the driveway of her own home. While she survived the strangulation itself, she was placed on life support at hospital only to never regain consciousness and later died.
23. Dorothy Stratten: Shot By Her Estranged Husband
Image Source: ABC.com
Dorothy Stratten was a Playboy model who was murdered at 20 years old. Her killer was her estranged husband and manager Paul Snider. He shot the model before turning the gun on himself in their Los Angeles apartment. When her body was found, there was also evidence that she'd been raped and beaten.
24. Biggie Smalls (The Notorious B.I.G.): Killed In Drive-By Shooting
Image Source: The Guardian
It was theorized that rapper Tupac was shot and killed due to his rivalry with Biggie Smalls, and The Notorious B.I.G. himself was also killed in a drive-by shooting with his murder remaining unsolved. The rapper was shot and killed after leaving a music award ceremony when stopped at a red light. He was shot four times.
25. Selena Quintanilla-Pérez: Shot By The Leader Of Her Fan Club
Image Source: Chulita Vinyl Club
Singer Selena Quintanilla-Pérez was only 23 when she was murdered. She should have had a bright future ahead of her, but instead, was murdered by the founder of the 'Selena fan club' in 1995. The fan, Yolanda Saldiver, was accused of embezzling money and, after buying a gun, lured Selena to a motel and shot her.
26. Stephanie Moseley: Shot By Her Husband
Image Source: Los Angeles Daily News
Stephanie Moseley was an actress who appeared in films such as The Twilight Saga: Breaking Dawn Part 1. She was murdered by her husband, rapper Earl Hayes, who killed her in an apparent murder-suicide. Their bodies were found after neighbours heard screams and gunshots.
27. Lord Mountbatten: Assassinated In A Bomb Attack
Image Source: Royal Over-Seas League
The uncle of the British Queen's late husband, Prince Philip, Lord Mountbatten was assassinated whilst lobster fishing on his boat. A radio controlled bomb had been planted on the boat by a member of the IRA, which was detonated leading to Mountbatten later dying of his wounds.
28. Steve McNair: Shot As He Slept
Image Source: Titan Sized
NFL player Steve McNair was found dead in his rented property with multiple gunshot wounds. His body was found next to the body of a woman he had been romantically linked with. It was believed the woman, Kazemi, shot him first whilst he slept and then shot herself in a murder-suicide.
29. Cristie Schoen Codd: Killed And Dismembered
Image Source: Alchetron
Cristie was a celebrity chef who went missing along with her husband in 2015. After a search of local contractor Robert Jason Owens' property, their dismembered remains were found in his woodstove and he was charged with their murders, which he later admitted to.
30. Lana Clarkson: Shot By Record Producer
Image Source: Grazia Daily
Lana Clarkson was an actress and model. She met record producer Phil Spector while working in LA, and was later found dead in his mansion. Spector was later found guilty of fatally shooting Clarkson, which he originally claimed as an 'accidental suicide'.