20. A remake has been proposed, but will involve drones rather than helicopters!
Back in March 2015, it was announced that work was underway on a Blue Thunder remake.
According to The Hollywood Reporter, producer Dana Brunetti (Fifty Shades of Grey) was developing the project.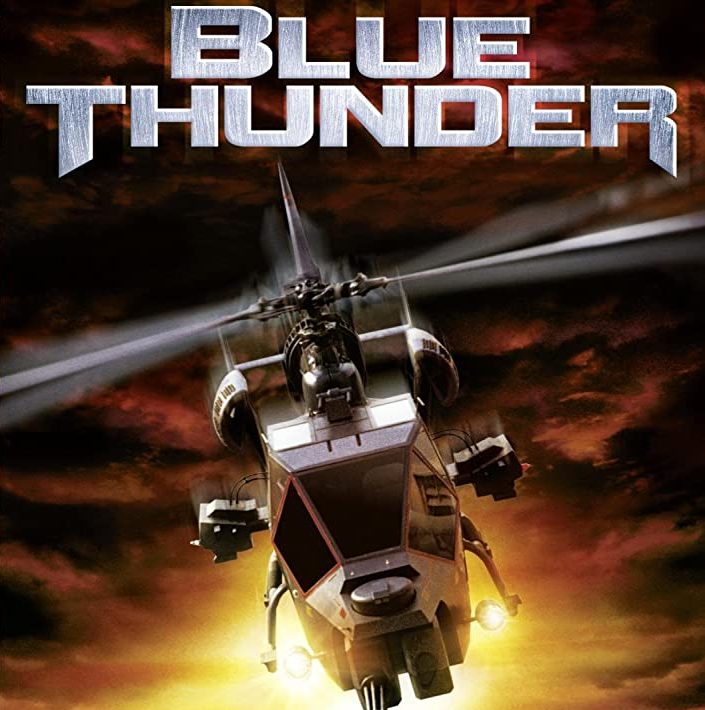 Attached to script the film was Craig Kyle, a Marvel Studios veteran who co-wrote and produced the Thor movies.
Apparently, it would be more focused on high-tech military drones rather than old-school helicopters.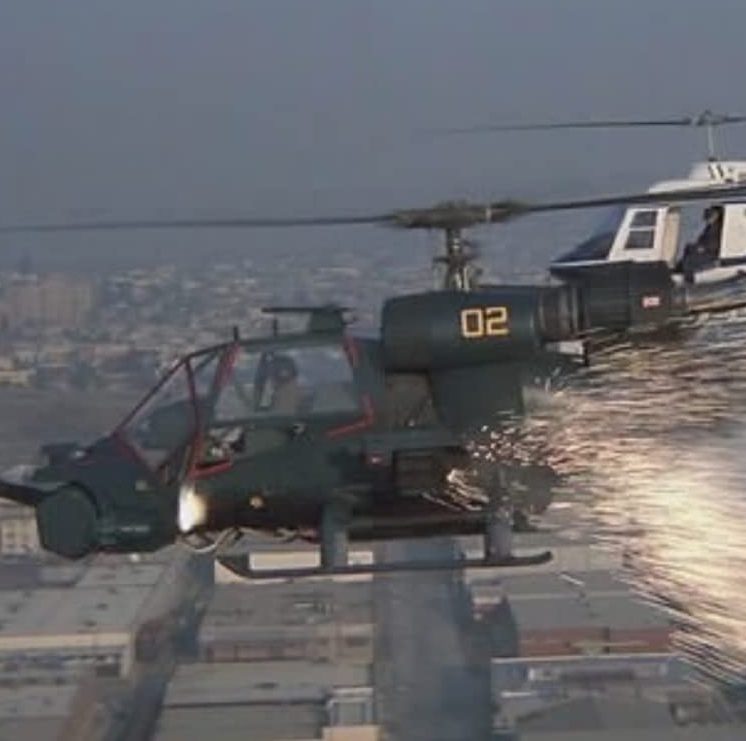 However, pretty much nothing further has been heard of the project in the years since.
So I guess you could say everything is pretty much up in the air right now (sorry not sorry).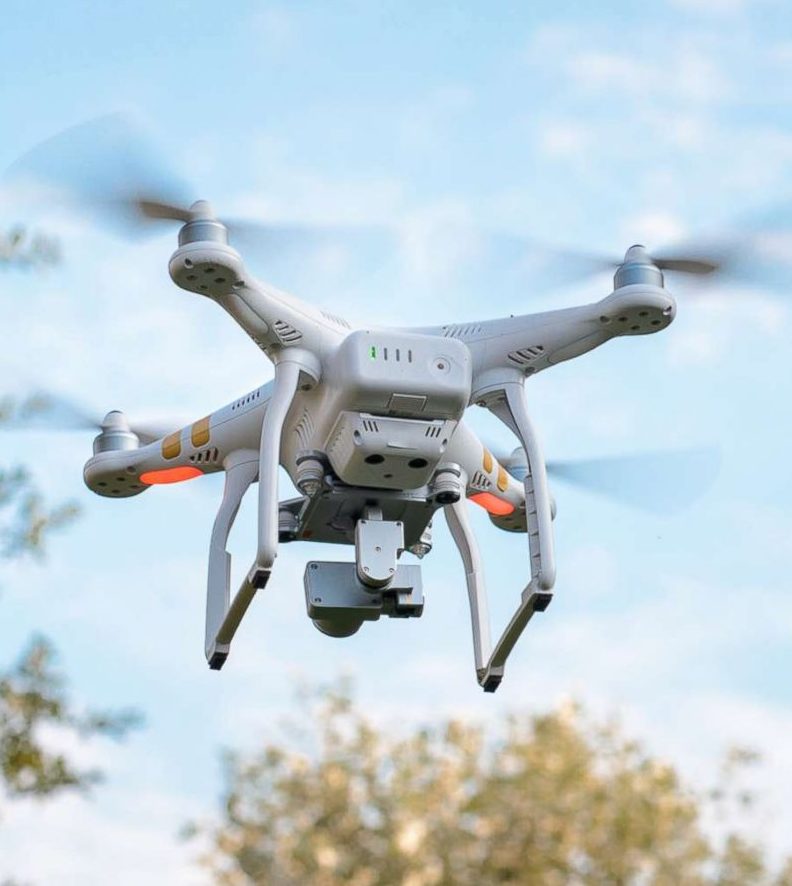 But keep an eye out! You never know what could happen in the crazy world of Hollywood.
19. There was a TV spin-off show, but lost out to Airwolf.
Following the success of the movie, a Blue Thunder TV show hit the small screen in 1984.
Deviating a bit from the movie, the show cast James Farentino as Blue Thunder's pilot Frank Chaney (not Murphy, as with Scheider's character).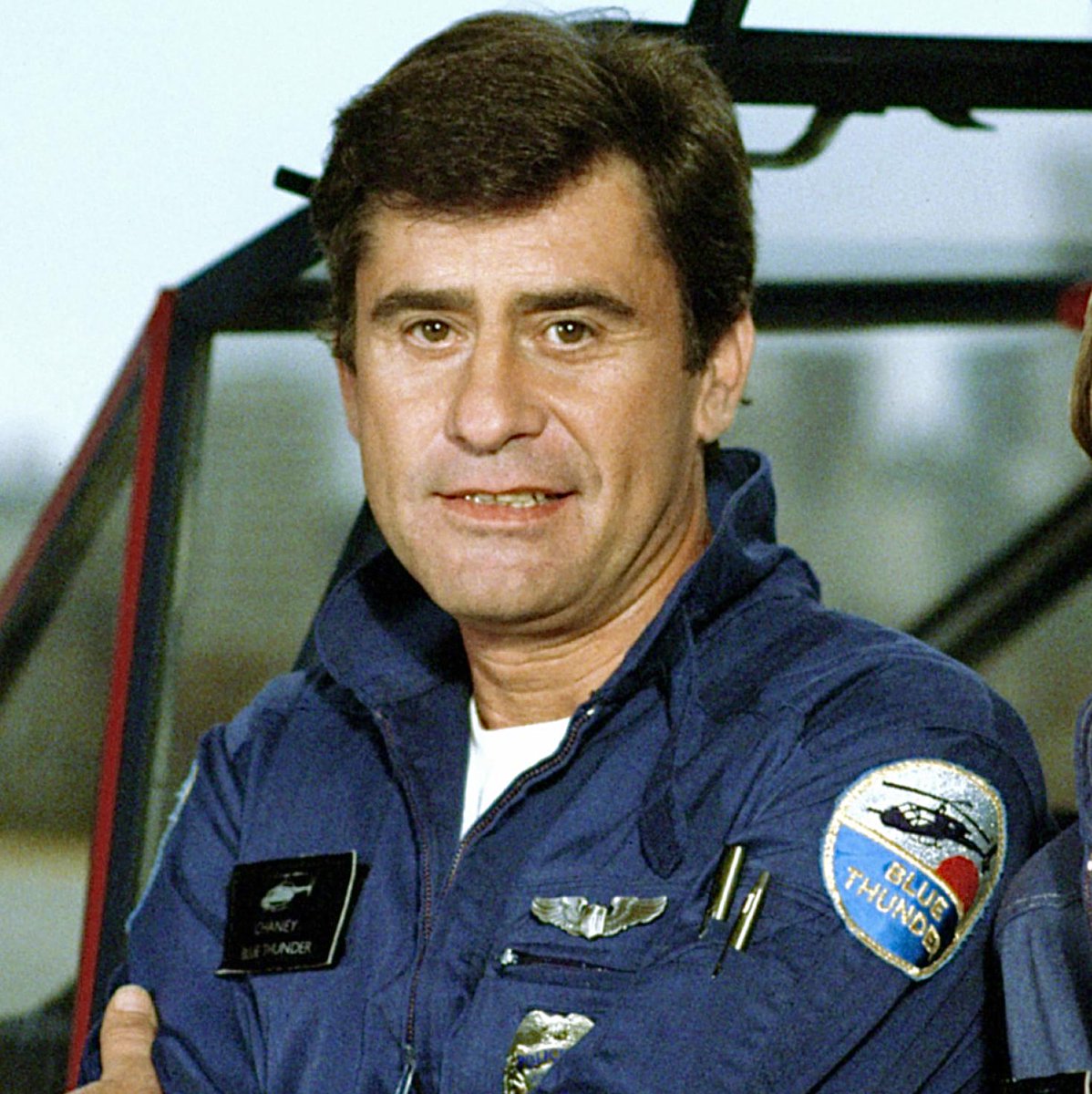 Farentino was joined by future Wayne's World star Dana Carvey as flight engineer Clinton Wonderlove, and Police Academy's Bubba Smith as the imaginatively named 'Bubba' Kelsey.
While the series seemed to have great potential, it, unfortunately, hit the airwaves around the same time as another TV series centred on a hi-tech helicopter: the aforementioned Airwolf.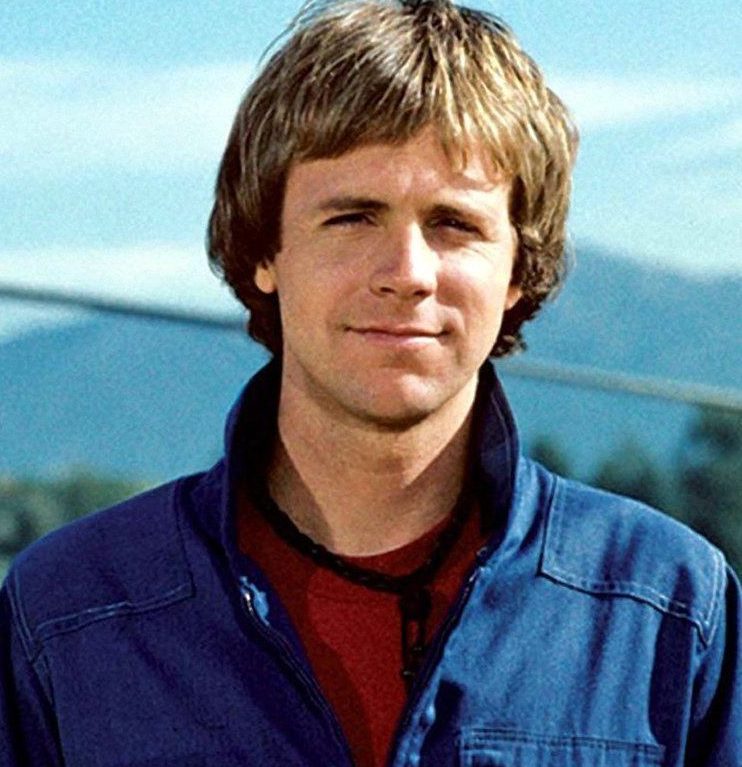 As if that wasn't bad enough, Blue Thunder also aired at the same time as massively popular soap opera Dallas, further denting its viewing figures.
This competition proved more than Blue Thunder could handle, and the show was cancelled after only 11 episodes.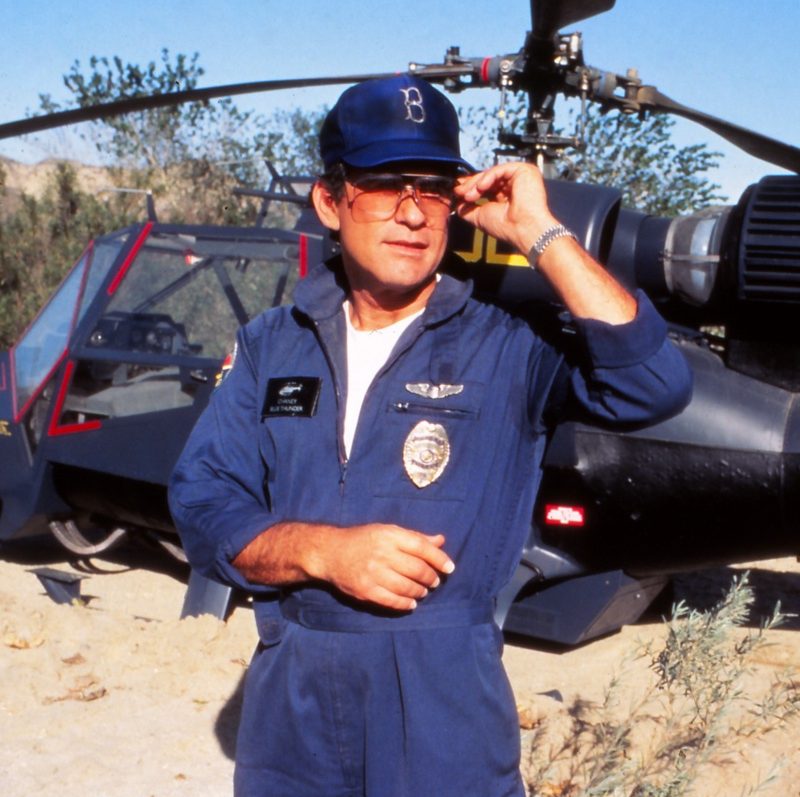 Oh, the things that could have been!
18. It kicked Flashdance off of the top box office spot.
Reviews for Blue Thunder were mostly positive, with Variety declaring it "a ripsnorting live-action cartoon, utterly implausible but no less enjoyable for that."
It also performed well enough at the box office to come in at number 17 on the list of 1983's top 20 box office hits.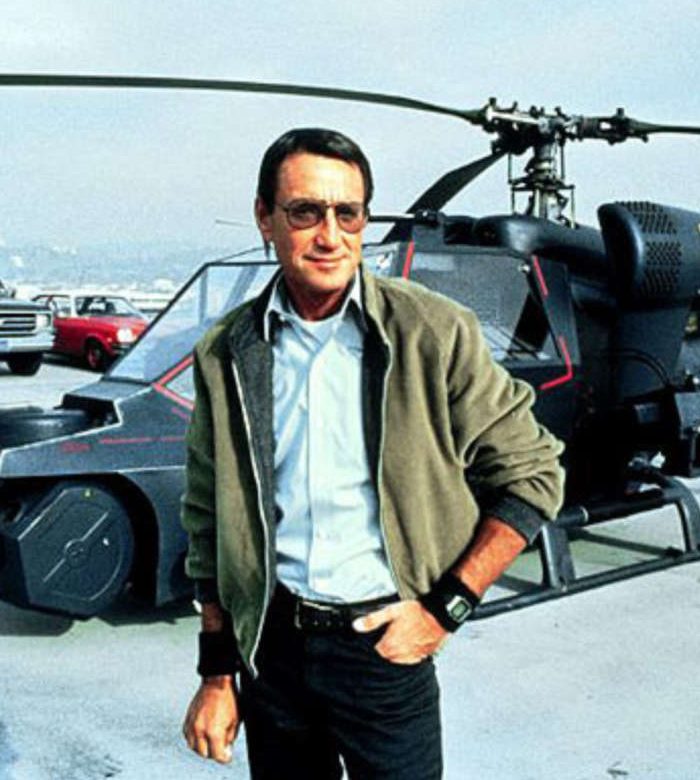 It also performed well enough at the box office to come in at number 17 on the list of 1983's top 20 box office hits.
It wound up making $42 million, a reasonable profit from its $22 million budget.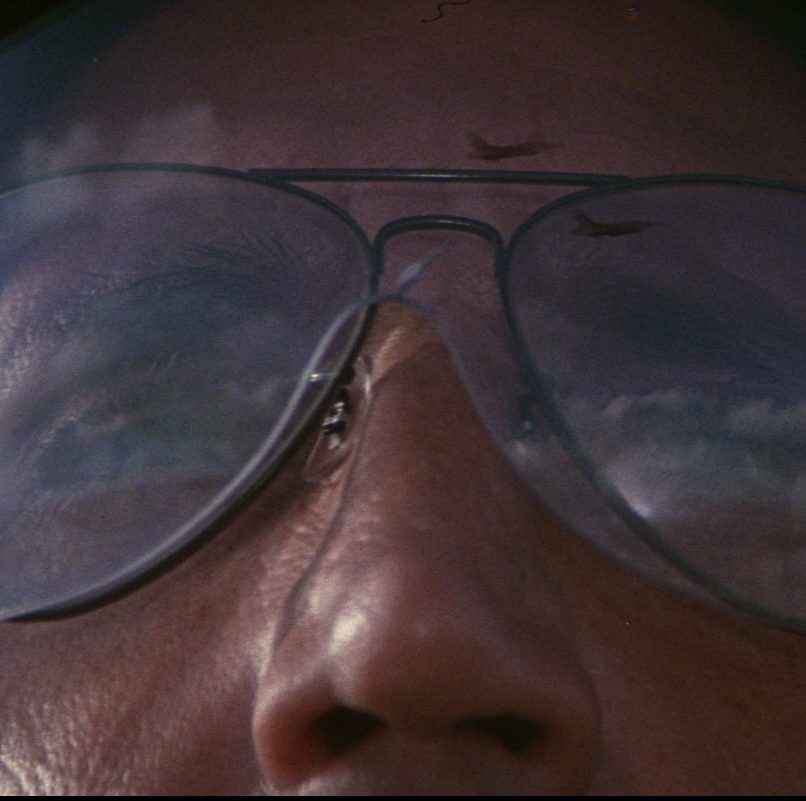 Significantly, it knocked Flashdance – one of the year's biggest movies – off the number one spot in the US on its release weekend.
However, Return of the Jedi still beat them all, as it made over $250 million.
17. Frank Murphy was originally meant to go on a destructive rampage.
Blue Thunder is remembered as a rip-roaring all-action adventure, but was originally conceived as something a lot darker.
The first draft of the Blue Thunder script was written in 1979 and had a more downbeat tone than the film which ultimately made it to screens in 1983.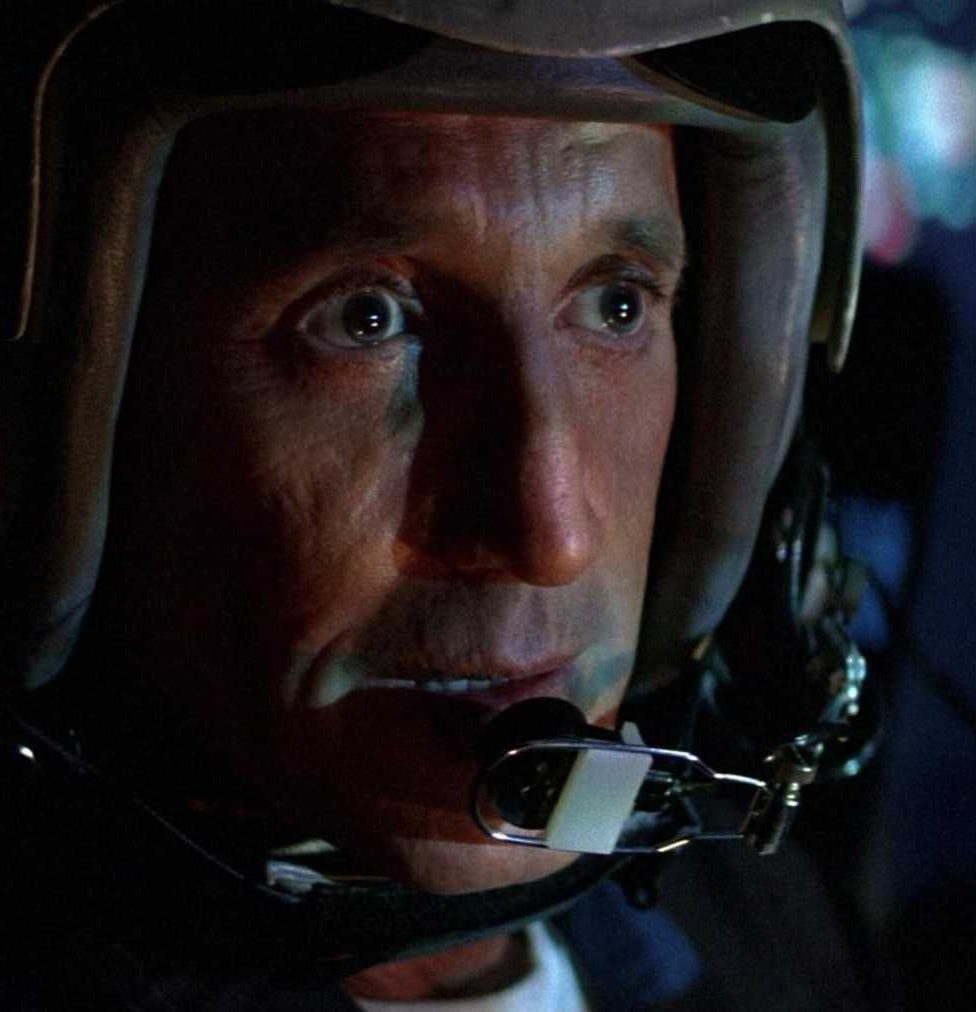 The film tackles the dangers of the police using helicopter surveillance and weaponry to control the population, but in the first draft this abuse of power is said to have been even harsher.
Blue Thunder was also one of a great many 80s movies in which the central character is a traumatised Vietnam veteran.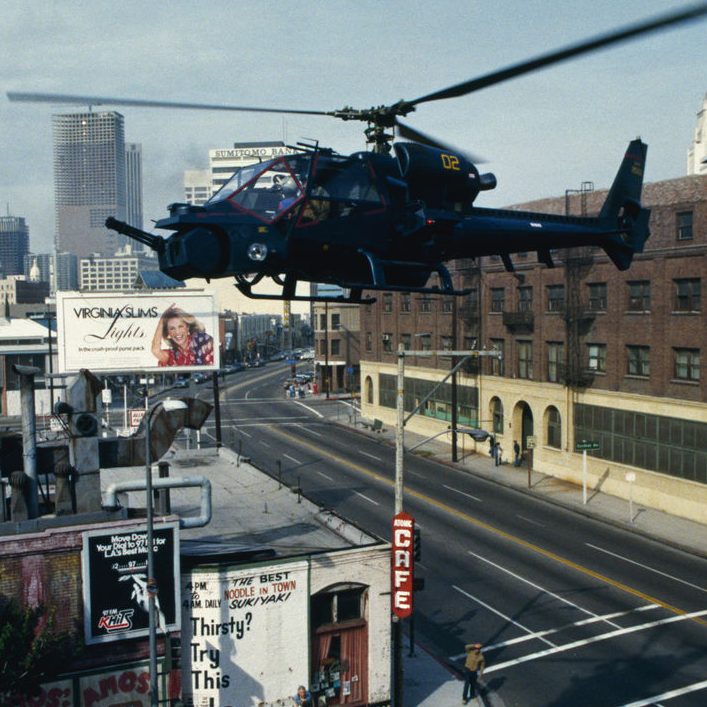 While this aspect of Roy Scheider's pilot Frank Murphy remains in the final film, it was originally handled very differently with his trauma taking a greater impact on him personally.
Not unlike the original Rambo movie First Blood, the original Blue Thunder script saw Murphy take the helicopter on a destructive rampage due to his declining mental state.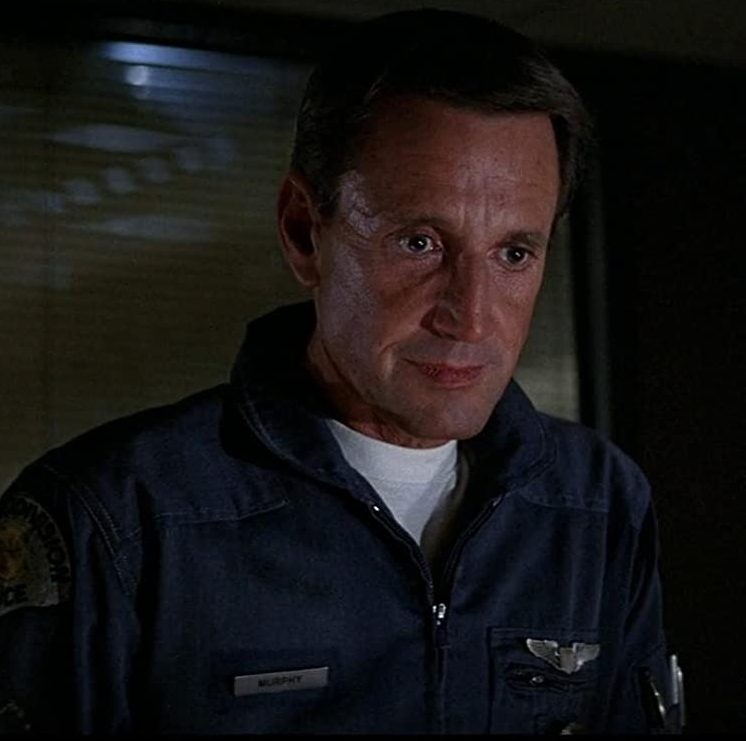 As powerful this storyline would have been, it's absence didn't hinder the film at all, in my opinion.
16. Roy Scheider only took the project on so that he didn't have to star in Jaws 3-D.
Blue Thunder originally hit screens in May 1983 – not long before the July release of another 1983 blockbuster, Jaws 3-D.
Given that Roy Scheider had starred in the first two Jaws movies, the makers of the third film were obviously eager for him to return to the franchise.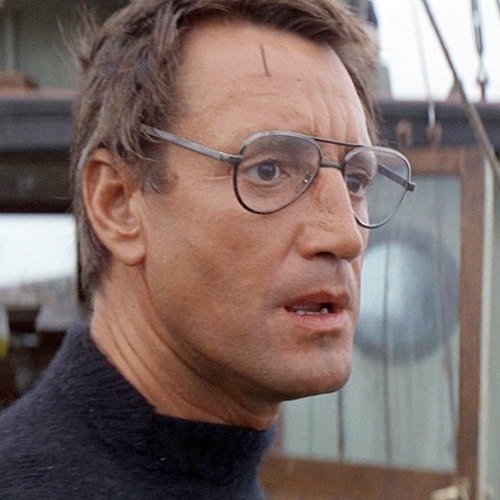 However, Scheider was extremely keen to avoid any talk of him appearing in Jaws 3-D at the time, and was quoted as saying that "they knew better than to even ask."
In fact, reports suggest that Scheider agreed to star in Blue Thunder primarily to ensure he would be unavailable for the third film in the man-eating shark franchise.
In the actor's absence, Jaws 3-D was built around the son of Scheider's character Chief Brody, with Dennis Quaid cast as a now-adult Mike Brody.
Jaws 3-D was savaged by critics, but it wound up a significantly bigger box office hit than Blue Thunder, grossing $88 million worldwide – more than double Blue Thunder's $42 million takings.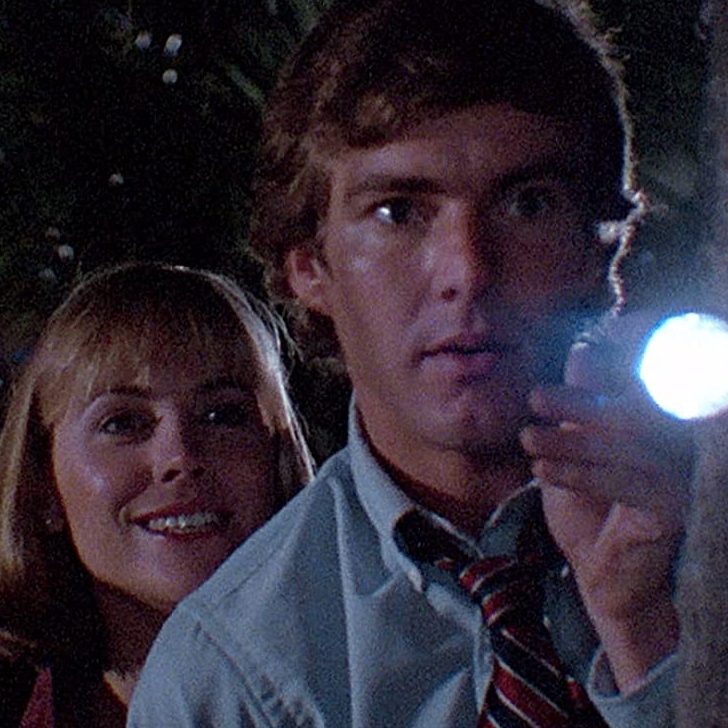 It just goes to show that money isn't everything!
15. Blue Thunder was made by the director of Saturday Night Fever and Short Circuit.
As well as having writers who made a mark elsewhere, Blue Thunder also had a significant director calling the shots.
John Badham, previously responsible for 1977 smash hit Saturday Night Fever, took the helm on Blue Thunder.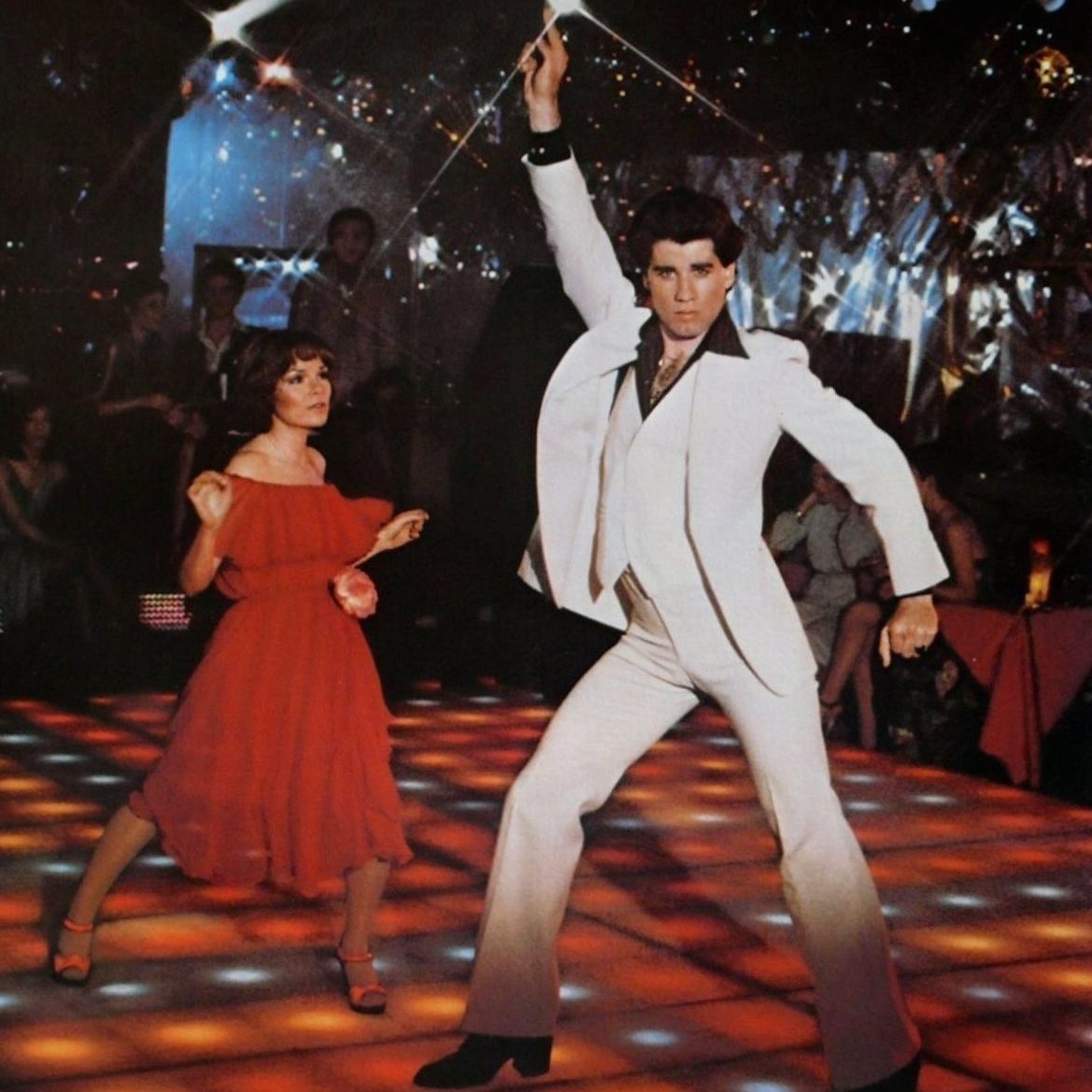 Following that classic disco drama, Badham directed a 1979 version of Dracula, with Frank Langella in the lead.
It evidently proved to be Badham's first big hit of the 80s, and he followed it with some more favourites from the era.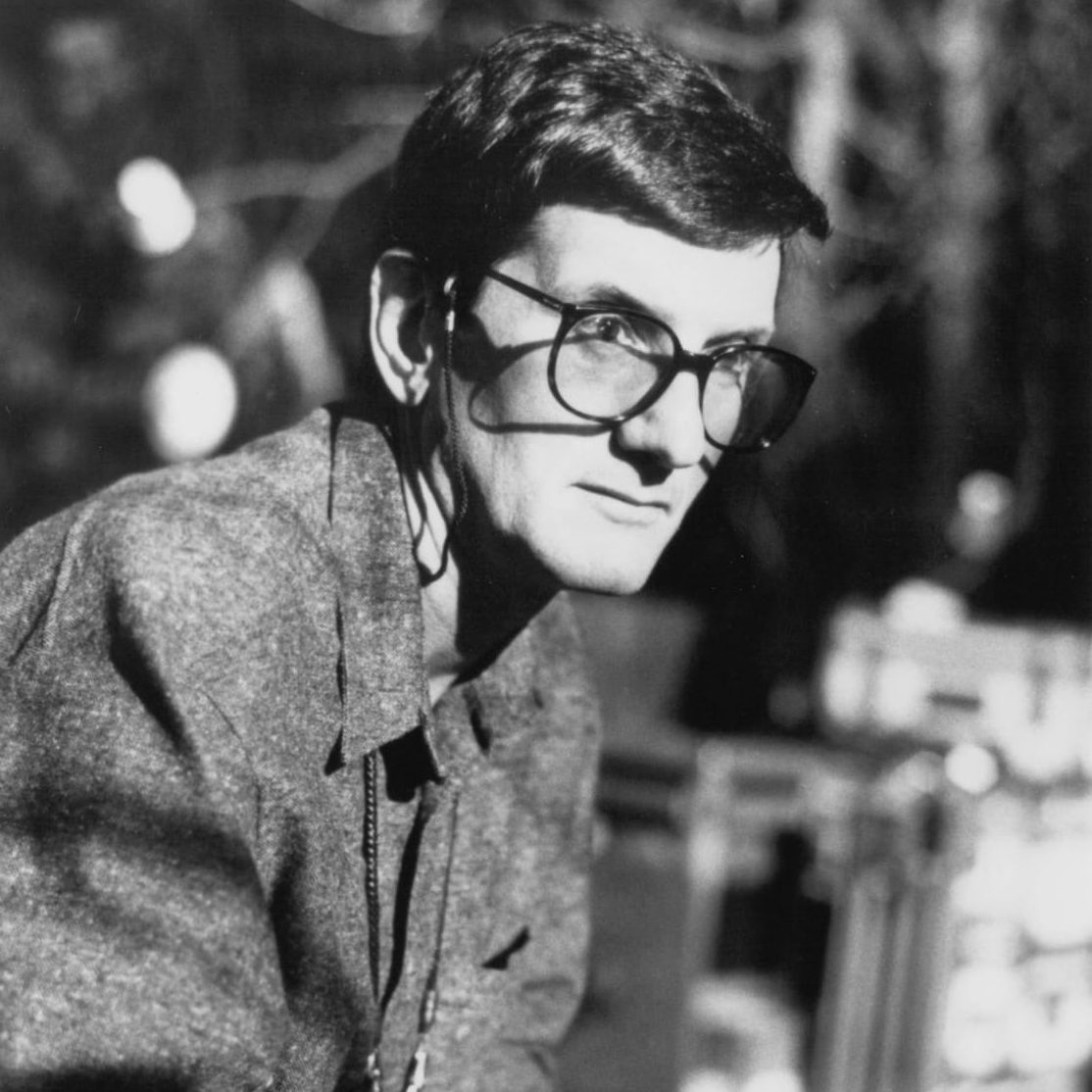 Later in 1983, Badham made beloved computer hacker hit WarGames, and in 1986 he directed family sci-fi comedy Short Circuit.
Badham's last feature film was 1997's Incognito, but he has continued to work extensively in TV, recently directing episodes of Supernatural and Siren.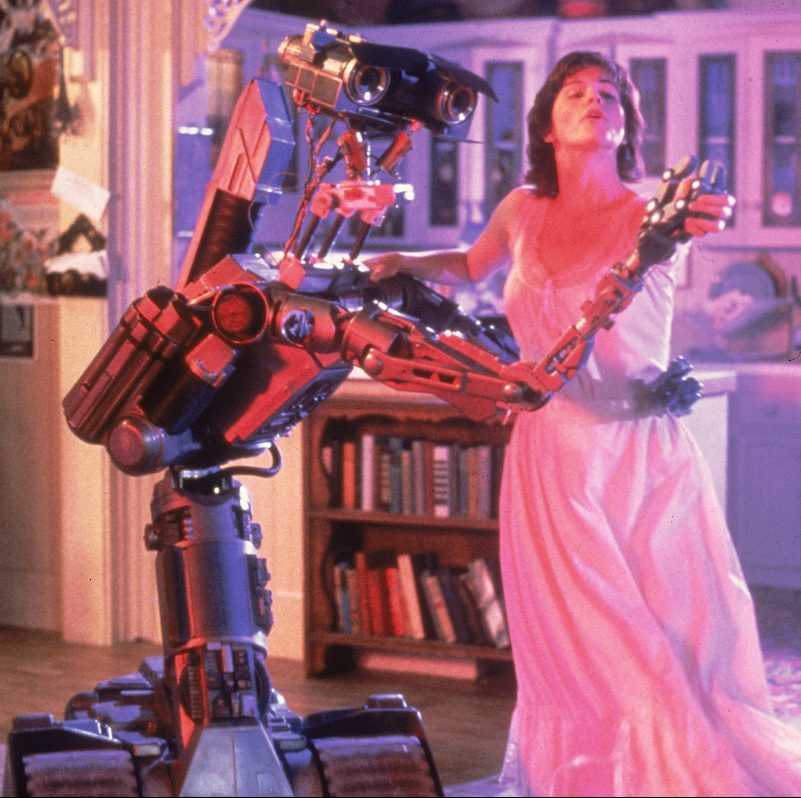 You have to admit, it's quite the resume!
14. The creator of Alien co-wrote Blue Thunder.
Blue Thunder was the brainchild of screenwriting partners Dan O'Bannon and Don Jakoby.
Both together and individually, the writers worked on some of the best-loved genre films of the era.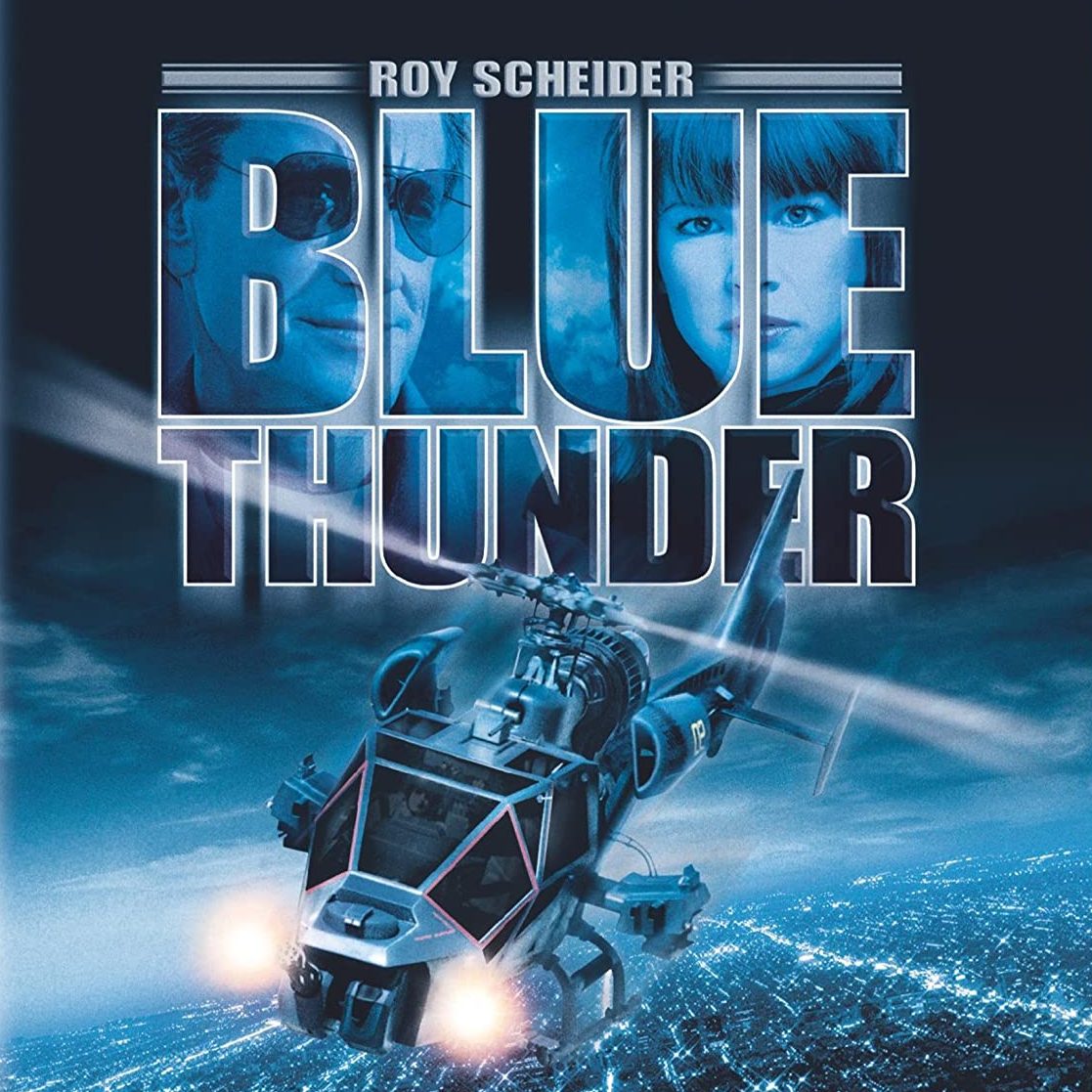 O'Bannon had the greatest impact, as the writer of 1979's Alien, and director of 1984's The Return of the Living Dead.
Jakoby, meanwhile, penned such films as Death Wish III, Arachnophobia and John Carpenter's Vampires.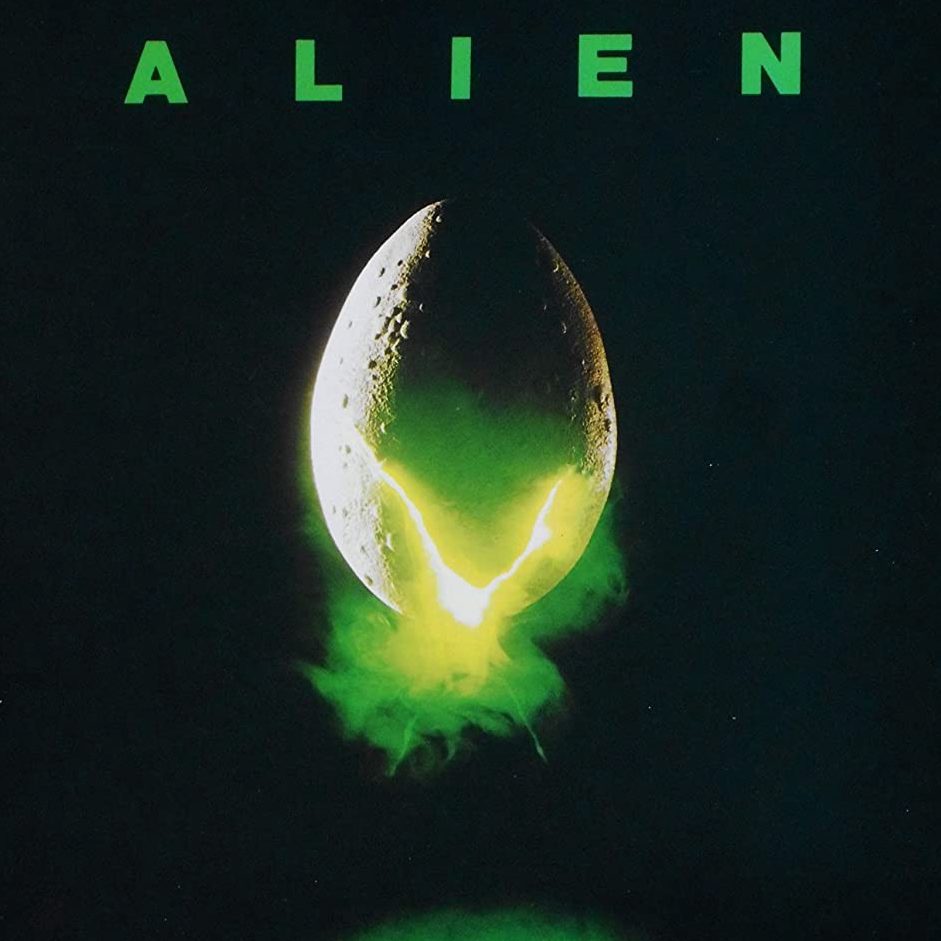 Together, O'Bannon and Jakoby also collaborated on Lifeforce (above), Invaders from Mars, and two episodes of the Blue Thunder TV series.
The writers were also roommates and were inspired to write Blue Thunder after they were often kept awake by police helicopters flying over their Hollywood apartment.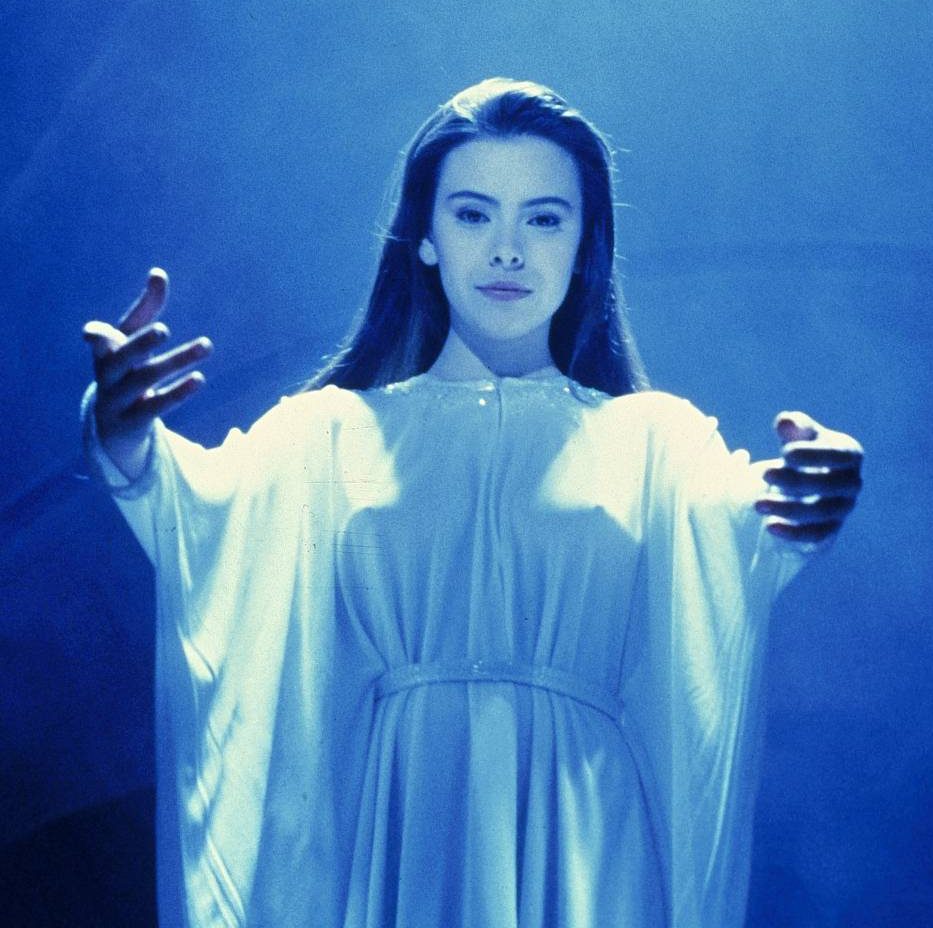 And thank god they did!
13. Cocktail's Bryan Brown was originally cast as Cochrane
Before Malcolm McDowell landed the role of Blue Thunder bad guy Cochrane, another actor very nearly played the part.
The role was originally given to Australian actor Bryan Brown, who was just breaking through in Hollywood at the time.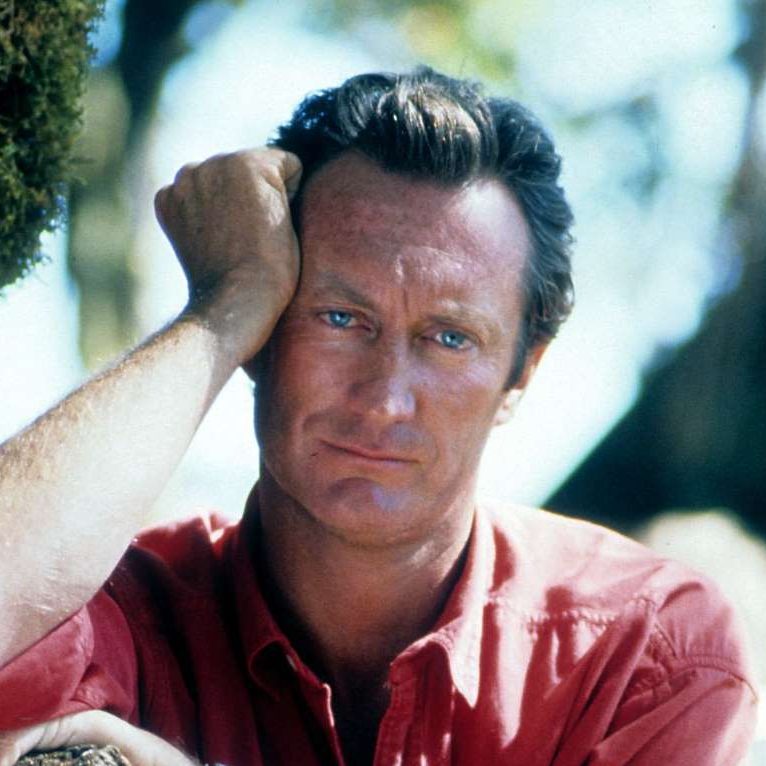 Unfortunately, a scheduling clash forced Brown to withdraw from director John Badham's film late in the day.
Brown pulled out of Blue Thunder in order to shoot a role in TV mini-series The Thorn Birds.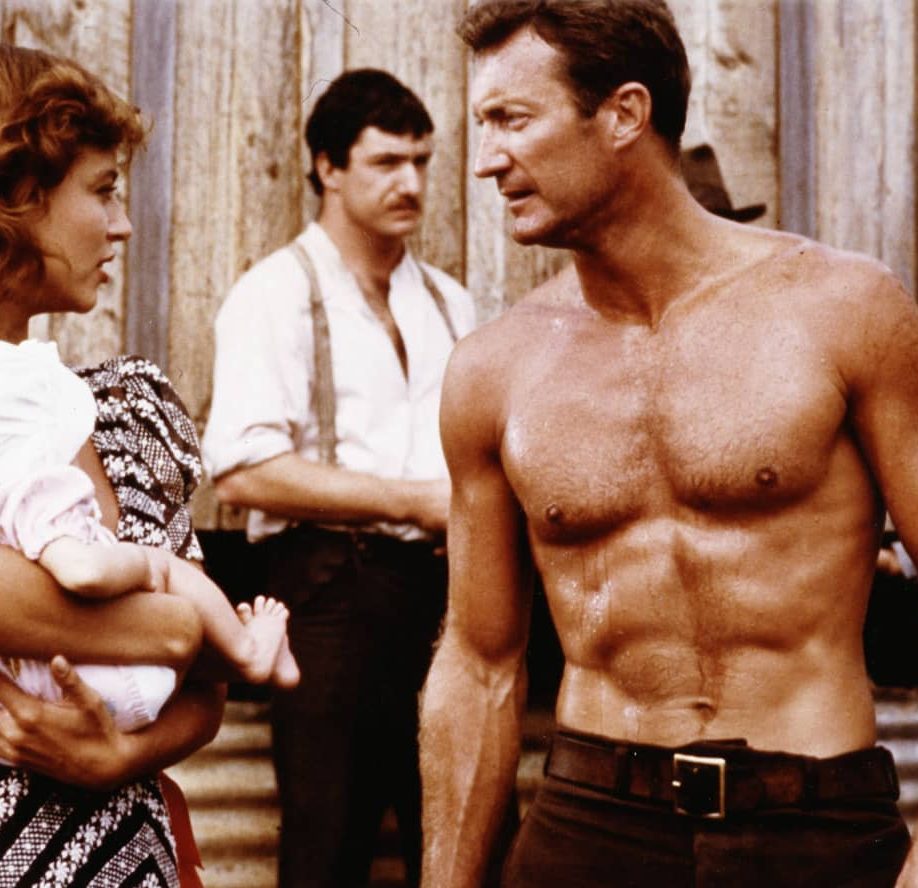 This cleared the way for Malcolm McDowell to take over the role of Colonel Cochrane.
Brown's later Hollywood movies included F/X and its sequel, plus Cocktail and Gorillas in the Mist.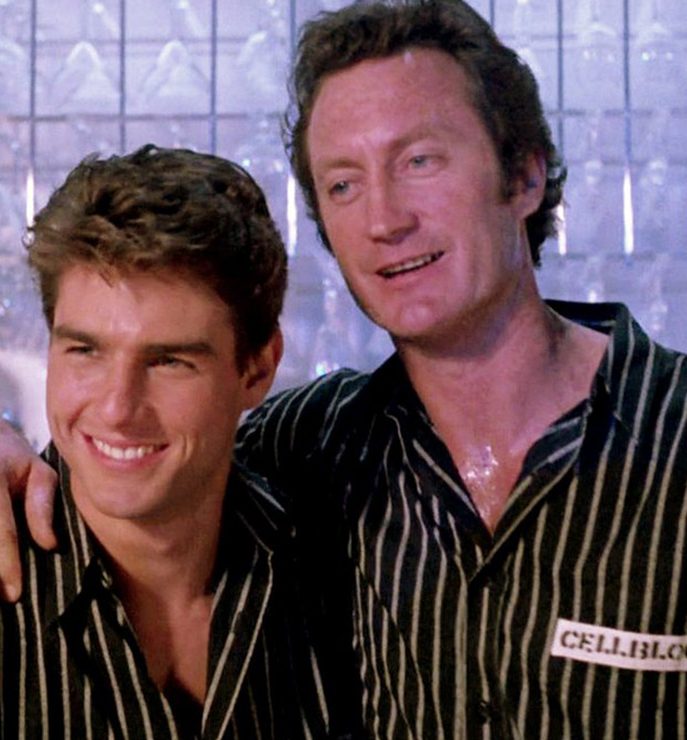 And I think he did a great job, don't you!?
12. They actually dropped real barbecued chicken from the sky during the Little Tokyo explosion.
Remember the scene in which barbecued chicken drops from the sky after a Little Tokyo restaurant is accidentally blown up by an F-16?
Well believe it or not, but that was genuine chicken.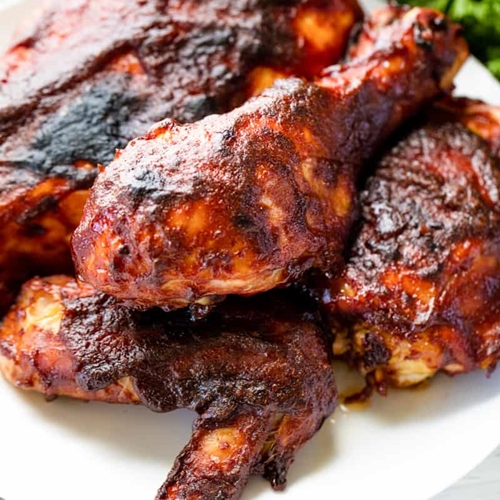 This perhaps surprising decision was made once the producers calculated that using rubber chickens would have worked out more expensive!
On shooting the scene, the cooked chickens were dropped from the sky on cranes just out of shot.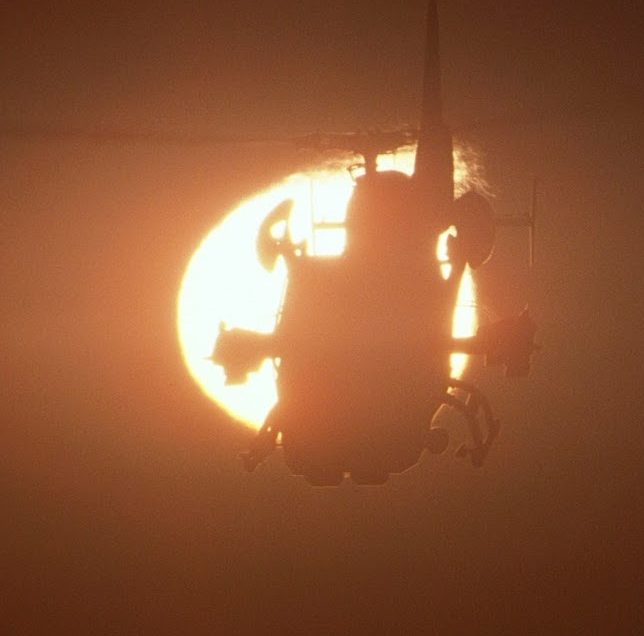 As you might expect, the local homeless population were very grateful indeed for this free food!
Reportedly people living rough on the street were hired to help with the post-shoot clean-up and allowed to keep the chicken.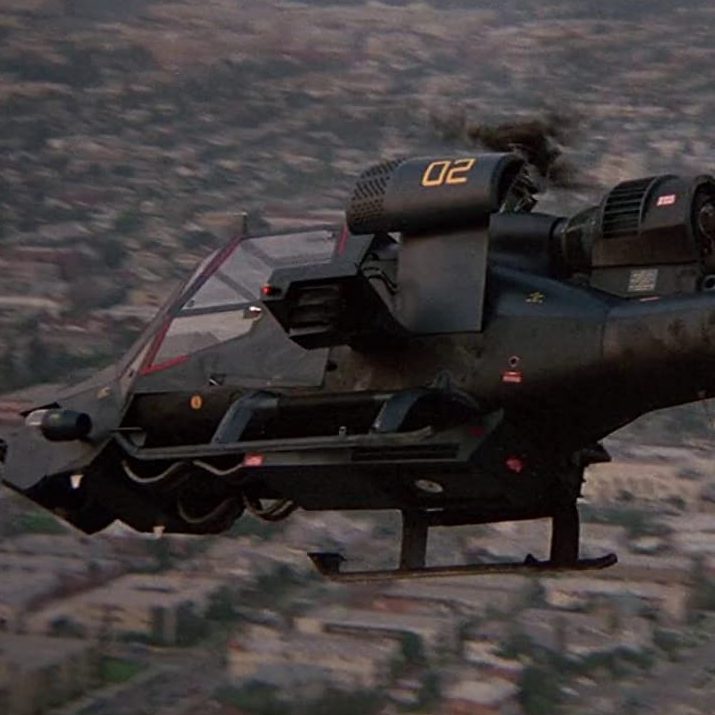 Now that's a weather forecast I can get behind!
11. Roy Scheider and Malcolm McDowell actually became best friends during filming.
Blue Thunder sees Roy Scheider and Malcolm McDowell cast as enemies, whose antagonistic relationship dates back to Vietnam.
Happily, the reality of Scheider and McDowell's relationship off-camera couldn't have been more different.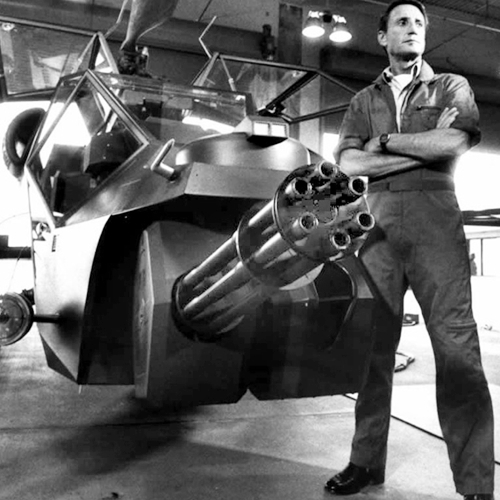 The two actors worked together for the first and only time on Blue Thunder, and became very good friends during filming.
McDowell even revealed that they "couldn't leave each other alone" during production, because they liked being around each other so much.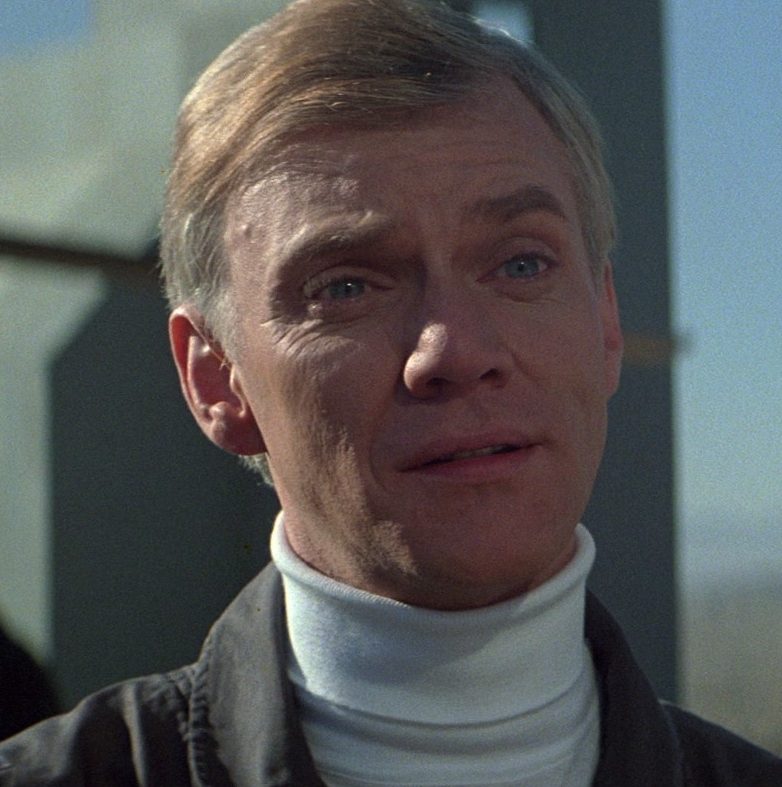 As a result, McDowell was of course extremely upset when Scheider passed away in 2004 at the age of 75.
Sadly, McDowell was shooting on location and had to miss Scheider's funeral, but made sure to send flowers and a letter of condolence.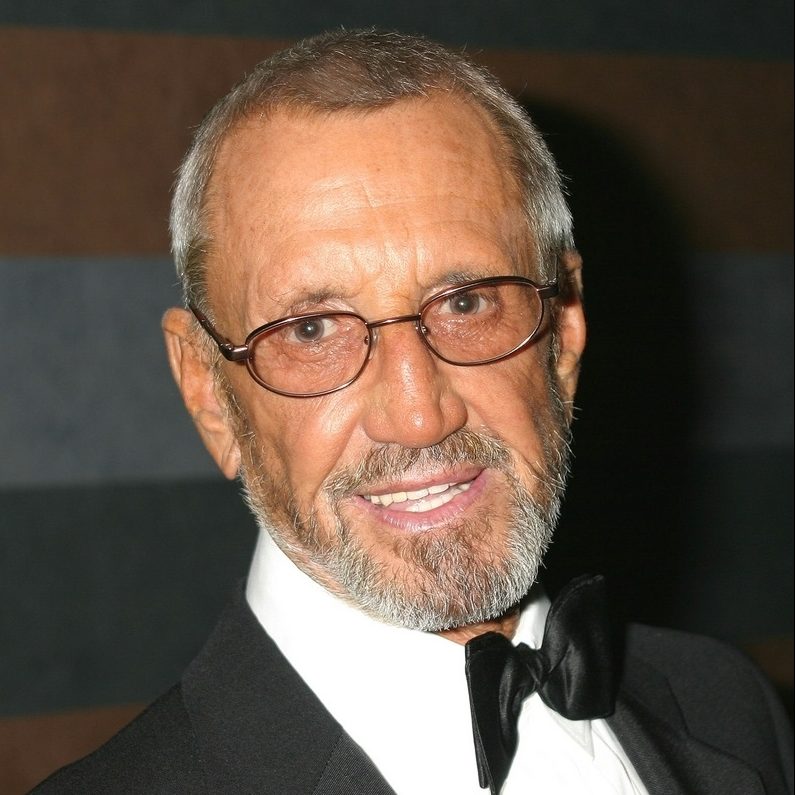 A cute story with a sad ending.
10. There was a different version of the yoga scene shot for the purpose of television.
For many viewers who saw Blue Thunder back in the 80s (in particular, a lot of the men in the audience) one sequence in the movie proved particularly memorable.
Today, however, it would most likely be deemed rather questionable.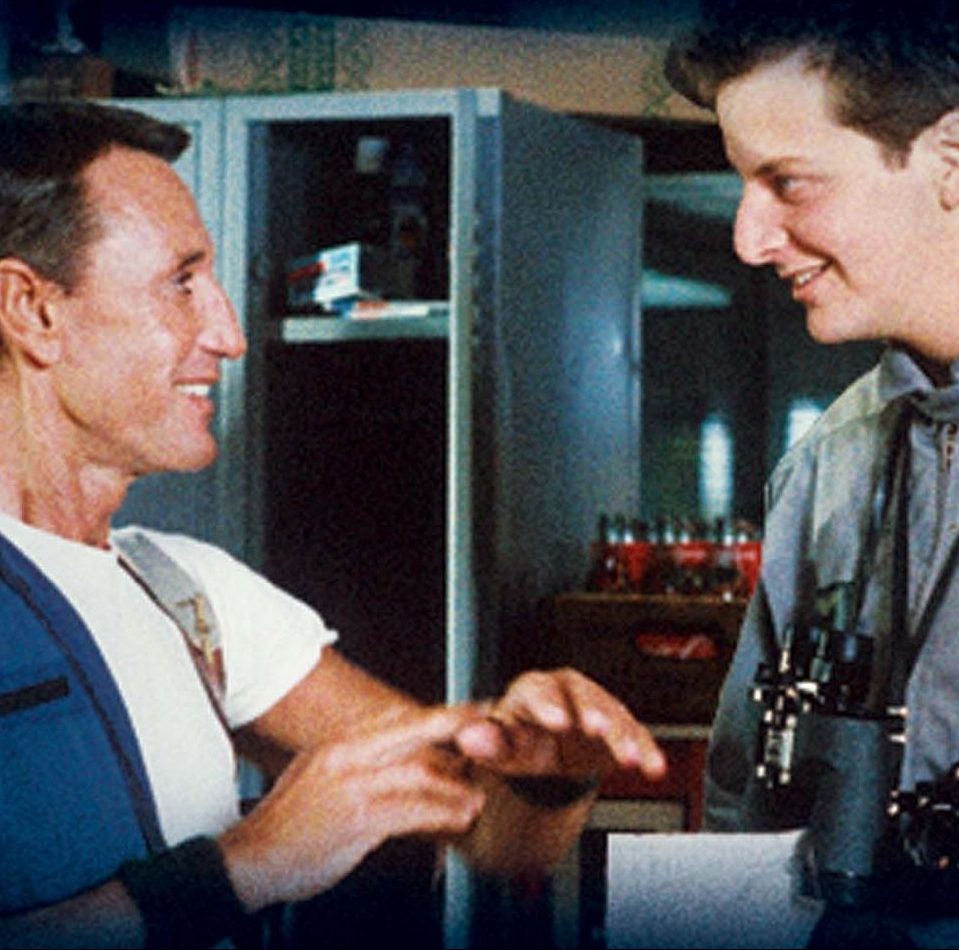 We are of course referring to the scene in which Scheider's Murphy and Daniel Stern's Lymangood voyeuristically watch a woman doing yoga through her apartment window.
In the theatrical cut of the movie, the woman performing yoga – Ana Forrest, who is listed in the credits as Anna with the character name of 'Nudy Lucy' – is fully naked.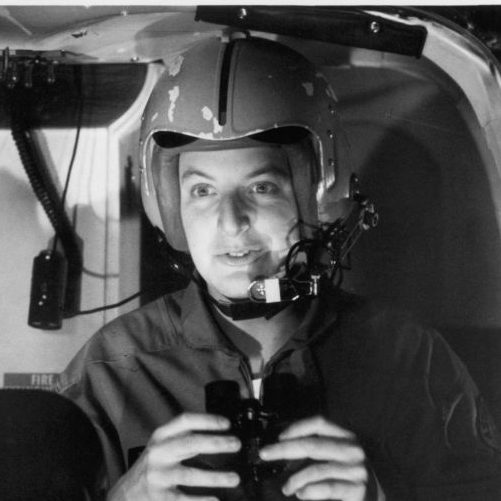 For the obvious reasons, the filmmakers were aware that this sequence would be an issue when it came to Blue Thunder being shown on television.
Because of this, an alternate take was also shot in which Forrest is wearing workout clothes, and adopting slightly less provocative poses.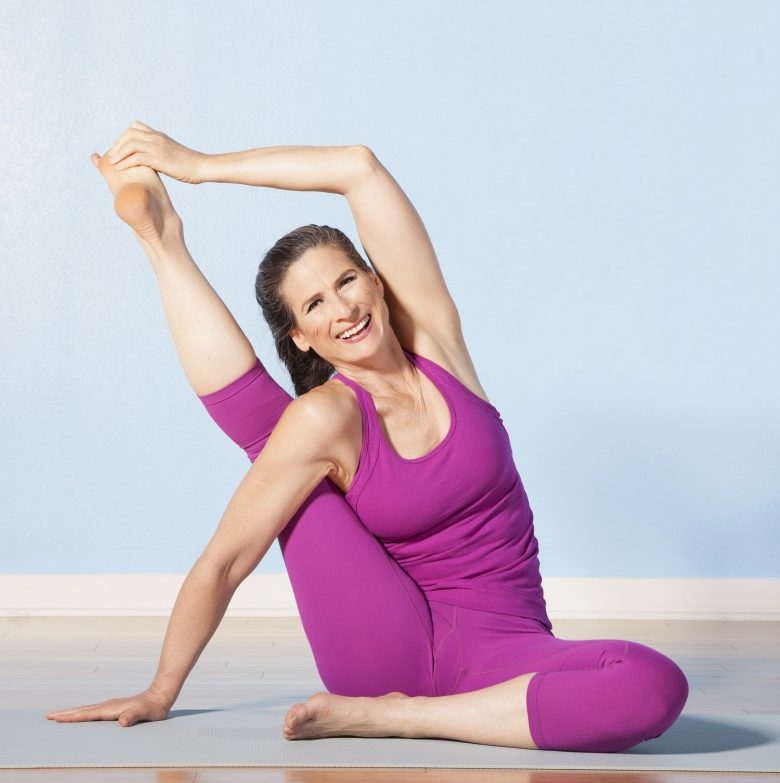 Not a bad side hustle if you ask me!
9. A helicopter which featured in the movie was ironically later used on TV's Airwolf .
Blue Thunder is synonymous with 80s TV hit Airwolf, as both centred on a super-cool, state of the art helicopter.
However, you might not have known that one such vehicle which appears in Blue Thunder later appeared on Airwolf.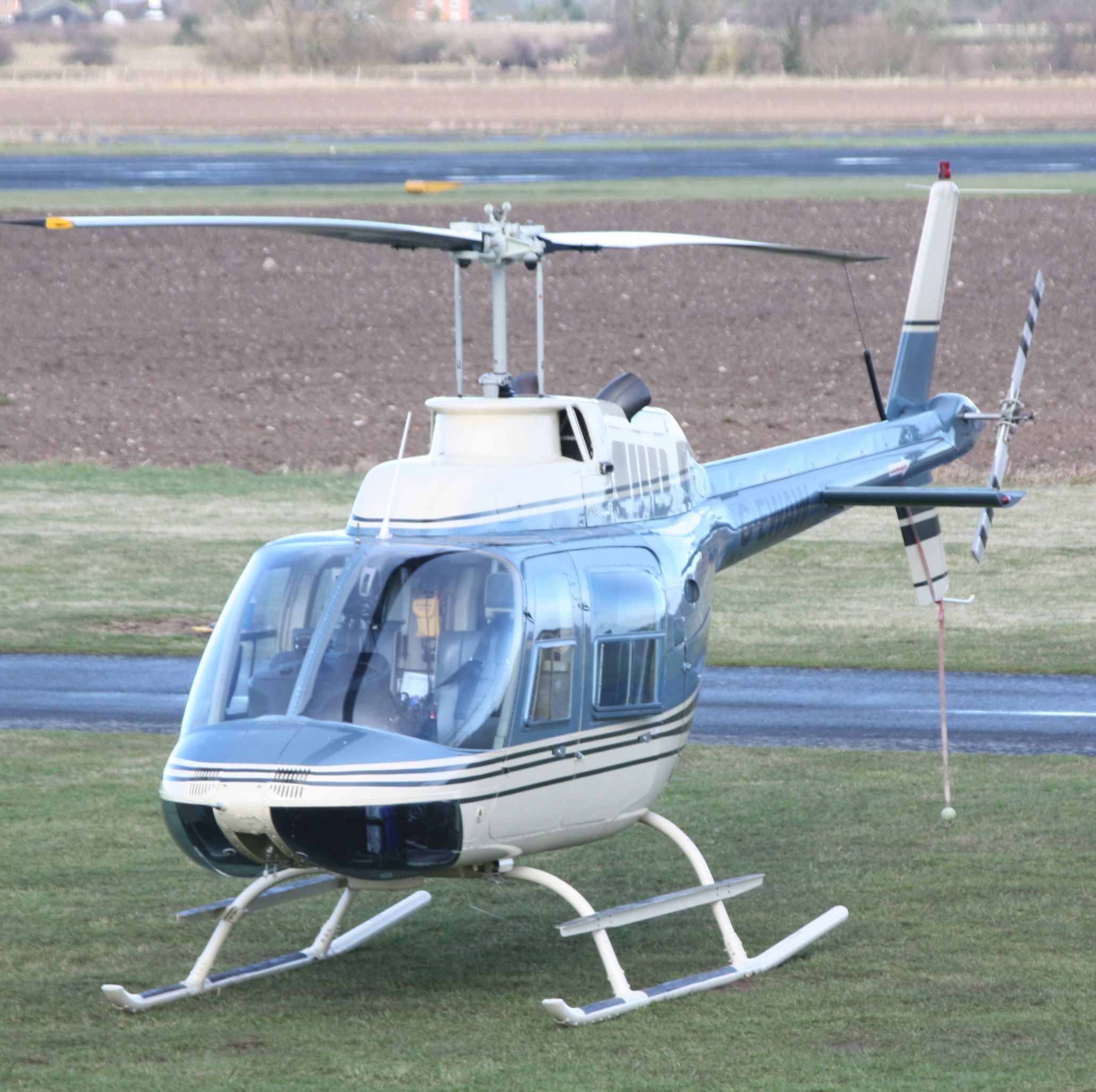 The helicopter in question isn't Blue Thunder itself, but the police JetRanger helicopter flown by Murphy and Lymangood in the first scene.
It would then later be repurposed as Santini Air in the popular small-screen adventure series.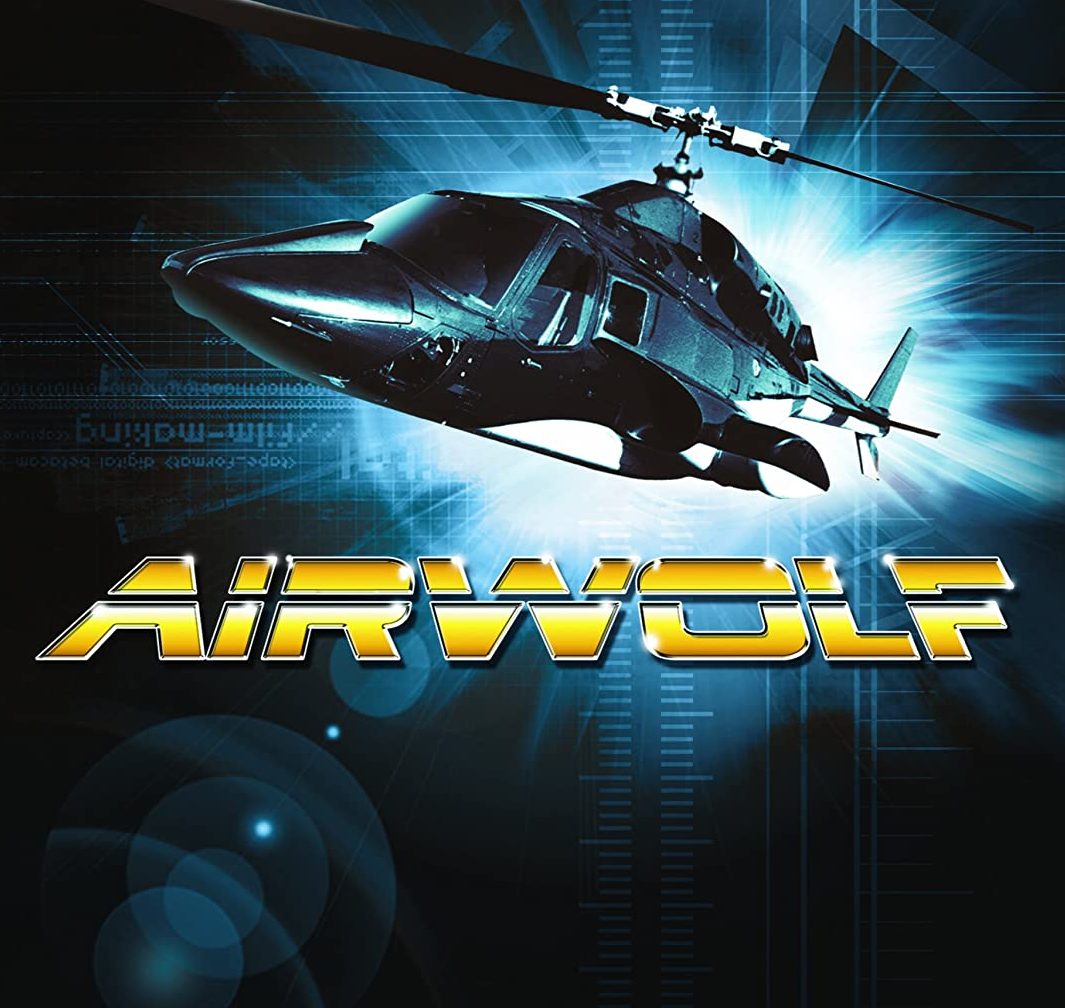 Santini Air was distinctive for its stars-and-stripes paint job; a far cry from the simple white and blue colour scheme the helicopter sports in Blue Thunder.
This very same helicopter would make further screen appearances in The A-Team, and later in the Arnold Schwarzenegger movie Eraser.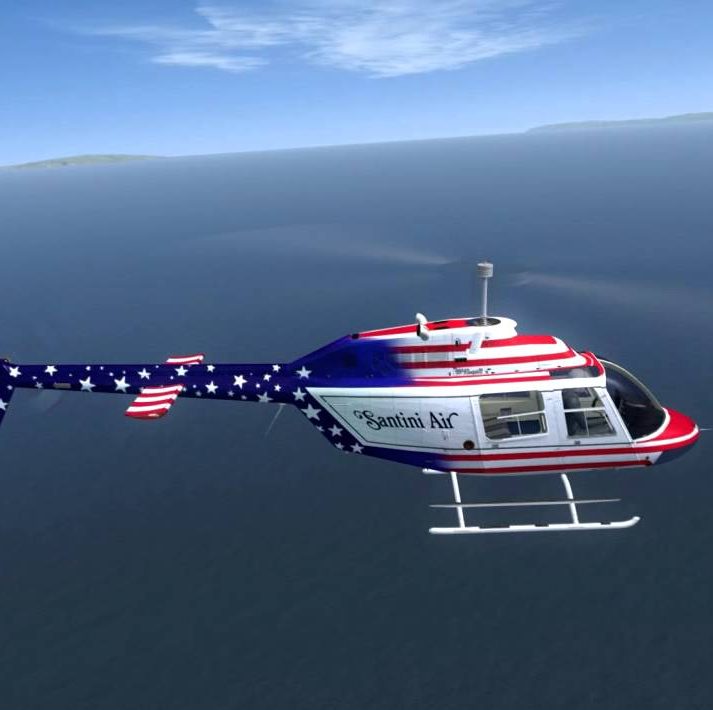 It gives a whole new meaning to the phrase Reduce, Re-use, Recycle!
8. Malcolm McDowell had a fear of flying, despite being cast!
The part of Colonel Cochrane in Blue Thunder is just one of many antagonist roles taken by Malcolm McDowell over the years.
However, the famed star of If… and A Clockwork Orange had a problem which might easily have kept him from taking the part.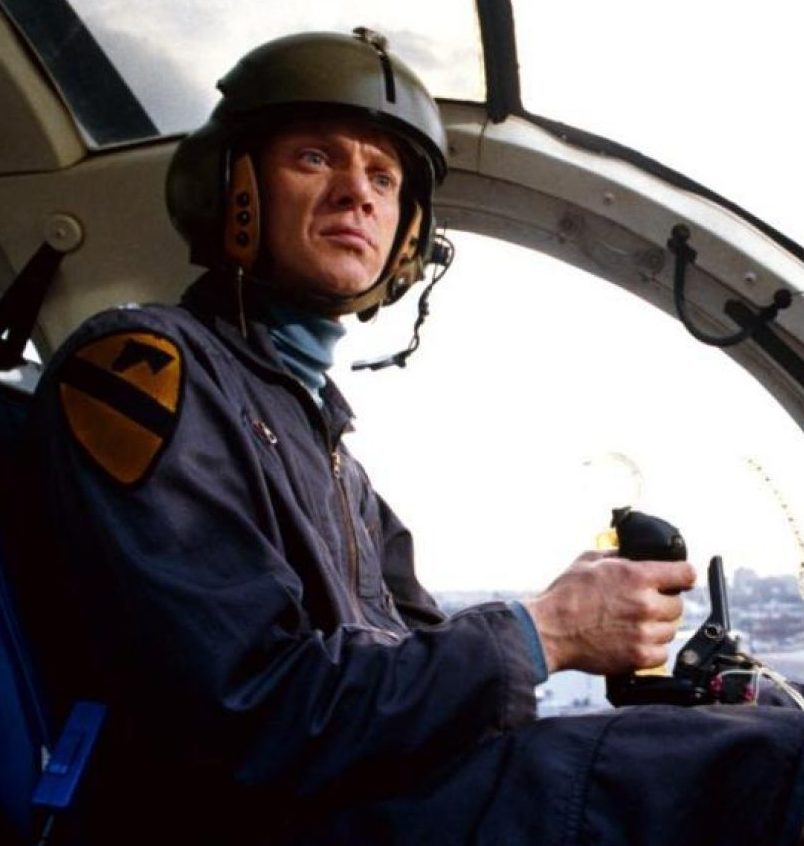 Although Cochrane is a helicopter pilot (like Scheider's hero Murphy), in reality, McDowell has an intense fear of flying.
The film's director John Badham remembers that McDowell "was terrified, he used to get out and throw up after a flight."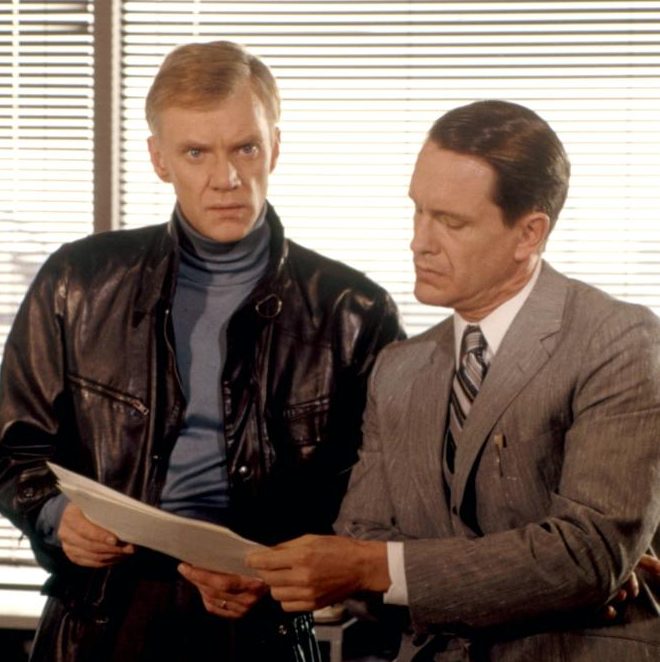 McDowell's then-wife Mary Steenburgen commented to filmmakers that "I don't know how you got him up there, I can't even get him in a 747."
Post-Blue Thunder, McDowell went on to play more villains in such films as Class of 1999, Tank Girl and Star Trek: Generations.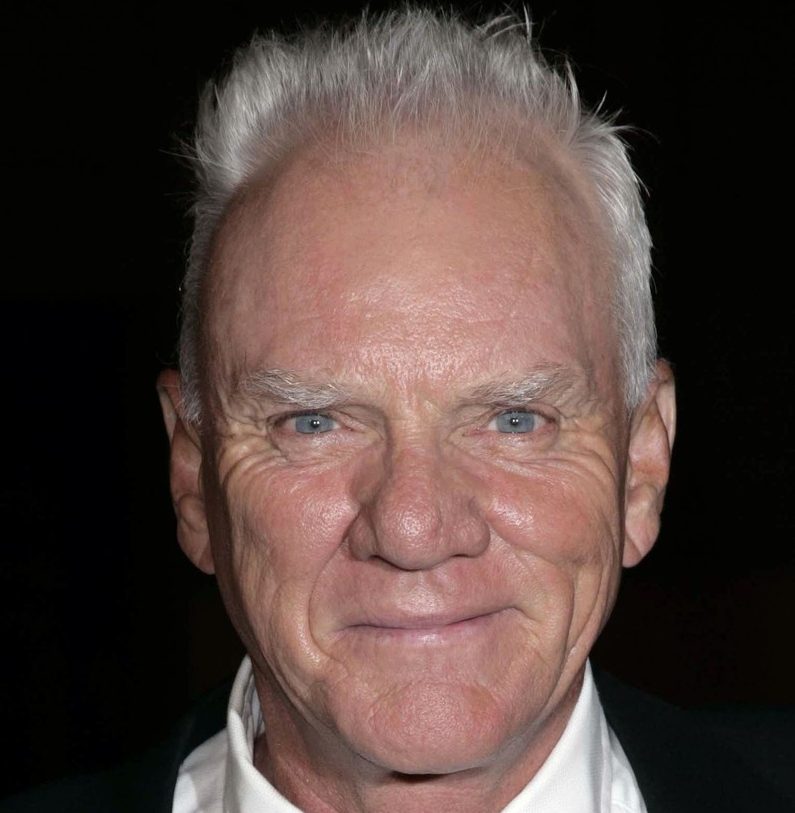 Talk about commitment to the craft!
7. They had to edit the final car chase as audiences found it far too implausible.
Blue Thunder is best remembered for Roy Scheider's prowess at the controls of a helicopter, but it also boasts some impressive vehicular mayhem at ground level.
Candy Clark, who co-stars as Murphy's on-off girlfriend Kate, takes the spotlight in a spectacular high-speed car chase towards the end.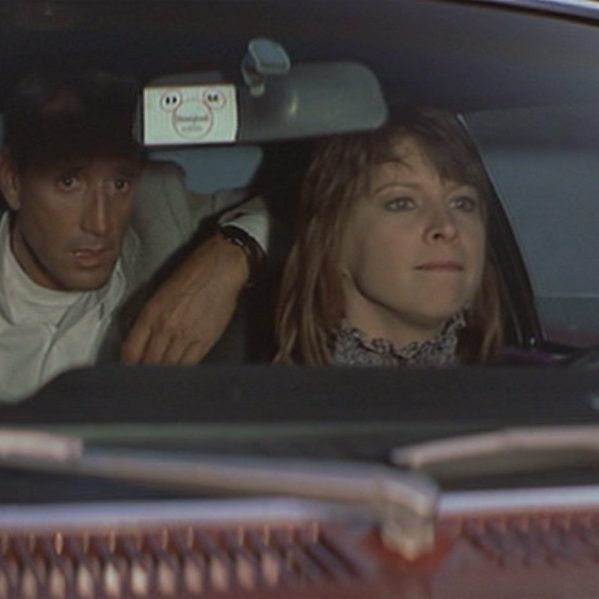 However, though earlier scenes had established Kate's driving skill, the original uncut car chase was deemed to have gone a little too over-the-top.
In the released cut of the film, Clark's Kate manages to outrun numerous police cars and dodge and weave through traffic the wrong way.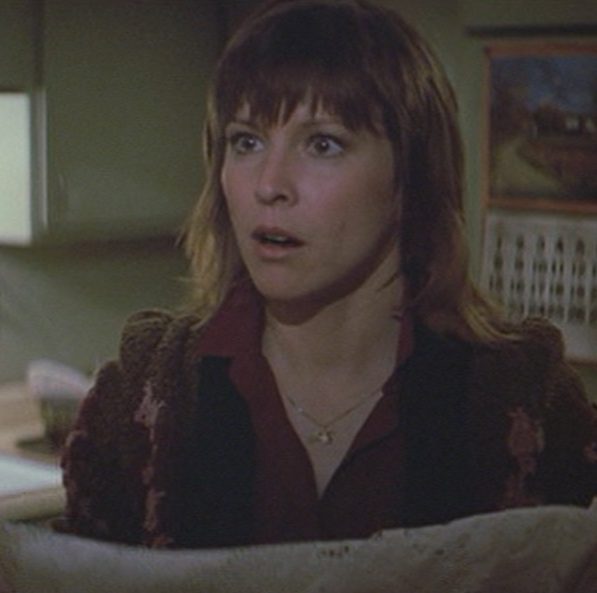 In an early cut of the car chase, Kate managed to evade the cops by driving her car on the side on two wheels.
Test audiences found it impossible to believe that the character could pull off that stunt driver move, so this moment was left on the cutting room floor.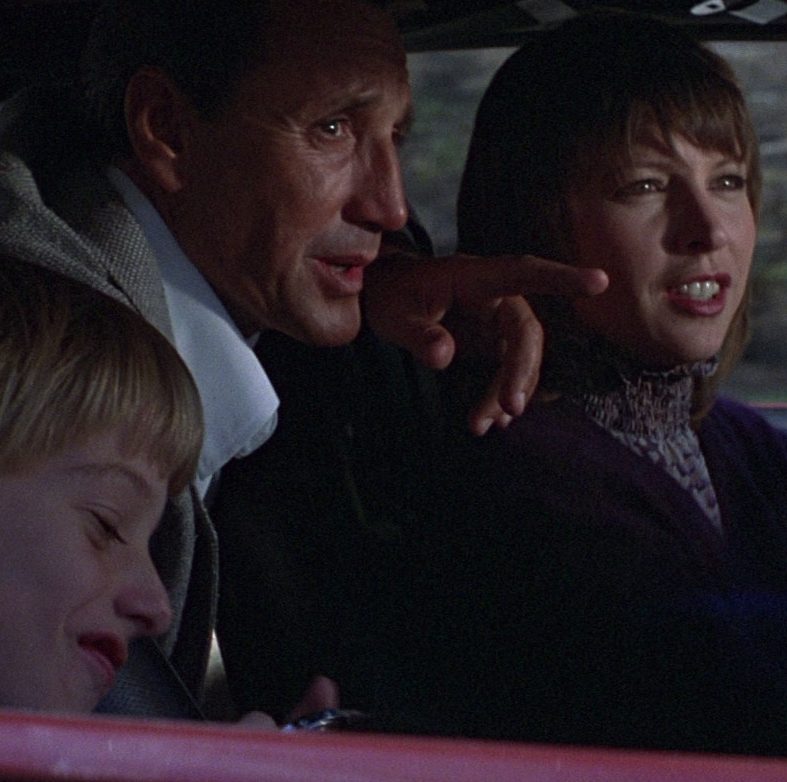 I guess this wasn't exactly an issue when they were making the Fast & the Furious franchise!
6. Warren Oates sadly died after completing the film. He was just 52 years old.
Blue Thunder proved was one of of the last performances of seasoned actor Warren Oates. who passed away from a heart attack in April 1982, aged just 52.
Oates tragically passed away from a heart attack in April 1982, aged just 52.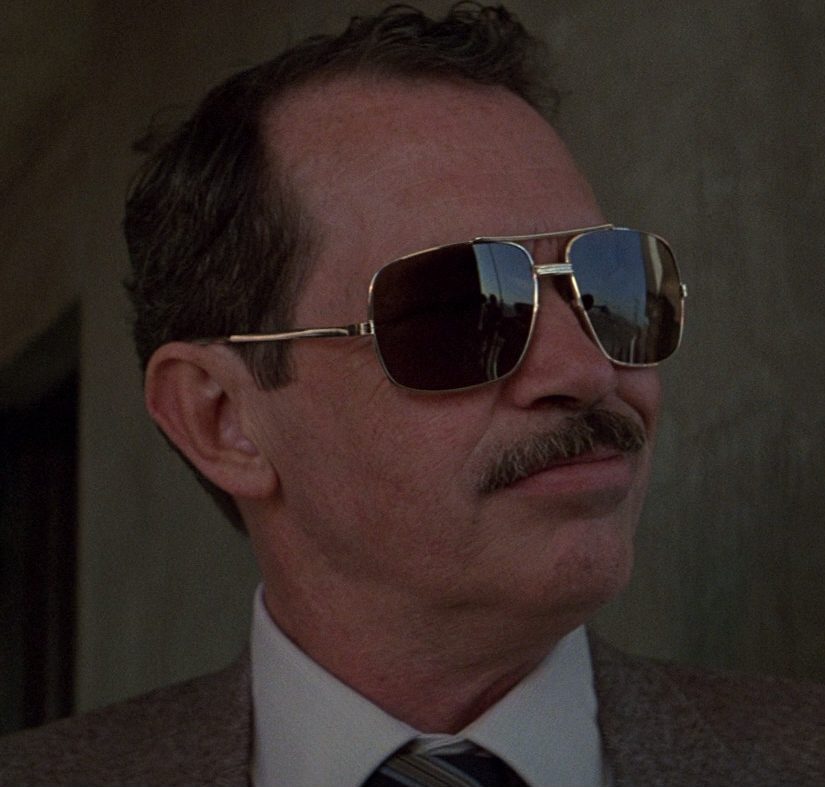 Because of this, Blue Thunder was dedicated to his memory, with a tribute to the actor appearing on screen at the end of the credits.
The tribute read "For Warren Oates, with love for all the joy you gave us."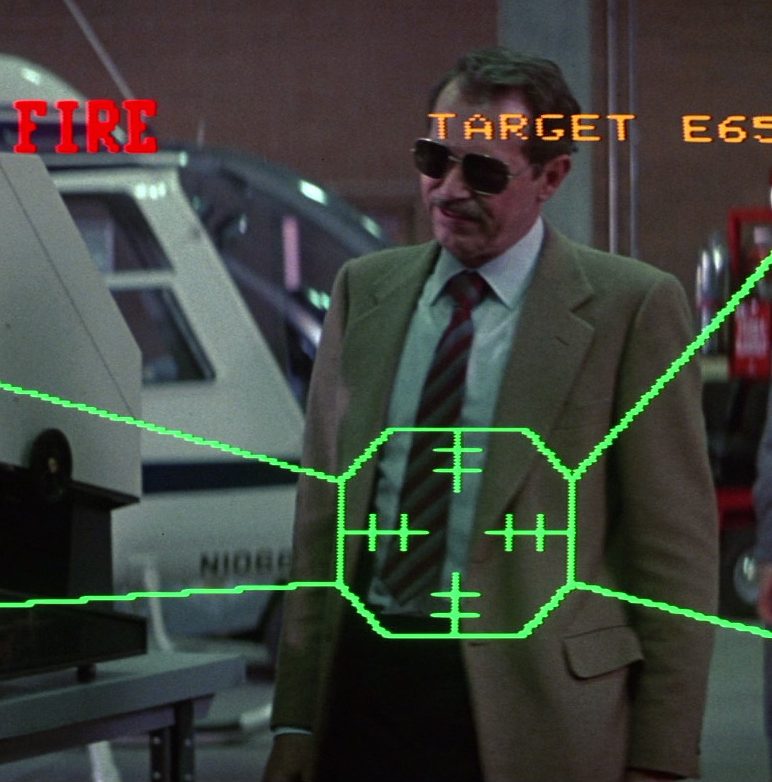 Oates was still able to shoot two more roles before his death, in 1983's Tough Enough, and an episode of TV's Tales of the Unexpected.
Oates' best known movie roles include In the Heat of the Night, The Wild Bunch and Stripes.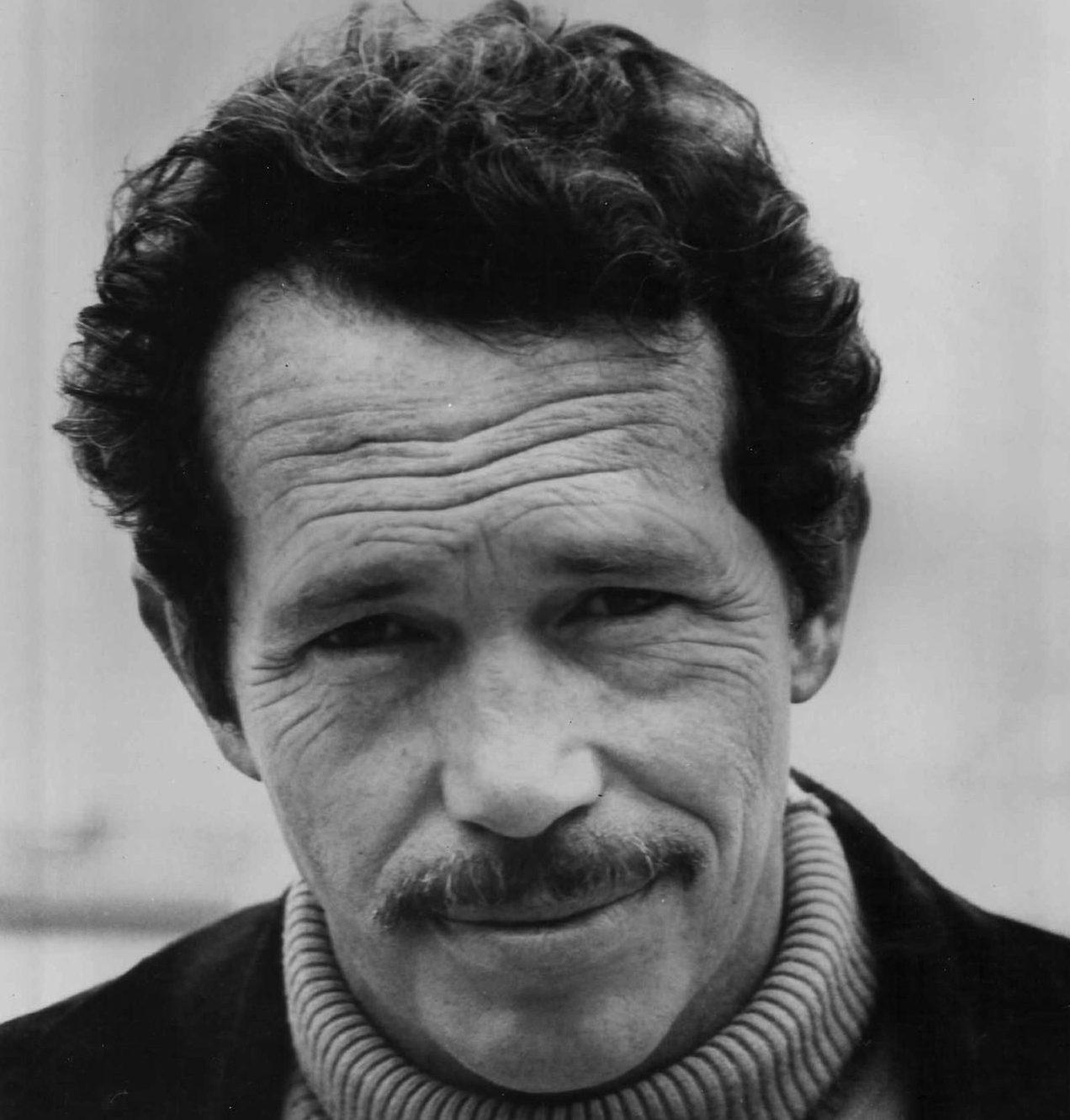 Rest in Peace to a true legend.
5. The Blue Thunder helicopter previously appeared in Clint Eastwood's Firefox
Another airborne 80s property which Blue Thunder is frequently mentioned in the same breath in is Firefox.
Clint Eastwood's 1982 movie also centred on a state of the art military aircraft, in this instance a MiG-31 fighter jet.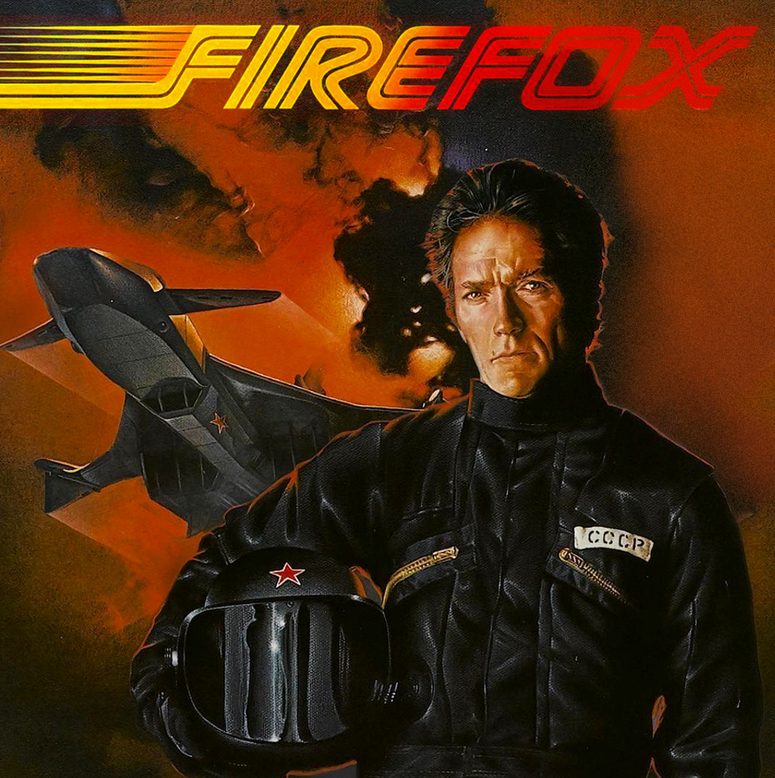 Firefox hit screens one year before Blue Thunder – and also boasted an early appearance from the pivotal helicopter.
The helicopters used in Blue Thunder were Aérospatiale SA-341G Gazelles, a French-built model of a military helicopter.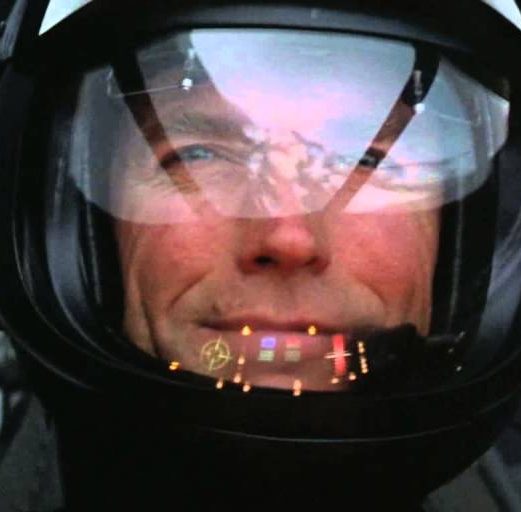 One of the very same helicopters had previously been used in Firefox in the film's pivotal aviation chase sequences.
The helicopters don't quite look the same in both films, however, as heavy modifications were made for Blue Thunder.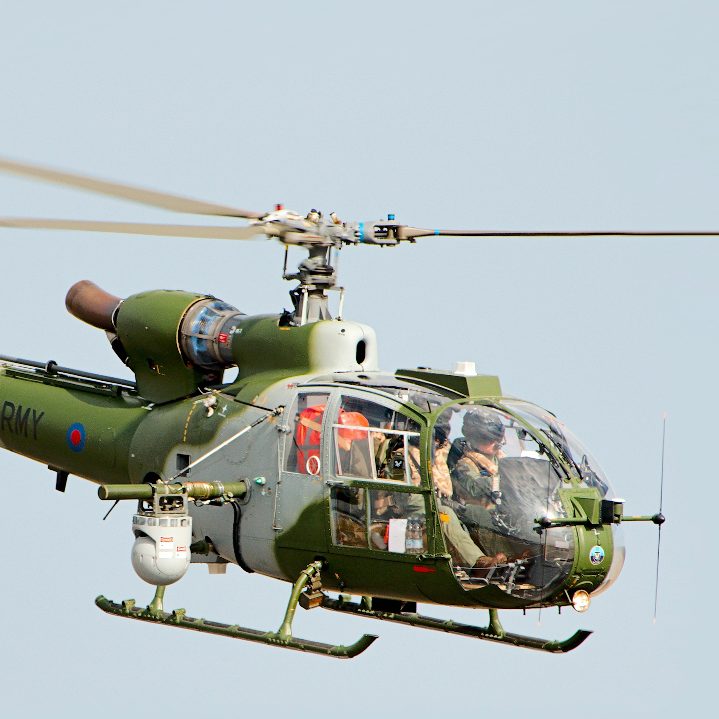 Viva la France!
4. Real-life newscaster Mario Machado co-stars as himself.
If you think Blue Thunder's TV newsreader Mario Machado looks and sounds a bit familiar, there may be a good reason for this.
Machado was indeed a real-life newscaster, who had been a prominent Los Angeles anchorman since 1970.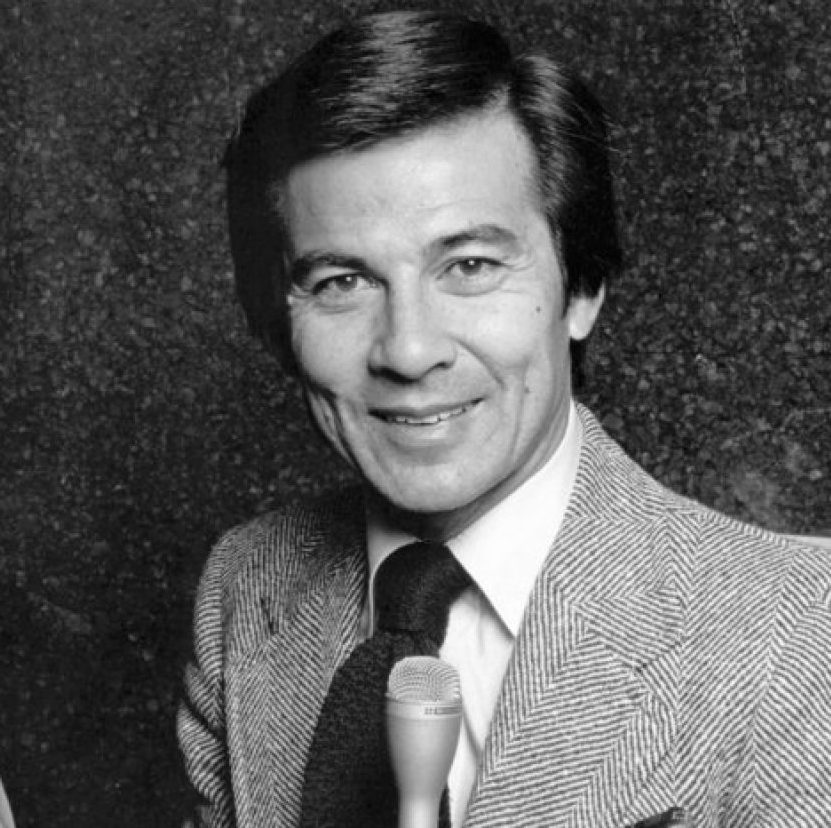 As well as appearing in Blue Thunder under his real name, Machado played Detroit anchorman Casey Wong in the RoboCop movies, and appeared as a reporter in Rocky III and Scarface, amongst others.
On the small screen, Machado appeared as newsreaders on such shows as The Colbys and The Golden Girls.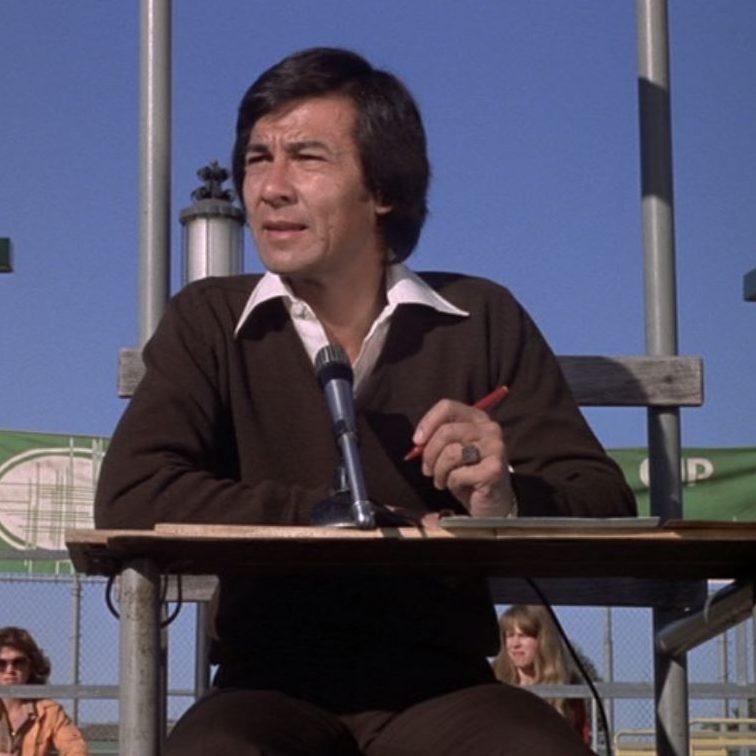 As a Chinese-Portuguese American, Machado's TV career marked a significant breakthrough for non-white newsreaders in the US.
Sadly, Machado passed away in May 2013 at the age of 78, due to complications from pneumonia.

But what a life he lived while he was here!
3. Remember the villains from Home Alone? Blue Thunder co-stars them!
Daniel Stern makes an early appearance in Blue Thunder as Officer Richard Lymangood, otherwise known as 'JAFO.'
It was the tenth screen credit for the American actor, whose earlier films included Breaking Away and Diner.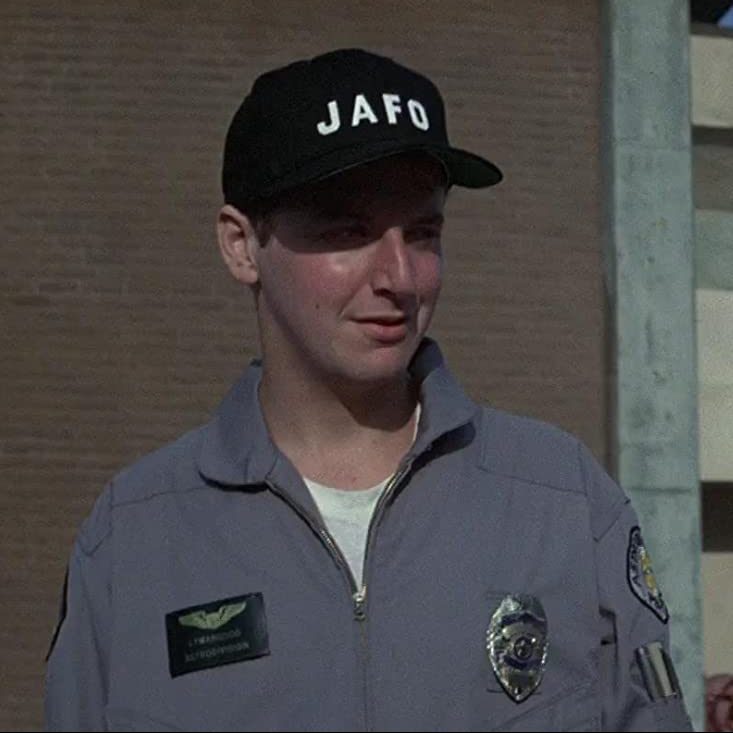 Stern became globally known as the dim-witted, long-suffering burglar Marv in blockbuster comedy Home Alone.
Stern would play Marv twice, in the 1990 original and 1992 follow-up Home Alone 2: Lost in New York.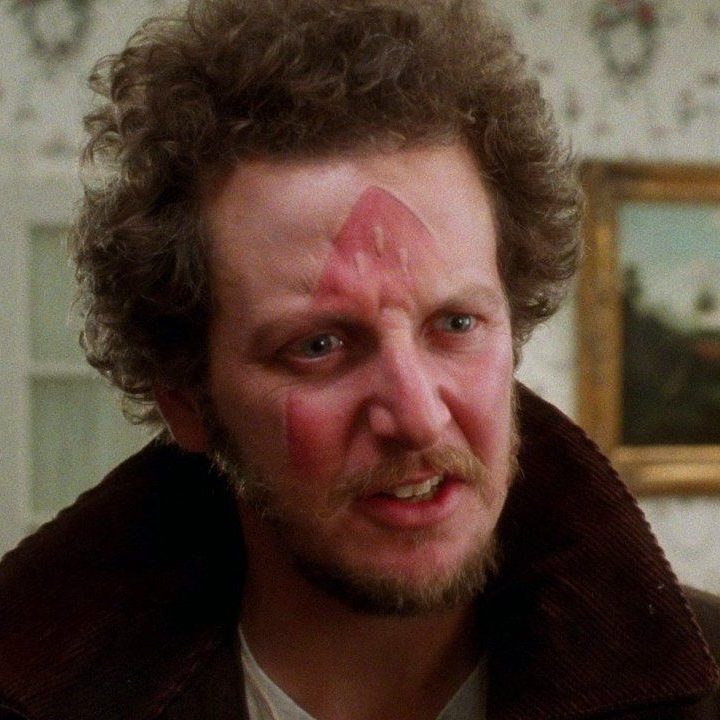 But you might not have known he isn't the only Home Alone villain to appear in Blue Thunder.
Years later, Stern's Blue Thunder co-star Malcolm McDowell would take an antagonist role in 2012 TV movie Home Alone: The Holiday Heist.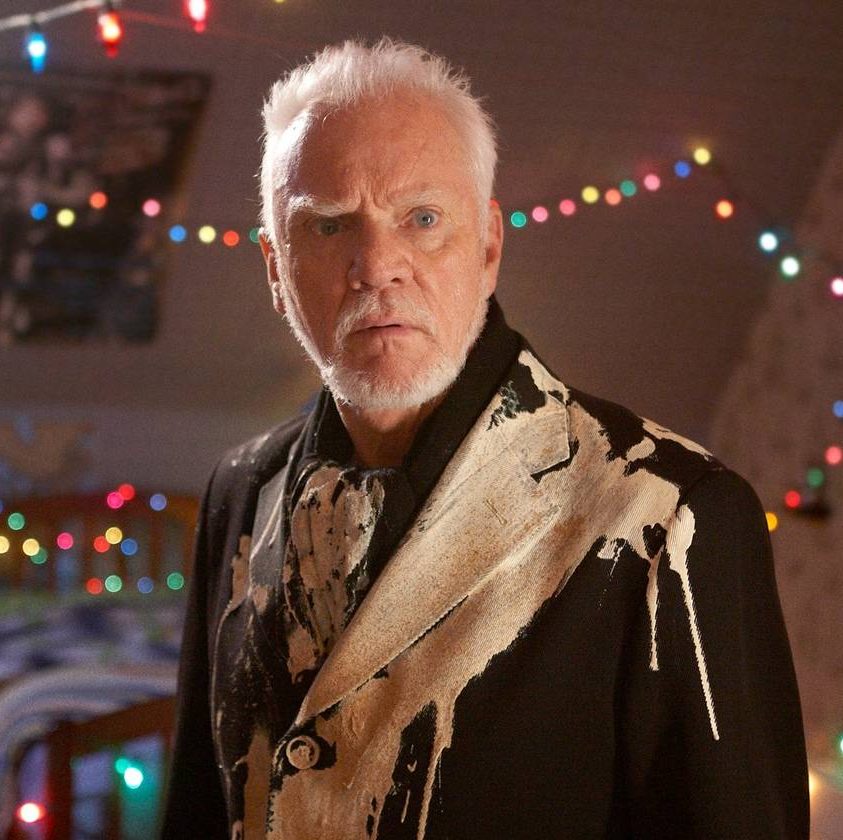 Now I definitely need to watch Blue Thunder again so I can spot them!
2. Three full-sized helicopters and two radio-controlled fighter jets were used in the film.
As a product of the early 80s, Blue Thunder arrived long before the use of realistic computer effects became commonplace in the movies.
As a result, the helicopter sequences had to be realised with practical FX work – although not always with a real, full-size helicopter.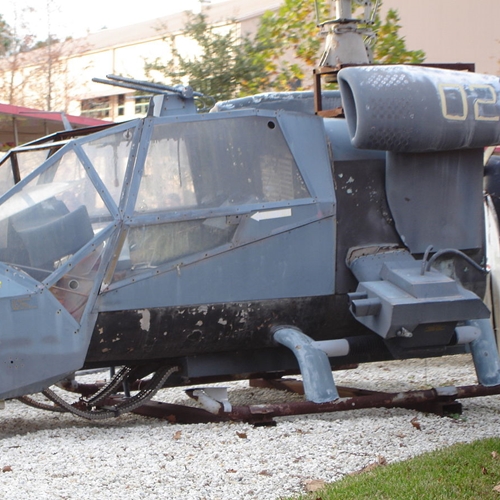 In some sequences, the filmmakers made use of two radio-controlled F-16 fighter jet models and radio-controlled helicopter models.
These remote control models were used for scenes that required more manoeuvrability, such as the 360° loop move from the end of the film.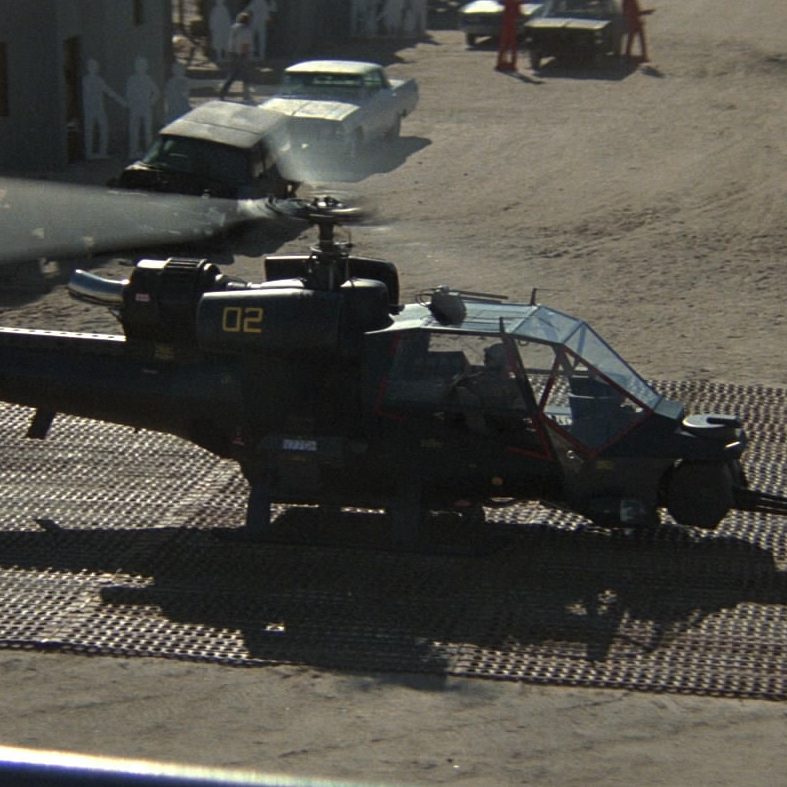 Of course, for many other helicopter scenes in Blue Thunder, only the real thing would do.
For scenes requiring a real helicopter, the filmmakers used two real-life Aerospatiale SA-341G Gazelle helicopters and one Hughes 500 helicopter, both of which they modified heavily.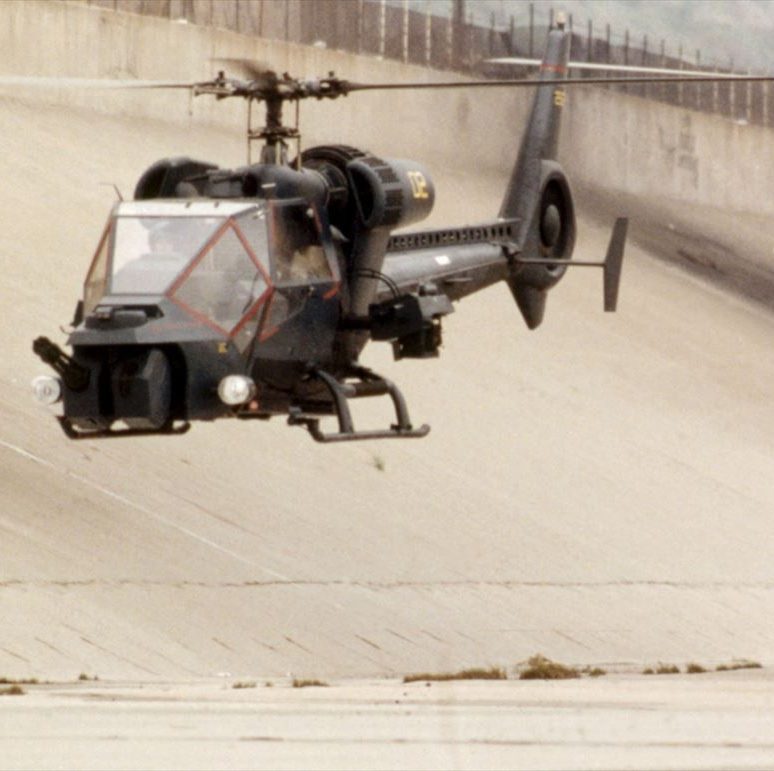 The more you know!
1. ASTRO Division doesn't actually exist.
While Blue Thunder is set in Los Angeles and centres on cops, you might notice they're never referred to as the LAPD.
This is because the Los Angeles Police Department did not want to be associated with the movie.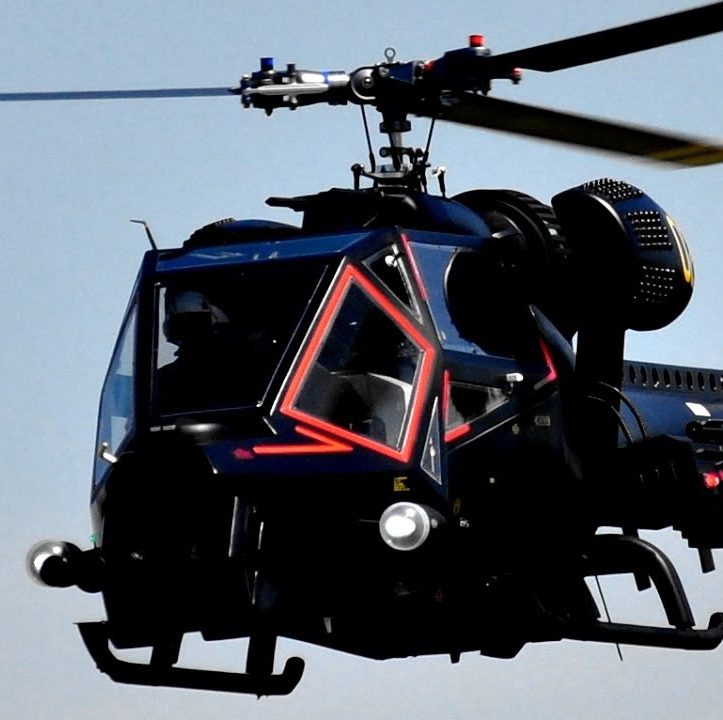 It's not too hard to see why, considering the film centres on the cops being complicit in a totalitarian conspiracy – even if the good guys are also cops.
This is exactly why the filmmakers dreamed up the fictitious ASTRO Division as a substitute.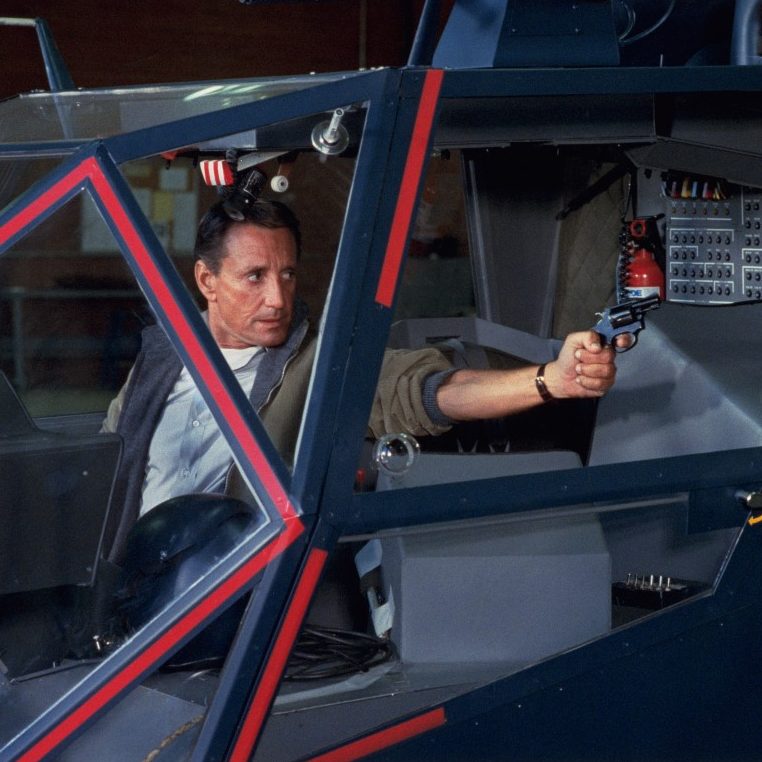 In Blue Thunder's imagined division of the police force, ASTRO means Air Support to Regular Operations.
On top of which, the police force shown in the movie is referred to as the Metropolitan Police Force rather than the LAPD.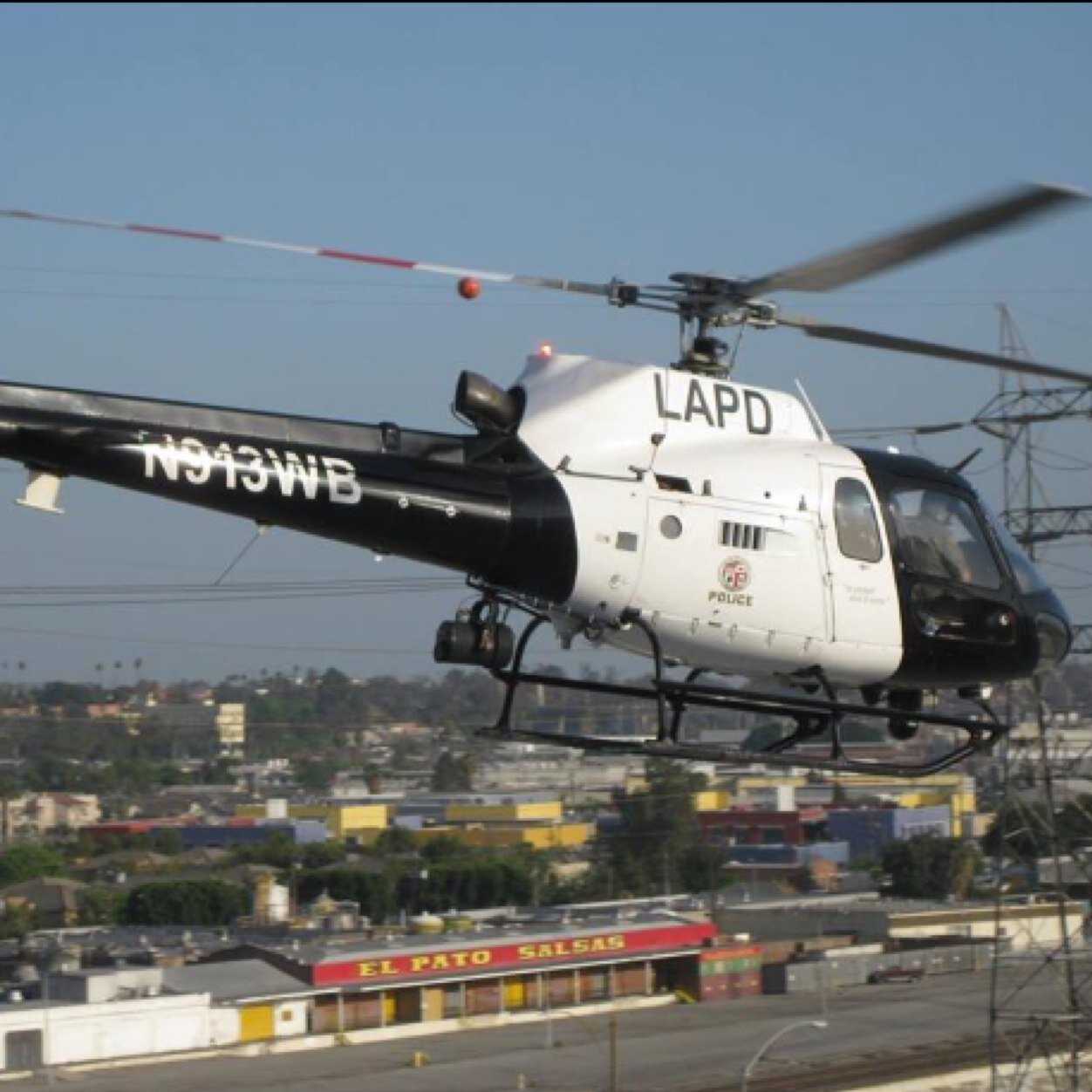 Personally, I think ASTRO is a much cooler name than LAPD.